My Thoughts...
Product Name: TSM Streams
Product Description: This IPTV Service Provider delivers live streaming US, US, CA, Spanish, French, and Filipino channels with over 600 live premium channels in total. Anyone from any place in the world can get access without restriction. Subscribers get access to top TV networks to watch movies, sports, news, kids channels, and more. PPV events to watch all the boxing events including special events on Saturday with no extra cost. Can watch some local channels if your city is include and can watch/listen to music and music videos. Also included, VOD movies and TV shows with many episodes. Has EPG (TV guide) but no CatchUp TV. This IPTV service is compatible to many streaming devices and connect up to 4 devices at one time. Uses the free SO Player app that must be activated by the TSM Streams.
Offer price: $25.00
Currency: USD
Availability: OnlineOnly
Usability

Performance

Picture Quality

Compatibility

Live Channels

VOD/CatchUp

Sports/PPV

Global Channels

EPG (TV Guide)

Support
TSM Streams Review
TSM gives you sports and more sports. You can watch all your favorite sporting events and teams play online as well as get access to PPV events (no extra cost) to watch all kinds of boxing, even special events. Also, get access to over 600 live premium channels (US, CA, UK, Spanish, French, Filipino) to watch sports, movies, TV shows, kids shows, news, and so much more. 
Then there's the on-demand movies with genres and TV shows with episodes. The free SO Player app connects with the IPTV service. Subscribers are allowed up to 4 device connections with 1 mobile device (cell phone) for traveling. Can also watch/listen to music plus local channels included. Great for those wanting to cut or downside cable TV to save money or living without cable and want more entertainment at a cheaper price.
Pros
Top major TV networks
600+ premium live channels
Channels from 5 countries
PPV events to watch boxing (no added cost)
1000s of VODs (TV shows w/ episodes & movies)
Watch/listen to music
EPG (Electron Programming Guide)
SO Player app tracks previously watched content for easy access later
Great cost-savings
Free trial
Up to 4 device connections
Easy to use
Great support
Cons
Some channels out of many don't work (typical to all IPTV services)
French section only has 1 channel at the moment
Does not include all local channels
IP Lock, meaning cannot use VPN or use different IP addresses
No CatchUp TV section
No recording, closed captioning, add to favorites, or PIP
TSM Streams Review by real user and tester brings all the info with pros and cons to make a well-informed decision. If searching for an IPTV service provider and looking for one that's not complicated, this may very well be the IPTV provider you're looking for.
IMPORTANT UPDATE!!!
We are no longer recommending any Nora Go or SO Player app and IPTV services for them. Too many of them are not accepting new customers/subscribers, went out of service, and we are getting many visitors telling us they can no longer renew their subscriptions including no support.
We recommend visiting our IPTV Comparison Chart that's currently being updated to add more top IPTV services that use other apps. Click the link below to find the best IPTV service…
DO NOT READ BELOW THE LINE… We Removed all links to the IPTV service for SO Player…
——————————-
And if you want access to many of the top premium live to networks to watch movies, sports, TV shows, news, and so much more, you get that as well. For those who want it all, there are on-demand TV shows with episodes including as movies with genres including recent movies.
Watch Review of Website
See it In Action
Get Local Channels Here or Here
How to Install SO Player
Additional SOPlayer Info
As for those who love watching live sports, you get everything when wanting to watch local, national, and international sporting events. Adding to that are PPV events to watch all the special boxing events at no additional cost.
So what you are actually getting is a way to beat the high cost of cable TV by paying only a fraction of the cost without losing what you love to watch. TSM Streams is an alternative method for watching cable channels without cable and there's a lot more to mention.
There's no hardware, receiver, or antenna to install. All you need is high speed Internet connection, a streaming device, free SO Player app, and TSMStreams to deliver all the streaming content to you.
Subscribers are allowed to use up to 4 device connections with 1 cell phone for traveling when wanting to connect to TSM to watch TV online. So now that you have a general idea what this IPTV service is and offers, lets dive further into our TSM Review.
TSM Streaming Channels & VOD
You get access to over 600 live premium TV channels from many popular television networks. If you are into watching news, movies, sports, TV shows, everything is available for swift, easy access. Channels are arranged in their respective categories which makes it very easy to find what you are looking for.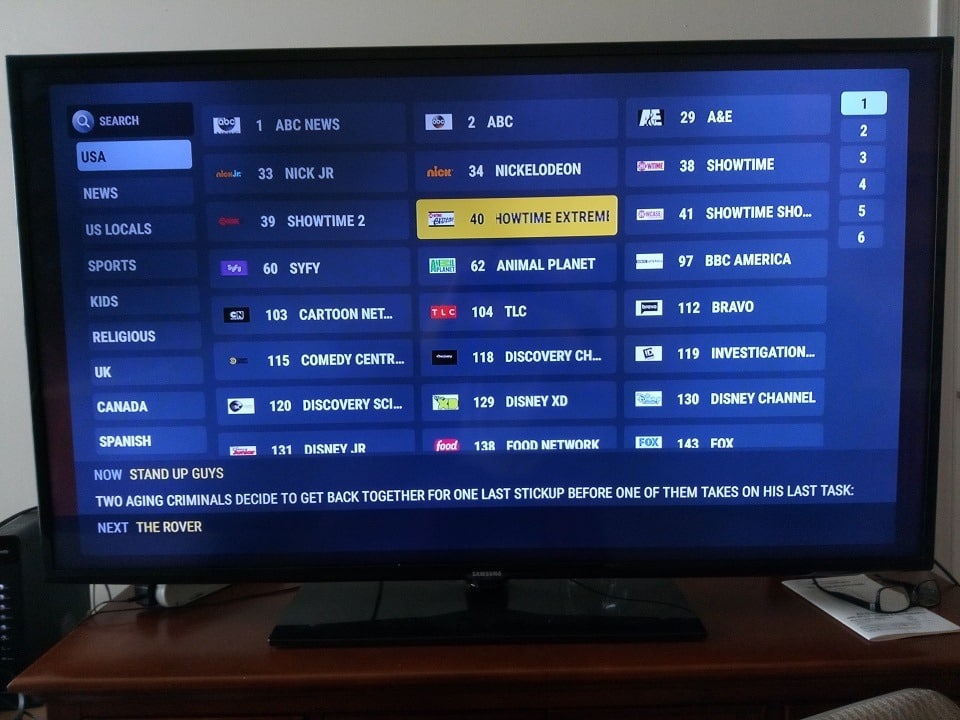 Here's a partial list of sections within the Live TV channel section:
US
UK
Canada
French
Spanish
Filipino
Sports (incl. PPV Events)
24/7
US Locals
News (many popular news networks)
Music
Kids
When opening the SO Player app, 4 main icon appears:
TV (live channels only-see list above)
Movie (VOD content for movies & TV shows)
EPG (Electronic Programming Guide or TV guide)
Info
Only the first 3 at the top contains streaming content to watch online.
TSM Streams is very user-friendly. Once inside the app, you simply follow where your eyes lead you. I found the navigation to be child's play provided you know how to use your streaming device, which by the way I recommend the Amazon Fire TV Stick. More on this and compatible devices later.
TSM Streams Local Channels
During my TSM Streams Review, I found local channels but I didn't test all channels from all US cities available. That's because there are too many of them. You are not restricted from watch channels from any city. However, it is very likely you won't get all your local channels let alone any channels if your city is not included. And if you do get some local channels, 1 or 2 of them may not work.
I don't recommend subscribing to any IPTV service, such as TSM, if your primary interest is watching local channels. You can get all your local OTA TV channels without the likes of cable TV by purchasing an indoor HDTV antenna with an amplifier. Click Here for more info.
You may also want to check out Locast.org, a free local streaming TV service that includes many city markets. Your city may or may not be included, so it's worth checking to see. If your city is included, then sign. You will be restricted if wanting to watch local channels outside your city market.
TSM Streams Sports & PPV Event
If you are into watching MMA, WBA, WBO, IBF or whatever type of boxing, you can get them all including the big fights (special events). These are PPV Events at no extra charge. When you know the day and time of the event, simply launch the SO Player app connected to the TSM Streaming service. Click the Live icon on the main screen, then click the Sports section to find the PPV streams.
Whatever local team you want to watch — seasonal game, national or international sporting event — you can get them all. I can watch my local teams such as the Eagles, Flyers, Phillies, and Sixers.
Compatible Devices
Besides having a fast Internet connection (30 Mbps or higher) — faster/higher the better — you need a good streaming device. But first you need to know what device is compatible with the SO Player app. See list below…
Computer (Mac & Windows)
Android Devices (tablet, cell phone, TV)
iOS Devices
Mag Box
NVIDIA Shield
Apple TV
Amazon Fire TV/Firestick
As for smart TVs with internal app store, it appears the SO Player is no longer available in the Google Play Store. The same may be true for the Apple Store. I couldn't find the app in my new Samsung smart TV app store when searching for it. If you can't find SOPlayer then you will need a streaming media device such as the Fire TV Stick which is better to use anyway.
I recommend using the Amazon Fire TV Stick. It's powerful, cheap, and works very well with IPTV services with SO Player. You can learn more HERE. Let's say you have 3-4 TVs in your household. Perhaps a combination of HDTVs and smart TV or all of one or the other.
You can use up to 4 Firesticks , one connected to each TV. An Internet connection is needed and free Amazon account. You will need to sideload the apk app to the Firestick using the Downloader app. Don't worry there are instructions on how to do this.
Now each TV with the Firestick is setup for other family member to use. They can watch whatever they want while you watch something else.
TSM Streams Cost, Subscription, Money Back, Free Trial & Support
If you are on a fixed month income or tight budget or simply tired of paying the high cost of cable TV, here's where you save money.
There is only 1 subscription plan: $25.00 for 1 month.
You only get 1 month service and when it ends, you can renew your subscription. Simply visit the TSM Streams website again and click the 'My Account' link to sign in to renew. I highly suggest that you watch my 2-part video review that explains this and a lot more.
The 3-day free trial gives you full access to everything without any restriction. However, the trial isn't available during the last 3 days of the month. This may change but this is what they are doing now. The TSM Streams subscription doesn't automatically rebill you and the free trial does not require a credit card.
You can request a refund but it's best that you contact support first to get a good understanding. Support is available 24/7 but I'm not sure exactly if the support agent is available 24/7. Simply visit the TSM site and use the chat box. This is the best way to get a quick response to your question or when help is needed.
Switching From Old IPTV to New IPTV
If you are planning to switch from an old IPTV service to a new IPTV service, such as TSM Streams, you need to contact TSM support to have them remove the old IPTV service from your SOPlayer app that's installed on your device.
But before you contact them, you need to sign up for the free trial or subscription. When they send you the activation/login credentials (provider ID, 4 device pin codes, username, password), enter the required credentials into the SO Player app. More than likely you won't be able to activate it to watch TV online and there will be a message on the app screen.
Simply contact support. They will want to know what message appeared on your SOPlayer screen.
TSM Streams Review: Pros and Cons
There is never a perfect IPTV service provider so what you get is good technology, interfacing, and Internet TV experience with some pros and cons. Let's start with the pros…
PROS/CONS
Overall, TSM is great for newcomers to Internet TV as well as the experience. If you don't need a wealth of streaming content, a smaller IPTV service like this one is enough. The question is knowing whether or not your favorite networks/channels and other streaming content are available. This is why I recommend opting into the free trial to test everything out before shelling out any money.
Unfortunately, some channels are not going to work but many channels do work. You may find some channels without audio or picture. Should this occur simply contact support and report the name of the channel(s).
Some IPTV services have CatchUp TV and some don't which is one of the shortcomings of TSMStreams. If having CatchUp TV is high on your priority list, then this IPTV isn't a good choice. Otherwise, all the other streaming content should prove worthy of your interest.
You cannot use different IP address, just one, such as you household where your modem/router is located. TSM is a IP Locked service which means you can't use a VPN service.
I found there was only one French channel available at the time of my TSM Streams Review. If you're not into Adult content, there is nothing you can do about it in terms of having the service to remove that section. However, the adult section is locked by default. You get a pin code to unlock it.
Conclusion
Having used and tested this IPTV service along with my experience tesing many other IPTV service, I find TSM Streams worthy. Without CatchUp TV, it's still a good performing service that should satisfy many TV viewers.
The cost and free trial are no-brainers. There is nothing stopping you from giving it try. No credit card is needed, no credit check, no surprises. There is no channel list so the next best thing is the free trial that allows you to check everything out yourself.
Once you get by the setup process, it's clear sailing afterwards. While sitting in your comfortable chair or bed, with remote control in hand, you get access to 100s of live premium channels and 1000s of on-demand movies and TV shows at your fingertips.
No more paying the high cost of cable. With TSM and indoor HDTV antenna for local OTA channels or Locast.org, you can enjoy the best of TV entertainment including the entire family–kids too!
This Concludes Our TSM Streams Review