My Thoughts...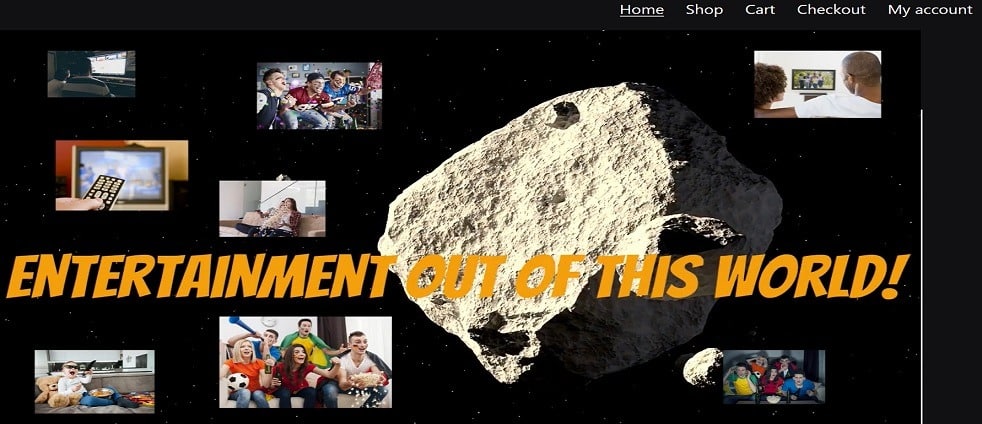 Product Name: Rochspheres
Product Description: IMPORTANT UPDATE: Rockspheres Was Replaced By Streams Empires Which Has the Same Everything and Supports SO Player. All Links Have Been Change to Streams Empire... IP Lock IPTV service delivering 100s of live streaming TV channels and 1000s of VOD movies, TV series, and NFL/UFC Replays. Includes PPV event, dedicated sports sections, Major TV networks to watch movies, sports, news, kids, etc. Features include Electronic Programming Guide (TV Guide), Add to Favorites (VOD only), and search tool. Great for North American TV viewers or any one worldwide that want to watch that type of streaming content. Supports the SO Player, can connect up to 4 compatible streaming devices at one time. Has free trial and two subscription plans to choose from.
Brand: Rockspheres
Offer price: 25.00
Currency: USD
Availability: OnlineOnly
Usability

Performance

Picture Quality

Compatibility

Live Channels

VOD/CatchUp

Sports/PPV

Sports Replays

Global Channels

Adult 18+

EPG (TV Guide)

Features

Support
Rockspheres
IMPORTANT UPDATE: Rockspheres Was Replaced By Streams Empires Which Has the Same Everything and Supports SO Player. All Links Have Been Change to Streams Empire…
Watch premium live TV channels and on-demand streaming content via TV app installed on any compatible device. Receive activation/login credentials via email to activate the SO Player to get access to all the streaming content. Can watch movies, TV shows, kids' shows, sports, documentaries, talk shows, food networks, and the list goes on. This IPTV service delivers many of the popular TV networks you want including some local and regional channels, PPV events, adult content, and a dedicated sports section.
Also, watch on-demand movies with new releases and popular genres including popular TV series with seasons/episodes. That's not all… watch NFL Replays and UFC Replays. Watch US, CA, Spanish, and French channels. Great for North American TV viewers whereas anyone anywhere in the world can get access. 
Pros
Dedicated live sports section
VOD NFL & UFC Replays
Major movie networks
Major sports networks
Watch kid's shows, documentaries, news, and TV shows
VOD movies with new releases & genres
VOD TV series with seasons & episodes
Watch PPV events (boxing, the big fights)
Primarily for North American TV viewers
Delivers US/CA channels plus channels in French & Spanish
Connect up to 4 devices at one time
Free trial (no credit card required)
Cons
No Add to Favorites for live channels (VOD only)
Can only use a smartphone to connect to IPTV when traveling
Cannot change your IP address (uses IP Lock system)
Cannot use a VPN service
Has a very limited number of US local channels
Rockspheres Review (a.k.a. Rockspheres IPTV Review) by True Tester/Reviewer. Whether you are a newcomer to watching TV online or someone with some experience, Rockspheres gives you another way to watch your favorites. Not only that they make it easy for newbies to get set up and get access to all kinds of streaming TV content.
UPDATE:
We notified by the owners at Rockspheres that they have reopened the doors to new customers. If you want to subscribe, just click the button or link in this review.
————–
Continue Reading Review Below if You Want…
They are an IP Lock IPTV service that supports the free SO Player app. Once that app is installed and connected to the Rockspheres servers, you get access to 100s of live TV channels. This includes premium, some local, and regional channels, including USA/UK/CA/Spanish/French channels.
They also deliver PPV events, have a dedicated live sports section, and many popular TV networks to watch movies, kids' shows, news, documentaries, etc. Then you have the Movie category with 1000s of movies (incl. new releases & genres, NFL Replay & UFC Replay), plus TV series with seasons/episodes.
You get all of that streaming TV/VOD content and more which defines an IPTV service that is very low-cost. The Rockspheres IPTV or Rockspheres TV service is a subscription service that is required for you to watch TV online. The SO Player is just a free app download but requires an IPTV service to activate it and deliver all the streaming content.
Click below for the alternative SO Player IPTV service that has the same everything…
In my Rockspheres review, I will cover different sections of the SO Player connected to this IPTV service. There's not much to reveal because this IPTV keeps everything very simple. It's an all-in-one TV entertainment platform with something for the entire family. So if you want to save time and money while having all or many of your favorites to watch online, then here's an IPTV service to look at.

Rockspheres Review: SO Player Player App & IPTV Service
In my Rocksphere IPTV review, I covered every aspect of this IPTV service. You will find videos covering the Rockspheres website, signing up for the free trial/subscription, and installing the app. The last video demonstrates the SO Player connected to Rockpheres where you get to see everything inside.
You get to look over my shoulders as I navigate throughout the SO Player app to see the navigation, categories, and sub-categories of content. Then I take you through the live channels to let you see all the TV network names that are available.
This Rockspheres review will also cover the EPG (Electronic Programming Guide) which is a TV guide that you can program. More on this later. Then I take you through the on-demand section which is the Movie category.
When you open the SO Player app connected to the Rockspheres service, you see at the top a menu section as follows:
Home | TV | Movies | TV Shows (no content) | EPG | Settings
These are the main categories that take you to sub-categories to help narrow down what you want to watch. It's an easy-peasy process that any child can maneuver without using an instructions guide.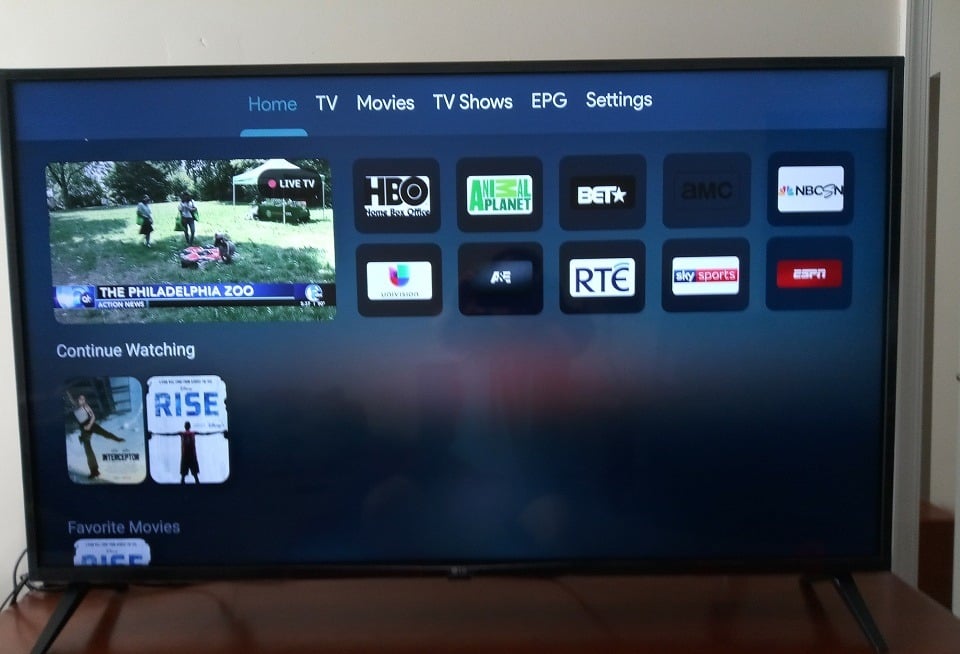 Additional Information…
So that you know, I used my Firestick which is one of the compatible devices that can be used. I provided a list of compatible devices further down for you to see. My Firestick was connected to my LG smart. I downloaded the SO Player on my Firestick.

TV Category
When conducting my Rockspheres TV review, I selected the TV category that took me inside to see all the sub-categories as follows:
All | USA | News | US Locals | Sports | Kids | UK | Canada | Spanish | French | Filipino | Adult
You can easily select any one of the above sub-categories to find specific groups of channels to watch. As for the Adult section, this is locked by default. Rockspheres provides you with a code to unlock this content when sending you an email.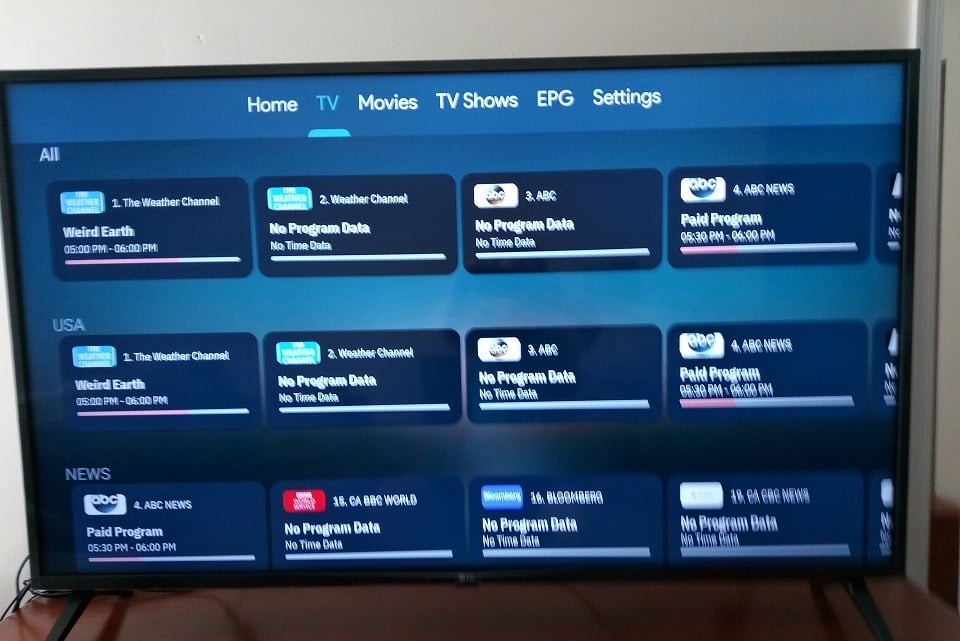 When you select the USA section, you get access to many premium live TV channels found on cable. There's a total of 117 channels. Simply select the name of the TV channel/network and watch it on the web. Since there is no channel list, I show you all the channel/network names to see what is delivered.
US Locals only list a total of 99 channels so it appears not all US cities are delivered. If your local channels are available, you only get a few of them from your area. IPTV services are not the best source to get local channels online.
As for the Sports section, you will find many popular sports networks and streaming content to watch seasonal sports. Seasonal sports include the NFL, MLB, NHL, and NBA. But you can also watch international sports and can definitely watch your local teams play.
Additional Info…
You'll see in my Rockspheres review where I play several live channels. I even played random Canada, UK, Spanish, and French channels. Filipino only has 3 channels listed. In the Kids section, are many shows they can watch online. As I played many different channels randomly, all of them worked. However, I did not play of most of the channels that were there.
You cannot use a VPN service because this IPTV service uses an IP Lock system. You cannot change your IP address. If you do, you will get locked out. So don't try to take your portable device such as a computer with the app installed and connected to this IPTV service to a friend's house. If you try to watch TV online over there (at a different IP address), you will get locked out and need to contact support.
As for getting all your local channels, I suggest purchasing an indoor HDTV antenna with a 100-200+ mile radius. Connect it to the back of your TV and scan for local channels. You can get all your local channels without the likes of cable TV or satellite TV.
News Sub-Category
If news channels are something that interests you, you'll get access to many of the top news TV networks such as Fox, CNN, MSNBC, etc. You may even get access to some of your local channels to watch the local news. But the best thing to do is buy an indoor HDTV antenna as I explained above.
US Locals Sub-Category
There were only 99 channels listed during my Rockspheres review of this IPTV service and app. As you can see, these are a very limited number of local channels whereas you know there's a lot more than that number. If there are any local channels for your city, you only get a few and some of them may not work.
When going inside the US Locals sub-category, I did a search to find local channels for my city. By the way, there is a search tool (magnifying glass) that you can select to conduct a search. You'll see the same tool in the TV, Movie, and EPG sub-categories.
I found 4 of my local channels and was pleasantly surprised to find one regional channel, NBCSN. And even better all those channels worked/played. I don't know if you will get any local channels or as many for your city.
You can watch channels from any US city you want. You don't need to be in that city to watch them. After all, this is one of the benefits of watching Internet TV, where there are no restrictions. No matter where you live or travel in the world, you can get access to the same streaming content.
Sports Category
Going further into my Rockspheres IPTV review, I went inside the Sports section. Many popular sports TV networks appeared such as CBS Sports, ESPN, TSN, and many more. Also included are PPV events that allow you to watch the fights/boxing/special events online.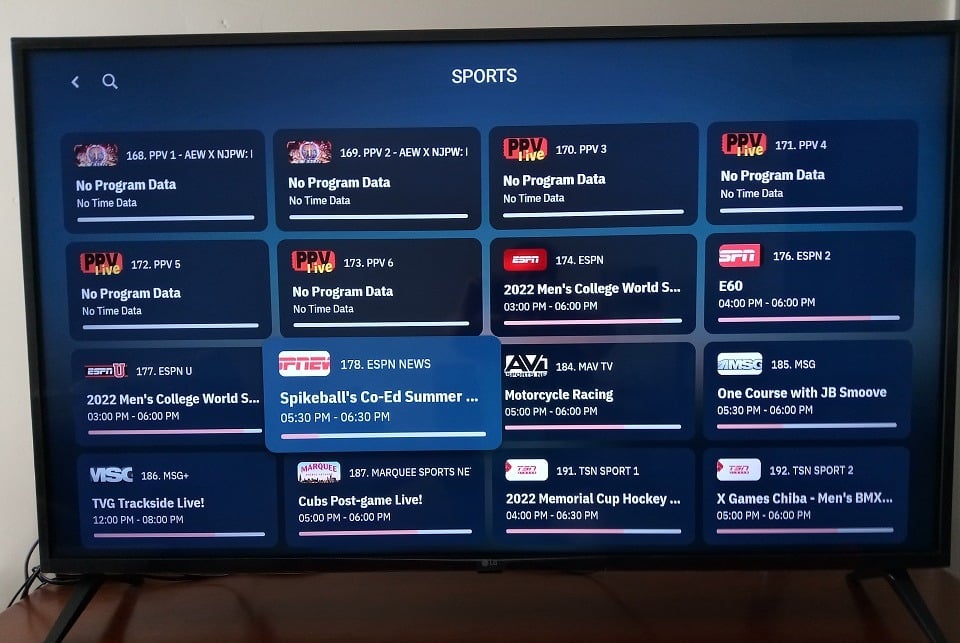 Whether it's college or pro sports or both that interest you, you can find them in this section to watch. You'll also find some regional channels that may or may not include your region. Keep in mind that you get access to all the same streaming content no matter where you live in the world.

Movies Category
I discovered in my Rockspheres review that there is no content inside the TV shows' categories. You'll find all the on-demand content for movies and TV series in the Movies category. When opening this category, you see the following:
Last Added | New Releases | TV Shows (name of many TV series) | Genre names | UFC Replay | NFL Replay
There are other sections in there as well. I played some of the on-demand streaming content from different sections and they all worked/played. Different TV series provided seasons and episodes for you to pinpoint exactly what you missed and want to watch.
You can also add on-demand content to favorites if you want. You will see the heart shape. When you select it the heart is filled in and added to your favorites. You can also select the heart icon again to remove it from favorites. But the add-to favorites feature does not apply to TV channels.
You will find what you added to favorites under the Home screen or category. In the Movies section, the Replays allow you to catch up on what you missed (NFL/UFC) or want to watch again. You can watch a recorded NFL football game or UFC fight at your leisure.

EPG Category
One of the best parts of my Rockspheres review came when going through the EPG (Electronic Programming Guide). You will see the names of TV networks in the far left column with the names of TV shows to the right. All of them are listed in their time slots conveniently waiting for you to select any of them.
You will need to select the channel twice in order to play it. As for the EPG section, when you move to the very top, you will see the same menu with categories such as Home, TV, Movies, etc. But when you scroll down one level, a row of sub-categories of channels appears (All, USA, News, etc). It's the same sub-category of channels I explained earlier.
You can load the TV guide with one of the sub-categories. For instance, when I selected the USA sub-category, the EPG or TV guide was loaded with only those channels. When selecting the Sports sub-category, only the sports channels were listed in the TV guide.
There are many sub-categories of channels that you can choose from to load the EPG.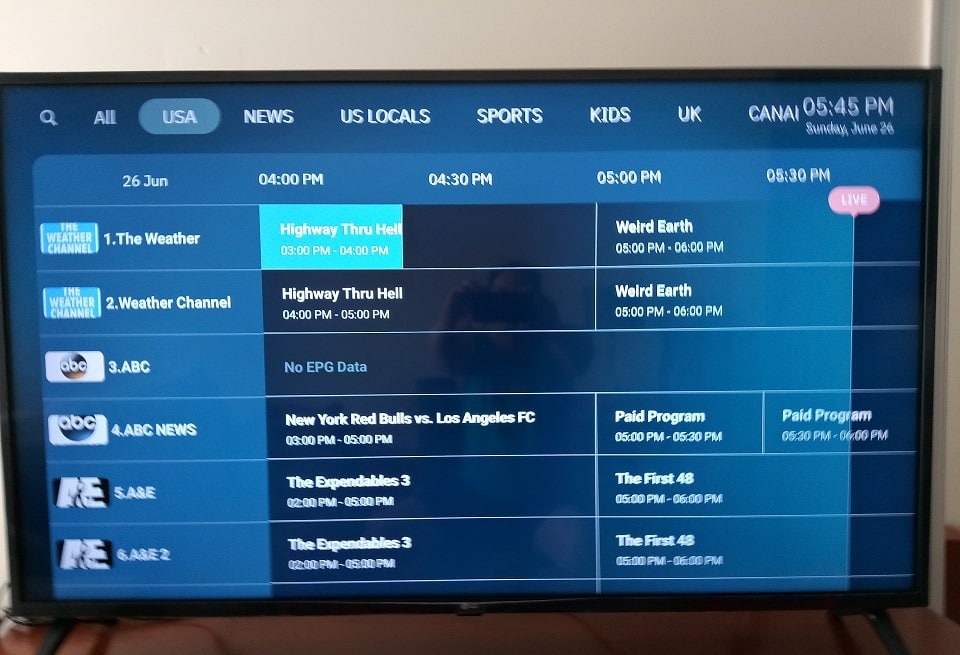 Settings Category
In this section, you can change your language, turn subtitles on/off (not sure if this works), change the time format, etc. I only wanted to change the time format to 12 hours instead of the 24-hour military time. You can also scroll further down to log out of the app but you don't want to do that.
Each time you open or launch the SO Player app, it will automatically log you in. If you log out of the app, you will need to go through the activation/login process again. You will find other info in this section as well. Here is where you can find your Account ID and other info related to your subscription under your profile name.

User-Interfacing, Picture/Audio Quality, Performance & Delivery
Overall, I was quite happy when completing the Rockspheres IPTV review. The interfacing of the SO Player app connected to the Rockspheres servers was very easy and quite pleasant. Very easy navigation where you never get lost and don't have a difficult time finding what you want to watch online.
The layout and organization of all the streaming content are perfectly placed for you to find. I used the Firestick 4K with Alexa Voice connected to my LG smart TV 4K. The picture quality was picture-perfect. You get HD (1080p) resolution but there may be some SD channels as well.
There may be some FHD or UHD, 4K channel resolutions as well. But all the live channels and VODs that I played had great picture quality and the audio was just as great. When playing live channels all of them streamed very quickly. There was no delay whatsoever. However, there are bound to be some non-working channels that are typical of all IPTV services.
Like me, you want no delay in playing something you want to watch. The VOD movies are just a tad slower to play but nothing to frown upon. That's what playing movies online do. I had no complaints and as for movies, I could move the scroll bar forward to get past the boring intro of the movie.
Performance
My ISP (Internet Service Provider) is Comcast where I pay for 400 Mbps Internet (download) connection speed. However, I never get that amount for any streaming device that I use. Comcast added another 200 Mbps of Internet speed with no extra charge.
I did not experience any buffering or streaming issues but I didn't play the live streams for long. This is something you can test further when opting for the 3-day free trial. In my opinion, you should have at least 60 Mbps of Internet (download) connection speed. But having more is always better.
If you connect multiple devices at one time to the Rockspheres IPTV service and experience consistent buffering, more than likely the issue exists on your end. In most cases, consistent buffering comes from the user's end, not so much from the IPTV service.
You can watch this video if you are going to use a Firestick or Fire TV device. For other compatible devices, you can head over to YouTube.com. Search for videos to help resolve consistent buffering on your device.
You may need more Internet connection speed when connecting more than one streaming device to Rockspheres. You will know if you experience consistent buffering of poor streaming.

Compatible Devices / Device Connections
Rockspheres IPTV is not compatible with all devices. In fact, most IPTV services are not compatible with a wide range of devices. I have listed all the compatible streaming devices below that apply to all SO Player IPTV services. I went over the compatibility in the first part of my Rockspheres review video.
Streaming Device Compatibility
Computers (Windows & Mac)
Apple TV
NVIDIA Shield
iOS Devices (iPad & iPhone)
Android Device (TV, Box & Phone)
Amazon Devices (Firestick & Fire TV)
Smart TV (LG only, not Samsung)
If you have a smart TV with a built-in app store, you can search for the SO Player app to install it. However, if you cannot find the SO Player, then your TV is not compatible. I could no longer find the SOPlayer inside my Samsung smart TV. The best thing to do is buy/use the Firestick and connect it to your HDTV or smart TV.
You can download/install the apk version of the SO Player app. Just watch the video on how to install it. Subscribers can connect up to 4 streaming devices simultaneously. Other household members can connect to the Rockspheres TV using another compatible device. Each person can watch something different from the others.

Free Trial, Subscription Plans, Money-Back Guarantee & Support
You have the option to enter into the free trial with limited access to test everything yourself or choose one of the subscription plans. I suggest entering into the trial first, especially if you are a newcomer to IPTV services. There is no Refund Policy on the Rockspheres website so there is no indication if refunds are permitted. I suggest that you contact them to find out and know upfront so you are prepared.
Some IPTVs with free trials either allow refund requests while others do not. The ones that don't tell you to enter into the trial first. Others will automatically make you enter into the trial before you can get the subscription.
Free Trial and Payment Options / 4 Device Connections:
3-Day Free Trial: $0.00 (no credit card needed)
1-Month: $25.00
3-Month: $69.00
Streams Empire Prices:
1-Month @ $25.00 USD
3-Month @ $69.00 USD
NOTE: This is no monthly recurring billing. You won't be charged automatically. Once your 1-month or 3-month subscription renews, you must revisit the Rockspheres website again to renew. You can pay for the 1-month or 3-month next time.
Support
Support is available but there is only one way to get it and that's through their website chat box. Because this is a new IPTV service and website, there may not be a live chat agent. There didn't appear to be one at the time of this Rockspheres review. But this could change later on as this service start to get more subscribers.

Rockspheres IPTV Review: Pros and Cons
What would a real review be without indicating the pros and cons? I am happy to say there is no real issue with any of the Cons mentioned below. You should have a pleasant experience as I did.
PROS
Rockspheres TV is a very easy-to-use IPTV service for newcomers and experienced. They target North American TV viewers and those who want access to that streaming content in other lands. There are also French and Spanish channels that French Canadians and Spanish Americans will enjoy.
Whether your interest lies in sports or news, movies, or TV series, you get all of that and more. There's even something for the children. Remember, there is adult content that's locked by default. You get a dedicated sports section with popular sports networks.
There are many popular TV networks with movies, kids, news, documentaries, and so on. And you have on-demand sports (NFL & UFC Replays) as well. Anyone anywhere in the world can get access to the same streaming content and watch it on any compatible device.
If you are into boxing, the big fights, there are PPV events streams available to watch. There are plenty of movies both live channels and on-demand, including TV shows both live and on-demand.
CONS
As you can see, I didn't write a features section in this Rockspheres review. That's because there is a very limited number of features. You did get a Search tool, Add to Favorites (VOD only), EPG (Electronic Programming guide), and that's pretty much it.
The app does track what you watch online and refers you back to that same content if you want to watch it. And there are a few minor features inside the Settings of the app. If you were wondering if CatchUp TV is included, sorry to say that content is not included. But must IPTV service doesn't include it either.
You cannot add live channels to favorites, only VODs to favorites. When traveling, you can only use a smartphone to connect to any WiFi area. No other compatible streaming device can be used when traveling. Some live channels may not play which is typical for all IPTV services.

Conclusion
Whether you live in North America or live outside the continent and want access to all the streaming content, you are permitted to do so. There is no restriction to watching what you want. So if it's plenty of movies that you want or your favorite TV shows, you get them.
If you are into sports, you can get access to just about any sporting event. You can watch seasonal sports, pro/college/international sports, PPV boxing, and sports talks, and maybe get a US regional channel.
Since there is no channel list the free trial will allow you to see all TV channels/network names. Then you can play them to see if they are working. This is what I was able to do during my Rockspheres IPTV review. I gave this IPTV service a thumbs up and recommend trying them out for yourself before shelling out any money.
This Concludes My Rockspheres Review.