My Thoughts...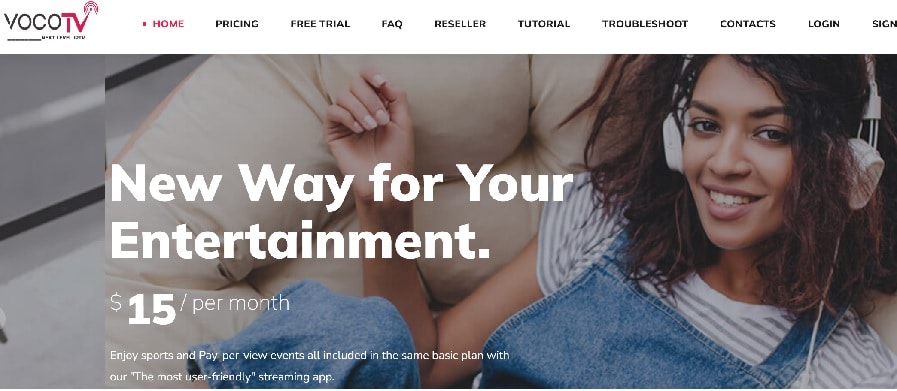 Product Name: Voco TV Review
Product Description: No IP Lock IPTV streaming service, an all-in-one source for watching live channels (premium, US locals/regionals, Global) from major TV networks. Watch VOD movies and TV series. Movies include releases and genres. TV series include seasons and episodes. Also includes PPV, 24/7 shows/movies, 60+ countries including US, UK, CA & Australia. Choose from many low-cost subscription plans with 1, 3, 6 & 12-month subscriptions, and 1, 2, 3 & 4 device connections at one time. Also 24-hour free trial with no credit card required. Many compatible streaming devices can be used including smart TVs (LG & Samsung). Supports many TV apps such as IPTV Smarters Pro, own branded app, Tivimate, and other apps for various devices.
Offer price: 15.00
Currency: USD
Availability: OnlineOnly
Usability

Performance

Picture Quality

Compatibility

Live Channels

VOD

Sports/PPV

Global Channels

24/7 TV Shows

EPG (TV Guide)

Features

Support
Voco TV Summary
TV viewers can watch many of their favorites channels from major TV networks including entertaining VODs. Watch movies, TV shows, sports, news, documentaries, Kids shows, US local/regional, PPV, 24/7 shows from over 60 countries. VOD movies with genres and new releases, VOD TV series with seasons, episodes, and genres, plus sports replays. English-speaking countries include the US, CA, UK & Australia. Features include EPG (Electronic Programming Guide), search tool, sort A-Z/Z-A, multi-screen (4 PIP), Add to Favorites, and more. Watch from anywhere in the world. Can use Web TV Player that opens in your favorite web browser to watch your favorites online that way. Compatible streaming devices (Apple/iOs, Android, Windows Computer/laptop, Firestick/Fire TV, etc.) and smart TVs (LG & Samsung). Supports many apps (IPTV Smarters Pro, Tivimate, etc.) and m3u. Pay as little as $15 per month and build from there by adding more device connections and months.
Pros
All kinds of entertaining live channels (premium, news, movies, sports, shows, documentaries, kids, etc)
Channels from major TV networks
Watch 24/7 shows
PPV boxing/fights/big events
VOD movies w/ genres & new releases
VOD TV series w/ seasons, episodes & genres
Sports Replays
EPG (Electronic Programming Guide)
Add channels to Favorites & Multiscreen
Connect up 4 streaming devices at one time
Choose 1, 3, 6, or 12-month subscription plan
Very low-cost
Cons
Many non-working 24/7 shows
Some non-working channels/VODs – typical of all IPTVs  
Multiscreen–max limited to only two screens not 4
Voco TV Review by Real Tester/User. If you're tired of paying the high cost of cable or satellite TV and looking for significant savings without losing what you love to watch, Voco TV IPTV may be just the thing. Even if you're living without cable TV, you should continue reading. In my Voco TV IPTV review, I will provide you with inside information
I've test-reviewed the Voco TV service with supported app. Besides my full review with pros and cons, you get access to my video tutorials that let you see everything with your own two eyes. Simply click the button in the star-rated review section above.
Want to see Voco in action via smart TV? CLICK HERE
See Voco in action via Firestick – CLICK HERE
Click Here to Signup, Get Trial or Subscription with Activation

What Is It and What's In It For You
If you have not explored watching TV online or you have but wonder what else is out there, Voco TV adds another dimension to the mix. You get access to 1000s of live TV channels, including premium, US locals/regionals, major TV networks, and so on.
You can watch movies, sports, news, documentary, kids' channels, and more. This also includes access to 1000s VOD movies and TV series as well as PPV and 24/7 streaming content. During the Voco TV review, I found channels from the US, UK, Australia, and CA–all English-speaking countries. And there are a large number of countries with their channels included.
You get an all-in-one streaming TV/VOD platform that entertains the entire family, which means adults, teens, pre-teens, and the little ones. And when looking at the cost savings compared to cable/satellite TV, that alone can make you take a closer look at Voco TV IPTV. Click Here to watch the video review.
Additional Info…
Unlike many typical streaming TV services or OTT TV services, VocoTV just adds another dimension. It uses a No IP Lock system that eliminates any restrictions. You can literally use any compatible streaming device with the TV app installed and connected when traveling outside the home. Travel near or far, even worldwide as long as you have and can maintain an Internet connection.
Just imagine using your laptop or Apple tablet which are portable devices to watch your favorites online. You'll see in my Voco TV IPTV review the complete layout internally. The category, sub-categories, navigation, features, and even watch streaming content play.
Moreover, you can use a VPN service (optional) should you want to hide your IP address which doesn't matter if your IP changes. Any person from all walks of life can use Voco TV to watch their favorites online. Watch channels from your homeland at your leisure. These are just some of the benefits I found when using the Voco IPTV service.

What Are the Requirements?
The setup includes a high-speed Internet connection of 30 Mbps or more. But I say 100 Mbps or more would be ideal. Here'w why… Read this Article.
A compatible streaming device is required which I give you a breakdown further down in this Voco TV review. More than likely you already possess both of these technologies in your household that I mentioned so far. This means you are halfway there already to getting fully set up.
You will need to download/install the free TV app which I break down further in this Voco TV IPTV review. You will know exactly what TV player is supported and should be used for your compatible streaming devices or smart TV.
A paid IPTV service subscription is required. Or you can enter into the free trial to get set up and activated. Either way will give you access to all the streaming content under one roof. Voco TV IPTV delivers all the streaming content and provides support for both the app and streaming content. Any issues you go back to their website to get support. This also includes renewing your subscription when time. More on this later.

Voco TV Review of IPTV Streaming Content
I paid the one-month subscription for 2 device connections and installed the Voco TV player app on my Firestick. It's a brand app of theirs taken from the very popular IPTV Smarters Pro app. They simply rebranded it. Channels play in SD, HD, and FHD. They also included a 4k section of channels to watch.
When the TV player opened the main screen appears where you will see 4 main categories as follows:
Live
Guide – EPG (Electronic Programming Guide)
VOD (all movies)
TV Series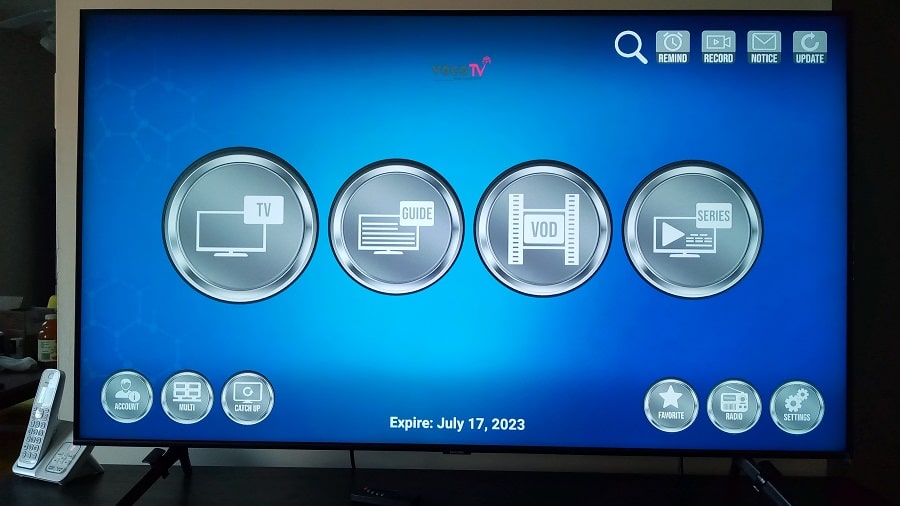 You can easily navigate to any one of those categories to find what you're looking for. It's really self-explanatory. When you watch the video tutorials, you'll see the ease of use and navigation that makes watching TV online delightful. You can watch everything from an iOS, Android, Computer, Smart TV, etc.
Live Category (all live channels)
When I selected the Live category, it automatically to took me to the section that showed all live channels. On the left side, appeared the sub-categories. Select a sub-category and all the live channels appear in the right column. Below are some of the sub-categories:
Favorites
Recent Search
USA Entertainment
USA Movies
USA Sports
USA News
And so on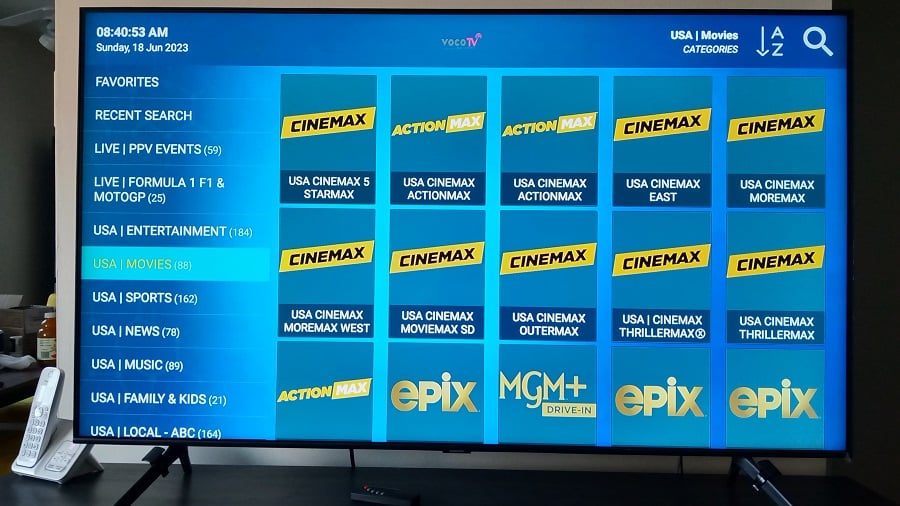 Also in my Voco TV review, I found channels for music, US locals, sports & seasonal sports, 24/7 TV shows & movies, Canada and United Kingdom channels, plus 60+ other countries. You can also watch PPV fights/special boxing events live without an extra cost. Further into my Voco TV IPTV review…
Guide Category – EPG (Electronic Programming Guide)
Guide or TV Guide) is another sub-category on the main screen. This feature gives you the ability to program the TV guide with only the channels that interest you. For example, in the top portion of this section, there's a long row of sub-categories.
I selected the sub-category for USA Movies and it loaded the TV guide with only those movies. When I selected USA Family & Kids, only those channels were loaded in the TV guide. I could play any channel that I wanted from the TV guide (EPG).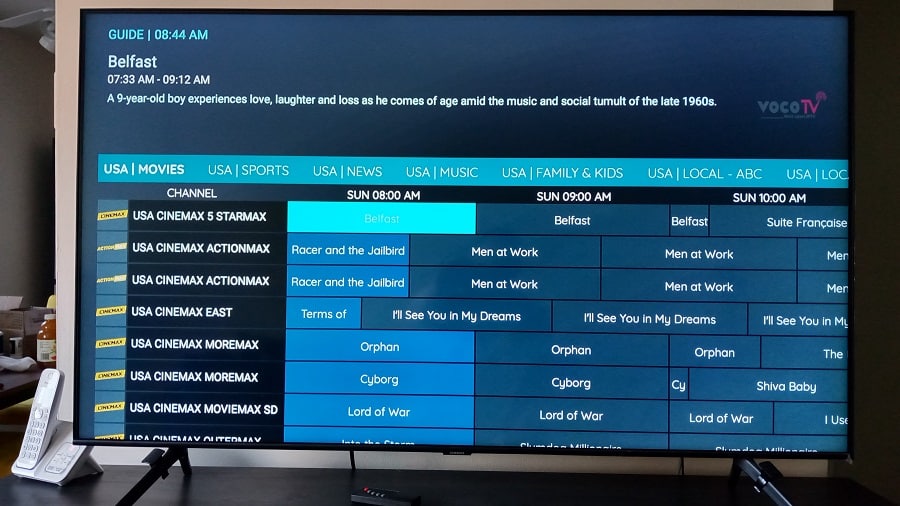 You will see TV networks with TV programs (shows) in their timeslots just like a TV guide. Chose any channel to play right from the EPG–TV guide. You can select a different sub-category of channels at will to load the TV guide.
VOD (all movies)
The layout of movies with sub-categories is child's play when navigating and finding what you want. You can use the magnifying glass icon to search by title or scroll through the sub-categories or the list of movie images to play any one of them.
In the left column, you will see the following…
Favorites
Recently Added
Continue Watching
New Movies (2023) **This changes by year
4k Movies
Sports Replays
And the list of genres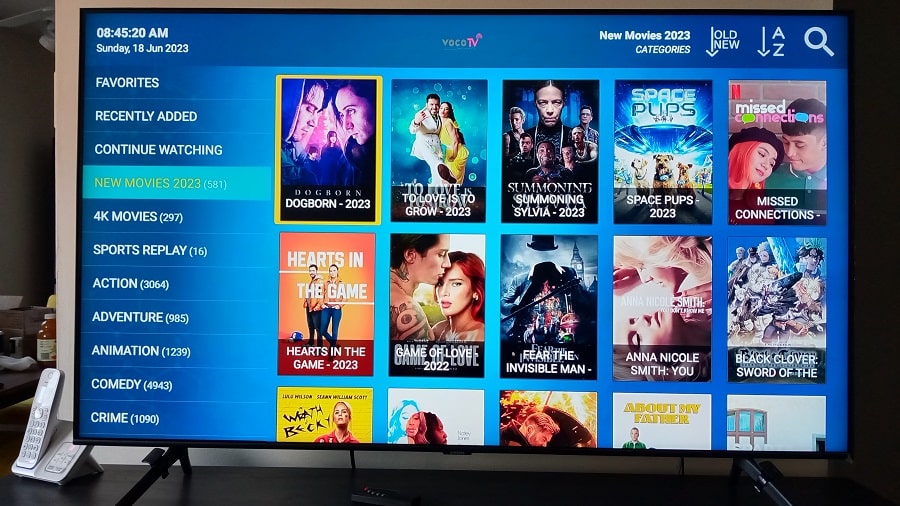 As for movies, there's something for the entire family. Simply select the movie title/image in the right column and you get the movie description screen. At the bottom is the play button to play the movie. I've seen movies that came with a movie trailer also. One worked but the other one I tried didn't work.
TV Series Category
This section pretty much has the same setup and navigation as movies. In the left column, you'll find the following:
Favorites
Recently Added
Continue Watching
And the list of genres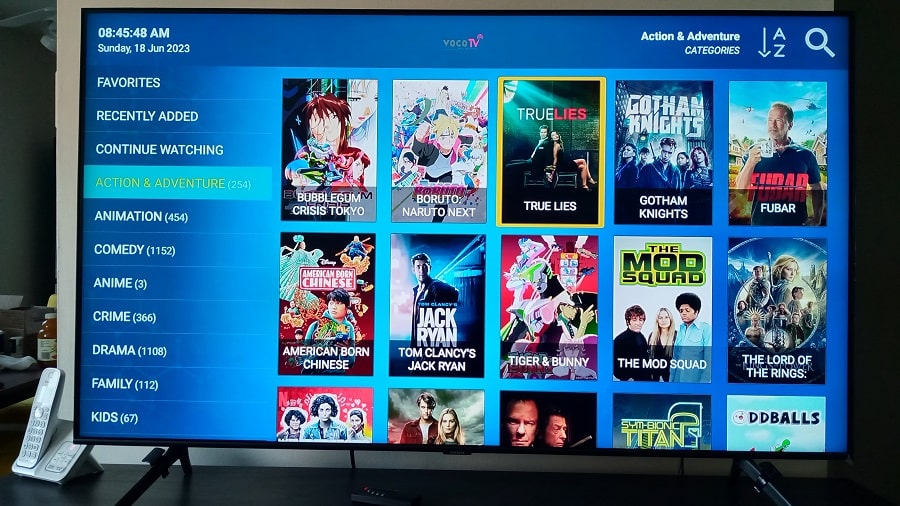 You can search by title if you want the same way as the movies section. Simply select any TV series of interest to open. You find both seasons and episodes where you can select one to start watching it. Many popular TV series are available to watch. Voco TV review continues…
Regular Updates
Voco TV doesn't lay dormant by not updating the channels and VODs periodically. The updates will come and bring new streaming content to watch. This is one of the benefits of using the Voco TV IPTV service. The price may be cheap compared to cable TV but you do get the support they promise.

Feature Enhancements
I've already told you about some of the features provided. Other features include:
Multiscreen (PIP) – Can play up to 4 streams at one time
Add to Favorites – Add any channels or VOD to favorites
Sort A-Z/Z-A
Search Tool
Parental Control (see Settings)
Record (not tested-need external storage device)
Update (manually update Live TV, VOD, Series & Guide)

IPTV Smarters Web TV Player
There's another way you can watch TV online when using the Web TV player. After communicating with the Voco TV owner, he said he will create a web TV player in the near future.
Until then, you can Click Here to access the Web TV Player. Use the same Username, Password, and portal URL in the Voco TV email when signing up for the trial or subscription. This will get you inside the Web TV Player app to watch all the streaming content that way. Great for computer, and tablet users as well as those who rather take the easiest approach to watching TV Online.
With the Web TV Player, you don't download/install any app. Instead, the TV Player app will open up in your favorite web browser — Easy Peasy.

Compatible Streaming Devices & Smart TVs Plus Apps/Apk
I have listed the compatible streaming devices and smart TVs. You will find this information on the Voco TV website as well as their written setup installation guides, and troubleshooting section.
Amazon Firestick/Fire TV: Voco TV App; IPTV Smarters Pro; IPTV Smarters Player; TiviMate IPTV Player
Android Devices (Smartphone, Box & TV): IPTV Smarters Player; TiviMate for Android TV Box
iPhone, Apple TV: IPTV Smarters App
MAG Device: Follow Step-by-Step Tutorial
Smart TVs (Samsung & LG): DuplexPlay is listed but the guide is for IPTV Smarters Pro
Windows PC: MyIPTV Player
Formuler Box/Device: MyTV Online Player
Enigma2/Dreambox/Vu+: Follow Step-by-Step Tutorial
Dreamlink: DreamOnline Player
Supports m3u
Voco TV IPTV Review of IPTV Smarters Pro app. I have test reviewed the very popular IPTV Smarters Pro app/apk many times over with other IPTV services. I love this app and you will too. IPTV Smarters Pro works seamlessly with IPTV services. Still, the IPTV service needs to do its part to deliver the best of web TV entertainment including very good technology.
I'm giving Voco TV a full month (June-July 2023) to review it so my Voco TV review won't be complete before then.

Voco TV Trial & Subscription Plans
Voco TV IPTV provides a number of plans to choose from. You can choose 1, 3, 6 & 12 subscription plans with 1, 2, 3, or 4 device connections. Connect up to 4 streaming devices at one time which lets you watch something different in each room of your place of living. Use any compatible mobile and portable devices to watch what you want outside your place of living.
Subscription Breakdown…
Each plan comes with 16,000 Live TV, EPG Guide, 130,000 VOD on demand, 20,000 TV Series, 3,000 24/7 Channels, PPV and Sports Events, and No IP Lock Use Anywhere
1 Device Connection…
1-Month: $15.00 USD
3-Month: $40.00 USD
6-Month: $60.00 USD
12-Month: $120.00 USD
2 Device Connection…
1-Month: $25.00 USD
3-Month: $50.00 USD
6-Month: $75.00 USD
12-Month: $140.00 USD
3 Device Connection…
1-Month: $30.00 USD
3-Month: $60.00 USD
6-Month: $90.00 USD
12-Month: $160.00 USD
4 Device Connection…
1-Month: $45.00 USD
3-Month: $70.00 USD
6-Month: $110.00 USD
12-Month: $180.00 USD
Money-Back Guarantee/Refund…
Voco TV IPTV gives you a 30-day money-back guarantee, provided they cannot resolve your issue. That's very generous considering most IPTV services don't give as nearly as many days.
24-Hour Free Trial
You can get a free trial at $0.00 cost, no credit card is required but you must select a payment method doing signup. Choose either debit/card via PayPal or Bitcoin cryptocurrency. If you don't already have a free PayPal account, then you need to get one.
Additional Info & PayPal Payment Method…
Generally, IPTVs don't automatically bill you so the same would be true for Voco. Whichever subscription plan you choose 1, 3, 6, or 12-month plan, you must return to the Voco TV IPTV website to renew. You pay as you go. So always remember the name (Voco TV) and know where to find their website.
Let me add the following to my Voco TV review. PayPal is used by millions of merchants and individuals like me and you. It's easy and secure to pay for products and services with PayPal online. You can connect your bank account and/or credit card(s) and easily pay online if the merchant has the PayPal payment method on their website.

Support Help
For presale questions and support, you will have access to the Voco TV chat box. They provide you with an email link and support ticket link as well after you sign up for the trial or subscription. There are plenty of helpful written tutorials available and troubleshooting sections on their website.
They've expressed that you will get 24 hours-7 days a week Technical Support.

Voco TV IPTV Review: Pros & Cons
No way can I let you leave this Voco TV review without stating the upsides and downsides. I want you to know as much as me and decide whether this one-source for all TV entertainment mediums is right for you. First and foremost, understand that no IPTV service is perfect. You are bound to come across some non-working channels and VODs.
You could experience a buffering issue with certain channels which can result from an issue on your end. But this does not exclude the IPTV service where there might be an issue with certain channels. But you want to make sure your streaming device OS is up-to-date, has enough storage space, and you have a fast Internet connection.
You can always search YouTube videos to help you troubleshoot/resolve issues. If you are getting consistent buffering from many channels from one device, try a different compatible device and see what happens. Try to isolate the issue and conclude whether or not the issue is on your end.
PROS
It has come to my conclusion that not all IPTV services are equal. Some have better technology, setup, and support, than others. So far I put Voco TV right up there until something tells me otherwise. Their channel delivery and technology so far are good. The streaming content they deliver is very entertaining and for the price you can't beat it.
Movie lovers get access to both live movie channels and VOD movies. The same for those who love TV shows and TV series, they get access to live channels and VOD TV series. If you love sports, there's enough that will fill your appetite such as local, national, and international sports including seasonal sports.
This also includes PPV events to watch boxing/special events. And then there's the Sports Replays waiting for you to catch up and watch online. If you are looking to beat the high cost of cable or satellite TV or lack the TV entertainment you deserve, Voco TV IPTV delivers. There's something for everyone.
CONS
During my Voco TV IPTV review, I didn't find as many downsides from this IPTV service and app. However, one month of testing should tell the tale of how good is this IPTV service. I have not tested 1000s of channels and VODs but I did come across some non-working streams. But this is typical to all IPTVs out there.
There were many 24/7 TV shows non-working and I reported this to support. If you are from the US or from one of the other English-speaking countries, you may not like having all the other countries included. Some VOD movies included movie trailers whereas some worked and others didn't.
Unfortunately, the multi-screen (4 PIP) limits you to only 2 screens that can be streamed at one time.
Voco TV doesn't offer a Bouquet feature to select specific countries with streaming content of interests when subscribing. But most IPTVs out there don't as well. You can probably tell that I'm knit-picking here at this point. However, I was told by support that you can make the request for countries and streaming content not to be included. This in turn could eliminate or reduce consistent buffering should it occur.
UPDATE…
It was revealed to me by the owner that VocoTV experienced some issues in the past that led to many customer complaints. I was told those issues have been cleaned up and steady improvements are being made. In my video review that takes you inside the Voco TV app player connected to the Voco TV servers, you will see what I saw.
I navigated through many categories and sub-categories of live channels including VOD movies and TV series. I covered the features and as well play some of the streaming content. You will see with your own eyes that I found no issues with this IPTV service. Yet I did not play any streams for long doing the review.
I really didn't find as many downsides as I thought I would find. Go see for yourself and watch everything on my Firestick HERE as I demonstrated. Or watch it on my Samsung smart TV HERE. The Voco TV app is a rebranded app of the IPTV Smarters Pro app which is a very popular app.
Additional Info…
I paid the one-month subscription so I will be testing this IPTV service from the middle of June into the middle of July 2023. Should there be any issues, I will post an update here. Until then, I recommend signing up for the 24-hour free trial and testing for yourself.
No credit card is required. So there's really nothing to lose. If you don't like Voco TV for any reason, the trial will end, you pay nothing and go about your business.

Conclusion…
By now, my Voco TV IPTV review should have given you a pretty good idea of what the Voco TV IPTV service is and what's included. You know the benefits and prices as well as the savings without losing watching your favorite channels and VODs.
So why is this a no-brainer? Well, there's the 24-hour free trial that allows you to test everything without giving up your credit card. Once the trial is over, you decide whether or not to pay. If you decide to buy in, there's a 30-day money-back guaranteed.
If you don't like it or Voco TV can't resolve something within the 30-day deadline, just request a refund.
This Concludes Our Voco TV Review.