Web IPTV Player – Quickest, Easiest Way to Watch Your Favorites Online With No App Download
A Web TV Player app that opens inside your favorite web browser is another way to watch streaming TV/VOD content. Take any streaming device with a web browser that can open the Web IPTV Channel Player. This allows you to play streaming live channels/on-demand content without downloading any app.
But the other side to this is finding the ideal IPTV service with a subscription to activate and use the Web-Based IPTV Player. This is the only way you can watch anything online when using the web player. You will soon learn which IPTV service to use that allows you to activate and use the player.
How to Watch IPTV via IPTV Smarters Web Player:
Must have high-speed Internet connection
Compatible streaming device
Use any favorite web browser (MS Edge, Chrome, Firefox, Safari, etc.)
Click this Link to open IPTV Smarters Web-Based IPTV Player
Get IPTV Service low-cost subscription or trial with activation/login credentials
Create profile name inside IPTV Smarters Login Page
Enter Username, Password & Portal URL inside Login Page
Click 'Add User'

What Is Web TV Player
Have you ever used Netflix before or any TV/VOD medium that's similar? Did you use your streaming device with a web browser to watch everything online? If so, then you have a good idea of how things work. There is no app to download or set up installation instructions to follow.
You simply open the Web TV player URL inside your favorite web browser to get to the login page to sign in. Take for instance the IPTV Smarters Web IPTV player. It's a WebTV Player based on Xrtream Codes API. This allows you to watch streaming live TV channels and on-demand movies/TV series in an instant via your web browser.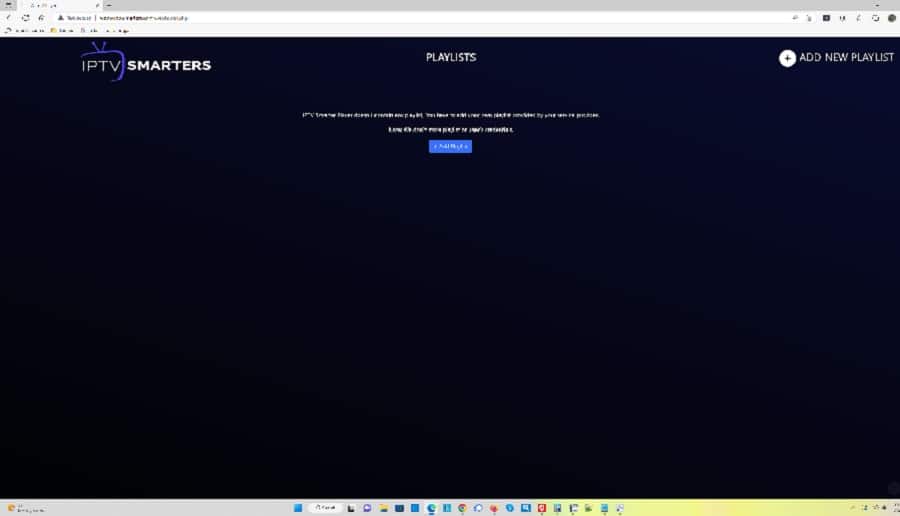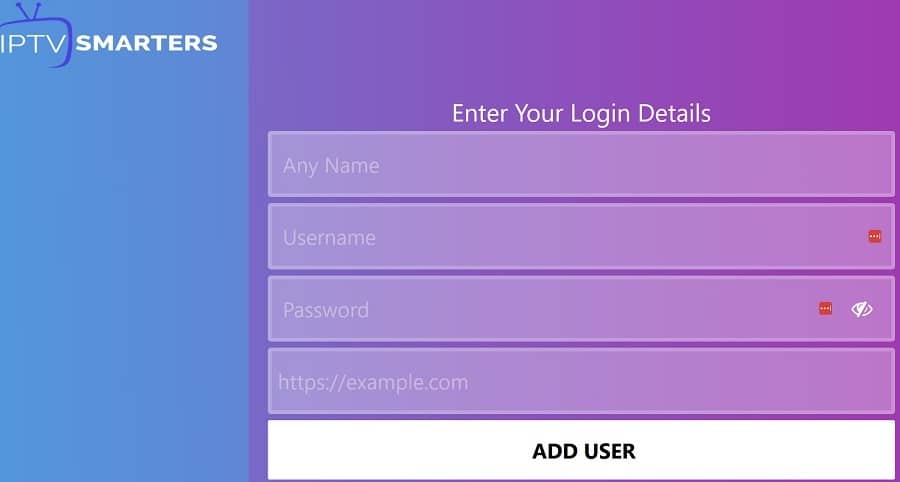 NOTE: IPTV subscription is required to get activation/login credentials (Username, Password & Portal URL. For 'Any Name', you create any profile name you want for yourself. Click the link below to signup
You can use any website browser such as Google Chrome, Safari, Firefox, MS Edge, etc. Some web browsers are better for streaming than others. Therefore, you might want to try two or more browsers to see which one streams the best.
The Web TV Player is only part of what is needed. It does not deliver streaming content on its own and this is where a top IPTV service comes into play. You also need a high-speed Internet connection to stream all types of streaming content in SD, HD, FHD, etc. Read More Here.

Which Player is Best for IPTV
My recommendation is the IPTV Smarters Web IPTV Player. Some refer to it as Web IPTV Channel Player but you get more than just live channels. Why is this the best? Because top IPTV services use this app which gives two ways to watch your favorites online:
IPTV Smarter Pro app download to any compatible device
IPTV Smarter Web-Based IPTV Player via any web browser
I have tested the IPTV Smarters WebTV Player including the IPTV Smarters Pro Web TV Player download. The IPTV service that I'm recommending delivers a huge amount of live channels and VOD movies/TV series. There are over 50 countries included which appeals to users globally.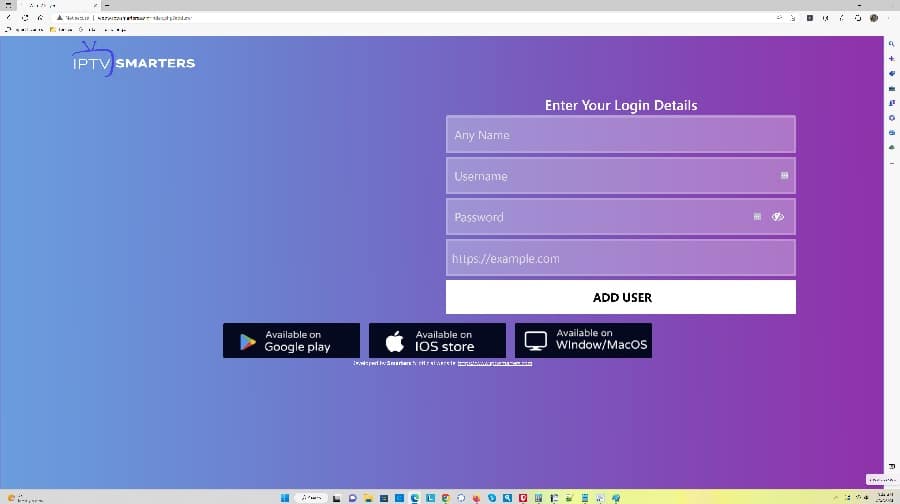 The IPTV Smarters Player handles all the streaming content quite well without a major performance issue. You will see what I mean when watching the video above. I take you inside the IPTV Smarters VOD and live TV Player where everything is revealed.

What is the URL for IPTV Player Smarters
Click this link and it will take you to the IPTV Smarters Web IPTV Player inside your web browser. You can click the blue Add Playlist button or the link in the upper right corner. This takes you to the login page where you enter the following:
Create profile name
Username
Password
Portal URL
Once those credentials are entered/typed in, the Web TV Player is activated and you are not logged into the web IPTV channel player that also has VOD content. That's how easy it is to get set up. So where do you get the activation credentials from? You get it from the top IPTV service that I'm recommending. They provide the activation/login credentials to unlock and use the Web TV Player.
NOTE: Not all streaming devices are compatible. Those that don't have a web browser for streaming.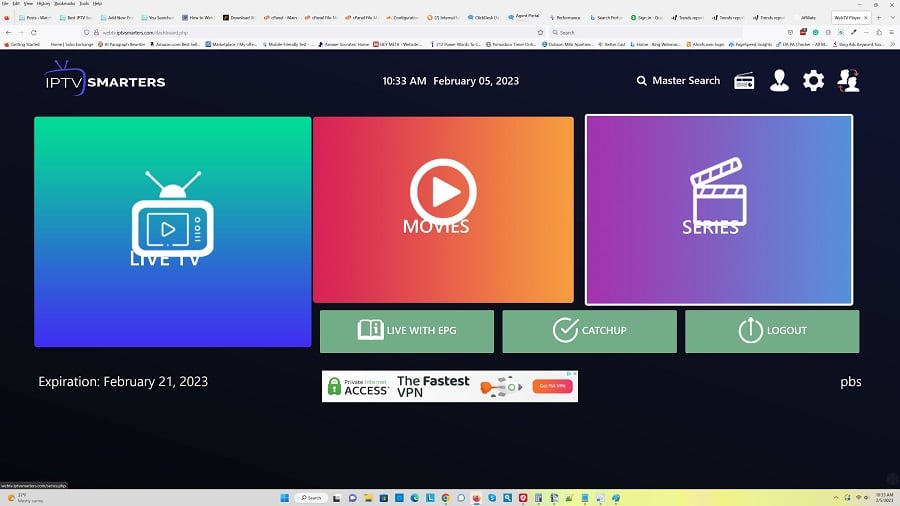 How Do I Watch IPTV on My Web Player
If you already found a Web TV Player with a TV subscription, I seriously suggest you compare it with the IPTV Smarters Web IPTV Player. And compare it with the recommended IPTV service that I'm giving you. They also have a low-cost trial to test everything if you don't want to pay the full subscription price right now.
But wait until you see the low-cost subscription plans. When you watch the video at the top and see all the streaming content available, I have no doubt you will want to subscribe. You'll see some of the live channels and VOD movies/TV series play which should give you a visual of everything.
You should already have a high-speed Internet connection and a compatible device. The best way I can sum up what devices are compatible is this: Your streaming device has a web browser; You're able to enter the URL to open the IPTV Smarters Web IPTV Channel Player; Login into the WebTV Player and watch the streaming content. Read more about the recommended IPTV service below…

Recommended IPTV Service for IPTV Smarters
I'm sure you are going to appreciate having the IPTV service that I'm recommending for the IPTV Smarters Web-Based IPTV Player. Here's why…
You get access to a No IP Lock IPTV service that gives you two ways to watch your favorites: 1) IPTV Smarters Pro -TV app download; 2) Smarter IPTV Web IPTV Player.
Because your IP address isn't restricted, you can use a VPN service (optional). You can hide your whereabouts on the Internet so that no one tracks you. In other words, you can change your IP address, unlike IP Lock IPTV services.
There's nothing stopping you from using any compatible streaming device when traveling. You can travel near or far or worldwide and use either the TV app download or the WebTV Player. When using the Web IPTV Player, you can use your computer laptop (Windows, Mac, Linux?).
More Info…
If you want to watch everything on the big screen TV, simply connect a long HDMI cable to the back of the computer and TV. Or, you may want to mirror your computer and smart TV. What this also means is you can take your streaming device over to a friend or family member's house and watch everything over there as well. It does matter if you use the IPTV smarter Pro app download or the Web TV Player IPTV.
Live TV Player Channels & VOD Delivered
The recommended IPTV service delivers 20,000+ Live TV Channels from over 50 countries which also includes all English-speaking countries such as the US, CA, UK, Australia, etc. You'll get access to premium channels, global channels, and some US local/regional channels. Top TV networks to watch news, movies, kids' shows, documentaries, and other shows. And let's not forget a huge live sports package as well.
They also deliver tons of VOD Movies w/ New Releases, Genres plus TV Series w/ Seasons & Episodes. And there's a lot more they deliver. Just watch the video at the top where you can see everything for yourself. To learn more, click the link below or read the full review…
Open IPTV Smarters Web TV Player Here

In Closing…
You learned about the top IPTV Smarters Web IPTV Player and recommended top IPTV service. Compare both to any Web TV Player and TV/VOD streaming service you like. It's one thing to have a good Web IPTV Channel Player with VOD that opens in your web browser and another to have a top IPTV service. It makes a world of a difference when having both. Enjoy!
Latest posts by Web TV Guy
(see all)