My Thoughts...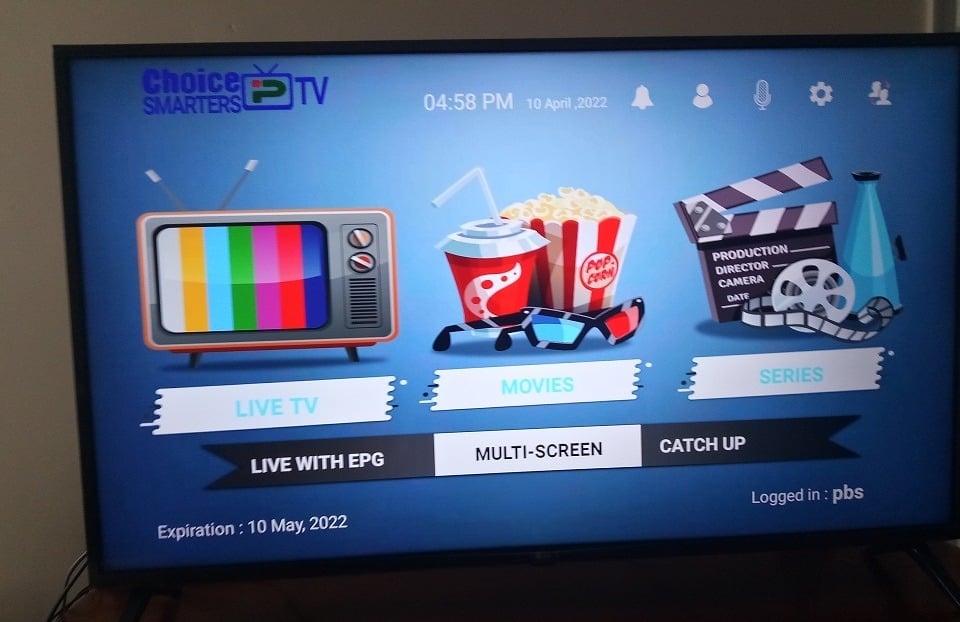 Product Name: Choice IPTV
Product Description: IPTV service with 4 TV player apps to choose from plus a VOD app very similar to the free Cinema movies and TV series. Get access to over 10,000 live channels worldwide including US, CA, and AUS. Watch major TV networks, PPV, movies, TV shows, news, kids, and so on. Something for everyone and include adult content. Get up to 5 device connections at one time via compatible devices (Fire/Firestick, Smart TV, Computers, Mag, iOS & Android devices). Has a low-cost trial, free trial, and several subscription packages. Also comes with EPG/TV Guide.
Offer price: 10.99
Currency: USD
Availability: OnlineOnly
Usability

Performance

Picture Quality

Compatibility

Live Channels

VOD/CatchUp

Sports/PPV

Global Channels

EPG (TV Guide)

Features

Support
Choice IPTV Review
If you are for a way to get all your favorite TV channels/networks and VODs under one roof, you can get that and much more. You get premium channels, local channels, and maybe some USA regional channels. This IPTV service delivers over 10,000 live global channels which also include the US, UK, CA & AUS. Watch any and all live sporting events (local, national, international) including PPV. Get all the movies both live channels and VOD movies with genres, new releases, and some VOD sports. Get access to TV series with episodes and seasons. Some movies come with trailers also. Adult content included. Something for the entire family including kids channels. Can create/add User profiles. Features include Multiscreen, Record, Add to Favorites, Parental Control, Speed Test, and more. Connect up to 5 devices simultaneously. Supports many streaming devices and smart TVs. Comes with a trial and several subscription packages to suit your budget.  Can use a VPN service to hide your IP address and improve streaming performance.  Read the full below for more details…
Pros
Get access to favorite live channels (premium, global, sports, movies, news, kids, some USA regionals & local)
Get access to tons of VOD movies w/ genres & new releases plus TV series w/ episodes & seasons
Watch live and on-demand PPV events (WWE, MMA, special events, wrestling)
Adult content
Includes movie trailers and search tool
Record, multiscreen, Add to Favorites, and other features
Preview & fullscreen
4 TV player apps to choose from
Supports many devices
Can use VPN service with IPTV Smarters app but not sure with all TV apps
Low-cost trial & free trial with promo code: Freetrial
EPG (Electronic Programming Guide) – TV guide
57 Countries
And more
Cons
Some live channels may not work
Very minimum US regional and local channels
No record instructions and limited storage depending on the device
CatchUp has no content
EPG/TV Guide – TV Preview screen is still a work in progress, TV program description/info may be missing at times
Choice IPTV Review (IPTV Choice Review) with Pros, Cons, and Video Reviews by Real User/Tester. Perhaps you have a cable TV subscription or are living without and looking for something more affordable. Although saving money may be high on your list, you don't want to lose watching your favorites. Choice IPTV doesn't seem to take away what you like but includes more streaming content.
Wherever you are at watching TV, many individuals have turned to the Internet to get more savings. This also means less hassle when not having to enter into any contracts, termination fees, paying hidden or additional fees, installing hardware, etc.
That said, you may see the benefits of using an IPTV service provider such as this one. And you will see that this way of watching TV online is not typical of other streaming TV/VOD subscription services out there.
The main benefit comes down to getting an almost unlimited supply of live and on-demand streaming content at your fingertips under one roof and at a very affordable price.
Whether you are into watching sports (seasonal or international), watching movies from major networks, or news, there's more here than meets the eyes. You will see what I mean as this Choice IPTV review unfolds the physical test review that I conducted. In other words, you will have all the pertinent information to make a well-informed decision.
Who Is Choice IPTV For
During my Choice IPTV review, I could see this IPTV service caters to North American TV viewers including other continents/countries around the world. They have many subscription packages for certain types of streaming content you want. More on this later. But anyone worldwide with a high-speed Internet connection and a compatible device can get access.
You just need an IPTV subscription from ChoiceIPTV. I found over 50 countries with channels available. If you are bilingual or multilingual, you benefit more. For individuals that love watching movies, you get live and on-demand movies. Sports fans and fanatics get all the sports they want. More on this later.
If you never used an IPTV service before, they have a knowledgebase section that also includes setup instructions. But I will work you through some things as much as I can. The good news is I created videos that cover everything about Choice IPTV. Look for the video button inside the star-rated review.
Certainly, the young and middle-aged that are familiar with the Internet can do this. As for elders that have little Internet savvy, they can do this as well. Those who are not savvy will need to find someone to help with the setup/installation process, and maybe the subscription process. I have a whole video that covers the signup, trial, and subscription process.
What is Required and Getting Setup to Watch Your Favorites Online
Whether you are a first-timer at this or went around the block before using an IPTV service in the past, you need to know a few things. Starting with your Internet connection speed, compatible devices, and apps to download are important to understand. And there's more to know which I'll break everything down.
You can also sign up to get our Free IPTV Setup Guide that will take you deeper into your understanding. I encourage you to sign up whether or not you are new or think you know everything.
When conducting my Choice IPTV review, they appear to be using a No IP Lock IPTV system. At least for the Supreme Service subscription package that I chose. I got the one for 3 device connections with one month of service to watch TV online.
I was able to use my VPN service when streaming live channels played inside the IPTV Smarters app. I covered this with more details in the apps section below.
Here's what you need…
Internet Connection Speed
You should already have a modem/router at your location (home, business, residence) with Internet service from an ISP (Internet Service Provider). My ISP is Comcast where I'm paying for over 200 Mbps download speed which is more than enough. You on the other hand don't need to have that much speed.
The higher or faster the Internet connection speed the better the streaming performance will be to stream SD HD, FHD, 4k, 8k. ChoiceIPTV requires at least 30 Mbps but you just might be able to stream the content with no difficulty under 30 Mbps. Still, I suggest 30 Mbps or more especially if you are going to be using more than one device connected to this IPTV service.
Also, consider when more people are at home on weekends and holidays This would also include any special events where a great number of people are watching the same thing online. And they are all using the same ISP as you. So it's best to have an adequate amount of download and upload speed.
Consider Doing This First…
The best thing to do is test your compatible streaming device or a smart TV that you are going to use to watch Internet TV. If you can download apps, then you should be able to search and find a speed test app. For Fire TV and Firestick users, I suggest installing the Analiti Speed Test app.
For other devices with web browsers that can download/install apps, you can use SpeedTest.net to test the speed of your device, such as a computer. I suggest also reading an article post about improving streaming performance and eliminating consistent buffering should it occurs when playing a certain live channel stream. Click Here to Learn More.
Compatible Device(s)
You need to know what devices are compatible to use with Choice IPTV. Perhaps you already have a device or two that you are using right now. Here's a list of compatible devices:
Supported Devices
Android Devices (TV, Box & Phone)
iOS Devices (iPhone & iPad) – Cannot Use in Prime Server Package
Amazon Devices (Fire TV & Firestick)
Computers (Windows, Mac & Linux) – Cannot Use in Prime Server Package
Smart TVs – Cannot Use in Prime Server Package)
MAG – Can Only Use in Gator Server Package)
Formuler Devices
And any M3U Player App
Below, will give you some idea of what apps can be used for a compatible device:
Android Apps (Choice Tivimate IPTV, IPTV Smarters Pro, Unity Steam VOD App, XCIPTV)
Mac (IPTV Smarters MAC)
Windows PC/Laptop (IPTV Smarters PC)
Linux m3u so you can use VLC player
Use can use up to 5 device connections at one time depending on which subscription package you choose. This way each person in your household can watch something different on their smart TV or streaming device at home.
IPTV Service Subscription (ChoiceIPTV)
When visiting the Choice IPTV website, I suggest you take your time to read everything. Go through the Knowledgebase section and read as much as you can. You can click the Support in the menu at the top of their website. A dropdown list will appear where you can select Knowledgebase, Downloads, Setup Guides, etc. This information helped me to further my IPTV Choice review.
Understand it's the IPTV service, not the TV app itself that delivers all the streaming content. They will activate the TV app which is generally free. In most cases, you can either install the app first or pay for the IPTV subscription first. At the Choice website, you can sign up to get a free account and pay later.
Either way, you will need a subscription to use the app to watch TV online. You must remember the name of the IPTV service, in this case, ChoiceIPTV. And you need to know how/where to find the website online.
To renew your subscription and get support or to ask questions, you must go back to the IPTV service website. They also send you emails with info regarding your order, account, activation/login credentials, apps, links, etc.
IPTV Choice review – Additional Information
Worldwide HD Channels – 10,000+ HD channels from accross the globe
Even more 1000s of VOD movies and TV series including on-demand sports (WWE, MMA & more)
1-Click Installer – Eliminates digging through a bunch of setup/installation documentation. Simply install one of the 4 player apps, VOD app, and start watching TV
Smart LoadBalaning Technology- Improved channel load times
99.5% Uptime Guarantee – Multiple datacenter locations, redundant cooling, emergency generators, and constant monitoring
Choice IPTV Review: Choice App Store
Installing TV apps made easy-peasy (IPTV Smarters, Tivimate, Purple & XCIPTV) for newbies.
You can watch my videos for this setup. Just click the button for videos in the star-rated review section at the top. The service did their best to make the entire process easier for newbies which I have never seen before. They created a Choice App Store that you can download/install that streamlines the process.
I'm not sure if the App Store can be used for all devices, You will need to follow the instructions for the compatible devices you want to use. When following the instructions for the Fire TV/Firestick, I was given the Choice App Store URL. You have to install the Downloader app to the Firestick first which I already had installed years ago. I entered the URL to install the App Store inside the Downloader app.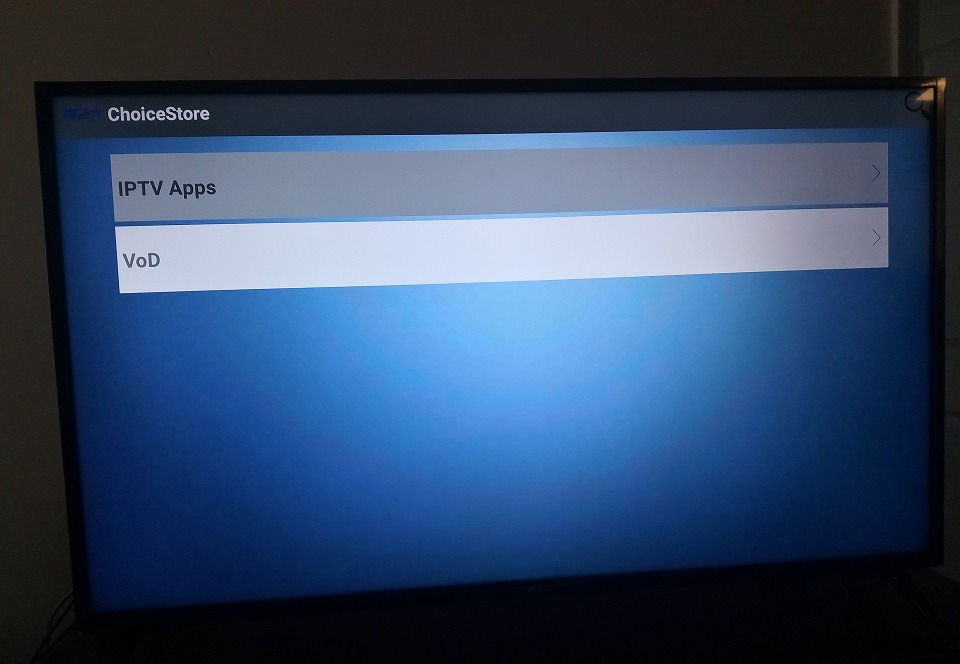 After downloading the App Store app to my Amazon Firestick which is my preferred streaming device, there were two apps sections listed to click.
IPTV Apps
There were 4 TV player apps listed where I could choose one to download on my Firestick:
ChoiceIPTV Smarters
ChoiceIPTV Tivimate
ChoiceIPTV XCIPTV
ChoiceIPTV Purple
Since I was familiar with the IPTV Smarters app, this is what I download and install. It was easy peasy when following the steps. They definitely made it easier for newbies. There is another app install you must complete – read below…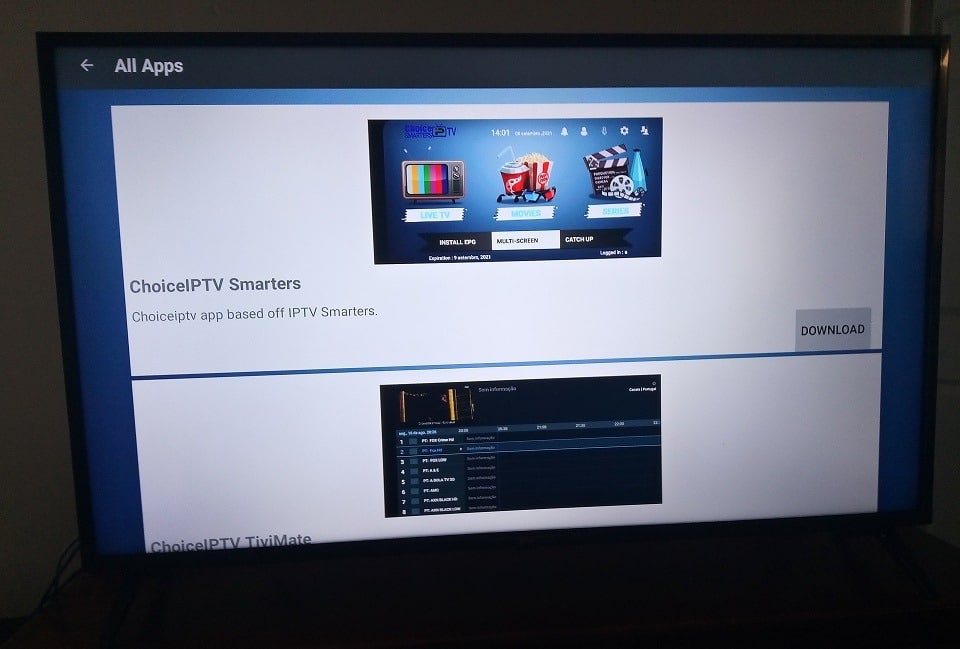 VOD – Unity Stream
NOTE: Support told me to remind everyone to be sure to download/install this VOD app.
What I found out after installing the VOD app (Unity Stream) was that it was very similar to the free Cinema app for VOD movies and TV series. They made this install just as easy to download/install as well. For both apps, all I had to do was enter my username and password to get inside. You get the login details via email after entering into the trial or subscription.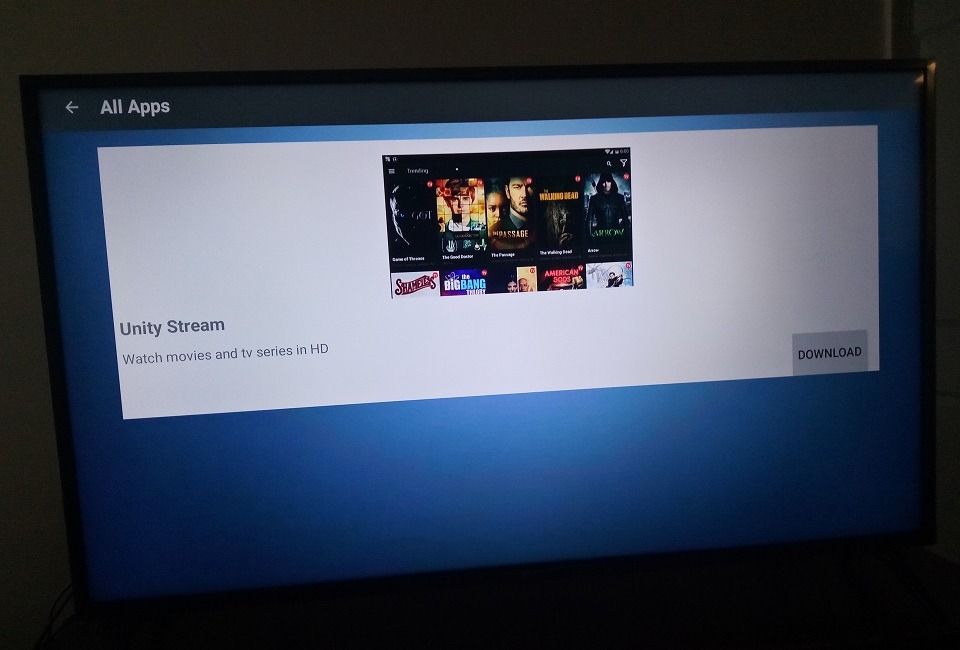 Once you installed one of the four app players, installed the VOD app, and sign in to both, you can start watching everything online.
Inside my Firestick, I have 3 apps. One for the App Store, another for the ChoiceIPTV Smarters app, and the VOD app. The only thing I don't like about this is there are now 3 more apps inside my Firestick which decrease my Firestick storage. As of now, I have to uninstall an app or two.
Perhaps at some point, I will remove the App Store app. I may remove the VOD app as well since I already have the Cinema app.
Channels List
When visiting the ChoiceIPTV website, you can scroll down to the 'Our IPTV Packages. Directly below simply click the link that says, "Choice Service (Click to Preview)." A popup video will appear. Play it and it will take you on a tour throughout the TV app.
You get to see all the channel and on-demand categories/sub-categories. You will see the names of channels and on-demand content including countries with channels.
This will help you decide whether they have the streaming content you want. Still, I would encourage you to enter into the trial to test. You can find out more about the trial and subscription packages further down.
Choice IPTV Review: Inside the TV App
The next part of my Choice IPTV Review goes inside the IPTV Smarters app connected to the Choice IPTV servers. After logging into the app, you will see a very attractive main screen which is the best I've seen yet. You will find the following sections:
Live TV
Movies
Series
Live with EPG (Electronic Programming Guide / Hence: TV guide)
Multiscreen
CatchUp (No streaming content available)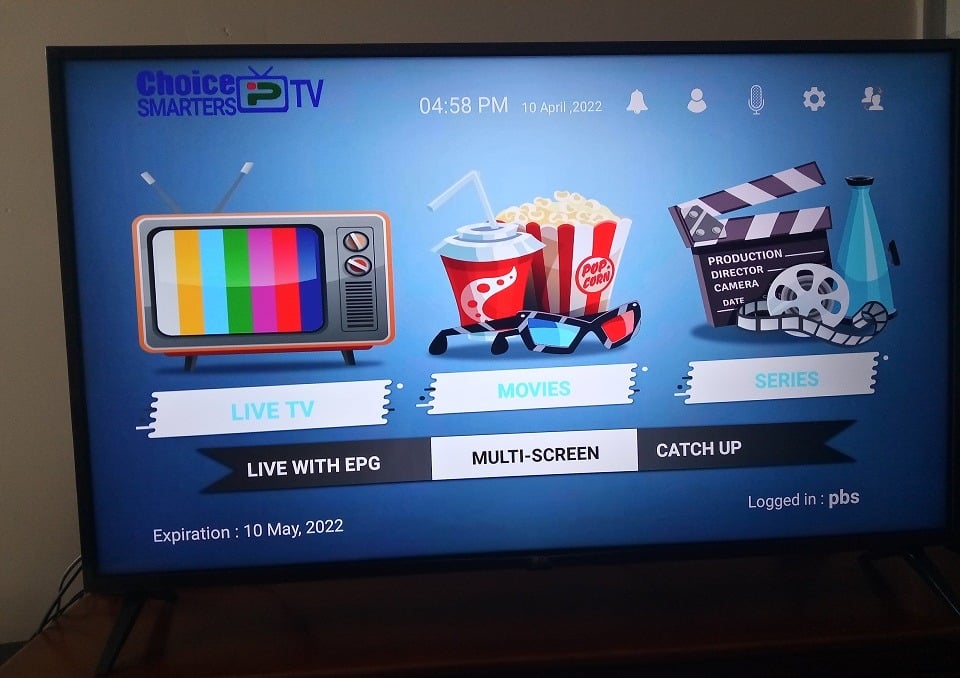 There 5 noticeable feature icons above:
Notification
Account
Recordings (limited storage depending on your device)
Setting (General Settings[Prefer Language, etc.], Parental Control, Speed Test, Time Format & more)
Switch Users
NOTE: You can add a User profile name right from the beginning which you will be prompted to do. I simply entered my initials. You can also create a User for your kids, and other household members can create their own User profile name and go into that filename with content to watch TV online. Everyone can have separate access, just like Netflix.
As for the Setting section, I went inside and changed the Time Format from military time to 12 Hours. Then I went into General Setting >> Prefer Language to choose English. No doubt, you will want to make these changes on your and choose your language.
Live TV Channels Categories/Sub-Categories
When clicking this section, all the streaming content was perfectly organized into sub-categories. I could find the section I wanted very easily. Next, I could play any of the named live streams/channels to start watching them online. Here's what I found…
All (14,224 live channels available)
Favorites (Add channels to favs are stored)
24/7 Shows
4K Exclusive
PPV
Sports / Sports Networks
USA Seasonal Sports (NFL. MLB, NBA & NHL)
USA NCAA (Baseball, Basketball, etc.)
USA (Entertainment, Kids, Premium Movies, Music, News, etc.)
ABC, NBC, CBS, CW, and more
USA Local (Some Regional channels: I found only one for my US city)
CA Channels (Many sub-categories of channels)
UK Channels (Same thing, many)
AUS Channels (Many channels)
Includes 57 Countries/Languages
XXX Adult Content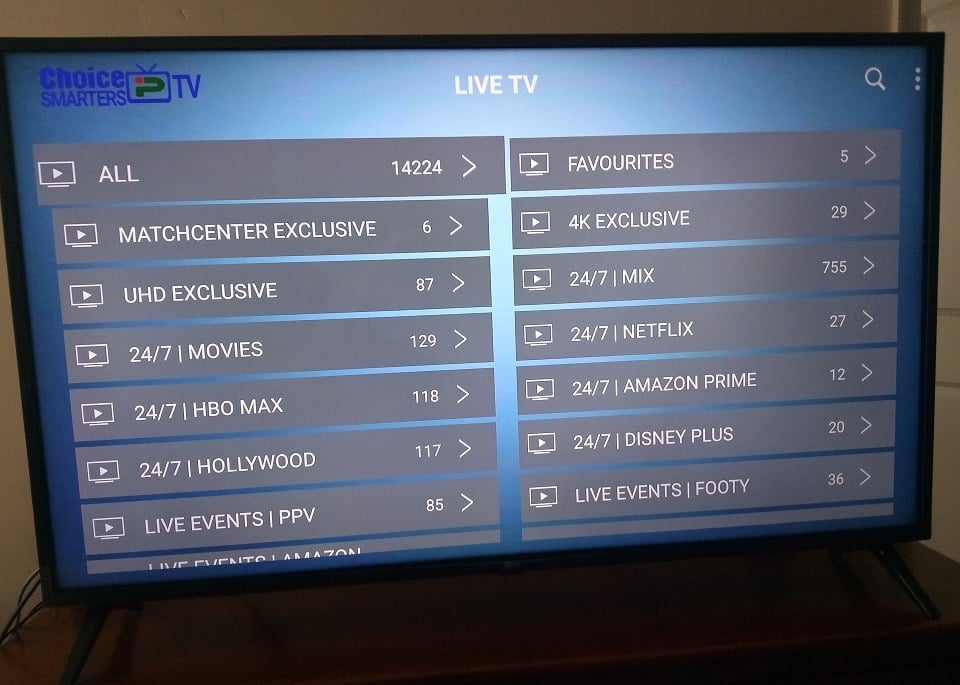 When I clicked the USA – Entertainment channels sub-category, a huge list of TV channel/networks names appeared. The first channel on the list played automatically on the TV preview screen with audio. Below that channel are many more channel names. Simply select a channel and it plays on the preview screen.
Below the TV preview screen, a list of upcoming TV program names and times is also there. When clicking the channel name again, I was able to watch on full screen.
Live Channel Features
Besides the multiscreen (4 PIP) feature, there are other features available. When selecting a live channel to play in preview, you can add it to favorites and/or record. Just select the same channel and hold press that same channel and a popup window appears. You can choose to 'Add to Favorites' or 'Start Recording'.
As for recording, you have limited storage based on the device you are using. As for the Fire TV and Firestick, it's not a good idea to record since there's very limited recording storage. There are no instructions on how to record and set up external storage via USB flash memory storage stick or SD card.
There are some free ways to record which you can check YouTube.com for video tutorials. However, this will be a bit technical. If you are like me and want more recording features that also include pre-scheduling recordings, purchase an external DVR. Learn More Here.
Other features include:
Search Tool (Magnifying Glass)
3-Dot Icon (Home, Refresh Channels, Movies & Series)
Refresh TV Guide
Sort
Settings
Logout (No need to logout)
VOD Movies & TV Series Categories/Sub-Categories
The next part of my Choice IPTV review dived into the VOD sections which come in two parts, Movies & TV Series. Here's what is included:
Movies Category
All (9,935 VOD Moviess)
Favorites (Store Add to Favorites)
Recently Watched
New Releases
Many Popular Genres Included
PPV (MMA, WWE, ESPN MMA, Misc/Wrestling)
XXX Adult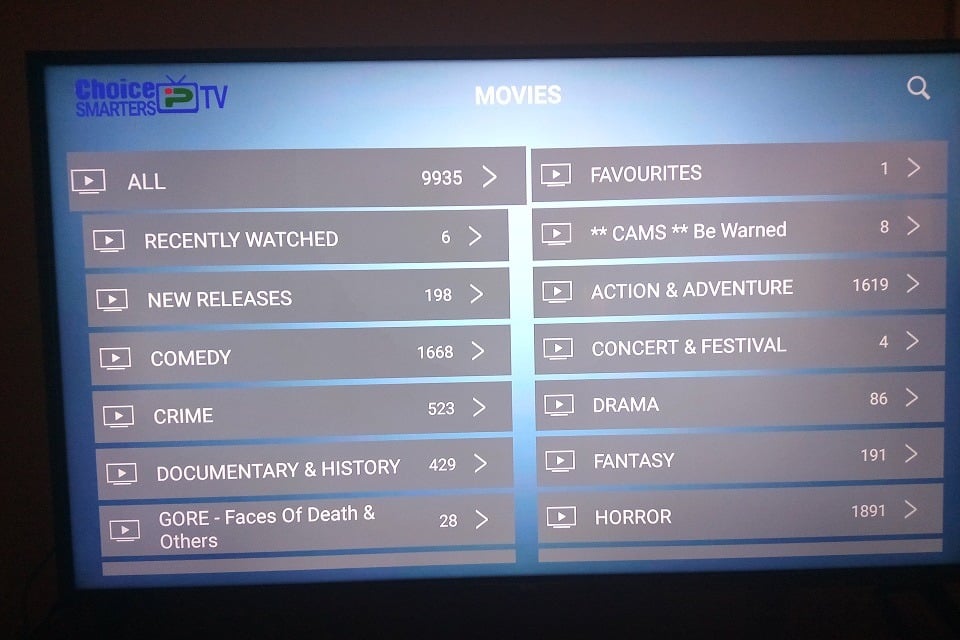 VOD Movies Features
The Search Tool and 3-Dot icon are the same as Live Channels. You can also select, press/hold down on the movie name to get the popup window to appear. You can select 'Play', 'Add to Favorites', or 'Movie Info'.
You can also click the movie name to get the next screen to appear. It will show the movie description. There you will see the 'Play' and 'Add to Favorites' buttons also. Sometimes a 'Watch Trailer' video will appear. Click it and you can watch the trailer to see what the movie is about.
If you add a movie to your favorites and go back to it, you will see a 'Remove From Favorites' button.
TV Series Category
You will find the following:
All (1,459)
Favorites (Favorite TV series are stored)
Recently Added
Genres (I did not list, there are many)
Also Includes Episodes
This section has the same setup and layout as the Movies Features. You can 'Add to Favorites' and use the 'Search Tool'. There's also the 3-Dot icon which I explained in the Movies and Live channels.
Click Here to Start Watching Movies & TV Shows Now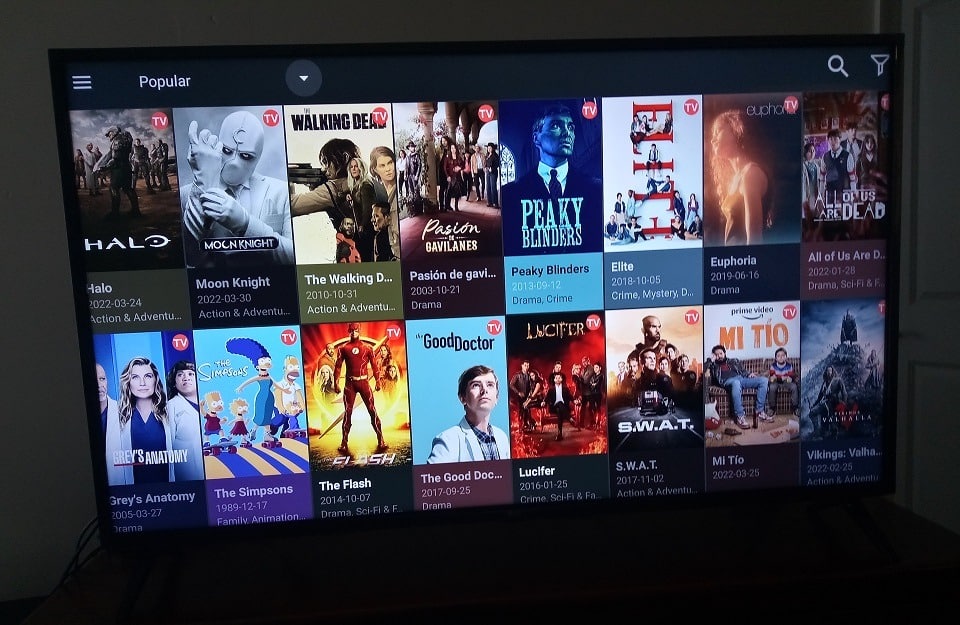 TV Screen Controls
When playing a live channel or on-demand video stream, it will play inside the TV player. At the bottom of the player, you'll find a set of controls. You can rewind, fast forward (time-shifting in increments of 10s), and click next or previous to watch something else. Plus there are other control features that you will probably never use.
This part of the Choice IPTV review ends here and now I will cover the other part so you can determine if this is something you want.
EPG (Electronic Programming Guide) – TV Guide
When I first reviewed the EPG and went inside the US Entertainment live channels section, none of the TV program names appeared. And there was no description info. When I went back to test the EPG later on, the TV program names in their respective time slots appeared. Even the description info appeared. Why this didn't appear before, I don't know.
The TV preview screen inside EPG seems to be a work in progress. It doesn't play the preview channel when selecting it. When I clicked the channel name again to watch the TV show on full screen, it played. Next, I went back to the small preview screen and the same channel eventually played in preview. This doesn't always work for some channels.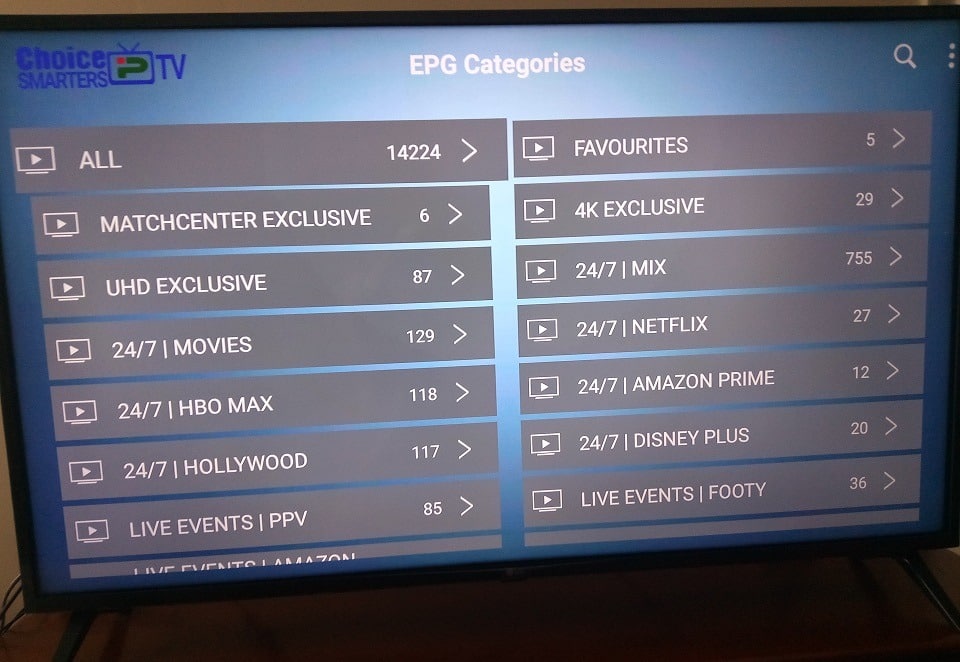 If you don't see a stream play in preview, this doesn't mean the channel won't play on the full screen. Often I found channels will play on full screen. I found a few that didn't play/work during the test.
You can scroll left, right, up, and down inside the EPG. For some channels, there may be no TV program info. Let me take you back a bit.
When you open the EPG section, you will find a host of sub-categories of TV shows/channels placed in their respective sections. For instance, you can click the USA Kids button and it will load up the EPG with only those types of channels. You can do the same thing with other sub-categories like USA Premium Channels and load those channels. The same Search Tool and 3-Dot icon are there also.
Choice Subscription Packages, Trial & Free Trial, Refund, Plus Support
I found Choice IPTV prices to be very comparable to other IPTV services out there. But this one gives you more choices in streaming content/device connections, with prices that fit your budget.
24 Hour Trial & Free Trial
There is a $3.00 low-cost trial that lets you test on your end which is something I advise you to do. But if you don't want to pay for the low-cost trial, use the promotion code: Freetrial. Enter this code when signing up for the trial. The $3.00 will be deducted from the $3.00 Trial. In other words, you pay $0.00 making it a free trial. Just don't forget to enter that code.
Choice: 24hr Trial (Instant Activation) – $3.00 USD
Gator: 24Hr Trial (Allow up to 24hrs for activation) – $3.00 USD
Supreme: 24hr Trial (Instant Activation) – $3.00 USD
Prime: 6hr Trial (Instant Activation – Mon-Fri Only) – $3.00 USD – No URL or M3U provided – Android, Firestick Devices Only
Gator: 24Hr Trial – MAG (Activation within 24hrs) – $3.00 USD – MAG Devices only
Supreme: 24Hr Trial – MAG (Instant Activation) – $3.00USD – MAG only

NOTE: Streaming Content Varies with Each Subscription Package (Choice, Gator & Supreme)
Subscription Packages/Plans & Fees
All Packages Incl: Live Channels, 4k Channels, VOD, TV Series, Sports Categories, 24/7, PPV, EPG Adult
Choice Server – #1 Seller: Starting From $10.99 USD/mo.
1-5 Device Connections, 8,500+ Live Channels, 10+ 4K Channels, 14,400+ VOD & 800+ TV Series
Geoblocking: North America and the UK Permitted Only
Supreme Server – 17,000+ Channels-Most Content: Starting From $10.00 USD/mo.
1-5 Device Connections, 11,800+ Live Channels, 3+ 4K Channels, 3,000+ VOD & 900+ TV Series
Geoblocking: No Restrictions
Gator Server – Best International Channels/VOD: Starting From $10.99 USD/mo.
1 Device Connection, 10,000+ Live Channels, 38+ 4k Channels, 26,000+ VOD & 3,200+ TV Series
Geoblocking: No Restrictions
Prime Server – #1 Best UK Channels: Starting From $8.00 USD/mo.
1, 2 & 4 Device Connections, 6,900+ Live Channels, 5+ 4k Channels, 540+ VOD & 200+ TV Series
Geoblocking: No Restrictions
NOTE: All pricings and pages may change by the merchant without notice. When entering into one of the subscription plans, you will receive around 5 emails from Choice. Not sure if all subscription packages will be as quick. But I received those emails immediately after paying for the subscription package. If you didn't get any emails from them, be sure to check your Spam/Junk mail folder for them. If any emails are there, simply move them to your email inbox where you normally receive emails.
Money-Back Guarantee/Refunds
You certainly should read the 'Refunds' section and get it from the horse's mouth. They tell you that once your account has been created, credits will be applied and can't be reversed. Choice IPTV suggests starting with their trial to see if the TV app and IPTV service meet your needs.
Keep in mind that you pay as you go. This means there is no automatic/recurring billing. When your subscription ends for the time period you paid for, simply don't pay to renew your subscription. Always remember the name of your IPTV service.
Know where to find their website online. This means saving all the emails you get from them so that you can refer back to them. The TV app is not the name of IPTV service. Keep in mind the IPTV service activates the app and delivers all the streaming content.
Support
I experienced good conversations with support via email. They answered all my questions. There are several ways how you can contact them as follows:
Open Support Ticket
Contact Form Email
Text Message Phone Number
Telegram
Keep in mind that you cannot pay a subscription with a phone call. All payments are only accepted and processed on their website. Again, you can only text message them by entering the phone number.
Choice IPTV Pros & Cons
PROS
For the most part, all the live channels and VODs I tested/played worked. But there were so many channels I didn't test. Overall, Choice IPTV gets a high score. There are tons of channels delivered and just like other IPTV services some won't play. Installing apps is made easy-peasy for newbies.
Sometimes you can play another live channel that's working. Then go back to the other non-working channel to play it. Sometimes this works and the non-working channel streams play. If you can't get a favorite channel to work, simply contact support.
When using the Choice App Store app that comes with 4 TV player apps installing one of them, makes the entire setup process easier for newbies. Next, I will install this app on my Samsung TV where my Firestick is connected. This time I will install the Tivimate app.
Choice IPTV comes fully loaded with streaming content — live channels and VODs. As you can tell from the many different subscription packages above, they try to accommodate you more when providing several different package plans and prices.
No matter where your interests lie in TV, I'm sure this IPTV content has you covered. There are plenty of TV shows, news/movies/sports/kids channels. Something for the entire family to watch. There is a Parental Control section if you do have kids. There are some nice feature enhancements available as well such as 4 PIP, Add to Favorites, Record, etc. And the price is cheap compared to cable.
CONS
I did run into some consistent buffering when watching a live NBA stream (my local team) coming from a regional channel. However, this is typical of all IPTV services whereas some channels will cause consistent buffering. This doesn't include the majority of streaming channels. But I have a solution to eliminating consistent buffering that you should learn more about HERE.
There is no CatchUp which is typical of most IPTV services out there. As far as getting all your local channels, you won't which is also typical for all IPTV services. You will get some US local channels but I'm not sure if your city will be included.
I suggest buying an indoor HDTV antenna to connect to your TV and do local scanning of channels. You don't need cable TV to watch local channels. You may or may not get some US regional channels in your area. I got only one of them. But I really don't consider this a downside and I have another IPTV service (backup) to make double ensure I can watch a sporting event.
There is a lot of streaming content available whereas most you will never watch. However, the very low price doesn't hurt. As far as the XXX Adult content, I don't know if there's a way to exclude them in the subscription package or if there's a package that comes without it.
This is something you can contact them about. I certainly didn't need the adult content and therefore did not cover this in my Choice IPTV review video.
Additional Info.
If you already have one of the TV player apps installed on your device that you are going to use, I suggest removing that app. You can find the names of the TV players in the list above. I already had the IPTV Smarters app installed on my Firestick. And I already had the Downloader app installed also. When following Choice's instructions I didn't need to do much.
However, I ran into a snag when trying to activate and log in to the IPTV Smarters app which I didn't know what to do. What I did was uninstalled the app and installed the Choice App Store. The entire process was easy peasy.
ChoiceIPTV also has IPTV Boxes that you can purchase but you don't need it or the cost. You can get set up just by installing a free app on your smart TV or streaming device. If you are unsure about the longevity or how reliable this service is, then take the low-cost approach.
One other thing… I consider the Amazon Firestick to be the best device to use for IPTV services. It's powerful, has Alexa Voice, comes with many apps, remote control, and is simple to use–not as many buttons as a TV remote.
Conclusion
By now, you've read about the benefits, and features, read where I told you about me going inside the apps to see what's all there. You know about the wealth of live channels, global channels, sports, VODs movies, and TV series. But you really want to know does Choice IPTV has what you want.
Having tested many IPTV services in the past using the IPTV starters app, TiviMate app, and others, this IPTV service made the entire installation process easy peasy. You don't need step-by-step instructions to install. You simply follow along with what's on the screen. But there are setup guides on their website.
You can visit their website to watch the silent video that takes you inside to see everything. Or, you can and should watch all of my IPTV Choice review videos on this IPTV. I covered everything including playing live and on-demand streams. You can click the video button inside the star-rated review above.
For what's it worth, Choice IPTV does give you more bang for the bucks. Having tested many IPTV services and TV apps over the years, this one is one of the better ones. Therefore, I have rated them high on my list of IPTVs. I recommend giving this IPTV service a try. It's a no-brainer to use the promo code (Freetrial) for the low-cost trial and pay nothing to test everything on your device.
This Concludes Our Choice IPTV Review