Watch Live Premium Channels, Local US Channels, PPV, VOD, & CatchUp / DVR Online (Nora Go)
IPTV Subscription Review by Real User. As they say, there's no place like home which is where most individuals start with their TV. Getting your TV in order is key to saving money. But whatever the goal is no one wants to lose TV entertainment that s/he loves to watch when transitioning from traditional television to Internet TV.
6/12/22 IMPORTANT UPDATE:
There is a new IPTV service alternative that you must see. They support the Thorium Player but Lenox and Unlimited Player users can subscribe. This ends your search whereas you can use a top IPTV service like before. When you enter into the free trial or subscription, they will email the Service ID, Username, and Password.
If you are going to use the Lenox or Unlimited Player and it doesn't perform well, Do Not contact the IPTV support. Like I said you can use those Media Players but the Thorium is supported. Consider that app/apk to be the upgrade.
Install Thorium should you have an issue. The thing is you just want to watch your favorites online while using a Media Player that's similar.
Here is what you need to do to visit the alternative IPTV service and Media Player…
IMPORTANT UPDATE:
We are no longer recommending any Nora Go or any IPTV services for that app. SO Player is a better app works the same way but better performance. You still need the same activation/login credentials (Provider ID, Device Pin Codes, Username & Password). But you need a SO Player IPTV service which there are many more available than for NoraGo.
Something happened… Around December 11, 2021, most SO Player IPTV services closed their doors to new customers around the same time. I don't know if this going to be permament or temporary. But I found a SOPlayer IPTV service that happens to be the best one I seen after years of reviewing these IPTV service.
Not only you use the SO Player app but the alternative IPTV service use other apps that you can get a subscription.
If you are intested in a OTT Streaming TV service w/ 7-day trial, Read the Fubo Review Here.
NO NEED TO READ BELOW… The Link to the Previous IPTV Has Been Removed…
______________________
Too many of them are not accepting new customers/subscribers and/or go out of service. Our visitors have been telling us they can no longer renew their subscriptions and can't get any support.
We are no longer recommending using the Nora Go app or any NoraGo IPTV service at this time. Why?…
The SO Player works the same way and is a better-performing app across many compatible devices. There is a new NoraGo app but many have complained that it's not as good and liked the old app better. Still, the old Nora app isn't as good as the SOPlay app.
Most Norago IPTV services switched over to the SOPlayer app. And you should do the same. If you want to continue watching everything on your TV, use compatible streaming media devices such as Apple TV, NVIDIA Shield, Mag Box. I personally like the Firestick and have one connected to each of my TVs.
I recommend buying/using the Amazon Fire TV Stick. This is a very popular streaming media device that works extremely well with the SOPlay app and IPTV services. You can connect this device to any HDTV or smart TV. You still need a high-speed Internet connection.
Amazon in the US currently has a Limited Time Deal on the Fire TV Stick Lite w/ Alexa Voice Remote at $17.99, All-New Fire TV Stick Alexa Voice Remote at $27.99. and Fire TV Stick 4K w/ Alexa Voice Remote, Dolby Version at $29.99.
DO NOT READ BELOW DOTTED LINE… All NoraGo IPTV Service Links Have Been Removed.
—————————————–
If you tried an online TV service before that didn't meet your needs, this IPTV Subscription Nora Go service may be better suited for you. If this is your first time hearing about an IPTV service, then you should read this IPTV review in its entirety. Watch the video below to see everything in action.
TV viewers should feel at ease when canceling their cable TV subscriptions to save money. This IPTV service has a lot of perks that I was pleased with when reviewing and testing everything. They claim to have over 600 channels including 5,000+ TV Series and Movies. Also included are local channels, Sports, PPV Events, Sports Replay, and CatchUp TV.
Watch the Video Review Below. The app was installed on my Amazon Firestick connected to my smart TV. You will see the features, navigation as well as watch live and on-demand streams plays. Notice the quality and ease of use that newcomers to Internet TV shouldn't experience any difficulty getting around and finding whatever is of interest.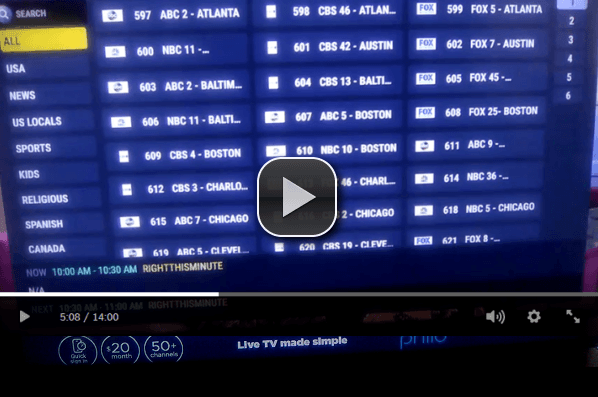 Click Here to Get Your Subscription and Start Watching Your Favorites Now
Unlike cable/satellite TV, there is no contract, activation costs/fees, cancellation costs/fees, credit check, sports blackouts. There's also no set-top box to install. Keep this in mind when reviewing this IPTV service further. We'll also cover what devices you can use as well as the IPTV subscription free trial.
The IPTV service makes it easier to switch from traditional TV to Internet TV. You just need an Internet connection with 20-25 Mbps to download speed or more and streaming devices. That's it. Nothing else needed. My Android smartphone gets around 14-15 Mbps which is good enough.
Having opted into the free trial myself, I was able to assess 3 things and grade them: 1) Content; 2) Performance; 3) Interface. More on these 3 things later.
IPTV Subscription Review – What Is It, How Does It Work, Who's It For & Is It Legal
What Is IPTVSubscription? They are an IPTV service that delivers both live channels and on-demand content from the web. You must subscribe to the service and download the free app. Both the IPTV and app work hand and hand that allows you to watch television online.
You must use a compatible device to connect to the IPTV service to watch the content delivered. Somewhat similar to Sling TV and FuboTV but not the same as PlayOn. PlayOn connects you to content providers where you can watch under one roof. An IPTV service connects you to web TV streams online. They Do Not host any of the streaming content and therefore are not content providers.
You can always contact them for any direct questions you may have before using them.
How Does It Work?
Some individuals start with downloading/installing the free IPTV Subscription Nora Go app. But I encourage individuals to start with the IPTV trial subscription first. Either opt into the free trial on their website as I did or choose one of the low-cost subscription packages.
You sign up and enter the required information they want. As for the IPTV Subscription free trial, you have to add it to the cart. Then you'll get access to your account like in my case…
My account included order information, account number, user name, password, 3 device pin codes, provider ID, and so on. The IPTV service has download instructions to install the app on your device. You check out what devices are compatible below.
Once the app is installed on your device, just enter the required activation/login credentials when prompt to do so. After this information is entered, the IPTV Subscription Nora Go app opens and shows all the streaming content available.
All the streaming content is grouped into different categories and sections, making it extremely easy to find what is of interest. The main screen has 3 icons or buttons for TV, Movies, and EPG where all the streaming content is located. Click the image below to see a larger view…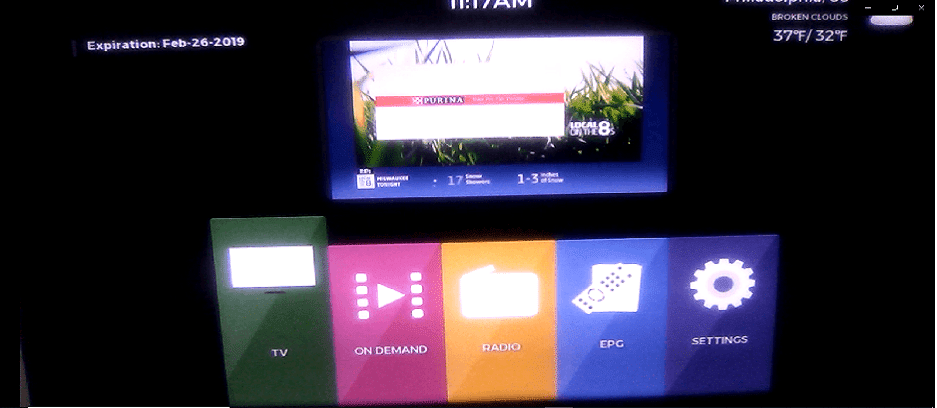 You simply point and click on the channel or video name that you want to watch online. Don't misunderstand, these aren't just a list of channel links. You get a full display of excitement when seeing entire the layout.
Who Is It For?
It doesn't matter where the individual lives in the world, anyone can subscribe to this IPTV service. There are no geo-restrictions which means no IP address or country will be blocked. If you are interested in getting access to IPTV Subscription USA channels, there's more of that content available. But you get even more with English channels coming from a couple of other countries. There are live channels for UK, Canada, Spanish, and Filipino included.
Get Your Subscription Here
Is It Legal?
The service does not host any of the streaming content delivered. They are not a content provider but rather IPTV provider instead. To get a better understanding, read the FAQ section that addresses this topic when visiting the website. Click Here to Read 'Is It Legal' in FAQ Section.
Content
Whether its the IPTV Subscription USA or the UK, Spanish or Canada, you get live premium TV channels all under one roof. This also includes Filipino channels, sports, movies, shows (talk shows, sitcoms, soaps, etc.). The VOD section has movies, TV shows, series, and episodes.
Live channels come from many popular networks. This includes popular movie networks, news networks, sports networks, and so on. After going through all the streaming content in my IPTV Subscription review, I found many top TV networks. Many of them can be found on cable/satellite TV.
The content is geared for the entire family including children –no one is left out. But I must warn you. Adult content is also included which is something I frown upon and didn't review. However, this content is locked by default and can be unlocked from the code provided.
As for the on-demand content, there is plenty. Movies from all genres including older, recent, and very recent movies. You get access to all the popular TV episodes which are updated and more added regularly. Again, the IPTV service provider claims to have over 600 live channels and over 5000 on-demand TV shows/episodes and movies.
Live Premium Channels
The live premium channels are too many to count so you have to take the IPTV subscription people word that they have 600+ channels. With so many channels I find it hard to believe you won't find any of your favorites. All channels play in HD and audio is good also.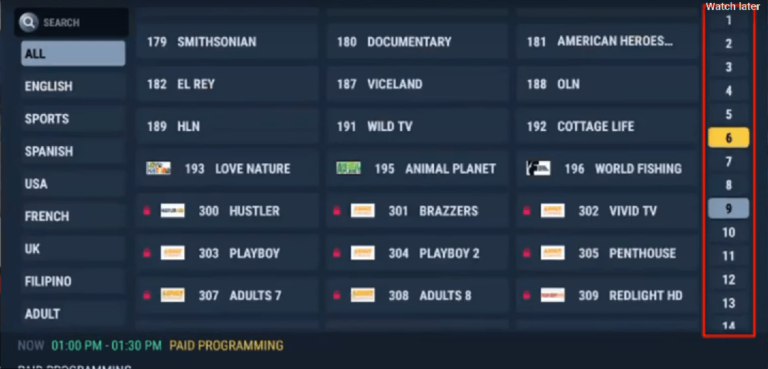 You can Search live channels/networks by a title such as a sports network, movie network, kids network, or news network. There are said to be over 600 TV channels. This includes channels from the US, UK, Canada, Spanish, and Filipino. No doubt you will find many of your favorites channels/networks to watch online.
VOD Movies, Shows, Series, Episodes
With their claim to have over 5000 VODs, you get a wealth of on-demand content at your fingertips. This includes old, recent, and very recent movies from all genres. Many popular TV shows, episodes, and series. When you add the number of live movie channels, you get even more movies. The videos are crystal clear and I have not found any sub-par videos. Some of them may have SD (Standard Definition) picture quality.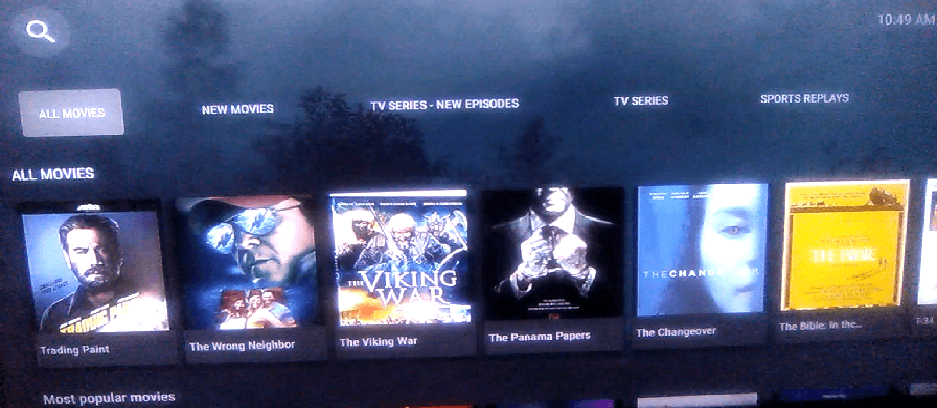 Live Sports, PPV & Sports Replay
As someone who loves to watch some of my local teams play (Eagles & Sixers), I can watch every game without any local blackouts. Usually, there are two ways to watch a sporting event. There are many popular sports networks included.
You will also find many links with the names of each team playing one another. PPV events are included as well which means you can watch all the fights online, even special events. There is no extra cost to watch these events.
During February 2019, Sports Replay was added to the VOD section with seasonal sports. I found the NFL, NHL, and UFC replays and played some of them. However, I did not see the NBA which is in season. Because Sports Replay is very new, I believe this feature is still undergoing an upgrade.
Use the Search feature to search for a sports network by title.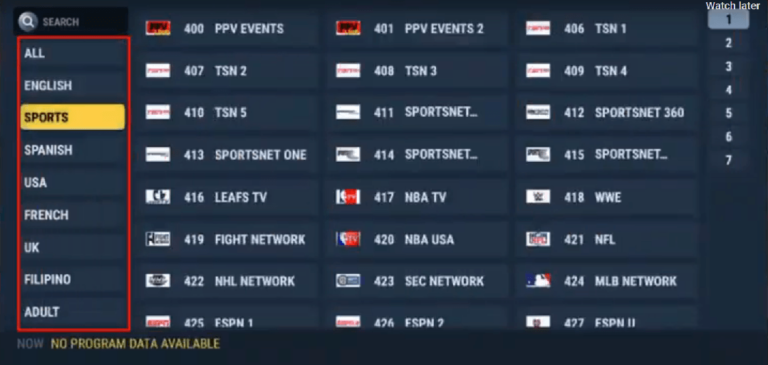 Live Local US Channels
In late February 2019, they added Local USA Channels from many cities nationwide. The service was still undergoing an upgrade at the time of this IPTV Subscription review. Nevertheless, local channels from many cities are included.
You can scroll up or down to find your city. But when using the Search feature, I was able to find my city quickly. There are 3 local channels from Philadelphia and all of them worked/played. Maybe in the near future, they will add more channels.
My guess is there maybe 2 or more local channels for each city. But I'm not sure all cities in the U.S. are available. If you don't see any local US channels from your city, you might want to contact support. See if they can add any of your local channels.
Note: To get all OTA TV channels from local television stations in your area without cable/satellite TV, Watch Video Here.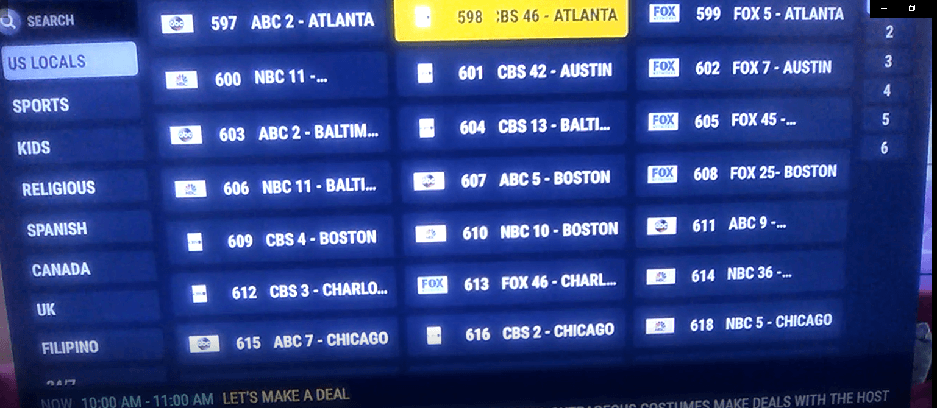 Performance
Overall, the performance of the IPTV Subscription Nora Go app and service worked well together. But I believe the service was doing some upgrading work. I couldn't get access to some of the content for a short while. System upgrades are to be expected and I was told upgrades happen once in a while, over a short period of time.
Many live channels worked/played when clicking them. Some didn't play which is expected when having 100s of them. Most channels I clicked did work which was good enough for me. If you come across a channel that doesn't work, you can contact support to fix it.
Live channels play quickly without any delay. The picture is crystal clear and audio is good also. The on-demand section with videos, however, is a little slower. It takes around 20 seconds or so for a movie to load. When the play button appears, just click it to play the movie.
I didn't come across any movie with poor picture quality. You can use the control features to fast-forward, rewind, play/pause, go to the next or previous movie. The same control features appear when playing a TV series or episode.
Visit Now and Get Your Subscription
Interface
The interface is fast and smooth when playing live channels. Once you click a channel, it plays immediately. As for VOD movies, it takes a bit longer. A movie must load first. It generally takes 20+/- seconds for a movie to play. VOD shows/series/episodes take less time to load and play.
Navigating through the IPTV Subscription Nora Go app is easy. Once inside, you'll have no trouble finding whatever is of interest. Three icons appear on the main screen to take you where you want to go: TV, Movie, and EPG (Electronic Programming Guide – same as TV guide).
When you find the channel you want, simply click the channel to play it. All the content is well organized into relative categories. The Search features come in handy when searching for a title name. You get a nice piece of technology that really enhances your TV online experience.
EPG (Electronic Programming Guide) or TV Guide
The EPG is an online TV guide that has the same purpose. You can quickly view the listing of television networks with their respective time slots of shows, sports, movies, etc. You'll get names of shows, date, description, and can click a TV program name to start watching it online. What's also great about this is that all categories of live channels can be found in the EPG.
Categories with local TV and premium channels including sports and channels for US, UK, Canada, Spanish, and Filipino are all listed in the EPG. The EPG is rather huge because all the live content is included. Just like a TV guide, you can see what's playing now or later on.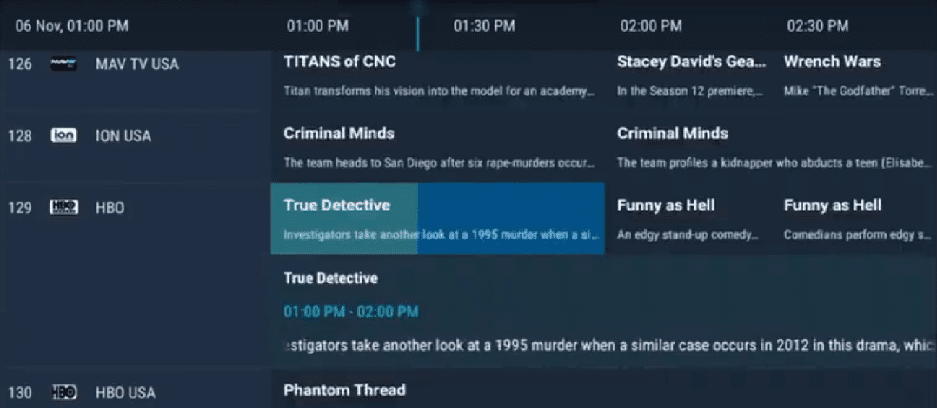 IPTV Channel List
There is no channel list available to look at. Instead, you can opt into the IPTV trial subscription. This will see all the live channels available from different categories. You can also watch the IPTV Subscription review video above to see all available channels.
IPTV Subscription Nora Go, Subscriptions, Refund & Support
Going beyond my physical review of IPTV Subscription, we will now cover other important areas. There is nothing here to be concerned about. You're getting additional information to help you make a well-informed decision.
Just so you understand, Nora Go is a free app (no subscription) required for your device that connects to the IPTV service to watch streaming content. It can be referred to as Nora Go IPTV Subscription.
Cost and Money Back Guarantee
Outside the free trial, there are 2 membership subscriptions for one month only as follows (1 account per 1 IP address):
1-Month: $18.99 * non-recurring (3 device connections)
1-Month: $22.99 * non-recurring (4 device connections)
Note: All fees may change in the future. When a subscription ends, you can renew the subscription by paying any one of the fees above (1, 3 or 6 months). For more than 4 device connections, contact support when clicking the link in this review.
Each membership subscription comes with a full money-back guarantee. Here's the breakdown for the 1-month subscription. If you request to turn off the service before the 30th day (from the time you first signed up), you can get a full refund. I thought this was a mistake at first but this is what support told me. You can confirm this refund policy by contacting them yourself.
Support is available via chat box and a contact form. I used both to test their response time. Contacting support through the chat box is generally quicker. There is a timer that tells when a representative will be available. I generally see Adam as the representative, who's very helpful and courteous. There is no phone number to contact support.
The IPTV service seems to be reliable but is currently undergoing system upgrades. This is because of the new features added (Sports Replay & US Local). They are still working with these new features which have caused short delays. Still, you can contact support to find out if they are upgrading the system.
UPDATE: The Free Trial No Longer Available but May Come Back in the Near Future According to Support. They Will Notify Us Should it Happen and We Will Update this Review. Ignore below…
IPTV Subscription Free Trial
The IPTV subscription free trial is for one day only (24 hours). You get full access to all the streaming content, features, and can use up to 3 devices simultaneously. When opting into the free IPTV trial subscription. You are required to fill in the required information to set up your account. Keep in mind, no credit card is required to get access to the free trial.
Next, you will add to cart as if you are going to pay (no payment). After that, you are given account information with your activation/login credentials. This will include your activation number, user number, password, provider ID, 3 device pin codes, etc.
When the IPTV trial subscription ends, you no longer have access to the streaming content. The customer can choose to subscribe and pay the subscription again or any one of the other 2 subscriptions available (see above).
To Get Your Subscription Now, Click Here
IPTV Subscription Nora Go App and Compatible Devices
Nora Go IPTV Subscription is the app subscribers download/install to their compatible devices. Nora Go is free and not a subscription. Either this app or SO Player app is generally used by IPTV services. However, the service we are reviewing uses the NoraGo app.
Depending on the compatible device used, you can download/install the app from Play Stores, smart TV app store, or sideload the app if required. The IPTV service provider will provide your activation/login credentials. This is the only way to use activate the Nora Go TV subscription app on your device to connect to the streaming content from the IPTV service.
You can also visit the IPTV website to find download instructions and links to download the app for any compatible device. As a subscriber, you are allowed to use up to 3 devices simultaneously. However, you can only use one mobile device (Android or iOS smartphone 4G) outside the home.
In other words, you can use two devices at home from one WiFi network and use one smartphone away from home. It does not work on any external WiFi network.
Below is a list of compatible devices you can use:
Samsung Smart TV (LG TV?)
Apple TV
Android TV
Computer (Windows & Mac)
Amazon Fire TV/Stick
Android Devices (Nvidia Shield, Tablet, Android TV, Smartphone)
Smartphone (Android & iOS)
iPhone/iPad/Apple TV
Magbox/Portal Device
Note: If you can find the Nora app inside your smart TV app store, then download/install it. If you can't find, then your smart TV is not compatible.
Visit Official Website to Device Information and App Downloads
IPTV Subscription Review – Pros and Cons
The upsides are many but this IPTVSubscription review wouldn't be honest without covering the downsides also. Below, I give you input and can honestly say the pros outweigh the cons.
Pros
When looking at all the streaming content under one roof (NoraGo app), you immediately see the amount of technology that went into it. The content, performance, and interface all get high marks. You get access to over 600 live premium channels which consist of many popular TV networks. The user can watch live channels with all kinds of TV shows, movies, sports, and news.
There are categories for US channels, UK channels, Canada channels, Spanish channels, and Filipino channels. You'll find other categories for Sports, News, Kids, Religion, 24/7, etc. The ease of use should put Internet TV newcomers at ease. Meaning a newcomer shouldn't have any problems navigating through the content and playing the content.
I also covered in my review two new features that arrived in February 2019. One feature was 'US Local' and other 'Sports Replay' which brings even more excitement. Subscribers can now watch local channels from the city where s/he lives.
Sports fans can watch all kinds of live sports (local, national, international). Sometimes in two different ways and you then have 'Sports Replay' also. This means you can watch the sporting event you missed earlier. And not forgetting, PPV events that allow you to watch all the fights without an extra cost.
There are old, recent, and very entertaining movies to watch online. And if you're into TV series/episodes, you get them as well. Many popular series/episodes are available to watch online.
Cons
There aren't that many downsides. VOD movies take longer to load than live channels. You have to wait for a movie to load which generally takes 20+/- seconds. But once you click to play the movie, you get HD quality.
Only a few live channels, movies, and videos didn't play out of the many available. You can contact support when an issue occurs. Local US channels are available for many cities nationwide but all cities may not be available at this time. Local channels and Sports Replay are still a work in progress since the time they were added in February 2019.
Expect system upgrades from time to time. I'm not sure how much access to streaming is affected if any at all. But if you experience an unusual issue, just contact support.
IPTV Review – Conclusion
There are many IPTV reviews online whereas you have to comb through many of them to find one that's reliable and has everything you want or almost. You shouldn't have to look any further with this service.  In a perfect world, you want all your live channels and favorite TV networks just like cable/satellite TV. You don't want the high cost but you don't want a trade-off when it comes to losing your favorites to watch online.
More than likely, this won't be an issue. You get most if not all your favorites. But also remember, there is no contract, hidden fees, credit check, local sports blackouts, or set-top box to install.
IPTV Subscription is not perfect but does offer an alternative to cable/satellite. Whether you are into movies or sports, news or TV shows, everything is available at your fingertips. This also includes many movies from all the popular genres. In fact, you can even watch very recent movies not long after they played in movie theaters.
With the 24-hour free IPTV trial subscription included, it should be enough to give this service a try. I recommend opting for the free trial first. You get all the information and download links to install the app on your device from the website.
Once you complete the IPTV Subscription free trial, you choose whether or not to pay one of the subscriptions. Money-back guarantees are available for each of the three subscriptions. Remember, there is no recurring payment. You pay as you go. Give it a try and test the app and IPTV service on your devices.
This Concludes Our IPTV Subscription Review
Click Here to Watch Many of Your Favorites Online