Red Widow Media Review by real test reviewer and user (not Red Window Media IPTV). If thinking about how to save money without losing your favorite TV channels from popular networks, then this review is for you. There's a lot more the Red Widow IPTV service delivers. You get an all-in-one service with live TV channels, VOD, CatchUp TV with DVR, and a lot more.
—————
IMPORTANT UPDATE
Many if not all SO Player IPTV services closed their doors to new customers. We do not know why entirely but they may have reached their total number of subscribers allowed. Current customers are able to renew their subscriptions right now. But for how long we don't know. This appears to be a permanent decision. The good news is there's a new SO Player IPTV service provider for new customers to sign up…
NOTE: When choosing SO Player with one-month IPTV service to add to the cart, you may see the fee at $0.00. This appears to be incorrect. On the IPTV website home page, you will see the cost at $28.99. There are other apps and subscription packages as well.
DO NOT READ Below… We Removed Links to the Previous IPTV Website…
—————
If you don't mind watching TV online that moves you away from traditional TV, then again, here's something to explore. Don't do away with cable TV just yet until you try this IPTV service on your compatible streaming device or TV. There are big savings and if you are living without cable, this should interest you even more.
I have test reviewed and used many IPTV services over the years. Never do I waste my time writing a full review and creating video reviews on bad IPTVs. So you should already know there must be something good about Red Widow Media.
For an IPTV service to pass the tests, the interfacing, performance, streaming content delivery, entertainment, and support must all be good. Not all IPTVs are created equally so you must choose the good ones and those that meet your needs. That said let's dive into the review where I reveal everything about this IPTV service including the pros and cons.
For Your Understanding
To help you understand this IPTV service further, I have created videos below that covers a wide range of things. One video gives you a review of the Red Widow website where I breakdown everything there for your understanding. Another video will take you through the signup process for the free trial and subscription.
There are two links below. The first one will take you directly to the Red Widow IPTV website to learn more and enter into the trial or subscription.
The second link is the video review of their website where I break everything down for you. I also give more inside information to better prepare you. Under that video is an article post that also includes additional links to watch more videos. There's a video on signing up for the trial/subscription, a video on setup and installation, and a video that takes you inside the TV app to see everything. At that point, you also get to see live channels and VOD streams play.
And if you get confused or want more info, sign up to get the Free IPTV Setup Guide.
Click Here to Visit IPTV Service Website and Get Trial or Subscription
Watch Red Widow Website Review (More helpful videos)
NOTE: Some individuals are searching for Red Window Media IPTV online whereas they misspelled Widow so don't get the name confused.
IPTV Requirements
The first thing you need to know about is the requirements so I'll cover them now. There are 4 things needed to get fully set up and watch your favorites online using Red Widow as follows:
High-Speed Internet Connection. You can have around 30 Mbps seconds but I'll say try to have 60 Mbps or higher. The reason is you want to avoid buffering issues on your end as much as possible. And two, you want to be able to stream live channels with SD, HD, FHD, 8k, and so on. The higher the connection speed better the overall performance. Use an Ethernet cable for your primary streaming device or TV that you'll use most to watch TV online.
Streaming Media Device/TV. Using an old streaming device that seems compatible may not give you the best performance. Try to use a fairly new or new streaming device. Smart TVs such as the LG and Samsung with internal app stores can install the TV app. As for HDTVs, you must use a compatible streaming media device such as the Amazon Fire TV or Firestick. You will find a list of compatible devices further down in my Red Widow IPTV review.
Free TV App. The primary app is SO Player that can be found inside the Google Play Store or Apple Play Store. Depending on the device, you can find the app in the internal app store. As for Fire TV and Firestick devices, you must undergo more steps to install the SO Player Apk file. But don't worry, the Firestick is my favorite device and I have a video that provides all the steps to complete the installation. The app connects to the IPTV service
IPTV Service Provider. Red Widow TV is the source for all your TV online entertainment under one roof. They deliver all the live and on-demand streaming content. They also send you activation/login credentials to activate the SOPlayer app. You get to see this in one of my videos. You must have a paid subscription to get access to everything and they have a free trial to try before you buy.
Red Widow Media Review: Interface, Performance, Content Delivery, Entertainment & Support
If you give this IPTV a try, you find out the Interfacing to be fast and smooth. The layout is attractive and navigation makes it very easy to find what you are looking for in terms of TV content. There are categories and subcategories where live channels and VOD are conveniently organized. There's also a search tool to find channels and VOD by channel/network name or VODs by title.
For the most part, the content delivery was good whereas most channels played especially USA channels. However, there are some global channels such as UK, French, Spanish, Filipino, and other sections of channels that didn't work. Red Widow Media is definitely in service for USA TV viewers but they also cater to some of the other countries.
From my understanding of IPTVs, they tend to not focus on non-working from some of their categories due to no subscribers being interested. This is typical of all the new IPTV services like this one. When there are enough subscribers wanting those channels, the IPTV service will get them up and running.
There is certainly a lot of entertaining streaming content that should appeal to everyone in the household. I will go further into what's available in a little while. The support I received when asking questions via the chatbox was answered rather quickly. There is a live agent available for pre-sale and technical support.
You can ask the agent for setup instructions for the compatible device you want to use. more on this later.
It doesn't matter where you live in the world. Everyone, anyone can get access as long s/he has all the requirements listed above. No country for the most part will be blocked. If you happen to speak English, French, or Spanish, those channels are available.
Red Widow IPTV Content Delivery and Enteretainment
There are 100s of live TV channels consisting of premium, local, and global channels. You get access to US, UK, French, Spanish, and Filipino channels. In the on-demand section, there are 1000s of movies with genres and new releases as well as TV series with seasons/episodes.
But that's not all… You get access to CatchUp TV with DVR, dedicated Sports section, Seasonal Sports, PPV Events–no extra cost, and so on. Some sections of channels are non-working at the moment. However, many channels that I tested in the USA section worked but I did not test all of them.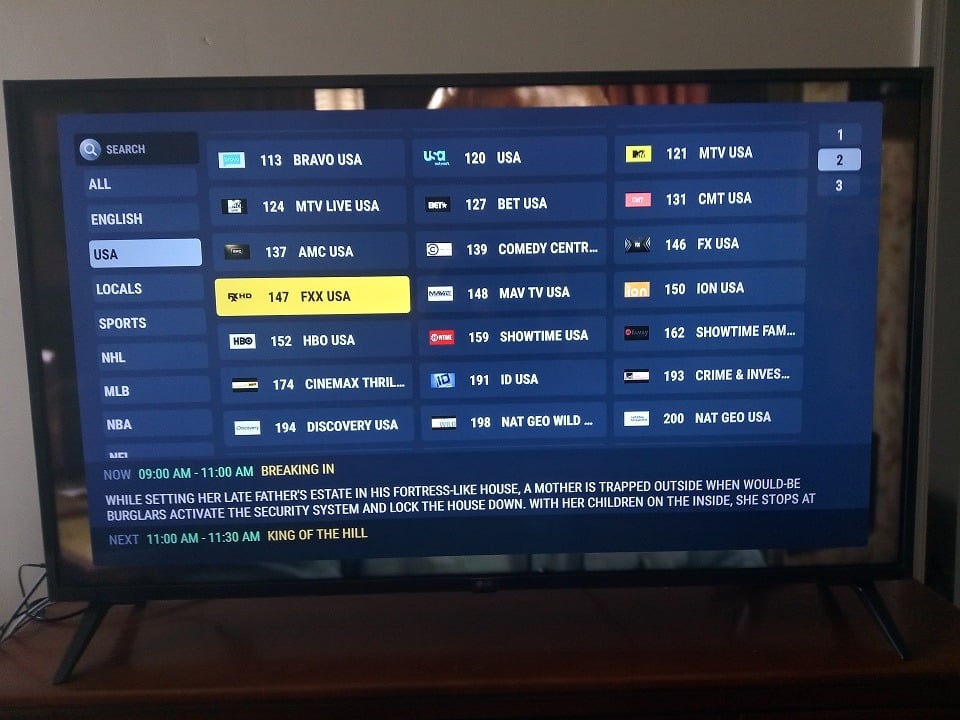 You should enter into the free trial and test whatever interests you before shelling out any money. When you first activate/log into the SO Player, you don't need to do that again. You will be automatically logged in when opening the app again.
On the home/main screen, you will see the following 5 categories:
TV | Movies | CatchUp | EPG | Info | Settings
Clicking the TV category has all the live TV channels conveniently organized in sub-categories for you to find and play them. Here are the sub-categories of channels:
All
English
USA
Locals
Sports
NHL
MLB
NFL
NCAA
ESPN+
US Opens
Gospel
Spanish
UK
Filipino
Adult (18+) – Locked by default
All Day
Music Channel
My Red Widow Media Review of the Movies category found many movies, new releases, genres, including TV shows with seasons and episodes. All the popular genres are there. You can click New Releases or any genre such as Action movies and it will load that specific genre of movies.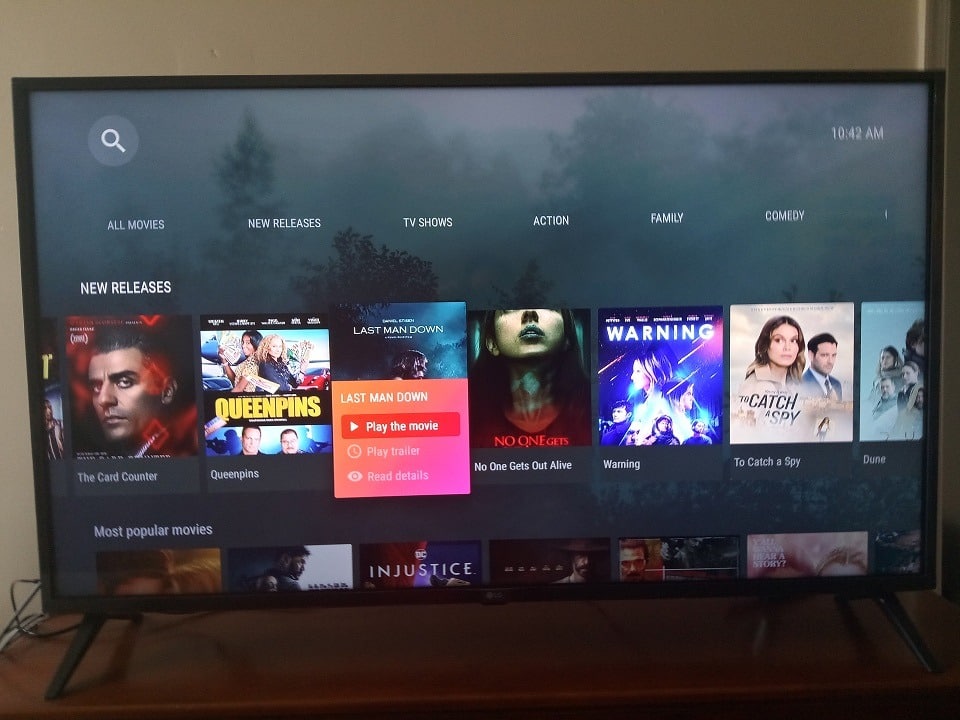 There are many TV shows or series included as well. Simply click the TV Shows subcategory and a dropdown list of TV show names appear. Simply find and click the TV series you want and it takes you to the next screen. The entire layout is very attractive, very appealing to the eye. This VOD section also has PPV Events and NFL Replays.
Sign Up for Free Trial or Subscription Here
Feature Enhancements
Unfortunately, SO Player IPTV services are not known for many features–you get less. When going through my Red Widow IPTV review, I found a search tool to search for a live channel/network by name. You can also use the search tool to search channels from your city. Just enter the name of your city when in the Local TV section.
The SO Player app will track what you watched previously such as 'Most Watched Channels' and 'Last Watched Channels'. The EPG (Electronic Programming Guide) is a nice feature that lets you load a specific live TV channel category in the EPG. You may call it a TV guide but it's programmable.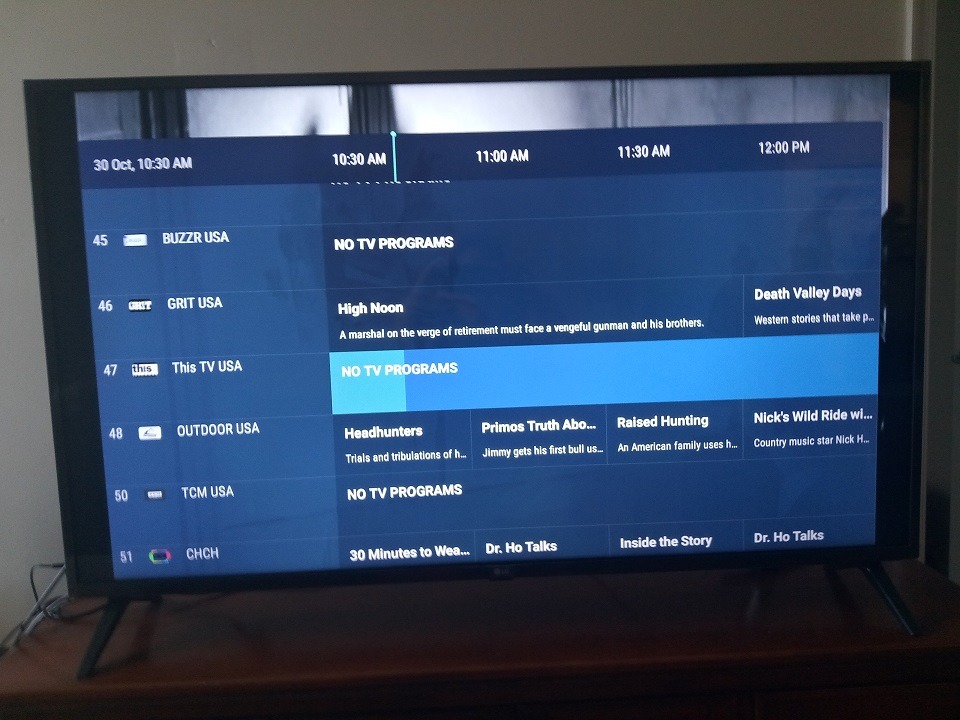 Simply go into the TV category and choose a sub-category such as USA channels. Play anyone live channel. On the Firestick remote control, click the 3-line button and it takes you to the EPG. All the channels from the USA are now listed. You can choose any live TV channel subcategory such as Sports and do the same thing.
If you were expecting to record or wanted PIP, or the ability to 'Add to Favorites, you're out of luck here. But if those features really don't interest you, then you should be delighted with everything else.
I prefer using the Amazon Firestick with IPTV services because of the fewer functions and ease of use. If you don't have a streaming media device, I suggest that you get one or more Firestick 4K streaming devices. Connect one to each of your TVs. Also buy an Ethernet adaptor for your Firestick so that you get the fastest Internet connection to avoid buffering.
Free SO Player App & Nora Go
I was surprised to see in my Red Widow Media review the Nora Go app for the Samsung smart TV mentioned. Why the LG smart TV wasn't mentioned, I don't know but Nora Go is compatible with both smart TVs. You can find the app inside the internal app store on both brands. However, SO Player is the better performing app.
All SO Player IPTV services use an IP Lock system. You cannot use a VPN service to hide your IP address but you don't need to use one. Once you activate the SO Player or Nora Go app on your compatible device, your IP address is locked in. You cannot change the IP address by going to another location outside your place of living or business.
If your modem/router in your home/business is connected with Internet service, then that will be your IP address location. If you take your device with the app installed out of your home/business and try to connect to the IPTV (Red, you will get locked out. At that point, you must contact support.
You cannot share your IPTV service account with others from a different IP address. You can, however, use a smartphone via WiFi connection when traveling. WiFi connection areas do change when on the go and be a problem.
There are No IP Lock IPTV services out there that you can use a VPN service if you want. And you can use any streaming device connected to the IPTV when traveling. If you want to know more, simply leave a message in the chatbox explaining what you're looking for.
Compatible Devices
Here is a list of compatible devices for any SO Player IPTV service, such as Red Widow:
Computers (Mac, Windows)
Apple TV
NVIDIA Shield
Tablet
Android Devices (TV, Box, Phone)
iOS Devices (iPhone, iPad)
Smart TVs (LG, Samsung)
Amazon Devices (Fire TV, Firestick)
Free Trial, Subscription Cost, Refund, Pros/Cons
There's a 3-day free trial available. I don't know sure the free trial is always available. Some IPTVs remove the trial whenever there's a big PPV fight on Saturday. Then they bring the trial back at some point in time after the special event is over. There is only one subscription whereas you pay for one month of service at a time. No automatic or recurring payments. You pay as you go. Once the month of service ends, you choose whether or not to pay again.
3-Day Trial: $0.00 (no credit card required)
1-Month Subscription: $24.00 USD
To renew your IPTV subscription, just re-visit the RedWidow IPTV website. You will be given your login details after signing up for the trial and subscription. You will also receive your activation/login credentials to activate the TV app via email. If you don't see any emails, be sure to look for them in your Spam/Junk mail folder.
There is a 7-day money-back guarantee should you find yourself dissatisfied for some reason after you've paid. There is nothing posted on the Red Widow IPTV service website about refunds. I had to ask the chatbox agent. Feel free to ask presale questions. After you get a paid subscription, you can get tech support the same way.
They accept major credit cards such as Visa, MasterCard & Discover Card
Get Your Free Trial or Subscription Here
Red Widow Media Review: Pros & Cons
I made a list of all the pros and cons in the Red Widow Media star-rate review at the top. I will briefly go through them below.
PROS
The CatchUp TV section has bout 76 channels/networks names with recorded TV shows throughout the day. You get access to 8 days of recordings. You simply choose a network name, choose the day number, and then choose the name of the TV show to start watching it. All the recordings are left to the Red Widow service to do, not you.
USA channels work very well with crystal clear picture quality and the same with other channels from different sections and countries. The TV app connected to the IPTV service posed no problem and no buffering on my end. But I can't say that for all the channels that I have not tested. Again, you need to test for yourself.
You get access to many live premium channels found on cable TV to watch movies, sports, news, documentaries, kids' channels, and so on. Red Widow is fully loaded with VOD movies that also include genres and new releases. TV series come with seasons and episodes. This all-in-one IPTV service has something for the entire family.
Live sports channels with access to all kinds of sporting events and on-demand PPV events including NFL replays have enough sports to handle any sports fan or fanatic. You can connect up to 4 compatible streaming devices at one time. This allows each member in your household to watch something different from the other person.
The app can be installed directly on your smart TV (LG or Samsung) if it has an internal app store. Or you can connect the Firestick to each one of your TVs (smart TV, HDTV) and install the app to the Firestick. The price is cheap when getting a wealth of streaming TV content. The savings are really big!
CONS
There are subcategories of live channels either not working at all or several channels not working. This included UK, Spanish, Filipino, and French channels. Others included Music/Radio, Gospel, and All Day that are non-working. I'm not sure what to say about ESPN+ and US Opens. I never recalled those sections ever working in any IPTV service.
There again, I'm not interested in those two sections to keep checking from time to time to see if any work. Feature enhancements are indeed at a very minimum. No 'Add to Favorites' which I thought would be available. All SO Player IPTV services including Nora Go or ISG Go (all similar apps) have a shortage of features.
There is no Record feature but Red Widow does all the recording for you in the CatchUp TV section with DVR. As for your local channels. No IPTV service I've tested provides all or most of your local OTV TV channels. It's best that you purchase an indoor HDTV antenna that you can get from Amazon or your local store.
Conclusion
If you are not concerned about having a lot of feature enhancements, VPN service, and can only use a smartphone when traveling, then the next step is to test for yourself. If all you want is USA working channels or English channels with no buffering, you can feel at ease. But remember buffering issues usually starts at the user's end should it occur.
You can compare the price to cable TV and see the huge savings. And if living without cable, you can see how to give your TV viewing a boost. For what it's worth, you should give it a try. I test reviewed the Red Widow IPTV service with app and gave it a thumbs up!
This Completes My Red Widow Media Review.
To Learn More and Get Your Free Trial or Subscription, Click Here