Cola IPTV Review including Cola App by Real User/Tester. The main reason why Cola TV is one of the top 5 after testing it was because of the huge amount of global streaming content. They cater to people from all walks of life with live channels and VODs coming from 74 different countries. So if you are wondering does it includes US channels and VODs the short answer is yes and then some.
IMPORTANT UPDATE…
We are no longer recommending this IPTV service — They are out of service. We found better IPTV services more to your liking. Click below to visit our Top 10…
Do Not Read Below… All links to the IPTV service were removed…
—————-
If you were hoping to get access to English-speaking channels from other countries such as the UK, Australia, Ireland, and Canada, your wish has been granted. Then again if you are bilingual or multilingual, then you can benefit more when getting access to streaming content in other languages.
Cola IPTV does a great job of organizing 18,000+ channels and 33,000 VODs into categories and sub-categories. There are so many sub-categories of moves, TV series, sports, and other streaming content for many different countries. Your country is bound to be included.
USA TV viewers will get access to a great deal more US channels. Just like the other countries included you get many if not all the live channels from major TV networks. Channels to watch movies, kids' shows/cartoons, documentaries, news, sports. And speaking of sports, they bring a huge amount of it that includes local, national, international, pros, college.
There are seasonal sports such as MLB, NBA, NFL, NHL, PPV MMA/BoxingWWE/UFC, and so on. Other streaming content includes Music, PPV cinema, Radio, Local TV Channels (USA & CA only), 24/7 TV Shows/Music with genres. You'll find genres (sub-categories) in both the Live TV and Series categories.
Who Benefits
Whether you live in the USA or another country, there is a lot of streaming content to watch online. This includes live TV channels from many of the popular networks. Other English-speaking countries are included such as Canada, the United Kingdom, Australia, Ireland, and so on.
There are 74 countries with streaming content so it's highly likely your country is included. Again, all the content is very well organized and you can find content for a country to watch live channels and VOD. Countries will have their own movies and TV Series.
Sports fans and fanatics will love all the live sports with all kinds of sporting events (local, national, international). This also includes PPV MMA/Boxing/WWE/UFC. And you love to watch movies and/or TV series with seasons and episodes, there's a lot there to appreciate.
Individuals that are bilingual or multilingual will benefit even more as there are 74 countries filled with streaming content to watch online.
There is plenty for the entire family to watch whereas each person in the household can watch something different from the other. This comes when choosing 'x' number of device connections when paying for one of the subscription plans. See all plans further down.
Click Here to Sign Up and Get Your Free Trial or Subscription
Cola TV Review: Navigation, Interfacing, Performance, Streaming TV/VOD Content, and Features
I requested a request a free trial to test everything on my Firestick. You can do the same by asking the agent in the chatbox. I received an email with login details (username & password). The Player Info was also provided–see TV apps below.
NOTE: To get the free trial, you must ask the Cola chatbox agent. Tell them what compatible device you want to use. See compatible devices further down.
Since I was already familiar with how to install the app to my Firestick via the Downloader app, I went ahead and completed the installation. Read below about the Downloader app for the Fire TV and Firestick as I go further into my Cola IPTV review.
Navigation
After activating and logging in to open the TV app, I had to create a User name first. Afterward, I was led to the main screen where the layout was very pleasing to the eye. I let my eyes direct me to the categories of streaming content. You are immediately drawn to the 6 clickable icon images as follows:
Live TV
Movies
Series
Live with EPG
Multi-Screen
CatchUp (not working by design)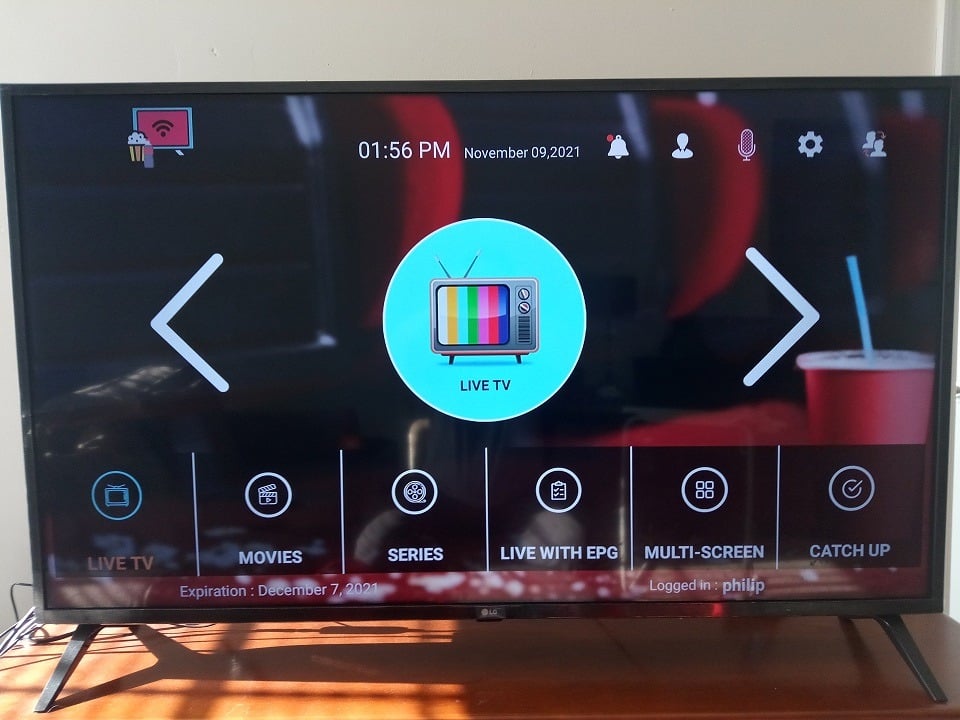 Even if you never watched TV online or used an IPTV service and app before, things are pretty straightforward. Simply click any one of the 6 clicking icons to go where you want. At the top of the main screen, you will find 5 icon images as follows:
Notifications (messages to read, if any)
Account (incl. Username, Account Status, Date Created, Expiration Date, # of Device Connection, etc.)
Recordings (Where recordings are stores–more on this later)
Settings (Incl. Parental Controls, Time Format, Speed Test, and More)
Switch Users (Switch or Add New User)
I gave the navigation test a big thumbs up. It was easy to find and navigate through the app. There's even a Search Tool in the Live TV section and other sections to search by channel name, title, city.
Streaming TV/VOD Content
When clicking the Live TV category icon, you have to be patient. It takes about one minute for all the content to load. You must realize there is a wealth of streaming content which explains it takes a while to get access to all the live channels. Once it opened, I was seeing sub-categories where live channels were stored. Again, very pleasing to the eye.
As I scroll down during my Cola IPTV review test to see all that was listed, it felt like to would take a while to reach the end. That's how much content is available to watch online. Name of sections included:
All
Favorites
Different sections (sub-categories) of US channels
Large number of live sports sections
Many 24/7 sections
Latin, Canada, UK, and host of other channels from many different countries
Adults/Adults 24/7
And there's a lot more (too many to mention)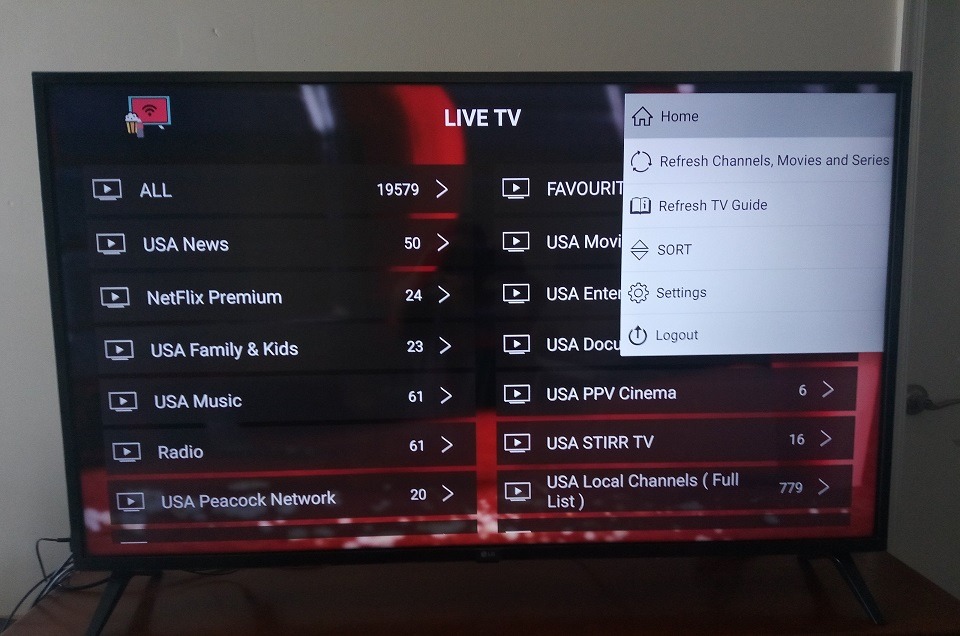 The Live TV categories will shortly keep you occupied for a long time. I played many channels randomly, not knowing if any wouldn't work/play. I don't recall one channel not working and if there was one it didn't phase me. Just keep in mind no IPTV service is perfect. You are bound to find non-working channels but a good IPTV service doesn't have many. But some IPTVs will not stream channels from a certain country or other section until subscribers request them.
The Movies section (sub-category) has a similar setup as follows:
Recently Watched
New Releases
Favorites
Movies-Malayalam
Movies-(list of many genres & countries)
More VODs included
NOTE: Both Live TV & Movies sections list the number of channels/streaming content for each sub-category.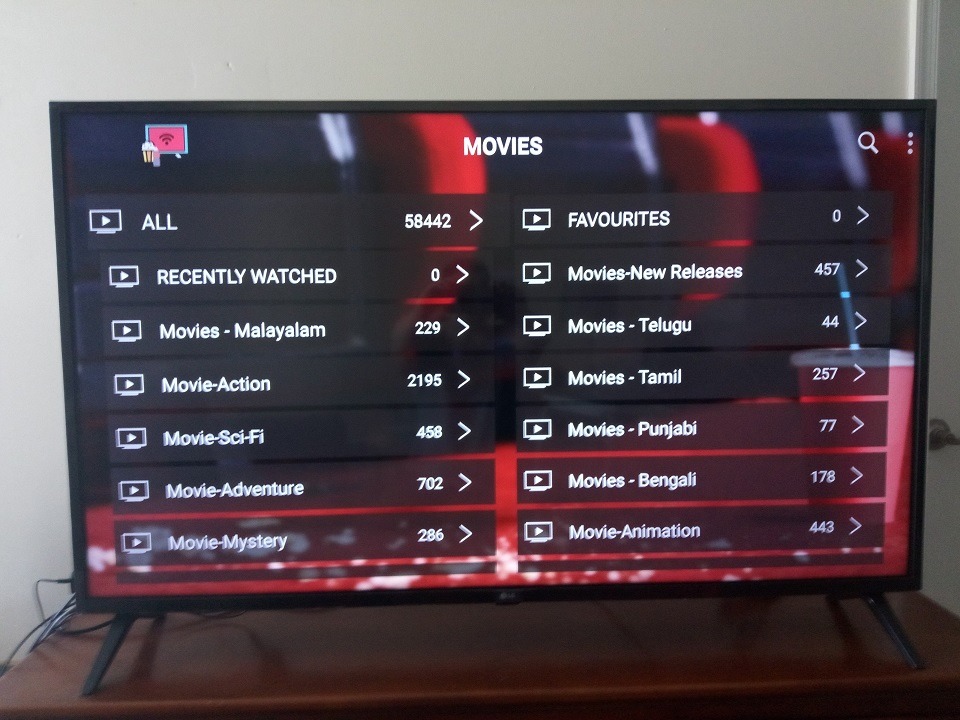 Other Streaming Content Categories
I said previously there was a huge amount of streaming content so let's continue…
Series
If you love to watch TV series also, then you should be delighted when seeing all the sub-categories with seasons and episodes. Take a look below:
All
Favorites
Recently Watched
Series-Documentary
Series-Family
Series-(list of many genres & countries)
What I have listed so far may not appear to be a whole lot, but trust when I say there's a whole lot of streaming content included. You will find a huge selection of sports (local, national, international, pros, college, etc.). This also includes all kinds of PPV content with no extra charge.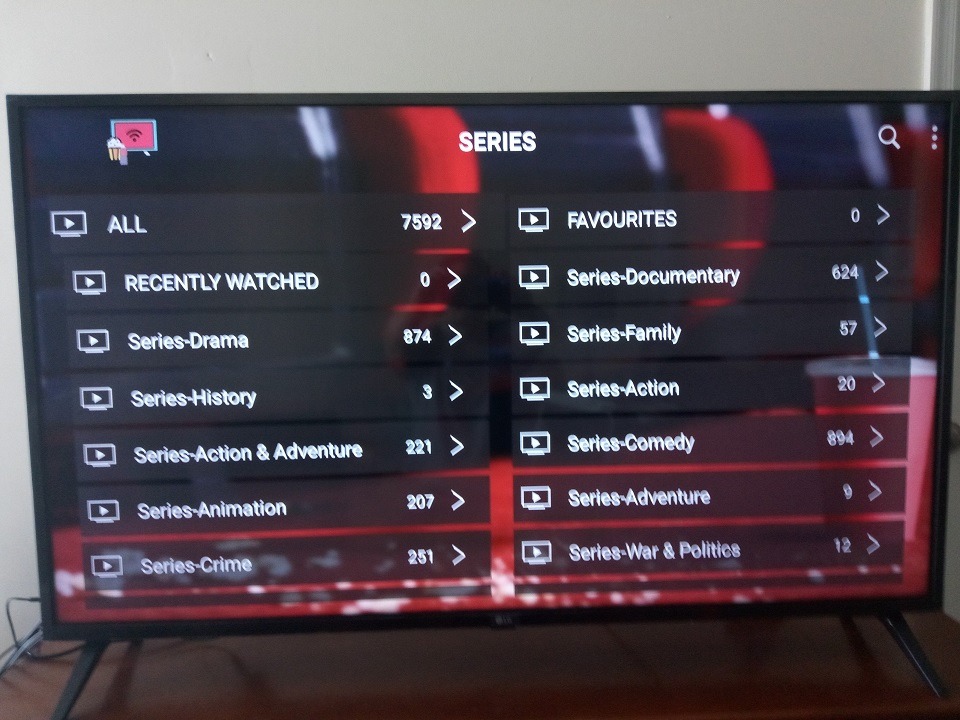 As for the local channels (USA & CA only), I don't think every city is included. If you do find your city of channels, some may not work which is typical of IPTVs. However, all my channels did play and You may find some of your regional channels as well. I found my regional channels.
What you should do is search for all your city/local TV channels and regional channels. When you find them, add each one to Favorites. This is what I did so that I could access them quickly. All I need to do is open my Favorites section where all my local/regional channels are stored to play them.
Again, keep in mind there are 74 different countries (sub-categories) with many channels in each.
Visit the Cola TV website and click the Channels link in the menu to see a listing of the content delivered.
Click Here to Learn and Get Your Free Trial or Subscription
Interfacing/User Experience
There is no manual or guide with instructions to use the TV app connected to Cola TV. No matter how new you are, you shouldn't have difficulty navigating around. The interfacing is both fast and smooth. Some of the streaming content load and play faster than others. How the app connects with the IPTV servers with all the streaming content worked seamlessly.
No way did I play all the streaming content available, not even close. But while test reviewing Cola TV, I had a great user experience. You'll like the interfacing more and more as you get familiar with the app. One of the downsides comes when clicking the Live TV and EPG categories, it takes about a minute to get access to the content.
How I was able to search, find, click came easy. What I wasn't familiar with didn't take long to figure out.
Overall Performance
Whether or not you are familiar with IPTVs or Streaming TV services, there's always the issue of buffering that can be very annoying. However, you must keep in mind that 9 times out of 10 the buffering issue comes from your end should any consisting buffering occur. Don't look at the IPTV service just yet. Look at your streaming device and Internet connection speed.
When you click to watch the video in the star-rated review, below that video you will find additional video links. One will include how to stop buffering issues. I suggest that you first check your Internet connection speed from the compatible device you are going to use. You should use a new or fairly new streaming device/smart TV.
You should have at least 60 Mbps of Internet connection download speed to play SD, HD, FHD, 4k, and 8k streaming content. But remember faster the Internet connection speed better the picture quality and overall performance. For your primary compatible streaming device/smart TV, always connect an Ethernet to that device or TV.
For instance, I purchase an Ethernet adaptor for my Firestick which is connected to my LG smart TV. I have over 200 Mbps I purchased from Comcast. You don't have to have that much speed. But using the Ethernet increases your Internet speed than a wireless or WiFi connection. All your other devices can have a wireless connection.
I did not experience any buffering. I watched my local NBA basketball play which was about a couple of hours. All was good. I watching some live channel movies. Again all was good. But beware when watching high-quality live streams. This is where you can experience buffering issues, especially when using a wireless connection.
Feature Enhancements – Record, Multi-Screen, EPG, Add to Favorites
During my Cola IPTV review, I found some interesting features some of which included a Search Tool in the Live TV and Movie/TV Series sections. Then there is the Recently Watched feature in the Movies and TV Series sections. Other features included Refresh, Sort, Time Shifting, Settings with Parental Controls, Add User, and more, plus Trailers in the Movie and TV Series sections.
But I consider the main features as being Add to Favorites, Record, and Multi-Screen (PIP). You can Add to Favorites in the Live TV, Movies, TV Series, and EPG sections. When using my Firestick during the test review, I was able to record but only recorded 2 minutes. It worked when playing the live TV that I recorded.
However, the Fire TV and Firestick have limited storage space to store recordings. I suggest not to record on both those devices. You are better off recording with a computer and saving those recorded files to an external hard drive. But their other ways to record using Tiivmate Player.
Click Here for More Info on TiviMate – How to Install, Record, Etc.
Watch Video Here
How to Record
NOTE: There are other ways to record with IPTVs which I plan to create a video post showing how to do it. When clicking any of the links above, do not enter any IPTV URL to watch TV online. You are going to use Cola TV instead.
Cola uses other apps that have the record feature as well but again depending on the compatible device/smart TV you are going to use, saving recordings may not be possible. It's definitely possible to use a computer whereas you can connect an HDMI cable from the computer to the TV.
I could not get Multi-Screen with 4 PIP to work. After contacting Cola support, I was told Multi-Screen does not work on the Cola App that I was using. As for the other apps Cola uses, I have not tested Multi-Screen during my Cola IPTV test review. This may come later on.
Another Great Feature – EPG (Electronic Programming Guide)
What's particularly cool about this feature is that there are many sub-categories of different streaming content by name. When you select a particular section name it opens and loads all the streaming content for that section into the EPG or TV guide. For instance, if I wanted only local TV channels, I can select and all those channels are loaded into the TV Guide (EPG). You can do the same thing for Sports or Movies or News, etc.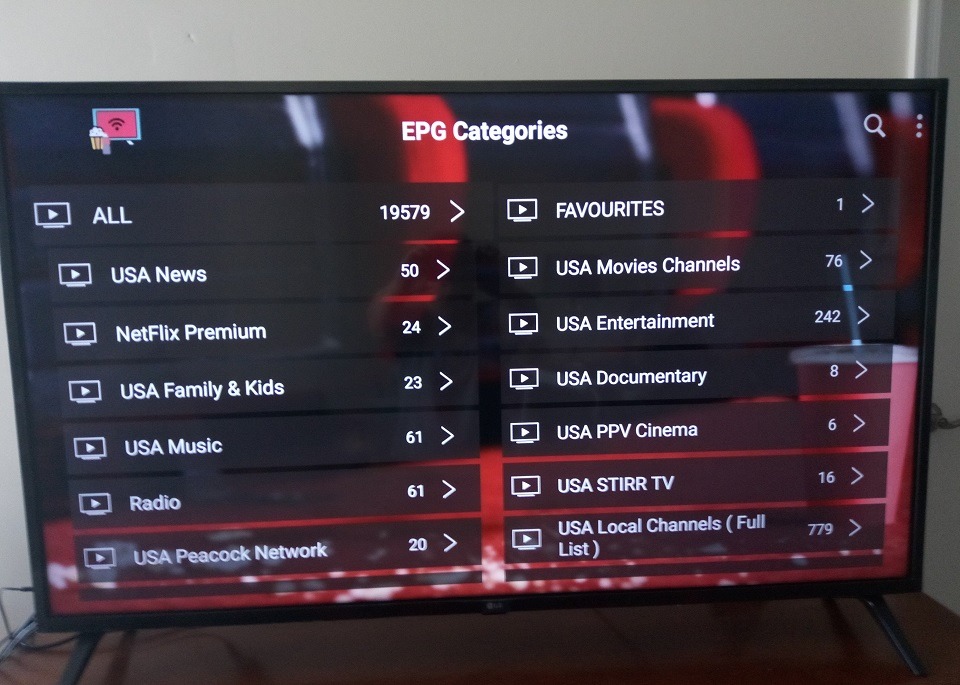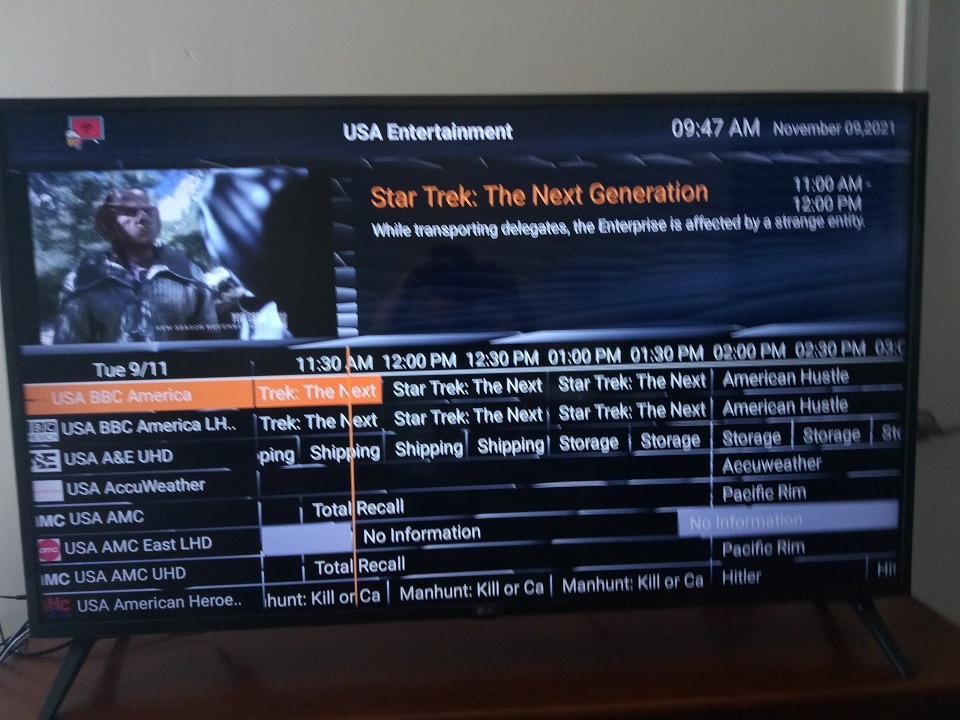 The TV will show names of channels or other content with program descriptions and time slots when applicable. You won't see program descriptions for all the content in the EPG.
Sign Up Here to Get Your Free Trial or Subscription
Cola TV App Review Plus 3rd-Pary TV Apps
You will find instructions to download/install the app at the Cola IPTV Website Here base on the compatible device you want to use. However, there were no instructions provided for the Cola App. I told the Cola chatbox agent I wanted to use my Firestick and it was suggested I install their Cola App.
If you are going to use the Fire TV or Firestick device, you will come to understand that many apps used for IPTV services cannot be found inside the Amazon Play Store. Therefore, you must install the apk version of the app found inside the APK directory.
This requires installing the Downloader app first for Fire TV/Firestick/Android TV/Box and then entering the Cola App URL to commence the download/installation. This may be foreign to you but don't worry. I created a video that shows how to do the installation. Just click the button in the star-rated review to watch the video. On that video/article post, you will find more video links below it.
I told you previously that when I received the free trial email, it also included the Player Info which is the AppPlayer URL, SmarterApp URL, WebPlayer URL, and other URL, M3u(VLC Player) URL, EPG URL, and Short Codes for the ColaApp, SmartersApp, and TiviMate.
TiviMate has a Record feature as do some of the other apps listed that can be used based on the compatible
device.
Compatible Devices Based on App Used
Below is a list of compatible devices for the TV app being used. You must decide which app to use based on your streaming device or smart TV.
Cola App: Fire TV, Firestick – Don't know about other compatible devices, if any, at this time
IPTV Smarters Pro: Amazon Fire TV, Firestick; Android TV, Box, Phone; iOS iPad, iPhone; LG, Samsung Smart TV
GSE Smart IPTV: Firestick, Fire TV; Android TV, Box, Phone; Apple TV; iOS iPhone, iPad; Mac OS X
Fame IPTV Web App: All Compatible Devices including Windows & Mac Computer
NOTE: The Fame IPTV Web App will open in your web browser. It will ask you to select the Portal, either Fame Gold or Fame Silver. You must select Fame Gold, not Silver. You must also enter the Username and Password which is provided in the Free Trial or Subscription email Cola TV sends you.
Cola IPTV Subscription Plan Fees, Free Trial, Refund
There is a free trial but you will not see it when visiting the Cola TV website. You must send a message to the chatbox agent to request a free trial. Give your correct email address and they send your the activation/login credentials and other info. You can install the free TV app before entering into the trial or subscription if you want.
Cola IPTV Free Trial: 24-Hours
You don't have much time so you should get the free trial when you have time to devote much of your time testing the app connected to the IPTV service (Cola). There's a lot to cover in the app.
Cola IPTV Subscription Plan Fees Breakdown
There are 20 different IPTV subscription plans for 'x' number of device connections and number of months. See breakdown below:
1 Device Connection
1 month | 1 device: $12.00
3 month | 1 device: $11.00
6 month | 1 device: $10.00
12 month | 1 device: $9.00
2 Device Connections
1 month | 2 devices: $16.00
3 month | 2 devices: $15.00
6 month | 2 devices: $14.00
12 month | 2 devices: $13.00
3 Device Connections
1 month | 3 devices: $19.00
3 month | 3 devices: $18.00
6 month | 3 devices: $17.00
12 month | 3 devices: $16.00
4 Device Connections
1 month | 4 devices: $22.00
3 month | 4 devices: $21.00
6 month | 4 devices: $20.00
12 month | 4 devices: $19.00
5 Device Connections
1 month | 4 devices: $25.00
3 month | 4 devices: $72.00
6 month | 4 devices: $138.00
12 month | 4 devices: $264.00
You can see all subscription plan fees when visiting the ColaIPTV website.
NOTE: Each subscription plan gives you access to the same streaming content, no more or less. For 3/6/12 months with 5 device connections, those subscription fees are much higher. I don't know the reason for this but there's probably more involved for Cola if you choose 5 devices. All subscription fees are subject to change by Cola.
Click Here to Sign Up and Get Your Free Trial or Subscription
Money-Back Guarantee/Refund
Unfortunately, there is no money-back guarantee or refund after the subscription is paid. Cola wants you to enter into the free trial so that you can test everything for yourself. The 24-hours doesn't give you much time to test but this is their policy for no refunds.
Cola Support
The Cola TV chatbox agent was very courteous, helpful, and answered my questions. The response time was very quick but I don't know if they are set up for 24/7 and holidays support. You can ask pre-sale questions as well as get tech support if needed.
Cola IPTV Review: Pros & Cons
What would a real review be without stating both the pros and cons. Read below to learn of my findings after completing my Cola IPTV review.
PROS
If having access to a large number of live TV channels from your country is high on your list, then can put a checkmark.
If you are looking for a huge amount of movies with genres and new releases as well as TV series with genres and seasons/episodes, put another checkmark.
As for live sports and this is your thing, there's more here than meets the eye. It will take a while to go through it all but easy to find exactly what you want quickly. PPV show/movies/ and PPV live fights/boxing/special events are all there for your viewing with no extra charge.
The navigation, interfacing, performance, organization of content, features, and entertainment streaming are all good. The entire family should be pleased. Each family watches something different from the other when choosing 2 or more device connections from 20 subscription plans. The plans are very affordable.
Cola uses a No IP Lock system which means you can use a VPN service which is optional. You can connect any compatible device to Cola when traveling.
You get access to live premium, local, regional, and global TV channels. But only USA/CA local channels.
CONS
Some live channels and VOD content did not work/play which is typical of all IPTV services out there. So the reasoning is the more streaming content the IPTV service has more the non-working content. You will find this issue I'm sure when playing live TV channels, movies, TV series, as I did. You can always contact support should there be something that really interests you that's not working.
But for what's it's worth, most of the live channels and VODs I tested did work. I did run into more non-working content in the TV series when testing/playing the seasons/episodes.
The isn't much to be desired in the CatchUp TV section. Nevertheless, the content is there but I ran across some that didn't work/play. I'm sure the same thing can be said for the 74 countries. There may be countries with non-working content or more/less non-working content than other countries.
Local TV channels are at a minimum. You won't get access to all your local OTA TV channels which is typical of all IPTV services. However, all of my local and regional worked/played. You will be better off connecting an indoor HDTV antenna with a 100-mile radius of your TV. Then scan for all local channels inside your TV. This way you can get all your local OTA channels without paying for Cable TV.
The Recording feature may or may not work depending on the device you are going to use. The Record feature did work on my Firestick that has very limited storage space. But there are workarounds to recording such as using a computer with an HDMI cable connected to the TV and using an external hard drive.
Multi-Screen did not work in the Cola App which is by design. However, I may work with the other apps. When clicking the Live TV category or EPG, it takes about one minute for 1000s of channels to load. This is understandable. Patience is a virtue
Conclusion
If anything in this review piqued your interest, then I recommend testing Cola TV on your compatible devices. Just enter into the free trial which does not require any payment. However, if you feel really good about this IPTV when watching all the videos we posted, go ahead and pay the subscription.
I can't say for sure that all, most, or some of the content for each country work. There wasn't enough time to test all the content for 74 different countries. But that's where the free trial comes into play for you. You already know about the wealth of entertaining streaming content deliver to watch movies, TV shows, sports, news, kids' channels, and the list goes on.
Cola makes it very easy to access all that's there inside the TV app. Once you complete the setup installation process, you simply sit back and enjoy. If you are a cable TV subscription, after a while you may decide to cancel and save a bundle of money. This is one of the top IPTVs out there today whereas I have test reviewed many.
Give it a test run, see how well it works for you and your family. You have 24 hours in the free trial. Enjoy!
This Concludes Our Cola IPTV Review.
To Learn More and Get Your Free Trial or Subscription, Click Here