My Thoughts...
Product Name: AirTV IPTV
Product Description: IP Lock IPTV service provider (no VPN allowed) delivers 1000+ live channels and premium channels from over 18 countries. Also delivers 1000s of on-demand movies, sports, TV series. Features include record, add to favorites, catch up TV, and parental control. Connect one device from one of two subscription packages or choose family subscription package to more 2 extra device connections. Can watch movies, news, sports, and more. US channels have been removed temporarily but UK channels are available. Contact support to see if US channels are added.
Offer price: 19.99
Currency: USD
Availability: OnlineOnly
Usability

Performance

Picture Quality

Compatibility

Live Channels

VOD/CatchUp

Sports/PPV

Global Channels

EPG (TV Guide)

Support
AirTV IPTV Review
Good alternative to cable at lower cost for those who don't need access to all premium channels. Many channels and premium channels are included out of 18 countries or so. Anyone can sign up and watch no matter the country s/he lives in. Only one device connection for one IP address is allowed. Cannot share AirTV account with another individual that uses a different IP address. Can watch many shows, sports, movies, news, and so on. But no local or regional channels, and no live PPV events. Can watch on-demand movies including the latest movies as well as on-demand TV series with seasons/episodes.   
No US channels at this time but UK channels are available including movie channels. Can choose one of four subscription packages from the AirTV or AirTV Extra category. Can get 2 extra devices for a total of 3 device connections when purchasing the Extra Sub-Device 12-m0nth package. Compatible to many devices but not compatible to computers, M3U file, or MAG250. Recommend buying/using Amazon Fire TV Stick (Firestick) to connect with HDTV/smart TV.
Pros
1000+ of live and premium TV channels
Over 18 countries
1000s of on-demand movies (latest included), sports & TV series w/ episodes
Watch movies, sports, shows, news, etc.
Record live channels
Watch catch up TV
Add channels and videos to favorites
Parental control
Free trial
Subscription plans to meet every budget
Cons
No US channels at this time
Some channels must be played again to work
Not all premium channels included
No live PPV events, regional, or local channels
One device connection only; must pay separate 12-month for 2 extra devices
Record & Catch Up features requires some extra learning but doable
AirTV IPTV Review (AirTV Extra Review) by Real User and Tester. Unlike most other IPTV services, AirTV takes on somewhat a different approach. The approach in delivering live and on-demand streams are different including the app itself. That said, the setup is different also.
You get access to over 1000 live channels in SD and HD quality (1080p) from many different countries. However, US channels may or may not be included. Doing my review those channels were included and I was able to watch them but then they removed all USA channels for some reason.
So you might want to contact support to find out if those channels are there or enter into the free trial to have a look. My thinking is they are going to bring those USA channels back since this is big market that gets a lot of interest from TV viewers. And because the category name was called USA (test) which tells me they are in test mode.
Video 1: AirTV Video Review
Video 2: How to Sign Up for Trial/Subscription
Video 3: See It In Action – Navigation, Features, Streams Play
Video 4: How to Watch Catch Up TV
Get Local TV Channels Using HDTV Indoor Antenna
Read Review on Locast – Local TV Streaming Website
Learn More About Amazon Fire TV Stick
How to Download/Install Downloader App on Firestick
This IPTV service also delivers 3,000+ VOD HD movies with all the genres and TV Series with seasons and episodes. There are many live sports channels and some on-demand sports as well. Overall, there are not that many premium live channels from popular networks.
So if what I revealed to you so far doesn't sound appealing enough, then perhaps the ability to record and Add to Favorites will get you interested to read on.
Who Is It For?
Because it's not clear AirTV will include US live channels again, this IPTV service seems to cater more to TV viewers living outside the US. There are many countries included with channels in different languages. But I would have to think US channels will be included again at some point and time.
It doesn't matter where you live in the world, anyone can get access to this IPTV service and watch the same streaming content.
I recommend watching all my video reviews to gather more info including how to get everything setup on your device. In my AirTV IPTV review videos – see buttons above — I'm used my Firestick device connected to my smart TV.
Whether or not you are new to IPTV services and installing apps, I suggest reading everything on the AirTV website. You also need to read their FAQs section and Tutorial section. Watch all my video reviews (see buttons at top). You need to know what all is needed to get setup and use the app once it's connected to the IPTV service.
Features/Benefits Include
In my AirTV IPTV review, I found there aren't that many feature enhancements but one I know you will like that enables you to record.
Over 1000 live channels from many different countries
3000 last movies in VOD
7 Days EPG access to your device
Free test with 3 days for one device
Over 160 Live Channels with 7 Days Catch Up (Playback)
PVR recording function in Extra subscription package only
Family package to connect 2 extra devices
Parental control to restrict others
Add to Favorites
Time Seek (shift) – can forward/rewind live channel in 30s increments
Subscription packages to fit your budget
Record
Keep in mind that during my AirTV IPTV review, I used my Amazon Fire TV Stick (Firestick) when providing video instructions. You can see everything when clicking the video review buttons above to watch everything.
You can record live channels when clicking the Live icon on the main screen. When playing a live channel, you can open the 'EPG Detail' screen with 3 bottoms at the bottom (Play, Record & Record Series).
Click the 'Record' button and you will be prompted on screen with 'Add Record Task Success' which the recording has begun. You can also schedule a recording when clicking the 'Record Series' button.
I won't go through all the details and steps here. You can watch the AirTV IPTV Record video HERE.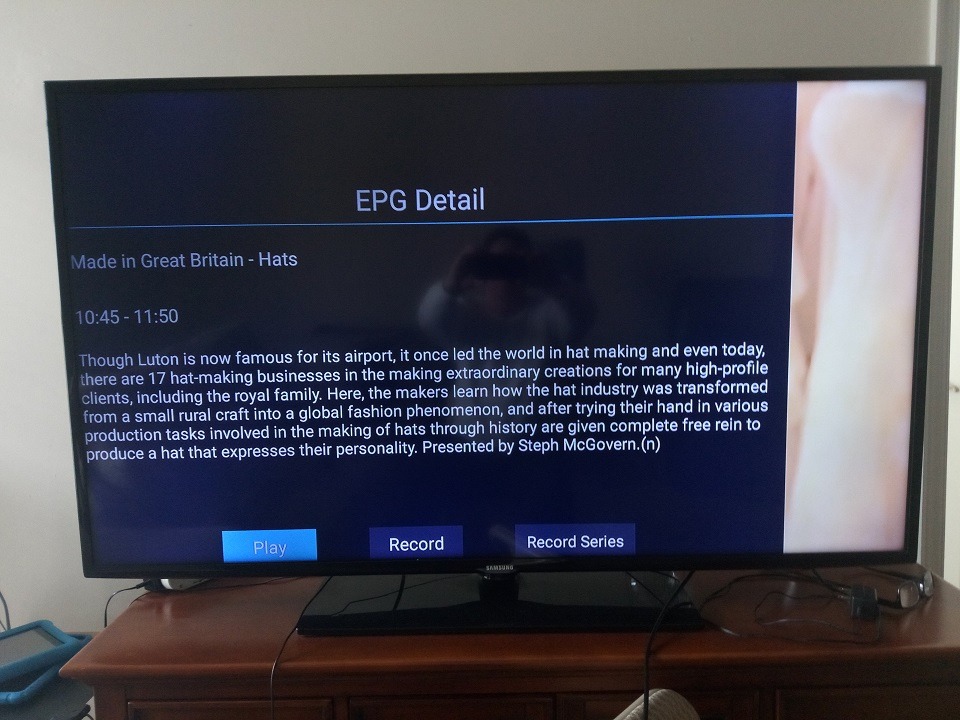 Catch Up TV
The Catch UP TV feature is somewhat tricky. It certainly had me fooled at first whereas I thought this feature was not included. How to watch Catch TV is better explained through my video tutorial HERE.
Add to Favorites
You can add live channels to Favorites as well as on-demand videos to Favorites. There are two sections for Favorites: One for live TV and one for videos. You can watch my video tutorial HERE which also shows the Catch UP feature.
When the channel plays in full screen, press the 3-line button on the Firestick remote. The Account Info screen appears. In the left column, scroll down to Fav Manage. You will see the list of channels names in numerical order with gold star for each channel.
Simply scroll to the right under the Current Favorites section and select a channel to Add to Favorites. The empty gold star is now filled in. You can click the filled-in gold star for the channels to remove it from Favorites. You will now see an empty gold star.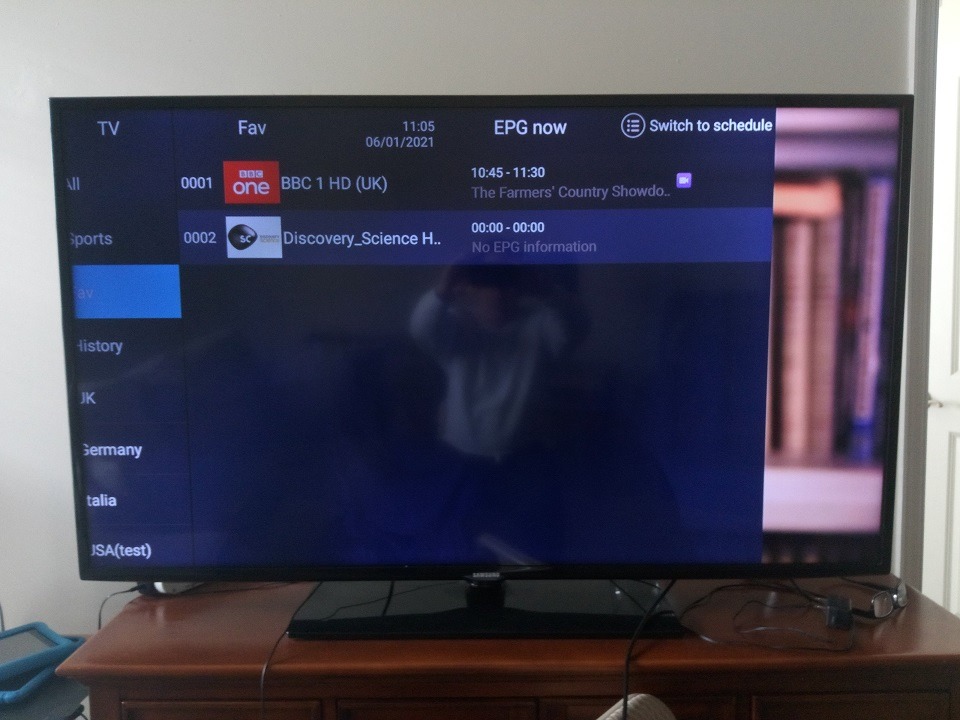 To find channels added to favorites whereas the gold star is filled in for the channel, simply click the middle button inside the ring on the Firestick remote to get the EPG (TV guide). Scroll left to the TV section listing,
and then scroll up/down to highlight Fav section.
Now you will see the channel(s) you added to Favorites. Simply click the click the channel of interest to play it. You can do the thing when in the VOD section with slightly different steps.
AirTV IPTV Review: Interface, Performance, Streaming Content
Because AirTV IPTV is a IP Lock IPTV service, you cannot use a VPN service to hide your IP address. You cannot share your AirTV account/subscription with another individual living outside your household that has a different IP address.
In other words, with one AirTV account/subscription, you can connect one device only using one IP address. Same thing when traveling, you can connect one device only such as a smartphone that uses different WiFi connection. It is not clear if other compatible devices can be used at this time when traveling.
Compatible Devices
Here's a list of compatible devices that you can use. However, only one device can be use when choosing the AirTV Standard or AirTV Extra subscription. You can add two more devices when adding the AirTV Sub-Devices subscription for an additional cost.
Android Smart TV
Android Tablet
Android PAD, Smartphones
Samsung Android Phone
NVIDIA Shield
Smart TV(Android OS)
Zgemma
Dreambox (All Versions)
FireStick & Fire TV Box
Vu Plus
Pixel
Enigma 2 (All Versions)
Xiaomi Phone/Boxes
Whether you have or don't have any of the compatible devices above, I recommend buying/using the Amazon Fire TV Stick. It's cheaper in price but a powerful streaming media device. It comes with a remote control and Alexa voice (voice commands). You can search and find many different types of apps including an app to install apk files which is very important when using the Firestick device.
Interface
After installing the AirTV app to my Firestick, I found it easy to navigate the app connected to the AirTV IPTV service and play streams. You don't need a manual to learn from, just some time to see where everything is located. Once you see where to get access to live channels and VOD including the Record section if using the Extra subscription, things begin to get easier.
Keep mind that you must enter the Activation Code in the app first in order to get access to the streaming content to watch everything online. I encourage you to watch the video review above (see buttons at top).
If you are very new to IPTV services, then this will take you a little more time after the setup process. Hopefully, my video reviews can help you move along faster.
Overall, the interface is user-friendly but some some of the features will take extra time learning such as Record, Add to Favorites, and Setting Parental Controls. Again, watch my video reviews. Once you get the understanding, everything eventually becomes childsplay.
Performance
AirTV claims to not have buffering issues but I found that no IPTV service is perfect and without some buffering issues. Just make sure you have 30 Mbps Internet connection (download) speed. But higher or faster the speed is always better.
For instance, my ISP (Internet Service Provider) which is Comcast gives over 200 Mbps. This doesn't mean I'll get that amount for each device I use but I get more than enough speed.
During my AirTV IPTV review, I did come across buffering issues and a number of them. However, because I'm very familiar with these IPTV services I knew what to do to correct the issue.
When playing a live channel and all I get is buffering and couldn't watch the live stream, I selected another live channels that was working. Then I went back to the previous channel that didn't work and it played.
This method worked 95% of the time whenever I came across a channel with continuous buffering and didn't play. Only a few channels didn't play at all but I know if I come back to those non-working channels sometime later, they may play as well. So keep this in mind when you come across a non-working channel.
Overall, the performance is good when navigation through different channel and video categories to watch live and on-demand streams.
Streaming Content
When opening the app, the main screen will appear with 3 icons as follows:
VOD (movies genres & TV series w/ seasons & episodes)
Live (find all live channels from different countries)
Rec (Record)
If you live in the US like me, then you may not be too pleased with the lack of live premium channels. Then again, during my AirTV review the USA (test) category included US channels to watch online. Now they are gone for whatever reason unknown. I can only assume they will bring those channels back. If they do, I will update this review.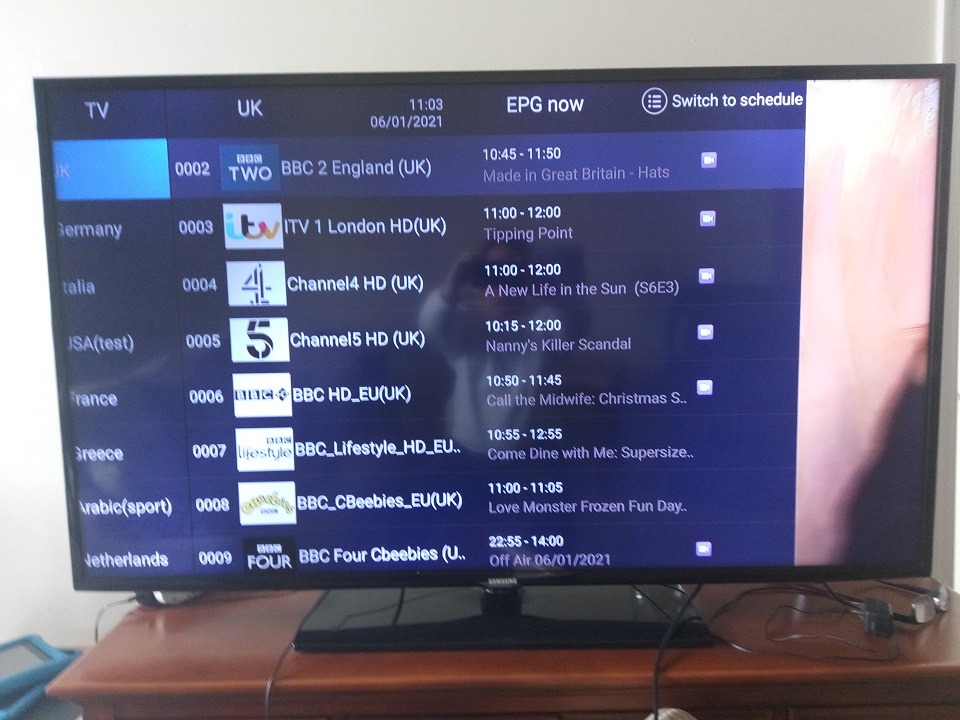 All live channels appear in the EPG (Electronic Programming Guide) which a TV guide and works rather well when locating a channels a channel.
The vast majority of live and on-demand streams I tested/played worked. I tested many channels from all the countries and the vast majority worked. I could resolve the the buffering issue that I show how previously.
The buffering only occurs when first playing the channel but this doesn't not happen for the vast majority of channels. Once the channel is played again after stopping it, no more buffering occurred for that channel.
So I would say the buffering is insignificant because there is a solution. Both live and on-demand streams played rather quickly if no buffering when first playing a channel. I did not experience any buffering play on-demand movies and TV series.
There are no local channels, regional channels, or pay-per-view events. You do get access to recorded boxing events that appeared live on PPV previously.
List of Categories Countries, Genres Included
In the Live section…
All, Sports, Fav, History, UK, Germany, Italia, USA (test), France, Greece, Arabic (sport), Netherlands; Belgium, Turkey, Asian Packs, Pakistani, H265(test), EPL, Cyprus, Arabic, Russia, Bulgaria, Albania, Balkan, F.Y.R.O.M,
Music, News, and Other.
In the VOD section…
Latest (recent videos added)
Recommend
TV Serial (w/ seasons & episodes)
Sports (also included recorded boxing matches)
History (tracks what you watch previously)
Fav
Genres…
Comedy, Action, Adventure, Crime, Sic-Fi; Horror, Mystery, Fantasy, Romance, Family, Animatin, Biography, History, Documentary, War, Sports, Musical, Terror, Plot, and Others
Free Trial, Subscriptions, Money Back Guarantee, Support
Free Trial
You can opt into the 3-day trial as I did. I ended up making a mistake and went ahead and purchased the AirTV Extra subscription for one month. Be sure the watch the Free Trial and Subscription video (see video button at top) to avoid making the same sign up mistake.
There 3 categories of subscriptions with each having a 3-day trial link. The link for all three takes you to the same free trial page where you choose which subscription category you want such as AirTV, AirTV Extra & AirTV Extra Sub-Devices.
When the trial ends, you decide whether or not to buy the subscription. Some sports are not available in the trial but it seems everything else is included. No credit card is required for the trial period. When purchasing any one of the subscription packages, you must use a Visa card or MasterCard.
Subscriptions
Here's a breakdown of the 3 categories of subscriptions packages – each comes with a 3-day trial:
AirTV…
1 Month: $19.99 USD
3 Months: $49.99 USD
6 Months: $79.99 USD
12 Months: $139.99 USD
AirTV Extra…
1 Month: $39.99 USD
3 Months: $79.99 USD
6 Months: $129.99 USD
12 Months: $199.99 USD
AirTV Extra Sub-Device…
The AirTV Extra and Sub-Device works hand and hand. Let me explain…
You can only connect one device in the AirTV subscription and AirTV Extra subscription. If you want more device connections, then you must pay for the 12-month Sub-Device subscription to get 2 extra device connections. This will give you a total of 3 device connections.
In other word, you would pay the AirTV Extra 1, 3, 6, 12-month subscription and pay the AirTV Extra Sub-Device 12-month subscription (60% percent discount).
There is no automatic rebill. To renew, you will need to subscribe again. You can pay for any one of the subscription packages you want (1, 3, 6, or 12 months). Before you opt into the the trial or subscription, you must first register to create a free account by clicking the 'Login / Register' link at the AirTV website.
Money Back Guarantee (Refund)
There is a Refund Policy link that you will find at the bottom of the AirTV website. I suggest clicking that link to learn more. The first thing you should do is enter into the 3-day free trial so that you can test everything on your device with the app installed.
Support
There is support but they respond within 24 hours when contacting them. I contacted them a few times and they got back to me with answers to my questions. English doesn't appear to be their first language but I could understand what they told me for the most part.
You contact them via support email, Contact Form, or chat box on their website.

AirTV Review: Pros & Cons
Pros
You get SD and HD picture quality when playing live channels and on-demand movies/TV series. The vast majority of channels tested played even when channels didn't play at first. When playing a channel and it buffers and doesn't play, just play another channel and then go back to the non-working channel to play it again. It will play.
Users can watch live channels with sports, movies, shows, news, etc. There are many on-demand movies and TV series and you can use the Search tool to search by title.
The best feature of all is the ability to record live channels and store them up to 7 days with 40 hours or recording time. Both the live channel and VOD sections have their Add to Favorites.
There are other features iike Parental Control, time View (shift) that lets you rewind/forward the live channel by 30 second increments.
All live channels appear in the EPG (Electronic Programming Guide) which a TV guide.
The free trial lets you test the app and service for up to 3 days without using a credit card. There is no recurring billing so you will need to renew your subscription manually. This way you are not charged automatically and don't need to go through a cancellation process. Just don't renew.
Cons
Understanding how to sign up to get the free trial, subscription, install the app, and get everything set up will take some time and may be somewhat confusing at first. To avoid making mistakes, I highly suggest reading the FAQs section and Tutorials when visiting the website. Also, watch my AirTV Extra review videos which should help you even more.
There will be times when playing a channel, it will start buffering and not play. This is to be expected when using this IPTV service and app which is unlike the others.
However, the solution is an easy one. Just stop the channel and replay it again. You do this by playing a different channel. Then go back to the previous non-working channel and it will play.
The good news is once the channel plays no more buffering but when coming back to play that channel some time later, you may need to do the same thing again to make the channel play.
During my AirTV IPTV review, I did come across channels with no audio from the Pakistan and India sections. You can check the FAQs to learn more and know what to do as there are some troubleshooting information there.
At one time, USA channels were included but now removed. I don't know what happened but I contacted support about it.
There are no local channels, not many premium channels, and no PPV events but there are a fair number channels available from each country. Some countries have more or less channels than others.
It will take some time learning how to record, add to favorites, and how to watch catch up TV. For this, you will need to watch my video tutorials. But once you have the steps down, this becomes a piece of cake to do.
The subscription costs are comparable to other IPTV services out there but the subscription cost for the sub-devices that cover a 12-month period for 2 extra devices is questionable. At least, there's a free trial to see whether or not this IPTV service is worth shelling out any money.
Conclusion
In all due honesty, with US channels not available right now, AirTV is more suitable to TV viewers living outside the US. Either that or TV viewers living in the US that want to watch live channels from another country.
I don't know if they will bring the US channels back anytime soon but for now the UK category has the only English channels. As for on-demand movies and TV series, you'll find of them in English
The free trial without a credit card is a no-brainer which should make you comfortable to test this IPTV service with app. There are many entertainment channels with some premium channels included to watch movies, news, sports, etc.
There are many live sports channels with some on-demand sports and some of that includes boxing. You'll find plenty of on-demand movies with genres and TV series with episodes.
One of the main highlights to using AirTV is the Record and Catch Up features. When playing live channels or on-demand videos, you get SD and HD picture quality.
There are some pluses and minuses using this IPTV. Each individual is different so you have to weigh everything yourself when opting into the free trial to get a better look.
This Concludes Our AirTV IPTV Review