TBC TV Review (SO Player App) by Real User: Here's an IPTV service that just might be the thing you're searching for. It's no secret that many people today are searching for alternatives to cable and satellite TV. You heard about TBC Now (Take Back Cable LLC) but don't know if they have all or some of the things you want. And if you never heard of this service, you're about to learn all about it in this TBC TV Now review.
IMPORTANT UPDATE:
We are no longer recommending any Nora Go or SO Player app and IPTV services for them. Too many of them are not accepting new customers/subscribers, went out of service, and we are getting many visitors telling us they can no longer renew their subscriptions including no support.
You must choose an alternative IPTV service that does not use SO Player or Nora Go.
We recommend visiting our IPTV Comparison Chart that's currently being updated to add more top IPTV services that use other apps. Click the link below to find the best IPTV service…
DO NOT READ BELOW THE LINE… We Removed all links to the IPTV service for SO Player…
————————
We received an email from TBC TV that Effective October 1st, 2020, they will
no longer accept new customers. The TBC TV website is no longer available.
This usually happens when an IPTV service reaches the max number of subscribers.
New customers can no longer subscribe to this IPTV service anymore. Current subscribers
may or may be able to renew their subscription–I'm not 100% sure.
Current Subscribers…
If you can no longer find the TBC TV website online when searching for it or cannot get
support or cannot sign in to renew your subscription, then it's time to start over.
I made it easy for you. There's a top alternative IPTV service just like TBC TV that also
uses the SO Player app. Click the link below to get the trial or subscription…
Click Here to Visit Alternative IPTV Service
NOTE: When you get your activation/login credentials from the new IPTV service (TBC) and enter the credentials into the SO Player to activate and use it, more than likely you will be locked out. That's because the old IPTV service that you subscribed to is still connected to the SOPlayer app on your device. Go ahead and enter the credentials from the new IPTV service. If you get an error or can't activate the app, go to the IPTV service website, and contact support. Let them reset everything for you. They may want to know what is appearing on your SOPlayer screen.
DO NOT READ BELOW THE DOTTED LINE… All TBC links have been removed…
————————
One thing is for sure. You'll save a bundle without losing what you love to watch. There's no high cost, contract, credit check, or hidden fees, and no antenna or set-top box to install. This service can be used in any country to watch TV online.
IPTV services like this one have made transitioning over to Internet TV easier. The requirements are an Internet connection, compatible streaming device, and subscription. TBC TV delivers over 500 live premium TV channels. You can watch TV shows (talk shows, game shows, sitcoms, soaps, etc.) as well as news, movies, and sports.
Click Below to Watch the Video Review of TBC TV Now on Firestick Below: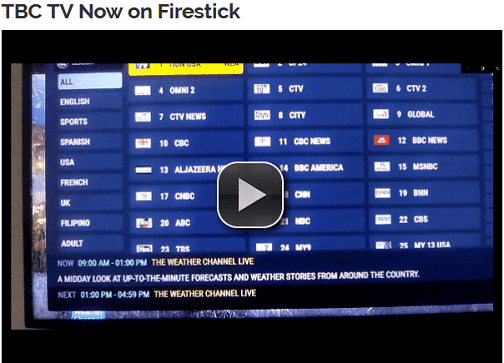 Get Your 2-Day Free Trial Here
They also deliver over 1000 VOD movies and TV shows/episodes and have a feature called CatchUp / DVR where they do all the recording. If you are wondering whether or not a TV guide is included, the answer is yes. There is a TBC TV Guide. My review will dive further into this later and cover 3 key areas:
Content
Performance
Interface
TBC TV Review – What Is It, Who Can Use It, How It Works
This IPTV service allows you to watch live and on-demand streaming content across many compatible devices. All you need is an Internet connection, preferably 20-25 Mbps download speed. Streaming television content is delivered over Internet Protocol networks, unlike cable/satellite formats.
Subscribers get access to 100s of premium live channels and 1000+ on-demand content. There's a SO Player app to download and install. The app connects your device to the TBC Now service to watch everything online.
One of the benefits of using this IPTV service is that anyone can use it. It doesn't matter where you live or travel in the world. individuals can subscribe and watch TV online with ease. There are no Geo-restrictions to block one's IP address or country. Everyone has access to the same streaming content such as US TV, UK TV, French TV, Spanish TV, and Filipino TV.
Just open the SO Player app after entering activation and login credentials the first time (one-time only). There you will see all the main categories such as TV, Movies, CatchUp, and EPG. More on this later. Watch Video Tutorial Here.
When going through the TBC Now review, my observations were broken down into 3 parts – content, performance, and interface as follows:
Content
TBC TV Now claims they have 500+ live premium channels and 1000+ on-demand videos. No one is counting but I could see there were many live channels from popular TV networks. This is where I started first.
I used my Amazon Firestick (connected to my smart TV) with SO Player app installed. When opening the app, everything is well organized and conveniently laid out. Suffice to say everything is very easy to navigate. No problem finding what you want to watch online when seeing 4 icons:
TV
Movies
CatchUp / DVR
EPG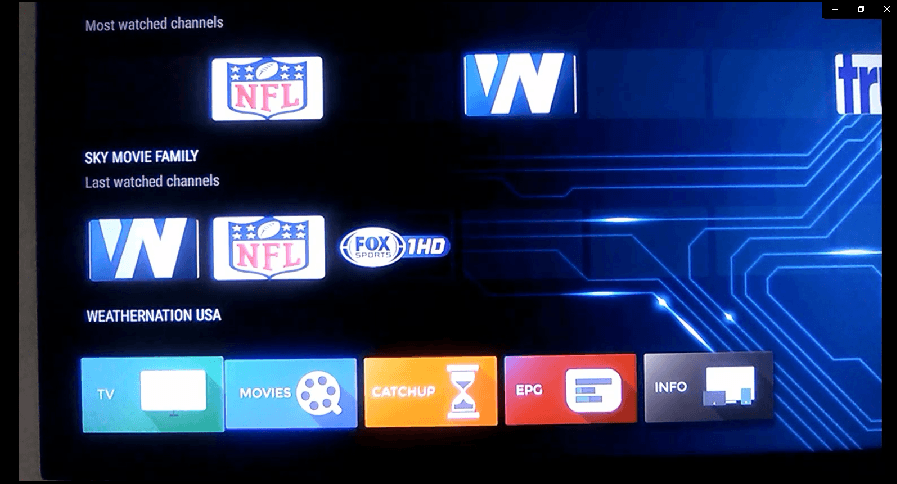 When clicking the green TV icon, I was taken to a channel already playing. Clicking the middle button inside the ring on my Firestick remote opens the TV menu. In the top left, there's a Search feature where you can search a channel/network by title. Below the Search are 9 categories as follows:
All
English
Sports
Spanish
USA
French
UK
Filipino
and so on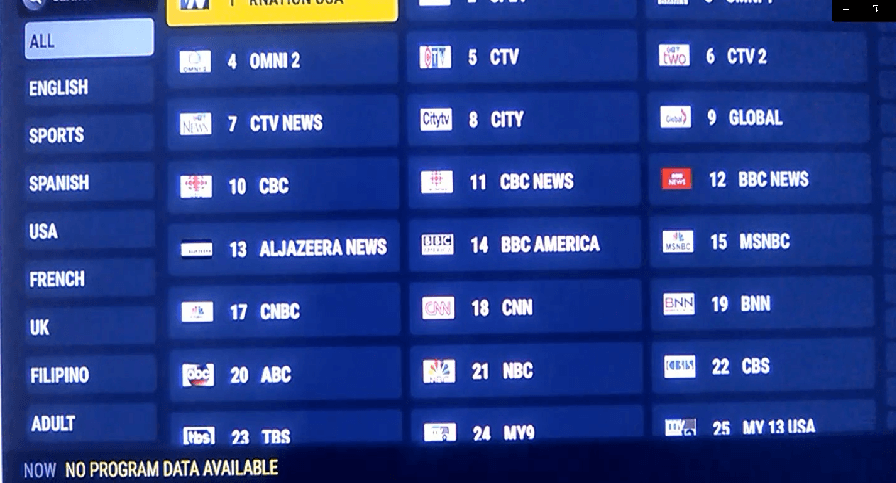 Note: The Adult category is also present but locked by default. There is a code provided to unlock it. I don't condone this sort of thing so I chose not to review it.
In the middle of this section, every TV channel/network appears by name with a number. And to the right of this are numbers 1-30. Clicking any one of those numbers will take you to a different set of channels/networks on the screen.
This is a great way to navigate to a set of channels/networks quickly. Instead of scrolling down until you find a series of channels names, just click a number from 1 to 30. When selecting a channel/network name, the description of the channel appears directly below.
Next, I went back to the main screen to select the blue Movies icon. You will see 'Most popular movies' listed with many movies with movie images appearing. Below this is the 'Most popular categories' section. Further down has the following with all the Genres with some shows by name included:
New Releases
Action
Family
Drama
Comedy
Thriller
Horror
Classic
Sci-Fi
Romance
Christmas
Supernational
The Voice
The Big Bang Theory
And so on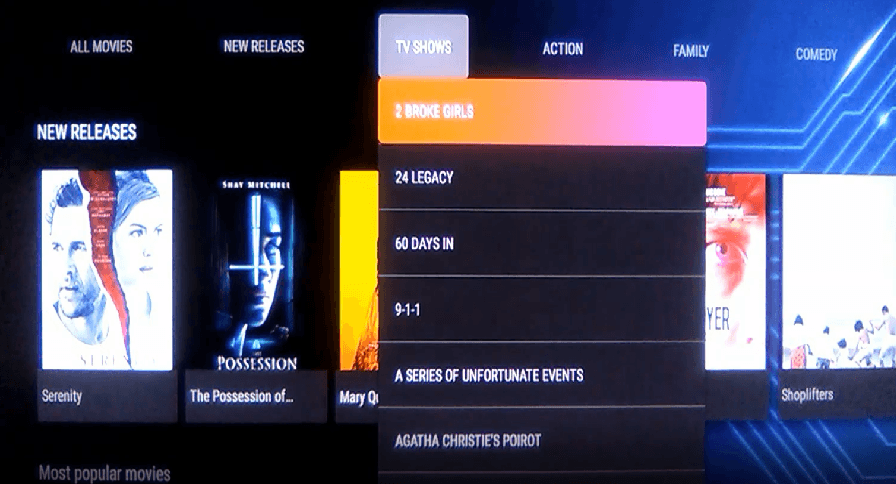 All of these are clickable and will take you directly to the content that interest you. I clicked on the blue Movies icon. A host of TV show/episode images and movie images appears as follows:
Scrolling downward…
All Movies
Most Popular Movies
Last Watched Movies
At the very bottom of this VOD section is a Search feature that allows you to search for a movie or TV show by title. Below the Search is a list of all genres including PPV events. You will also find PPV events in the live sports sections. We'll get to this later.
When clicking the return or back button on my Amazon Firestick remote, this brought me back to the main section again.
Next, I selected (not click) the orange CatchUp icon. At the very top, shows 'Recently Watched Shows'. When clicking the CatchUp icon, a column of TV networks by name appears, each having DVR to the right of them. For example, OMN1 DVR, CTV DVR, and so on.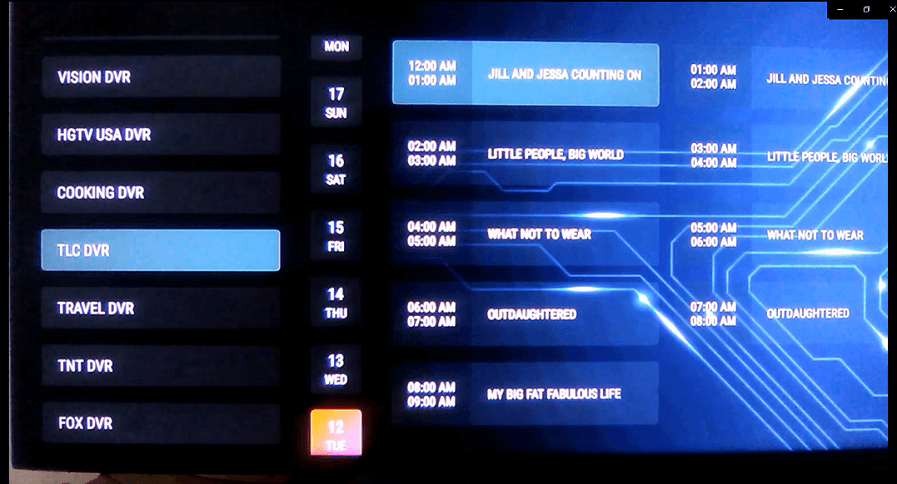 You can scroll down and up to see all network names with content that was recorded. There are many recordings. You simply click a network such as ABC DVR. To the right are other columns with a column with day and number, another column with time slots with names of the shows recorded.
As I said before navigating through all the content inside the app is very easy.
Next, I clicked the Return/Back button on my Firestick to head back to the main section. This time I selected (not clicked) the red EPG icon, which stands for Electronic Programming Guide. This is nothing more than a TV guide.
A section at the top appears, "Upcoming shows for the next hour from your most-watched channels." Below it lists several clickable links to channels that I watched earlier. I could click any link to start watching the channel if I wanted.
When you click the EPG icon and this will take you to the TV guide display that shows all the television networks with shows listed by name, date, time, and description. I could scroll up/down or right/left to see what's playing now or later.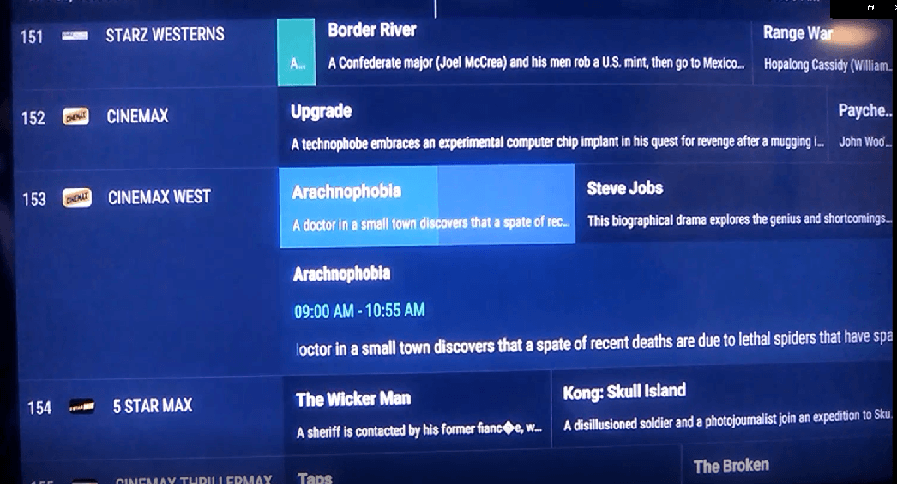 What's available is something for the entire family. There are many popular TV networks, many of which are found on cable and satellite. There's no doubt you will find all if not most of your favorites. Watch all kinds of TV shows, movies, news, and sports, including PPV events when live.
By the way, there is no extra cost to watch PV events. You can watch all the fights, even special events.
Performance
Overall, I found the SO Player and IPTV service performance very good. All channels and on-demand videos played without any interruptions. No buffering or playback issue. If you ever tried any of those free or low-cost, 3rd party streaming TV services, you probably experienced buffering issues.
Of course, it's important to have a fast Internet connection. You should have at least 20-25 Internet connection (download) speed. You might be ok with 15 Mbps. My Smart TV has around 14-15 Mbps. Your device should be new or fairly new. Old devices may not perform as well.
Further, into my TBC TV review, I did experience a few non-working channels but the vast majority of them worked/played. Both the picture and audio are excellent. You get HDTV or HQ picture quality and no sub-par videos whatsoever. No major delays when clicking channel links to play them.
Interface
The SO Player app replaced the Nora Go app for better performance. The app interface is fast and smooth. You'll like the ease-of-use when navigating through the app. And you'll like how quickly the content plays. I installed the SO Player on my Amazon Firestick, Android smartphone, and Windows computer.
All 3 devices with the SO Player installed played very well. There are no downsides. In my video review, I demonstrated the app on my computer, there was a small issue. But the issue only appears when I use software to record. It eats up more bandwidth that causes channels not to play quickly or not at all the first time channels them. See the review video at the top to watch TBC TV Now on the Firestick.
You will not experience an issue on your end such as the one I just described. You won't be doing any recording. The service does all the recording for you. More on this later. With adequate Internet connection speed and good streaming device, you are good to go.
The Content, Performance, and Interface get a high mark that separates this IPTV from other 3rd party steaming TV services of the pass. Keep in mind that IPTV services are fairly new. Technology, streaming, and TV apps have greatly improved over the years.
Here are two  TBC TV video reviews using a Windows computer and Android smartphone:
To Get Your Free Trial and Start Watching Your TV Favorites – Click Here
TBC TV Channel
You'll enjoy watching TBC TV online. Each TBC TV channel plays live and steadily. There are many of them. They claim to have over 500 live premium channels. You'll see the following TBC TV Now channel lineup sections: All, US, English, UK, French, Spanish, Filipino channels, and so on. Each channel also comes with a description.
There are TBC TV Now channels with all kinds of shows, movies, news, and sports. Something for the entire family and you get PPV events also. Many popular television networks are there just like the ones found on cable/satellite TV.
So that you understand, there are no local OTA TV and regional TV channels. But I have no doubt you'll find many of your favorite channels, TV shows/episodes, movies, news, and sports. If you want local OTA TV channels in your area, I suggest you purchase an indoor antenna. Learn More Here.
TBC TV Schedule (EPG)
The TBC TV schedule is called EPG (Electronic Programming Guide). You get a complete TV guide with a listing of all the channels/networks with the name, time slot, date, and description of each show. Just click the TV show, movie, news, or sport you want to watch online.
The EPG appears differently on each device. When using the app on your TV the EPG or TV guide is fully displayed. You get the full benefit of seeing everything as well as what's playing now and what's coming up.
TBC Now Sports, Movies, TV Shows/Episodes & News
Sports
If you are a sports fan or just someone wanting to watch a local team play, this IPTV service doesn't disappoint. Many times, you'll have access to a sporting event in two different ways. All the major sports networks are included and there are some links included playing live sports streams. These streams will name the teams playing against each other. Just click the one you want to watch at the scheduled time to watch online.
Use the EPG TV guide to see what sports are playing now or later on.
Movies
Movie buffs and lovers alike will get access to a huge number of movies from live movie channels and 1000+ VOD. Movie channels are the same ones found on cable/satellite TV. You also get old, recent, and very recent VOD movies. As for the later, TBC Now updates this section with additional movies from time to time.
You can check the TBC TV schedule (EPG) to see what movies are playing now or later.
TV Shows/Episodes
If you are in to talk shows, game shows, soaps, sitcoms, or whatever it is that interest you, there is a TBC TV channel available. Check the EPG to see what's playing now or later. The VOD section and CatchUp / DVR section allows you to watch recorded shows you missed recently or a while back. You get up 8 days of recordings, meaning those recordings will be replaced with new recordings.
News Broadcasts
For individuals into watching the news, there are many worldwide news channels available. All the popular news networks are available to watch online. Just like TV shows, movies, and sports channels, you can go to the EPG section to see what news is playing now or later on.
To Watch Your Favorite Sports, Movies, TV Shows, or News, Click Here
FAQ Section
I highly recommend you read the FAQ section. There's some important information you should know. For one, you should read, "How Do I Renew My Subscription." Other information such as device changes and removal may be of interest also.
You can find the FAQ section when visiting the TBC TV website (use link above). Click FAQs in the upper right corner to read.
TBC TV App Download/Installation & Compatible Devices
If you ever downloaded and installed an app on your device before, then this should be easy. As for those who are new to this, there are video tutorials on how to download/install the SO Player – Click Here.
Subscribers can use up to 4 devices simultaneously. You can install the app up to 4 TVs with the Firestick connected to each TV if you want. Or connect to different compatible devices.
If you want to use more than 4 devices, you will need to get an additional account or accounts. However, you must keep in mind that all devices in the same account must be set up on the same Wi-Fi network.
Here are the compatible devices that you can use:
Computer (Windows or Mac)
Android Devices (Android box, tablet, smartphone, Android TV, etc.)
iPhone & iPad
Amazon FireStick, FireTV
Samsung or LG Smart TV
Apple TV
iOS Smartphone
The SO Player is the recommended app to use on all compatible devices. Some Samsung and LG smart TV models are not compatible. I found out that my Samsung smart TV wasn't compatible. I couldn't find the SOPlay or SOPlayer app inside my smart TV app store. If you can find this app in your smart app store, you're in luck. Just download/install the app. Here are some SO Player video tutorials you can watch.
If you can't find the app, then your smart TV isn't compatible. You can try to find the Nora Go app instead which works relatively the same. See below…
If you find the Nora app, download/install it on your smart TV. Next, enter the activation/login credentials requested. This will allow you to watch TBC TV channels and VOD directly on your smart TV (no Firestick needed). Otherwise, you will need to purchase and connect the Amazon Firestick – Learn More Here.
Here's a video tutorial that may help you with downloading/installing the Nora Go app to Samsung or Lg smart TV…
Note: You can travel with only one device from your account. Here are the devices you can travel with: smartphone, tablet, or iPad.
How to Remove or Change Your Device
You can contact support via phone, email, or Facebook Messenger to remove or change your device from your account. For instance, if you reached your 4 device limit and want to remove one to add another, contact support
Tell them the pin code of the device you want to remove. Or you can tell support to remove all devices from your account. As for the latter, you must remove all devices when moving from one IPTV service to another.
Membership, Cost, Subscription, Refund, Free Trial & Support
Membership/Subscriptions/Cost
This part of our TBC TV review shows why more TV viewers opt into this IPTV service. There are two paid memberships/subscriptions and free trial.
When you become a free member or subscriber, TBC Live Now will send you a couple of emails. One of those emails will have your activation credentials, log in details, links, links to apps, and other info. They will send all your orders and account information via email.
You can opt into one of two TBCTvNow subscriptions below:
1-Month Pass at $29.99 (non-recurring)
3-Month Pass at $60.00 – Save $10 (non-recurring)
There is no recurring billing. When you sign up for either subscription above, your credit card will not be billed again. Once your 1-month or 3-month pass ends, your access to the TBC TV Now service is terminated.  If you want to continue the service, simply go to your account and subscribe to either the 1-month pass or 3-month past. Only major credit cards are accepted.
Refund
TBC TV Now says all refunds are pro-rated. The refund will be based on the number of days remaining on one's subscription. Understand this is not based only on the first-month subscription. This applies to any subscription you paid. Usually, online TV services issue no refunds or a 1st-month refund only.
2-Day TBC TV Free Trial
Here's where the TBC TV online service meets you halfway. The TBC TV free trial gives you the opportunity to test everything on your device. You get full access to all the content and features, meaning everything. The free trial only lasts 2 days, which is enough time to decide whether or not the service meets your needs.
Immediately after signing up for the free trial, I received 2 emails from the TBC TV online service. Some IPTV services have you wait up to 24 hours. One email had all my order, account, log in, and activation information needed to get set up. See below:
Account Number
Username
Password
Provider ID
4 Pin Codes (1 per device)
Links to download apps
And other information
You can download the SO Player app either way: 1) Visit TBC TV online and download the app for your device; 2) Go to the email to download the app. Of course, this depends on what device you will use to download the app. You can visit the website to download the app to your smartphone.
Get Your Free, Trial or Subscription, Activation Codes & Login Credentials Here
Support
This IPTV service gives you a number of ways to contact them with questions or support help. There's a phone number (not toll-free) but you can't place orders this way. All orders/subscriptions are processed through the website. You can also contact support via a contact form or chatbox.
The next part of our TBC TV Now review covers the pros and cons. However, the best way to see if this service really meets your needs is opting into the free trial.
TBC Live Now Pros and Cons
Pros
TBC Now gets a high rating. There's not much downside after reviewing the content, performance, and interface. You know all the details in that regard. There are more than enough live premium TV channels with all the popular networks.
The entire family can watch what they love such as sports, kids shows, movies, news, and all kinds of other TV shows. In fact, subscribers can even watch the big fights on PPV without any extra cost. There's no buffering or playback issue, unlike many of the other 3rd party streaming TV services out there.
You'll enjoy watching uninterrupted live streams on all your devices. There are enough compatible devices that can be used with apps available. Once the setup is complete, which doesn't take long at all, you can watch what you want when you want, 24/7.
There are 1000+ VOD movies and TV shows/episodes, not forgetting CatchUp TV with DVR technology. This means you'll never miss a TV show/episode again. You can watch old, recent, and very recent movies. All the popular genres are included with something for the entire family.
Cons
Although there are many compatible devices that can be used, Samsung and LG smart TVs may not be compatible. When visiting the website, it tells you the Samsung and LG smart TV are compatible with some models. If you can find the SOPlayer (TBC TV app) in your smart TV app stores, then you're one of the lucky ones.
There was no SOPlay or SOPlayer app available for my Samsung smart TV model. But that's ok, I downloaded/installed the SO Player app to my Amazon Firestick.
Only a few live TBC TV channels didn't play/work but that's ok. This is to be expected out of the 500+ live channels available. There aren't many downsides to giving this IPTV service a bad rating. If you are hoping for OTA TV and regional channels, then you'll be disappointed. This could be a downside from that standpoint alone.
But you can always purchase an indoor HDTV antenna and problem solved.
For what it's worth (1-month past @ $30 or 3-month pas @ $60), there are tremendous savings compared to cable/satellite TV.
There is an Adult section but locked by default, which safeguards children. This was my biggest problem. I don't like this sort of thing but as long as it stays lock, I'm good.
TBC TV Review – Conclusion
By now, you should know a lot about this IPTV service through my TBC TV review. I can recommend TBC TV to anyone with confidence. The downsides are minimal and upsides plenty. The free trial is a no brainer which allows you to try before you buy. Never miss a TV show/episode again when going to the CatchUp section to watch what you missed.
You can get access to TBC TV online and all the popular television networks including PPV events with no extra cost. You couldn't ask for a better service with everything you love to watch. I would go as far as to say, TBC Now makes a great alternative to cable/satellite TV.
This Concludes Our TBC TV Review
Click Here to Start Your 2-Day Free Trial and Watch All Your Favorites Online