Speedy Streams Review by real user and tester of many IPTV services reveals pros and cons to help you make a well-informed decision.
Whether you are a first-time streamer of TV watching or experienced, no doubt you want the cost savings along with watching your favorites. I can honestly say Speedy Streams won't disappoint in those two categories providing you are not hanging up on watching just one thing.
IMPORTANT UPDATE: We are no long recommending SpeedyStreams. You will visit the New SO Player IPTV service website to subscribe. When clicking the link below, the IPTV service changed its brand name and website design. But the ownership and everything else are the same.
DO NOT CLICK BELOW… We removed all links to the IPTV service website…
——————————-
Watch Review of Website (Must watch)
See it In Action (see features and streams play)
Get Local Channels Here or Here
How to Install SO Player
Additional SOPlayer Info
If you are just looking for a way to watch your local OTA channels online, you will be disappointed. Local channels are delivered from SpeedyStreams but not all of them. For that, I highly suggest clicking either link above for local channels. Now, with that out of the way, let's begin our Speedy Streams Review.
Requirements
Here is what's needed to get set up in case you were wondering:
High Speed Internet Connection: I suggest 30 Mbps or more; 4G for smartphones
Streaming device (see list of compatible devices below)
Free SO Player app (visit Speedy website for instructions)
IPTV service provider subscription (SpeedyStreams)
Speedy Streams Review: Streaming Content, Interfacing, App, Features
If you like having all your live channels categorized in one section, then you'll like how Speedy Streams channels are organized. The same thing goes for on-demand content that are easy to comb through and find what you're looking for. For this, no manual or guide is necessary.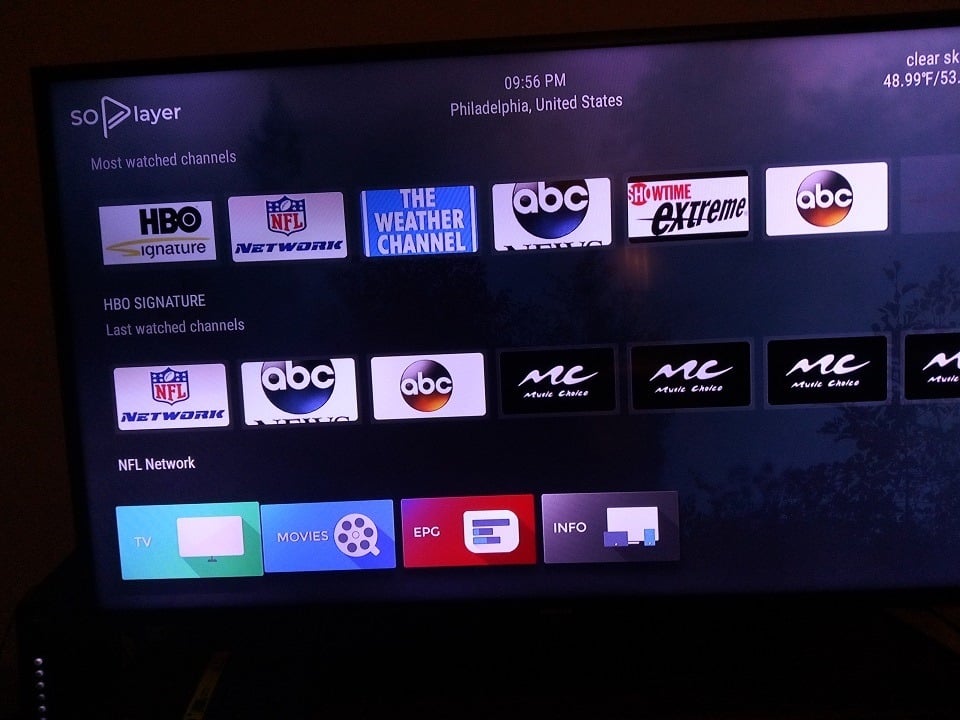 Your eyes where take you where you want to go and if you can point and click, that's all you need to know and do. the rest will come later which will become second native in a very short while.
Speedy Streams IPTV is just what the name implies, an IPTV service unlike other types of streaming TV sites/service. You are not restricted to watching channels only from the US. Streaming content includes PPV events (no extra charge), many channels found of cable TV, popular TV networks for sports, movies, news, kids, shows, etc.
Then there's the VOD that includes movies sectioned off in their respective genres including new releases. There are TV series with episodes as well as VOD sports such as NFL, UFC, and NHL. If you are a sports fan, you get seasonal sports, local/national/international sports.
Speedy Streams channels stream fast once you click a channel. You get a crystal clear picture quality (1080p) and the same goes for on-demand videos. The user-friendly and interfacing are second to none. You'll like how quickly streams play and the quality.
Features are few which includes a Search tool to search by title. The SO Player app tracks what you watched last and makes it available for easy access again. CatchUp TV has been off and on with IPTV services these day, so it would be in your best interest to contact support to see if it's available.
At the time of my Speedy Streams review, no CatchUp TV content was available. So if this is what you're after, then Speedy would not be a good choice. However, I would contact them. CatchUp TV has been available at times but I don't know the reason behind why it's not always available. There may technical issues behind this.
Get Your Free Trial or Subscription Here
Compatible Devices
Here's a breakdown of streaming devices you can use:
Amazon Devices (Fire TV, Cube, Firestick)
iOD Devices (phone, etc.)
Android Devices (phone, TV, tablet, etc.)
Computers (Mac & Windows)
Other Streaming media devices (Mag box, Apple TV, NVIDIA Shield)
For my experience testing and using IPTV services, the Amazon Fire TV Stick is my favorite. Why? It has great performance, you can add apps easily, it's fast, easy to use, works well with IPTV services and SO Player, and the price which cost less than other compatible streaming media devices.
Speedy Streams Costs, Subscription, Free Trial, Money Back Guarantee
If you looking for cost savings or a way out of your high cost Cable TV subscription but don't want to lose your favorites, Speedy Streams makes a good alternative. What's does it cost you?
$25 for 1 Month (no recurring or automated billing)
1-Day Free Trial (no credit card required)
Note: There is no additional cost, no surprises, contract, credit check.
You decide whether or not to renew your subscription. To renew, simply visit the Speedy Streams website and click the 'My Account' link to sign in. I encourage you to watch the video review — click the link at the top — to see and understand what this IPTV is, offers, how to sign up, etc.
I encourage you to opt into the free trial first so you can test everything yourself before shelling out any money. Since there is no channel list, you get to see and play all channels available, which are many. But before you do anything, you should download/install the SO Player app first to make sure there's no issue.
This IPTV service is very generous. They offer a 30-day money back guarantee so with the free trial, you should feel more at easy.
Start Watching Your Favorites Online Now
Speedy Streams Review: Pros & Cons
PROS
Speedy Streams TV deliver many channels from popular networks which includes the US, CA, UK, and other channels. Local channels are included but there are downsides. Then again there are other ways to watch OTA local TV channels.
Lovers should love this IPTV service. There's more sports here than meets the eye which includes PPV events, season sports, and global sporting events. You can watch your local teams play.
Movie buffs and those who love watching TV series, you get a plenty with easy access to find what you're looking for. Old and recent movies are included with genres, and there are on-demand sports such as UFC, NFL, and NHL.
The free trial allows you to test everything with no restrictions. You'll like how the SO Player app connects with Speedy Streams channels and VOD to enjoy the best of Internet TV entertainment.
There are a number compatible devices and you will surely love using the Amazon Fire TV Stick when Connect one to each of your TVs (HDTV and/or smart TV). Support is readily available through the chatbox. You should have not trouble getting questions answered and support help.
CONS
The downsides are few in number but important for you to know. You already know there is no CatchUp TV at this time. There's no recording or Add to Favorites features. But the app does track what you watched previously and helps you locate it easily later on.
This is an IP Lock IPTV service which means you can't use any VPN service but don't worry you don't need one. However, you can use only one IP address per IPTV subscription. You can't take your device to another location with a different IP address to watch streaming content.
Some channels don't work which is typical to all IPTV services. None are perfect. If you do find a favorite channel not working, simply contact support.
This is one other thing I need to mention, Adult content. There is an Adult section that automatically comes with your subscription. You cannot have them remove this section. But it is locked by default and only you, not your kids, can unlock. You will get 4 number pin code to unlock.
Conclusion
I have tested and used many IPTV services. Speedy Streams is very similar to some of them and a relatively new service. Hopefully, being new doesn't cause any reluctance to giving them a try. If anything, you should be more concerned about reliability. For that you will need to test this IPTV service for a month before canceling your TV or video subscription elsewhere.
As for local channels, don't worry. A better way to get them would be clicking either one or both links near the top of this review. You can watch all or many of your local channels. Speedy offers some if your city is included.
Another thing is your entire family will enjoy what this IPTV service delivers. Your kids will have live channels and on-demand movies. Whatever you are into… movies, news, sports, Speedy Streams delivers.
Lastly, the cost. Compare the cost of Cable TV and you immediately see the cost savings per month, per year. You can take that savings to do other things, such as making your Internet connection speed faster which comes at a higher price from your ISP (Internet Service Provider).
This Concludes Our Speedy Streams Review.
Click Here to Learn More