All-in-One IPTV Service for Live/Local/Sports/Global/CatchUp/On-Demand TV without High Costs or Set-Top Box
Marvel Streams Review with Pros and Cons. Here's another IPTV service that hit the Internet in early August 2019. The same owner of StreamsForLess asked us to review MarvelStreams. The other IPTV service will be closing its doors to new subscribers at some point in time. So if you came here because you can't subscribe to StreamsForLess, then you are in the right place. Marvel Stream TV is the sister site.
Want answers to…
Marvel Streams TV shut down, renewal, order, contact number or customer service number, payment, my account, marvel streams alternative.
Important Update & M

arvel Streams Alternative

:
This IPTV service is GONE. It's time to move on and find an alternative SO Player IPTV service. You can still use your SOPlayer app but you will need new activation/login credentials. Click the link below to subscribe and get your Provider ID, Device Pin Codes, and Username/Password.
Read everything below before you click the link to visit the new SO Player IPTV service from a different merchant. Read an article about SO Player account. If you are interested in watching Canadian checks, read Best IPTV Canada Reviews 2022.
Here's an IPTV service that uses the ISG GO which is very similar to the SO Player app. ISG GO requires the same type of activation/login credentials and the IPTV service is very similar to Marvel Streams. Click the link below to subscribe if you want. You will need to uninstall SO Player and install the ISG GO app.
Click to SignUp & Subscribe to NoraGo / ISG GO IPTV Service or Watch Video Review Here
If you used Marvel Streams in the past and are experiencing an issue that cannot be resolved, we found a new SO Player IPTV service provider where you can continue watching your favorites online. You can sign up to get a new subscription and continue using the SO Player app.
However, whenever the SO Player app is locked into the IPTV service subscription and IP address, there can be an activation issue. When entering the new activation/login credentials (Provider ID, Device Pin Code, Username & Password) from the new SO Player IPTV service, you may get a 'Bad Credential' error. Either that or some kind of error message inside the app that prevents you from activating SO Player.
If you experience this issue after signing up and subscribing to the new SO Player IPTV service, you can try the following:
Only enter the Provider ID and one of the Device Pin Codes to see if this will activate the app. If not, you can contact SOPlayer IPTV support. If they cannot reset your IPTV account on their end, then they will tell you to do a factory reset on your device. You might not want to do this and there is another option. Keep Reading…
NOTE: DO NOT try to use your Marvel Streams activation/login credentials or any other IPTV service activation credentials for the new IPTV service subscription.
More Info…
We stopped recommending Marvel Streams long ago for other reasons and have an alternative IPTV service that you will like better. You get the same everything perhaps more plus better support. I suggest uninstalling the SO Player and subscribing to the ISG GO IPTV service. Install the ISG GO app
They use the ISO GO app which is very similar and can download from the Google Play Store or Apple Play Store. You can use the Nora Go for smart TVs but you must sideload the IGO GO app to the Fire TV or Firestick. Instructions will be provided by the ISG GO IPTV service.
Click the link below to visit the website and subscribe. Expect to receive emails immediately after you complete the signup/subscription process. If you don't see any email, then check your Spam or Junk mail folder for them. Move then to your regular email inbox.
Compatible devices are essentially the same. You will get the Provider ID, Device Pin Codes, Username, and Password. You can choose one of the others below…
NOTE: If you choose above, you may experience an activation issue if you connected the SO Player to another IPTV service in the past. Also, there has been a name and website design change. If watch the video review, you will see the old SOPlayer IPTV service website. However, everything is the same. Same ownership, streaming content, features, TV app, etc.
—————————
DO NOT READ BELOW THE LINE… We Removed all links to Marvel Streams that closed it's doors to new customers. They also appear to be no longer accepting subscription renewals now or other renewal issues are arising…
————————
Subscribe to Alternative IPTV Service Here or Here
NOTE: Switching from the old IPTV Service to the new IPTV Service using the NoraGo or SOPlayer app. When you subscribe to the new IPTV service, they will email your activation/login credentials (Provider ID, Device Pin Codes, Username/Password). Enter the required credentials into the app.
If you get an error message of some kind and cannot activate the NoraGo or SO Player app with the new IPTV service, simply contact the new IPTV service for support. You need them to remove your old IPTV service provider from the app on your device so that you can connect the new IPTV service and watch TV online.
If you installed the Nora Go app and the new IPTV service uses the SO Player app, then you need to uninstall Nora Go and install SO Player. You can ignore everything above. This does not work when uninstalling and re-installing SOPlayer thinking this will remove the old IPTV service from the app.
New to Internet TV and IPTV Services? Get FREE Guide: How to Watch TV Online & Quick Setup Guide HERE.
How to Install SO Player App on Firestick & Other Devices
How to Download/Install NoraGo on Smart Television
Remove IPTV/Device from NoraGo
No Need to Read Below. IPTV links removed. Click the link at the top to sign up and get a free IPTV service trial.
—————————–
If you're here because you already downloaded the SO Player or NoraGo app to your device, we talked the owner into using the NoraGo app also. NoraGo for smart TVs only and SO Player for all other compatible devices.
As for those seeking the best low-cost way to watch Internet TV, without losing their favorites, read on. Perhaps this IPTV is just the thing that can deliver what you want.
IPTV is nothing new. It's been around for some time. What's new is the influx of IPTV services suddenly appearing over the Internet. If confused about which type of Internet TV service to use, you're not alone.
There are many different types of streaming TV services out there that are making it harder to pick and choose. But this can be a good thing when it comes down to pricing and perks.
Features and Benefits
There are many perks that come with this IPTV. Here's a list of them…
Hundreds of live channels (premium) just like cable/satellite TV
Thousands of live and VOD movies – better than Netflix
Many top sports channels/networks – no local sport blackout
PPV events – all fights and UFC (no extra costs)
Many top movies, news, and kids networks
Catch Up w/ DVR – never miss a show again
Worldwide channels such as USA, UK, Spanish, French, Filipino
EPG (TVguide) – can also program what appears first inside guide
Music Videos/Radio channels for listening/watching
Seasonal sports sub-categories for NFL, NBA, MLB & NHL
Search tool to find channel/network, movie/TV series by name quicker
Local USA channels with few channels from your city
Free trial – no credit card required
Very low subscription cost – tremendous savings compared to cable/satellite TV
Marvel Streams TV Peaks Your Interest
Marvel Streams TV is one to explore further. Why? They deliver over 500 live premium channels from many top networks in 1080p. Not only do you get live TV but you also get local TV, sports TV with PPV events, US/UK/Spanish/French/Filipino TV, Catch Up TV DVR, and much more.
Subscribers can watch movies, shows, news, and sports from live network channels with all the major networks included. There are 1000s of on-demand videos to watch old and recent movies in HD.
You get Catch Up TV with DVR, EPG (Electronic Programming Guide) which acts as a television guide. Not only do you get live PPV events with no extra charge but on-demand PPV as well. In the Movies category, all the popular genres are included as well as many popular TV series in HD. You can watch episodes from any TV series you find.
So if everything sounds good so far, there's a lot more that may pique your interest as well.
The cost-savings are very rewarding compared to cable and satellite TV. Any fear of losing what you're accustomed to watching can be put aside. There's so much streaming content the entire family can be entertained. With that said, it times to give you a more in-depth Marvel Streams review with pros and cons to help you decide.
Marvel Streams Review: Content, Performance, Interface & App
From herein on, this MarvelStreams review will cover all the important details that came out of reviewing the app connected to the IPTV service. But I suggest you watch the video review to see everything in action – features, content, navigation, and live/on-demand content play.
Watch Introduction Video Below (Website, App, Service & Signing Up)…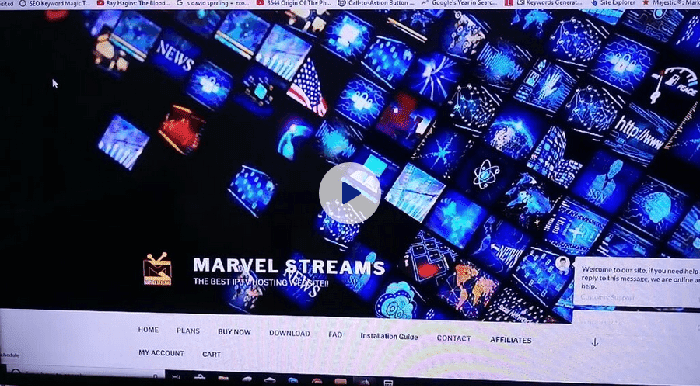 Watch Intro. Continuation Below (Signing Up)…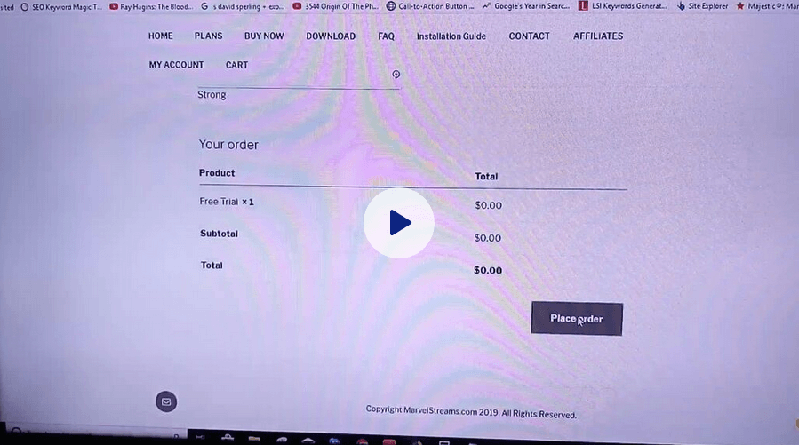 Get Your FREE Trial or Subscription Now
CONTENT – Marvel Streams Channels
There is a wealth of live including on-demand content available. And how the content is organized in different sections helps immensely. When opening SO Player or NoraGo, the main screen appears with 4 main icon buttons below. Actually, 5 icon buttons if including the Info button which has nothing to do with watching TV online.
Marvel Streams don't deliver regional channels based on your zip code. But you won't miss a thing with all the popular channels they have including live sports. You will be able to watch what you love.
Here's a breakdown of the colorful icon buttons the subscriber will see:
Main Screen TV Categories:
TV (live TV channels)
Movies (incl. TV series w/ episodes)
Catch Up (DVR recordings done by IPTV service)
EPG (Electronic Programming Guide – TV guide)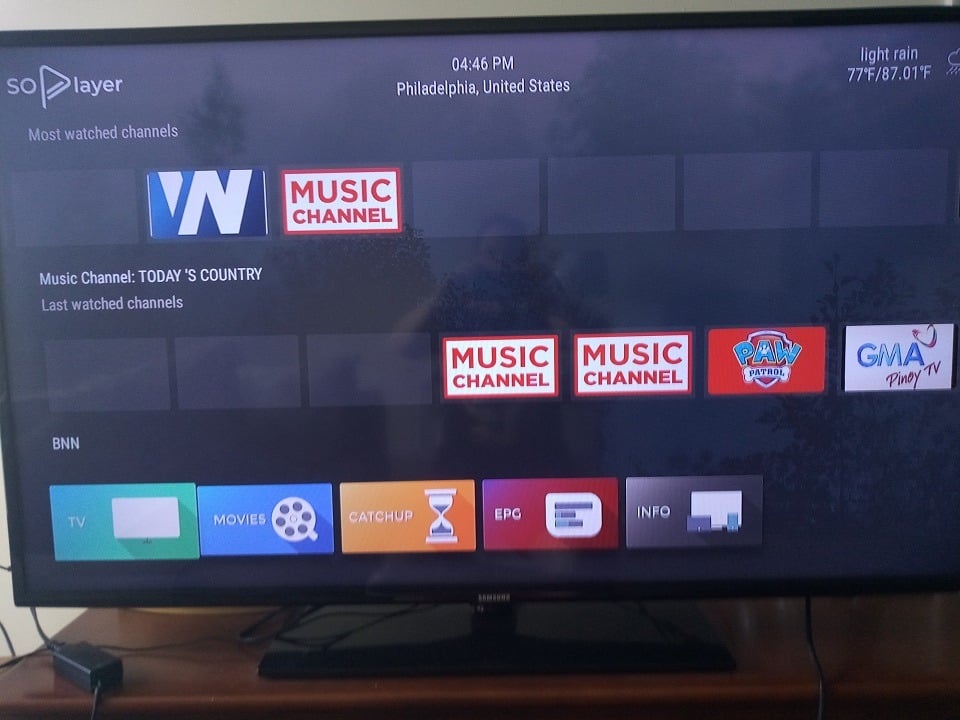 TV Category
When I clicked the TV icon, another screen appeared with different sub-categories of channels. Here's a breakdown of Marvel Streams channels sub-categories with a Search tool included:
All; English; USA; Locals; Sports; NHL; MLB; NBA; NFL; ESPN+; US Open; Gospel (non-working channels); Spanish; French; UK; Filipino; Adult (locked by default); All Day; Music Channels w/ Radio Channels.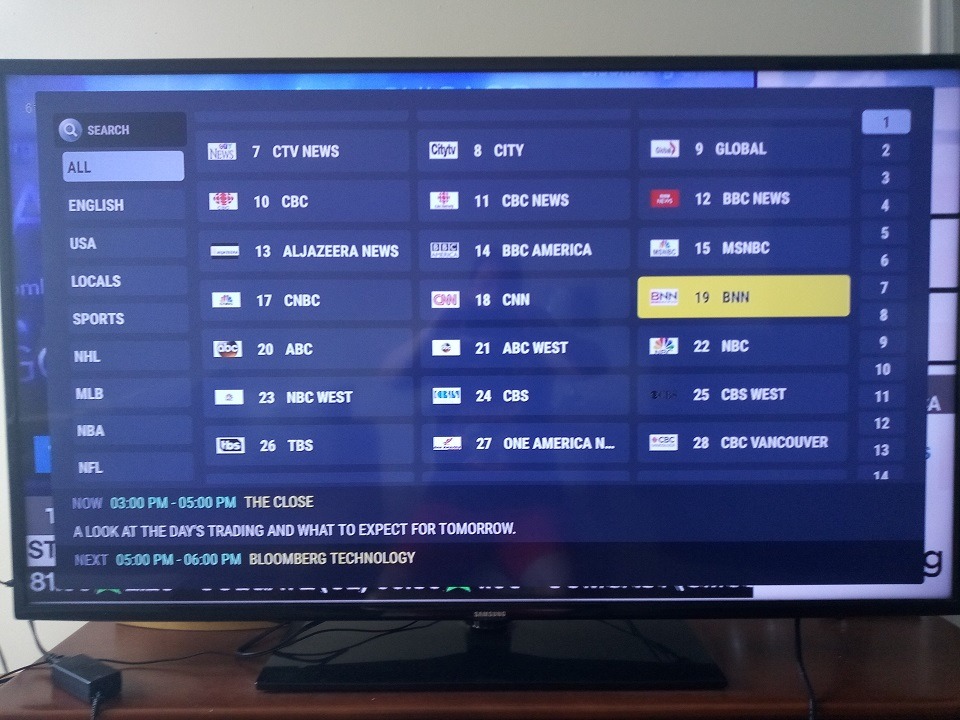 Simply choose any channel sub-categories above to find what you're looking for. Then scroll Right/Left or Up/Down or use the Search tool to find the channel. From there, simply click the channel name to play it.
The last column at right has a list of numbers – 1, 2, 3, and so on. Clicking/Selecting a number will find a section of channels. There's not much delay when searching to find a channel out of so many available. If using a TV remote or Firestick remote to watch everything on the big screen, you'll feel very much at home. As if you've done this before.
Live Sports Networks w/ PPV Events (Sub-Category)
If you enjoy watching sports and not just one type of sporting event, you may fall in love with Marvel Streams TV. Subscribers can watch any local, national, or international sporting event (pros & college included). So whatever you may be asking yourself — can I watch…? more than likely MarvelStreams says you can.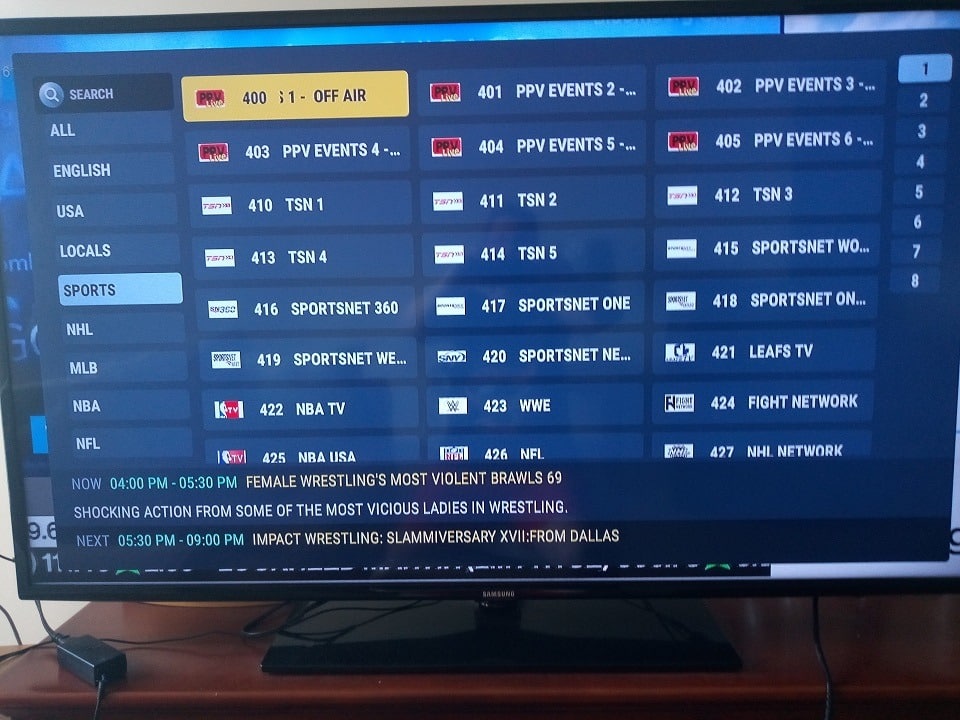 When I clicked the Sports sub-category inside the TV category, a host of popular sports networks with names including PPV appeared. There's no extra cost to watch any of the special PPV and UFC fighting events. Watch summer league, playoffs, tournaments, Super Bowl, or whatever else.
Also available are other sports sub-categories such as seasonal sports (NHL, MLB, NBA & NFL). They also have sub-categories for ESPN+ and US Open.
Start Watching Your Favorite Sports with Free Trial or Subscription
Live Movie/Shows/News/Kids /Channels/Networks (Sub-Categories)
When going inside the TV category and clicking/selecting any sub-category, you'll find many top networks. Just like cable/satellite TV, you'll find many of the same channels/networks to watch movies, TV shows, news broadcasts, and kids' channels. There's something for the entire family to watch.
Watch sitcoms, soaps, talk shows, food and shopping networks, documentary channels, news around the world, and the list goes on. Kids will enjoy watching several popular Kids Networks.
Local Channels
The addition of local channels is still relatively new to these IPTV services. These channels became available during the latter part of 2018. You may or may not see your city with local channels included. Nevertheless, there are many in this sub-category.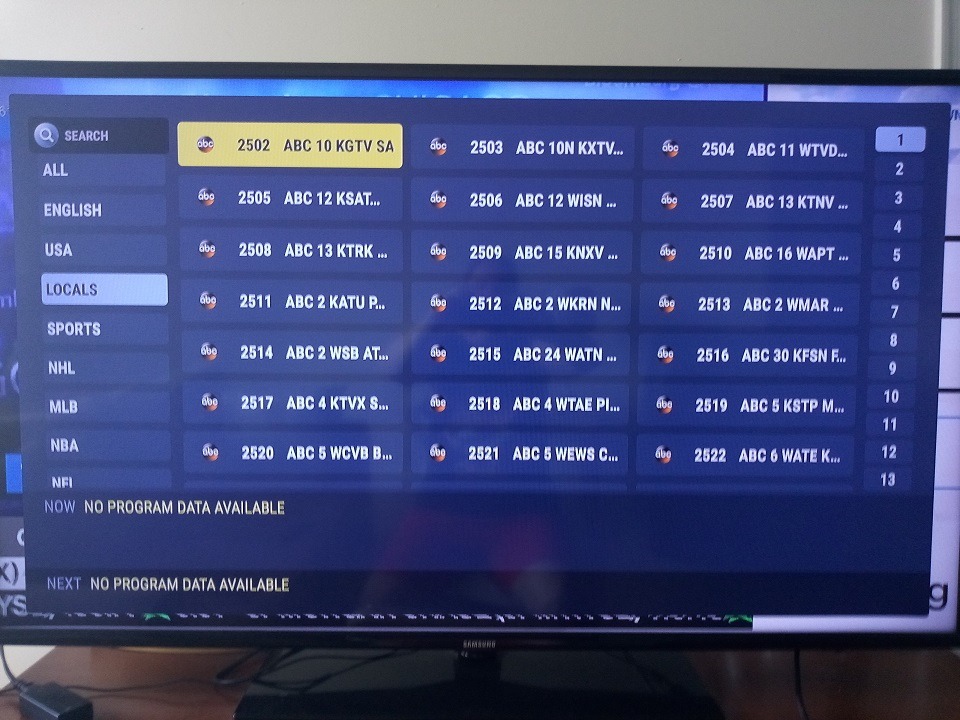 The easiest way to find a city if included is using the Search tool. When using the tool myself, I simply typed in my city and found three local channels. But not all of them worked/played. More than likely, you will experience the same thing. I expect sometime in the future local channels will improve. Until then, I suggest purchasing an indoor HDTV antenna with a 50-mile radius or more.
English, USA, UK, Spanish, French, and Other Sub-Categories
Marvel Streams TV does a good job separating and organizing all the content available. To find all the English channels, there's a sub-category for that. If you want to find just USA channels, there's a sub-category for that. And the same goes for any of the remaining sub-categories.
What's interesting is this IPTV provider service isn't just for English speaking individuals. There are many Spanish channels and French channels but not as many Filipino channels. These are all the foreign channels they have outside the US.
There's one important thing to note. IPTV services have no geo-restrictions which permit you to watch any and all the content from any place in the world. No country or IP address is blocked. There's also a Music Channels with radio sub-category included. You can listen to and watch music and videos.
Movies and Catch Up Categories
When you click the Movies icon button, everything in the on-demand section appears. Not only are there many movies but many television series as well. This section also includes a search tool to search for a name or title. Here's a breakdown of sub-categories in this section:
All Movies; New Releases; TV Shows (huge number of  TV series w/ episodes); Action; Family; Comedy; Classic Thriller; Horror; Romance; Drama; Sci-Fi; Documentary; Christmas; PPV Events; Workout.
There are old movies available but you'll find many recent movies also. In fact, there's a New Releases section if you just want to watch the most recent. Marvel Streams will update the Movies/TV Series (on-demand) sub-category from time to time.
Many popular TV series are listed when clicking the TV Shows section. A popup appears with a long list of TV series. The best way to find what you're looking for is by using the Search tool to search by title.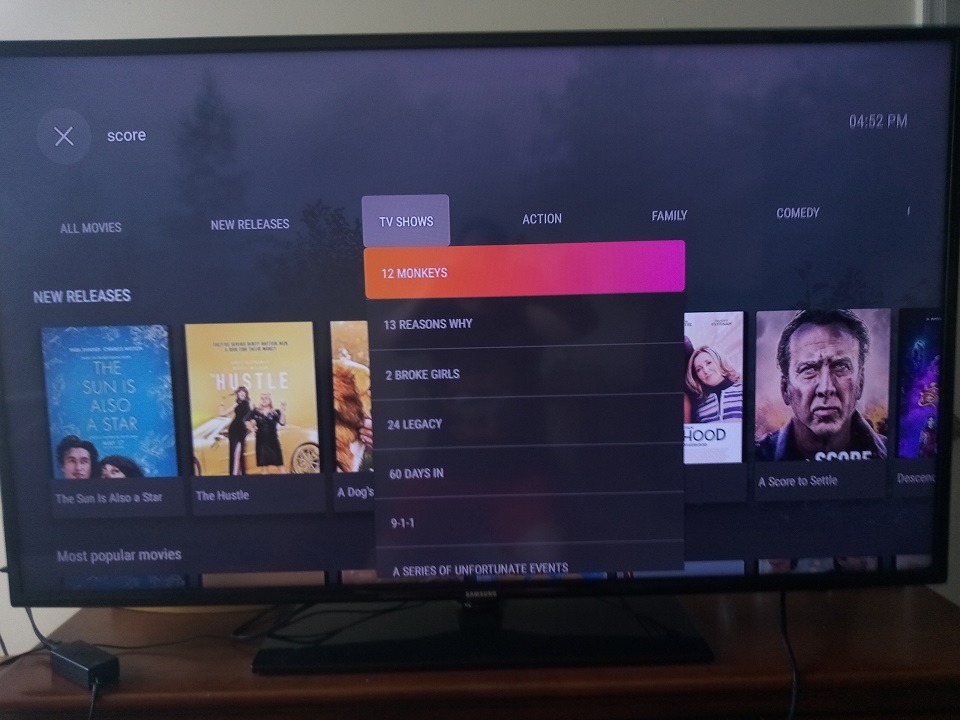 When going inside the Catch-Up category, you'll see the first column with a long list of popular TV network names where each has DVR printed. Just click the network name and in the right column, choose the day/date. Then a list of TV shows appears to find what you missed.
In other words, they've made it easy to search, find and pinpoint the exact day and time you missed a show. Simply click the TV program name to start watching it. You can also use the Search tool to find a name.
They do all the recording themselves which allows subscribers to focus on searching, finding, and watching. This saves time and effort having to set up pre-scheduled recordings.
Watch Great Movies, Favorites Shows, TV Series, News, Catch Up TV – Get Free Trial Here
PERFORMANCE
Just like all the other IPTV services out there, this one isn't perfect. We'll get into the pros and cons of this Marvel Streams review shortly. But one thing I have to admit, the Marvel Streams IPTV service is one of the better ones.
The overall performance met my approval. I have Comcast as my Internet Service Provider with over 150 Mbps Internet connection speed. This doesn't mean that I always get that amount on my devices. But I didn't experience any major buffering issues to complain about.
Some buffering did occur and I paused the on-demand movie/TV series for a little bit then clicked/selected Play. That seemed to do the trick. Usually, these services recommend having at least 25 or more Mbps.
If planning to connect more than one device to your WiFi at home, you might need more speed from your Internet Service Provider. But that's only if you experience a lot of buffering issues. This also holds true when most people are online using the same ISP that you use – weekends, holidays, peak evening hours, etc. This could cause consistent buffering on your end. Here's more information on buffering issues.
Each live channel that I played streamed very quickly – no delay at all. You get 1080p crystal clear picture quality with good audio. If a channel plays with no audio, simply choose another channel with audio. Then play the channel with no audio again. This is how you get the audio back. Just a minor issue that I can live. Perhaps you can also when seeing all the perks included.
As for movies/TV series, expect a little delay at times when playing on-demand videos. But no real issue here at all.
INTERFACE
I am very familiar with IPTV services and apps they use. I've tested and reviewed many of them. All of them work pretty much the same more or less. Marvel Streams TV has a very user-friendly, fast, smooth interface. Navigating throughout the app to find what you are looking for is seamless.
So if you're new to Internet TV, you should have no problem figuring out what to do or where to go. No manual or guide needed when opening the app to watch television online. We'll dive further into two apps that can be used.
The app and IPTV service works hand and handy. No major delays or distractions. I had a very good Internet TV experience using Marvel Stream — both from an entertainment and user perspective.
Marvel Stream TV Apps, Download, Installation, Compatible Devices
There is something very interesting about MarvelStreams TV which has to do with two apps that can be used. Many IPTV services will have you download and install the SOPlayer app. However, many smart TVs like Samsung and LG (Large) don't have this application inside the app store. I can't find it in my Samsung app store.
When the owner of this IPTV provider service asked me to review Marvel Stream TV, I suggested adding the NoraGo app. Not only that but post this information on the MarvelStream website. He listened and it was done.
Click Video Image Below to Learn How to Download, Install, and Watch MarvelStream on Smart TV Using NoraGo…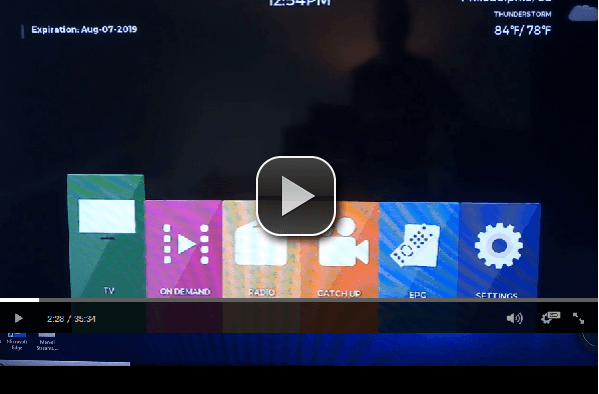 Click Image Below to See Marvel Stream on Firestick via SOPlayer… [Video Coming Soon]
Many Samsung and LG (Large) smart TV owners should be able to find the Nora application inside the app store of the smart television for Samsung or LG (Large). However, not all models are the same, whereas neither NoraGo nor SOPlayer can be found. Other brands may not find either app as well which means the smart television is not compatible.
If this is the case for your smart TV, then I recommend using/purchasing the Amazon Fire TV Stick. You can Find More Information Here. In fact, you will experience better performance when using the Firestick with SO Player installed.
One keynote: It's recommended that you install just one app (not both) to a compatible device. Use Nora app for smart TVs if you can't find SOPlayer and SO Player for all other compatible devices.
Compatible Devices
Here's a list of compatible devices that you can use:
Android TV/Devices (box 5.1 or higher)
Tablet
Windows Devices
LG (Large) Smart TV (with Nora app)
Mac Devices
iOS Devices
Smart TV (incl. Samsung w/ Nora app)
Firestick
Apple TV
iPad & iPhone
NVIDIA Shield
The subscriber can connect four devices simultaneously per account. To remove a device, simply contact support to have them remove it. As for mobile devices, phones (not laptops) can be used to watch your favorites on-the-go via different WiFi connections away from home. Again, no other device but one phone.
I won't get into the steps to download/install the NoraGo and SO Player apps here. You can watch a video tutorial that shows How to Download/Install NoraGo on smart Televisions Here. Or Video on How to Download/Install SO Player on Firestick Here.
Marvel Streams Cost, Free Trial, Refund, Support
Marvel Streams Free Trial, Subscription, Sign Up, Account
One of the benefits of using this IPTV provider service is the low cost. You can get one month of service for $25.00.
This service does not use a repay system which means no automatic recurring billing. You pay as you go. When your subscription expires, you can pay for another month to retain access. Unfortunately, you must continue this process to retain access each time the subscription ends for the month.
There's no set time limit on the refund guarantee from what I understand. If requesting a refund before the paid subscription ends, give 7-15 days to be refunded. This policy may change so be sure to contact support about refunds.
Many individuals get lost when not knowing how to renew the subscription. When you first sign up to MarvelStreams to get the 24-hour free trial if not the subscription, your account will be created. You must enter a valid email address and create a password. Be sure to remember your username and password by writing it down. You are going to need them later.
After the signup process is completed, you will automatically be taken to another page. You can bookmark this page if you want or email yourself a copy. Whatever you do just don't close the page yet. It has your account and activation & login details. You have 2 sets of logins.
One login will be used to get inside your Marvel Steams account. This includes the password that you created. This is how you renew your subscription and pay the fee again. The new customer also receives 3 emails from MarvelStream. Be sure to look in your Spam/Junk mail folder if you can't find those emails. They will come your way right after the sign-up process is completed.
When the emails are received, feel free to close the account page that I told you about earlier.  The activation along with login credentials needed to activate the SOPlayer app or Nora app will be included in the email. These credentials include the provider ID, 4 device pin codes, username, and password. These credentials are created by IPTV services. You can only use one pin code per device.
Get Free Trial with Full Access to Everything – Click Here
Support
During the time of this review, there were two ways to contact support: 1) Contact form; 2) Chatbox. The fastest, easiest way to get questions answered or support help is the chatbox. When leaving a message, the chatbox will tell you the representative is online or offline. When online, you'll get the help you need right then and there. Otherwise, you will need to include your email address when leaving your message.
I was pleased with the support response time and found the chat box representative both courteous and professional.
Pros and Cons
Pros
Over 500 live premium channels and tons of VODs bring a lot of entertaining streaming content. This includes sports, news, movies, shows, TV series with episodes, music/radio, and so on. Add catch up TV with DVR, channels from other countries, EPG (television guide) and you get more ways to watch your favorites online.
VOD movies/TV series video controls also come with time-shifting. You can rewind/fast-forward in 'x' number of seconds/increments. I certainly took advantage of this feature when watching a movie. I rather skip past the intro part of it. Time-shifting allows me to do this very easily and get right into the movie.
Use a smart TV or Firestick with remote control and feel right at home when navigating around the app. There's entertainment for all family members. Connecting up to four devices makes it all the more worthwhile. Many homes have more than one HDTV and/or smart TV or a combination of both like me. For my HDTV, I use the Firestick and smart TV I use another Firestick. I also have the Nora app installed on my Samsung smart TV.
Sports fans get what they want, movie and TV enthusiasts get what they want, kids get theirs too, and everything else in between. The free trial gets you in with full access to everything — content and features — with no credit card information required.
There's no contract, credit check, no expensive bundled package, set-top box, local sports blackout, or antenna to install. No country or IP address blocked. Everyone worldwide gets access.
Cons
The downsides aren't that many and really insignificant. You could experience some buffering here are there with videos. But this may be contributed to the low Internet connection speed the device is receiving. Having 25 or more Mbps download connection speed is a start but having 2x or 3x more is a lot better.
Expect some non-working channels and channels with no audio at first. As for the latter, when playing a channel with no audio, simply play a different channel with audio. Then go back to the non-audio channel to play it again. The audio should work.
At the time of this Marvel Streams review, the Gospel sub-category had no working channels. The UK sub-category had more non-working channels than other channel sub-categories. But there are many UK channels that worked also.
SO Player is a better performing app than the Nora app. You may find one or none of these apps inside the app store of your smart television. You get the best performance when installing SO Player on the Firestick. App instructions are a bit limited on their MarvelStreams TV website, especially for the Firestick. You cannot download the app for the Firestick from the MarvelStreams website. If want to use a Firestick, Watch the Video Here.
Conclusion
There's an old song that sings, "if you don't know me by now, you may never know me". Same thing here with all the pertinent information given to you. Be sure to watch the video review above you haven't. And if you watched the video already, it should have provided enough visual demo information to want to give this IPTV provider service a try.
I won't go as far as to say that everyone will have a great experience. That's because a device, individual, and Internet connection speed will be different from person to person. But having experienced the other IPTV service (StreamsForLess), Marvel Streams TV is a far better advancement in steaming content and allowing users to install the Nora app.
The free trial is indeed a no-brainer and I would advise that you opt in to that first. Don't waste the 24-hour trial time given you. Test the app and IPTV service with the devices you want to use. And remember, if opting into the subscription for one month, you must renew/pay the subscription again to continue watching your favorites online. To do that you must into your account. The email they send you will have the information and links.
Some improvements are still left to be completed on both the website and service/product, but you get the best of Internet TV entertainment and experience to go with it. As a result, Marvel Streams TV gets a high enough rating to be included in our Top 10 Comparison Chart. Enjoy!
This Ends Our Marvel Streams Review
Sign Up Now and Get Your Free Trial or Subscription Here