Helios TV International IPTV… One Source for All TV Entertainment Imaginable
Helios TV Review with Pros and Cons by Real User. Unlike many other IPTV services, Helios TV IPTV brings an enormous amount of streaming content. And the same can be said for many countries and features that are included. Not only do they deliver VOD and live premium channels but you can pre-schedule recordings when you want.
———————
UPDATE: Do Not Read Any Further. We Are No Longer Recommending This IPTV Service. Click Here to Visit Our Top 10 Comparison Chart For An Alternative.
DO NOT READ BELOW…
---
With all the streaming content provided and when visiting the website, you can be overwhelmed at first. That's why this review ended up being rather long. There's a lot to cover.
Cable/Satellite TV can be replaced with this IPTV whereas one doesn't seem to lose his/her favorites. When seeing the cost-savings, features, and benefits, you may find it easy to cancel whatever current TV or video subscription you have. There are even parental controls to keep certain streaming content away from children.
In A Hurry, Visit Website Now for Trial, Subscriptions, or Information
Some Basic Questions Answered
What is Helios IPTV? Helios is a digitized IPTV service delivered to your television and other compatible devices via high-speed Internet (broadband) connection. No set-top box or antenna is needed – Learn More Here. Unless, of course, you want an outdoor or indoor antenna to deliver all local OTA channels. IPTV services still need more work in this area as only some OTA channels are delivered for different cities or provinces.
Click Below to Watch Helios in Action…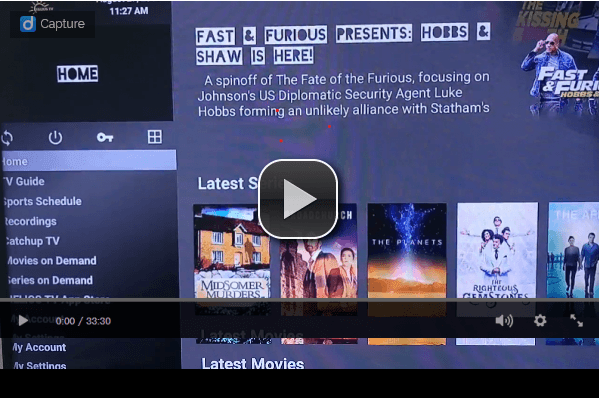 Who Can Use It? Any individual worldwide can sign up and subscribe to get access to all the streaming content. There is no Geo-restriction which means no IP address or country blocked. However, HeliosTV does recommend that UK TV viewers use a VPN service which can be purchased from Helios very cheaply.
Those who are bi-lingual or multi-lingual stand to benefit more. There are many global countries including live Helios TV channels. You'll find plenty of TV networks with channels and VOD movies and TV series for all ages including kids.
Is it Difficult to Set Up? Only if you are very new to Internet TV or your device or can't follow step-by-step instructions. One thing this IPTV service does differently from many of the others out there is they give you many packages to choose from.
One of the things that I like about this service is that they help newcomers to Internet TV more. There are packages where one can purchase a streaming media device, such as the Firestick that comes pre-loaded with Helios streaming. You just need to have a free Amazon account which can be created very easily.
Buying a streaming media device with Helios pre-installed is how individuals can avoid steps required to download/install apps. You simply connect the streaming media device to your smart TV or HDTV, sign in to HeliosTV app, and start watching your favorites online. When visiting the website, there is a FAQs section that will provide helpful information.
If you're wondering is there a Helios TV channel list the answer is no, unfortunately. However, each subscription package comes with a description that reveals some of the available channels/networks. Not all subscription packages have the same number of channels. There's also a 24-hour trial for under a buck fifty that allows you to test and see all the streaming content and countries available.
Helios TV Review – Content, Performance Interface & Benefits/Features
When conducting my Helios TV Review, I decided to use my Amazon Firestick which is connected to my smart TV. Then decided to enter into the trial for $1.49. There is no free trial but the small fee to pay was not an issue. Some IPTV services have free trials while others have low-cost trials.
What made me more comfortable was the connection with PayPal, a payment processor that protects buying consumers online. After the trial ended, I subscribed to the one-month subscription. The 24-hour trial just wasn't enough time to go through everything and learn all the features included.
It took more time than expected to follow all the step-by-step instructions to download/install apps to my Firestick. Helios streaming has very accurate Firestick instructions on their website to follow. However, there were four steps to complete before I was able to get completely set up.
There are many compatible devices that can be used. A list of those devices is provided further down in this Helios IPTV review. It's better to use a streaming media device such as the Amazon Fire TV/Cube/Firestick, Android Box, or NVIDIA Shield. You get the best web TV performance with those devices but a smart TV can be used also. For HDTVs, just use a Firestick. Learn More Here.
Once the Helios trial sign-up process was completed, I received an email from them immediately. It told me to expect another email with my activation/login credentials and other information within 24 hours. It also said in most cases, it may take up to 8 hours. I received the second email within 2 hours.
With the Helios TV app opened on my Firestick, I entered the code given to me in the 2nd email. Then entered my username (email address) with a password that was created for me in the email. This got me inside the app and now I was ready to review and test everything as follows…
Content – Organization/Navigation
With the Helios TV app open (Home screen), on the left side are 4 icons at the top as follows:
Update Playlist / Update EPG
Logout / Exit
Configure VPN (VPN Username, VPN Password)
2, 4, 6 (PIP (Picture in Picture – 2, 4, 6 frames)
The Helios television service encourages you to use a VPN but this is optional. Only UK residences are required to use a VPN service to watch Sky networks. Although Helios VPN subscriptions are very cheap, I did not buy one during the trial period nor one month period when using my Firestick.
Below the 4 icons mentioned above are categories or sections where all the streaming content are stored.
Home
TV Guide
Sports Schedule
Recordings
Catchup TV
Movies on Demand
Series on Demand
Helios TV App Store
My Account
My Settings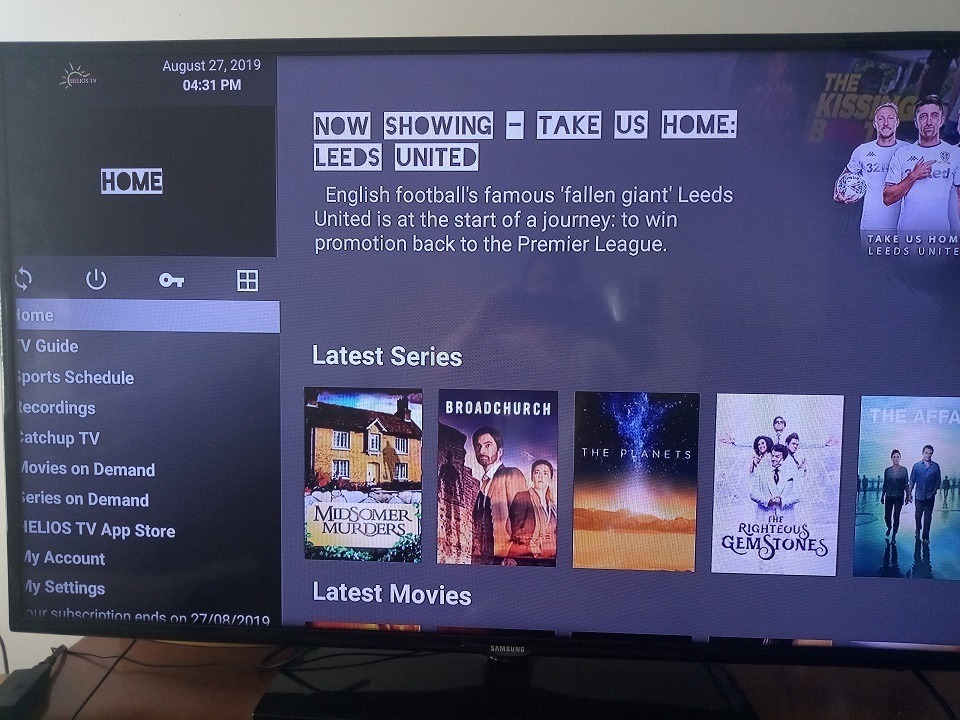 Further to the right, shows 3 sections…
Latest Series – Many TV series images – Can scroll right/left and play any TV series of interest
Latest Movies – Many moves images – Can scroll right/left and play any movie of interest
Favorites – Where channels are stored to Favorites
TV Guide (EPG)
When highlighting the TV Guide which is the Electronic Programming Guide, you see the following Helios television features:
3 icons at top in the menu at left:
Left Arrow (to go back)
Search tool (magnifying glass
2 check boxes: [ ] Show All Channels [ ] Show Channels with EPG Only)
A list of many TV networks from different countries with each Helios TV show appears in their respective time slots. You can scroll up/down left/right, and play channels.
When clicking the TV Guide section at left, the following Helios television sections appear…
Favorites
UK | Free To Air
UK | Free To Air (Regionals)
And many other UK channel sections listed below
VIP | Soccer
And 4 other VIP sections listed below
2 more channel sections listed
US Entertainment
And many other UK channel section listed (Entertainment, Movies, Documentaries, Sports, CBS/Fox/NBC/ABC Locals, MLB, NBA, NFL, NHL, Kids, Music, News)
TNT | International Sports
Bein Sports
24/7 Channels
AR | Arabic
BG | Bulgarian
BR | Brazilian
CA | Canadian
DE | German
FR | French
GR | Greek
HU | Hungarian
IN | Indian
NL | Netherland
PK | Pakistan
PL | Polish
PT | Portuguese
RO | Romania
RU | Russian
Radio
Sports Schedule
Sports Schedule section – Highlighted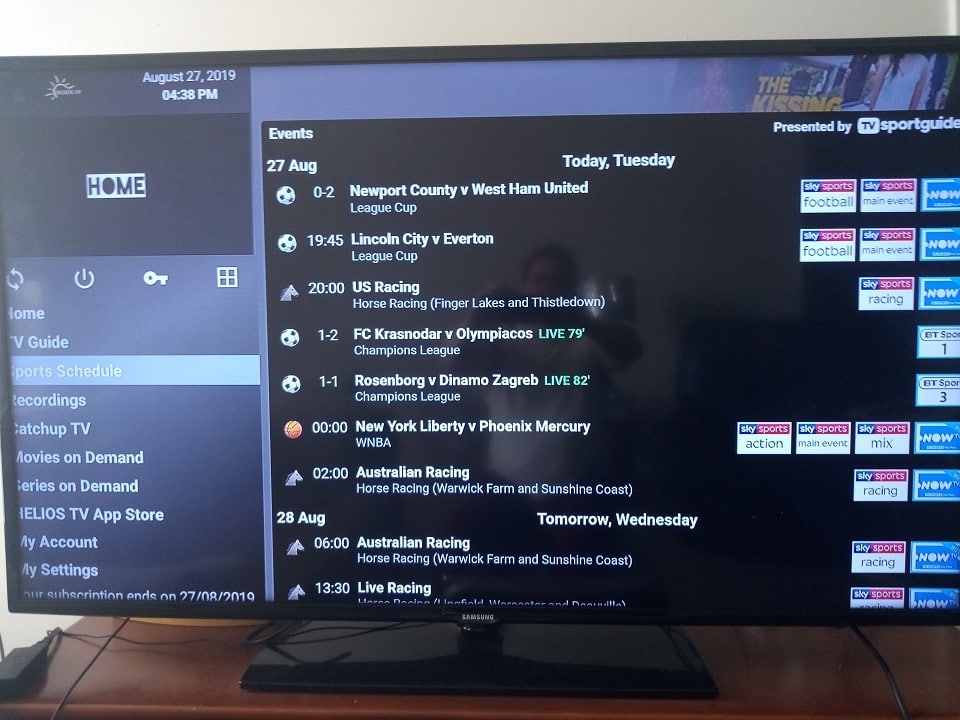 List many sporting events by name, date, and time. Shows what network to watch. There's nothing to click in this section. Just a schedule to check out the days, times, names of sporting events, and sports networks to watch them on.
Get All This and More With Trial or Subscription Here
Record (DVR)
You can pre-schedule recordings of live channels before time to watch them. To record, long-press the okay or enter button in the TV Guide when using your Fire TV/Firestick device. Then check back here to the recordings.
CatchUp Highlighted & Clicked
Catchup TV section – Highlighted
List of TV networks by names w/ images
When clicking the CatchUp link or section, you pretty much get the same listing of content that shows up in the TV Guide section. As I went further into my Helios IPTV review, I found more television content and sections – see below…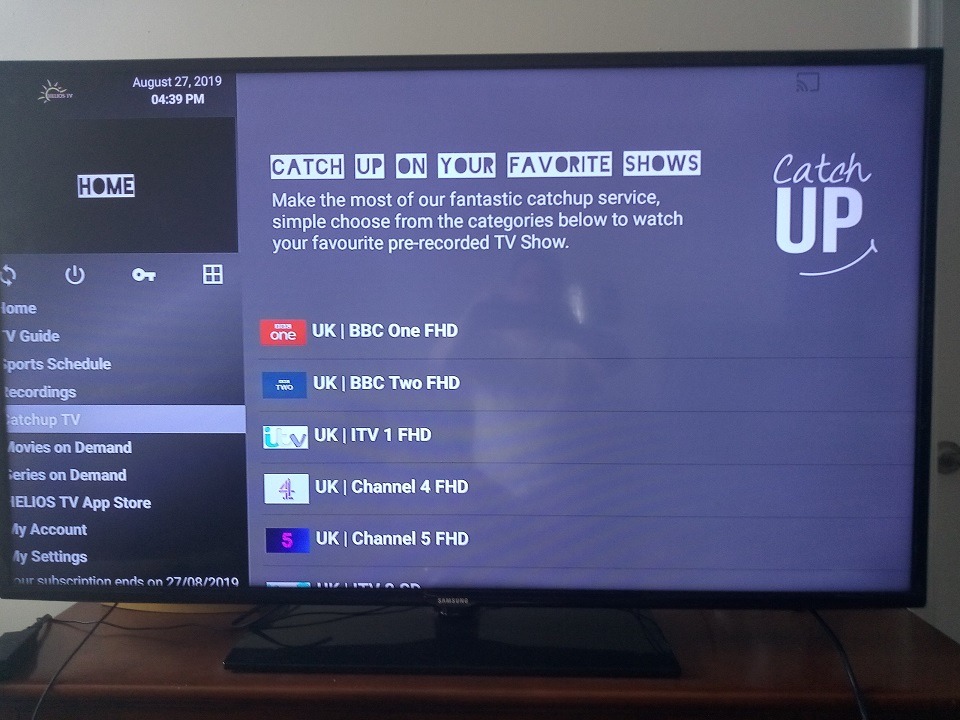 Movies on Demand Highlighted & Clicked
When highlighted, you see…
Sports Replays (Row of on-demand fighting events appear with images. Can scroll right/left)
Just Added (More on-demand content)
Cinema
Cam Movies
And All Genres
The layout of VODs w/images is setup the same way as Netflix.
When clicking the Movies on Demand link the following appears in the menu on the left side…
Favorites
Sports Replays
UniQue Clips
Just Added
Cinema
Cam Movies
Action
Box Sets
Biography
Bollywood
Comedies
Documentaries
Dramas
Horror
Kids & Family
Romance
Sci-Fi
Thriller
War Westerns
AudioBooks
Netflix
To Add to Favorites, preview the live channel as it plays and long clicks the enter button on the Fire TV/Firestick to make the popup window appear. Then select Add to Favorites. You will find what channels you added in the Favorites section. The same routine is applied when pre-scheduling to record a live channel. Both methods are very easy to do.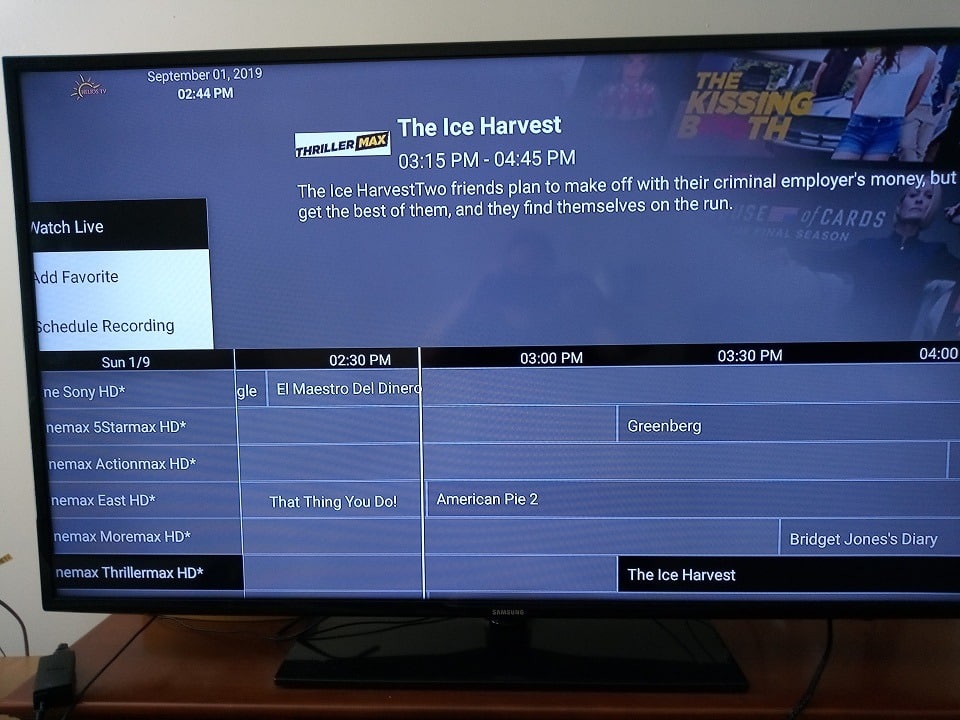 Series on Demand Highlighted & Clicked
The following appears. Clicking one of these sub-categories opens VOD content to watch online:
Favorites
Info Clips
Action
Animation
Comedies
Crime
Dramas
Documentaries
Horror
Mystery
Romance
Reality
Sci-Fi
Western
Helios IPTV Review: More Sections
Helios TV App Store Section
Includes a free app store where they put together a list of apps you may want to download/install to your device.
My Account Section
Here's where some of my account information was listed such as my Username, Expiry Date, and Account Status
My Settings Section
General Settings
Smart Switch (VPN Disconnected – Connect, Configure VPN)
Parental Control (block kids from certain content)
UI Mode
Themes (can change background color)
Recording Path
Stream Format
Time Format
EPG Timeline
Select Decoder
Automation
I didn't do much in the My Settings section but changed my background color theme. When going through all the streaming content available, at times, I would see SD, HD, FHD listed. SD stands for Standard Definition (480i display), HD for High Definition (720p, 1080p, 1440p, 4k, etc.), and FHD for Full High Definition (specifically for 1080p). Learn More Here.
When navigating through all the many Helios television sections and content, it takes time to understand where everything is at. I had to go through a trial and error process to learn. With more time playing around with everything, I began to get the hang of things. There is no manual or guide but I feel confident you will figure most everything out. I had to contact support to explain some things to me and that they did.
Playing live channels and VODs was a cinch. However, I couldn't find where to watch my local NFL team preseason game. I expect in due time I will figure this out.
Expect more or less delay when clicking a live channel to play. I experienced a rare glitch when watching a channel where the app would the app shut down and close. I had to open the Helios app again and find the channel that I was watching before. Again, this was rare. I also came across other rare glitches as well that were not series. For the most part, many channels and VOD played well without any issues.
Get Setup Now to Watch All Your Favorites Online
Premium Live & Local Channels
There is something to watch for the entire family including kids. Just think of a television network name and more than likely it's available to watch online.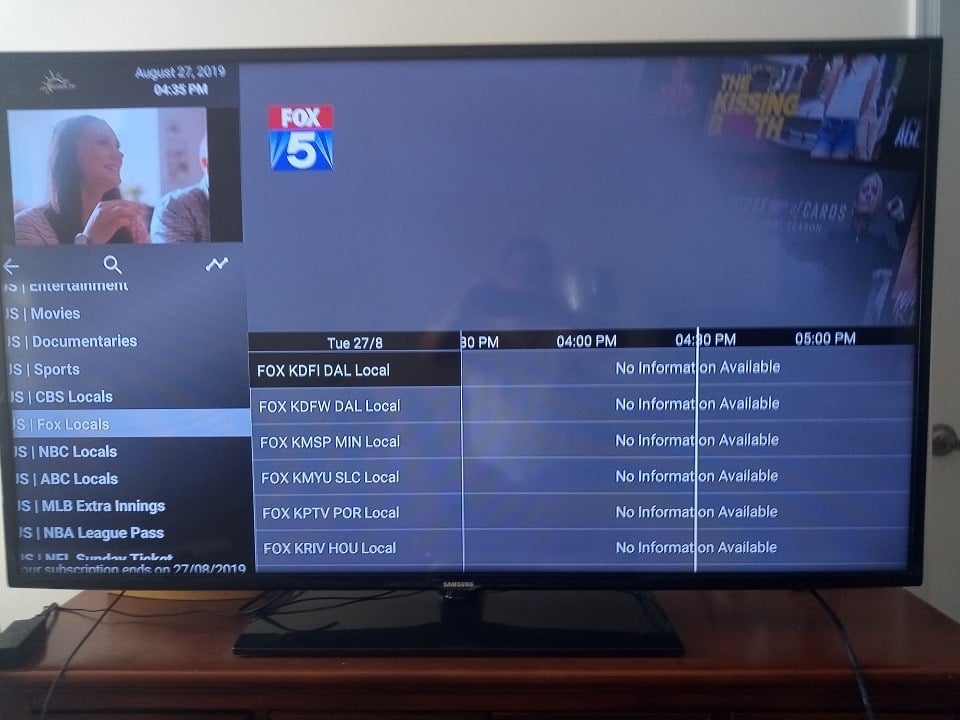 There are local channels from the US and UK (regional channels included). But you won't find many of them. And if you do find some FTA channels from your city/province, some may not work. This is what happened to me. I had about 3 local channels from my city and only one worked. The best thing to do since local channels are still relatively new to IPTV services is buy an indoor HDTV antenna.
As you can see from the list above, many global channels are provided. I tested/played various channels from different countries and mostly all of them worked.
Music videos and radio are also included as well as other content. Again, I was given the Helios IPTV Gold package and choose not to include adult xxx when paying a very small fee for the trial. The description on their website told me that I would get 3000+ live channels and VOD in the thousands. This is the subscription package that I ended up paying for one month since it had the most content.
Live Sports Online.
From what I experienced playing, you will get access to all the major sports networks. This means local, national, and international sports including PPV events to catch all the live fights. And there's no extra charge to watch any fight. There are a host of Helios TV channels for sports.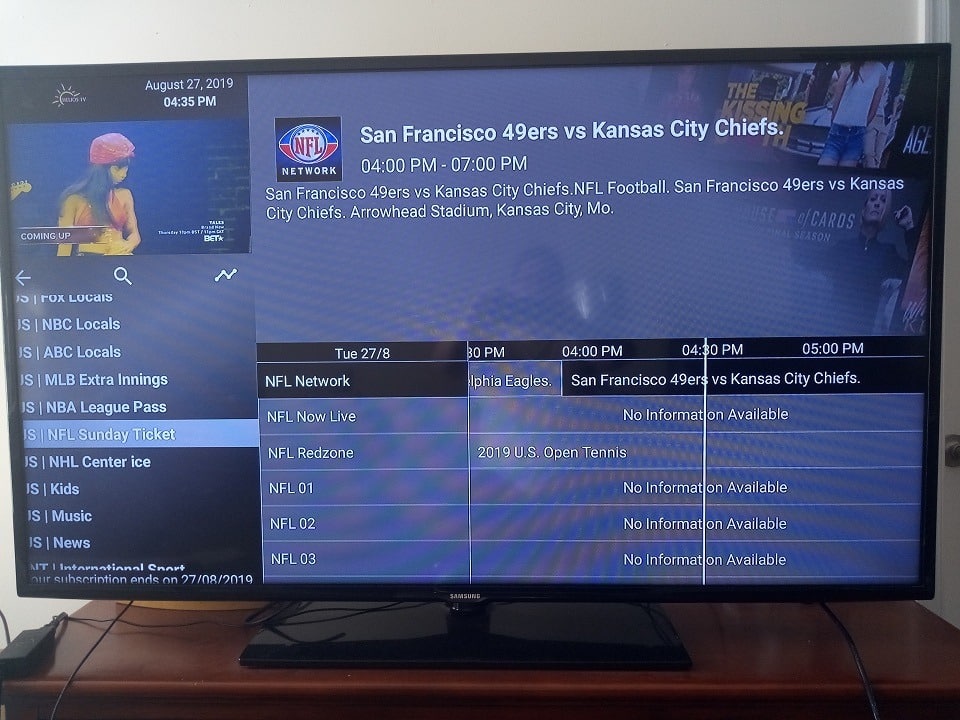 So if you are a sports fan or sports fanatic, you may be pleased when getting access to all the sports. Watch college, pros, and international sports online. Even watch sports talk shows and highlights such as ESPN networks. There are also Sports Replay and VOD PPV events.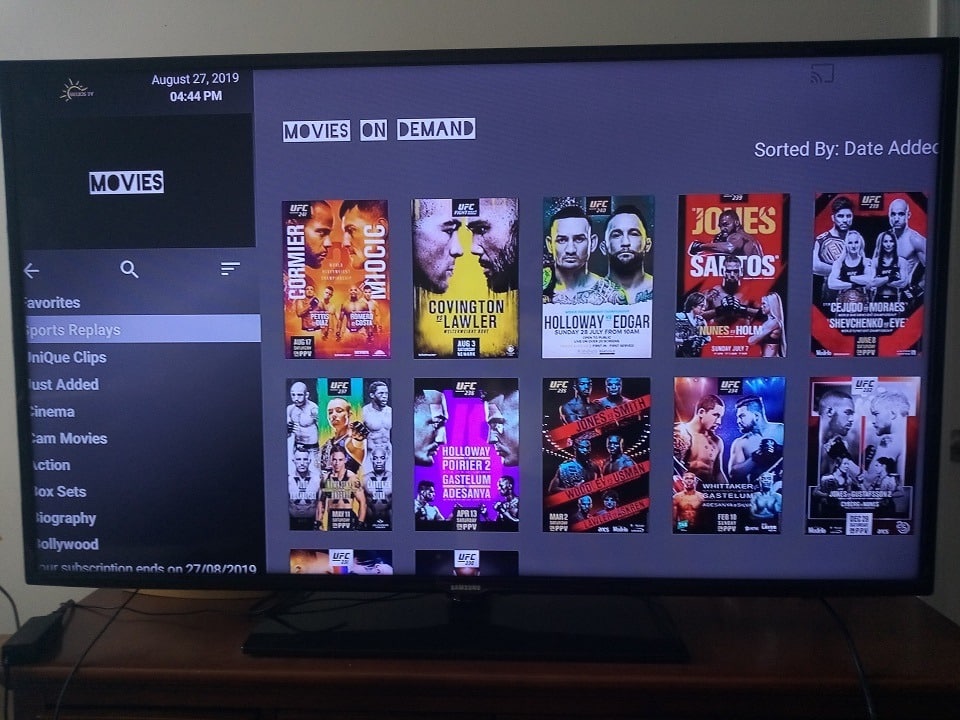 You may fall in love with the PIP feature that allows you to watch 2, 4, or 6 sporting events simultaneously on the screen. I tested this feature and it worked really well. You can highlight a sporting event to hear the audio. Then jump to another sporting event to listen in. You can listen to one sporting event at one time but can see 2, 4, or 6 at one time.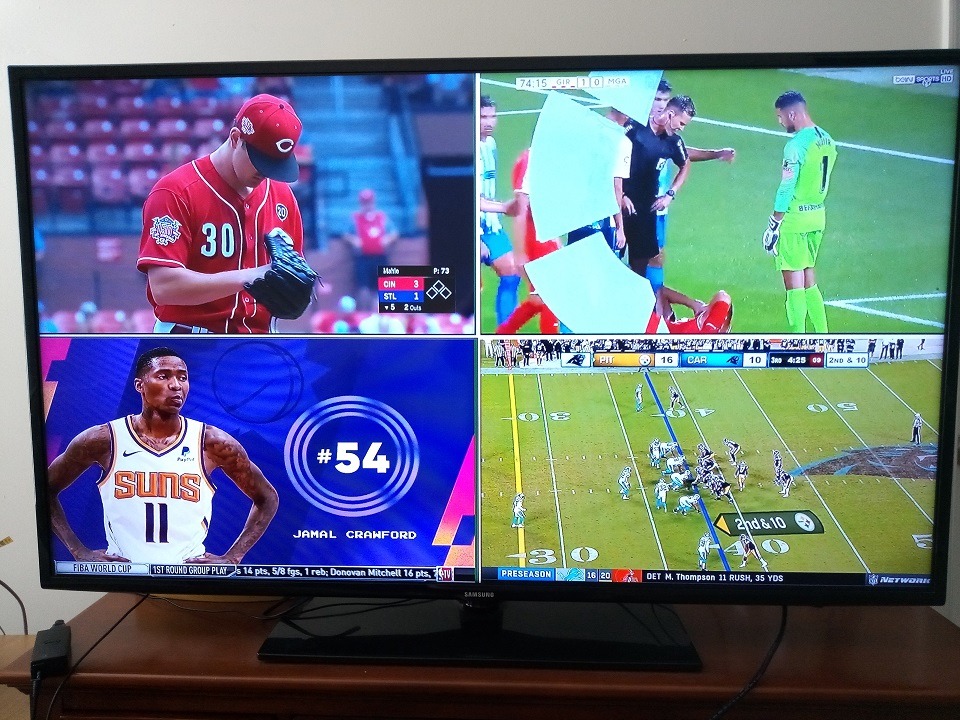 Video-On-Demand (VOD) Movies & TV Series
There is an overwhelming amount of VOD movies and TV series with episodes. Again, it will take you some time to understand everything. There is a Search tool to help find what you are looking for quicker. This includes both old and recent movies. They constantly update the latest movies sections. I certainly enjoyed watching a few of those movies myself.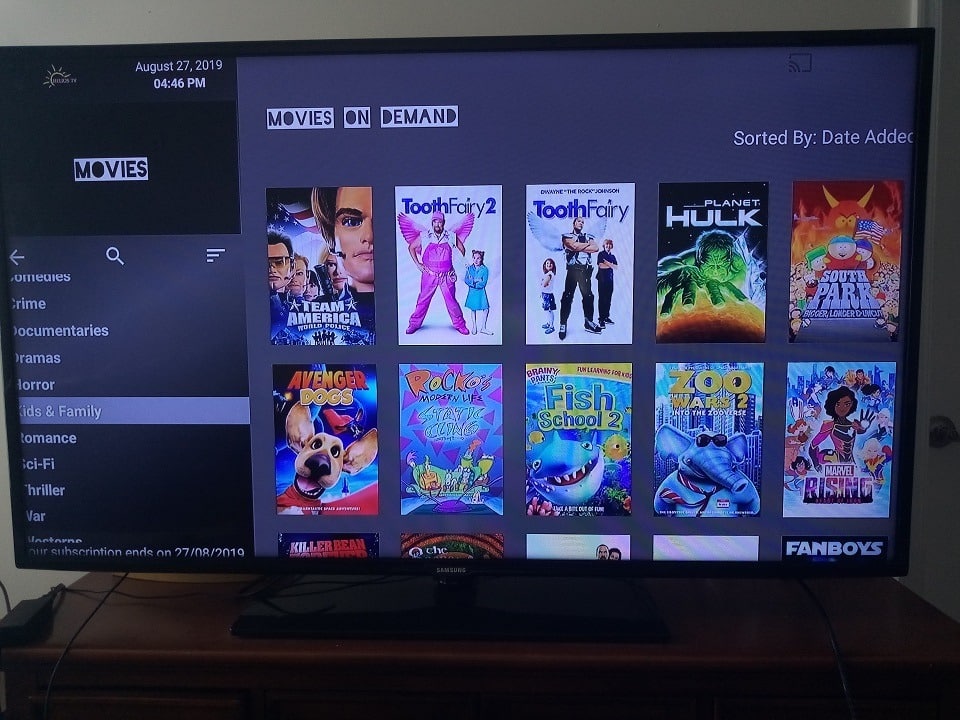 By the way, a time-shifting feature is included that lets you advance the movies in 'x' number of seconds increments. I don't like seeing the intro part of a movie so I simply use the time shift feature to advance it and get right into watching the movie.
I'm not a television series kind of person but I did test this section and found no issues with it thus far. The picture quality was crystal clear, same as playing movies. Many episodes are included for each television series that I took a look at or played. There are just too many of them.
Performance
The Helios television service and app performance overall was good but expect to come across a rare glitch. Some live channels play quicker than others but I'm not complaining. It takes little time to navigate through all the different sections but you should be able to find what you're looking for. The picture and audio quality for the most are very good.
What's important when dealing with the Internet when watching live streaming content is having an adequate amount of Internet connection speed. This is extremely important. When looking at each subscription package and reading the description, they tell you how much Internet connection speed is needed for each package.
But I'm going to make it easy for you to understand. You need to have 25 Mbps or more but higher the better. If you experience a consistent buffering when watching live streams or videos, more than likely the issue is on your end. Your device works between your ISP (Internet Service Provider) and IPTV service provider. So before you blame the IPTV service, try to troubleshoot what's wrong on your end.
If you have, let's say, 50 Mbps or 100 Mbps or more and experiencing a lot of buffering issues, the problem could still be on your end. You need to undergo a process of elimination. Using a different compatible device or different IPTV service when entering into the free trial. Search Google to troubleshoot the issue. Click Here and Here.
Interface
Helios doesn't have the easiest interface. Using the Helios TV app on your device takes little time to understand where everything is at including understanding all the features. It's somewhat user-friendly in some ways and very user-friendly in other ways. The navigation helps find everything. You just have to play around with the app and HeliosTV to get the hang of it.
For instance, you'll learn what happens when highlighting (not clicking) in a certain section. And you'll learn what happens when clicking a section. There are other apps depending on what compatible device you are going to use. These apps and other devices have not been tested yet.
Benefits/Features
Helios added a lot of bells and whistles that you will see below. They give you more features than any IPTV services that I reviewed and tested in the past:
2, 4 & 6 PIP (Picture In Picture – 2, 4 & 6 screens at one time)
Add to Favorites (store channels to find quickly later on)
Preschedule Recordings (pre-schedule recording channels in TV Guide)
Sports Replay (never miss a sporting event again)
Popular TV Networks (sports, news, shows, movies, kids, etc.)
ESPN +
3000+ live premium channels (SD, HD, FHD)
1000s VOD movies & TV series w/episodes (all genres)
Bollywood
Music Videos
Radio
TV Guide (EPG)
Local Channels (FTA channels from your local area)
Global Channels (many countries included)
CatchUp TV (watch on your time)
24/7
Sports Schedule (see what's coming in other types of sports)
Helios TV App Store (more to your delight)
Parental Control (safeguard your children)
Time Shifting (fast-forward VOD in 'x' number of seconds)
Channel Preview (preview channel before playing)
Change Theme Background Color
Search Tool (what you want quicker)
Get Start Here and Enjoy All the Benefits and Features
Helios TV App and Compatible Devices
The best compatible devices to use for IPTV services are streaming media devices such as Amazon Fire TV/Cube/Firestick, NVIDIA shield, and Android Boxes. You get better performance with these devices. The Firestick is the cheapest of them all and a great device to use by mostly all IPTV services. Learn More Here.
See the list of compatible devices below:
Android TV/Boxe/Tablet/Phone
iOS Devices
Windows & Mac Computers
Amazon Fire TV/Cube/Firestick
Apple TV
NVIDIA Shield
MAG
Enigma
Select Smart TVs
Click Here for Fire TV Stick Setup Instructions
Note: The list above doesn't include other devices that may be used. Contact support to find out more.
There are apps for smart TVs, but the most popular app is Smart IPTV which uses M3U playlists and MAC addresses. But in my opinion, it's best to use an external streaming media device such as NVIDIA Shield, Android Box, or Fire TV/Cube/Firestick.
Installing Helios apps on NVIDIA Shield or Android boxes is as easy as using the device's browser to download/install Filelinked, and then install the Helios TV application.
As far as gaming devices go, it is possible through M3U playlist player apps. Chromecast is also compatible as long as you cast the stream from another compatible device or use an M3U playlist player that's available in the Chromecast app store.
This IPTV service developed a couple of their own apps such as the Helios TV Pro Smarter and the lastest Helios TV Advanced Capability App. Here are some of the apps that can be used depending on the device used:
Apps to Use:
FileLinked App
Helios TV Pro Smarter
Helios TV Advanced Capability App
Smart IPTV (can use for smart TVs)
Perfect Player
Mobile App
Nora Go/SO Player
Web Browser
Android APK
XCIPTV App
And so on
Many of these apps can be found on their FileLinked page. You'll learn more about the FileLinked page when following step-by-step instructions.
Helios TV Cost, Subscription Packages & Trial
This IPTV service is setup with PayPal which protects buying consumers online. You don't need a PayPal account to make a purchase. You can simply use your credit card or debit card.
When signing up to buy a subscription, expect an email immediately after making payment. Make sure you enter the correct email. If you don't get an email, be sure to check your Junk/Spam folder. The email will show your purchase with order information.
It also tells you to expect another email with your login details within 24 hours but most likely within 8 hours. I received the 2nd email within a couple of hours and was able to log into the app to start watching everything online.
Here is the Helios TV cost breakdown of all subscriptions that were available during my Helios TV review:
VPN Subscriptions – Click Here
Ares VPN / LT VPN – 3 Devices
1, 3, 6 & 12 Months Service
Price: $5.99; $9.99; $19.99; $35.99
Note: Coupon Available; All Prices Subject to Change
Helios Core Subscription Packages (VOD Only) – Click Here
Helios Core VOD Only Server – 1 & 12 Months w/ 1 Device
Internet Connection Speed: Above 5-10 Mbps
Price: $6.99; $29.99
Note: All Prices Subject to Change
Axios TV Platinum Subscription Packages – Click Here
Axios TV Platium Server – 1 Month w/ 3 or 4 Devices
Integrated VOD Library (Works with NoraGo or SOPlayer)
Price: $29.99; $39.99
Note: All Prices Subject to Change
Helios Prime Premium Subscription Packages – Click Here
Helios Prime Premium Server Plans…
Internet Connection Speed: Above 10-15 Mbps
Locked IP (1 Location Only)…
1, 3 & 6 Month Subscriptions
With/Without Adult XXX and Recurring Billing
Prices: $11.99; $14.99; $29.99;$49.99 (2 Device Connections)
Prices: $14.99; $49.99; $69.99; $119.99 (2 Device Connections)
No IP Lock (More than 1 IPTV Location Simultaneously)…
Prices: $14.99; $39.99; $59.99; $89.99 (2 Device Connections)
Prices: $19.99; $59.99; $89.99; $139.99 (3 Device Connections)
2 Helios Gold Trials and Subscriptions With/Without Adult
Helios IPTV Gold Subscription Packages (Trials) – Click Here
Helios Gold Server – 24 Hours w/ 1 Device Connection
with VOD and with/without Adult XXX
Internet Connection Speed: Above 15-20 Mbps
Price: $1.49 USD
Helios TV Gold Server – Click Here
With/Without Adult
Internet Connection Speed: Above 15-20 Mbps
1, 3, 6 & 12 Months
Price: $13.99; $29.99; $49.99; $69.99 (1 Device Connection)
Price: $21.99; $49.00; $69.99; $99.99 (2 Device Connections)
Price: $29.99; $66.99; $99.99; $149.99 (3 Device Connections)
Note: All Prices Subject to Change; Helios TV Advanced Capability App is now the best free app to use.
Other Packages
Streaming Media Players + Helios TV IPTV Packages
NVIDA Shield TV – Click Here
NVIDA Shield TV | Streaming Media Player w/ Remote
1 Year of Helios with/without Adult + Free VPN
Price: $299.99
Note: All Prices Subject to Change
Comes with Helios TV IPTV Pre-Installed…
Unlocked Fire TV/Firestick – Click Here
Unlocked Fire TV with 4K
Ultra HD + HD Antenna + 1 Year of Helios with/without Adult
Price: $149.99
Price: $129.99 (Without Antenna)
Unlocked Firestick Fully Loaded Plus
3 Months Free IPTV with/without Adult
Price $79.99
Note: All Prices Subject to Change; Helios will pre-install everything. The customer just needs to plug, connect to wifi, play. You must create a free
Amazon account which you can do now when visiting amazon.com. Your Amazon username and password is needed. The device that Helios sells comes as is described in the product listing. If a substitution with a service must be made for some reason, the customer is notified.
Android Box – Click Here
T95Z + Android 7.1 Box
Core 3GB / 32GB & Wi-Fi 2.4 GHz / 5.0 GHz
4K HD Television Box w/ Backlit, Mini Wireless Keyboard
Plus 1 Year of Helios TV with/without Adult
Price: $179.00
MXQPro 4 K Android
1G + 8G WiFi Embedded UHD 4 K H.264 MediaCenter
Smart OTT Television Box Fully Loaded with Kodi, Movie,
and TV Show App + 1 Year of Helios TV w/ Adult
Price: $119.99
Note: All Prices Subject to Change
Refund Policy & Support
Unfortunately, there is no money-back guarantee, and therefore no refund. You can cancel the subscription at any time when contacting support but your subscription will continue to the end. This information can be found in the TOS when visiting the HeliosTV website.
It generally takes support within 24 hours to get back to you when leaving a message. I sent a few messages and generally received responses within 2 hours. Here are ways to contact them:
Chatbox
FB Group Pg (URL can be found on the website)
Phone Text Only: 727-888-4880 (Mon thru Fri, from 8 AM to 8 PM & Weekends 10 AM to 2 PM EST)
Note: You cannot place a call to make an order. All purchases are processed through the website. Besides, you can only send text messages. I never had to use any other method but the chatbox. Support got back to me within 1-2 hours.
Helios TV Review – Pros & Cons
Pros
As you can see, Helios TV is a robust web TV experience that offers many exciting features as well. There are many, many subscription packages with and without adult entertainment that one can choose from. This includes 1-, 3-, 6-, and 12-month subscriptions with 1, 2, or 3 devices to connect at one time.
There are some No IP Lock packages included that lets you use more than one IP address/location at one time instead of just one location. Fees range from $6 to $150 which should fit anyone's pockets.
You'll find many of the same channels, networks, movies, sports, news, kids channels/videos as you would on cable/satellite TV. The cost-savings can be huge when compared to paid television or a video subscription.
For individuals new to Internet TV or don't have a streaming media device or don't like going through step-by-step instructions to download/install apps, costlier packages are available. These packages include a streaming media device plus Helios subscription. As for the Firestick, Helios TV comes pre-loaded in the Amazon Fire TV Stick.
You don't need to do anything but connect the Firestick to your HDTV or smart TV. There are other apps that can be used for smartphones, smart TVs, Apple TV, and other devices. Firestick instructions can be found in the FAQs section at the Helios website. But I provided easier steps to follow both written and video to help you more.
Cons
No doubt you'll come across some channels that don't play. In rare cases, you may even get kicked out of the app when watching a live channel. As for the later, just open the app again, find what you were watching, and click to play it again.
I did experience a channel freezing with no audio when watching it. I had to hit preview (downsize the channel), and then click to get the full screen again. That's when the channel became unfrozen and played. But at times, I had to this repeatedly until a channel plays correctly. The vast majority of channels played without this issue.
You may not like paying the $1.49 to get the trial version. Many IPTV services have a free trial. But think of it this way. You can watch PPV fighting events, even special events, all sports live, without paying an extra cost. You get full access to all the content and features as well.
Depending on the compatible device you want to use, there will be more or fewer steps to follow to get set up. Again, I cannot stress enough how massive the website is with all the information and subscription packages when combing through it.
During my Helios TV review, there was no USA content and other content available in the CatchUp section with exception to the UK. I contacted support about the issue and they told me the provider is updating their servers and going to rebuild CatchUp. There is no timeframe when CatchUp for the US will be available again. This may become a deal-breaker for those who value having CatchUp TV.
Conclusion
One must think about where else can they go online to find an all-in-one web TV service with very low-cost subscription packages. When looking at what's included (local TV, premium channels, top networks, sports, replay, PPV, live/on-demand moves, news, shows, many global channels, and TV series w/ episodes, music/radio, 24/7, and more, that's quite a bundle without paying for a bundle.
The very low-cost 24-hour trial allows full access to everything which shouldn't be a deal-breaker. If this isn't enough time to decide whether or not to cut cable/satellite TV, then you can always opt into the one-month subscription.
The thing to note here is that Helios TV channels, VODs, apps, and service work hand and hand to bring you the best of Internet TV entertainment has to offer. Although not perfect, this IPTV service does entertain the entire family. I recommend giving them a try. Follow the instructions to download/install the app(s) and feel free to contact support if needed.
This Concludes Our Helios TV Review.
Get All Your Live Sports, Channels, Networks Including VOD Here