Access to 7,300+ Live Premium Channels, 9,000+ VODs & Record
Comstar TV Review by Real User: Comstar TV gives you a way to watch all your favorite TV channels online. Subscribers can watch shows, movies, news, and sports. It doesn't matter if you live in or outside the United States, everyone gets access to the same number of live premium TV channels and VOD content.
Anyone who thinks the best channels are available for English speaking countries only is sadly mistaken. There are over 50 countries, each has live premium TV channels and VOD. But not all countries have an on-demand movie category and TV series category.
If you are bilingual or multilingual, ComstarTV has plenty to watch in the language you prefer. Cost-wise, you are not burdened with the high cost of cable or satellite TV. There is no set-top box or antenna to install. No hidden fees, local sports blackout, contract or cancellation fee.
You can Sign Up Here to get the service now and start watching your favorites online via a compatible device. No need to worry about the other stuff, just pay as you go (more on this later).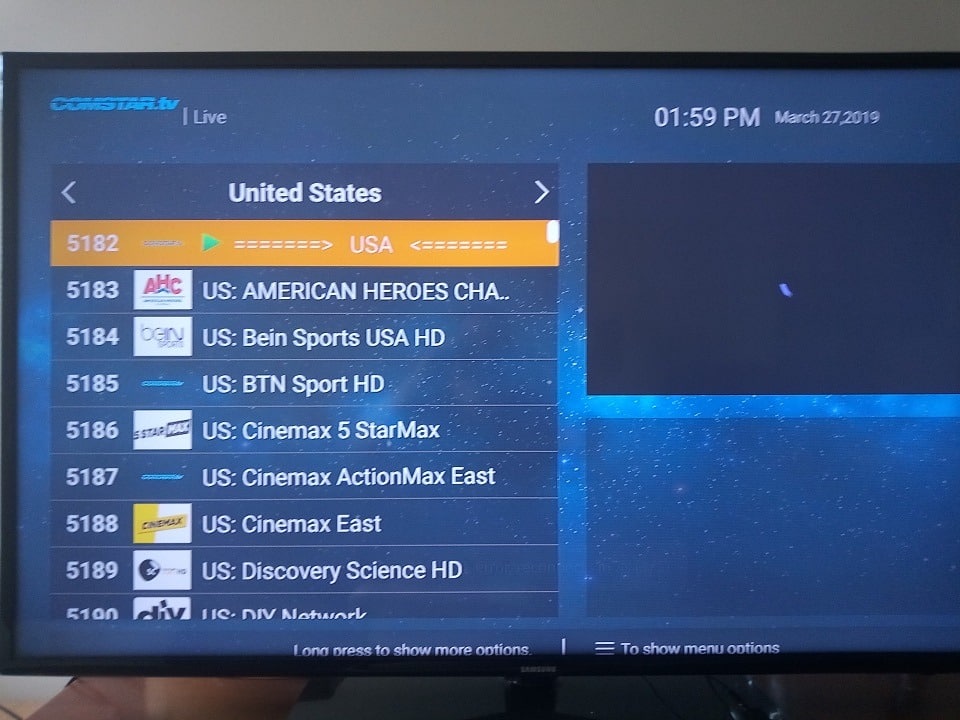 Comstar TV Review – What Is It, How It Works, Who Is It For
What is it? Comstar TV channels is an IPTV service provider that delivers live channels worldwide. They also deliver VOD movies and TV series. There are a number of compatible devices that can be used with the Comstar TV app (apk) or different app such as the VLC Media Player. The service is not affiliated with any cable/satellite TV company. They are independent.
You'll have to use some discretion when using 3rd party IPTV services. While they generally have legal documents posted on their websites, they claim they don't host any streaming content on their websites. Many individuals worldwide use IPTV services to watch their favorites. The low-cost also makes these services very appealing.
Subscribers get access to over 7300+ Comstar TV channels worldwide plus 9,000+ VOD movies and TV series. At the time of this Comstar TV review, there were 50+ countries included. Each country name (category) shows the number of channels included.
Note: The video reviews take you inside to see everything including watch streaming TV content play.
How Does it Work?
When visiting the ComstarTV website, the choices are the free trial and 4 subscription packages. I opted into the free trial and got full access to everything. All device instructions with steps and links to download the free TV app can be found on the website.
When signing up to the free trial or one of the subscription packages, you will receive a few emails from the IPTV service. They tell you that you may not receive any emails immediately after signing up. However, I received my emails right after I completed my free trial sign up which didn't require a credit card.
You may want to look in your Junk/Spam folder if you don't see any emails. One email will have your login details with other information and links to download apps. I used my Amazon Firestick, Windows PC, and Android smartphone.
One email includes your username and password, two M3u Playlist URLs, a link to download the Android app, etc.
Once the app is downloaded/installed on your device, you are now ready to watch TV online. Just watch the video in this Comstar TV IPTV review to see how things work inside.
Who is it For?
Anyone, from all walks of life, with a compatible streaming device and an Internet connection can use this IPTV service. All countries can get access without using a VPN service, with the exception of UK & UAE. People living in the UK or UAE must use a VPN service.
What this means is no matter what country you live in or travel to, you can watch channels and VOD from any country provided by this IPTV service.
Click Below to See If Any Live Premium Channels From Your County Are Available. Look in the menu and click the 'Channels' category…
Highlights:
7,300+ Global Channels for More Entertainment
9,000+ Movies & TV Shows for Entire Family
50+ Countries with Shows, Movies, News, & Sports
PPV Events – Catch All the Fights & Main Events
HD & SD Channels
Premium Live Channels
Save Channels and VOD to Favorites Section
TV Guide / EPG
Support for All Devices
99.9% Uptime
24/7 TV Shows
No Hidden Fees, Contract, High Cost, Set-Top Box, or Antenna
Compatible Devices / Apps
Only one subscription can be used with one device at the same time. The Comstar TV IPTV service makes a reference to the subscriber's account that can be banned because of automatic security defense. Should this happen you can contact support. They allow a two time restore on one subscription.
Again, use of multiple devices at one time is prohibited.
Here is a list of compatible devices that can be used and are supported right now:
MagBox (250,254, etc)
Apple TV
iOS
Android
Windows
macOS
Dreamlink (T1, T1+, T6, etc)
Avov Tvonline (N, N2, N3 etc)
Amazon Fire TV Stick
Android Box
Roku
Smart IPTV
STB Emulator
rIPTV
GSE Smart IPTV
Kodi
STB Emulator
Perfect Player
Best Player
VLC Player
Devices that are Not supported: Zgemma; Enigma2; XtreamTV.
Additional Info
No other 3rd party IPTV service that I reviewed is compatible with that many devices including Roku. If you have a Roku, then you need to read instructions on the IPTV service website. There's a possibility your Roku can't be used.
Depending on the device you use, there's an app you must download and install to your device. All instructions and steps are available when visiting Comstar TV. They also have their own app that I downloaded/installed to my Amazon Fire TV Stick and Android smartphone.
In the email they send you, includes an M3u Playlist URL and M3u Plus Playlist URL. Instructions on their website told me to use one of these URLs when setting everything up on my Windows 10 laptop computer. I also had to download/install the VLC Media Player. You don't get the same look and feel and online experience as you do with other devices.
Nevertheless, it appears to have many of the same channels, VODs and countries included on my computer. I was able to watch whatever I wanted when scrolling through many channel links and VOD links from many countries.
If you have a computer and don't have any of the other compatible devices, this service has you covered. Just download/install the free VLC Media Player. ComstarTV will provide the link to download. You have to enter one of the M3U Playlist URLs (sent by email) in the VLC Media Player All instructions and steps are provided on the website.
When I used my Android smartphone, I had to download/install the Comstar TV app. You can visit their website to get instructions on how to download and install.
Watch Comstar TV on Android Smartphone
Comstar TV is compatible to iOS and Andriod devices. Play the video below to watch Comstar on Android smartphone…
Content, Performance, and Interface
Unlike other Comstar IPTV reviews out there, I cover three primary areas of the app and IPTV service. This information should help you make a well-informed decision to give Comstar a try or not. You should already be computer and Internet literate. Otherwise, things become more difficult.
Features: Search, Add to Favorites, Record & Others
There aren't that many features included. However, you can add live channels and movies to the favorites section. You can record also. I have not come across any IPTV service or any I reviewed that had a record feature. So my hat goes off to ComstarTV for adding this feature. I recorded live channels and movies. You can see this in my video review.
I did not test the record feature beyond one minute. It's unclear how many recordings are allowed. You can test this yourself and record a television program or movie for any number of minutes. Again, you can test this feature when opting for the free trial.
You can search a live channel/network by name or movie title to find what you're looking for quicker. Other features include Previous and Forward. This allows you to move backward in the channel list or move forward to watch a different channel. Same thing when watching a movie.
One cool feature that I particularly liked is the 10s time shift to fast forward a movie. This allows you to skip the movie introduction and get right into watching the movie.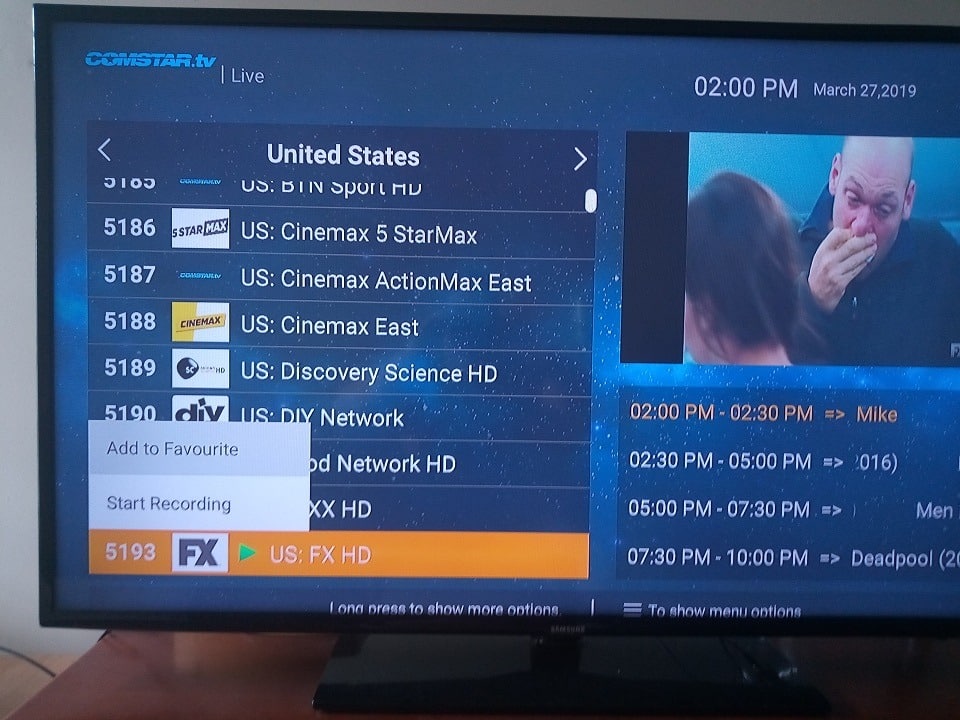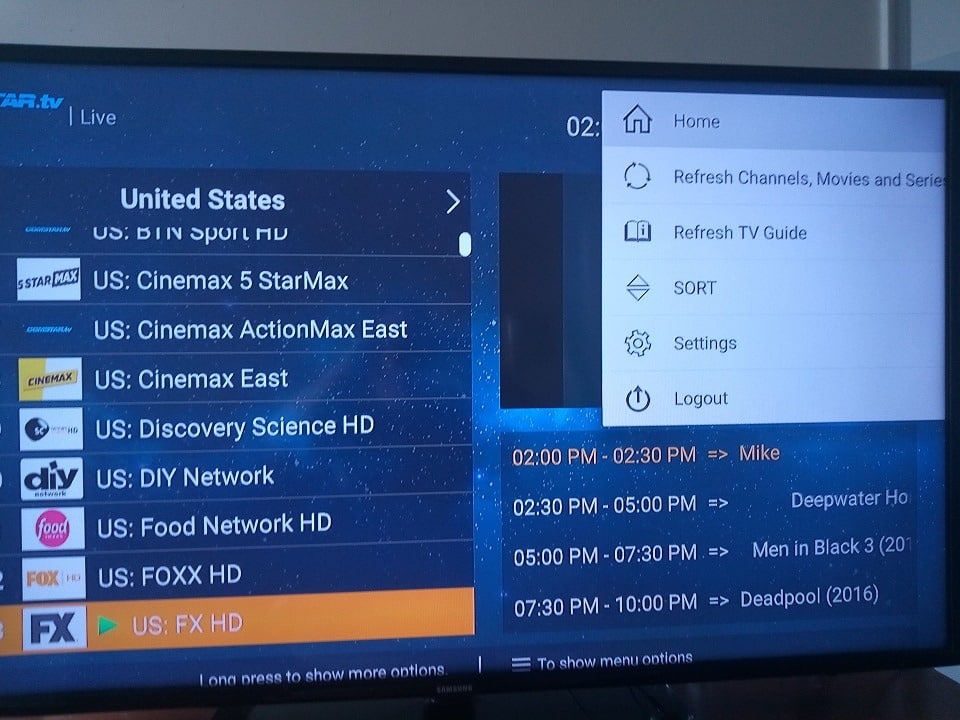 Content
When opening the Comstar TV app or apk on my Amazon Firestick, the main screen appears with the following:
Live TV (incl. Search, 24/7 Channels, Favorites, Record, Recently Watched, Vip Channels & Uncategories)
Movies (incl. TV series, Search, Favorite & Record)
Series (no content)
Live with EPG (TV guide)
Recordings
CatchUp (no content)
Live TV Channels. There are many live channels available for each country. All you do is click a country category of interest to see the list of channels and play what interests you. Each country-category shows the total number of channels available. Some countries have more or fewer channels. If you watch the video review, you'll see how everything works including features.
You can see what channels are included right now when visiting the ComstarTV website. Click the 'Channel' link in the menu. This is the first time I reviewed an IPTV service with a full channel list.
You get all the major TV networks such as movie networks, sports networks, and news networks. But there no local channels from your area. To get those channels, you need an indoor HDTV antenna – Click Here.
Most live channels played when testing them. I came across some channels that didn't work. There are some troubleshooting instructions on what to do when there's an issue. Or simply contact support to fix the issue.
All live and on-demand streams come with SD (Standard Definition) and HD (High Definition) picture quality. There's no disappointment here at all. There are many entertaining channels that you find on cable and satellite TV.
Movies. If you love movies and/or TV series, there's plenty here in this section. All movies are organized and placed in their respective countries. Not all countries with movies are available but there are many. Each movie category shows the number of VODs included. You can watch my video that shows how everything works.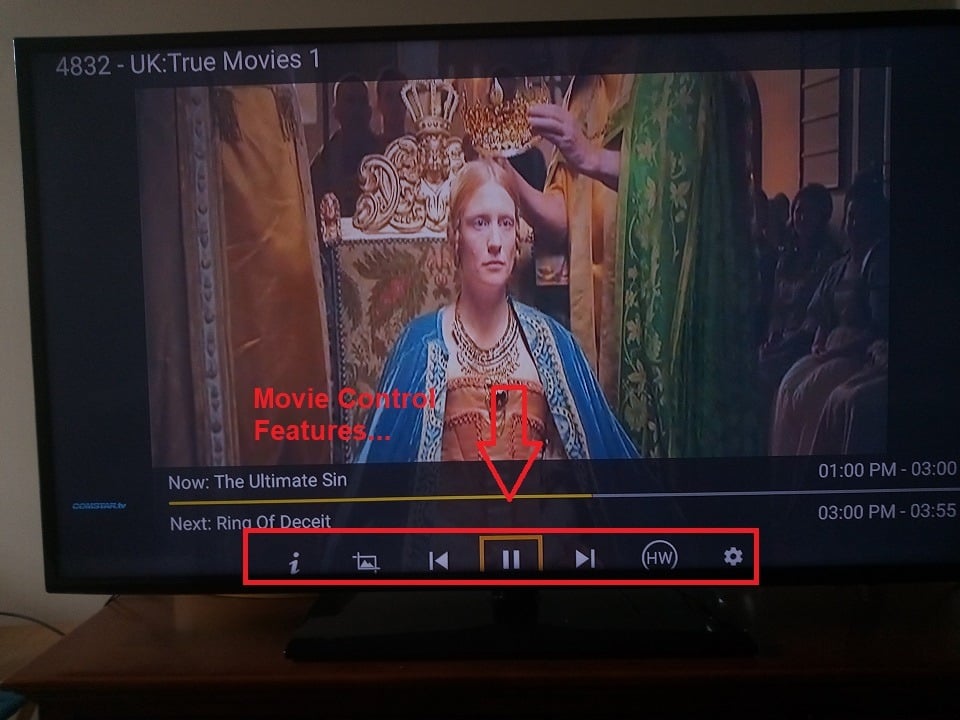 Live with EPG (TV guide). The Comstar TV EPG (Electronic Programming Guide) is a TV guide. It list all channels with names of shows in their time slots. I even found VODs listed in the guide. You can scroll up/down or right/left to find what you're looking for. Simply click the name of the show to play it. Unfortunately, many names of shows are not available but you can still watch the channel/network.
Live Sports. There is no live sports category but you will find many under the 'Live TV' section. Subscribers can watch local, national, and international sports including PPV events. As you can see, not only can you watch your favorite sporting events but catch all the live boxing matches also. There are many top sports networks included.
There are additional links available to watch NBA, NFL, NHL, and MLB sports. This means you have two ways to watch those sporting events. 1) Sports network; 2) Sports link.
Countries. There are over 50 countries, perhaps 59 included as categories. If you want to see what countries are available, just head over to the Comstar website. Click the 'Channel' link in the menu. I tested many channels from various countries and most worked/played.
Each subscriber will have access to a number of countries and channels. I was pleased to see many channels for each country (some have more than others). But I was even more pleased to see many channels worked/played. You will enjoy watching live premium channels from your homeland.
Performance
Make sure you have 25 Mbps or more Internet connection (download) speed. You should use a new or fairly new device for better performance also. Beyond these two things, the Comstar TV apk, VLC Media Player, or smart IPTV app should work really well for you.
VLC Media Player and Smart IPTV are free 3rd party apps not owned by ComstarTV. If you want to watch everything from your Samsung or LG smart TV, you can download/install the Smart IPTV the comes with a free trial. When the free trial version is over, you must pay a one-time fee (5.49 EUR or 6.20 USD) to continue using the app with Comstar. You can find additional instructions on their IPTV website. You need to search for the SIPTV player app in your smart TV app store Watch the video tutorial below.
Many Comstar TV channels that I played worked really well on all three of my devices. For the most part, each channel played as soon as I clicked the channel. Other channels didn't play as quickly but quickly enough. As for movies and TV series, each one played quickly also.
As for some channels that didn't play, this is expected when there are so many of them. It's hard for any service to inspect 1000s of channels. You can contact support when a channel doesn't work. There's some troubleshooting information in the FAQ section when visiting their website.
The navigation, look and feel, and layout all worked hand and hand which made everything pleasing to the eye and user-friendly. I'm speaking of the devices that I used (Amazon Firestick & smartphone) There is nothing complicated once inside the app. Everything is self-explanatory.
Interface
How the Comstar TV app works with the IPTV service which is where all streaming content comes from, received a high rating. There weren't that many downsides. I had a good online TV experience when watching everything on my smart TV with Firestick connected and smartphone.
But if I had to choose which device of the three gave me the best experience, it would be the Firestick. If you don't have this device and want to know more, Click Here.
Navigating from the main screen into the Live Channels, Movies, and EPG didn't take long to get into each section. However, when you first log in to use the Comstar TV apk, there will be some delay as the app starts the initial download of everything. This download doesn't occur again unless there is an update of some kind.
There was an issue with some of the VOD movies. I experienced a double picture with a line right in the middle that made watching the movie difficult. I notified support about this issue so I'm hoping they fix the issue soon. Again, this issue didn't occur with many of the movies that I watched.
Comstar TV Free Trial, Subscription Packages/Cost, Cancellation, & Support
Free Trial
There's a 48-Hour Free Trial available that comes with a notice. For one, the Comstar TV free trial is only available Monday to Thursday in their time – not your time. If you see the free trial, go ahead and sign up. You may have to wait one or two days for the free trial to become available again.
I did not have to wait and received emails from them immediately after signing up for the free trial.
The reason behind the waiting period may be due to people wanting to watch the PPV fight and nothing more. As a result, a lot of transactions would occur to watch free PPV events.
If you sign up for the trial that's not available on weekends (their time), they will send your information via email on Monday, their time.
No credit card is required to enter into the free trial. You simply sign up with your information and wait to receive emails from the IPTV service. All information, instructions, and links are provided.
ComstarTV states it could take up to two hours or more for your trial to be activated. If you don't see any emails from them in your inbox or Spam/Junk folder, then you must wait. Feel free to contact support if you want. Again, I received my emails immediately.
Comstar IPTV Subscriptions & Cost
There are 4 subscriptions at different price sets that should meet your pockets. The Comstar TV cost is much cheaper than cable and satellite TV and comparable to many other IPTV services out there.
4 Subscription Packages with everything included for each:
1 Device Connection Only…
$14.99 for 1 month
$29.99 for 3 months
$49.99 for 6 months
$79.99 for 1 year
None of these subscription packages has recurring billing. Your credit card or payment method doesn't get automatically billed. Subscribers simply pay as they go. Meaning, once the subscription you paid for has ended (1 month, 3 months, 6 months, or 1 year), you are not charged again. You can pay to opt into any one of the subscription packages you want.
Cancellation
There is no refund from what I gather. Comstar IPTV says you can cancel or stop using the service, once your subscription ends. Your use of the IPTV service will continue until the subscription ends. Remember, you control the billing. If there's a dispute of some kind, I would contact support to work things out.
Support
As far as contacting support, the response time could be better. While they do have a contact form to create a ticket, there is no phone number or chat box at the time of this Comstar TV IPTV review. I contact them a few times and got a response back within 24 hours. Then there was one time when I didn't get a response. They apologized when I sent them the same message again and informed them about not replying back to me.
Comstar TV Review – Pros & Cons
Pros
By now, you already know you can watch, record, and add to favorites what you love to watch online. No doubt the number of live channels and on-demand content with movies, TV shows, news, and sports is great to have. And many of the popular TV networks found on cable and satellite are great to have as well. In fact, when you look at the cost savings, you quickly see the savings.
ComstarTV is not without flaws but it does offer an alternative to cable/satellite TV. If you want to watch television online, this can be one way to do it. I don't know of any other IPTV service right now that allows you to record, so that's something to keep in mind.
You also know there are many compatible devices that can be used and apps included. Once the setup is complete, you get access to tons of streaming content. There are over 50+ countries included with most of the channels working – at least some of the countries with some channels that I tested.
The free trial is a no-brainer because no credit card is required. You get full access to everything and 2 days is plenty enough time to test everything on your end.
There is no recurring billing. You pay as you go. Once the subscription ends, you decide whether or not to opt into one of the four subscriptions.
All channels and videos are played in SD or HD and audio is good also. You can also watch everything on full screen. Again, make sure you have at least 25 Mbps Internet connection speed.
The time-shifting feature is also nice which allows you to fast forward an on-demand movie or TV series in 10-second intervals.
Cons
Out of the 7,300+ channels they claim to deliver, I found some that didn't work. You can contact the IPTV service to have them fix non-working channels. There are also some troubleshooting instructions in the FAQ section. Some of the movies played with a double screen which was annoying to watch. You can also contact support, as I have, about this issue.
Another noticeable downside occurs with the movie control features while a movie play. An issue occurs when opening the control feature. For some reason, the 'Previous' button (left arrow) gets initiated without clicking it. This occurred whenever I scrolled right and the movie I'm watching goes to the previous movies. I can get the movie back to watch again when clicking the 'Next' button (right arrow).
The issue only occurs when opening the movie control features the first time and scrolling to the right. A noticeable downside is in the VOD Movies and TV Series sections. There were no post images at the time of my review which made these sections less attractive to the eye. Some movies don't have titles. All VOD movies and TV series have description pages but descriptions are missing for many. Perhaps in the near future, they will improve the VOD sections.
Conclusion
Whether you are searching for a way to cut cable or ditch the dish, you don't want to lose watching your favorites. You also don't want to pay the high cost. While there are other options out there to try, the Comstar TV channels are delivered across many different devices.
If this is all new to you, the easiest and best streaming device to use is the Amazon Fire TV Stick. If you only have a computer and don't want to purchase another device, you can connect the computer to any HDTV or smart TV.
What you get is a quick way to watch live TV channels with sports, news, shows, and movies online. Adding to that all those VOD movies and TV series that you can record and/or add to favorites. I recommend giving ComstarTV a try by taking advantage of the 48-hour free trial. You don't need a credit card.
If you are searching for channels outside the US (from your homeland), then you should check out this service. There are over 50 countries. Your country may be included. You can also visit the IPTV website to see what countries and channels are included. Enjoy!
This Concludes Our Comstar TV Review