All-in-One IPTV Service Brings Together Live Premium Channels and VOD Streaming Content that Saves You Money
WeBe Streams Review by Real Tester/User. If you want to save money on your cable TV bill or ready to cancel, this may be the way to do it. But not without some downsides which I'll reveal to you in a little while. The fact is more and more people are searching for TV alternatives where they can pay less and still watch their favorites. Perhaps now you'll see the value of watching TV online.
IMPORTANT UPDATE:
There is a new SO Player IPTV service from the same ownership that you can now use…
1# Recommended SOPlay IPTV Service with more streaming entertaining content, CatchUp TV, Sports Replays, Apps, and subscriptions than most other IPTVs like it out there…
Here is an alternative IPTV website – CLICK HERE.
DO NOT READ BELOW THE LINE… We Removed all links to the IPTV service for SO Player…
————————
We Be Streams is an IPTV service provider that delivers both live channels and on-demand streaming content. They are not affiliated with any cable TV company and therefore are independent. There is no restriction which means anyone worldwide can signup for the service and watch the same streaming content. No one's IP address or country will be blocked.
Those who live in the US stand to benefit more from this IPTV service. My WeBe Streams review will dive further into giving the facts without the fluff. But the best way to know the truth about this IPTV and how well it can work for you is to enter into the free Trial.
There are 4 areas of my We Be Streams TV Review to cover. You can read them below…
WeBe Streams Review: 4 Parts
Performance
Picture/Audio Quality: When playing many live channels and on-demand movies/TV series, the picture quality comes in HD (1080p). Only a few channels appeared to be SD (Standard Definition) quality. You won't have an issue hearing the audio.
Buffering (channel stops/plays repeatedly): You may or may not have heard about IPTV services with buffering issues but this wasn't the case with WeBe Streams TV. If anything, you must have enough Internet connection speed to stream the content on your device. Many IPTV services recommend having at least 20-25 Mbps. I say have 2x or 3x more and having more is even better.
I did come across an issue when watching an NBA game whereas the streams just died on me. This was not a buffering issue. Keep in mind that WeBe doesn't own any of the streaming content and can't be blamed for that. You must make sure you have enough Internet connection speed and the higher/faster the better. I have over 200 Mpbs but this doesn't mean I get that amount on different devices I may use to connect with the IPTV service.
Any issues can also stem from using an old device so you have to take a close look at your end before blaming an IPTV service. I have not experienced ongoing buffering issues or any issues that prevented me from watching all my favorites online. I suggest connecting your modem/router via Ethernet cable to the back of your smart TV or HDTV. Connect all other devices wirelessly.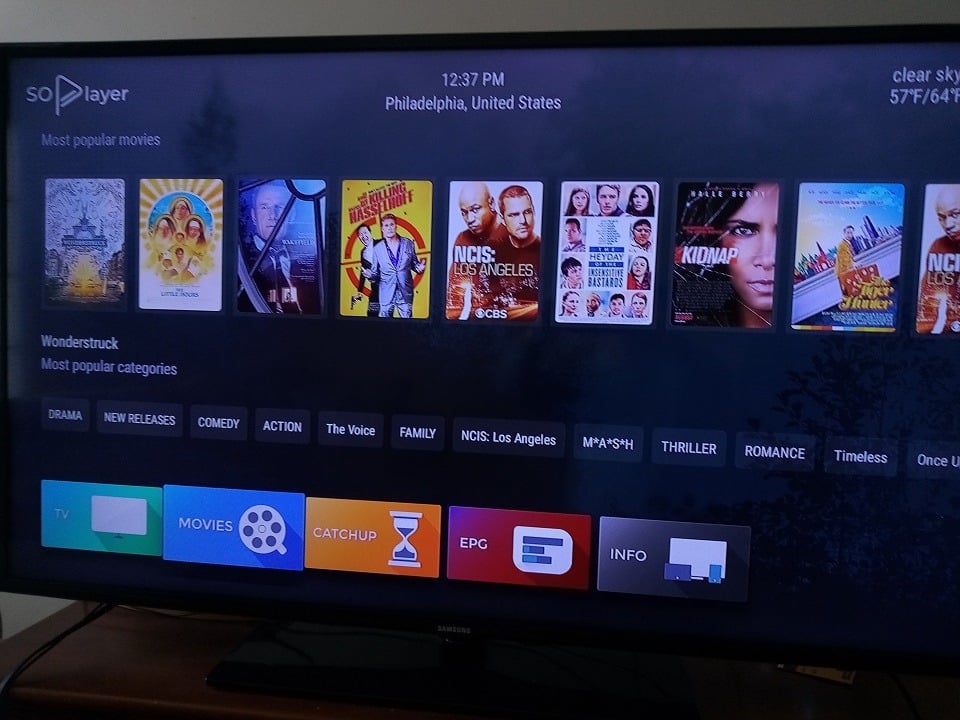 VOD/Channel Delivery
The WeBe Streams Channels worked well in various categories for the most part. When testing/playing US, UK, French, Spanish, Filipino channels, most of them worked. However, the UK section had more non-working channels at the time of my WeBe Streams Review. And channels from the Gospel section didn't work at all. I contacted support about this and are said to be working on a fix.
There are many popular TV networks available that are found on cable TV. I'm certain you will find your favorites as well. Both live channels and VOD movies/TV series episodes play quickly. The Catchup TV section where the service does all the recording for you didn't work. I also contacted support about this as well and said to be working on it.
Both live channels and VOD content are organized in different categories and sub-categories. It's not difficult to find what you're looking for quickly. The search Tool also helps. As for local US channels, you may or may not find them from your local area. And if you do, there won't be many.
To resolve the matter concerning local TV channels, I recommend that you Click Here to get all or most of your local channels if canceling cable TV. If the free local TV streaming service does not have your city, you can purchase an indoor antenna. Just connect the antenna to the back of your TV and scan for your local channels to watch free.
Interface
The interfacing between the user and the app connected to the IPTV service (WeBe) works seamlessly. You get a fast, smooth interface when navigating through the Nora Go or SO Player app. The entire layout is well put together. Newcomers should not have any difficulty finding and moving around the app.
Support
You won't have a problem contacting support for help or questions. Just use the chatbox when visiting their website. Someone is usually available online to help you but I don't know if they are available 24 hours. You can also use the Contact Form or support email found on the Contract Form page. There is no phone number so you have to use the chatbox to get a quick response.
Additional Information
There are two apps they recommend you using: Nora Go for smart TVs with an internal app store; SO Player for all other compatible devices. Both apps are free to download and you can download them before or after you sign up to We Be Streams. However, I suggest you download/install the app(s) first to see if you run into any problems.
After signing up for the Free Trial which I recommend you do first, they will send you directly to the 'Welcome' page. This is where you'll find your account/order info including activation/login credentials. In the latter, they give you the Provider ID, 4 Device Pin Codes (1 per device), Username, and Password. This is how you activate and use the app to watch TV online.
WeBe Streaming TV will also send you 2-3 emails immediately after you complete the signup process. If you don't see any emails, be sure to check in your Spam/Junk folder. If you find any there, just move them to your regular email inbox. Another thing is when you sign up you must enter your email address and create a password. Save and remember both because you will need them to log into your 'My Account' to renew your subscription.
Remember there is no monthly subscription or recurring billing. You pay as you go. You must renew your subscription when the one-month subscription ends.
Compatible Devices
Here are the compatible devices that you can use. If you don't see a device in the list below, then it's not compatible. However, feel free to contact support as the list below may change in the future.
Computers (Mac & Windows)
Amazon Devices (Firestick/Cube/Fire TV)
Android Devices (TV, Box, smartphone, etc.)
Apple TV
iOS Devices (iPhone, iPad)
Mag Box (contact support)
Smart TV (w/ internal app store)
WeBe Streams Free Trial, Cost, Subscription Package, Refund
I recommend signing up to enter into the Free Trial before paying the subscription. This way you can see whether or not the app installs on your device without an issue. If everything goes well during the installation, then sign up for the Free Trial or subscription.
Free Trial: 3 days (No credit card required)
Subscription: $25.00 (1 month only; can renew the subscription at your leisure)
There is no other subscription package available, just one. As for requesting a refund, it will take 7-15 days to process if you request it. Again, I suggest entering into the free trial to test before shelling out any money.
WeBe Streams Pros & Cons
Pros
This IPTV service is best used for individuals living in North America. However, there is plenty of streaming content for those living in some of the other countries. There are Spanish, French, UK, and Filipino channels (not very many) whereas there are no restrictions to watch any of the content online.
You get many major TV networks that should have many of your favorite channels to watch live sports, movies, news, etc. And you get plenty of on-demand movies and television series with episodes to watch online as well. But there's more… you get access to PPV events both live and on-demand, VOD NFL games, music channel, ESPN +, Adult content, and more.
The cost certainly beats cable TV with great savings that allow you to put the extra money into something else. Perhaps increasing your Internet connection speed would be the thing to do. You can connect up to 4 devices simultaneously whereas each household member can watch something different from you.
You don't need to worry about buffering issues, most channels not playing, or lousy support. There is no contract, hidden fees, cancellation fee, credit check, or installing an antenna/receiver. WeBe Streams TV makes it easy for you to test their service with no risk. The Free Trial covers 3 days of testing without you having to give up your credit card info.
Cons
You don't get access to many countries outside the US if that interests you. And if you are looking for a No IP Lock IPTV service WeBe Streams wouldn't be the right choice. For a No IP Lock IPTV service, Click Here. You cannot share your IPTV service account with individuals living someplace else or using a different IP address from yours. Not only that but you can't use any VPN service if planning to do so because of the IP Lock.
You will experience some non-working channels but more so from the UK section right now. The Catchup TV and Gospel sections aren't working. Support is aware of this and working on it. Only one smartphone can be used to connect to the service when traveling. No other device can be used when on the go. There's nothing you can do to have the adult content removed but it is locked by default.
There are no regional channels and local channels from your city if any are very minimum. You get up to 3-4 local channels but only 1-2 may actually work. This is not a service to use if watching local channels is the primary interest.
Conclusion
In my WeBe Streams Review, I covered 4 primary areas. As you can see, there are some downsides that you will need to consider and weigh what's more important to you. Perhaps watching UK channels or Catchup TV isn't that important. If you are from North America, this IPTV service caters to you more. You'll find many UK, Spanish and French channels. As for UK channels, I expect WeBe to have more of them up and running in the near future.
If you can see the value in what interests you here that's available and working, you might want to enter into the Free Trial. The Free Trial is a no-brainer in that there's no risk. No credit card is required and you have 3 days to test everything. The cost-savings are tremendous when comparing the high cost of cable.
This Concludes Our WeBe Streams Review