URSA IPTV Review by Real User/Tester. You may be one of many new or fairly new to IPTV services. And if you subscribed to one in the past, you still may not have a clear understanding. While the goal is to beat the high cost of cable TV and find a low-cost alternative, you need to be crystal clear in your understanding.
IMPORTANT UPDATE…
We are no longer recommending this IPTV service — They are out of service. We found better IPTV services more to your liking. Click below to visit our Top 10…
Do Not Read Below… All links to the IPTV service were removed…
—————-
But there's something else you want as well. You don't want to lose watching all your favorites when opting into something that's new, different, and low-cost. I suggest watching this video HERE to get more clarity and sign up to get our Free IPTV Setup Guide.
IPTVs like URSA give you a clear path to watching all your favorites online without the same setup as Cable TV. After physically reviewing and testing URSA TV, I gave them a high rating. So you can rest assured that I'm not here to waste your valuable time.
If you want more info on URSA, you can watch the video that takes you through their website and breaks everything down for you. See What Is URSA IPTV Here.
Your IPTV Setup Requrements
There are 4 things needed to get set up to watch TV online when using an IPTV service such as URSA IPTV:
High-Speed Internet Connection. The minimum amount of speed needed is around 30 Mbps. Some IPTVs will tell you less. But more speed is always the best and you need to run a speed test to see exactly how much you are getting. Depending on the compatible streaming device you are going to use, you either click the link above to run a test or install a speed test app. I have over 200 Mbps that I'm getting from Comcast but this doesn't mean I get that amount for every streaming device. You have 50, 100, 150, ro 200+ Mbps all the more better but not necessarily required.
Compatible Streaming Device. Not all IPTVs are created equally whereas many more or less streaming content and use different TV apps that are compatible to specific devices. URSA utilizes 3 TV apps plus a WebPlayer to watch everything inside a web browser. You can use the Amazon Firestick or Fire TV, iOS devices, Android devices, Smart TVs (LG, Samsung w/ internal app store), Apple TV, Mac OS X or Windows computer, Apple TV. You should have a new or fairly new streaming device that's up-to-date
TV App. The IPTV service tells which app to use. They provide the set up info for downloading/installing the app and links (URLs) as well as provide the activation/login credentials to activate and use the app. URSA uses three 3rd-party apps and a WebPlayer. They tell you on their website what devices are compatible with each app. Windows users must use the WebPlayer app. The free 3rd-party app can be downloaded/installed with or with an URSA subscription. But a paid subscription is needed in order to watch TV online
IPTV Service Provider. URSA IPTV is the name you should aways remember and website go to should an issue ever occur. They deliver all the streaming content such as live channels and VOD movies/TV series. The TV app connects to the IPTV service for you to watch everything on your streaming device. The IPTV service, in this case URSA, also provides the activation/login credentials. This will activate the app to watch all the streaming TV content that comes from URSA. This what the URSA IPTV review covered, both the app and IPTV service.
Review of URSA IPTV – Streaming Content, Channel Delivery, Performance, Usability/Interfacing & Support
There is nothing hard about setting up an IPTV service with a TV app to watch live channels and on-demand streaming content. Most of them made it extremely easy for newcomers to watch Internet TV. The only ones who struggle are individuals not that familiar with the Internet and/or their streaming device. If you never downloaded anything from the Internet, don't worry. There are videos and step-by-step instructions. All you have to do is following them.
Anyone worldwide can access the same streaming TV content no matter where they live or travel to. As long as a good Internet connection can be made with at least 30 Mbps download speed. Because this IPTV has a No IP Lock system, you can use a VPN service to hide your IP address if you want.
I highly suggest connecting an Ethernet cable to your primary streaming device. In other words, the streaming device or television you will be watching most of your TV on. The Ethernet cable will give you a much faster Internet connection than a WiFi connection. Fire TV and Firestick users can purchase an Amazon Ethernet Adapter for Amazon Fire TV Devices. All other streaming devices can use a WiFi connection.
Although I did not test any other device outside my Amazon Firestick, this No IP Lock IPTV service lets you connect any compatible device to URSA when traveling. There are many IP Locked IPTVs out there that only allow you to use a smartphone when traveling. So consider this one of the upsides to using URSA whereas there are no restrictions on which device you use when traveling.
Now we are going into the core of our URSA IPTV review to help you understand further what you are getting.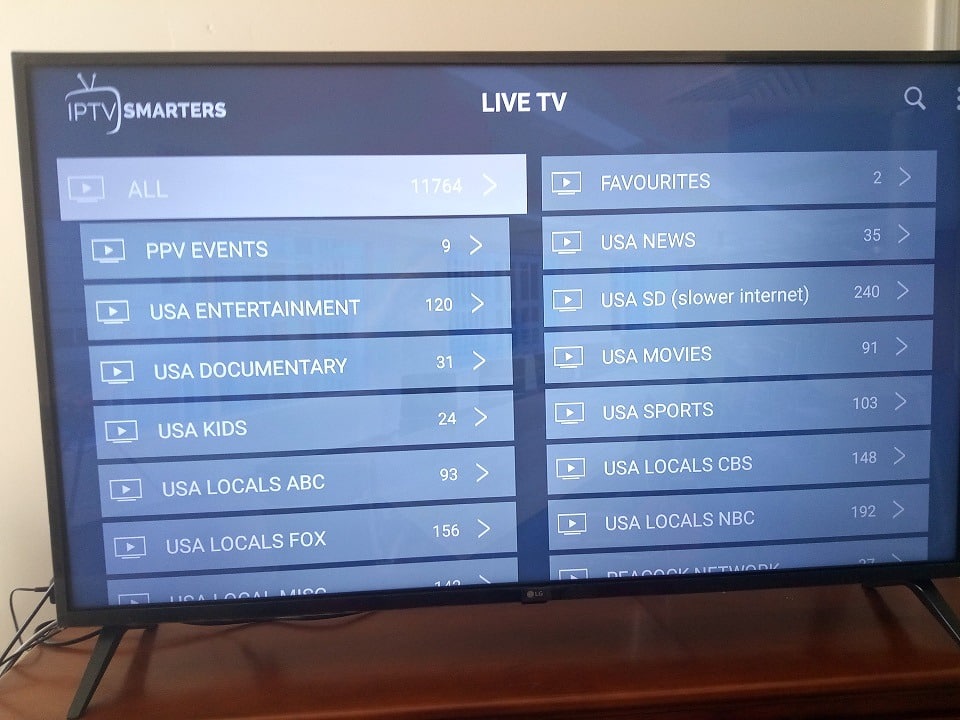 URSA Streaming TV Content & Channel Delivery
If you love having an abundance of live channels and VODs, URSA streaming TV does not fall short of the mark. There are over 12,000 live global channels coming from the US, CA, UK, Australia, Ireland, and about 20 other countries. So if you are bi-lingual or multi-lingual, all the more entertainment enjoyment.
Live channels include premium channels from all the major television networks for movies, sports, news, etc. As for local channels, not all of them are included for each US city. And I'm not sure if all cities in the US are included. URSA also delivers PPV, adult 18+, 24/7 shows, complete sports package, music, and religious channels.
They also deliver well over 5000 VOD TV series and movies which include new releases and genres. I couldn't possibly test all the streaming content in a short time. When clicking a live channel to play the delivery was quick to load and play. The Picture quality was crystal clear HD (1080 or higher). URSA also delivers streaming content in 4K and 8 K.
Like any IPTV service, there will be channels that don't play but I only experienced this with some UK channels out of many not working. Again, I did not test 100s of channels from the US and other countries. You can see what I tested in the video review when clicking the button within the star-rated review above.
The best thing to do is enter into the free trial to test everything for yourself. I'm from the US so I tested more of those channels than other countries. You on the other hand have other interests and therefore should opt into the free trial to test for yourself. I'll tell you more about how to get the trial later on.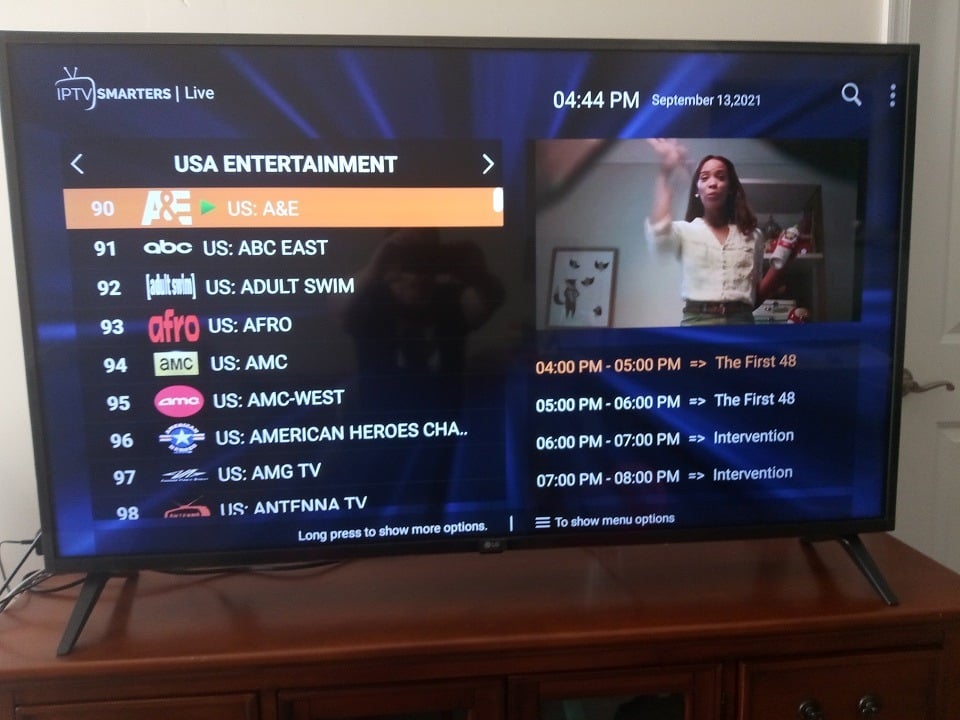 Performance, Usability & Interfacing
Good performance has a lot to do with adequate Internet connection speed also. For the short time I had with the free trial, I did not experience any buffering issues. But there's no IPTV service that's perfect. However, when an individual experiences ongoing buffering issues the problem is most likely on their end. Should you encounter this issue, there are some things you can do to either reduce or eliminate the problem.
There is no manual that will guide through the TV app connected to URSA IPTV. Everything is self-explanatory whereas some things are just trial and error. Newcomers no doubt will take a little longer to get familiar and figure things out. Then again, you can also contact support if help is needed or have a question.
Overall the performance was good, usability was easy for me and interfacing was fast and smooth. Searching and finding what I wanted to watch came easy. And the Search tool helped as well. The VOD streaming content played either quickly or fairly quickly. The audio was equally as good as the picture quality.
You will see the live channel preview play the TV program whereas you can click the channel name again to get full screen with crystal clear picture quality. The feature enhancements did well but I question the Record feature. I will go into features enhancements later on.
Support
Firstly, there is no customer service/support phone number. You have two options to get support: 1) Contact Form; 2) Chatbox. I always prefer using the chatbox. Usually, you can get a live agent to reply back to you immediately. Before and during my URSA IPTV review, I contacted them a few times via chatbox. My questions were answered fairly quickly. Just give the agent a little time to reply back.
I don't know if there will be a live agent available 24/7. But if that's not the case, you can still leave a message and they will get back to you. You will need to leave your email address in this case.
Feature Enhancements
There are many feature enhancements included. I have listed some of them below…
Preview/Full Screen
Search Tool
Add to Favorites
Time Shifting
MultiScreen (up to 4 PIP)
Record? (not enough testing)
Parental Controls
EPG (Electronic Programming Guide)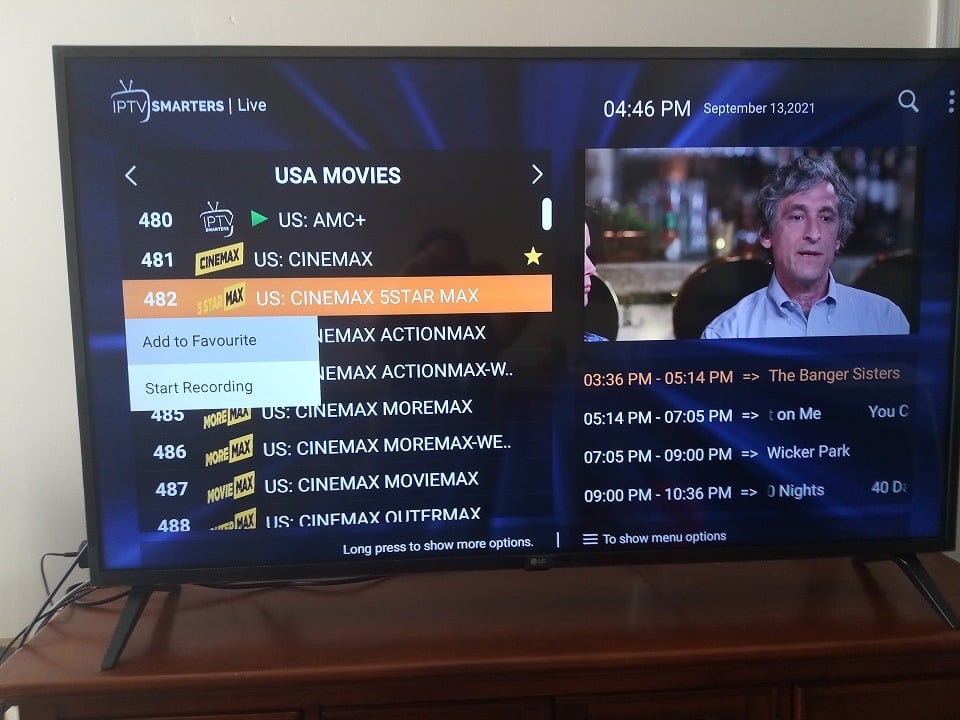 As for the record feature, I did test it on my Amazon Firestick and made a short recording. However, my Firestick didn't have the space to store recordings and messed up my Firestick home screen display. I had to delete the recording to bring things back to normal. There was no cloud storage that would have made the recording feature work.
You need external storage to store all recordings. As for other devices, I did not test them with the record feature. Computer users must use the WebPlayer app that opens in a web browser. I don't know if the record feature is included. If so, then the computer should have the storage to hold recordings. But I would use an external hard drive to store all recordings so that the computer doesn't lose its storage or memory space.
Countries/Languages Included
You can find this list of countries with channels delivered at the URSA IPTV website (see Channel link).
USA
CA
UK
Latino
Africa
Argentina
Australia
Caribbean
France
Indonesia
Asian
Brazil
Filipino
Greek
India
Ireland
Spain
Portuguese
Vietnam
Indonesia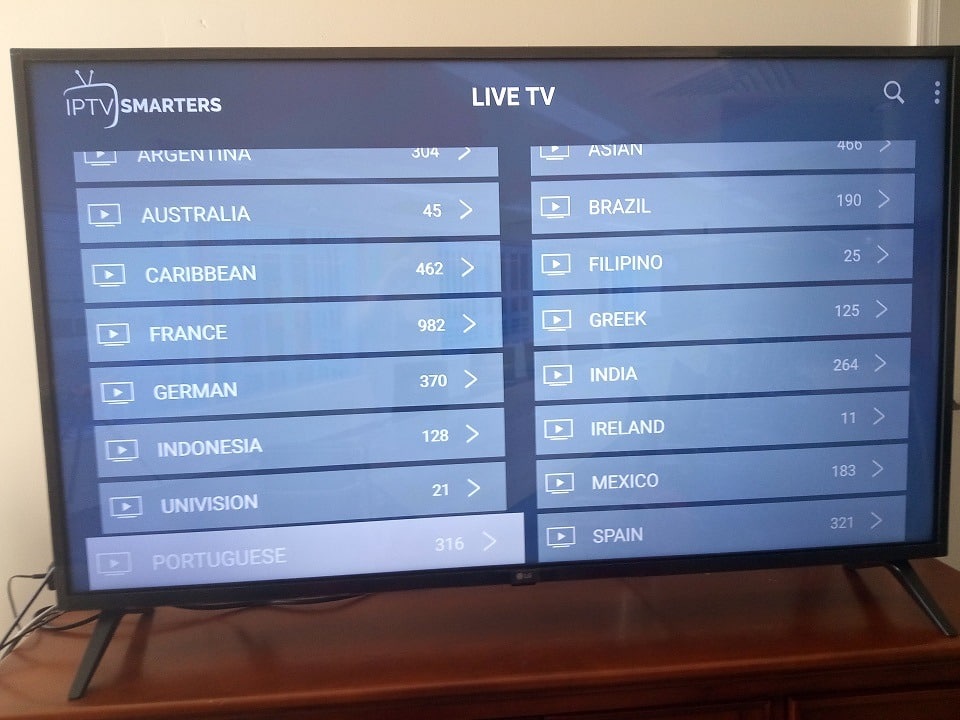 Compatible Streaming Devices/Apps
I'll break down the compatible devices per TV app that you can use. You will find the same info when visiting the URSA IPTV website (see Setup Guides).
IPTV Smarters Pro App – Amazon Devices (Fire TV, Firestick); Android Devices (Phone, TV, Box); iOS Devices (Phone, iPad, iPod); Smart TVs (Samsung (Tizen OS) & LG (webOS)
iplay TV – Apple TV
WebPlayer (web browser) – Windows computers
You can connect up to 5 devices. However, you will only see up to 4 devices in the subscription packages on the URSA website home page. You can add the 5th device when going to the order page. More than 1 device can be connected simultaneously so that everyone can watch something different from the other person.
You'll receive an email with info including the activation/login credentials. This will include the username, password, ua-iptv URL, other URLs (WebPlayer, Smarter App, AppPlayer, M3u VLC Player, EPG), and Discord URL.
You will want to sign up and join Discord which is some kind of social platform where you also get the following:
You get daily updates about:
Newly Added Channels.
Newly Added Movies & Series
NFL, PPV, NCAA and All other Sports Schedule and Timing of games, fights and matches
Any other useful updates
Whether you want to connect compatible smart TVs or streaming devices, you pay the subscription with 'x' number of devices. Leading up to my URSA IPTV review, I was told by support, this is a No IP Locked IPTV service. This means you can connect any streaming device to URSA when traveling near or far.
You are not restricted to using just a mobile device when traveling.
Benefits
Watch all your favorites anyplace, near or far
Access to many popular TV networks (movies, news, sports, and more)
12,000+ channels (USA, CA, UK, Ireland + 20 other countries [see Channel list on website])
5000+ VOD movies and TV series w/ new releases, seasons, and episodes
Watch PPV events, 24/7 shows, Adult, CatchUp TV, religion, etc.
Huge live sports package (pros, college, international & seasonal sports [NFL, NBA, MLB & NHL])
Something to watch for the entire family
Connect up to 5 streaming devices at one time
Many feature enhancements such as PIP, record, Add to Favorites, and more
Crystal clear picture quality – HD 1080p, 4K, 8K
Free trial to try before you buy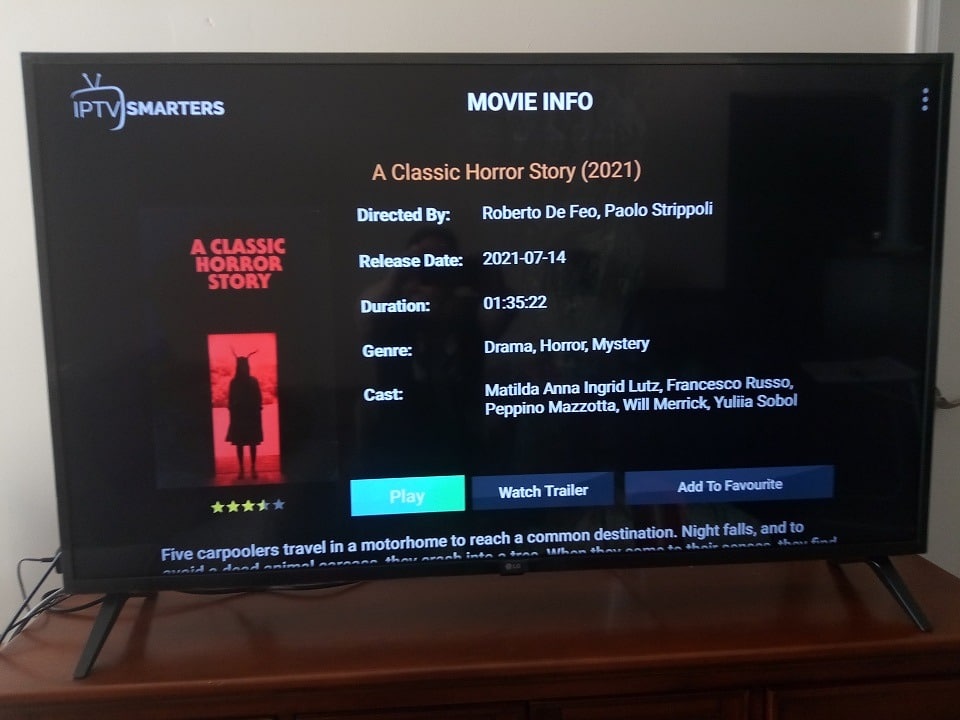 In my URSA IPTV review using my Firestick to test the IPTV Smarters Pro app connected to URSA, everything worked for the most part. But keep in mind there was no extensive test during the 24h trial.
As for other compatible devices, again you will need to test the record feature. Also, I did not test the WebPlayer app. Only Windows computers can use the WebPlayer so that I was told to watch the streaming content online via a web browser.
URSA IPTV Trial, Subscription Plans, Money-Back Guarantee
You will soon see that URSA is very affordable and even lets you test everything in a free trial. And they do allow refund requests should you decide to change your mind after paying the subscription. I recommend that you opt into the free trial to test everything yourself before shelling out any money. IPTVs are not for everyone and as I said earlier none of them are perfect.
24H Free Trial
Unlike most IPTV services that indicate there's a trial on their website, URSA does not. You must make a request. Just use the chatbox to request a free trial and they will email you the info. This is what I did when making the URSA IPTV review video. The live chat agent sent my free trial email immediately after providing my email address.
If you don't see the email, be sure to check your Spam or Junk mail folder. You will need to move the free trial email to your regular email inbox where you normally get all your emails. Same thing if you decide to enter into the subscription and not the trial.
You only get 24 hours to test everything which is not a lot of time so make good use of that time when testing. Once the trial ends and you are happy with what you experienced, you can pay any one of the many subscription plans as follows:
16 Subscription Plans
You get access to the same streaming content for any plan you choose.
One Device Connection
1-Month: $10.00
3-Month: $9.00
6-Month: $8.00
12-Month: $7.00
Two Device Connections
1-Month: $13.00
3-Month: $12.00
6-Month: $11.00
12-Month: $10.00
Three Device Connections
1-Month: $16.00
3-Month: $15.00
6-Month: $14.00
12-Month: $13.00
4 Device Connections
1-Month: $19.00
3-Month: $18.00
6-Month: $17.00
12-Month: $16.00
Note: You can add a 5th device once you get to the order page to choose your subscription plan. You don't see 5 devices on the URSA TV home page.
As you can see, you can choose the number of device connections, and the number of months. Once your subscription ends after 1, 3, 6, or 12 months, you need to get back to the URSA IPTV website to renew your subscription. You don't have to choose the same subscription. Or you can decide not to renew at all if you want. There is no recurring or automatic billing.
Money-Back Guarantee/Refund
Many IPTVs that offer a free trial doesn't allow refund requests. URSA IPTV is one of them and this is why they encourage you to enter into the free trial first. You can read the Refund Policy (see About link) when visiting their website. So keep this in mind should you decide not to use the free trial.
URSA IPTV Review – Pros & Cons
PROS
After conducting my URSA IPTV review, I have determined the upsides outnumbered the downsides. There's no argument in getting a huge number of live channels throughout the world from many different TV networks. And the same can be said about all the VODs to watch entertaining movies. But if TV series is your thing, you get a bundle there as well.
You get the top networks for movies, kids, news, sports, and much more. On top of that, you also get access to PPV events to watch all the fights/boxing matches, CatchUp, 24/7 shows, and so on.
The feature enhancements included only make watching TV online better such as PIP, Add to Favorites, Time Shifting, etc. The EPG (Electric Programming Guide) lets you load the TV guide with a category of channels. For instance, all sports or all USA channels. You can do the same for local channels from your city in the US.
You can connect up to 5 compatible devices at one time so that everyone in your household can watch something different. And you can watch everything on the go when traveling in and out of your location or country. Subscribers can use a VPN service to hide their IP addresses (optional). Having fewer restrictions makes watch Internet TV more enjoyable.
When you see the subscription fees, you immediately determine the big cost savings. The free trial without requiring a credit card first is a no-brainer to giving this IPTV service a try.
CONS
When entering the VOD Movie category, none of the trailers I tried worked. I only tested a few so I don't know if non-working trailers apply to all the movies. However, the movies I tested did play in crystal clear picture quality. I suggest watching my URSA IPTV review video that shows everything inside the TV app.
A number of UK channels out of many did not play. But you can always contact support to find out what's going on and see if they will fix those channels. There may not be enough UK TV viewers which explains why those channels are not as important.
The controls for movies and TV series can be a little tricky. I tried to fast forward, rewind (time shifting), and sometimes the movie would flip to a different movie. So I played around with this until I was able to use those features. You can flip to other movies (previous & forward) when watching a movie online.
Windows computer users can only access the URSA IPTV streaming via the WebPlayer to watch everything from a web browser. Perhaps this isn't a downside but I don't know if everything is included like the TV app for other devices.
There is no money-back guarantee but you are encouraged to enter into the free trial to test. I did not experience any buffering but I didn't play live channels long enough. So if you experience buffering from certain channels or consistent buffering, you need to check your end first. I suggest watching this video to learn how to eliminate buffering.
Conclusion
I have reviewed and tested many IPTV services in the past and not all past the grade. Therefore, I don't waste my time writing a review. URSA IPTV did pass the grade in many ways which I explained further back. When looking at the benefits, you can see what's available compared to what you have already or don't have.
You get all your streaming content under one roof, meaning live channels, on-demand movies/TV series, and everything else in between. Sports fans should love this IPTV service including TV series and movie buffs.
If you live in a country outside the US or want to watch channels from your homeland and living elsewhere, this is how you can do it. Just visit the URSA website and check out the Channels list to see what countries are included. Or, see the countries posted above if you have not already.
For the price and what you get in return including what this review revealed, you might be pumped to giving this IPTV service a try. Why not! The free trial cost you nothing. The only work you need to do is getting set up (downloading/install the app and/or apk) and activation to watch TV online. Once that's completed, it's clear sailing whereas you have a world streaming TV content at your fingertips.