How to Get All Your Favorite Channels, Networks, TV Shows, Movies, News, and Sports From One Source Online
Streams for Less Review for Individuals Searching for TV Alternatives. Ever heard of IPTV services before? If not, then it's time you get a crash course. With the high cost of cable and satellite TV still on the rise, many people are searching for ways to lower their costs. But not without losing favorite TV channels/networks they've grown accustomed to watching. This is where Stream for Less TV tries to answer the call.
IMPORTANT UPDATE:
Many if not all SO Player IPTV services closed their doors to new customers. We do not know why entirely but they may have reached their total number of subscribers allowed. Current customers are able to renew their subscriptions right now. But for how long we don't know. This appears to be a permanent decision. The good news is there's a new SO Player IPTV service provider for new customers to sign up…
DO NOT READ BELOW THE LINE… We Removed all links to the IPTV service for SO Player…
————————
StreamsForLess, allows TV viewers to watch all if not most of their favorite TV shows online. But that's not all. Subscribers get access to 100s of premium live channels including 1000s of on-demand videos. They deliver many popular movie networks, kids networks, sports networks, and news networks from live channels.
RENEWAL DATE

Streams for Less and NoLimitStreams (same ownership) are no longer in service. If you can no longer renew your subscription or looking for an alternative IPTV service that uses SO Player and/or Nora Go, follow the steps below…
DO NOT send us a Renewal, Cancellation, or Support message regarding Streams for Less. We are NOT Them. You landed on a product review page. We are getting an influx of messages like these. Read Below for Additional Info and Make a Decision…
If you can not renew your subscription anymore, can't log into your 'My Account' to renew anymore, can't contact support for help anymore, then you need to start over and choose another IPTV service. No one can help you. You are wasting your time trying to renew when the service is no longer available to you.
We test and review many IPTV services like Streams for Less and know what we are talking about. You have to trust us. Click the link below to sign up for another IPTV. You can opt into the Free Trial or subscription. You get the same everything pretty much if not more.
Stream for Less & No Limit Streams Renewals, you must start over and sign up to a similar IPTV Service Provider. Click below…
Sign Up to Alternative IPTV Service for SOPlayer & NoraGo (Free Trial or Subscription)
Clicking the link above will give you an IPTV service with the same everything as StreamsForLess.
NOTE: Switching from the old IPTV Service to the new IPTV Service using the SO Player or Nora Go. After you subscribe to the new IPTV service, expect a few emails from them. One email will have your activation/login credentials (Provider ID, Device Pin Codes, Username/Password). Enter the required credentials into the app.
If an error message occurs and you can't activate the SO Player or Nora Go app with the new IPTV service, just contact the new IPTV service for support. You want them to remove your old IPTV service from the app on your device so that you can use the new IPTV service to watch TV online.
If you installed the NoraGo app and the new IPTV service requires the SOPlayer app, you need to uninstall NoraGo and install SOPlayer. You can ignore everything above. This won't work when uninstalling and then re-installing SO Player thinking it will remove the old IPTV service from the app.
If you never signed up for an IPTV service in the past, click the link below…
Setup Instructions For New and Experienced IPTV Service Users
1. Are you totally new to watching TV online and don't have a good understanding? Go no further. Click Here to Sign Up and Download Our Free Guide: How to Watch TV Online & Quick Setup Guide.
The information will help you understand better and provide what you need to know including getting setup. It also includes a description of web TV services that can be used to watch TV online. But there's a wealth of other information included that's important to know.
2. Decide which compatible streaming device to use: Amazon Fire TV/Cube/Firestick, NVIDIA Shield, Apple TV, Computer (Windows or Mac), Mag Box, iOS Device, Android Device (TV/Box/Tablet/Phone). Not compatible: Xbox, Roku, Chromecast, PlayStation, other gaming devices. Only compatible devices listed can be used.
Note: Best Streaming Device to use are streaming media devices such as Amazon Fire TV, Fire Cube, Fire TV Stick, Apple TV, or NVIDIA Shield. If you don't have any of these devices, I recommend buying the Amazon Firestick. It's the cheapest and yet very powerful and entertaining – Click Here to Learn More.
3. Download Free App: Click Here to Learn How to Install Nora Go on Smart TVs (Samsung & LG); Click Here to Install SO Player on All Other Compatible Devices (see above). Do Not install both apps to the same device.
Note: Nora Go and SO Player are free app downloads. They are not standalone TV apps that deliver live channels and VODs. That streaming content is delivered by the IPTV Service Provider which is indicated in the next step. Both apps are not subscriptions. If you already have one of these apps installed on your device, then choose an IPTV service provider below. But if you already used that app with another IPTV service, then you must remove your device from that IPTV service – Click Here to Learn How to Remove. Go to step 4 below…
4. Subscribe to IPTV Service Provider (Trial or Subscription): If you're going to use Nora Go on Samsung or LG smart TV, Click Here to Sign Up (Trial or Subscription) to the IPTV Service or Click Here to Read Full Review. If you are going to use SO Player for the Amazon Firestick or any one of the other compatible devices listed above, Click Here to Sign Up (Trial or Subscription) to this IPTV Service.
Note: You can sign up for the free trial (no credit card) or subscription. I recommend that you start with the free trial first to test everything on your device. These services deliver live channels from many popular networks, VOD content, and plenty more. Remember the name of the IPTV service and how to find them online. They are not affiliated with any cable/satellite TV and there are no Geo-restrictions. Anyone worldwide can get access. There are no local sports blackouts.
What to expect: If you subscribe to an IPTV non-recurring billing package, then you must renew the subscription yourself when it ends. Otherwise, do nothing and you won't be billed. You can simply move on or choose another time to renew.
When signing up, you will be taken to an order form where you must enter your email address and create a password. Remember both because you will need them to sign in to your IPTV account.
The IPTV account is where you'll find your order/account information, activation/login credentials with Provider ID, Device Pins Codes, Username (all numbers), and password (all numbers). This is where you go to renew your subscription.
When visiting the IPTV service website, usually you will see a 'My Account' link or 'Account' link. This is where you go to sign in to your account.
When you complete the signup process, you are usually taken directly to a page with your account/order information and activation/login credentials used to activate the app you installed. Just scroll down the page to see all the remaining information.
You should also receive some emails from the IPTV service. If you don't see any emails, look in your Junk/Spam folder for them. If any are there, just move them to your regular email inbox.
YouTube.com is a good place to learn new things. Go there to search for video tutorials if you need to learn something new. For instance, use YouTube to learn your streaming device. But contact your IPTV service for support regarding anything directly related to them or the app.
DO NOT CLICK BELOW THE DOTTED LINE – Streams for Less is No Longer Available to New Subscribers – All Streams for Less Links Have Been Permanently Removed Below.
———————————————
You can watch on-demand movies and TV series with episodes. CatchUp TV with DVR is on the way. Subscribers get many of their favorite networks to watch online. Individuals who love watching movies get access to live channels with movie networks as well as on-demand movies.
Those who like watching TV series can watch on live channels and on-demand TV series. As for sports fans, they get access to many of the popular sports networks and links for ballgames. In other words, there are two ways to watch seasonal sporting events (MLB, NFL, NBA, NHL, etc.).
Streams for Less TV without Any Set-Top Box
This IPTV service doesn't use any set-top box which means there's no major setup. In fact, you don't need any hardware other than a compatible streaming device. More on this later. You simply sign up to subscribe, enter your activation and login credentials to activate the free app download, and you're all set.
In my Streams for Less Review video (see below), you'll see me demonstrate the app and IPTV service (StreamsForLess). But first, I cover the website information to get a better understanding. There's another video tutorial on how to download and install the app on a device such as the Amazon Fire TV Stick.
Click to play review video #2 below to watch this IPTV service and app in action. Also see live and on-demand streams play. To get an introduction of this with important information, click here to watch review video #1.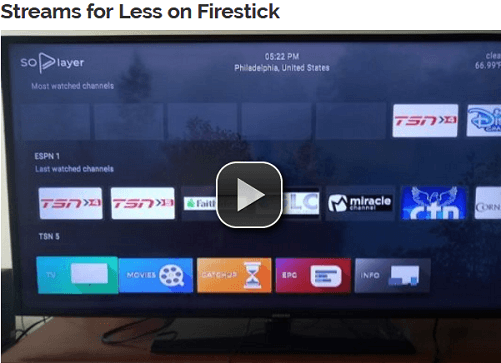 Get Your IPTV Service Free Trial or Subscription Here
What is Streams for Less and How Does it Work
This IPTV service is similar to other streaming TV subscription services such as Hulu, Amazon Prime Video, Netflix. However, you get more streaming content and advantages.
IPTV services allow access to both live and on-demand streaming content across a number of streaming devices. You can watch sports and PPV events without an extra charge. Besides USA channels, there are channels available from other countries such as Spanish, French, UK, and Filipino. There's no geo-restriction which means everyone can get access no matter where s/he lives in the world.
Then there's the EPG (Electronic Programming Guide) which is a TV guide that lets you group a category of channels to view inside the EPG and watch them.
Subscribers can watch everything on their TV, Amazon Firestick, computer, smartphone, and other compatible devices. If you have an HDTV and have the Amazon Firestick, then you're ready to go. If not, I suggest you get one. Many streaming TV services today are compatible to the Amazon Fire TV or Firestick.
As for smart TV users, the required Streams for Less TV app (SO Player) may or may be found when searching for it inside the smart app store. If this is the case, then use or purchase the Firestick.
Once you decide which compatible streaming device you want to use (see further down), signing up to StreamsForLess. service comes next. There are instructions on how to download and install the app on your device. It doesn't matter where you start first, download the app or sign up to the IPTV service.
When I completed the signup process for the free trial, I received two emails immediately. The email had my activation/login credentials with Provider ID, Username, Password, and 4 Pin codes. Also included was my account information and links to download/install the SO Player app to different devices.
By the way, you can download/install the app directly from the StreamforLess website. There are also instructions for the device that you want to use. Since I could not find the SO Player app in my Samsung smart TV app, I had to use my Firestick which is connected to my TV.
After entering the activation/login credentials, the SO Player app was activated. This process got me inside the app to see all the content available to further my Streams for Less review. If you can point, click, use remote control, there's nothing you can't do.
Who is it For? It doesn't matter where you live in the world. No individual, IP address, or country is restricted from using this IPTV service. The streaming content included will serve the entire family, both young and old including children.
However, there's one thing I should note and that's the adult content included. The content is locked by default. Still, I wished they didn't include it. You get a four-digit pin code via email that unlocks the content. Just be sure your children don't get access if they are going to use this service.
Whether you are a TV series or movie lover, sports fan or fanatic, or just like watching the news and various TV shows, there are over 500 Streams for Less TV channels and 1000s of on-demand content available. If you are bilingual or multilingual and speak English, Spanish, French, or Filipino, then there are more reasons to try this service.
Start Watching TV Shows/Series, Favorite Channels/Networks with Free Trial Now
Streams for Less TV Channel List & Other Content
When inside the app (main screen), there are 5 icons (buttons) at the bottom as follow:
TV (US, UK, Spanish, French, Filipino live TV channels/networks)
Movies (on-demand movies & TV series)
CatchUp (no content at this time)
EPG (TV guide)
Info (device/account information)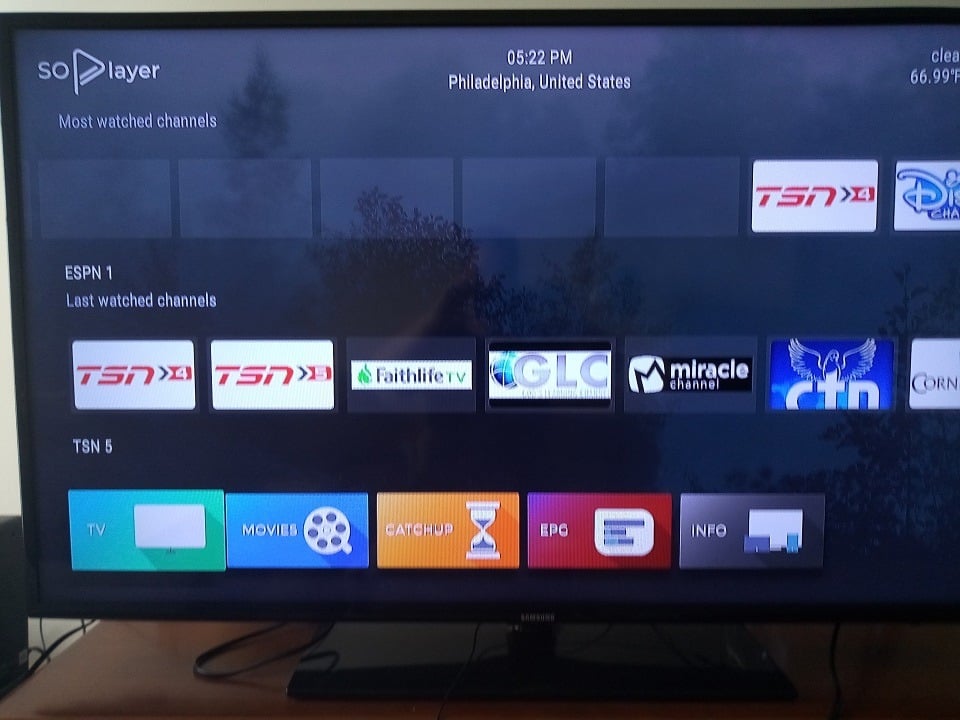 Without clicking any of the 4 icon buttons above, you can highlight each one to see some of the content. The app tracks what you watch online and will show Most watched and Last watched. You can click the name of the StreamForLess channel/network to start watching it.
When highlighting the EPG icon button, not clicking, a list of upcoming shows for the next hour from you most watched channels appear.
When clicking the TV icon button, a channel plays immediately. In my Stream forLess review, I was using my Firestick remote. When clicking the button inside the ring of the remote, I was able to make the TV menu appear. Here's what appeared in the left column:
Search (feature)
All
English
Sports
ESPN +
PGA Championship
Spanish
USA
French
UK
Filipino
Adult (refused to review)
All Day
Music Channels
Gospel
Unfortunately, I could not play any content from ESPN +, PGA Championship, All Day (one listing), Music Channels, or Gospel. As for ESPN + and PGA Championship, I was told by support when the stream becomes live you can watch it online.
When selecting any one of the categories above with working content, you will see 3 columns in the middle that shows the names of all channels/networks. Many of these are popular networks that you find on cable and satellite TV. Just click a channel/network name and it plays the live stream.
Over to the far right, are a list of numbers in descending order starting with 1. I'll call these numbered pages or sections. Click a number and a set of channels/networks appear. This allows you to move forward or backward to a series of channels/networks that you want to see.
You can search a channel/network by name or scroll up/down/ left/right, or click any number to find what you're looking for and watch. Here's where the Streams for Less review gets more interesting.
Movies, TV Shows, News & Sports
If you are really into movies, you'll get access to many if not all the major movie networks. Same thing for news networks and other networks to watch shows, soaps, sitcoms, and talk shows. Movie lovers get access to tons of on-demand movies including recent movies and many top movie networks.
When clicking the Movies category button, the following appeared:
Search tool (search movie or TV series by title)
All Movies
New Releases
TV Shows (w/ drop down window – many TV series listed)
Different Genres (Action, Family, Comedy, Classic, Thriller, Horror, Romance, Drama, Sci-Fi,, Documentary, Christmas, PPV events, Workout)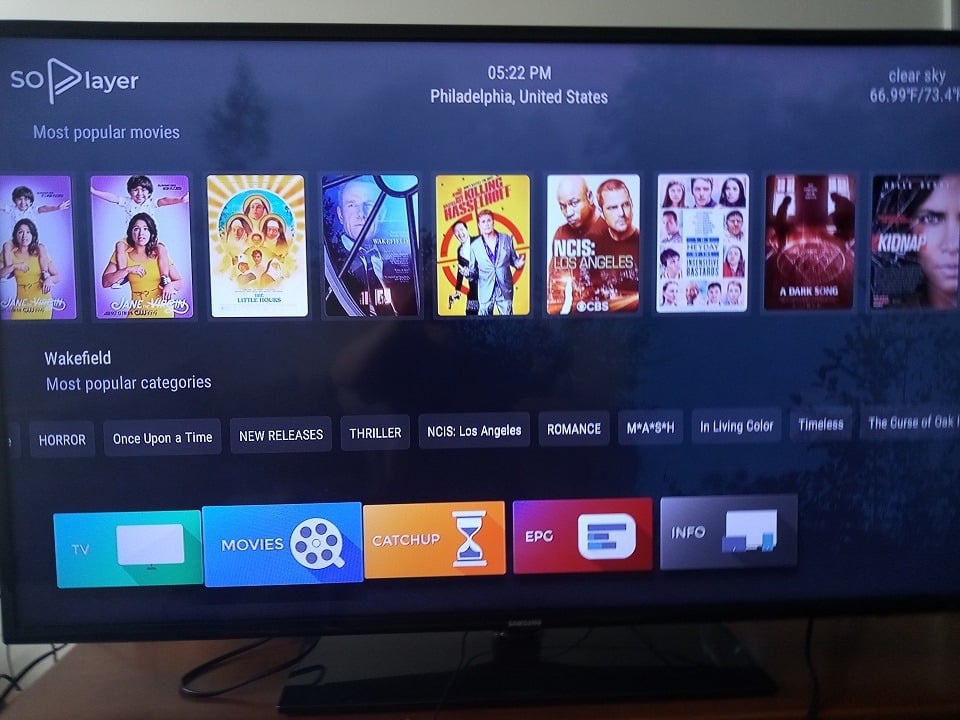 If you love sports, many of the popular sports networks are there including PPV events. I mentioned before there are on-demand PPV Events in the Movie category. This means boxing fans can watch any special fighting event that s/he missed or want to watch again. Just like all the other streaming content, you get everything in HD picture quality.
Start Watching All Your Favorite Sports, TV Shows, News, and Movies Now – See Free Trial
Compatible Devices and SO Player App
Subscribers are allowed to connect up to 4 devices simultaneously to the StreamsForLess TV service. If you have more than one household TV, connect a Firestick to each so that family members can watch something different.
You can only use one modem/router or WiFi network with this IPTV service. Using another modem/router or WiFi was said to cause a shutdown of the service. Just call support if you want to use a different IP address outside your initial setup.  As for mobile devices such as smartphones, only one WiFi network can be used. I have not tested this in my review, so you might want to contact support to find out more.
Below is a list of compatible devices that can be used to connect to the service. As you can see, other media devices are not on the list such as Xbox, Playstation, Chromecast, Roku, etc. Those devices are not compatible. You'll want to think ahead about which device you want to use. Our Streams for Less review didn't test all the devices below.
Amazon Fire Stick
Nvidia Sheild
Android devices (smartphone, tablet, Android box 5.1 or higher)
Apple iOS devices
iPad & iPhone
Windows PC
Mac computer
When visiting the TV StreamsForLess website, you will come across a section with app download instructions for devices. See below…
If you only have a Windows or Mac computer and want to watch everything on your TV also, just connect an HDMI cable from computer to TV. Learn More Here. Or you can connect wirelessly if your computer is capable and you have a smart TV.
Streams for Less TV uses the SO Player app. This is a free download and doesn't require signing up for anything or subscribing to download the app.  To make clear, the app doesn't deliver any streaming content. The only purpose is to connect your device with the app installed on the IPTV service to watch TV online.
Many individuals focus too much on the app and either forget or don't realize the IPTV service is needed. They tend to forget the name of the IPTV service. Don't become one of them. When signing up, they email everything needed to get setup including account information. Don't lose that email, you'll need it again.
There are instructions and videos on the Stream for Less website. And you can download the app there.
Stream for Less TV – EPG (TV Guide)
You'll like the StreamForLess IPTV EPG (Electronic Programming Guide). There's a little trick I want to tell you about. When opening the content sections from the TV category, simply choose one of the sub-categories. For instance, I clicked Sports to see all sports channels/networks. Then I played a sports channel.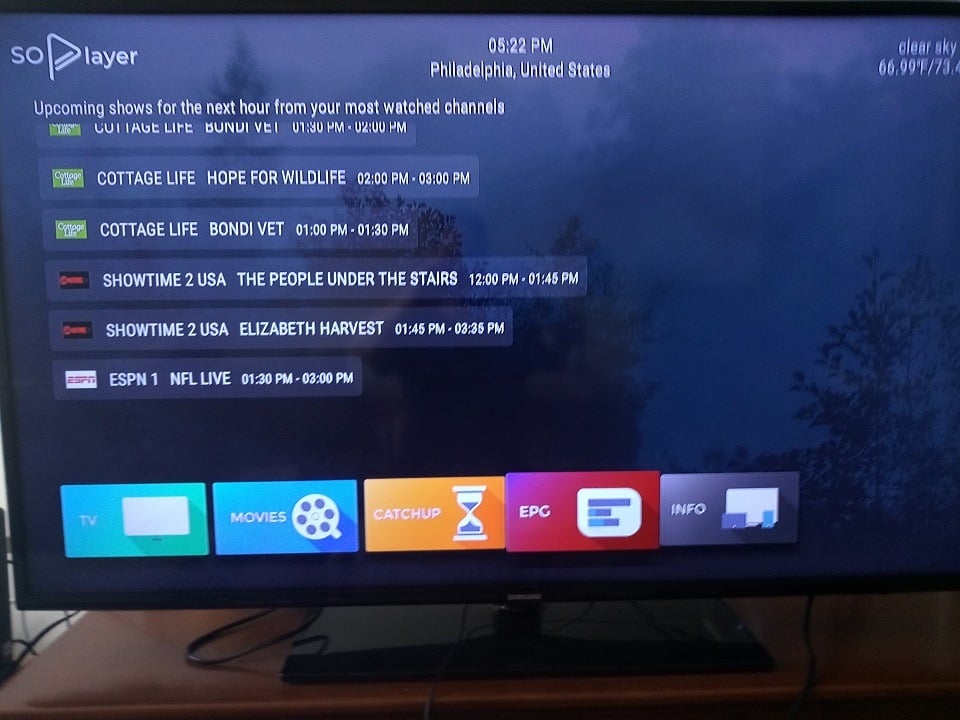 When using my Firestick remote and as the sports channel played, I pressed the 3-line button. This took me directly to the EPG with all the sports channels/networks appearing. You can do the same thing for anyone of the other channel sub-categories such as USA, Spanish, UK channels, etc. The next part of Streams for Less review will help you more in making up your mind to try or move on.
StreamsForLess Free Trial, Subscription Cost, Money Back Guarantee & Support
There is a 3-day trial, no credit card, or information needed to get access. The free trial provides full access to all the content no matter where you live in the world. I suggest opting into the Streams for Less TV free trial first. That way you can test everything — the IPTV service and app on your device before shelling out any money.
Subscription
One Month Subscription: $25.00
Once the one month ends, your credit card won't be charged again. This means you have to subscribe again when paying another $25.00 for one month. There is no recurring billing unless of course, they decide to add one. Different IPTV services have non-recurring or recurring or both types of billings.
As for non-recurring billing, your credit card won't be billed again without your permission. This is how their system is set up which protects you from additional charges when canceling the service for good. Just let the subscription run its course to the end.
Money-Back Guarantee / Refund
I was told that customers can request a refund but it depends on the reason. I was also told a refund can be granted around 15 days after the subscription is paid, not before. Contact support for more details.
Some IPTV services with free trials have no money-back guarantee, some do, and some let the subscription continue to the end when canceling whereas there is no automatic billing.
I have tested support a few times when using the chatbox. Generally, this is the best option if looking for a quick response. If the representative is online, s/he will respond to you quickly. Or you must leave your email for them to get back to you.
You can reach support 3 ways: 1) Chat Box; 2) Contact Form; 3) Phone Number
Keep in mind that you cannot call them to request the free trial or pay the subscription. Everything is handled at the Streams 4 Less website. There is additional support in the FAQ section on the website. The information may help answer some of your questions before signing up.
Start Your Subscription or Free Trial Here
Streams for Less Review: Pros and Cons
Pros
There are 100s of StreamsforLess channels that are found under the US, UK, Spanish, French, and Filipino section. These are premium live TV channels from many of the top networks to watch movies, shows, sports, and news. Also included are 1000s of on-demand movies and TV series with many episodes.
You can use the Search tool to search by name or title or navigate to where you want to go. The organization of all the content is second to none when it comes to finding and playing whatever is of interest. Everything is readily accessible to you which doesn't require any manual or learning. Your eyes will take you there and from there you quicking start watching what you want to see online.
The StreamForLess app (SO Player) keeps track of what you watch and makes it easy to find and play the channel or content again. Not only can you watch old movies but most recent movies whereas this section is updated periodically. This IPTV service doesn't leave you with the same old content. From to time to time they add more.
Usually, regularly scheduled TV series broadcast live are available in the Movies/TV Series (on-demand) section after 24 hours they aired. I don't know if this is true for this IPTV service or not. This has not been tested.
There's a wealth of entertaining streaming content for the entire family including many kids networks. Whatever mood you are in you can watch a movie, check out the news, or watch TV shows. As for sports, you can catch all the local, national, and international sporting events. You get access to all seasonal games such as MLB, NBA, NFL, and NHL. Not only that but get access to PPV sporting events also.
The free trial offers free access to all the content and it doesn't matter where the individual lives in the world. The free SO Player app download works extremely well with Stream for Less TV on various devices.
If you have a smart TV and can't find the app in the app store, then use the Firestick. If you don't have one, you can Learn More Here. This wouldn't be an honest Streams for Less review if the downsides weren't included.
Cons
In comes the good and out goes the bad. Well, maybe not or maybe the bad is only temporary. During my Streams for Less review, I found some sections with content either missing or not working. I made a list below:
No content in CatchUp
No Local Channels
No content working in Music Channels/Radio Channels
No content working in Gospel
Some channels out of 100s don't work/play
Some channels have video but no audio
If you were hoping to find local channels from your city included, you'll be disappointed. But understand that local channels just started this year with many of these IPTV services. The ones that do provide local channels don't have all channels from every city and may not have cities included.
I tested many IPTV services with local channels and only 2 out of 4 channels from my city worked. I tested other local cities and the same thing happened. For the few city channels that were available, not all of them worked.  A better solution if canceling cable/satellite TV would be to purchase an indoor HDTV antenna for your HDV or smart TV. Learn More Here.
With an indoor HDTV antenna connected to the TV, you'll get all your local OTA channels from television stations in your area. And you will notice the picture quality much better than what appears on cable/satellite TV.
Now getting back to Streams for Less. There is a section or category called CatchUp / DVR but no content included. I can only guess that sometime in the future they will add this content which will have a DVR feature. You don't do any recording. They record everything for you. Contact support to find out when this content will be available.
None of the content from Music/Radio channels is working. If this is something that interests you, just contact support to see when that content will be available. Same thing for Gospel channels if that's something of interest.
Out of 500 or so channels, it's expected to have some not working in other sections where most channels do work. No IPTV service is perfect and often at times, they need you to report what's not working. I found some channels that didn't work/play and some played without audio. For this you have to, contact support.
Despite these downfalls, my personal interest only includes sports, movies, and news. You, on the other hand, may have other interests. If any of the downsides just mentioned is a deal-breaker, just contact me (Chat Now box) and I'll direct you to another IPTV service that may suit your needs.
In my honest opinion, this IPTV service does serve a purpose and answers the call for many people that just want to watch their favorites without paying the high cost.
Streams for Less Review: Conclusion
If all you want is a web TV service that has all or most of your favorite channels/networks, then put a checkmark next to Stream for Less TV. If searching for a way to watch movies online, news online, sports and PPV events online, or even various TV shows, put another checkmark.
If looking to save money without losing what you love including the entire family, put another checkmark. Simply put, this IPTV service gets a good rating despite some of the downsides. You'll have to weigh the pros and cons to decide whether or not to give them a try.
The free trial indeed makes the decision making a no-brainer, especially when no credit card information is needed. No risk or anything to worry about. With all the instructions, help information, and reliable support, this shores up the loose ends. There shouldn't be any worries about getting setup or getting help later.
When I've tested and reviewed this service, there were no major problems found. The live and on-demand streams were steady and service reliable.  The app, IPTV service, and my device all worked well together. Just make sure you have at least 25 or 30 Mbps Internet connection speed but speed the better. You and your household members can start watching recent movies, live sports (pros, college, international sports), and TV shows right now.
You can be watching your favorites with remote control in hand today. I recommend giving StreamsForLess a try by opting into the free trial to test-run everything. Once the Streams for Less TV free trial ends, you decide whether or not to subscribe.
This Concludes My Streams For Less Review
Click Here to Sign Up, Get Free Trial or Subscription