My Thoughts...
Product Name: ProGo TV
Product Description: No IP Lock IPTV service allows any compatible device connections up to 4 when traveling. A VPN service can be used and recommended. Delivers Live TV, TV Guide, VOD & Series with around 5,200 channels. Also, comes with many apps that include Multi-Screen and Recording. Includes over 400 USA, UK, Canadian & International Channels plus over 300 US local TV Stations such as ABC, CBS, FOX & NBC. Also delivers over 100 documentary channels, 50+ Music Channels, and 100+ 24/7 Channels. Features include Multi-Screen, Add to Favorites, Sort, Parental Control, and more. Recording feature only for ProGoTV Smarters app and Reloaded app, not on Amazon Fire devices. Other apps included Compatible devices such as Computers (Windows & Mac), Smartphones, Android devices, Amazon Firestick/Fire TV, Mag Box. Also, provided - M3u Playlist URL, Enigma2 OE 2.0 Auto Script, ProGoTV Smarters app, WebPlayer app for the web browser. Be sure to use ProgoTV Promo Code to get $10 off--see further down.
Offer price: $30 and Up
Currency: USD
Availability: OnlineOnly
Usability

Performance

Picture Quality

Compatibility

Live Channels

VOD/CatchUp

Sports/PPV

Global Channels

EPG (TV Guide)

Initial Setup

Support
ProGoTV Review
A global IPTV service that highlights USA and English channels. Streaming content sections include Live TV, TV Guide, VOD, and TV Series.  Many channels from different countries available. Can watch movies, TV shows, 24/7, episodes, live channels from any countries available. Can watch PPV Events including Live Sports, Local, Premium, and some Regional Channels. Also, watch ProGo TV from any location in the world with VPN service. No IP Lock — means you can connect any compatible device (up to 4) when traveling. Has 3 subscription plans Features include Record, Multi-Screen, Add to Favorites, Parental Control, Sort, Search Tool, plus more.
Pros
Many countries with channels included
Record, multi-screen, add to favorites, sort, search features
Parental Control
No IP Lock – connect any compatible device when traveling
PPV Events
3 Subscription packages (2, 3 & 4 device connections)
Apps available for different devices plus WebPlayer app and Desktop app
Cons
No low-cost trial or free trial to test but 10$ discount available
Some or many channels from countries outside USA not working
Problem using WebPlayer – Did Not load in web browser
EPG (TV Guide) has no program names per network and cannot schedule to watch upcoming programs
ProGoTV Review: Here's another IPTV service provider worth checking out. But before we dive in, you might be disappointed with them for not having a Pro Go TV Free Trial. However, there is a ProgoTV promo code for 10$ off waiting for you when subscribing to the service. They also include a 3-day money-back guarantee. As you can see, you have 3 days to exercise your right to get a refund if things don't work out.
If you are searching for a way to cut your cable TV cost or just want to add more TV excitement, you might find it here. Not only does ProGo offer a way to save money but keep you watching your favorites when on the go.
NOTE: If you want to skip this review and subscribe now, you need to know how to get set up. Click the Visit Now and Subscribe Link at the top. Don't forget to write down and enter the promo code to get the discount.
When you go to their website, click the Support Desk link at the top right corner of their website. Then click the Device Support button.
What is ProGoTV?
ProGo IPTV is not that much different from any other IPTV service. But this one is a No IP Lock service. You benefit when having the ability to connect any compatible device (up to 4) to their service when traveling. Many IPTV providers out there have IP Lock which only allows you to use a smartphone when traveling.
They use the Internet to deliver streaming live channels and on-demand content across different streaming devices. It's a lost-cost way to watch your favorites online without paid television or video subscription.
An Internet connection and streaming device are needed to watch everything over the web. The user's Internet connection speed should be at least 30 Mbps or more — the higher the connection speed the better. I recommend having 2x or 3x as much speed than what the IPTV service says is minimally required.
You don't need a set-top box or antenna to use this IPTV service. Most households already have a streaming device that can be used to connect with an IPTV service. ProGoTV claims to deliver around 5,100 channels which may be true considering all the countries that are included outside the US. There's something here that many individuals living across the globe may want to take a closer look at.
Anyone across the globe can use Pro Go TV. There are no geo-restrictions, meaning a person's country or IP address won't get blocked and everyone has access to the same content online. That said, you may still want to use a VPN service which I recommend.
ProGoTV Review Video
I created a second ProGoTV review video that takes you inside the app that was installed on my Amazon Fire Stick.  Click the link above under the 1st paragraph to go see it in action. You will see the layout, navigation, content categories with live channels, VOD, countries, etc. There's a lot there to see when watching the video. Then you will watch as live and on-demand streams play.
Any Buffering Issues?
Though some have complained about IPTV services causing buffering issues, 9 times out of ten the issue is on the subscriber's end. If you experience on-going buffering issues when using any IPTV service, watch the video below. Although the video uses the Amazon Firestick, you can apply the methods to any device that's experiencing a buffering issue.
How to Stop Buffering (Amazon Device – Fire TV/Firestick is Demonstrated):
Features/Benefits
Progo TV IPTV Claim to have 5,100+ Total Channels
Over 4000 UK, USA, CA & Many International Channels
Multi-Screen PIP (Picture in Picture)
All Premium UK Channels,
PPV Events
400+ Entertainment Channels & Movies
Over 400+ USA, UK, CA & Worldwide Channels
Seasonal Sports (NBA, NFL, MLB & NHL)
3 hundred or more US Local TV Channels (ABC, CBS, FOX & NBC)
100+ Documentary Channels
50 or so Music Channels
100s of Global International Channels
Over 100 24/7
ProGo IPTV Live Channels, VOD & Countries Included
When opening the ProGo TV app, the home screen appears with the following streaming content sections (icons) with different feature icons:
4 TV Main Icons…
Live TV (all live channels from popular networks from various countries)
TV Guide (EPG)
VOD (Video on Demand including movies)
Series (TV series with episodes)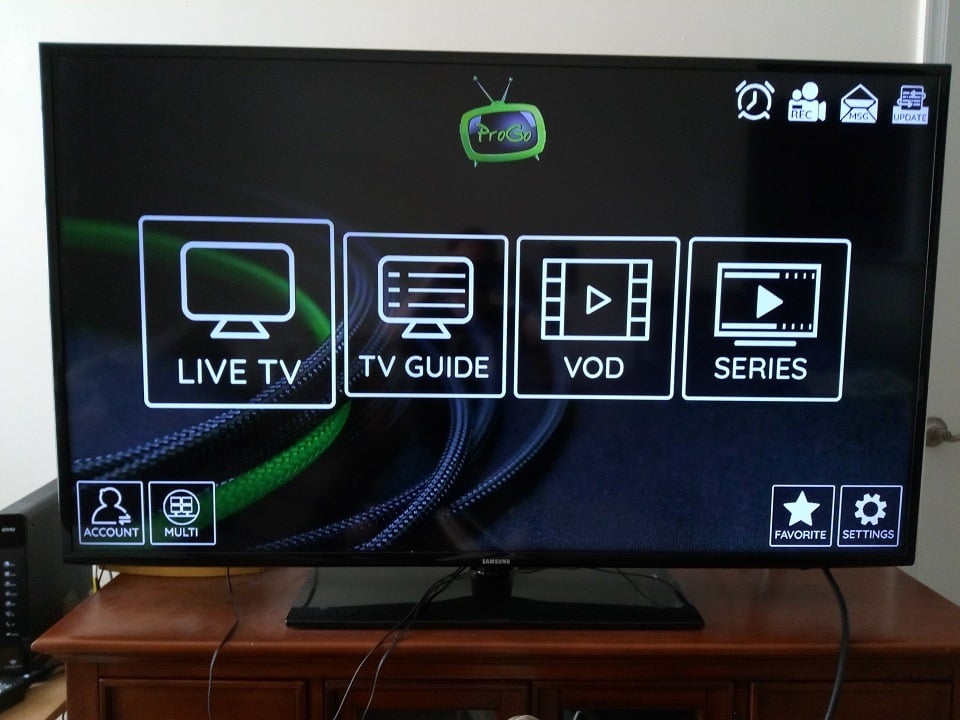 Depending on the app for the device you are going to use, the layout and navigation will change.  But it's unclear if each device with the app connecting to the IPTV service will have the same amount of content available. Nevertheless, here's a long list of live channels, video-on-demand, and countries included. Some features will not be available on some devices.
Live Channel Sub-Categories w/ 2 Features:
Favorites
Recent Search
News
Sports
Movies USA
USA Local
Entertainment USA
Kids & family
PPV Events (Day of Event Only)
Sports Events (Day of Event Only)
USA Low Bandwidth
MLB
NFL
NBA
NHL
24/7
USA UHD
Music
Religion
Bein Sports
Spanish Local, Sports, News, Entertainment, Movies & Kids/Family
Portugal/Brazil
Ecuador
Europe
Africa
Asian
Australia
Canada
Pakistan
Arabic
Island (Caribbean)
Uncategorized
Greece
France
Entertainment UK
India
Germany
Dominican
Armenia
Update8Aug
USA Backup Channels
Additional Info
Progo TV IPTV gives you 720p and 1080p picture quality. I have over 150 Mbps Internet connection (download) speed. This amount allows me to watch streaming content without buffering issues and ensures the best picture quality. But this doesn't mean I won't get buffering issues. I'm ok with it providing the buffering is rare and doesn't last long. Sometimes you have to pause the video and then play it again if experiencing a buffering issue.
As you can see ProGo IPTV has many countries and they show the number of channels in each. Also, there are local USA channels but it's unclear if every city is included. Local channels are still relatively new with IPTV services and no city will have all local channels available. In fact, only a few are available for each city. While channels from your city may be included, 1 or more may not work. How to Get All Local OTA Channels.
There's entertaining content for the entire family. If you are into sports, ProGoTV has you covered. If you are into movies or TV shows/series, they have you covered as well. As for those who like to watch the news, there are plenty available. And those who are bilingual or multilingual, more power to you. You get to enjoy watching more streaming content online.
Pro Go TV — Compatible Devices, Apps or APKs & Other Devices
One ProgoTV subscription account/IP address lets you connect 2-4 devices simultaneously. Usually, IPTV services allow you to use one mobile device (phones only) when on-the-go or outside the home. You can connect to different WiFi locations when traveling. Use any two devices you want that's compatible.
Compatible Devices
Firestick or Fire TV with File Linked
NVIDIA Shield
MAG
Dreamlink T1
Avov
Android Devices
XBMC/KODI
Computer (Windows & Mac)
Smart TV
Web Browsers/Web Player
Phone
iPhone
They offer apk (when app not found in the app store) for different devices such as smart TV android, smartphone, web browsers, and phone. There are two ProGo TV Android boxes available along with other devices that you can purchase from the website if you want. They are not required. I'm not going into all the details here. You can visit the Pro Go TV website and in the menu bar, click Products >> ProGoTV Device to find the information.
Here are the Media Player Apps they use that you can install to any compatible devices: ProGo TV, IPTV Smarters, SIPTV & DuplexPlay
ProGo IPTV Apks/App and Features
Here are the 3 different apks and app that  you will use:
ProGoTV Reloaded: Gives the ability to record IPTV on streaming devices, except for Amazon Fire devices
ProGo TV IPTV Black Version: Allows you to watch multiScreen (up 4 screens) at the same time on Android device including Fire TV/Firestick (live TV only)
ProGo TV Smarters App: IPTV app that lets you record
Other Features include…
Multi-Screen (PIP [Picture-in-Picture])
Add to Favorites
Setting (incl. Parental Control & More)
Record (Doesn't work on all devices)
A-Z Sort
Search Tool
Note: Multi-screen will allow 2, 3, or 4 PIPs which is dependant on the subscription you buy with 2, 3, 0r 4 device connections. In other words, if you buy a subscription package with 2 device connections, then the multi-screen will only allow 2 PIPs.
When going to their website, in the App Store section, you find the following info and Download the app:
ProGoTV Reloaded (also includes Multi-Screen & Recording but not on Amazon Fire Devices)
ProGoTV Black version for Android (also includes Multi-Screen & Preschedule Recording)
ProGo TV Smarters App (also includes Recording)
ProGoTV Web Player (watch in your web browser [Mozilla Firebox or Google Chrome])
ProGo TV Desktop App (Windows or Mac)
TiviMate but it's said this App doesn't work well at the moment
ProGo IPTV Cost, Subscriptions, Refund & Support
The ProGo TV price actually includes three IPTV subscriptions whereas you can include 'x' number of months you want to pay for upfront:
Basic One Month Subscription Packages with 2, 3, 4 device connections, and additional packages to choose from as follows:
2 Devices: $30.00 or with adult content: $35.00
3 Devices: $35.00 or adult: $40.00
4 Devices: $40.00 or adult: $45.00
When the one-month subscription ends, you will not be rebilled automatically. To continue with the service, you must revisit the ProGo website to renew your subscription.
Money-Back Guarantee
There's a 3-day money-back guarantee where you can request a refund. It's recommended that you read all of Pro Go TV's policies (legal forms) including Refund Policy. You will find these documents when scrolling down to the bottom of their website.
ProGoTV Android 9.0 TV Box
If you prefer to have your own Android box whereas it comes fully loaded, ProGoTV got you covered. Here's what they included:
Preloaded w/ All ProGoTV Apps (Black Version, Reloaded APK; Team Viewer [Online Support, Filelinkded, One Month Free ProgoTV IPTV Service, Tivimate, ProgoTV Smarter Pro App, and Much More Extra's. You don't need to go through all the many steps to download/install apps.
Simply plug in the ProgoTV Android box to your smart TV or HDTV and you are all set. Cost: $135.00
They also sell related 3rd-party products such as Smart GamePad, AIR Remote w/ Mouse, and TouchPad for Sony Smart TVs.
Support
There are 4 ways to contact support for help or if you have questions:
Open Ticket
Discord
Phone (receive from ProGo email)
Email Address
You will find the help section when visiting the Progo TV website and clicking the 'HelpDesk' link. Once you are on that page, just click the 'Solution' link to see the FAQ section or simply create a ticket for support.
ProGoTV Review: Pros and Cons
Unfortunately, there is no free trial — not even a low-cost trial. However, a discount coupon is available if you want to save $10 but only a 3-day money-back guarantee. Some live and on-demand streams are not working in some categories. But this is expected from all IPTV services. There are far more working live channels and VOD streams available. You have to become the eyes to report what's not working to support.
If you experience consistent buffering issues, it's likely the issue is coming from your end. However, this doesn't mean this IPTV service can't be blamed for any issue that may occur. I suggest watching the Buffering video tutorial above. You must first think about the buffering issue coming from your end before thinking it's the IPTV service.
All local USA cities may not be available and not all local channels for a city is going to be available or work. Still, there is a lot more content available then most IPTV services out there. You can connect 2, 3, or 4 devices simultaneously and this determines the number of PIPs in multi-screen you are allowed to have.
This is a No IP Lock service which means you can connect any compatible device (up to 4) based on your subscription when traveling near or far. If using a Fire Stick or Fire TV, the Record feature will not work. You will need to install a different app on a different device for the Record feature to work. All apps can be found on the ProGoTV website.
Conclusion
Progo IPTV tries to bring you all kinds of streaming content from live TV to VOD, from TV Series to PPV Events, with many countries outside the US included. Unfortunately, there are many channels from many categories that are non-working. And I don't see how in the world they can stay on top of everything maintenance-wise.  Subscribers will have to be there their eyes and report non-working streaming content.
Still, this IPTV service offers a lot of entertainment which by the way caters more to USA and English speaking individuals. Depending on what live channels are working that you prefer to watch, you can benefit from this service. Once you get past the initial setup to install the app on your device, you are home free. Free to watch whatever you want from any country you desire. But it's recommended that you use a VPN service (click the link after the 1st paragraph above).
That said, it's hard to say whether or not ProGo will serve you well. You have to subscribe to the service and use the app to connect and play around with things. You might want to contact support with a list of channels and let them tell you if your favorite channels are available and working — since there is no free trial. However, on the other hand, you have a 3-day money-back guarantee if you just want to get started and see what works or not.
If this IPTV service doesn't quite meet your needs, then you can opt for a refund within the 3-day period. Using this IPTV service myself to test and watch what interest and doesn't interest me, I do see the value here. But I didn't test everything including all the live channels and VODs available from different countries. I have provided all the information and testing as I could and now the rest is left up to you to test on your end.
This Concludes Our ProgoTV Review