IPTV Service with Entertaining Live Channels, Sports, VOD, and Catch TV/DVR (SO Player)
No Limit Streams Review by Real User. If you're in the market for a good streaming TV service, think No Limit Streams (NLS). Not only are they a low-cost IPTV service, you'll like the streaming content, performance, and interface also.
UPDATE: New customers are no longer being accepted for this IPTV service but there is an alternative SO Player IPTV service you can subscribe to. When clicking the link below, the IPTV service changed its brand name and website design. But the ownership and everything else are the same.
DO NOT READ BELOW THE LINE… We Removed all links to the IPTV service for SO Player…
————————
Click Here to Sign Up to IPTV Service for SO Player (Also Compatible to Newer Samsung/LG TVs)
No Limit Stream UPDATE:  No Limit Streams have gone out of service. You can no longer subscribe or renew your subscription or get access to your NLS account or their website. With that out of the way, there's a very good IPTV service for SO Player – See Below…
Keep in mind SO Player is NOT a subscription but a free app download. It does not deliver live channels or VOD. You must sign up to an IPTV service to activate the app. The app connects to the IPTV service for you to watch live channels and on-demand videos. Remember the name of the IPTV service. It is not SO Player or Norga Go.
When you sign up, you will be required to enter your email address (make sure it's correct) and create a password. This will become your login details. How to renew the one-month subscription after it ends. Visit the IPTV service website and click the 'My Account' link. Enter the login details that you created when signing up. This is where you can renew your subscription.
Also, expect emails from the IPTV service after you sign up with your order and account info including activation and login credentials. Activation/login credentials include Provider ID, 4 device pins (1 per device), username, and password. Some of this information must be entered into the SO Player app to activate it so you can watch TV online. Make sure you save all the important information that I just explained to you
Where to sign up and get FREE Trial or Subscription…
Click Here to Sign Up to IPTV Service for Nora Go (Also Compatible to Older Samsung/LG TVs)
NOTE: If you cannot find SO Player inside your smart TV app store, then you must install NoraGo and choose IPTV service – click below…
NOTE: If you are new to these IPTV services, it's recommended that you watch video tutorials here. How to Install Nora Go on Smart TV and how to download/install So Player to Firestick and Other Devices. The IPTV service website will also have information and instructions. The best streaming device to use is the Amazon Fire Stick. You may be able to use the Nora Go app that may or may not be found in the Samsung or LG smart TV app store.
When switching from one IPTV service to another IPTV service, you must remove your device with SO Player or Nora Go app installed from the IPTV service first. If contacting the IPTV service that you no longer want to use or they are no longer in service, Watch this video.
If all fails, you might need to perform a factory reset on your device such as the Amazon Fire TV Stick. Either that or find an IPTV service that uses a different app.
DO NOT CLICK BELOW THE DOTTED LINE – Streams for Less is No Longer Available to New Subscribers – All Streams for Less Links Have Been Permanently Removed Below – You Must Sign Up to Sister Site 1 or 2 (still the same ownership; content, features, prices are the same).
————————–
Unlike some of the other IPTV services out there, this one has more stable live streaming channels. Meaning, there's no buffering and playback issues to be concerned about. There are 100s of live premium TV channels from popular TV networks with news, movies, sports, and TV shows.
If you are looking for on-demand movies and TV shows/episodes, they have 1000s of them as well. NoLimitStreams (or NLS) also have a CatchUp section that brings DVR technology into the fold. More on this later.
Note: Free trial is not always available
Real sports fans will enjoy getting access to all the popular sports networks. Watch any local, national, or international game online without buffering or playback issues. PPV streams with live fights and special events on Saturdays are included as well. And the good news is there's no extra cost.
Although no local OTA and regional channels are delivered, there's nothing stopping subscribers from watching any live sporting event.
Compared to cable and satellite TV that charges customers a bundle, savings are huge when choosing NLS. After conducting my No Limit Streams review, the pros outweighed the cons so much that this IPTV service made it to my top 3.
Who Can Use NLS? Anyone and everyone worldwide can use this IPTV service. Your IP address or country doesn't get blocked. Right now, they have U.S., UK, French, Spanish, and some Filipino live channels. Also included are Christian TV channels.
No Limit Streams Review – Streaming Content, Performance & Interface
Streaming Content
NLS has over 500 live premium TV channels. Channels are organized inappropriate categories for quick, easy access. Categories include English, Sports, U.S. UK, French, Spanish, Filipino, etc.
I was thrilled with having no buffering issues when playing live channels, especially live sports. Same thing when playing VOD movies and TV shows/episodes – no playback issues.
All streams played really well and steadily without any interruption. I have not witnessed any downtimes which makes NLS a very reliable IPTV service. I'm sure it will happen when updates and upgrades are needed but shouldn't take long.
This IPTV service delivers all the popular live news channels/networks, sports channels/networks, movie channels/networks, and PPV events. You get live channels with many TV shows (talk shows, soaps, sitcoms, etc.). There are entertainment channels for the entire family, even kids' channels.
Although there are no OTA and regional channels included, you'll get all if not most of what you normally watch on pay television.
As for OTA TV channels from local television stations in your area, just purchase an indoor HDTV antenna. Learn More Here.
There are no regional channels but you do get plenty of national channels. Sports fans can still watch any local, regional, or international sporting event online. Keep in mind, there are many cable/satellite TV channels from popular networks available. I certainly enjoyed watching many of them without paying the high cost.
Performance
You'll need a fast Internet connection. As they say, the higher the Internet connection speed better the overall performance. If you are able to watch live streams and VOD from your device, then you shouldn't have a problem with NLS.
All live streams, on-demand streams, and CatchUp DVR streams are stable. The vast majority of live channels and VODs worked and played well. You get HD picture quality, perhaps some SD (Standard Definition) quality – nothing but high quality. The audio coming from all streams is also very good.
Overall, the NoLimitStreams IPTV service and SO Player app received a good rating in performance. I tested both on my Windows computer, Amazon Firestick, and Android phone. There's not much delay when selecting a live channel to play nor VOD movies and TV shows/episodes.
As for CatchUp TV with DVR technology, expect some delay when selecting a DVR stream to play. But I only experienced the delay when using my computer. It takes around 35 seconds or so for each DVR TV program to play. When I used my smartphone and smart TV with Firestick, no delay occurred.
Again, an adequate Internet connection speed (wireless or hardwire) is needed to play live and VOD streams. My smartphone (wireless connection) has around 14 Mbps download speed. My computer (wireless connection) has around 150 Mbps download speed. And my smart TV w/ Firestick (wired connection) has around 3.5 Mbps.
Not once did I experience any buffering or playback issue. I was able to watch live channels with movies, news, and sports without any streaming interruptions.
Interface
The SO Player app is said to be better than the Nora Go app. I have used both. Support told me they now recommend using SO Player. NoraGo has been experiencing some issues with some compatible devices. This is why it's best to choose and subscribe to the IPTV service (No Limit Stream TV) first. This way you'll know exactly what app they are using.
By the way… If you already have Nora Go installed on your device, you can still download SO Player. If you are/were using another IPTV service and want to activate the SO Player app using NoLimitStreams, then you should do the following:
Contact your current or previous IPTV service support and tell them to remove all your devices. They will remove all devices from your account. Now you can use the So Player app or Nora Go when entering activation/login credentials you get from NLS.
The interface is fast and smooth, much to my delight. No issues from the IPTV or SO Player app when testing both. CatchUp TV with DVR works great but somewhat slow when using a computer.
Subscribe Now and Get Access to Favorite Channels, Shows, Episodes, Movies, Sports, & News
No Limit Streams Channel List
There is no channel list to review but the one-day free trial reveals everything. More on this later. Just know that whatever channels and TV shows, sports, news, and movies are available on cable and satellite TV, No Limit Streams TV have them also.
You'll get many of the same popular networks for sports, movies, news, and TV. This also includes PPV (Pay-Per-View) events without the extra cost. The No Limit Streams TV Guide (EPG) lists all the live channels, on-demand content, and DVR content.
You'll get access to the EPG when you subscribe or opt in to the free trial. Although the guide is very long, you're able to pull from that guide whatever it is you want to watch.
NoLimitStreams and SO Player Review
What is No Limit Streams (NLS) and SO Player and How Do They Work? My No Limit Streams review also covered the SO Player app — both work hand in hand. When you sign up to the free trial or monthly subscription, NoLimitStreams will send you a couple of emails immediately.
One email will have your username, password, Provider ID, and 4 device pin codes. Other information such as account information, links, and support info. are included also. When visiting their website, you will find video tutorials to learn how to download/install the SO Player to your device.
You can also find the same video tutorials Here. And if you want to learn more about the SOPlayer, Click Here.
Once I signed up and entered my activation/login credentials, I was all set. The SO Player was downloaded/installed on Windows PC laptop, smart TV w/ Firestick, and Android phone. The first thing you see inside the attractive user-friendly interface is the Live TV section.
Update: All customers will be directed to sister site when clicking the link to visit the IPTV service. Everything is the same… content, app, and features. Click video image below to watch review video to see the app and IPTV service in action.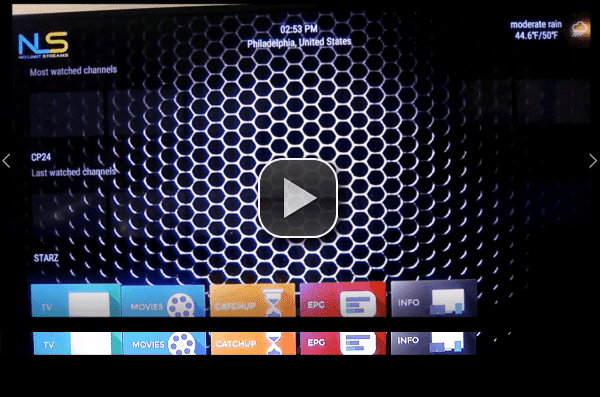 The TV screen is on the left side. Names of categories and names of live channels/networks are on the right. There are two columns. One list all the Categories and other list have all the Channels/Networks.
Under categories, you get the following: All, English, Sports, Spanish, USA, French, UK, Filipino, and so. At the very top of these sections, which is the main menu, you have TV, VOD, Radio, CatchUp, EPG (Electronic Programming Guide), and Settings. There's also a Search bar and below the TV player screen (where streams play) is the 'What's Next' section. This section lists upcoming TV shows that will stream live at their designated times.
You'll have no trouble navigating through the app, finding sections and categories of streaming content that interest you. Everything is self-explanatory. There's also 'Full Screen' icon in the TV player that enlarges the TV player screen when playing streams.
Live Premium TV Channels
These channels are the same live channels and networks found on cable and satellite TV. There are 100s of them from the U.S., UK, France, Spain, and the Philippines. But I must warn you, there's an Adult section included that I did not review. This is something I don't approve of.
However, the adult content is locked by default and be accessed when entering the code provided. Just keep in mind this if you have children. I recommend not allowing unsupervised children access to NLS. There are many R-rated/PG-rated movie channels and VOD movies also. Click the image below to enlarge…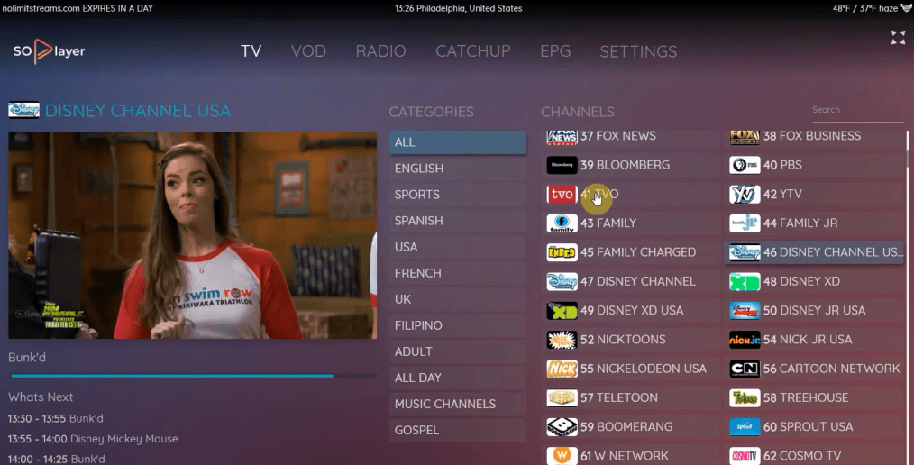 You'll see many live streaming channels for the entire family – kids, adults, sports fans, news, movie buffs, and so on. No one is left watching their favorites online.
Live Sports
It doesn't matter how deep into sports you are. You can watch local pro or college sports online, including national and international sports. NLS  doesn't fall short in delivering both live and recorded sporting events. Adding to that, you also get live PPV events which make this service even more entertaining.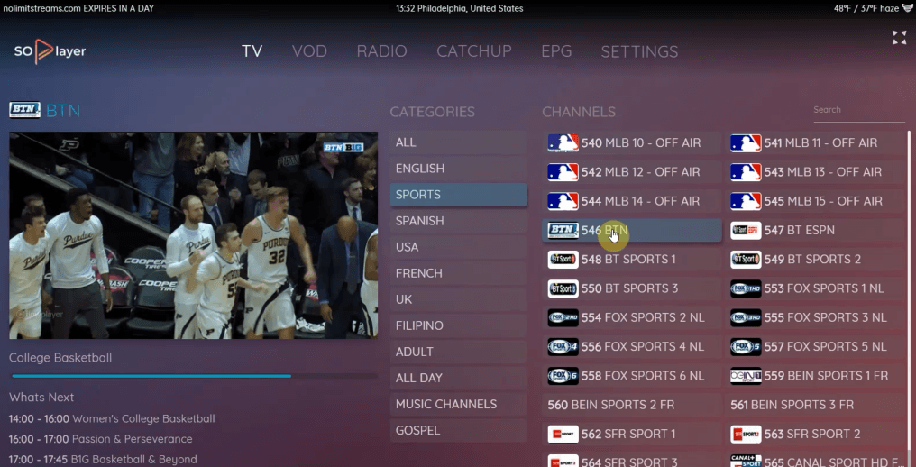 All the top sports networks are available and working. There are many sports streams listed as well. NLS list names that teams playing each other in NHL, MLB, NBA, and NFL. Just click the name and start watching when live. In many cases, there are a couple of ways to watch the same sporting event.
All championship games, playoffs, College Bowl, Super Bowl, World Series, Tournaments, special events are available to watch online.
Some of the sports networks included:
Bein Sports
ESPN
BT Sports
Eurosport
NBA TV
NFL Network
MLB
NHL
Golf
TSN
SportsNet
Sec Network
And Many More
As for PPV events, you can catch all the live fights, boxing matches, and special events live. There is no extra cost to watch them which makes a great time to invite friends over. And you catch some of those fights in the CatchUp /DVR section later on.
Click Here to Watch Favorite Live Sports Channels/Networks Plus PPV Events
VOD
There are 1000s of on-demand movies and TV shows/episodes with HD picture quality. Perhaps some SD (Standard Definition) are included but still high quality. I have seen movies added from time to time and I'm sure more TV shows and episodes are added also. I'm not a TV show person but NLS does add TV episodes the next day after they air. But they may be included in the CatchUp DVR section also.
In the left column of the app, you'll see Categories. The 'All' section includes all movies and TV shows/episodes. 'New Releases' include all newly released movies, many of which are recent and very recent. Then you have 'TV Shows' with many popular TV shows and episodes listed when scrolling downward.
No one should have a problem finding what they are searching for. A quicker way to finding something is the Search feature. You can search VOD TV show/episode or movie by title. Same thing for a live channel when in the TV section.
You get all the movie genres such as Action; Family; Drama; Comedy; Thriller; Horror; Classic; Romance; Sci-Fi; Documentary
There are on-demand movies and TV shows/episodes for the entire family. There are several of kid shows included as well. If you're into classic movies, they are available to watch online also.
Radio
Unfortunately, there is no content listed in this section. Perhaps this will change in the near future. I suppose some customers asked for this content. Either that or NLS may have plans to test this radio streams to see if there is a demand for them.
CatchUp with DVR

CatchUp is one of the newest additions. It has DVR technology but subscribers can't do any recording themselves. Instead, No Limit Streams TV does all the recording and does a good job of it. You'll see many popular channel/network names with DVR listed on the right. For Instance, there's the 'ABC DVR' which tells you the IPTV service recorded TV shows from this TV network.
All these channels are listed under 'Channels'. To the right is another column called 'Days'. There are recordings that cover 8 days. The name of the day and date number is listed for each recording. Further to right is another column called 'Programs'. Here is where time slots and names of TV shows are listed.
There's also a Search feature available so you can find a DVR TV show quickly. When playing DVR TV shows from the CatchUp section, I only experienced playback delays when using my computer. In other words, it generally takes 35-39 seconds for the DVR stream to play. But once the stream played, I experienced no issue watching the DVR TV show.
As for playing CatchUp / DVR TV shows on my smart TV with Firestick, and Android smartphone, there were no delays playing them. The picture is high quality and audio is also good.
EPG
If you were hoping for a TV program guide, you get your wish. The No Limit Streams EPG (Electronic Program Guide) list every live channel for shows, news, sports, and movies, including DVR TV shows. You'll get the date including channel names, times, and descriptions. Just click the name of the television program to play and watch it.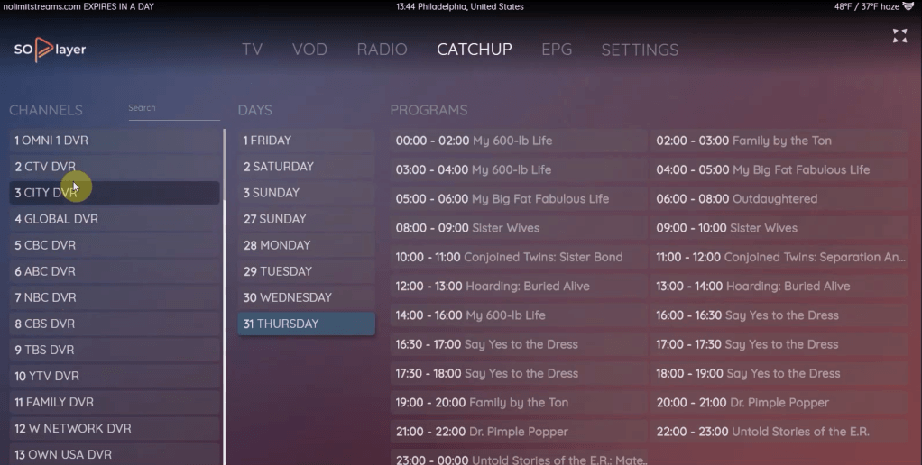 Click Here to Watch All Your Favorites Online Live Online or Watch On Your Time
Compatible Devices
No Limit Streams is compatible with many devices. Unfortunately, there is no app for smart TVs (Samsung, LG, etc.). You must use a streaming device such as Amazon Fire which comes highly recommended. There's also no app for xBox, roku, or Linux.
One thing about smart TVs. If you have a Samsung or LG smart TV, you can try downloading/installing the Nora Go App. I installed SO Player on my Amazon Firestick and installed Nora Go on my Samsung smart TV (same smart TV). If you can find the Nora Go in the app download section of your Smart TV, go ahead and download/install it.
Use the same activation/login credentials NLS sends you via email. Nora Go and SO Player work pretty much the same way. However, issues may occur when using NoraGo with some devices. This is why more IPTV services are recommending SOPlayer. If you cannot find the NoraGo app download in your smart TV apps section, then your smart TV isn't compatible.
Watch the video including 2nd video when scrolling down the video/article Here.
Here are compatible devices that can be used: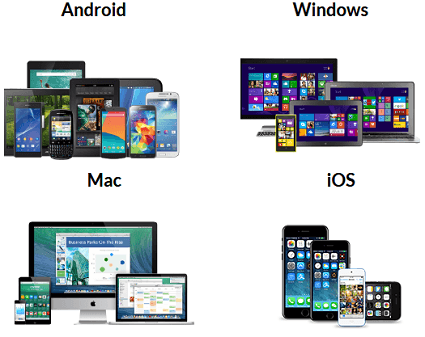 Android TV
Android Phone & Tablet
Android boxes 5.1 or higher
Nvidia Shield
Amazon Fire TV Devices (smart TVs)
iOS Mobile
Apple TV
iPhone, iPad
Mac Computer (Macbook)
Windows Computer
Note: Can use up to 4 devices simultaneously. Apple TV users, Download Nora Go App.
There are video tutorials that show how to download/install SO Player HERE.
Computer
Downloading and installing the SO Player app is easy to do. Navigating through all sections and playing the streaming content is a cinch. You will not have any difficulty using the app to watch what you want online. Using a computer is one of the easiest setups. Watch video tutorial Here.
If you don't have the Amazon Firestick and want to watch everything on your HDTV or smart TV, here's what you can do:
Purchase an HDMI cable. This is not expensive nor hard to connect to your television. You can also connect wirelessly if you have a smart TV. Learn More Here.
I also suggest purchasing a wireless keyword with a mouse pad so that you don't have to get up every time to operate your computer. Whatever appears on your PC screen appears on your TV screen with audio. Learn More Here.
Watch Video Review of NLS on PC – Click Here
Smart TV w/ Firestick
If you have the Amazon Fire TV or Firestick, you can watch everything on your HDTV or smart TV. Click Here to see it in action. The Firestick is highly recommended for TVs. Downloading and installing the SO Player apk requires more steps than installing to a computer.
When using this device, I did not experience any issues. There were no long delays when selecting DVR TV shows to play and watch. You can watch a video tutorial Here.
Watch Video Review of NLS Installed on Firestick/Samsung Smart TV – Click Here
Smartphone
Downloading and installing SO Player to my Android smartphone was not hard to do. I was very delighted with how quickly live channels and VOD played. Watch video tutorial Here.
Watch Video Review of NLS Installed on Android Smartphone – Click Here
Note: To get download/installation instructions for other compatible devices, just click the link above. There video tutorials available for each device.
Free Trial, Subscription, Activation Codes, Cost & Support
No Limit Streams Free Trial, Subscription Cost & Refund
There are two ways to get access to this IPTV service and activate the SO Player app:
One-Day Free Trial w/ Full Access – Up to 4 Devices (no credit card necessary)
Monthly Subscription – Up to 4 Devices at $25/mo.
There is a 30-day money-back guarantee but only applies to the first-month subscription.
SO Player & Free Activation Codes
To get free activation codes, just sign up for the free trial. NoLimitStreams will email you 4 free device pin codes, one per device. This means you can watch up to 4 devices simultaneously. You must always sign up for an IPTV service to activate the Nora Go app or SO Player app. You do this by entering activation/login credentials into the app.
If you already downloaded/installed the SO Player on your device, you still need the IPTV service. Not only do they email your activation/login details, they also deliver live channels and VOD. The SO Player is not a standalone TV app. It's a free download, not a subscription.
Subscribe Now to Get Free Trial and Free Activation Codes – Click Here
Note: Free trial is not always available. If not available, it should be available soon
Support
No Limit Streams IPTV offers 4 ways to contact them for support: 1) Email; 2) Contact Form; 3) Chat Box; 4) Phone Number
I found the chatbox to be the quickest way to get help and questions answered. Most times you can catch an NLS representative online to help you without much delay. Case and point, I had another IPTV service and devices already connected to SO Player. I asked to support on how to switch activation and login credentials from one IPTV service to another. They answered quickly and told me what to do.
By the way, if you are confronted with the same issue, here's what you should do: Contact the IPTV service that you subscribed to last. This is the IPTV that you already added your devices and entered your activation/login credentials on Nora Go or SO Player.
Tell the other IPTV service support to remove all your devices. You will need your account number so they know what account to do the removal. Now you are ready to enter NLS activation/login credentials.
No Limit Streams Review: Pros and Cons
Pros
One of the better low-cost IPTV services around today that doesn't leave you frowning. No issues with buffering or playback. Just sit back and enjoy the steady streams coming your way. There are many compatible devices, whereas you can use up to 4 at one time.
Movie and sports lovers will get all they asked for. Those who enjoy watching favorite sitcoms, soaps, talk shows, or news broadcast won't lose anything. You shouldn't feel any withdrawal symptoms when canceling cable or satellite TV. If anything, less headache and you can spend your savings elsewhere.
With all the streaming content from live channels and on-demand including CatchUp / DVR, there's enough to entertain the entire family. In fact, you can watch what you want on your time. The EPG (TV guide) helps keep you abreast of what's playing now as well as what's coming up.
No other streaming TV service is needed, not even Netflix – unless you enjoy paying the cost. There's no high cost, contract, credit check, or local sports blackouts. You can also contact NLS by phone when visiting their website to get the number – click the link at bottom of this review.
Cons
No features that really stand out with exception to CatchUp / DVR feature. No adding to favorites, time-shifting, and no downloading movies. Although you can't record TV programs yourself, this IPTV service records them for you. But you only have up to 8 days to watch them before they are removed. Perhaps this isn't a bad thing after all.
There are no OTA and regional channels but you can watch any and all local, national, international sports. You get many national television channels and all the popular networks. If you really need your OTA TV channels, just purchase an indoor HDTV antenna. Learn More.
Conclusion
For what it's worth, No Limit Streams IPTV allows you to save a bundle when comparing it to cable/satellite TV. The free trial and $25 per month fee certainly won't hurt one's pockets. There's a 30-day money-back guarantee so there's really no risk involved.
You get a huge selection of live premium channels and VOD to watch sports, movies, news, and TV shows/episodes. Not only that but can watch all PPV events and they included CatchUp / DVR technology to watch shows on your time. What more could you ask for just $25 per month?
The streaming content, performance, and interface are high quality so there's nothing to worry about there. This IPTV service is very reliable and for the most part, doesn't have buffering and playback issues.
If searching for a TV alternative, No Limit Streams TV is certainly enough to use. If you travel a lot or live outside the U.S., it doesn't matter. You can use this IPTV service and watch your favorites no matter where you are located in the world. Only things needed: Streaming device and Internet connection.
I recommend opting into the No Limit Streams free trial. Give it a test run on your devices and play as many streams as you like. Since you don't need a credit card, you have nothing to lose.
This Concludes Our No Limit Streams Review
Get Free and/or Monthly Subscription without Paying High Cost of Cable/Satellite TV