Low-Cost Internet TV Option with 100s of Live Premium Channels, Local Channels, 1000s of VOD, CatchUp TV and DVR Features (SO Player)
MyIPTVNow Review (MyIPTV Review) by Real User. Unless you are well off financially, high inflation costs or a sizable decrease in income can make cutting back a priority. Whether living on a fixed income or tight budget, one needs to consider cutting costs or consolidating. With that comes the high cost of cable and satellite TV that leaves a growing number of individuals searching for alternatives.
IMPORTANT UPDATE:
We are no longer recommending any Nora Go or SO Player app and IPTV services for them. Too many of them are not accepting new customers/subscribers, went out of service, and we are getting many visitors telling us they can no longer renew their subscriptions including no support.
You must choose an alternative IPTV service that does not use SO Player or Nora Go.
We recommend visiting our IPTV Comparison Chart that's currently being updated to add more top IPTV services that use other apps. Click the link below to find the best IPTV service…
DO NOT READ BELOW THE LINE… We Removed all links to the IPTV service for SO Player…
————————
If you are searching for answers to…
MyIPTVNow store not working, closed, store down, what happened to MyIPTVNow, renew/renewal, contact number.
…read the UPDATE message below:
UPDATE: If you cannot find the My IPTV Now website when searching for it online or can't contact support or can't renew your subscription, then it's time to start over. You need to choose an alternative IPTV service provider that's very similar. We found a top service that offers just that and uses the same SO Player. There is no phone number to call anyone so stop looking for one and get the alternative service to start watching TV online.
Many visitors to our site think SO Player is a subscription service. They don't know what is an IPTV service provider where they pay the subscription to use the app to watch streaming content from the IPTV service. If confused, the SO Player is just a free app download. You don't need to sign up to use it. This app doesn't deliver any streaming content by itself. An IPTV service provider is required. This means you must find an IPTV service that uses the SOPlayer app — click the link below…
The IPTV service has the streaming content whereas the SOPlayer app connects to the IPTV service so that you can watch live and on-demand streaming content on your compatible device. I hope this clarifies everything so that you can go forward. Click the link below to visit the alternative IPTV service website. You can sign up for the free trial or subscription…
Click the link below to get the Alternative IPTV Service for SO Player. There some MyIPTV websites showing up online but there are not the same. They don't use SO Player. You get the everything with the service below…
NOTE: Switching from your old IPTV Service Provider to the new IPTV Service Provider using the same SOPlayer app. When you subscribe to the new IPTV service, they will email your activation/login credentials such as Provider ID, Device Pin Codes, Username, and Password. Enter the required credentials into the app.
If you get an error message of some kind and cannot activate the SO Player app with the new IPTV service, simply contact the new IPTV service for support. You need them to remove your old IPTV service provider from the app on your device so that you can connect the new IPTV service and watch TV online.
Here's a top IPTV Service Provider that uses the w/ Lenox app – Click Here
If New to Watching Internet TV, Signup to Get Your FREE Guide: How to Watch TV Online and Quick Setup Guide.
No Need to Read My IPTV Review Below the Line. All MyIPTVNow Links Have Been Removed…
——————————–
The My IPTV Now service and My IPTV player app can be a low-cost alternative and solution that allows people to continue watching what they love. The thought of Internet TV may be a bit scary for newcomers but things are getting easier online. Not only does this service helps individuals worldwide get the best of TV entertainment but helps newcomers transition from traditional television to Internet TV.
You can still have your remote control as well as DVR feature, favorite TV channels/networks with sports, movies, TV shows, and news. In fact, some of your local channels may be available from the U.S. or Canada as well.
I always tell individuals to purchase an indoor HDTV antenna with an amplifier (75 or higher radius). The antenna will get every local OTA channel to watch offline with a better picture quality than cable or satellite.
Requirements needed are minimum. This IPTV service says a minimum of 4 Mbps download speed (per device/stream) is required. I recommend an Internet connection speed of 25 Mbps or more. You also need a streaming device and download the MyIPTV app. This will get you up and running in no time.
By the way, I have over 150 Mbps Internet connection speed but that doesn't mean I get that amount on my streaming device. It's always best to have more Internet connection speed which comes at a cost. Some of your savings when cutting cable or ditching the dish can be used to add more speed.
Like me, you can hardwire (connect Ethernet cable) from modem/router (WiFi network) to your smart TV. And connect your other devices wirelessly. If you have an HDTV, you can use or purchase the Amazon Fire TV or Firestick. Many people today use the Firestick that connects to the HDTV or smart TV.
Another way would be to connect your computer to TV via HDMI cable. Now, let's dive further into our My IPTV Now Review…
Can't Wait?… Get Access to Free Trial or Subscription Here
MyIPTV Reviews – What Is It, How Does It Work, Is It Legal, Who Can Use It
What is it? You get an IPTV subscription service that requires a compatible streaming device, free MyIPTVNow download app, and Internet connection. There's nothing more to do or install which makes for a quick setup. Over 500 live premium TV channels from popular networks and 1000s of movies and TV series are delivered to the app.
This allows you to watch what you want, when and where you want, 24/7. There is no restriction. Anyone worldwide can get access to the same streaming content. Subscribers can watch US TV, UK TV, Spanish TV, French TV, or Filipino TV. US and Canada local channels are included. Features like CatchUp, DVR, and EPG (TV guide), and Search are available also.
This is no contract, cancellation fee or hidden fees, no local sports blackouts. You pay as you go, no monthly billing. IPTV services are not associated with any cable or satellite TV company. They are independent which means there is no Geo-restriction. You can use a VPN service with My IPTV Now if you want.
Like other streaming TV services, IPTV services deliver streaming content across multiple devices. As for My IP TV, you are allowed to use up 4 devices concurrently (More on this later). Just remember everything hinges on your Internet connection speed – higher the better.
You can watch everything on your smart TV or HDTV (streaming device needed) with an Internet connection. Smart TVs and HDTVs can use the Amazon Firestick. Samsung and perhaps LG Smart TVs can also install the Nora Go app directly from the smart TV app store. More on this later. The free SO Player app (My IPTV app) is recommended for all devices.
Click the image below to watch a video IPTV review. See features and streaming content play…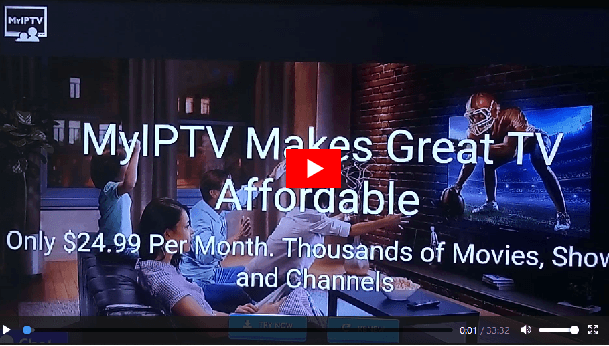 Get Started and Watch All Your Favorite TV Shows, Movies, Sports and News Here
How Does it Work? When entering into the free trial or subscription payment, emails from the IPTV service are sent to the user immediately. One email will have your activation/login credentials with additional information. You also get the Provider ID, 4 device pin codes (1 per device), username, and password.
There's plenty of instructions, download links, and video tutorials on the MyIPTVNow website as well. Once the free MY IP TV app is downloaded/installed on your device, enter the activation/login credentials. The My IPTV Now app (actually SO Player app) opens. You don't have to sign in anymore after the initial setup and login.
You can check out some video tutorials on SO Player app (recommended app to use) Here and Nora Go app for smart TVs Here.
When the SO Player opens, you see the entire app console with the following…
Main Menu includes TV; VOD; Radio; CatchUp; EPG; Settings. Below it has the following
Categories
All
English
USA Locals
Canada Locals
Sports
MLB
NBA
NHL
NFL
ESPN+
Spanish
French
UK
Filipino
Adult (locked by default)
Music Channel
Gospel
Over to the right of the categories are names of channels/networks. This changes when choosing one of the categories above. There's a Search feature that allows you to search by title. The interface is very simple to navigate and requires no manual. Everything is self-explanatory.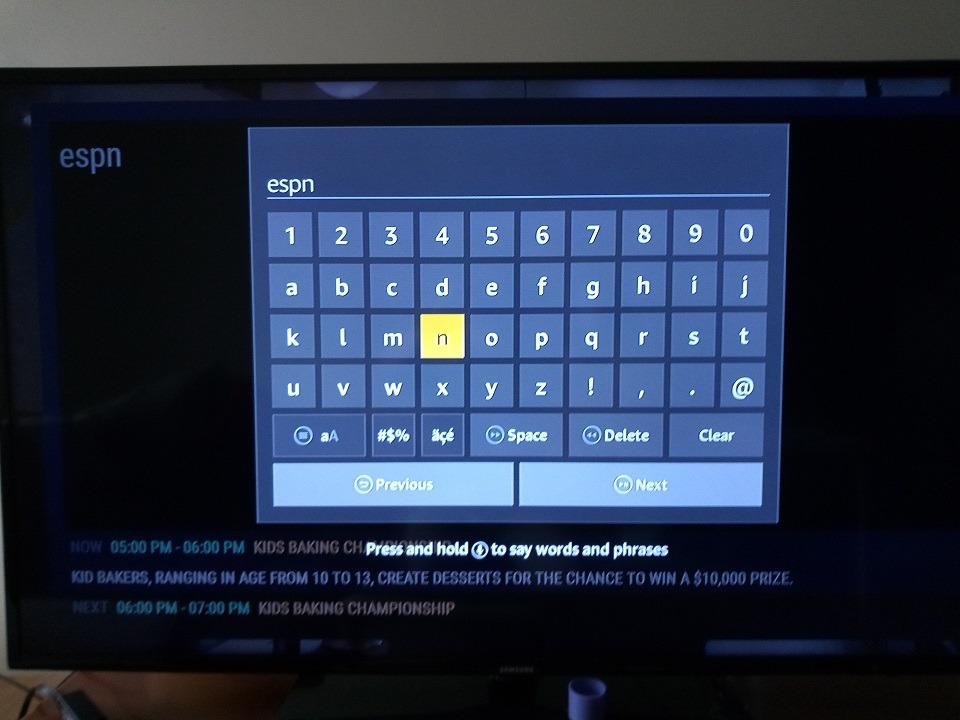 You simply find a channel/network, movie, or TV show to watch by clicking its name. There are many popular networks to watch sports, news, movies, and shows. You can also watch movies from any genre including recent movies, and watch TV series — many are available.
Is it Legal? Some discretion is needed. Third-party IPTV services are not owned or affiliated with any cable or satellite TV company, or any TV provider. There is, however, a Disclaimer on the MyIPTV website that should be read when scrolling down the bottom. Here's partly what's stated…
"We do not own, run, maintain or have access to the servers or the channels and content provided. MyIPTVnow does not stream any of the live IP channels, all channels are third party links available directly on the internet."
Who Can Use it? Anyone worldwide can this IPTV service. There is no Geo-restriction, meaning no IP address or country is blocked. It doesn't matter what country you live in or travel to. You can get access to all the streaming content as long as you can have an Internet connection. There are English, Spanish, French, and Filipino channels. However, there are only 4 channels in the Filipino section at the time of this IPTV review.
Since only one household WiFi network can be used with this service, you'll need to contact support if you are subscriber and moving to a different location or country. You can use only one mobile device with 4G Cell Data when away from home. More on this later.
Learn More and Get Your Free or Subscription Here
Features & Benefits
All the streaming content can be delivered across many compatible streaming devices and TV. There is a free MYIPTV player download (SO Player app) available.
One can easily change between interfaces to watch television online when selecting a live channel, on-demand, or TV guide. The search feature allows searching by title to find what you're searching for quickly. Fast, smooth interface with no delay in playing live and on-demand content once selected. For the most part, no buffering issues which were one of the main concerns. But I did experience some buffering here and there when watching my Sixers game one time.
MY IP TV claims to have a high-speed back-end network that's designed to quickly deliver streaming content even during peak hours. This is the time when more individuals are home and online. Also, holidays and special TV events when more people are online.
You can switch between channels seamlessly when watching your favorites — no delays or interruptions. Use up to 4 devices/screens concurrently such as Android device, iOS, computer, Fire TV or Firestick. You can also get this streaming content directly to your TV with built-in Samsung & LG native apps.
Some Samsung and LG smart TV users may find the Nora Go app in the smart TV app store. If this app can be found, it can be downloaded/installed directly to the smart TV. No other streaming device is required. Learn More Here.
I did the latter and downloaded/installed the Nora Go app to my Samsung smart TV. Next, I entered my username and password that was emailed to me by the IPTV service. From then on, I was able to get access to all the content and watch directly on my smart TV. I also have the free My IPTV apk installed on my Firestick that's connected to my smart TV. I can watch both ways via Firestick or directly from my smart TV.
There are over 500 live premium TV channels with all the popular networks to watch movies, news, sports, and shows. They claim to have 1000s of on-demand movies and TV series. No one is counting so I'll take their word for it.
The DVR feature is nice to have, even though you can't do any recording yourself. They do all the recording for you, whereas many shows from many TV networks are recorded. These recordings are available up to 7 days or so. That's how much time you have to watch them before another batch of 7-day recordings become available.
In essence, you get everything instantly without messing around with scheduling or fast-forwarding. Mainstream television shows are available 24-hours after airing. Between CatchUp , DVR recordings, and on-demand content, you have a greater chance to locate and watch what you've missed.
The EPG (TV Guide) is something to marvel at as well. Just like a typical TV guide, you will see a list of TV channels/networks with shows in their respective time slots. Scrolling through the list of networks and time slots were seamless. The television shows I selected played quickly.
Local TV channels for the US and Canada are available. However, it's unknown if all cities are included. I found about 4 local channels from my area, Philadelphia. You can search these local channels when typing in the network name or city. By the way, only two out of 4  local channels played. These channels aren't just news channels. As for the other two that didn't play, it looks like I have to contact support about them.
Local TV channels are still relatively new. I believe IPTV services will add more local channels in the near future. If you want to get all your local OTA channels from your television stations in your area, just purchase an indoor HDTV antenna with an amplifier. Learn More Here.
Pay as you go. There's no automatic or recurring billing. When the one-month subscription ends, you decide whether or not to pay the fee again to renew the subscription. Some individuals appreciate this setup because of past issues with other IPTV services. This way, you don't need to contact support to cancel. Once your one-month subscription runs out, all services stop. Remember, there is no recurring billing.
I enjoyed seeing the crystal clear Picture quality when most channels that I tested played. You get HD quality, either 1080p or 4K. Support said if channels are not HD, they are upscaled to match the size of your screen.
One other thing I noticed that should be helpful to you was the Network Status section. When going to the MyIPTVNow website, it will show the "Outages and Service Restoration". It also shows "System Statistics". You'll see the IPTV service uptime when an issue occurs and you want to know if there is some kind of outage. The information will show if there's an issue with My IP TV.
Here's What You Get:
Over 500 Live Premium TV Channels
1000s of On-Demand Content with Movies & TV Series
Popular TV networks with movies, sports, news, and TV shows
Live Sports and PPV Events, the fights (no extra charge)
Check the status of service and maintenance (on the website)
CatchUp TV when unable to watch live
DVR recordings up to 7-8 Days
No local sports blackout
HD picture quality, full screen, & search feature
EPG (TV guide)
Music and gospel channels
Free trial (no credit card)
MyIPTV Channel List – See Free Trial
There is no MyIPTV channels list but you can see all channels when opting into the free trial. I will say this: Any channel/network you think of is more than likely available to watch online. If you don't want to enter into the free trial yet, then watch the MyIPTVNow review video above. You'll see many of the channels listed.
Learn More or Get Free Access Now
Content, Performance & Interface
Content
Simply put, the streaming content that is available equals to that of cable and satellite TV. Many of the top TV networks are there. No doubt you will find many of your favorites as I have. There are live premium channels found under the US, UK, Spanish, French, and Filipino categories.
The CatchUp, DVR, and On-Demand sections have enough content that makes you forget Netflix, Hulu, and other streaming TV services. There is content for the entire family (kids, family, adult, all kinds of TV shows/talk shows). All movie genres and many TV series are available.
As for sports fans, there is nothing better when having all your favorites sports channels/networks. You can watch any live sporting event (local, national, international). And this includes PPV events with all the major fights live. No extra cost to watch those fights. Another plus is no local sports blackouts.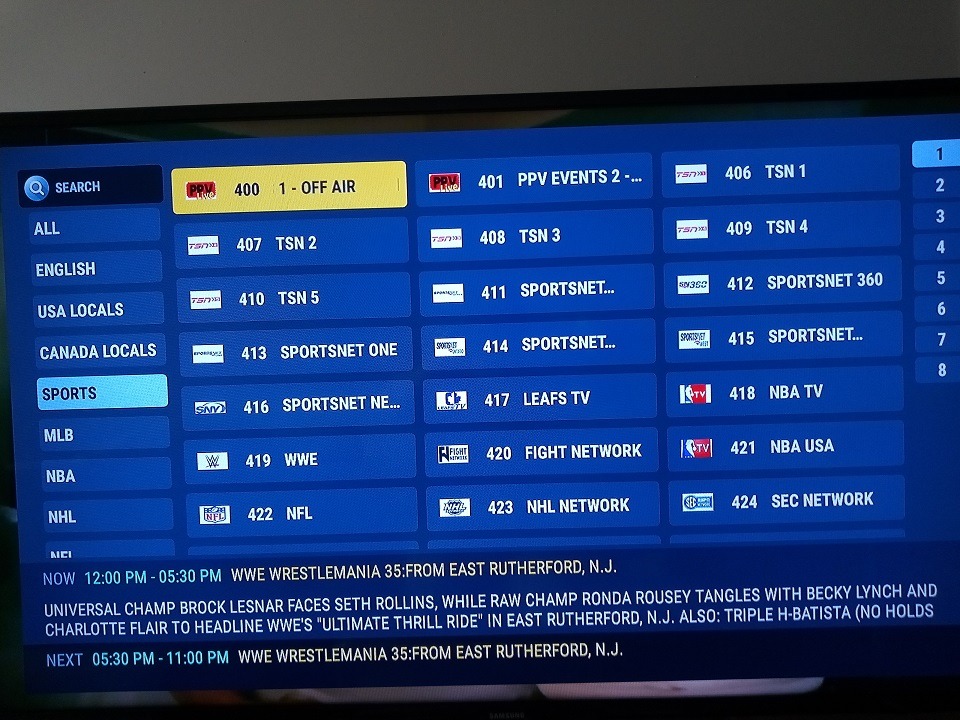 There's a sports section (link) and below it lists other sports sections (links) for NFL, NBA, MLB, and NHL. When going to the Sports section, many popular sports networks appear. Many times you can watch a sporting two ways: 1. Sports network; 2) Sports links for NFL, NBA, NHL, and MLB.
No regional channels/networks are included but you can watch any live sporting event live online. The great picture and audio quality are something to appreciate, even when enabling full screen.
There are 1000s of on-demand movies and TV series with episodes that work seamlessly when searching, finding, and navigating to what you want to watch. You can a movie or TV series by title when going to the Search feature. You can find a TV series you want from the drop window where all episodes will appear. Movies include many genres that can be selected to find all Sci-Fi movies, Action movies, etc.
Again, navigating around to find what you're looking for is seamless. All the content is well organized in categories and sub-categories. The same for USA local channels, UK local channels, and so on.
Performance
If you are high on performance, then this should put a smile on your face. The MyIPTVNow app and service make everything effortless. All streams play quickly with great quality. Very rarely did I come across a channel that didn't work. When I used my recording software to record the video review, only then I had streaming issues. Nevertheless, there is nothing to complain about here.
You may notice some buffering from time to time when watching certain live sports.
Interface
The interfacing between the user, MyIPTV player (or SO Player), and IPTV service all get high ratings. No major issue occurred. The interface is fast and smooth, whereas live channels and on-demand content played quickly. There's no hassle getting in and out of different categories, channels, VOD, EPG, etc.
Device Compatibility & MY IPTV App
Here's a breakdown of all the compatible devices you can use:
Android Boxes & Nvidia Shield
Amazon Firestick/Amazon Fire TV
Android TV, Smartphones and Tablets
Mag box – Portal URL
Microsoft Windows Version
Mac Version
iPad / iPhone / iOS 9.6 / Apple TV
Samsung Smart TV w/ Nora Go app (LG TV, maybe)
Depending on what smart TV model you have, you may be able to use the Nora Go app. If you have a Samsung or LG smart TV, search your smart TV app store to find NoraGo. If the app can't be found, then your TV is not compatible. If the app is there, download and install the app.
As for other devices, the MYIPTV player, or I should say the SO Player is actually the recommended app to use. All the instructions with steps, app download links, and video tutorials are on the website when you visit.
Unfortunately, Roku and Chromebook are listed as not supported. However, users of those devices may be able to use a web browser on Roku with their web stream service plan. You can contact support to find out more.
You are allowed up to 4 devices simultaneously. This means, for instance, you can connect a computer, smartphone, smart TV, and Firestick device. Or you can connect up to four TVs if you want. Only one account with one household modem/router (WiFi network) can be used.
You cannot use another household network — only one. If you do, the My IPTV apk/app will lock and you won't be able to watch anything online. Only one mobile device can be used per account outside your home network. You can use a smartphone with 4G data but cannot connect to another WiFi network. If this by mistake and an issue occurs, just contact support.
Newcomers to Internet TV
If you are new to Internet TV or never downloaded anything before, no need to worry. Just determine what device or TV you want to use.
If you want to use your smart TV or HDTV, use the Firestick. Learn More Here. To avoid purchasing the Firestick, you will need a smart TV or computer connected to the Internet.
If you have a Samsung or LG smart TV, search your smart TV app store. Look for the Nora Go app. If you find it, download/install it. If you can't find it, then your smart TV is not compatible. Watch Video Here.
If you don't have a Firestick or smart TV, you can use a Windows or Mac computer. Just purchase an HDMI cable to connect both TV and computer. Or connect a computer wirelessly to the smart TV. Whatever appears or plays on your computer screen will appear or play on your TV screen with audio. Learn More Here.
You can also purchase a wireless keyboard to operate your computer from a distance – Learn More Here. This way you don't need to go to your computer every time to change a channel in the MyIPTV app (SO Player app). In other words, your TV remote control will not work with this setup.
Visit IPTV Website to Learn More and See Download Instructions
Free IPTV 3 Day Trial, Subscription, Money Back Guarantee, Support
There's an IPTV service 3-day trial that gives you full access to all features and content. No restrictions whatsoever. Because there's an IPTV free 3 day with full access, which provides more than enough time to test everything on your devices, there's no money-back guarantee. In other words, no refunds.
Keep this in mind when wanting to cancel. There's no recurring billing which means your credit card or payment method won't be charged automatically.
To cancel, just don't pay again to renew your subscription once the one month period ends. There's no need to contact support. You have the option to choose to renew your subscription or not on your end. All the control is in your hands.
MyIPTVNow Review — Pros and Cons
Pros
The pros are many and outweigh the cons. You get an easy way to watch all your favorites online, once the MY IP TV player (SO Player app) is installed. This IPTV service provides most if not all of one's favorites in one place. You are not obligated or restricted in any way. There's always something to watch for the entire family.
Subscribers can watch any live sporting event (local, national, international) including PPV events without an extra cost. Movie buffs get access to many popular movie networks and on-demand movies including most recent movies. There are many kids' channels and other types of streaming content.
If you are into TV shows, news, sitcoms, soaps, or episodes, you get all that as well. There are channels from other countries which makes this service great for bi-lingual and multi-lingual people. With DVR recordings, CatchUp, and On-Demand content, there's no excuse for not being able to watch what you missed.
No need to put time into setting up the DVR and no more forgetting to do it. All of the work is done for you. The cost savings is one of the high points when using this service. And no more paying for channels you don't watch. Adding to that local channels that are beginning to explore online. You get some of those channels now as more come your way in the near future.
If you are looking for a fast, reliable IPTV service with fewer complaints and hassle, this service is one of them that should be explored further. There's nothing stopping you. Opt into the 3-day free trial and test everything out yourself.
Cons
There's not much here other than some lack of features such as Add to Favorites. Perhaps one day the service and MyIPTV app will include this feature. Many local channels are missing but I believe more will be added sometime in the future. I only found four of them from my city with only two workings. It is not clear if all cities are included from the US. Canada appears to have less local channels then there should be.
Although Adult content is included and something I don't agree with, it's locked by default. Children cannot access it which makes the My IPTV app child-friendly to a certain point. There is no feature to block PG and R-rated movies and live channels from children. Parents will be needed to monitor what children watch online.
Another missing feature is CC (Closed-Capture), which would be very helpful to people that are deaf. Perhaps this is something they will work on in the future. You may experience little buffering at times when watching some of the live sports. Whatever downsides are left did not show up during this My IPTV review.
If you are a traveler or going to travel and want to watch your favorites online, the issue can be one WiFi network allowed. You can, however, use a smartphone with 4G data but can't use a different WiFi network.
However, if you are going to stay awhile at the place where you are traveling, just contact support to have them reset your account devices. Or wait until you arrive at your destination, and then subscribe to the IPTV service.
Conclusion
Whether you are new to Internet TV or not, no doubt you want the best of Internet TV entertainment has to offer for the right price. You want a great experience without any hassle or interruption as well as getting access to your favorites. IPTV services are just beginning to give consumers what they've been wishing for and you can get it all from one source.
The Amazon Firestick is the most popular streaming device that many people use today. If you don't have one, then I suggest you purchase one if you want the best online TV experience. That's if you don't have a smart TV. But if you have HDTVs in your household, the Firestick makes since. You only need one account to connect 4 streaming devices.
When looking at the subscription cost, you save big. If you are going to cut cable or ditch the dish, use that savings to purchase the Firestick. Or use the savings to increase your Internet connection speed.
The free trial is a no-brainer. I highly recommend that you opt in to the free trial first. Test your devices in and out of the home. This IPTV service can be used even if you decide to move to another country. Watch live channels from your homeland no matter where you are in the world.
The MyIPTV apk/app or SO Player app has great technology that enables you to watch everything at home or on-the-go. Keep your family happy by letting each use their device to watch what they love. If not, make yourself and friends happy when getting television entertainment most people want.
This Concludes Our My IPTV Review
Get Started Now and Watch All Your Favorites Online with Free Trial or Subscription