My Thoughts...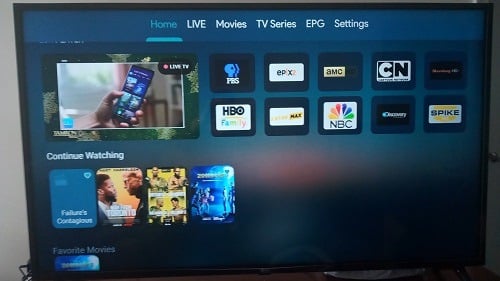 Product Name: Marvelous Streams Review
Product Description: IMPORTANT UPDATE: Marvelous is no longer accepting new customers and was replaced with the Wonderland Streaming service which has the same everything. You can still read the review and watch the video tutorials... IP Locked IPTV service provider supporting the LUX Player app delivers 100s of live TV channels and 1000s of VOD TV Series plus VOD Movies. Channels includes US, UK, CA, and few other countries as well as premium, some US local/regional & global channels. Delivers live channels from major TV networks to watch movies, news, sports, kids, and other shows. Also includes, local/national/international sports plus seasonal sports (NFL, NBA, MLB, NHL & NCAA), UFC Replays music, adult 18+, and other content. Can install LUX Player app on Android devices, Devices with Android Operating System (Firestick, etc.), iOS devices, Apple TV, Tablet, and Smart TVs such as Samsung & LG.
Brand: Marvelous Streams
Offer price: 24.99
Currency: USD
Availability: OnlineOnly
Usability

Performance

Picture Quality

Compatibility

Live Channels

VOD

Sports/PPV

Global Channels

Adult 18+

EPG (TV Guide)

Features

Support
Marvelous Streams Summary
IMPORTANT UPDATE: Marvelous is no longer accepting new customers and was replaced with the Wonderland Streaming service which has the same everything. You can still read the review and watch the video tutorials… Watch your favorite live channels, TV shows, and live sporting events including on-demand movies and TV series at an instant. Next best thing to cable/satellite TV if not better and more affordable. No contract, no hidden or extra fees, no cancellation fee, no hardware or antenna to install. Pay as you go and renew your subscription when you want – no recurring or automatic billing. Can stream up to 4 streaming devices at one time. Each household member can watch something different.
Pros
Get all-in-one live TV & VOD entertainment medium
Watch live and on-demand movies w/ new releases & genres plus TV series w/ seasons & episodes
Get access to premium live channels without high cost
Get access to live sports package w/ local, national, international, & seasonal sports
Watch PPV events, the big fights/boxing/special events with no extra cost
Easy to setup but Firestick/Fire TV devices requires more steps
Great support w/ chat box, video tutorials and PDF installation guide
Can connect up to 4 compatible streaming devices including smart TVs at one time
Each member in household can watch something different from the other person
Anyone worldwide can get access, no country is restricted
30-Day Money-Back Gaurantee
Cons
Have genres section in the TV Series category but no genres listed
A number of channels outside of the US did not work/play
Number of US Local channels in Your Area is Limited, some may not work – Typical to all IPTV services
Uses IP Lock sytem which means you cannot change your IP address or use VPN service
Can only connect mobile phone to IPTV when traveling to watch your favorites online
Marvelous Streams Review with Pros/Cons by Real Tester & Reviewer. MarvelousStreams could be a way to cut the cost of high paid TV subscriptions without losing watching your favorites. Question is do they deliver what they claim and can this medium be the thing you're looking for.
I intend to break everything down both written and on the video to learn all you can. You to see firsthand if this is something you would like to try. Although Marvelous falls under streaming TV services, I put them in the IPTV service category due to the fact they offer something a bit different.
If you like having an all-in-one streaming TV/VOD entertainment source to watch many of your favorites online, you get to see inside. And if you want to continue using your smart TV or Firestick device that's not a problem with this service. In fact, there are other compatible devices that can be connected as well.
NOTE: I am sending you to the alternative IPTV service, not named Marvelous Stream. You will still be using the LUX Player app.
Signup Here and Get your Free Trial, Subscription & Activation
Additional Information…
What makes this streaming TV service a bit different from the others is there is no country restriction. Anyone from all walks of life, from any continent or country can get access. What also separates this IPTV service is the all-in-one entertainment.
You get access to live premium channels from major TV networks to watch movies, news, documentaries, kids shows, and other shows. On top of that Adult, live sports package with PPV events with no extra charge are included. But that's not all that I found during my Marvelous Streams review.

Organization/Navigation of Streaming Content
You should have no problem navigating inside the TV player app. It's well organized and very attractive to the eye. Just follow along as I break everything down. But keep in mind that I created a video tutorial that gives you a complete visual inside HERE.
Home Screen
Once the setup installation of the app connected to the Marvelous Streams servers are connected, you get instant access to all the streaming content. When opening the TV player app, I was taken to the attractive Home screen.
It displayed the channel preview on the left and over to the right appeared two layers of live channels where you can play any one of them. In the top menu, the following clickable links were displayed:
Home | Live | Movies | TV Series | EPG | Settings
I could easily click the Live category or Movies category or any of the other category to be taken to any one of them to watch wanted I wanted. I'll come back to this a little later.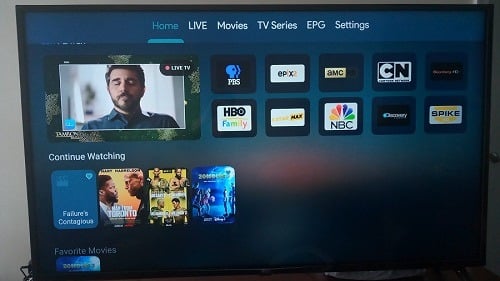 Below the channel preview screen playing a live channel stream, I could see the 'Recently Watched TV Channels' section, 'Added Movies' section, and 'Last added Series'. When you add VOD movies and/or TV Series to favorites, you'll see the 'Favorite Movies' and Favorite TV Series. In other words, the TV app tracks what you were watching. All of this can be found right on the Home screen.
Live Category/Section
Next, in my Marvelous Streams review, I clicked the menu link to go to the Live channels category that had sub-categories of channels. Here is where you will see all the channels with images but you won't see them in the way I listed them below…
All | US | Canada | Sports | UK | Spanish | French | German | USA Locals | ESPN + | MLB | NBA | NFL | NCAA | NHL | Music Channels | PPV | Adult
Each one of the sections above with channel/network names and images are clickable. You can watch any one of these channels. See the screenshot below. I couldn't show all the sub-categories.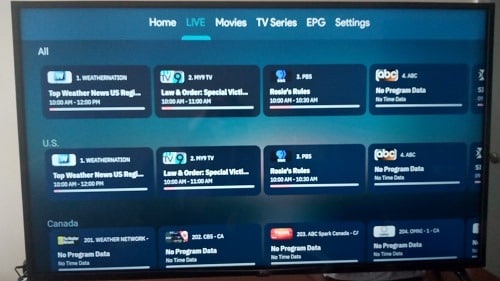 You can scroll up/down or left/right to find a favorite channel to watch. Just click the
name image and start watching. As I continued my Marvelous Streams review of the TV player, I went to the US section and scrolled all the way to the right. There I found the 'See All' label. When clicking that icon a host of TV channels/networks appeared for the US.
Click Here to Signup, Get Free Trial or Subscription with Activation
Additional Information…
I could scroll up/down and left/right and have a better view of the channels delivered. There is also a Search tool that appears as magnifying glass. Over to the far right when scrolling down from the channels listed, a numbers column appear momentarily at times. You can easily select a number to select a section of channels to view very quickly. Do not play just view them to find what you want to play and watch.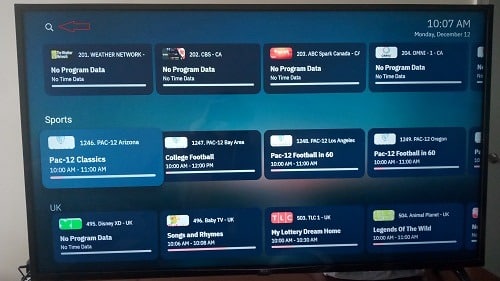 As I continued to review Marvelous Streams through the LUX Player app, there was no feature to add channels to favorites. When selecting a channel, it plays in full screen.
Movies Category/Section
When going to the Movies category section, a host of VOD movies appeared. Again, you can scroll up/down, left/right. All the movies are sub-categorized in the following way:
Last Added (clickable link)
New Releases (clickable link – opens new movie releases)
Genres (all clickable below)…
Action
Adventure
Animation
Biography
Comedy
Crime
Documentary
Drama
Family
Fantasy
History
Horror
Music
Musical
Mystery
PPV Events – UFC Replays
Romance
Sci-Fi
Sport
Thriller
War
Western
There is a Search tool that lets you search a movie by title.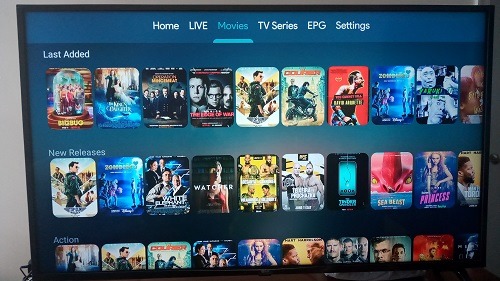 In addition…
When selecting a movie to play, you will come across two buttons: 'Add to Favorites' button and 'Play' (or Play from the beginning) button. And there was a description of the movie as well. Below, you will find 'Recommended movies' when getting ready to play it.
TV Series Category/Section
I highly suggest that you watch the Marvelous Streams review video to get a complete visual HERE.
Here's what you will find in this section and how the app organizes all the TV Series…
All Series – the clickable link that takes you to all the TV Series with seasons and episodes. You can scroll all the way to the right to find 'See All' and select it. This will open all the TV Series for your viewing.
But before I did that, there was a genre section below where no genres were listed. It would have been nice had they provided them. Again you can scroll up/down or left/right to navigate around the TV player. When selecting a TV Series to play, two buttons are visible: 'Add to Favorites' and 'Play' (or Play from the beginning). It's the same thing I covered in the Movies section.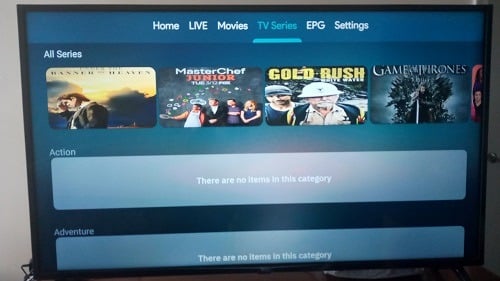 When selecting a particular TV series, a description of the TV series is shown as well. To be clear, you can choose among the seasons and episodes listed to start watching online.
EPG (Electronic Programming) Category
The EPG appears as a typical TV guide that is programmable. You'll find a list of TV networks in the left column and to the right are the description of TV shows in their time slots. When using my Firestick remote and scrolling down one level from the top, a row of clickable channel sub-categories appears as follows:
All | US | Canada | Sports | UK | Spanish | French | German | USA Locals | … and so forth. This is the same thing I covered in the Live channels section earlier. Using the Firestick makes navigating the EPG so much easier. This is one of the best parts of my Marvelous Streams review that I liked.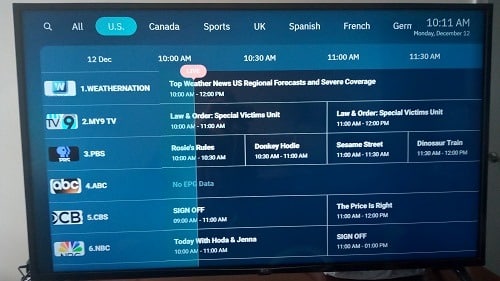 Simply put, you can select any one of the above sub-categories of channels to load the TV guide. For instance, I selected the US and it loaded the TV guide with only US channels. Next, I selected Sports which replaced all the US channels all sports channels. How convenient is that!
You can play any channel directly from the TV guide easily and watch it. The TV channels with TV program descriptions make watching TV online more enjoyable. However, not all descriptions appear for every channel.
Get Your Free Trial or Subscription with Activation Here

Channel Delivery, Picture Quality, Performance, & Interfacing
You'll get 1080p HD, SD, and perhaps FHD picture resolution. I have an LG smart TV 4K and Firestick 4K. The picture quality was crystal clear and quite satisfactory to my liking as I'm sure it will be for you. Streaming live channels for the most played quickly but you will come across some that take a little longer (not much) to play.
You are bound to come across some non-working channels as I did. This is typical of all IPTV services. VOD movies and TV series played well also. By the way, you can fast-forward or move back the VOD when it plays. I generally like to bypass the introduction of the movie. Everything is user-friendly. There shouldn't be anything difficult for newbies.
I highly recommend getting/using a Firestick due to the ease of the remote control, Alexis Voice, and Internal app store. The Firestick and Fire TV is compatible with all IPTV services with different TV apps. That streaming device really works well with TV players.

Compatible Devices
You already know that during my Marvelous Streams review, I used a Firestick. But you can use any of the following compatible devices. You get up to 4 device connections at one time. It doesn't matter if you want to install the app on 4 smart TV or 4 Firesticks or any combination of different compatible devices. See compatible devices below…
Android Devices (TV, Box, Phone )
Devices w/ Android Operating System (Firestick, Fire TV, NVIDIA Shield, etc.)
iOS Devices (iPad & iPhone)
Apple TV
Tablet
Smart TVs (Samsung, LG, or smart TV where the LUX Player app can be downloaded)
NOTE: For smart TVs, they must come with a built-in app store. If the LUX Player can be found and downloaded, then the smart TV is compatible. Otherwise, you must use one of the other compatible devices listed above.
I wish I could have added Roku to the list of compatible devices. But after installing the LUX Player app connected to the Marvelous Streams servers on my Roku, there became an issue. The 'See All' section for live channels didn't work and would shut down the app every time I tried to into that section. I notified support people and they notified the developer of the app.
————–

Free Trial, Subscription Plans & Money-Back Guarantee
I have another Marvelous Streams review video that covers everything on the Marvelous website. You should watch the 'What is' video. The free trial might not include PPV events. Each of the three subscription plans has the same everything–streaming content, features, and 4- device connections.
Here's a breakdown of the trial and subscriptions below…
3-Day Free Trial: $0.00 (no credit card required)
1-Month Access: $24.99 USD
2-Month Access: $49.98 USD
4-Month Access: $99.96 USD
You get a 30-day money-back guarantee which is extremely generous. I only came across just a handful of IPTV services that have a 30-day refund policy.
For More Info, Get Free Trial or Subscription & Action Click Here

IPTV Support & Presell Questions
When visiting the MarvelousStreams website, you will notice the chat box in the lower right corner. You can use it to make contact with pre-sale questions. I am not sure if there's a live agent available at all times. If not, you leave a message with your email address. I suggest you also read the FAQ section.
Use the chat box to get support when you become a subscriber. The IPTV service, in this case, Marvelous Streams, provide support for the TV app/apk and streaming content they deliver. You don't need to go anyplace else online for support. They will provide the activation/login credentials as well.

Marvelous Streams Review – Pros & Cons
I covered the Pros and Cons in the star-rated review above. You should read them if you have not already. In a nutshell, the pros outweigh the cons and I have not found anything to be a major issue. You might have concerns about buffering.
I didn't experience any but during my Marvelous Streams review, I did not play channels long enough. No IPTV service is perfect and there's bound to be some buffering. It's the consistent buffering that may be coming from your end.
After my review, I continued using the TV player connected to the IPTV service and didn't experience any consistent buffering. check your end first before blaming the IPTV service provider. If using a Firestick – Click Here to Resolve Consistent Buffering. If you are using any other compatible device and experiencing consistent buffering – Click Here.

In Closing…
You may still have doubts or are undecided about using this IPTV service with the TV app. In that case, I suggest you try before you buy. You won't be asked for a credit card. Most IPTV services don't give that length of time. One day is all you get from many of them. With the 3-day trial and should you decide to buy, there's a 30-day money-back guarantee. So really it's a win-win for the customer.
You are not entering into any contract or locked in any way. You decide whether or not to renew your subscription. And if you decide not to renew, you won't get billed. I'm not the IPTV service and therefore can't guarantee anything will ever go wrong but that's the risk we all take.
If you have come this far to read, you must have liked the benefits. And if you watched all the video tutorials surely you must have been encouraged to give this try. I would not have taken the time to do the work to bring this inside information to you and my other website visitors had this been a scam or subpar service. It's now left up to you.
This Concludes My Marvelous Streams Review.