Jedi Stream Review – Pros and Cons by Real User. Gone are the days when all you had were video on-demand websites. Hardly any live TV if any at all. Today, we can get access to many of our favorite live television channels online. Channels that come from many popular networks to watch movies, shows, news, sports, and the list goes on. Jedi Stream TV not only delivers what many TV viewers want and love but takes things a lot further.
IMPORTANT UPDATE (Take Heed):
New customers are no longer being accepted at Hurricane but there is an alternative SO Player IPTV service you can subscribe to. Just click the link below to visit the website or read our full review…
DO NOT READ BELOW THE LINE… We Removed all links to the IPTV service for SO Player…
————————
Click Here to Get Top  IPTV Service with FREE Trial and Subscriptions (For SO Player)
Nora Go App for smart TVs, Visit IPTV Service Here
Note: It is recommended that you install the Nora Go app on smart TVs. Install SO player on Firestick and all other compatible devices. You may find the SO Player app on some of the newer model smarts TVs when searching for it inside the internal app store. If this is the case for you, then install SO Player on your smart TV. SO Player is the better performing app. Otherwise, uninstall Nora Go if already installed on other devices except the smart TV.
———————————
UPDATE: 24-hour Free Trial changed to 3-day trial for $5. When you see Free Trial in the review below think 3 days for $5.
IMPORTANT NOTE: This service uses PayPal as the payment processor which protects consumers from making a purchase online. Do Not be alarmed seeing the name PayPal when signing up for the free trial or subscription. You can choose to use a major credit/debit card if you don't have a PayPal account. If you have a PayPal, then you already know they protect you. The free trial is totally free, with no credit card.
——————————
There are many complaints about cable and satellite TV that you probably can attest to either from your own experiences or hearing about them from others. The high cost keeps rising, different fees, bundle packages, contracts, lousy service, and whatever else. And like me, you probably want to move away from all that crap but only if you don't lose what you love to watch.
JediStream TV can be an alternative to cable and satellite television but that really depends on you. Making the switch from traditional TV to Internet TV doesn't come easy to some individuals. However, things have greatly improved over time with the Internet, streaming TV services, sophisticated apps, and streaming devices. This, in turn, has helped many individuals make the decision to cut the cord or ditch the dish a lot easier.
Click Here to Get Your FREE Trial or Subscription
Jedi Stream Review – What Is It, Who Is It For, and What Is Needed
What is Jedi Stream? Ever heard of an IPTV service before? Here's one that delivers live television channels in the 100s and VODs in the thousands. All the streaming content is delivered across compatible streaming devices via a free app download.
All you need is a high-speed Internet connection to make it all work. In other words, all the subscribers need is JediStream to deliver all the streaming content, the free app, streaming device, and Internet connection.
There is no set-top box, antenna, or hardware needed other than your device. A device can be a smart TV, Amazon Fire TV/Cube/Firestick, smartphone, etc. More on compatible devices is covered later in this Jedi Stream review. There's no contract, credit check, cancellation or hidden fees, and no local sports blackouts or Geo-restrictions. Everyone worldwide gets access to the same streaming content.
JediStream TV includes other countries besides the US for those who speak a different language. And for those who want to watch channels from their homeland, can do that as well. If you are bi-lingual or multi-lingual, you stand to benefit more. When going through the JediStream review, I thought that it would only appeal to those that love watching sports, movies and/or TV shows. But, it also appeals to those that want to catch up TV and television series with all the episodes.
There is no Jedi Stream channel list on their website but you can watch the video review that takes you inside to see all the names of channels/networks.
How it Works
When signing up for the free trial or one of two subscriptions, you are also asked to enter an email address and create your password. More on the free trial and subscription breakdown later on. After completing the signup process, you are directed to the next page that has your order information and activation/login details.
Click Below to Watch Introduction Video…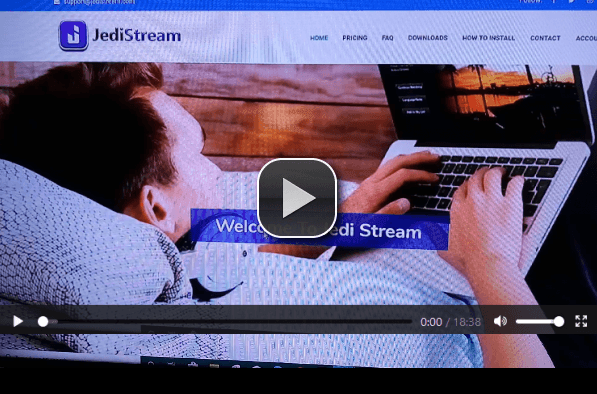 Now lets back up a bit. The email address and password that you create is the login information needed to sign in to your Jedi Stream account. This account contains order details and other information including the user's activation/login credentials. This is where the subscription can be renewed also.
The activation/login credentials include the Provider ID, 4 device pins codes (all numbers), the username (all numbers), and password (all numbers). Depending on the device used, parts or all of this information is entered into the app to activate it.
Expect to receive some emails from Jedi Stream IPTV. If you entered your correct email correctly during the sign-up, then you will receive their emails. If you don't see any emails, look in your Junk/Spam folders for them. One of those emails will have your order information and activation/login credentials including instructions and links.
There are two apps to choose from depending on which device is used. Both are free apps that can be downloaded/installed to one's device before or after signing up to JediStream. There are instructions on the Jedi Stream website that tells what compatible device can be used as well as video tutorials to show how to download/install the app.
Once the app is activated and you are signed in, the app opens with all the live channels and VOD content at our fingertips. No guide is needed. Everything is self-explanatory. Simply go where your eyes take you when pointing and clicking.
Other Streaming Content Included
When going through my Jedi Stream review, I also came across local US channels, seasonal sports, PPV events, music/radio channels, gospel, and other content. Subscribers get an array of TV entertainment at their fingertips. And to top it all of, they included an EPG that works as a TV guide. You get HD (1080p) picture quality for both live channels and VOD with very good audio.
I broke down the different sections with categories and sub-categories of content to get a better understanding of how everything is organized. Keep in mind the JediStream app is actually a 3rd-party application called SO Player and there's another app called Nora Go for smart TVs. Learn more below…
Jedi Stream IPTV with SO Player App or Nora Go App
You must understand that neither SO Player nor Nora Go can deliver live channels and VOD content. They are not standalone TV apps and both require an IPTV service to activate the app. Also, remember the IPTV service name. Many individuals think the IPTV service is SO Player or Nora Go and believe both are subscriptions when they are not.
After opting into the free trial and entering the Provider ID including one of my pin codes, I was inside the app. I made a video tutorial on Jedi Stream on smart TV and another on Firestick that allows you to see everything inside.
Click below to watch this IPTV service action via Amazon Firestick…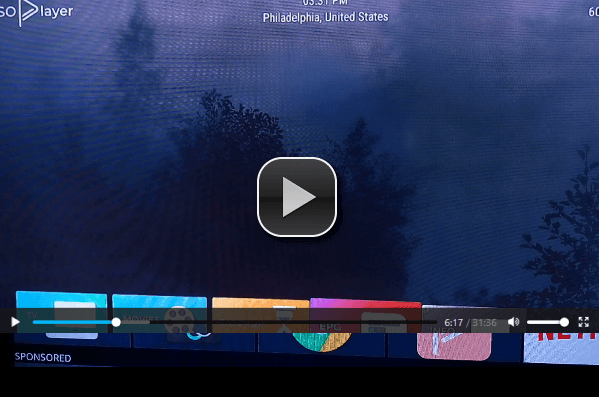 Click Here to Sign Up Now, Get Free Trial/Subscription & Activation
For the free trial, you only get to use 2 pin codes which allows you to connect up to two devices. I used one code for my smart TV and the other for my Firestick. You can get 3 or 4 pin codes depending on which subscription that you pay.
Here is what I found on the home screen…
Main Screen/Home Screen – 5 Icons
TV
Movies (on-demand)
CatchUp (w/ DVR)
EPG (Electronic Programming Guide)
Info (Account Info.)

When Each Icon Section is Highlighted
When the TV icon was highlighted, not clicked, 2 rows of Most watched channels and Last watched channels appeared. But channel/network names only appeared after I started watching some of the live streaming content. I was able to scroll left/right, up/down, and play any channel listed.
When highlighting the Movies icon, the following appeared: Most Popular Movies and Most Popular Categories w/ genres with names of some TV series. I could scroll left/right, up/down, and play any VOD listed or click any TV series genre to see all VODs from a particular genre.
CatchUp highlighted. Shows a list of DVR TV programs listed by name that was previously viewed. Again, I could scroll up/down and play what's listed.
With EPG highlighted, a list of TV networks with program names and times appeared. I could click a TV program in its time slot from a particular network and watch it online.
Info icon has my Jedi Stream TV account information so there's no need to cover this.
Each Icon Section When Clicked
Clicking the TV icon the first time plays the default Weather channel. When watching various channels and coming back to the TV section again, the last channel that I viewed played instead.
Next, I clicked Enter on my remote to make the TV menu appear:
Search (find a TV channel/network name or city)
All
USA
Locals (not all cities included; cities included only a few channels)
Sports (Incl. PPV events)
NHL (Hockey)
MLB (Baseball)
NBA (Basketball)
NFL (Football)
US Open
ESPN+
French
UK (Several channels not working)
Spanish
Filipino
Adult (Locked by default; use pin code to unlock)
All Day
Gospel (All or most channels not working)
Music Channels (incl. Radio Channels)
When clicking the Back/Return button on my remote, this took me back to the home screen. Jedi Stream review continues…
Movies/TV Series (On-Demand)
This time I clicked the Movies icon (on-demand section) and the following appeared:
Search
All Movies
New Releases
TV Shows (drop-down window with names of shows)
Genres (all of them by name)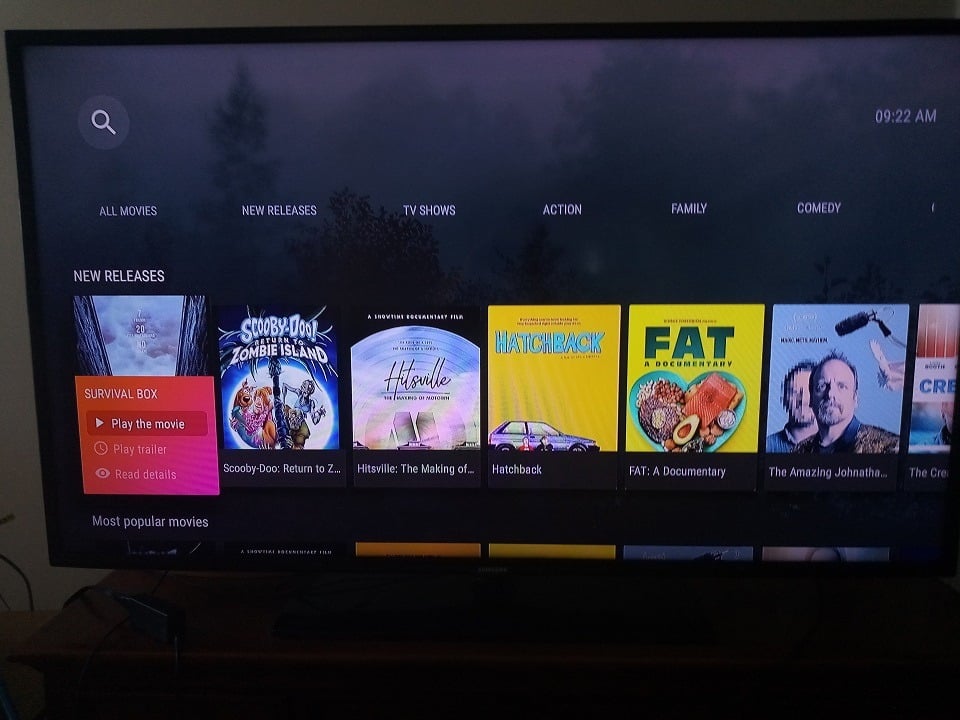 Below, I found sections for Most Popular Movies and Last Watched Movies. With New Releases (movies) highlighted and selecting a movie when moving downward, 3 control features appeared:
Play the movie (can also be Resume playing)
Play trailer (can also be Restart the movie)
Read details (movie description)
This is where you can play a movie and if you click the TV Shows section, a dropdown window appears with many TV series listed. Click any TV series name and many episodes appear. Just click the episode to start watching it online.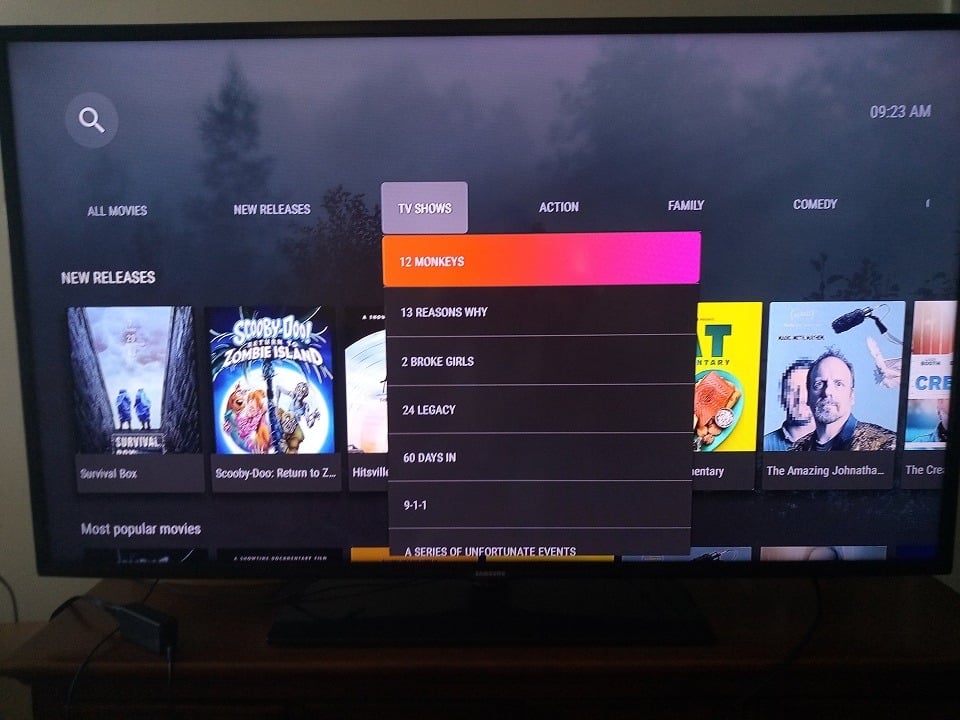 You can watch old/recent movies from many of the popular genres lited, same for TV series. They also included PPV events with videos with many fights that occurred in the past including the most recent. One of the things that I particularly liked when playing a movie was the time-shifting feature. I could bypass the movie intro by fast-forwarding in 'x' amount of seconds. Same thing for rewind.
Catch Up TV & EPG
When clicking the CatchUp icon, the following appeared:
Search
List of TV Network names – Left column; List of numbered Days of the week – right column; Name of TV programs with time slots – 2 columns further right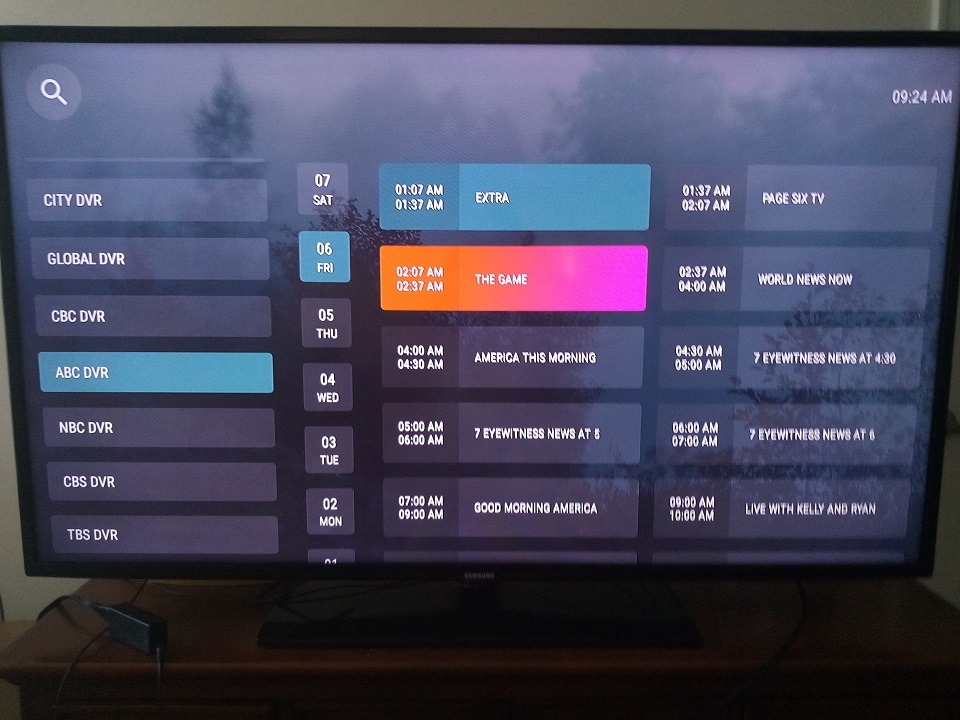 I clicked a TV network DVR name listed, click the day number (8 days of recordings), and then clicked the name of the TV program that I wanted to watch online. Jedi Stream TV does all the recording for you so that all you need to do is search, find, and watch. Many popular television networks are listed with DVR appearing to the right of each network name.
Simply put, the Catch-Up section allows you to watch missed TV shows on your time when you can't watch them on the networks time.
When clicking the EPG icon, the TV guide appeared. A host of TV network names with TV shows appeared in their time slots. EPG stands for Electronic Programming Guide. There's a neat little trick that I learned some time ago. But this only works when using a Firestick, perhaps an Amazon Fire TV or Fire Cube also.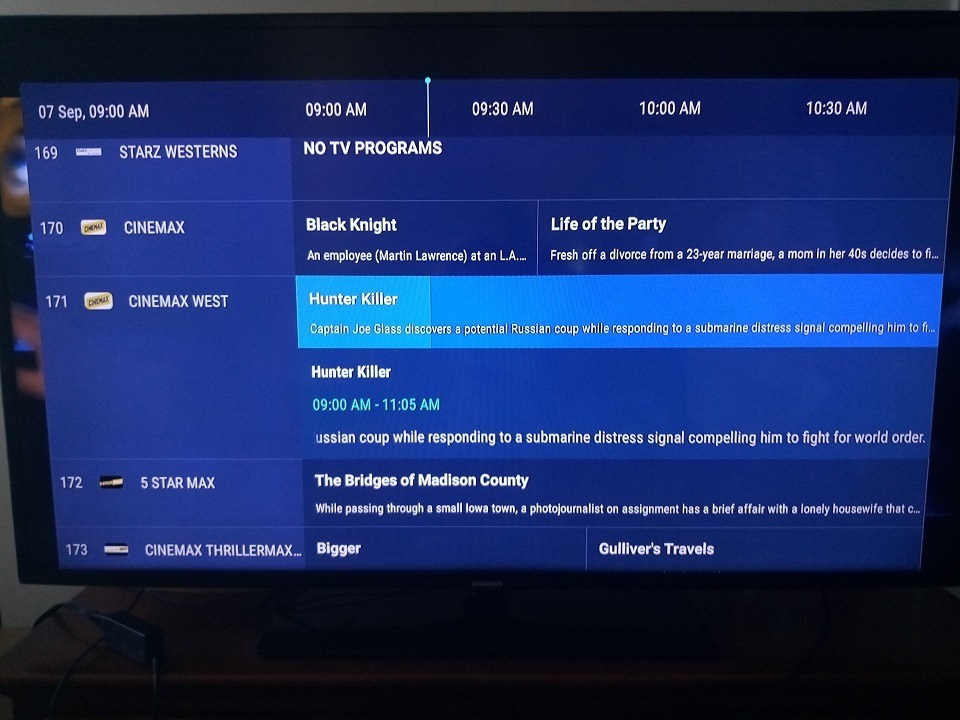 You can program the EPG by clicking the TV icon. Select a section of channels such as the USA to open. Play any live channel, and then hit the 3-dotted line button on the Firestick remote. This automatically takes you to the EPG with all the USA channels listed first. You can do the same thing to have all sports channels appear first or any other section of channels.
Free Trial, Subscription, Money Back Guarantee & Support
I recommend signing up for the free trial first. This allows you to test your device with the SO Player app and Jedi Stream channels/VOD content when playing them. It cost you nothing – no credit card required. The trial lasts 24 hours so make the best of it when reviewing everything for the first time.
Jedi Stream Free Trial
Limited Access
HD Channels
No Credit Card Required
Easy Checkout
By the way, you are only allowed to 2 devices in the JediStream free trial.
2 Subscriptions
1 Month at $25.00 (3 device connections)
1 Month at $30.00 (4 device connections)
Each subscription above also includes the following:
Unlimited Access VOD/PPV
1000+ Live HD TV channels
Easy Secure Checkout
4 Device Connections
All Major Sports Package
No Contracts
There is no money-back guarantee information on the JediStream website. If you want to know whether or not you can request a refund, just contact support before shelling out any money.
To Watch All Your Favorite TV Programs Online, Click Here
Support
3 Ways to Contact Support:
Contact Form
Chatbox
Email
The best way to make contact is through the chatbox. If one of their representatives is online, you can get your answer right then and there. If no one is online, leave your email address with your message and they'll get back to you.
Jedi Stream Review: Pros and Cons
Pros
You get hundreds of Jedi Stream channels from top networks to watch movies, news, kids, sports, and everything else. Also included are USA local channels, PPV events, UK/Spanish/French/Filipino channels/Music/Radio channels, and other content.
Just think of a television network name and more than likely they have it. There are thousands of VOD movies and TV series with episodes. Something for the entire family. You get live and on-demand movies, live and on-demand PPV events, live and on-demand TV shows, and so on. Jedi Stream is an all-in-one source for television that cost only $25 for 3 devices or $30 for 3 devices. You simply choose the subscription that you want.
The free trial speaks volumes that tell you this IPTV service is confident and wants you to try before you buy. There is no Geo-restriction so no matter where you live in the world you can get access to everything. Watch everything in HD (1080p) picture quality but remember higher the Internet connection speed better the overall performance.
Cons
The number of downsides isn't that many and nothing I could really throw my hands up. You'll come across some channels not working which is the same for all IPTV services. I found more channels not working in the UK section (several) but many I tested did work/play. No channels from the Gospel section played which seems to be common in most IPTV services that I tested.
There is an Adult content section included that I wish they would make this optional. Nevertheless, this content is locked by default and a pin code is included to unlock it. Still, there is adult content/language in some of the live channels and movies. There are no parental controls.
Once in awhile a channel plays without audio but there is a quick solution to fix it. Just play another channel with audio, and then play the channel without audio again. The audio usually comes back.
Conclusion
Overall, you get very entertaining streaming content to watch online without buffering issues. At least, this is what I experienced. A good web TV experience sums it all up. The Jedi Stream IPTV service and app work well together. Hardly any delay when playing live channels including on-demand movies and TV series.
It's easy to find what you're looking for. With all the content included and enough entertainment for the entire family, you soon forget about cable/satellite TV. If unable to watch a favorite television program live, the Catch-Up section comes in handy. You're able to watch what you missed on your time.
There are global channels included and if you are a sports fan, there are enough sports for even a sports fanatic. This means local, national, and international sporting events live. Watch all the fights both live and on-demand. No matter what city, state, or country that you live, you get quick access to all the same content.
JediStream TV is the go-to IPTV service for both live and on-demand television. Watch it all at home or on-the-go when using a smartphone. I recommend using this service and signing up for the free trial first to test everything for yourself.
This Concludes My Jedi Stream Review
Get Best of Web TV Entertainment and Save Money – Click Here