Product Name: FuboTV
Product Description: OTT (Over-the-Top) TV Streaming service delivers 100+ channels. Watch live TV, regional channels, national channels (sports, news, talk shows, game shows, movies, sitcoms, soaps, kids). Also, watch on-demand movies and TV shows/series from different genres. Includes Search tool, TV guide, Cloud DVR storage. Can record and pre-schedule recordings. Many add/on TV packages at different price-sets, and international channels.
Offer price: 64.99
Currency: USD
Availability: OnlineOnly
Usability

Performance

Picture Quality

Compatibility

Live Channels

VOD/CatchUp

Sports

Global Channels

EPG (TV Guide)

Features

Support
FuboTV Review
What was once mostly sports and soccer, now has TV entertainment channels included. This OTT streaming TV service compete with the best of them such as Sling TV, Hulu, and others. TV viewers can watch their favorites from live, regionals, and national channels as well as on-demand movies and TV shows/series. Sitcoms, soaps, movies, talk shows, game shows, kids, news broadcasts, and much more. Something for the entire family to be entertained. Choose one out of the five monthly subscription packages with more or fewer channels, Standard Share or Family Share, Cloud DVR. All packages come with different price variations and there are Addon packages for more channels as well. See pricing further down. Some of the features include Search tool, Genres, Record/Pre-schedule recording, TV guide, Cloud DVR Storage (additional storage available) and App.  Can stream (connect) up to two devices consecutively and can add one more device when adding the Family Share subscription. The app and service are compatible with many streaming devices.
Pros
3 Subscription packages (Family, Elite & Latino Quarterly)
100+ live channels from popular TV networks (watch sports, movies, entertainment, news & more)
US regional channels
Entertainment for entire family
Watch all live sports including ESPN
Great for sports fans
On-demand (Lookback on-demand feature to watch previously aired content up to 72 hrs)
Enjoy recording favorites w/ Cloud DVR w/ 250 hrs or 1000 hrs of storage (record & pre-schedule)
Add more device connections w/ Family Share (3 or 5)
Can create up to six profiles from one fuboTV account w/ favorite recordings, channels, series, etc.
Choice of many Add-ons (sports, international, premium channels, Latino Plus, Portuguese Plus & more)
Notification of additional channels added
15-second time-shifting
Search tool
Can watch on-the-go via WiFi
Compatible to many devices (Android, iPhone, Apple TV, Fire TV/Firestick, Chromecast, Roku, iPad, PC & Mac web browsers)
7-day free trial
Cons
Delivers some local channels, not all, and limited to some areas
Somewhat pricey when adding Addons
Not best for on-demand movies and TV series – no genres section, seasons & episodes categories/listings
Only US and Canada residents can subscribe
Can watch on-the-go but stream can vary depending on your physical location
Cannot share account with others using different IP address
FuboTV Review [Fubo Review] by Real User. Cutting the cord or ditching the dish doesn't mean you can't watch your favorites online. Whether it's live TV or local TV, global TV or catch-up TV, or just sports, you can get it all pretty much. And the time to make the switch is now.
You may be wondering is FuboTV legit or legal. Read the section further down. Rest assure you will feel better about this OTT (Over-Top TV) streaming service going forward.
Are you searching for fubotv/samsung tv-connect or fubo.tv/samsungtv-connect information? Do the following…
Scroll down to the bottom of that page
Click the 'Help Center' link
Enter/Search for… tv code
When using this service, there's no contract, bundled package, high cost, or hidden fees to watch Fubo TV Channels. Not only that, but there's also no wasting money on many channels that don't interest you.
There are many reviews of FuboTV out there. Hopefully, all your questions can be answered here, and get a pretty good idea of what this OTT streaming TV is all about.
More than likely, you probably want to know how good is the service, reliability, and how well it stacks up to other streaming TV services. Sling TV is one that comes to mind. In this Fubo review (watch the video also) we are going to cover the features and benefits as well as upsides and downsides to help you make a well-informed decision.
Fubo Television Delivers Next Best Thing to Cable/Satellite TV Without High Cost, Contract, or Paying for Many Channels You Don't Watch
Get Up to 90+ Premium Live TV Channels (National & Regional) to Watch Sports, Movies, TV shows, and News, Plus DVR
UPDATE:
Discovery networks are coming to fuboTV! That means 13 additional channels to their lineup as they continue to increase their entertainment offering. Discovery Channel, TLC, Investigation Discovery, Animal Planet, OWN: Oprah Winfrey Network, MotorTrend, Science Channel, Destination America, Discovery Family, American Heroes Channel, Discovery Life, Discovery en Español, and Discovery Familia will all be available to subscribers through various packages. With these additions, their on-demand library will continue to grow, bringing users over 60,000 moves and TV episodes per month.
FuboTV is live in Spain. FuboTV España subscribers can access 13 Spanish-language channels, including Europe's leading entertainment channel, Movistar Series, which broadcasts programming from U.S. television giants including CBS, NBC, The CW, HBO, Hulu, Netflix, Showtime, and Starz. fuboTV is the first virtual MVPD platform to offer Movistar Series in Spain nationwide, which is the European home to international hits like Billions (Showtime), Castle Rock (Hulu), Madam Secretary (CBS), Outlander (Starz), Ray Donovan (Showtime), Riverdale (The CW) and Will & Grace (NBC).
—————————-
Click Video Below – Part 1 of 2 (Fubo Website Review) …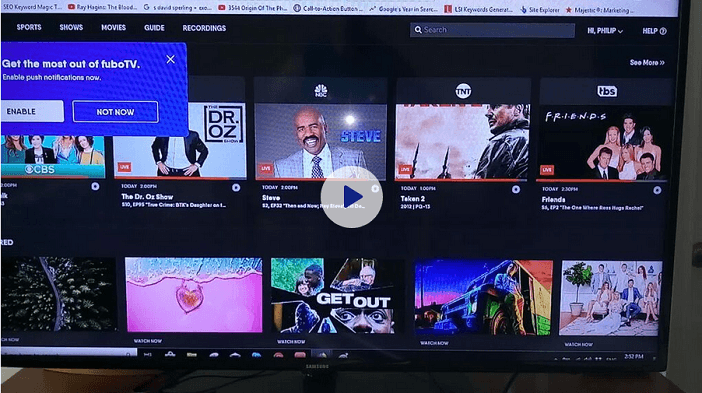 Watch Review Video #2 – See Inside Fubo App with Features and Live Channels/VOD Play.
Click Here to See All Videos – Fubo for Smart TV, Subscription Packages, Addon Packages, Cost, Devices, etc.
FuboTV Cost: If you are in a hurry and just want to see the Fubo TV cost for 100+ channel package or channel list, just click the link below…
Couple of things to note here is Internet TV still has more room to improve and it's not for everyone. Fubo TV helps make the transition from OTA TV to Internet TV easier. But there's nothing stopping anyone from using OTA TV and Internet TV without the high cost of cable and satellite TV. I recommend that you use both.
FuboTV Review – Q&A
Is Fubo TV Legit/Legal?
FuboTV Inc. is an USA-Based OTT licensed Streaming TV service that serves the USA, Canada, and Spain customers. They launched on January 1, 2015 and are still in operation today. It was said that during the 3rd quarter of 2021, there are almost 945,000 paid subscribers. And after that quarter, they hit one million subscribers.
So when answering the question is Fubo TV legit or legal, they are entirely too big to go un-notice online. Therefore, all the TV networks (content holders) know who Fubo is. TV networks can legally have them shutdown if Fubo is infriging on any TV network's copyrights. The FuboTV website has all the required legal documentation for you to read which also includes the Terms of Service.
Fubo's a direct competitor to cable television and live-streaming bundles are AT&T TV, Sling TV, and others. As you can see none of them are TV networks or content holder but are licensed to stream the content online. Trust when I say there have been many 3rd-party streaming TV services that battled TV networks and lost in the court. They were ordered to shutdown.
You can learn more about Fubo on Wikipedia Here.
What is FuboTV?
Fubo TV live is a licensed multiplatform movie and TV series service. They also put a lot of focus on sports. This web-based entertainment service streams both live and on-demand TV and comes with DVR capability.
You get sports and entertainment streaming TV service with more channels than Sling TV. Fubo delivers local TV, live TV, catch up TV with shows, news, and movies including sports TV. Not only can subscribers watch national and regional channels/networks online but they can watch on-demand shows and movies also.
Subscribers can watch everything on multiple streaming devices and there's a free FuboTV app for each device. If you are familiar with Sling TV, Netflix or Hulu, Fubo is very similar and you can watch Fubo TV live on TV. See Wikipedia page
Who is this Service For?
All the streaming content and services are made available to individuals 18 years of age and over. This means no one under age 18 (children) is permitted to access the Fubo TV app, which also means the service is not to be held responsible. This is what new members agree to when signing up, whether they are a parent or guardian of that child.
To be clear, adults can log in to access the streaming content for a child to watch online. But there are no parental controls to block television shows and movies for adults. There is, however, family TV shows, kid shows, cartoons, movies, and plenty of sports available.
Unfortunately, what I found out in my FuboTV review was only USA and Canada residences can assess Fubo channels due to licensing. All other countries are blocked. The same applies to other top US-based streaming services, whereas USA residences benefit the most.
How Does Fubo Work?
When visiting the website, you immediately see the 7-day trial button. Simply click the button to sign up with a valid credit card. You can subscribe to any one of the 3 Fubo packages: Fubo package (80+ channels), Fubo Latino, or Fubo Portuguese at different price sets.
Click to play the video below watch FuboTV review…
Click to Play Video Below and Watch Some Streams Play…
Watch Video 1 Here and Video 2 Here
Enter your zip code when asked to do so. This determines what regional channels you get based on your area. When approved, you are taken to the member's area inside the FuboTV app. This is where all the content is located, conveniently organized for ease of use.
Again, regional channels/networks are found in the area where you are located. Channel availability depends on the package you're subscribed to and their availability can vary by geographic location.
Visit to See What Channels and Packages Are Offered — Click Here
If using a computer, it's best to use the Google Chrome web browser (Windows users). Mac users can use the Safari browser. Smartphone users can install the free FuboTV app. And if you want to watch everything on your HDTV or smart TV, there are some compatible streaming media devices that can be used. I used my Amazon Fire Stick, and then installed the free Fubo TV app.
Further Review…
During my FuboTV review, everything worked well on my TV when watching different Fubo TV shows, sports, movies, and sports. Unfortunately, there is no app for smart TVs at this time. But you can connect an Internet-connected computer to any HDTV or smart TV via HDMI cable. I tested this setup and it works well.
Members can watch shows, sports, news broadcasts, channels/networks, and movies. You can also watch live and on-demand content that are found in their respective categories and sub-categories. I can't emphasize enough how user-friendly everything is. The site's main navigation is pretty straight forward as follows: Sports | Series | Movies | Channels | My Videos.
There's also a search bar where you can search for a specific title. You'll see this in the FuboTV review video. If you ever used Netflix, Hulu, SlingTV or similar subscription-based services such as these, it's practically the same setup and navigation.
There are buttons available for each live channel or on-demand stream that allows you to play now, record, add additional channels to your current subscription, and DVR. All of these features will be explained entirely later on.
Just like the other top streaming TV services, there's no contract, large bundled packages, or hidden fees, forced to pay for many channels that you don't watch. And you don't have to go out and buy another device to use this service. You can use what you already have, a computer. Connect the computer to TV and watch everything on the big screen.
Is it Legit, Legal?
Fubo is legit and perfectly legal to use just like Netflix, Hulu, and Sling TV. They are licensed to deliver many live premium TV channels found on cable and satellite TV. Channels that are not licensed for delivery aren't available to watch online. You can visit the Fubo website and scroll down the bottom of the page to review FuboTV's 'Terms' to get more information.
Is it Safe, Any Good?
There is nothing to worry about. Like SlingTV, Hulu, and Netflix, the service is perfectly safe and very user-friendly. Your device won't be infected by any virus, spyware, or malware. And you won't have to look over your shoulders, because the service is licensed and legal to use.
FuboTV Packages, Cost & Upgrade Subscription Prices
How Much Per Month? When comparing the cost of cable or satellite TV, most subscribers pay $100 or more per month. That's $1,200+ per year. The Fubo cost per month is much lower so savings for the year are great. This is a TV deal with affordable rates and plans worth taking a closer look at. The FuboTV price isn't a one-price-fits-all package.
When diving further into the FuboTV review, I found that you can opt for Fubo Extra, Fubo Latino, or Fubo Portugues package at different price sets. More International channels (content) may be on the way. See the breakdown of plans and rates below (packages & prices subject to change):
Starter (Major TV networks for sports & TV): $64.99/mo – 113 TV channels – 130+ events in 4K; Cloud w/ DVR – 250 hours of storage space; Family Share – 3 screens at once; 7-day free trial
Pro (Channels and features perfect for families): $69.99/mo – 113 channels – 130+ event (4K); Cloud DVR – 1000 hours space; Unlimited Screens – 10 at home; Free trial (7 days)
Elite (Premium features plus more channels): $79.99/mo – 159 channels – 130+ events in 4K; fubo Extra – 46 more TV channels; Cloud DVR – 1000 hrs of space; Up to10 screens at home; Trial
Latino Plus (The Best of Spanish Language TV): $32.99/mo – 33 channels – 100+ sporting events; CloudDVR – 250 hrs of storage; Standard Share – 2 screens at one time; Free 7-day trial
Add-ons & Addons…
Feature Upgrades
Cloud DVR 250: $9.99/mo (get 250 hours storage)
Family Share: $5.99/mo (connect up to 3 devices at one time)
Cloud DVR 1000: $16.99/mo (1000 hours of storage)
Unlimited Streams: $9.99/mo (use up to 10 devices simultaneously)
Premium Add-Ons
Showtime, Starz & Epix: $19.99/mo
Epix: $5.99/mo
Starz: $8.99/mo
Showtime: $10.99
AMC Premiere: $4.99/mo
Channels Add-Ons
Sport Plus with NFL RedZone: $10.99/mo
fubo Extra: $7.99/mo
International Sports Plus: $6.99/mo
Adventure Plus: $4.99/mo
Latino Plus: $19.99/mo
RAI Italia: $8.99/mo
TV5MONDE: $9.99/mo
Portuguese Plus: $14.99/mo
Entertenimiento Plus: $4.99/mo
EntretenimientoPlus: $24.99/qtr
As for the Fubo package, there's a special offer (save over 55%). For Fubo Extra, you save over 60% but still, no ABC and ESPN channels are included.
To see each cost of FuboTV cost and exactly what channels are included in each package above — Click Here
UPDATE: ABC and ESPN channels now included; 100+ channels, live and on demand and Cloud DVR included.
Note: All subscription prices, packages, and addons are subject to change after posting prices in this Fubo TV review. If you want to watch local OTV TV channels without cable, just buy an indoor HDTV antenna to connect to your TV and do a scan for local channels. Learn More Here.
Refund and Cancellation
If for some reason you become unsatisfied with the service, they will issue a full refund when requested within the first 24 hours of your most recent charge. You can find more information about the subscription cancellation in their TOS (Refunds, Eligibility, etc.).
Members can cancel the free trial before the 7-day period ends and not be billed. Or cancel the paid subscription and not be billed after the 30-day period ends. When canceling, you can keep using the service until the free trial expires or paid subscription expires, whichever is applicable.
How to cancel is straight forward. Inside the members, you will see your name when you become a member. This is also a dropdown window when clicking the down arrow. When the window is open, you'll see 'My Account'.

Simply click 'My Account' to see your subscription information. Just scroll down the page and you'll see a 'cancel' link to cancel your subscription. Afterward, you'll receive an email confirming your subscription.
Free Trial – Signup
Once you complete the easy sign-up process, you get a FuboTV free account. At this point, you get immediate access to all the streaming content available. The FuboTV free trial gives you 7-days to go through and test everything without being billed. However, a credit card is required when signing up.
One thing to point out: You may notice a charge on your credit card for $1, like me. Don't worry, this isn't an actual charge. They will, however, verify your billing information. The pending $1 charge will appear in your 'My Account' but will disappear from your statement within the 1-2 business day(s) after signing up. Please note: This was not fully explained in my FuboTV review video above.
TV Channels and Guide
If you are wondering what channels are included, see Fubo TV Channel List — Click Here. You will receive many national channels and several regional channels, based on the area where you live. All subscribers will not receive the same regional channels.
At the time of this written review, 81 channels came with my subscription. Here are the Fubo channels/networks that I received (see sports channels/network further down):
CBS, Fox, NBC, Fox News Channel, MSNBC, CBSN, CNBC, Fox Business, CNBC World, The Weather Channel, Local Now, HGTV, Food Network, Travel Channel, FYI, A&E, AMC, BBC America, Bravo, COZI TV, The CW (Philly 57), E (Entertainment), El Rey Network, Fuse, Fusion, FX, FXM, FXX, Hallmark Channel, Hallmark Movies & Mysteries, History Channel, IFC, Lifetime, Lifetime Movies, National Geographic, Nat Geo Wild, Oxygen, Pop, Sundance TV, Syfy, USA, Viceland, WE, ION, Fox Deportes, FuboTV Network, Revolt, Universal Kids, Univision, Telemundo, Unimas, Telexitos, Galavision, Universo
Unfortunately, no ABC channel/network was included in my package. You may notice the same in your subscription and some different channels/networks than what I received.
Regional (local) TV Channels/Sports & Features
When you enter your zip code, Fubo TV determines your Designated Market Area (DMA), which will be the channels you receive. If, on the other hand, a live local feed isn't available where you're streaming, it's possible you'll receive a national feed or on-demand content instead.
Playing Different Channels
An on-screen display appears when hovering your mouse over the live stream TV player. The on-screen feature allows you to pause and rewind. There's also a feature that lets you move the stream backward by increments of 15.
This lets you review a section in the stream you want to see again. When using that feature, you can also use move the stream forward by increments of 15. One thing to note is this 15 increments feature doesn't work for any on-demand streaming content.
To stop the live stream, just hover your mouse over the TV player while the stream is playing. A popup will appear that lets you pause or play the stream. Or you can click the Back tab in the upper left corner to go back where you came from.
Another feature I'm sure you'll want to know about is Full Screen. Click the Full-Screen icon on the TV player to enlarge the picture across the entire computer screen. If you are going to connect your computer to the TV via HDMI cable, the same feature will enlarge the picture on the TV screen also.
Fubo TV Sports, Regional, National, and Bein Sports Online
Sports Section – FuboTV Stream Live Sports and On-Demand
One of the highlights in my review is FuboTV sports. Subscribers can watch Bein sports live streams and many other sports networks. You also receive some FubotTV regional sports networks when entering your zip code. When clicking Sports from the menu, many sports sub-categories appear.

Click any category to find games playing now, later, or on-demand. Both live and on-demand sporting events are provided which can be viewed with the click of a button. Here are the Fubo TV sports sub-categories included:
Home, Soccer, Baseball, Hockey, Basketball, Racing, Golf, Boxing MMA Football, Tennis, Rugby, and Other
Directly below the Fubo sports sub-categories are images of different sports that stream live today and tomorrow. Just use the right and left scroll arrows to see more sporting events playing today and what's ahead. What's nice about this is that you can click the Record button when it appears and preschedule a recording an event.
There are times when an 'Add Now' button appears for a sporting event. It allows members to add/watch the sporting event, not included in their current subscription, for an additional charge. In the latter, this is actually an upgrade package and there are other addon subscription packages available. You can add more FuboTV live sports channels. The basic subscription package can be upgraded in a couple of ways.
Further down is the sports TV schedule with a list of sporting event names. It tells you what streams (sporting events) are live to watch now. Also, the time when a stream will be live to watch later. And it tells when the stream has ended, which can be viewed on-demand. Not only are there live sports channels to watch online but Fubo on-demand sports also.

In Addition…
When a sporting event is scheduled to stream live at a later time, a 'Record DVR' button appears. You can click the button to preschedule a recording of the event.
To watch a sporting event that the system automatically recorded 1-3 days ago, there's a left date tab that takes you to the date you want. These recordings are made available to watch online before they are deleted permanently.
You will also see clickable date links that open and list all recorded sporting events for that date. Just click the recorded game to start watching it. Or click the DVR link to the record. This will store the recording permanently without it being deleted after 3 days. There's also a right date tab that takes you through all the scheduled sporting events ahead. I could only go ahead for 11 days.
As I went further in my FuboTV review, clicking a specific sports link from the sub-categories such as Soccer made a list of dates appears as far back as 3 days. All of today's soccer games are listed further down by date. There are buttons that allow you to 'Watch Live, 'Watch', and 'Record DVR'.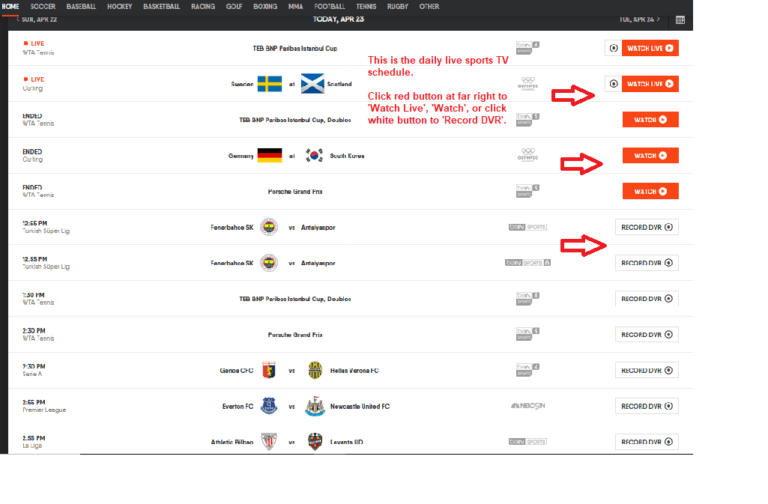 Whenever a member schedule's a sporting event to be recorded, a 'DVR Scheduled' button appears for that event.
Fubo doesn't fall short in delivering all types of sporting events to watch online. Sports fans should be delighted when having every type of sporting event imaginable.
More Sports
There's also plenty of Bein sports online and you'll have access to all the live streams. Members can watch many other games such as NBA basketball, NFL Football, MLB Baseball, NHL Hockey, Soccer, and many more. This includes regional, national, local and international sports. You will get all the local team coverage for each sporting event…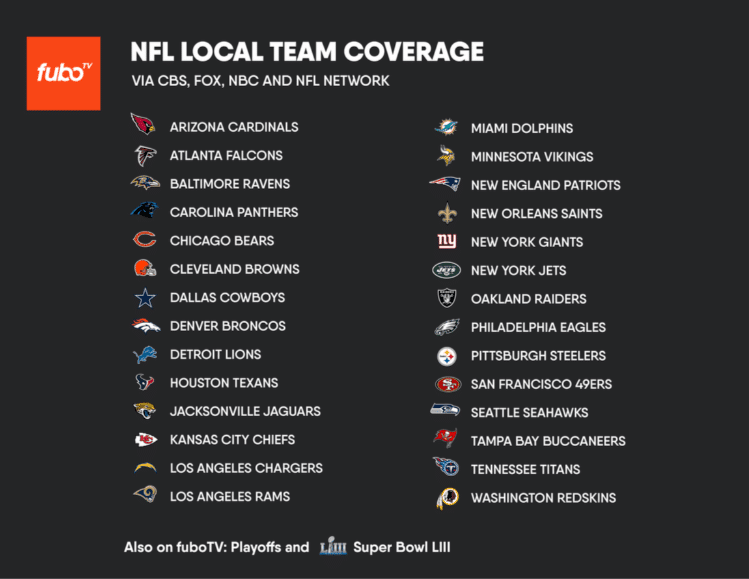 Members can watch all preseason and regular-season games, finals, championships, playoffs, tournaments, premier league, world series, and so on.
Here are the sports channels/networks included in my Fubo package when subscribing to the free trial:
CBS, Fox, NBC, Sports Philadelphia, Sports Philadelphia *, FS1, FS2, NBCSN, CBS Sports Network, NFL Network, NBA TV, NBC Golf, PAC12 Networks, Olympic Channel, ElevenSports, Bein Sports n, Bein Sports 1, Bein Sports 2, Bein Sports 3, Bein Sports 4, Bein Sports 5, Bein Sports 6, Bein Sports 7, Bein Sports 8, Bein Sports 9, Bein Sports 10, BTN 1, BTN 2, BTN 3, BTN 4
Many games from different countries worldwide and in different languages are included: USA, UK Canada, Australia, Egypt, Espanol, Arabic, European, etc. But only USA and Canada residences can use Fubo TV apps and watch Fubo TV channels. Unfortunately, no FuboTV ESPN channels are available at this time. Hopefully, they will add this sports channel in the near future.
You can get additional live sports when opting into any one of the add-on subscription packages such as Fubo Sports Plus or International Sports Plus. The Fubo TV sports packages also let you watch FuboTV Bein Sports, FubotTV Fox Sports, FuboTV NBC Sports, FuboTV CBC Sports, and so on.
Fubo TV Shows and Movies – Regional and National Networks
Series section – Live Fubo TV Channels and On-Demand
Just like the sports section, there's is a scrolling image at the top that displaying some of the live shows. Whenever the 'Record' button displays for a TV show, you can record the stream. Or click the 'Start Watching' button to play/watch the stream now.
There are left/right scroll arrows that allow you to manually scroll through some of the Fubo shows provided. And you will see the dates and times also.
Further down, there are 4 sub-sections as follows…
Live Series (Fubo TV shows)
Popular
Upcoming
Series On-Demand (Entertainment, Sports talks, Reality, Music, Talk, Sitcom, Animals, Cooking, News, Other)

The names of every TV show with images are displayed. The setup/organization isn't that different from what's seen on other sites such as Netflix and Hulu. Simply click any TV show name/image and you'll be taken to the TV shows to watch online. There are plenty of old, recent, and current TV shows.
Click any one of the Fubo on-demand shows (series) and you'll be taken to another page with all episodes with date aired and expiration date. You can click the 'Watch' button whenever it's displayed or 'Record DVR' button when displayed.
So far in this FuboTV review, we've covered how you can watch TV shows live and on-demand. There are many live TV channels and a huge amount of on-demand content to watch news, TV shows, sports, and movies. Many old, recent and current TV shows are available to watch online.
As a matter of fact, there's also a search bar included for the Series On-Demand content. You can search by title as well. Or click any one of the genre links to find all TV shows under Sitcom, News, or whatever interests you.
UPDATE:
There are not more channels available with each TVpackage. Starter and Pro packages deliver 113 channels. Elite package delivers – 159 channels. Many of which are found on cable and satellite TV. Out of those channels were 25+ live sports TV channels. The remaining live channels include TV shows, news, and movies. Keep in mind, some of these channels/networks came from my regional area. What's available in my area may be different from your regional area.
Your location (zip code) determines your Designated Market Area (DMA) and which channels you will receive. If the live local feed is not available where you are streaming, it's possible you'll receive a national feed or on-demand content.
There's also a TV schedule that lists every channel with the date and time of TV shows. You simply click the channel icon to play the live stream. I'll cover more on this Fubo TV schedule later.
FuboTV Movies – Regional and National Channels/Networks
Movies Section – Live and On-Demand
The FuboTV movies section is setup/organized the same way as the Series section. There are plenty of live and on-demand movies to watch online. At the top, there's the slider with some images/names of Fubo movies. You can click the left of the right slider arrow to see more movies. A 'Watch' button appears to start watching the movie.
This section has 4 sub-sections just like the Series section. Fubo TV movies are divided up in the following sections:
Live Now
Popular
Upcoming
Movies On-Demand (All, Action, Comedy, Drama, Horror, Documentary, Romance, Science Fiction, Family)

Just like the Series On-Demand section, the Movies On-Demand section has a huge number of on-demand movies to watch online. Not only can you section of this content by genres such as Action or Drama but there's a search bar also. Simply search for the title of the movie to start watching it.
There are left and right slider arrows to scroll through all Fubo TV movies. Again, nothing too different from Neflix and Hulu. There are all kinds of Fubo on-demand movies, both old and recent.
Fubo TV Schedule / Guide
Channels Section
The last section on the menu is the Channels section. This is where you'll find the Fubo TV Channel List with the name of each of the 81 channels. Dates and times are included also. You can scroll up and down the Fubo TV channel lineup as well as click the left or right scroll arrows. These are all live channels. Simply click the channel/network name to play/watch it online. Some FuboTV local channels are included in my regional area also.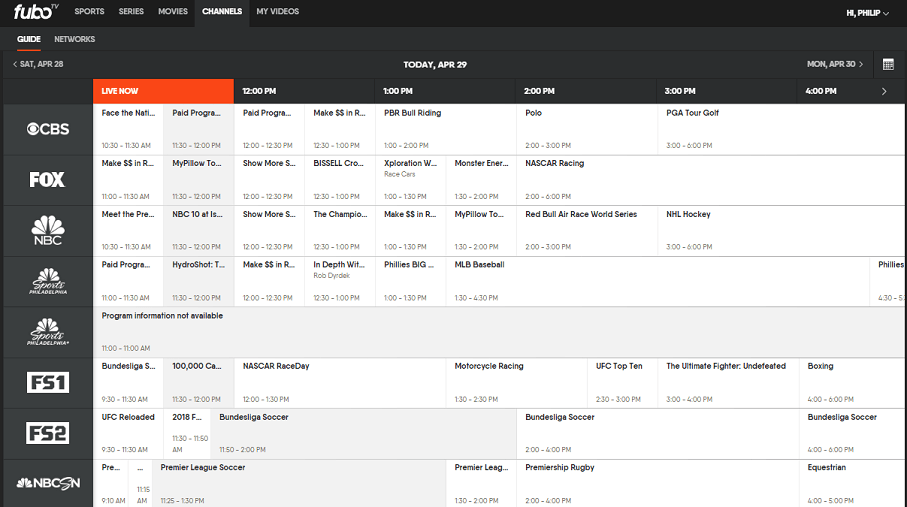 I counted 81 live TV channels/networks that included some regional channels as well. There's another section included called Networks. Just click the link and another page appears with different names of TV networks. As you can see, there's more than one way to find and watch TV shows, movies, news, and sports. Whenever a small round circle with a dot in the middle appears for the content, you click it to record it.
FuboTV vs Sling
Now that you know this service is similar to Netflix and Hulu, you should know its main competitor is actually Sling TV. Information on FuboTV vs Sling TV is what many people are searching for nowadays. For the record, Fubo was here first. Sling TV, the newcomer, started to become popular when putting together a more traditional cable TV package.
Fubo, on the other hand, comes with more sports but recently they've now added more TV shows, movies, and news channels. As a result, Fubo offers the best of both worlds, sports, and TV entertainment. It appears both services are competing with the other, which is good for consumers.
Before breaking down their differences, know that Fubo's basic monthly subscription cost more than Sling's basic subscription. Sling gives you fewer channels starting at $20/mo. Fubo provides more channels and sports at $45/mo. SlingTV is compatible with more devices including some of the popular game consoles. As for Fubo, game consoles are not compatible at the current time.
If you are a sports fan or fanatic, Fubo is the best option. For less cost and fewer channels, Sling is the best option. As for everything else, both services are somewhat similar. The differences mainly come down to a number of channels and sports, streaming packages, prices, and interfacing. Both services allow subscription upgrades through addon packages for an extra cost.
See Table Below…
Fubo vs Sling Comparison Chart
The Sling TV vs FuboTV chart below reveals some of the highlights and features that separate FuboTV from Sling TV and vice-versa. One thing to note is both services are constantly adding more streaming content and features while competing with the other. It's a matter of what's interest you most, pricing, sports, content delivered, features, etc.
| Streaming TV Services | Lowest Price | Most Sports | Regional Channels | Most National Channels | ESPN Channels | CBS Channel | ABC Channel | Most International Content | Live/On-Demand TV | Rent Movies | TV Guide/Schedule | TV Commercials | Cloud DVR Storage | Most Recording Time/Storage | Connect Devices Simultaneously | Most Compatible Devices | Most TV Apps | Smart TV App | Parental Controls | 7-Day Trial |
| --- | --- | --- | --- | --- | --- | --- | --- | --- | --- | --- | --- | --- | --- | --- | --- | --- | --- | --- | --- | --- |
| FuboTV | | X | X | X | | X | | X | X | | X | X | X | X | X | | | X | | X |
| Sling TV | X | | X | | X | | X | | X | X | X | X | X | | X | X | X | X | X | X |
Click Here for More Information and 7-Day FREE Trial
Fubo is only available to USA and Canada residences, while Sling is only available to USA residences only. As for Canadian residences, they won't receive the same number of channels as do USA residences. Sling has more international channels. You can opt into the FuboTV free trial to see what's available or contact support.
My suggestion is to try both services and compare everything yourself. The 7-day free trial helps make this a win-win deal. You have nothing to lose and everything to gain when choosing the best streaming service for you and your household. Again, you pay nothing upfront but must have a valid credit card when signing up.
FuboTV Apps, Devices and Compatibility
If you are going to use a Windows computer, this service tells you to use the Google Chrome web browser for Windows. Mac users should use Google Chrome for Mac or Safari web browser. When I used Mozilla Firefox, some of the live streams didn't play as smoothly.
There are packages with 'Standard Share' that let you connect up to 2 devices simultaneously and packages with 'Family Share' that lets you connect up to 3 devices simultaneously. See How to Download FuboTV app for Smart TV Here.
Be sure to have at least a 20Mbps Internet connection download speed. Faster the better, especially when watching streams during peak hours when most people are online. Also better if streaming from more than one device is simultaneously connected to the same WiFi network at home. This ensures a clear and consistent stream.
Since there is no Fubo TV on smart TV app for Samsung, I had to use my Amazon Fire Stick. Then I installed the free Fubo Fire Stick app. The same streaming device can also be used for any HDTV. At the time of my review of Fubo, only the following compatible devices with free apps could be used:
Compatible
Android smartphones
Android tablets
iPhone
iPad
Apple TV (4th & 5th Generations)
Amazon Fire TV
FuboTV Roku
Chromecast
Android TV (Beta)
Whether you are searching for Fubo TV Roku or Fubo TV Apple TV, there are free apps in the app store that you can install. I'm sure this service will add more compatible devices and free apps in the future. Right now, game console users are out of luck. But there are free apps available for smartphone users. Free apps can be found in the Apple Store and Google Play Store.
Important note: You can stream up to two devices at one time. To add a 3rd device, you can add the Family Share Add-On for only $5.99 per month.
Features and Benefits
In my FuboTV review, I found a My Videos section that stores all your DVR TV shows, movies, and sports in one place. This section will also keep track of the amount of recording time left. When I signed for the Fubo (not Extra) 7-day trial, it included 30 hours of DVR storage space. Simply click the content that you recorded (DVR) to start watching.
Remember, Fubo automatically records the content and makes it available on-demand for up to 3 days. After 3 days the recorded is no longer available to watch online. You can DVR the recorded TV show, Movies, News Broadcast, or Sporting event. This will store the content permanently and can only be deleted by you.
Fubo TV Cloud DVR and 72-Hour Lookback
If you can't watch the game live, then it can record it with a tap. Fubo includes 30 hours of Cloud DVR space. And if more hours are needed, members can upgrade to 500 hours. If you forget to hit record. Don't worry. The system automatically records so that you can replay nearly any game, show, or movie that was aired in the last 3 days.
With features like Watch, Add Now, DVR/Record, 15sec. Rewind/Forward, Scroll Bars, Search Bar, Drop Windows, and Cancellation Link, brings greater user experience.
List of Benefits:
Much cheaper than cable/satellite TV
No additional fees, unless to upgrade subscription
No hidden fees, taxes, or suprises
Instant access 81 live premium TV channels
Watch on HDTV/Smart TV via streaming media device or HDMI cable
Free apps for many streaming media devices
Use multiple streaming devices at the same time
Regional (local) and National TV channels/networks
Closed Captioning/Subtitles for hearing impaired
More sports and entertainment channels (80+) than Sling TV
Never miss TV show or sporting event again
Watch at home or on-the-go
7-day free trial
Support response time within hours (email only)
FobuTV Customer Service and Support
Unfortunately, there is no FuboTV phone number or customer service number. But there is a FuboTV customer service available through email support. When clicking the Help link, you are immediately taken to the Help Center page.
Here is where you can use the search bar to ask a question or search by keyword. Below are Featured Topics and Help by Device sections. Also included is an FAQ section, although they don't call it that. To contact customer support or make a FuboTV contact, just click the Submit a Request button.
I've submitted a customer support message on two different occasions and received both answers/help within a couple of hours. Your question or issue can be directed to Customer Service, Technical Help, Sales, or Subscription Cancellation.
FuboTV Canada Review
FuboTV allows both US TV and Canadian TV viewers to watch their streaming content online. Unfortunately, you can't get access to Fubo TV Canada if you live outside of that country. The same holds true for those living outside the US wanting access to those US TV channels.
You can watch channels from popuplar TV networks such as beIN SPORTS Espanol, beIN SPORTS Canada, OneSoccer, fubo Sports Network, BenficaTV, MLB Network, Fight Network, Paramount Network and GameTV. Paramount Network includes the following: The Art of Ink, Bar Rescue, Friends, Ink Master, Lip Sync Battle, Two and Half Men & Bellator MMA.
Currently, they offer three featured Canada plans as follow:
Canada Monthly $14.99 CAD/month
Canada Quarterly $29.99 CAD/quarter
Canada Annual $99.99 CAD/year
There's nothing more to add to this FuboTV Canada Review. For additional information, you can read our entire review. We are not based in Canada and therefore could not create a video review that takes you inside to see everything.
FuboTV Review: Pros and Cons
PROS
The Fubo TV live and on-demand streaming service gets a thumbs-up for putting together a cheaper alternative to cable and satellite TV. Many of the same channels are available to watch online such as sports, movies, TV shows, and news. Not only do members get access to 80+ channels but many national TV channels and some regional channels are included.
Sports fanatics will love access to all kinds of national and regional sports with the option to add more live sports packages. The same can be said if wanting to add other channel packages for an additional monthly fee.
The service automatically records the live stream and makes it available on-demand to members for up to 3 days. Given that time, members can choose to use the DVR feature to record a live or on-demand stream for permanent storage.
'Starter' members get 250 hours of storage space and can upgrade to Cloud DVR 250 or Cloud DVR 1000 if they want for an additional Fubo TV cost if s/he chooses. You get more Cloud storage hours, channels, and sports than Sling TV. Of course, there are more packages including Addons and other Upgrades.
Many streaming packages with free trials and different price sets give members the option to choose what best suits their needs. And there's the option to add even more channels/networks.
More…
When comparing the monthly subscription cost of cable or satellite TV, one can save hundreds if not thousands per year. There is no contract, hidden fees, set-top box/receiver needed, or payment for many channels you don't watch.
Members can watch many of their favorites online with ease. Navigation is child play. The FuboTV schedule is a complete TV guide with all the clickable channels/networks listed with times and dates. You can select past days to watch on-demand content. Current day to watch TV channels or select days ahead to see upcoming live channel streams.
The streaming content available is sectioned off intelligently which helps members find any live/on-demand TV, show, movies, sporting event, or news broadcast. Find any streaming content of interest by categories in the menu (Sports, Series, Movies, Channels). Or you can locate content by genre.
The search bar allows members to find a title quickly and watch with ease. There's a lot of on-demand content available with old and current TV shows/episodes.
It's easy to cancel the 7-day trial before being billed or a monthly subscription. Members can cancel when going to the 'My Account' when clicking the Cancel link. Customer/technical support has a good response time when sending an email message. You'll get a return message from them within a couple of hours.
CONS
The FuboTV cost — Fubo (80+ channels) and Fubo Extra (90+ channels) — is more than SlingTV. However, you get more channels, sports, and addon channel packages. Unfortunately, ABC and ESPN channels are not included at this time.
There are fewer international channel packages available than Sling but they do have FuboTV Latino and FuboTV Portuguese. I expect more international channels will be added over time for USA residences and FuboTV Canada residences.
Also missing are parental controls to block kids. Fubo makes it clear in their TOS that clearly states only adult subscribers can access the content. However, there's nothing stopping you, the adult, to access/play shows and movies that your kids can watch online.
No doubt you will experience FuboTV buffering, at times, when the FubotTV stream stops and plays. Also, some blurry picture that comes and goes for some of the content. This is where the service needs to continue improving the interfacing and platform. But for the most part, many streams played well.
If you come across an on-demand sporting event that skips ahead, from time to time, the recording itself may be faulty. Even if you DVR the on-demand sporting, the same skipping issue occurs. This is just one of the bugs the service must clean up.
More…
When watching a live sporting event, an issue could occur that either prevents or makes it hard to watch online. It's always best to have a backup service just in case. Again, this is one of the downsides that was discovered in my review of FuboTV. Not all live sporting events had an issue, just the couple live sports stream I tried to watch online.
Game console users are out of luck. There are no apps available to watch Fubo but the service is compatible with many devices. You can use a compatible streaming media device with a free app to watch Fubo TV on your HDTV/smart TV. Or connect your computer to the TV and watch everything that way. There are free apps available to smartphone users.
There is no FuboTV app for smart TV with a web browser. But you can use Amazon Fire TV/Stick or any number of compatible streaming devices. Because Fubo is competing with other streaming TV services, no doubt a smart TV app will be available soon.
While you can only use up to two streaming devices simultaneously to watch Fubo TV channels, there's an upgrade available to add one more device. In the latter, this requires a small payment.
This service gets a thumbs-down for not allowing the member to rewind or fast forward on-demand videos. However, there is a time-shifting feature available that can move the video backward or forward in 15-second increments. As of TV commercials in on-demand videos, there's really no way to avoid them.
With the downsides in play, it's clean up time for Fubo. They need to remove some of the bugs. And they need to improve the user experience a tad more. For what it's worth, the upsides outweigh the downsides and that should be encouraging. The 7-day free trial is what makes this service worth a try.
FuboTV Review Conclusion
If you're searching for a low-cost streaming TV service without losing what you love to watch, the FuboTV app gets a check. If searching for an 80+ channel package or 90+ channel package with a free trial, give another check. And if looking for a huge sports package, you can add another check.
Members have the option to watch everything on any smart TV or HDTV when using a compatible streaming device. Amazon Fire/Stick is considered one of the best streaming devices to use by many. Or simply connect any smart TV/HDTV via HDMI cable if watching everything on a computer or smartphone is not favorable.
With their user-friendly platform similar to Netflix and Hulu, members should have no problem navigating and finding FuboTV channels. Features like the automatic recording of live streams and Cloud DVR storage bring catch TV, which adds greater customer experience.
Having the ability to watch both national and regional channels/networks online compliments having OTA local TV channels on television. If you don't have these channels, you can them easily without cable/satellite. Just use an indoor HDTV antenna — Learn More Here.
Recommendation
No one can argue the savings (FuboTV price) when comparing this service to cable/satellite TV cost. Even with some of the downsides mentioned earlier, this FuboTV live and on-demand streaming service brings another alternative. Don't think about the downsides, just opt into the 7-day free trial. Those downsides may already be resolved or improved. Don't forget to watch the video included in our Fubo reviews – see above.
This Concludes Our FuboTV Review