******************* BUYER BEWARE *******************
Ok… I'm officially done with Satellite Direct, both as a member and product reviewer. I have been a member and user for a few years and have reviews on their TV software which converted to Web-based TV platform early 2015. This service is no longer my #1 recommended, 3rd party web TV service. Why? Lacks customer support, no 3,500 channels as advertised (100+/- in total), no live sports, mostly old non-entertaining streaming content, lacks channels for countries outside USA, and too many refunds.
If you are looking for a TV software and better 3rd party service, I recommend the new number one 3rd party web-based TV service — No software download which is a lot better (far less issues and more reliable). If you want to watch all your favorite TV programs including any live sporting events and entertaining old/recent movies, Click Here to Visited My Top 10 Comparison Chart — See #1 and #2 Recommendations. I use both services. Trust me, you won't regret it!
******************* BUYER BEWARE *******************
Satellite Direct Review 2015 for PC & Mac Users
(US, CA, UK, Australia, India, Over 100 Countries)
License Covers One Install on One Computer
3,500+ TV Channels/Radio Stations/Videos & 100+ Countries
Membership with Service Package
Compatible: Win Vista/7/8 OS or Higher; Mac OS X 10.4 or Higher
60-Day Money Back Guarantee
Malware/Spyware/Adware/Virus-Free
Table of Contents (click ahead!)
What is Sat Direct (SD) Who is it For
Is it Any Good, Real, Legit, Legal How Does it Work
How it Compares Is it a Scam
Channel List & Sports Membership & Support Service
SD Free Trial Mac Version
TV Player Features System Requirements
Price & Refund Pros & Cons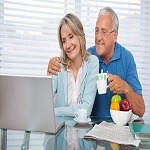 Satellite Direct Review. First things first, ETV Corp (developer/owner) is not part of or affiliated with any Direct Satellite TV, DirectTV or Cable company. Don't confuse it with another app called Satellite TV Direct™ by DT Group Inc that allows you to watch live worldwide direct content on your iPhone and iPad and don't confuse it for the Magazine that uses the same keyword from time to time.

As far as popularity goes, there's no other Mac or PC Satellite TV program out there that comes close to getting the number of monthly global searches that this one receives. If you already visited their website and read the sales pitch, you are probably wondering whether or not this product really has what it takes to deliver the goods and good enough to cut or downside Satellite/Cable if you have it.

But then again, you could be living without paid television and want to add free-to-air direct shows from the web that are delivered directly to your PC or Mac computer, whereas the Internet gives you the ability to gain access to all kinds of shows from any location in or out of your home.

Unfortunately, this TV player software didn't quite measure up to everything as advertised when going through the review but there were some surprises. There is some controversy out there where this product/service received more negativity than most other brands because of it's popularity and huge number of worldwide downloads.
To be frank, this Direct Satellite PCTV program isn't for everyone, especially for those expecting to watch premium paid Satellite or Cable programs on a computer with HD picture quality at all times. What our review did find was that it does offer the next best thing to paid television. Although this method isn't the same as watching satellite or cable television, it does add another dimension to your existing TV which makes it worth another look.
As we continue this Satellite Direct review, you'll know exactly what this product can and can't do which will keep you from becoming a victim to all the hype that exist online, including all the misleading content in other reviews.
Is It A Scam? Click Video Below to See TV Player in Action and Channels Play…
(Note: YouTube picture quality is not as good as TV player when downloaded to your computer.)
Review Satellite Direct with Pros and Cons, Benefits, Support Breakdown
What is Satellite Direct? This proprietary software is owned by ETV Corp, a company that has been in service for a number of years. They have different websites for different promotional purposes and other versions including the Mac and Advanced version but there's only one site you need to be aware of right now.
Sat Direct TV on PC and Mac software is actually a TV player, developed by ETVCorp, pre-loaded with over 3,500 HD, live and on-demand TV channels, radio stations and videos from across the globe. Technology and manual labor is used to scrape streaming content directly from the web into a datacenter so that channels within the Satellite TV player (actual software) that you purchase can be updated automatically.
Inside the Satellite TV player are feature enhancements where all the free content is delivered, controlled and organized. When reviewing different TV Channels, radio stations and sports, all of them are organized in their respective categories, genres, languages and by country. This method also allows the user to watch different types of TV Online programs in one location.
So rather than surf the web to find free content to watch or go from website to website to view a particular program, you don't have to do that anymore. Since no one site carries all direct content and programs to watch, you save time and effort when everything is delivered to one place. Using this method simply makes everything more convenient.
ETV Corp doesn't own any of the free content they deliver to you. Instead, it comes from providers who own the content. These providers have total control and make the decision how long a TV program remains accessible to you to watch over the web. You can learn more about this when reading the ETV Corp Terms of Services on their website.
(Back to Top)
Who Is It For? Satellite Direct includes over 120 countries with more or less channels included in each country. This means individuals can watch TV channels/programs from their homeland or when living outside their country or while traveling. To be clear, this service and product can be used by people from all walks of life in the world. However, some countries will have a small number of channels.
Individuals who enjoy watching variety television programs such as TV shows, news, sports, movies, and so on, will benefit more when using this service. Also anyone who speaks and understands multiple languages stand to benefit more as well. That said, the way in which to get access to all the free web media content may be the determining factor where decisions are made.
There's also a German version of this software for computers, tablets, and smartphones. However, no review was conducted on this new version. We don't know how well the software works on tablets and smartphones, so you'll have to contact support with questions that are beyond the scope of this product review…
If you're looking for a quick, easy and very cheap setup, then choosing this technology could be the best way to go. People who stand to gain more are the ones who enjoy watching variety television programs from different countries on a small screen.
Individuals who are bilingual, multilingual or studying a new language also stand to benefit more since these products/services cater to people from all over the world who speak different languages.
(Back to Top)
The Good, Bad, and Ugly
Is Satellite Direct Any Good, Real, Legit, Legal? This Satellite TV application like all the others may very well fall short of a person's expectation when expecting too much. Nevertheless, technology, broadband and Internet media content have improved over the years, as more and more TV networks continued to stream popular shows online.
So harnessing this humongous content throughout the world so that you can find mostly everything with a stroke of a key pretty much sums things up.
If you are expecting to watch paid premium Satellite and Cable channels or expect crystal clear picture quality for every direct streaming content and video, this isn't the technology for you. In fact, none of them are since they all suffer from the same issues more or less.
What makes these products appear 'too good to be true' are the over-hyped reviews and websites that are set up to make a quick buck rather than give visitors real facts.
This isn't like your small or large screen TV at home with remote control in hand and sitting comfortably on a couch. Instead, it's a way to watch television on your desktop or laptop computer which becomes an extra television or TV traveling companion.
Click Images Below to Enlarge…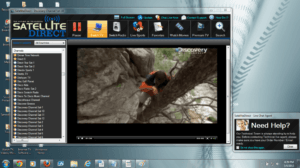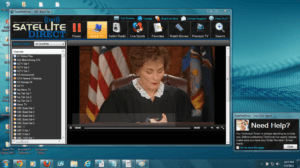 If you can deal with the good to very good picture quality with some poor quality here and there, not having access to all channels and programs like on your home TV, then perhaps this product can work for you.
While conducting my Satellite Direct Review, I found some minor shortcomings. I'm not that high on HD quality for each and every channel/video and I don't expect these products to be perfect which they are not. But, I watched streaming live/on-demand sports, news, movies, TV shows/sitcoms/episodes and other programs in-house or when traveling outside my home. That's the benefit you probably like to have yourself with access to more television programs than any television service.
Still, there are more questions to be answer such as… Is the SatelliteDirect TV service legitimate including free streaming media? Admittedly so, there is a grey area concerning these services. Also see Is It Legal?
Legitimate services like this one DO NOT decode/descramble any Satellite or Cable signals and don't include illegal P2P (Peer-to-Peer) or file sharing websites. Some P2P networks and those who hosted streaming media directly on their websites received DMCA take down notices and law suits in the pass for violating copyright infringement and Intellectual Property.
This was never the case with ETV Corp. They provide links to different sources online through open gateways and use data storage to download new web media to the end-user's TV player. In other words, they don't host any of the content on their website.
Some have mentioned there is a Government loophole that permits linking to various sources online where channel/video feeds available through open gateways and free direct access.
You can research 'linking to websites' if this becomes a moral issue. As for as the legal side of things, displaying or selling someone's content illegally is a violation of the owner's copyrights. ETV Corp manages to survive over the years and appears to be playing by the rules. If they do anything to break copyright laws, they will receive a DMCA take notice to remove their content, face an expensive lawsuit and perhaps imprisonment.
Unlike hulu.com, Netflix, Amazon Instant Video and some of the other websites that are licensed to carry and broadcast TV shows/videos on their websites and allow you to download the content, this service takes a different approach.
ETV Corp developed the TV player software which comes pre-loaded with tons of free media that sometimes open other 3rd party players within the main player which, in essence, keeps you in one place.
In my research, it appears that content owners and the Government are going after the big fish who are making a lot of money rather than millions of smaller fish (namely you and me). However that doesn't mean that we are off the hook entirely. Content owners much rather go after the bigger fish and don't want to scare away millions of online viewers. So the decision is totally left up to you to decide from a moral or legal standpoint when it comes to linking and copyrights.
(Back to Top)
Have A Question, Need Help, Or Want To Test SD Software For $4.95 On Your Computer? Visit My Other Site And Sign Up In Right Column (Sidebar)
How Does Satellite Direct Work? Over the past few years, these services have made downloading, installing and getting connected to favorite television programs online a cinch. It's basically a 1-2-3 process that incorporates a point and click method to maneuver around the TV media player and control features. So even if you never downloaded anything from the web before, easy pop up instructions will guide you through the entire process swiftly.
The application works and there are video demos that will attest to that as well as my own experience telling you that it does really work. However, everything really comes down to a person's expectation and what they can or won't put up with such as not having direct access to specific television shows they want to see.
Once you download and install the SatelliteDirect software (TV Player) you simply double click the icon on your computer to open the player. When the console opens you'll see all the channels in the panel on the left side of the player. You can click 'Switch TV', 'Switch Radio', 'Live Sports', etc., to display a retrieve a certain type of content. The app organizes the media for you by gentry and country. If you want to find a specific program to watch right away, simply enter the name in the search bar to find it.
Because this service doesn't own any of the content coming at you, there are times when some channels come and go or won't play due to different time zones but will play at a later time — either that or the channel is no longer available.The service updates its data center often which then downloads everything to your TV player automatically when you launch it. So in other words, channels are updated periodically and player version upgraded as well.
TO MAKE EVERYTHING WORK, you need a Windows or Mac computer with a wireless connection or preferred broadband connection (DSL or High Speed) — greater the connection speed better the overall performance and picture quality. But that doesn't mean there won't be any blurry picture or 'choppy' video at times, as I discovered during my Satellite Direct review.
IMPORTANT! Sometimes it's the source (streaming technology sub-par) where these television programs come from that must be taken into consideration, meaning content from another country could be the reason for the poor quality.
I own a Toshiba Satellite laptop. It's brand new and I haven't encountered any problems whatsoever when using this technology. But that doesn't mean someone with the same make and model as mine won't have any problems. The reason for that is each computer has different hardware and applications installed that can cause a particular computer to be in conflict with the TV media player application, preventing the app from working or working properly.
So it's best to shut down any application that may be running in the background and connected to the Internet. A computer's firewall (antivirus application) can also be the cause of the player not completely installing. If this problem occurs, one might want to temporarily disable or shutdown the firewall.
Users who become members of this service are not paying for programs that can be found freely online. Rather its payment for streamlining huge amounts of free media that can be viewed in one location, along with periodic maintenance. The end result is making everything convenient for end-users so that they search less and watch more. That's exactly what the application is designed to do.
(Back to Top)
Click Images Below to Enlarge…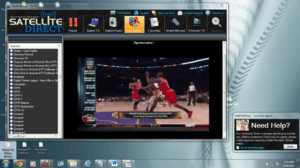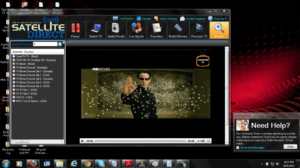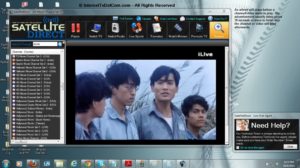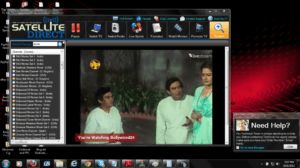 How it Compares. Questions come up from time to time from individuals wanting to know how this product/service compares to other Internet TV software packages. And rightly so because here you have a top brand going head to head with the #1 most sought after application (Sat Direct).
Although the service is more reliable than before, I discovered that the TV media player had a high success rate while conducting my Satellite Direct review. This may come as a surprise when researching this program and reading some of the negative comments online where many of them go back one, two or more years. This service continues to improve year in and year out so keep that in mind when making a final decision. Whatever issues occurred in the pass certainly isn't true today – Take that from someone who's been a member for several years.
Looking at this in another way, my research shows that this product has a low failure rate, meaning low number of refunds compared to others. This doesn't mean the program will meet all your needs; it simply means that you stand a better chance of not running into a major issue and becoming totally disappointed.
Again, this is based at the time this review was written. What happened in the pass with this product/service isn't something I'm willing to endorse.
(Back to Top)
Is Satellite Direct a Scam? If you take an objective approach to research this software and service further, then you should be able to weigh the pros and cons more effectively. No doubt you probably read some of the scam reports online, so it's only fair that you ignore all complaints from previous years and only focus on the ones that occurred within the past 12 months.
Why? Because companies normally make changes for the better and try to keep the vast majority of customers happy, in order to stay in business and keep making a profit. Satellite Direct continues to make improvements to the technology year in and year out. Unfortunately, it's very rare that you hear from the vast majority of users who are ok with using the technology and never requested a refund.
—————————————————–
A large number of refunds can cripple any company enough to go out of business, but that's not the case with Satellite Direct. However, one particular issue does exist that stems from the customer's/user's lack of understanding of the lifetime membership and how they could lose it. This is the part where I must put the blame on Satellite Direct for vaguely explaining the access/usage policy and not explaining things in more detail in their TOS (Terms of Service), some of which includes lifetime membership, one year support, and device change. As a result, some former users are calling the service and software a scam.
I contacted support about the issue outlined above and I'm still waiting and hoping they will update their TOS to make their policies clearer to potential customers and current users. Until then, I have outlined the most important parts of their policy for you to understand better and for continual usage of the technology over a lifetime period as it was clearly intended. The key is knowing what not to do to lose the lifetime access/usage (See Lifetime 'Membership and Support Services' below).
—————————————————–
Fact is the SD TV player and service delivers about 80% of what it promises and you can take a look at the Success Rate and Failure Rate below to further analyze this some more. Since the service doesn't own any of the free content delivered, it cannot be blamed for the quality and availability of channels and television programs delivered from the Internet. Nevertheless, the service does a good job in keeping you entertained – especially if you are from the US or enjoy variety television from English speaking countries such as US, CA, Australia, and UK.
Some former users (not the vast majority) lost their lifetime memberships and became very upset when the service did not reactivate their TV players (SD software) – after it was automatically deactivated – due to a device change of some kind (after one year of support elapsed) which led to users posting scam reports over the web.
Some folks who never made a purchase have a different agenda and join some of the disgruntled users in calling this company a total scam (I suspect some competitors are included in that group). Very rarely does this service experience a server crash that causes more channels not to work – it happens but they do fix it.
There are some troubleshooting steps users must do from time to time, such as clearing the browser cache and updating media plugins to ensure channels continue to work and play properly. The service provides troubleshooting steps when requesting support via email. The user can also notify the service with one click inside the TV player when a channel doesn't work.
Take TV Software Scam Challenge
How to Test SD TV Player Software On Your Computer
Sat Direct gives you a way to test the software on your Windows or Mac OS X computer which is made possible through a monthly subscription. It's called the Advanced version (see link at end of this review). To take the scam challenge, you can simply choose the $4.95, 7-day trial that automatically rebills to $19.95 per month. However, you can opt out before that happens.
As of now, there shouldn't be any excuse not to test everything out yourself when getting full access. You can either keep using the Advanced version and pay the monthly fee or opt out and purchase the Regular version one-time fee (lifetime access/usage) or simply move on from this technology altogether if it doesn't meet your expectation.
In my years of experience and research which includes testing and using these type of products and services for personal use, the term 'scam' is a cloud that hangs over all of them. Some people claim that pay-to-download Satellite TV software products including the top brands are all scams. But I beg to differ, mainly because top brands actually save you a considerable amount of time setting up a Web TV computer system with 1000s of free global (live/on-demand) content from the web that are delivered at your fingertips. No work to do, no searching for content, just sit back an enjoy and you can watch everything from one area inside the SD player.
The service no longer advertises HD TV programs on the official website. Also beware of websites out there that use the same brand name and have you making a purchase for something you thought you were getting. That's something you don't need to worry about here because you will be referred to the official website.
Unfortunately, there are some unscrupulous people online, bogus websites and fake Satellite Direct reviews that make false claims that mislead readers or insinuate the service/product will provide something when in fact it's doesn't. The term 'Satellite' when used in the brand name or when associated with the product/service can be misleading when not explained correctly. If you take a look at the "Terms of Services" on ETVCorp's website, you can read the print that clearly tells you what this service will do and what they won't do.
ONE PREVENTATIVE MEASURE that should be taken into account is contacting the service with questions before making a purchase. This allows you to test their response time. Another helpful tip is downloading and testing a free demo software to review on your own or taking advantage of the 5-day trial to explore channels, countries and features offered. You can definitely review this product before shelling out money or making a full payment.
Scam or Scam-Free: How To Tell?…
Despite what you may have heard and reviewed online — complaints, scams, negative comments — this program does work and isn't a scam. To validate this, you can review the following transactions. This is another part of my Satellite Direct review that you won't find anywhere else online.
This data comes from my Click2Sell account as living proof of all sales and refunds that occurred from January to September 2014. The only way I could get this information was signing up to Click2Sell to promote the product. As a result, many visitors to InternetTvDotCom made the decision to visit the merchant's website to purchase and download this Satellite TV PC software. The rest is history.
Review the following… Out of 96 sales, only 16 refunds were requested by new users which show a 83.33% Success Rate. This also resulted in a Failure Rate of 16.67% which is pretty good to compared to products like this one. See itemized transactions below…
Click Images Below to Enlarge…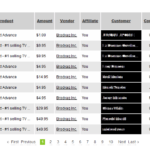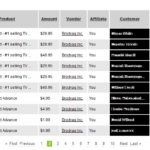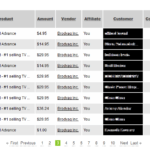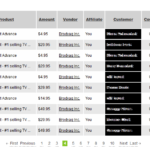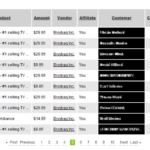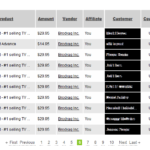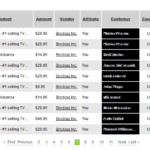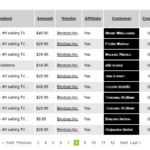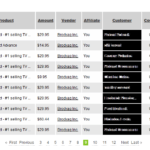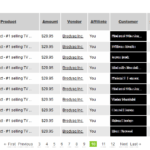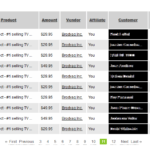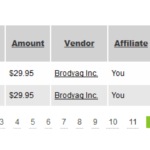 (Back to Top)

Satellite Direct Channel List. What channels does this service deliver? The best way to find out is to download and review the free TV player (See Free Trial below). Otherwise, there is no list or guide available out there. This way is far better because you get to see with your very own eyes how everything is streamlined and organized as well as what television programs, countries and features are available. Unfortunately, the free trial download is for Windows computers only and doesn't allow any channels to play until you become a paid member but you can see the names of channels and genres.
See Videos of SD TV Player In Action, Channels List And Features Including How To Connect TV To Computer And Other Related Videos – CLICK HERE
Dedicated Live Sports Section. Here's another section of this Satellite Direct review that could be an entire review by itself. If you are a sports enthusiast or someone who enjoys watching local ballgames, this service doesn't fall short in delivering the goods. They deliver all kinds of local, national and international sports and matches from the World Wide Web that are streamlined and organized so you can get direct access to them with a stroke of a key.
The dedicated sports section makes this very convenient as oppose to surfing the web to find live ballgames such as, football, basketball, soccer, martial arts, hockey, basketball, NASCAR, NCAA, European sports, etc. And, everything can be accessed and viewed from one location. Visit my other site for more details… Sports
Lifetime Membership with One Year Support and Device Change Policy
Membership & Support Services.The following is a MUST READ. I highly suggest you click the image below to get a very clear understanding of the policies that explain the lifetime membership, device change, and how you could lose lifetime access/usage after one year support elapses. Click image below to enlarge…
Satellite Direct Free Trial and 5-Day Trial. There's a Free Trial Download that allows you to see the TV media player. Although no channels will play until a paid member, it allows you to get a closer look. You can maneuver around the player, see what shows and countries are offered including how many, as well as check out all the feature enhancements. This is how you can do a basic hands-on review yourself. When visiting my other site you can sign up for the free instant demo download and also get my insider's tips. You can't get these tips any place else. For Advanced version 5-day trial, click link at end of review.
FREE DEMO SOFTWARE DOWNLOAD NO LONGER AVAILABLE
Mac Version. This version could also be a Satellite Direct review of itself. If you are a Mac user, you can choose to download the Mac OS X when prompted to choose either that version or Windows version during the installation process. Mac users can reap the same enjoyment as do Windows users now.
Click Image Below to Enlarge…
5-Day Trial. This service also offers the Advanced version that comes with a 7-day trial at $4.95 USD. Everything included in the Regular (lifetime) version is included in this version but you get more. The Advanced (Premium) delivers more premium channels, more feature enhancements, many movie trailers. In case you were wondering, the same 'Live Sports' section included in the Regular (lifetime) version is included in the Advanced version as well.
Once the 7-day trial is over, you are automatically billed $19.95 per month until you decide to cancel the subscription. There are few advantages to using this version. Besides opting for more premium channels and features, this is a good way to test Satellite Direct on your computer, check the picture quality and play channels. You don't need to pay the full price to do this. It should take 1-3 days to make an evaluation.
Before the five day period is up, you can always cancel or keep using the Advanced version or decide whether or not to opt into the Regular version (lifetime membership) for a one-time fee. I also called this the 'Scam challenge Test' where you can do exactly what I just explained above and test the product and service at a very low cost.
I've even gone further to show you how to test everything for just one dollar. Simply click the 'Scam Challenge Test' banner at top if you want to explore this further.
TV Player & Feature Enhancements. While there have been some complaints about the player software, I had no difficulty whatsoever. The important thing to note here is that television programs do come and go. For instance, you may be interested in watching ESPN, which was available at the time of this review, but the channel may not be available in the future because of the provider that owns the content.
The only feature that was missing that surprised me is no record feature or software to burn favorite shows to a CD/DVD. You'll have to download a free or paid digital recorder to carry out that function. But, you will like the features that are available that allows you to personalized, control and organize the content you want to watch, among other things.
I have been conversing with the service and recommended they include a record feature which may happen in the near future. This is something many visitors to my site have asked me… can they record.
The TV player's interface is smooth and fast where many of the channels load and played in a matter of seconds. The picture and video quality is either good or very good with some DVD-like or HD-like quality. However, you will have to put up with some picture blurriness and 'choppy' videos at times with some of the streaming media.
Features Included:
Play/Stop

Full Screen
Update
Switch TV
Switch Radio
Live Sports
Add to Favorites
Watch Movies (another service with additional cost)
Premium TV (another service with additional cost)
Search Bar
Remove Channel
Update/Rate Channel
Access to 3,500+/- channels
Access to 120 countries
Benefits:
Alternative to cable and satellite with savings
Access to 1000s of FREE channels, videos, music and radio stations worldwide
Creates extra TV via desktop
Creates TV traveling companion via laptop – watch from any location in/out the home
Watch everything from one area inside player
No surfing the web, installing hardware or connecting wires
Easy setup completion in couple of minutes
Quick way to watch TV online
Watch favorite/popular channels and TV programs online
Connect computer with SD software installed to small/large screen television
Great for all ages (young and old), watching variety TV and bilingual/multilingual individuals
60 day money back guarantee backed by reputable 3rd party payment processor
Free demo download (channels designed not to work but can see channels, features, etc.)
Offers Regular version (small one-time fee with lifetime access/usage)
Offers Advanced version (5-day trial w/ full access to more premium channels, features, movies trailers)
System Requirements and Compatibility. At a minimum, your computer will need the following:
1 GHz CPU (Intel/AMD Proc)
Min 128 MB RAM
Min 13 MB free hard drive space
Windows OS (Vista, 7, 8 and higher) or Mac OS X 10.4 and higher
Internet Explorer – latest version or close; Microsoft .Net Framework
Internet Broadband Connection (DSL or High Speed); Wireless (wifi) can work with some limitation
Administrator privileges are required to install the software
Price & Refund. The cost of this product/service is $49.95 USD (one-time fee) which is compatible (little more or less) to what's out there. There are two payment processors used by this software service, Click2Sell and Clicksure, to make a purchase. There's also a $20 discount available right now but for how long is unknown – Click Here for DISCOUNT.
Depending on which payment processor you use, there will be a 60 day or 90 day money back guarantee. In the event, you become dissatisfied with the product/service, simply contact the payment processor and request a full refund via email. The processor will send an email right after they receive and approve your payment. Read the instructions and proceed from there to look up your order.
If you can't find the email, be sure to look in your Spam or Junk mail folder — it could be there. Otherwise, contact clicksure.com or click2sell.eu directly — whichever one you sent a payment to. DO NOT contact Satelite Direct directly to request a refund. Instead, contact the payment processor where payment was sent. Contact them for any question about your order — same thing if you didn't get the software download page to download the software. Just make sure your payment was accepted first.
(Back to Top)
Ways to Use Sat Direct TV
There are couple good ways to use this software that you may want to try. One is downloading the software to your laptop to create a TV traveling companion and watch favorite television programs anytime, anywhere. Another use for this technology is connecting your computer with the SD TV player installed to your small/large screen TV. I made this connection via HDMI cable and to my surprise the picture quality was about the same (good to very good) when watching everything on my laptop. Of course, some free channels have low picture quality but still viewable nevertheless.
Pros & Cons

Pros: Right now this product has an above average success rate which means the failure rate or number of refunds are lower compared to most other brands. You wouldn't think so considering the fact that this software is the most controversial out there, and yet it continues to gets over 22,000 global searches monthly.
I have conducted many Satellite TV software reviews besides this Satellite Direct review and found this one to have the highest number of global searches/downloads compared to all the other 3rd party, proprietary streaming TV software packages out there – I have direct access to all sales/refunds data with different vendors, so I can honestly tell you which product is doing well and which ones are not.
The SD TV player is hi-tech all the way with a good channel delivery including smooth and fast interface. Plenty of entertaining TV programs and radio stations to watch/listen on a PC or Mac computer. Some people ask what channels are included and does it have ESPN? I can honestly say ESPN is part of the shows that's available but how long it will be available is the question. Providers of the content (not Satelite Direct) have full control and decide when and when not to stream their content online.
If you are looking for more free media, namely movies, then perhaps you might want to take a look at the "Watch Movies" feature inside the TV player that allows you to sign up. The service is actually called "FullMovies" and another one of ETV Corp products. You can download and watch more movies (no P2P or file sharing) on your computer, TV or mobile device. There are three payment options: Platinum – VIP 1 year @ $39.95; Gold Membership – 3 months @ $34.95; Silver – 1 month @ $29.95.


Cons: There were a few downsides found in my review after testing this product. As mentioned before, there are some minor picture/video issues with some of the content but viewable nonetheless. This happens sometimes when watching streaming media online, unlike downloading videos to a computer where there is no streaming going on and picture quality gernerally better. Some channels will come and go but some of them may be available for use again.
You only get one license when making a purchase. This allows you to install the application on one computer only, either PC or Mac. Additional licenses must be purchased if installing to multiple computers.
The SatelliteDirect service makes it clear that it offers over 3,500 channels and even gives you a breakdown of the number of channels for each country on their website which isn't up to date. It's difficult to place an exact number, especially when some television programs come and go for various reasons as mentioned previously. When looking at the actual number of channels inside the TV player software, there's a different count for each country compared to what's listed on the official website.
Key Satellite Direct review notes: There's no phone number to contact the service. You can only contact them via email support. If somewhat concerned about their response time and whether or not they respond to a customer's/member's email, simply contact them before making a purchase to test them out. Also, there is no record feature to make recordings of your favorite shows. If you want to record, then I recommend reading my review on a top Video Capture Software that also offers a free trial.
(Back to Top)
Can Opt for More Premium TV Channels
One of the additions inside the Satellite Direct software that you can opt for is the "Premium TV." This is actually the Advance version software that comes with an additional charge of $4.95 which is a 7-day trial then rebills to $19.95 per month. However, this is not available at the moment but may re-appear sometime in the future.
One thing to note: Since the service only offers one year of support which also covers reactivation of the registration code if needed, you will be hard pressed to get support help if the SD TV player is automatically deactivated (due to device change) after the one year period is over.
As for the Regular version (one-time fee with lifetime access/usage) the service will not grant support (with exception to channel updates) and license/code reactivation after one year of use. That said, you'll want to read my explanations of the most important part of the Satelite Direct policy, so that way you won't become like the other users who didn't know better and lost their lifetime membership. Some of those users posted their grievances online about the service after losing their lifetime membership – See Membership and Support Services above and click the image where I explain the policy.
(Back to Top)

CONCLUSION: Is It Worth the Money?
By now, you probably like to know whether or not this Satellite TV on PC software is worth the money and should you ignore some of the controversy and complaints out there. I posted a comment awhile back on CNET that answers part of this. First and foremost, know that all Internet TV apps/services get there share of negative feedback, some more or less.
For what it's worth, none of these products/services can really replace Satellite or Cable, so it would be foolish to think so or let any other Satellite Direct review tell you that it can. However, this method adds another dimension when delivering free-to-air channels from the web. The Internet has more live and on-demand channels and shows than any paid television network. You get access to free content and watch it all from any location which makes this method a bit interesting.
If wanting to setup a quick, easy web TV system that saves time and effort, streamlines watching television online and provides worldwide access to free content online, then this method could be something worthwhile.
You already know the membership that includes new software version upgrades. So the point is the service will continue to make improvements to the software to keep it like-new as technology and the Internet content changes.
Despite some of the shortcomings, the software still has value and can meet the needs of some people who are not too picky or very high on HD quality – can cope with having good to very good quality. Remember, obtaining high quality also relates to how good is a computer which relates to very good multimedia and video software, computer screen, and Internet connection speed.
To sum everything up from my review of this software, I recommend trying the software out on your Windows or Mac computer. How to cancel — There's an iron-clad, 60 or 90 day money back guarantee depending on which payment processor you use, Clicksure or Click2Sell, where they process your request for a refund. I also suggest taking advantage of the discount that brings the price down to $29.95 which is worth it. At least this service offers a discount and provides a free trial demo, unlike many of the other brands out there.
This Concludes Our Satellite Direct Review
To Visit Official Satellite Direct Website Now – CLICK HERE
To Get Your $20 DISCOUNT and Try This Web TV Application Out On Your Computer — NO LONGER AVAILABLE
To Download and Review SatelliteDirect Free Demo — NO LONGER AVAILABLE
(Note: For Windows PC Only; No channels will play until a paid member but can see channels, countries and features included)
For More Premium Channels and Feature Enhancements, Click Here to Review the New and Improved Satellite Direct Advanced Version for Maximum Web TV Enjoyment
>> Need Help With Your Web TV Software? < <
Leave a Comment Below and I'll Get Back to You at My Earliest Convenience