Best TV App for Firestick and Best TV Streaming Service for It
What makes the best TV app for Firestick is one that has a very good channel delivery, interface, and performance. The other part comes from the TV streaming service that delivers live premium channels and video-on-demand streaming content. If you're looking for the best live TV app for Fire Stick, I'll reveal one that I've been using for years and tell why it's the best.
IMPORTANT UPDATE:
We are no longer recommending any Nora Go or SO Player app and IPTV services for them. Too many of them are not accepting new customers/subscribers, went out of service, and we are getting many visitors telling us they can no longer renew their subscriptions including no support.
You must choose an alternative IPTV service that does not use SO Player or Nora Go.
We recommend visiting our IPTV Comparison Chart that's currently being updated to add more top IPTV services that use other apps. Click the link below to find the best IPTV service…
DO NOT READ BELOW THE LINE… All IPTV Website Links Have Been Removed…
————————————–
The TV app for Fire Stick that I use has great channel delivery, interface, and performance. Not only that but you'll have the flexibility to choose one of many IPTV service providers that use the same app. The IPTV service delivers all the streaming content the TV app connects to.
What this means is you are not restricted to just one IPTV service that uses the app. You can only use one of these services at one time but can switch to a different IPTV service later on if you want.
Here's what an IPTV service brings/delivers:
100s of live streaming premium television channels
Watch news, sports, movies, shows, kids & other channels
Dedicated live sports section – watch local, national, international sports
Seasonal sports (NFL, NBA, NHL, MLB) plus ESPN + & US Opens
Watch live boxing PPV events
Global channels (US, UK, Spanish, French, Filipino, etc.)
Local US TV channels and Local Canada channels (not all IPTV services)
1000s of streaming movies, recent movies & TV series with episodes
On-demand NFL games & Boxing
CatchUp TV w/ DVR (IPTV service does all the recording, not you)
Adult content (locked by default)
Gospel, Music/Radio channels, and more
Free Trial
Support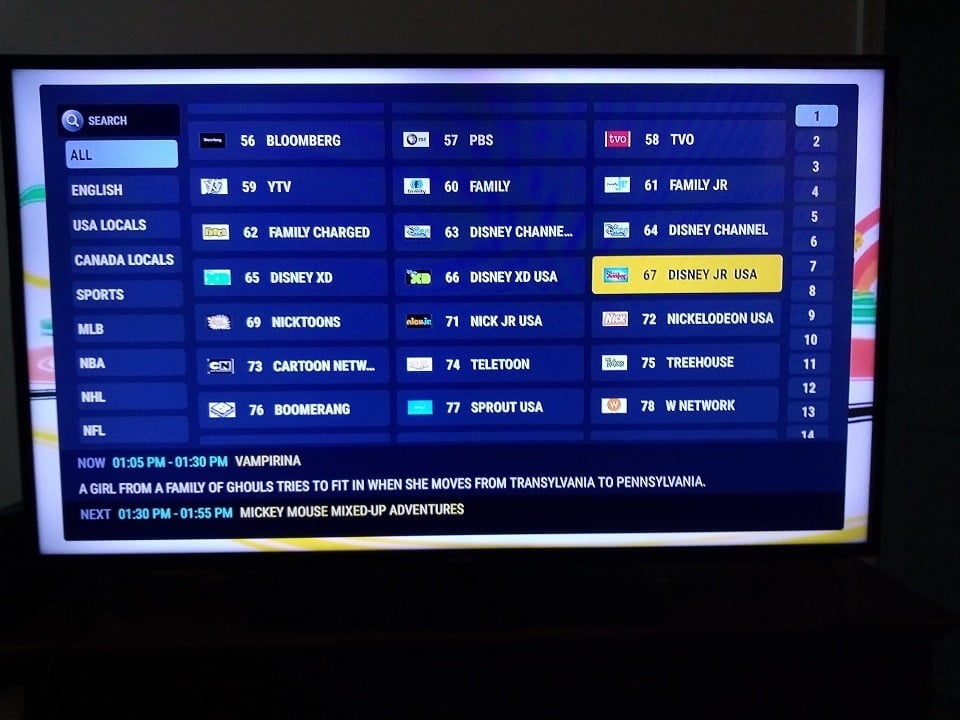 I will provide the name of some top IPTV service providers that deliver most if not all the streaming content you want to watch online. This way you get the best of both worlds: The best IPTV service provider and Best TV app for Firestick.
I will also provide information on where to watch rebroadcast local OTA TV channels online from your city that uses a different TV app. Let's start by identifying the best TV app and move along to the TV streaming TV services.
SO Player TV App – Best Live TV App for Fire Stick
SO Player is a free app download. You don't need to sign up or subscribe to install the TV app on your Amazon Fire Stick. It's not a standalone TV app. The streaming content comes from the IPTV service provider. Besides the Amazon Firestick, SO Player is compatible with many other devices such as:
Amazon Fire TV/Fire Cube/Firestick
NVIDIA Shield
Apple TV
Mag Box
iOS Devices (iPhone, iPad, iPod, smartphone, etc.)
Android Devices (tablet, smartphone, TV, Box, etc.)
Computer (Mac & Windows)
Smart TV (Questionable – may need to use streaming media device)
You can use the same SO Player TV app for Fire TV and Fire Cube also. As for smart TVs, you may not find the TV app for TV in the smart TV app store. That being the cast, you must use a compatible streaming device.
The best device to use with the SO Player TV app is streaming media devices (Amazon devices, NVIDIA Shield, Apple, Mag Box). Other devices not mentioned in the list above are not compatible with the app. My advice is to purchase the Amazon Firestick if you don't already have one. Not only is it a great performing streaming media device, but it's also cheaper than the others.
I upgraded my Firestick to the 4k and installed the SO Player TV app for Firestick 4k. There is only one type of SO Player app you need. However, for some devices, you won't find the app in the Play Store. You'll have to sideload SOPlayer, for instance, to the Firestick which requires downloading/installing the Downloader app first.
Don't worry, you can get all the instructions/steps by watching either video tutorial below. You can get set up in 3 steps.
Install Downloader App, Live TV App for Fire Stick, and IPTV Service Subscription
This is a 3-step process that involves installing the Downloader app and TV app for Firestick (SOPlayer). To watch TV online requires a 3rd step which is subscribing to an IPTV service. The free SO Player app connects to the IPTV service that delivers live channels and VOD. I suggest signing up for the Free Trial first to test everything. To see what an IPTV service brings/delivers, see the bullet points section further up.
STEP ONE & TWO…
TV App for Amazon Fire Stick
You must first download/install the Downloader app before you can download/install the SO Player apk on your Amazon Firestick. You must type in the SOPlayer URL in Downloader app to commence the download and installation process. If the SOPLayer apk URL in the video doesn't work, type in one of the following URLs:
http://bit.ly/soplayer or http://bit.ly/sopupd or http://bit.ly/soplay251
You can watch either video tutorial below…
Here's another video tutorial…
STEP THREE
Look further down this post to find the section titled, "Best IPTV Service…" and read it. You can choose any one of the IPTV service providers in which there are two of them. Each provider will have several sister sites. You can also visit my Top 10 Comparison Chart (IPTV reviews) to compare these services side-by-side quickly.
Channel Delivery, Interface & Performance
Why is the SO Player TV app the best? Firstly, channel delivery is very good. When clicking a live channel, it plays instantly. Playing any VOD is also quick to stream. Most live channels work and play from various sections/categories such as Sports and English sections. You will come across some channels that don't work/play.
But out of 500 live channels delivered, why argue about some channels not playing as long as many of your favorite networks/channels do work/play. This is why opting into the free trial first without shelling out any money or using a credit card is so beneficial. You can test everything which means all channels, VODs, features, etc.
User/App Interfacing. It doesn't get any easier when navigating through the SO Player live TV app for Firestick. No manual is needed. Everything is self-explanatory. Your eyes will take you where you want to go when seeing the 4 icon boxes on the home screen. Many sections/Categories are contained within each of the 4 categories as follows:
TV (All, English, US Locals, Canada Locals, Sports, MLB, NBA, NHL, MLB, NCAA, ESPN +, US Open, French, Spanish, UK, Filipino, Adult, All Day
Music/Radio)
Movies (VOD includes movies, TV series w/ episodes, NFL & PPV events)
CatchUp (recorded shows by IPTV service, not you)
EPG (Electronic Programmable Guide [TV Guide])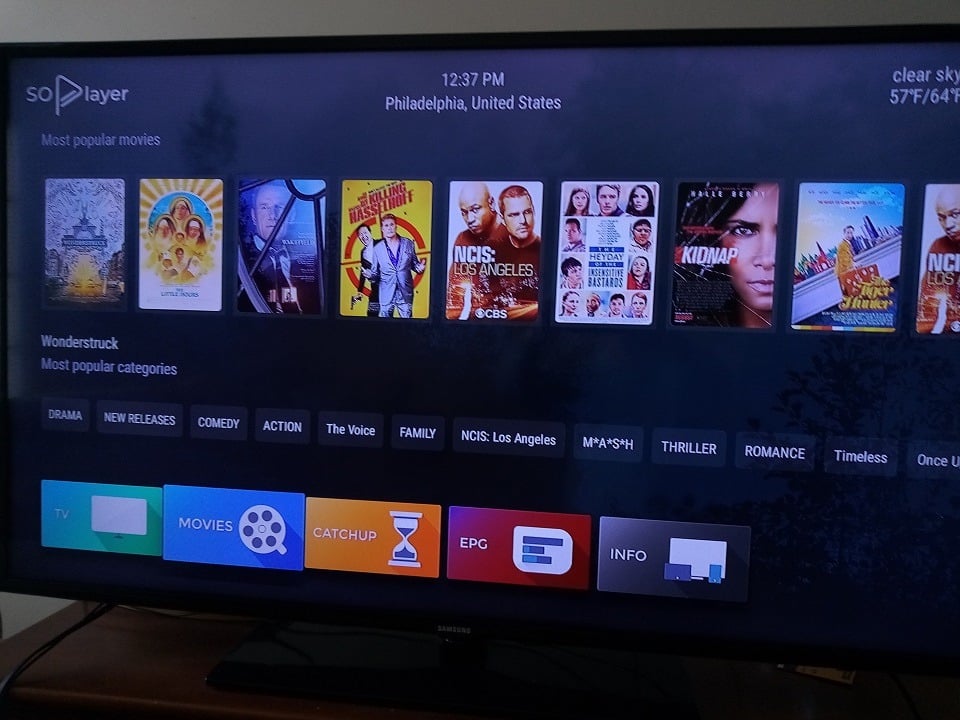 The TV app is very user-friendly but extra steps are needed to install the live TV app for Fire Stick. Watch the video tutorial above and follow all the steps.
Overall Performance. Some of this depends on your Internet connection speed and some it depends on the IPTV service provider you have a subscription with. You should have at least 30 Mbps of Internet connection (download) speed but higher/faster the better. I have not experienced any major streaming or buffering issues with SO Player. Just minor issues that go away quickly.
However, buffering issues can stem from many things such as using an old streaming device, inadequate Internet connection speed, Internet service provider. There is nothing wrong with the SO Player TV app for Firestick. It's a good reliable app that works very well with many compatible devices. If a steady buffering issue occurs, you must first consider your end causing the issue.
Many IPTV service providers were using the Nora Go app until performance issues started to occur across many compatible devices. SO Player is now the best live TV app for Fire Stick as well as for other compatible devices. I have listed some of the best IPTV service providers without buffering issues below.
Best IPTV Service to Use with Best TV App for Firestick
You can Visit the Top 10 Comparison Chart Here where you can quickly review the top live TV app for Fire Stick. There are other types of apps used by other IPTV services which are totally up to you if you want to go another direction. If you are entirely new to watching Internet TV online, I suggest you sign up to get your Free Guide: How to Watch TV Online and Quick Setup Guide.
To visit some of the top IPTV service providers and their websites right now, I have provided some links below to check out. Both IPTV service providers have sister IPTV websites also. Do Not get confused. Each IPTV service provider has IPTV sister sites where you can go to sign up for the free trial or subscription. Each one of the two IPTV service providers has its own set of sister sites. The sister sites belonging to the IPTV service provider have the same everything.
If there comes a time when you want to switch IPTV service providers or sister site, you can choose any one of the following that uses SO Player:
Note: When an IPTV service website reaches its max number of subscribers, new subscribers cannot sign up. Should this happen to you, just sign up for one of the sites below. There are all very similar.
Click Here to Visit IPTV Site 1 or IPTV Site 2
Read Full Review Here
Note: If you want to switch from one IPTV service to another with SO Player installed, you need to remove your device – Click Here.
How to Watch Local OTA TV Channels From Your City without Cable…
When visiting the IPTV service website, they will have instructions for the TV app for Amazon Fire Stick. Compared to other TV apps online, there is nothing better than having the best TV app for Firestick that connects to the best IPTV service provider. Certainly better than any free TV app you may find online. I suggest entering into the free trial (no credit card require) to test everything yourself.
SO Player is the Best TV App for Firestick that works very well with many compatible devices and IPTV services. It's the channel delivery, performance, and interfacing that makes it the best app. The other part of this is the IPTV service. What makes the best IPTV service is the amount of entertaining live and on-demand streaming content it delivers with very minimal to no buffering issue. I encourage you to review the Best IPTV Services section above.