My Thoughts...
Product Name: Topeba Streams (Now EZ Hostin)
Product Description: READ UPDATES IN THE MAIN REVIEW BELOW. A 'No IP Lock' IPTV service w/ Duplexplay App and IP Lock w/ SOPlayer App. Brings together both live and on-demand streaming content for TV viewers to watch online at a low cost. Channel delivery includes live premium, local, sports, US/UK/CA, and over 15 other global channels. Also delivers 24/7 shows and PPV with no extra charge. Many features are included such as EPG, PIP, Record, Parental Control, Add to Favorites, and so on. VOD delivery includes a huge selection of movies (incl. new releases) and TV series with seasons/episodes, genres, search tool, and features. Comes with installation instructions. Also comes with a very low-cost 24-hour trial and several subscriptions (1, 3, 6 & 12 months) and 1, 2, 4 & 5 device connections with upgrade subscriptions. Compatible with many devices including LG & Samsung Smart TV, Windows 10, Fire TV/Firestick, NVIDIA Shield, Xbox, and Android devices. Subscriptions start at $9.99 and up.
Offer price: 9.99
Currency: USD
Availability: OnlineOnly
Offer URL: https://ezhostin.com/
Usability

Performance

Picture Quality

Compatibility

Live Channels

VOD/CatchUp

Sports/PPV

Global Channels

EPG (TV Guide)

Features

Support
Topeba Streams Review (Now EZ Hostin)
Subscriptions start at $9.99 and up. Subscribers get access to 100s of live local, premium, sports, and US/global channels plus 24/7 shows and PPV events. All the popular movies, sports, news, kids, and many other networks are available. Also delivers 1000s of on-demand movies with genres and TV series with genres, seasons/episodes. Can use the search tool to search by title. Feature enhancements include PIP, EPG, Parental Control, Record, Add to Favorites, Recently Watched, and more. Subscribers get all the streaming content and features they need to enjoy the best of Internet TV. Also great for sports fans and fanatics that want to watch local, national, seasonal (NFL, NBA, NHL & MLB), pros & college, and international sporting events. PPV events come with no extra charge. Can use 1 or more compatible streaming devices depending on the subscription package chosen and can upgrade to 5 devices. Read Full Review for More Info.  
Pros
Many Popular TV Networks (movies, sports, news, kids, etc.)
100s of Live Premium Channels (US, UK, CA & 15+ other countries)
24/7 Shows
PPV Events (no extra charge)
Huge Live Sports Package
Huge Selection of On-Demand Movies w/ Genres plus New Releases
Huge Selection of VOD TV Series w/ Genres plus Seasons/Episodes
Great Feature Enhancements (Record, PIP, Add to Favorites, Parental Control, Search Tool & More)
EPG (Electronic Programming Guide (programmable TV Guide)
1, 2 Devices Connections (can upgrade to 1 extra or 5 device connections)
Several Upgrade Packages
And More
Many Subscription Plans & Subscription Upgrades
Adult/18+ Content (optional) 
No IP Lock w/ DuplexPlay App (can use VPN)
Can Choose Subscription for Duplex App or SOPlayer App
Cons
Expect up to 24 hour delay to get approval/activation when subscribing
Some live channels don't play at first — see 'Cons' in full review to learn trick to make them work
Replay feature not in use and will continue to stay that way
Some features take some figuring out but can contact support
No refund or free trial but recommended to opt into 24-hour trial @ $3.99 for testing first
No CatchUp TV (most IPTV services stopped including it)
Topeba Streams Review by Real Tester and User (Now called EZ Hostin). Gone are the days when you had to deal with the high cost of cable and satellite TV because there were no alternatives. The playing field changed when streaming TV/video websites such as Netflix and Hulu TV hit the Internet. What came next was more alternatives such as Amazon Video Prime, YouTube TV, Sling TV, and others.
As more of these streaming TV/video websites continued to surface, so did some of the big live TV content owners. They began streaming their own content online such as HBO. Today, there are a vast number of low-cost alternatives that cater even more to the needs of TV viewers who want to pay less but hate losing what they love most.
As for meeting the needs, this means getting access to the vast majority of live, local, sports, and on-demand content of interest. And doing so without paying a high premium to get everything and paying additional fees.
One of those low-cost alternatives you might want to take a close look at is Topeba Streams. You get an IPTV service that gives you a great deal more for less cost, without losing your favorites.
10/15/21 UPDATE: Topeba is now called EZ Hostin. Click the link below.
10/14/21 UPDATE: The Duplex app is history. No longer being used and was replaced with other apps. You can choose one of 4 TV apps with one of them being SO Player.
9/9/21 UPDATE: No longer offering 4 months or 6-month subscription for SoPlayer. The 3rd party DuplexPlay app has closed the doors, due to major duplication of their app. Discontinue deployment of DuplexPlay is now in effect. Existing users can use the application until the activation runs out. Once, the activation has expired, DuplexPlay users will be moved over to the new JuslivTV app.
UPDATE: SO Player app now included. You can choose one of the subscriptions with the Duplexplay App or the SOPlayer subscription. See all subscriptions further down with a breakdown of prices, device connections, and months. The following was added: US Sports, Canada, and US News for Catchup in the Duplex app.
Review of Topeba Website – What Is It (Get Important Info)
How to Stop Buffering on Your End
Get Amazon Firestick (Streaming Device) – Learn More Here
——————-
Optionality
Although you can't request a subscription with live channels/VODs tailor-made to meet your specific needs, you do get optionality. Meaning, you can choose a subscription plan starting as low as $6.50 for one month. I'll give you a complete breakdown of subscriptions and costs later on in this review.
If any of these piques your interest so far, then continue reading this Topeba Streams Review where you'll get all the details including pros and cons.
Best of Live TV/VOD Entertainment Under One Roof
Topeba Streams IPTV brings together 100s of live premium, local, and sports channels as well as PPV, and 24/7 shows. Not only do you get streaming content from the US but many other countries as well. You can watch movies, sports, news, kid shows, documentaries, shopping networks, and the list goes on and on.
When I first scanned through all the content available, I was delighted to see many of the major television networks included. Click the link below or above to visit the website and check out the Channel section. You get to see pretty much what is delivered.
Subscribers also get access to 1000s of VOD movies and TV series. This includes new movie releases, genres, seasons/episodes, VOD MMA/Boxing/WWE/UFC, and much more. There's also a search tool that allows you to search by title.
Who Benefits…?
People from all walks of life, no matter where they live in the world, can use this service. If you have some experience using IPTVs, you probably want to know is it a 'No IP Lock' or 'IP Lock' IPTV service. The answer is 'No IP Lock' which means you can use a VPN service if you want.
Certainly, all USA residents and English-speaking individuals will benefit the most. There are USA local TV channels and premium live channels including some regional channels. You also get access to English-speaking channels from other countries such as the UK and Canada. In addition, there are a lot of VODs in English.
What I also like about TopedaStreams is they don't leave out individuals who are bi-lingual, multi-lingual, or individuals living outside the US. When conducting my review of Topeda Streams, I found 19 or so additional countries with non-English channels. All subscribers get access to the same content.
Live Premium, Local, Sports & Regional Channels
Topeba delivers many premium live channels found on cable. Whatever TV network name comes to mind I'm sure they have it. Just visit their website and go to the 'Channels' section to see what's listed.
You will get access to some regional channels and local TV channels (not all) from your area. However, no one should rely on any IPTV service solely for local or regional channels. The reason is you don't get most of them and your city may not be included.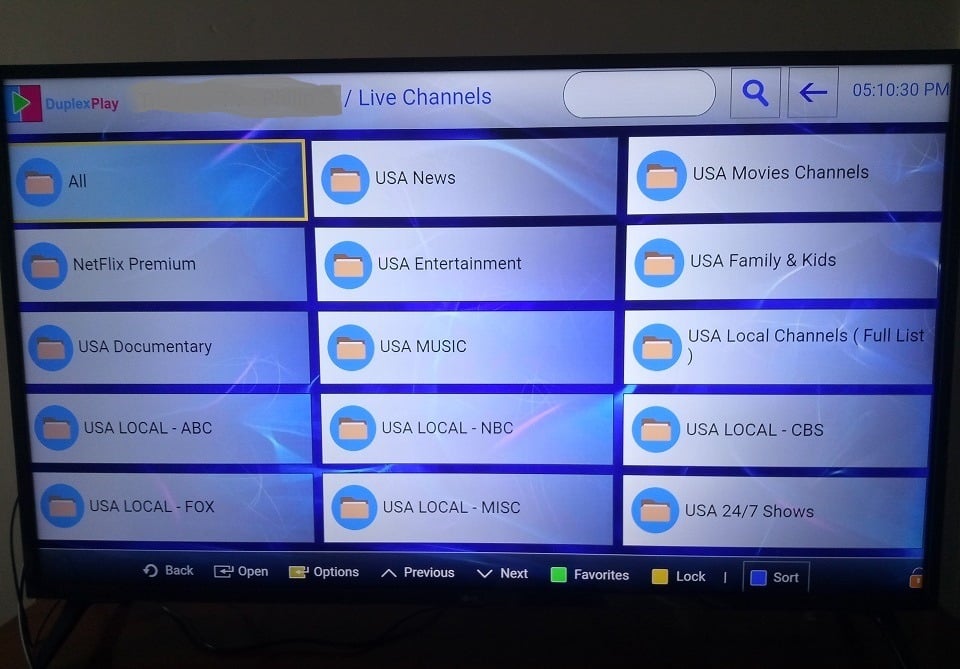 Types of Channels/Content Delivered…
Cable Network Channels
Sports Networks
Local Networks
International Channels (Canada, French, Latino, UK, Arabic, German, Polish, Italian, Filipino, China, Armenia/Belgium, NZ, AU, Caribbean, Portuguese, Brazil)
24/7 Channels
Adult Channels (optional)
Sports Packages
Movies, Sports, Regional, News, Shopping Networks & Entertainment Channels
Local TV Channels
Soccer Channels
PPV Events
TV Shows
Music Channels
To Learn More, Get Trial or Subscription and Playlist, Click Here
Types of VOD Delivered…
Movies (Includes New Movie releases, all genres, Sports/WWE/UFC Replays, and more.)
TV Series (Includes all genres, seasons and episodes)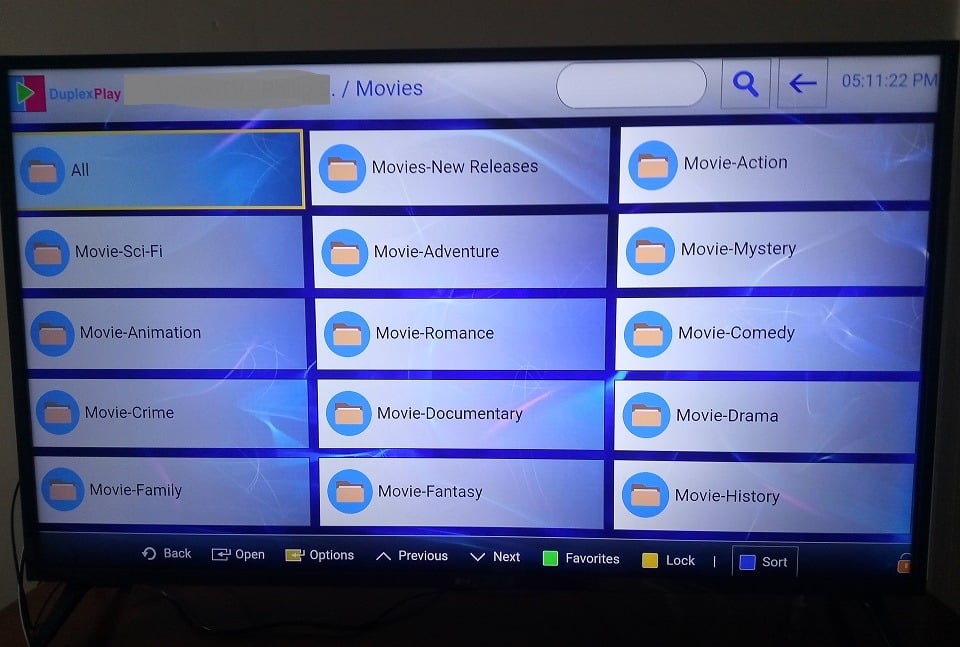 Sports Lovers & Fanatics
This IPTV service doesn't fall short in delivering live sports you want. You get access to some of the local, regional, international, and seasonal sports (MLB, NFL, NBA & NHL). Other sports include golf, tennis, soccer, the Olympics, and so on.
Then there's PPV fights/boxing both live and on-demand that comes with no extra charge. All the major sports networks are there including ESPN and you'll get TNT and Showtime also.
To be clear, you can watch your favorite local or national college/pro teams play including all the other sporting events as well as championships, playoffs, preseason games, summer league, and so on.
The Topeba Streams Review Test
When testing and going through my physical review of TopebaStreams, there was so much streaming content available that I couldn't possibly test/play them all. There are many countries outside the USA with live premium channels included as well.
When I played random channels from many different sub-directories including foreign countries, only a small number didn't play or worked well. For me, this was outstanding. But again, I did not test the vast majority of live channels from many sub-directories available. Same thing with the enormous number of VOD movies and TV series. Later, I'll tell you about a little trick to use when a channel doesn't play.
Buffering
As a tester of many IPTV services, I reviewed some of the top services, as well as many mediocre and bad ones. No IPTV service is perfect and no matter what they tell you, expect some buffering. However, the name of the game is to find an IPTV service where most of the channels/VODs play, has very little buffering that eventually goes away, and is good to great support.
This doesn't mean buffering will never come from your end. In fact, many times the issue does come from the user's end. There are some requirements that you must have and things that can be done to eliminate constant buffering if or when it occurs.
If you are currently experiencing a lot of buffering (channels/VODS stop & play repeatedly), I suggest doing the following. Click Here to learn how to resolve Buffering Issues if or when they occur.
Features and More Benefits
You may be wondering what features are included. I can tell you there are more features available in this IPTV service than most IPTVs out there. Here are some of the feature enhancements that I found and tested:
Search Tool (find channels/videos by title)
Sort (A-Z & Z-A / 0-9 & 9-0)
Previously Watched
Add to Favorites (live channels & VOD)
Record (channels & VOD)
PIP – Picture in Picture (watch 2 or more streams simultaneously)
Replays (not working & no future plans)
Parental Control (protects kids)
EPG (Electronic Programming Guide/TV Guide)
Channels Preview/Full Screen
Closed Captioning (great for hearing impaired)
New Release Movies
Sports/WWE/UFC Replays
VOD Movie Genres (incl. Netflix & Bollywood)
PPV (incl. Boxing / no extra costs)
VOD Movies & TV Series w/ Genres
For PIP to work, you will need a subscription that allows 2 or more device connections. In the trial version, you only get one device connection so PIP will not work well if at all. The EPG Timeline is readily available in each live channel subdirectory.
When clicking the USA Entertainment sub-directory, the EPG Timeline button appears below the channel preview screen. When clicking the EPG button, all the channels from USA Entertainment appear in the EPG (TV Guide). A list of channel names with TV program descriptions in their time slots appears.
You can do the same thing for any channel sub-directory when you want a specific group of channels to appear in the EPG. And you can watch channels from the EPG.
Record Feature
One feature I'm sure you want to know more about is 'Record'. I could record a live channel by playing it and clicking the 'Enter' button on my Firestick remote. Same thing for an on-demand video. A set of features will pop open where you can scroll to the 'Record' icon and click it.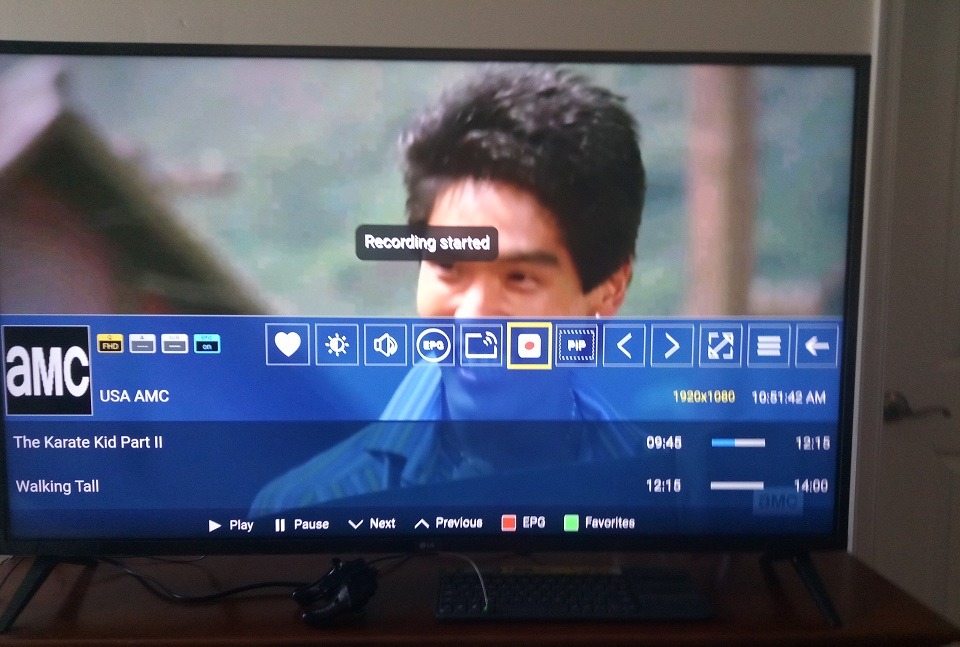 Recording the TV show or video started immediately. You'll see a display that tells you the recording has started. You can also click the same 'Record' icon again to stop recording. Keep in mind the moment you click the 'Record' icon it will start recording the stream exactly where you started recording it. There is no schedule recording feature.
Adult Content/18+ (optional)
The adult content is optional. I don't recall seeing this as an option in the trial but you will have that option in most if not all subscriptions. In any case, should you decide to opt-in, you can always set up the Parental Control feature to keep children from getting access.
Using SOPlayer App (APK)
When it comes to getting set up, meaning downloading/installing apps, both the SOPlayer app and Duplexplay app are easy enough for newbies to get set up. Of course, this means following step-by-step instructions. Depending on the compatible device(s) you are going to use, you can find the SOPlay app in the Google Play Store or Apple Play Store. As for Fire TV and Firestick devices, you must sideload the app version which is the APK file.
The reason why you must download/install the SOPlay Apk file is that you can't find the SOPlay app inside the Fire TV/Firestick Amazon app store. But before you can install the Apk file you must first download/install the Downloader app. The setup instructions will be provided by Topeba after signing up to enter into the trial or subscription.
Topeba on SO Player video below…
Topeba Streams on Smart TV video…
Can watch more videos including how to install HERE.
A Topeba Streams subscription using the SO Player app provides an IP Lock platform. You cannot use a VPN service. but can use a VPN service if choosing a subscription with the DuplexPlay app – read below…
Using DuplexPlay App (APK)
Whether you are somewhat technical or not, I'm sure you would like to know what's under the hood. Topeba Streams recommends downloading/installing the free DuplexPlay app or apk depending on which compatible device you use. This is a 3rd-party app/apk not owned by TopebaStreams.
All the streaming content comes from Topeba Streams IPTV. The DuplexPlay app or apk connects to the IPTV service so you can watch everything on your device. Simply put, the DuplexPlay app/apk is not a standalone TV app. You need an IPTV service to activate it and need the playlist they give you.
I used my 4K Firestick which is a top streaming device that I recommend using and LG 4K smart TV. The Amazon Fire TV Stick works great with all IPTV services. When I downloaded/installed the DuplexPlay apk file to my Firestick (following instructions) I was delighted when seeing the simple layout of DuplexPlay with all the streaming content.
Click the link below to play the video to learn how to install the app to Fire TV or Firestick. You can look below that video to find other videos on how to install on other compatible devices. Depending on the device you use, you can find the app in the Google Play Store.
Keep in mind the Duplex app is not compatible with iOS devices at this time. See compatible devices further down this review. When subscribing to Topeba and installing the DuplexPlay app that connects to the Topeba IPTV service, it provides a No IP Lock platform. This means you can use a VPN service.
Playlist Screen
When I entered the Playlist screen inside DuplexPlay, TopebaStreams already created my personal playlist with name. I simply clicked on my playlist name that took me to the Main screen where 4 large directories/icons appeared as follows:
Live Channels
Movies
Series
Replays (not working at this time)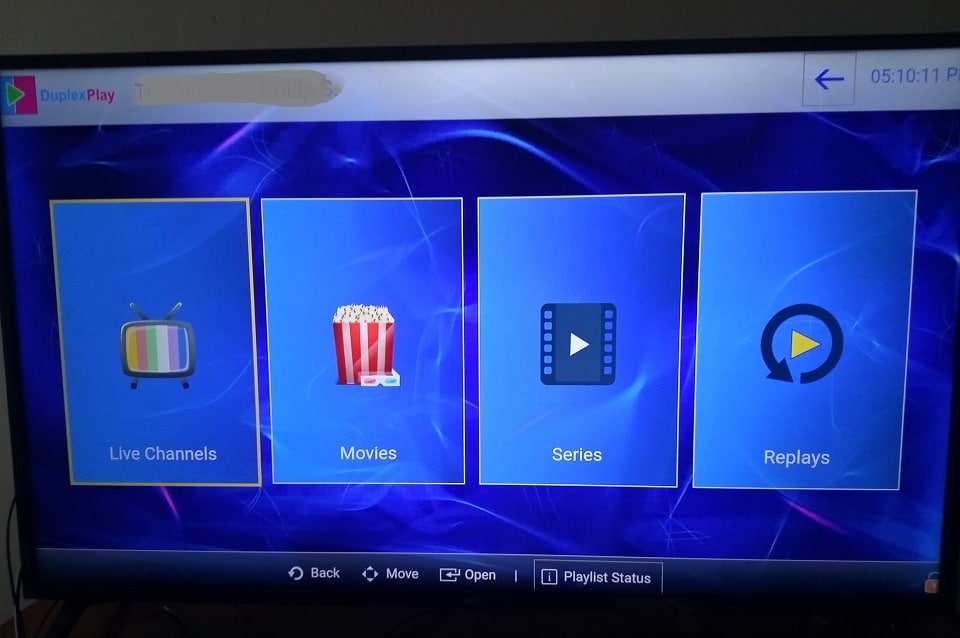 User Interfacing
I won't go into all the details here but what I experienced was second to none. Getting around and finding the content I wanted to watch came easy. When clicking the Live Channels directory, all the content was sectioned off into different sub-categories which made it easy to find specific live channels, such as USA Movie Channels.
When clicking the USA Movie sub-category, an attractive column of live premium channels appeared with TV network names and logos. Just click the channel name to start watching it. They made it very easy for you to find and watch what you want. Channels played quickly for the most part.
Using some of the features available such as the search tool is easy to do. But other features such as Add to Favorites, PIP, Record, and so on takes some trial and error. I figured things out on my own when playing around with the features. I may create a video with instructions on how to use those features down the road. If I do this, I'll post a link in this Topeba Streams Review. Take your time and play around. You just might figure things out or contact support.
You get pretty much the same setup when going into the VOD Movies and Series sections. How you interact with the app connected to the IPTV service and navigation is quick and easy when searching, finding, and playing channels/VODs.
The first thing I suggest you do is to navigate through the DuplexPlay app/apk to see where everything is located. Start with the three content directories I've listed above (Live Channels, Movies & Series).
Performance & Quality
When playing live US, UK, and CA channels, all the ones I tested played quickly. As for some of the other countries (sub-directories), there was a little delay when clicking channels to watch. VOD movies and TV series that I tested played quickly enough. However, I did come across a few channels that had a streaming issue (no buffering). Let me tell you a little trick…
If you come across a channel that doesn't work (continues to load [rotating circle]) or doesn't stream well, just play another channel that works. Go back to the other channel that wasn't streaming correctly and play it again. A lot of times the streaming issue gets resolved.
The picture quality is UHD, HD (1080p), and SD. I was very pleased with both the picture and audio quality overall as I played and watched many live channels and VOD movies/TV series.
Requirements
Internet Connection: You need a fast Internet connection — 25-30 Mbps minimum. However, the more or faster the better. If you can, try to get 50, 100, or more Mbps. This helps eliminate poor picture quality and will prevent major buffering issues. I have around 200 Mbps and don't experience as much buffering when live streams play.
Streaming Device: It's best to use a new or fairly new streaming device with an Internet connection. Make sure your device has the latest update and you should optimize it from time to time. YouTube has some great video tutorials. You can use an LG or Samsung smart TV that has an internal app store. See compatible devices below…
DuplexPlay App/Apk: You must download/install the free DuplexPlay app to a compatible device of your choosing. This is not a standalone TV app. You need an IPTV service where the app connects to.
IPTV Service: This is where all the streaming content comes from. The IPTV service will activate DuplexPlay and provide you with a playlist to watch everything from your device(s). In other words, you have to pay to play.
Device Compatibility
Like any streaming TV service, you must know what devices are compatible. You can check the list below to see what devices are allowed. If you don't see your device that means it's not compatible.
Android Devices (box 4.4 or higher, phones, Tablets, Set-Top Boxes, TV)
Amazon Fire TV & Fire Stick
NVIDIA Shield
Windows 10
LG Web OS
Xbox One
Samsung Smart TV
I have not as of yet tested other devices during this Topeba Streams review. But may get around to using my LG and/or Samsung smart TV in the future. You can use an Android smartphone connected to the IPTV to watch your favorites when traveling. However, iOS smartphones are not compatible at this time.
You will be choosing a subscription plan with 'x' number of device connections. See prices further down.
Setup Process…
Topeba Streams Account/Subscription. You can create a free account first if you like or create it when opting for the trial or one of the subscription plans. Expect to receive an email immediately.
If you don't see any email(s), then check your Spam/Junk folder. If you see any there, move them to your regular email inbox. I found one TopebaStreams email in my Spam folder. The other one went to my regular inbox. Expect some delay, they will need to verify/confirm/approve your payment.
Instructions for DuplexPlay & Activation. Topeba will email instructions to download/install the DuplexPlay app/apk to your compatible device. You will be instructed to go to the TopebaStreams website 'Activation' page. This is where you are required to enter the Device ID, Device Key, and other info. The Device ID/Key can be found inside the DuplexPlay app/apk after you install it.
There will be another slight delay, whereas you must wait to get activation approval and your playlist. They will create/add the playlist inside the DuplexPlay app/apk installed on your device. Once that happens and you have been notified, simply open DuplexPlay, click your playlist, and search/find a live channel or VOD you want to watch online.
Topeba Streams Trial, Subscription Packages, Costs, Upgrades & Refund
The information provided below can be found on the TopebaStreams website. I suggest reading everything on their website so that you get a good understanding. I highly recommend opting into the trial for a very small fee and test everything.
You want to test the app/apk and Topeda on your device(s) before shelling out any more money. There are packages that allow you to connect 1 or 2 devices simultaneously. You have the option to upgrade and get 5 device connections.
Trial/Subscription Packages Costs (Updated: 6/15/21)
SOPlayer Shared Hosting (IP Lock)
1 Month – 4 Device Connections: $24.99
2 Months – 4 Device Connections: $49.98
4 Months – 4 Device Connections: $99.96
IBO Shared Hosting
1-Month – 4 Device Connections: $25.00
3-Month / 4 Device Connections: $68.99
TopebaPlayer Shared Hosting
24-Hour Trial: $5.00

USD

1-Month – 1 Device Connections: $9.99

3-Month – 2 Device Connections: $29.99

6-Month – 2 Device Connections: $59.99

12-Month – 5 Device Connections: $165.00
TopeaPlayer Shared Hosting X Connection
1-Month 1 Device Connections: $6.50
3-Month 2 Device Connections: $16.50
6-Month 2 Device Connections: $27.00
TopebaPlayer Shared Hosting (18+): $6.50
Subscription UpEZPlay Shared Hosting + Free VPN (not free trial)
1-Day Trial: $5.00 USD
1-Month – 1 Device Connection: $12.50
Latino – 1-Month / 1 Device Connection: $12.50
Latino – 1-Month / 1 Device Connection: $12.50
Indian – 1-Month / 1 Device Connection: $12.50
Arabic Pack – 1-Month / 1 Device Connection: $12.50
Arabic Sports Pack – 1-Month / 1 Device Connection: $12.50 USD
As I explained earlier the cost savings alone can be enticing to sign up right away. In fact, if you are paying less elsewhere, take a close look at the amount of content you get from Topeba Streams and features. If you have something else better, then by all means stick with what you have. Maybe consider using TopebaStreams as a backup in case something bad happens.
I wouldn't cancel cable TV right away. You should put this IPTV service on a one-month trial by paying the one-month subscription. If you still like everything and this service passes your test, then you might want to think about canceling the TV part of the cable, not your Internet is included. Use that money saved to increase your Internet connection speed.
Keep in mind there is no automatic recurring billing. You simply pay as you go. When you pay the 1, 3, 6, or 12-month subscription, you decide whether or not to play again after the subscription ends.
Refund/Money Back Guarantee
There is no refund after paying the subscription. This is why TopebaStreams want you to enter into the 24-hour trial for $3.99 first. I suggest giving your undivided attention to testing everything during this short period of time. You should read the refund policy when visiting their website. Don't say I didn't tell you.
Once they activate your DuplexPlay app and create your playlist to watch TV online inside the DuplexPlay app, your trial officially starts. Meaning, you are on the clock.
Support
Support is available and you have several ways to contact them as follows:
Chat box – no live agent
24/7 Phone Number
Contact Form
Support Email
If contacting them by phone, don't expect a live person to answer. You'll get a voicemail to leave a message. Same with when using the chatbox on their website. There is no live agent so you must leave your name, email address, and message.
During my review of Topeba Streams, the owners did not launch the service yet. In other words, the opens weren't open to the public yet. Therefore, I can't tell you about their response time. I was communicating with them via email from their other IPTV service.
There's an FAQ section on the TopebaStreams website that you should read to get answers to certain things. Again, take your time and read everything on their website including the legal documents.
Topeba Streams Pros & Cons
When searching for additional information on a particular streaming TV or IPTV service, it's important to get the right info. Honest, unbiased, informative reviews with pros and cons can help like this one.
You need to know what streaming content is delivered, what app is used, and what features are included. In addition, have an understanding of all subscriptions and prices, refund, compatible devices, and support. This Topeba Streams review provides a lot of information to help you make a well-informed decision to buy or not.
Pros…
There's a lot of streaming content, both live and on-demand to marvel at. Whether you are into watching movies and/or TV series with seasons/episodes, you get a huge supply. You should be able to find and watch your favorite TV shows. There is enough streaming content for the kids to watch as well.
PPV events come with no extra charge. You can watch all the boxing you want including big events, even on-demand. As for live sports, there's enough there to make any sports fanatic happy. You get access to seasonal sports, international sports, regional sports, pros and college, and so on.
Feature enhancements included allowing you to record your favorites, add to favorites, use PIP (Picture in Picture) when opting for two or more device connections. And there are other features as well that help enhance your Internet TV experience even more so.
DuplexPlay app/apk works seamlessly with Topeba Streams. It's one of the better apps out there that brings enjoyment to TV viewers using it.
Cons…
When playing channels from a country outside the US, you will come across a number of them that won't play quickly if at all. However, there's a little trick you can do…
When a channel doesn't play or stream well, find and play a working channel. Then go back to the channel with the issue and play it. I can say 90% of the time this trick will cause the channel to play correctly. You may need to repeat the steps more than once for the channel to work.
As for VOD, I found one that came back with an error display. There's nothing you can do about that if you come across any. Just contact support and let them know which VOD is not working. The same goes for a live channel that you can't get to play.
There is no CatchUp TV but most IPTV services no longer include for reasons unknown.
'Replay' doesn't work at all and there are no future plans to make it work. However, the Record feature does work which allows you to record your favorites. You won't get all your local TV channels or the city (USA) where you live may not be included. You can visit Locast.org to see if your city is included and get access to most if not all your local TV channels—free to watch.
Expect some delay as explained earlier to get approved and activated. If you are expecting to watch something right away, then you're out of luck. It can take 24 hours or less before you can start watching whatever interests you.
Conclusion
The streaming content delivered is enormous. For the most part, you may be telling yourself–I'm not interested in all that content–why pay for it? I take no issue with that if this is your thinking.
However, there is some optionality where you can choose just live TV only or movies only to watch online. Nowhere else have I seen an IPTV service that I tested/reviewed offer this option at $6.50 for one month.
But do the math when looking at the subscriptions for both live TV and VOD. Compare the cost to cable—you still get great cost savings with all the extra or unwanted content included. It shouldn't be an issue. It only becomes an issue when someone is interested only in watching one channel or TV Show.
Another way of looking at this is your current situation. If living on a fixed income, tight budget, or perhaps the pandemic has caused some financial loss, here is one option that saves you a great deal of money. And you get to watch most and if not all your favorites.
I gave Topeba Streams a big thumbs up with high ratings after testing everything for myself. If you want to give it a try and go forward, you shouldn't be disappointed. But do yourself a favor and opt into the trial first.
This Concludes Our Topeba Streams Review