Plug and Go TV Review (IPTV Service Plus SO Player & Nora Go Apps)
In this Plug and Go TV review section, I'll cover the other parts not mentioned in the star review above. The Plug and Go TV channels delivery, performance and interface all passed with high grades including the SO Player and Nora Go apps. You get HD picture quality (1080p) and no real issues to be concern about.
UPDATE: New customers are no longer being accepted for this IPTV service but there is an alternative SO Player IPTV service you can subscribe to. When clicking the link below, the IPTV service changed its brand name and website design. But the ownership and everything else are the same. 
DO NOT READ BELOW THE LINE… We Removed all links to the IPTV service for SO Player…
————————
However, if you want to watch local TV channels, I would not recommend this IPTV for that alone. You may find some local channels from your US city to watch online but 1 or more of them may not. Streaming local TV channels online is still relatively new with these IPTV services. Hopefully, things will improve in the near future. To watch all your local OTA channels, see links further down to review further.
Unlike streaming TV services such as Netflix, you cannot share your IPTV service account with other people outside your IP address. When you sign up for one account, you can only use one IP address. Mobile devices (smartphones take the exception). Of course, you can connect other devices in the household for others to watch everything online. This will allow them to watch something different from what you're watching.
To Sign Up Now and Get Your FREE Trial or Subscription, Click Here
See It In Action and Watch Live and On-Demand Streams Play
Note: If you are new to watching Internet TV, I suggest signing up to get our Free Guide: How to Watch TV Online and Quick Setup Guide. Most if not all your questions will be answered. You will get a better understanding, get more info on IPTV services and where to find them, etc.
Plug and Go IPTV Requirements
There are 3 things needed to use this IPTV service to watch TV online:
High-Speed Internet Connection. Have at 30 Mbps but more Internet connection speed (more/faster is always better). You want to eliminate buffering issues as much as possible. This is not to say that PlugandGo TV has a buffering issue. I would not have written this Plug and Go TV review if there was a major issue. But if you experience chronic buffering when using this IPTV service, then you'll probably have buffering issues with other streaming TV services.
In any case, always check on your end first before blaming the IPTV service. Nine times of out ten a buffering issue stems from using an old streaming device, slow Internet connection, or ISP (Internet Service Provider) issue. You should always reset your modem/router box once per month or when if you continue to have buffering issues. I can attest when testing this service, at no time did I experience a chronic buffering issue.
You can contact your ISP to check your Internet connection speed. But I would only contact them if experiencing a buffer issue with more than one streaming TV service. YouTube has plenty of video tutorials about a buffering issue and how to resolve it.
Streaming Device. Use a new or fairly new streaming device. Streaming media devices are always best to use (more info below). You can use a TV, computer, smartphone, or streaming media devices.
Free TV App. Actually, SO Player and Nora Go are not standalone free TV apps. They require an IPTV service like Plug and Go IPTV to activate the app. This is no subscription for use of the app which is 3rd-party, meaning the IPTV service provider doesn't own the app. They simply use the app to deliver their streaming content to your device.
How Does It Work, Who Is It For, and How Good Is It
Simply sign up for the Free Trial or subscription. I highly recommend that you enter into the Free Trial first. Consider downloading and installing the free app first to make sure the app is compatible and there is no issue. Once the sign-up process is completed, enter the required activation/login credentials into the app to activate it. Once this is completed, the app opens and you can now watch TV online.
Plug and Go TV is great for all family members, young and old including kids. There is streaming content entertainment for everyone and any person across the globe can get access. There is no geo-restriction and everyone can watch the same streaming content delivered, both live channels and on-demand content. Sports fans should love this service and if you already cut cable or thinking about it, this IPTV will make a good alternative.
Individuals who are bilingual or multilingual that speak/understand English, French, Spanish, or Filipino can benefit more. There are Spanish, French, English, and Filipino channels available to watch online. The cost-savings and TV entertainment can be very beneficial to those living on a fixed income or tight budget. This IPTV service mostly passes everything with flying colors and is a very reliable service to watch your favorites online.
Click Below to Watch IPTV Website Review…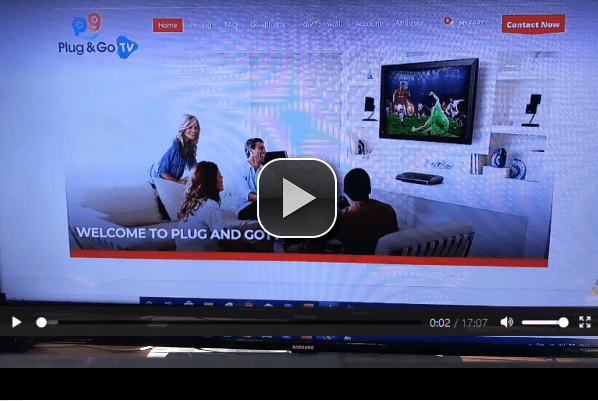 Get Your FREE Trial or Subscription Here
To see it in action & watch streaming content play, Click Here
How to Watch Plug and Go TV on Your TV
Use the Nora Go app for smart TVs such as Samsung and LG. If you have a different smart TV brand with an internal app store, try to find the Nora Go or SO Player app. If you can find one of them, installed the app on your smart TV. Otherwise, you will need to connect one of the other compatible devices listed below to your smart TV.
Use the SO Player for the Firestick and all other compatible streaming devices. Here's a list of streaming devices that can be used with the Plug and Go IPTV service:
Computer (Mac/Windows)
Amazon Devices (Fire TV/Cube/Firestick)
iOS Devices (iPod/iPhone/iPad/smartphone)
Android Devices (TV/Box/tablet/smartphone)
NVIDIA Shield
Apple TV
Mag Box
As for HDTVs, you will need a streaming device such as a computer or streaming media device. As for IPTV services, it's best to use a streaming media device such as Amazon Fire TV/Fire Cube/Firestick 4k or Generation. Other compatible streaming devices include Apple TV, Mag Box, and NVIDIA Shield.
The Firestick is a great performing streaming media device and cheaper which I highly recommend purchasing one or more if you don't have one. I have the Amazon Firestick connect to each of my TVs (HDTV & smart TV).
How to Watch PlugAndGo TV On-the-Go
When subscribing to PlugandGo TV, there will be two subscriptions to choose from with 'x' number device connections: You can choose a 3 device connection or 4 device connection which is $5 extra per month. Only smartphones are considered mobile devices and the only device that can be used to watch TV online when traveling.
How to Activate SO Player or Nora Go App
When you complete the signup process for either the Free Trial or subscription, you will be taken directly to the Thank You page with your Order/Account info. Further down that page, you will find the Activation/Login Credentials consisting of the Provider ID, 'x' number of Device Pin Codes, Username, and Password. This info will come from the Plug and Go IPTV service.
Also, they will send 3 emails to your inbox immediately after completing the signup process. If you don't see any emails, then you must check your Junk/Spam box for those emails. If any are there, move them to your regular email inbox.
Also, when signing up, you will be required to enter your email address and create a password. Remember both, they will be needed to log into your IPTV account to renew your subscription. To login, simply Visit the PlugandGoTV Website Here and click the ACCOUNT link at the top of the website.
Video Tutorials…
How to Install SO Player on Firestick and Other Compatible Devices
How to Remove Your Device If Switching From One IPTV Service to Another
How to Watch Local OTA TV Channels Offline
Click Here to Watch Local TV Channels Online
Free Trial, Prices, Subscription Packages & Support
There is no Plug and Go TV channels list but you can get a 1-day Free Trial with full access to everything. Explore and play any live channel from popular networks or VOD. No credit card is required. Just sign up, activate the free app and start watching your favorites online. There are two subscription packages as follows…
1-Month with 3-Device Connections at $25.00
1-Month with 4-Device Connections at $30.00
Note: No automatic recurring payments. You pay as you go and. In other words, you're in full control when choosing to renew or not to renew. There is no need to contact the IPTV service to cancel anything. As for a refund, contact support. They are also pretty good at resolving issues should any occur and are available online in most cases. Just use the chatbox to ask questions or for help.
My Plug and Go TV Review Opinion
For what this IPTV service is worth, you can't find a better TV alternative that delivers many popular television networks found on cable TV. Without a bundle package, automatic billing, hidden fees, cancellation fee, installing equipment, you can opt-out without a hassle. Simply put, you choose when or not to renew the subscription once the full month ends. You pay as you go which is easy to do when signing into your Plug and Go TV account.
The app is free and there are video tutorials above that show you everything you need to know. Just follow the setup steps and you'll do just fine when getting access to 1000s of live streaming channels and VOD content. There's something to watch for the entire family such as movies, news, sports, shows, episodes, kids channels, many movie genres included, PPV events, CatchUP TV with recordings done for you, music/radio channels, global channels, local TV channels, and so on.
The EPG (TV guide) is also a winner that lets you program a category of live channels to show up in the EPG first if you want. You'll find this IPTV service very easy to use and reliable. Watch everything on your smart TV, computer, smartphone, or any other compatible streaming device, up to 4 device connections at one time. Just remember that you can only connect one mobile device (smartphone) to Plug and Go IPTV when traveling.
The free trial makes it a no-brainer when no credit card is required to get full access to everything. Test all the live and on-demand streams during the one-day test trial. It doesn't matter where you live in the world. Everyone can get access to this IPTV service. You get very good performance, interfacing, and channel delivery with HD (1080p) picture quality.
This Concludes Our Plug and Go TV Review
Click Here to Visit Now – Watch Favorite Sports, Movies, Shows, News, PPV Events, CatchUp TV, and More