No More Playing High Cost: How to Cut the Cable Cord Options
How to cut the cable cord is drawing more attention by the day. Many already cut the cord and ditched the dish, while others continue to struggle with the idea. The haves and have nots have something in common that pertains to one or more of the following:
1) Paying increasingly high cost; 2) Paying for TV channels they don't watch; 3) Paying for lousy service.

All three points above are causing folks to look for cheaper options. For many, it doesn't matter if it means giving up a little convenience and taking the extra step. In a nutshell, the cutting the cable cord decision comes down to Giving Up Convenience and High Cost for Low Cost and a la carte Programming!
Quick, Easy Way to Watch Live Premium TV Channels Online – Watch Videos below (left video: See sports channels play. Right video: See other channels play)…
To See All Subscriptions/Prices and Take Advantage of DISCOUNTS While they Last – Click Here
The trend cut the cord TV doesn't just happen in the United States. People across the globe are seeking the same alternatives. How to cut the cable cord is easier now than ever before. In fact, part of this was always easy. The problem was, and still is, the brain-washing by cable and satellite companies.
People who grew up on traditional television (cable and satellite) were spoon feed to believe there's no better option out there. So any thought of canceling has brought fear to many. Even after canceling cable or satellite, one will go through a period of withdrawal. It's important to know exactly what lies ahead when opting for a cut the cable alternative. The following information will provide the best cord cutting setup that anyone can do on his/her own.
How to Cut Cable TV: 2 Ways
There are two simple to do alternatives to consider, regarding how to cut cable TV or ditch the dish:
Cut the Cord Cable Step by Step…
Indoor HDTV Antenna: Here's a great way to get how to get TV without cable. Rather than invest in an outdoor antenna that takes more time, effort and money, an indoor HDTV antenna involves less. Simply connect the antenna's coaxial cable to the back of the TV. Next, position the flat antenna somewhere inside the household for the best reception, preferably on a window. Use the TV remote to select 'Input' or 'Source' or whatever command is necessary to select TV or Air as the source. Now find the command to perform an OTA TV scan to retrieve all channels in your local area. This is how to get TV reception without cable. To find out what channels from your location will be available to you [USA Only] – Click Here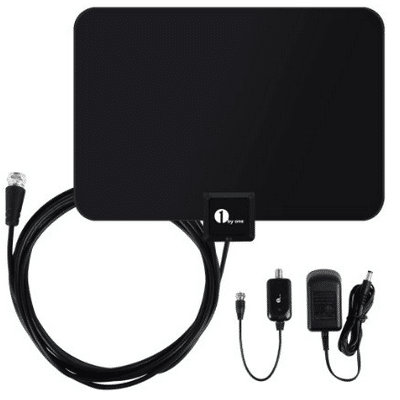 Internet TV: Any Internet-connected computer, tablet, smart phone, smart TV or device with a web browser can be used to gain access web TV services. There are plenty of free and pay-to-watch streaming content providers, TV networks, and 3rd party web-based TV/VOD services. The Internet has unlimited streaming content to watch Live, Local, Global and Sports TV, including VOD Movies and TV Shows. To get access to some of these services, Visit Internet-based TV/VOD and Software TV Services
These cable options for cutting cable TV are becoming quite popular. They are very cost-effective. It's just the getting familiar with Internet TV where the individual must adjust. Watching TV online isn't the same as sitting on the couch with TV remote in hand. But it does have its rewards if the goal is saving money and wanting full control over what you want to pay.
To Find More Information on How to Cut the Cable Cord and Build Your Own Local OTA Channel and Web TV System – Click Here. This FREE comprehensive ebook helps guide cable cord cutters and dish ditchers into watching television without cable/satellite. It covers everything needed for the setup such as Internet connection speed, security applications required, connecting computer to TV, watch online TV and local OTA TV, and plenty more.
To feel more at ease when deciding to cut the cable cord, the ebook simply helps make the transition easier. It prepares individuals for what to expect and what must be given up, to transition over to another medium. The cable cord cutter options provided contains valuable information that cable and satellite companies don't want you to know about.
Learning How to cut cable and satellite makes sense from the standpoint that no one has to pay high cost. No one has to pay for channels they don't watch, and shouldn't be restricted to watching TV programs that's part of a bundle.
Just a low-cost indoor HDTV antenna, high speed Internet connection, and device with web browser is all that's needed. The next step is choosing a free and/or pay-to-use streaming content provider such as YouTube, Hulu, Netflix, CBS, Fox, HBO Go, etc. Or choosing a 3rd party service that direct-connects to live sports, news, entertaining TV shows and movies, etc.
Here's something that many TV viewers don't know. When connecting an indoor HDTV antenna to watch OTA TV channels from local TV stations, without cable or satellite, the picture quality is much clearer.
Once the system is setup, individuals can get access to many of their favorite television programs, both online and offline. How to cut cable and satellite, and actually doing it, takes little time getting use to the change. The best device to use is a computer or smart TV with web browser. But a computer is the clear winner. It can be connected to any smart/large screen television via HDMI cable (or compatible cable).
A computer can download a TV software like PlayOn, which brings together all the major streaming content providers and popular television networks to one place. Both free and pay-to-watch streaming content is available to watch online. Think of a smart TV with Internet access that comes with TV/VOD apps to watch Hulu, Netflix, and so on.
PlayOn is similar but has a greater number of TV/VOD apps. However, it's only compatible to Windows computers right now.
How to Cut Cable and Save
No one has to tell you how much money you pay over the year with paid television. When controlling the cost for content that only interest you, there's plenty of savings. The cost can be under $50 per month. This depends on what TV/VOD website or service is chosen. It's best to put any savings into a faster Internet connection which is extremely important.
When it comes to how to cut the cable cord, one should know how fast is his/her Internet connection speed (http://speedtest.net/). This should also include knowing the cost to obtain a faster Internet connection, if needed. Many people today have upwards of 150 Mbps download speed.
The goal should be getting as close to that amount as possible. Just keep in mind that higher the Internet connect speed, better the overall performance and picture quality.
Reasons why a faster Internet connection speed is needed:
Avoids video buffering and playback issues
Increases overall performance
Increases picture quality
Can Connect more devices to wifi (wireless) network
No interruptions with more people online during peak hours
Of course, this only relates to watching Internet TV online. If opting into this medium, it's best to use a dual router/modem with wireless and wired (Ethernet cable). A wireless Internet connection will be slower than a wired connection. If you have a smart TV with web browser (Google Chrome), use a wire connection. For additional devices including computer, connect to wireless (wifi network).
For what it's worth, how to cut the cable cord is great for those living with or without paid television. Some individuals downsize their subscriptions (lower cost) when using these alternatives. Using an indoor HDTV antenna to watch local OTA channels without cable (OTA TV) or device to watch TV online has its rewards.
To Get the Best of Both TV Worlds, or Just One, Download the FREE Ebook Called The Ultimate To Watching TV Online And Local OTA TV Without Cable, When Using What You Already Have