Blargh Entertainment TV Review by real tester/user. Don't worry about not being able to watch your favorite channels, shows, or sports when opting to go online. Blargh IPTV has you covered including more unless there is something most if not all IPTV services don't provide. But if you are looking for an all-in-one TV source to watch live premium television channels and VOD TV shows/movies, PPV events, and so on, you may come to like this IPTV service.
IMPORTANT UPDATE…
This IPTV service is no longer accepting new customers and may end up going out of service at some point. This sometimes happens to many SO Player IPTV services when they reached the max number of customers. Click the link below to visit the alternative SOPlayer IPTV services with CatchUp TV included…
DO NOT READ BELOW… We Removed All Blargh TV links…
———————–
Not only may you like what they deliver in streaming content but also like the subscription prices which give you big savings. I reviewed many IPTV services over the years, many of which use the SO Player just like BlarghEntertainment. This makes for one of the easiest setups/installations to get quick access to many of your favorites to watch online.
Click Here to Learn More, Get Free Trial or Subscription
In this Blargh IPTV review, I'm going to cover both the SOPlayer app and IPTV service. Everything will be broken down so that you get a clear understanding. You will find clickable buttons in the star-rated review that will take you to the video review. I suggest that you watch them.
Before continuing with the Blargh Entertainment TV review, if you are very new to watching Internet TV and IPTV services, I recommended that you also sign up to get our Free Setup IPTV Guide that goes further into the understanding of things.
How Blargh IPTV Compares to What You Have Now
Spending money will be the least of your worries as you will see the lowest subscription plan starts at $24.99 USD for one month. There is a 24-hour free trial which will be explained in more detail as we go further into this review.
Another thing is if you are concerned about losing all or any of your favorite TV networks/channels, shows, sports, or whatever it is you like, you may be surprised. There are plenty of premium live television channels from popular networks that you find on cable TV.
There are categories such as TV, Movies, and EPG with streaming content to watch online. But there's no streaming content available for the categories TV Shows and CatchUp. However, TV shows (TV series) are included in the Movies categories which is really the on-demand section.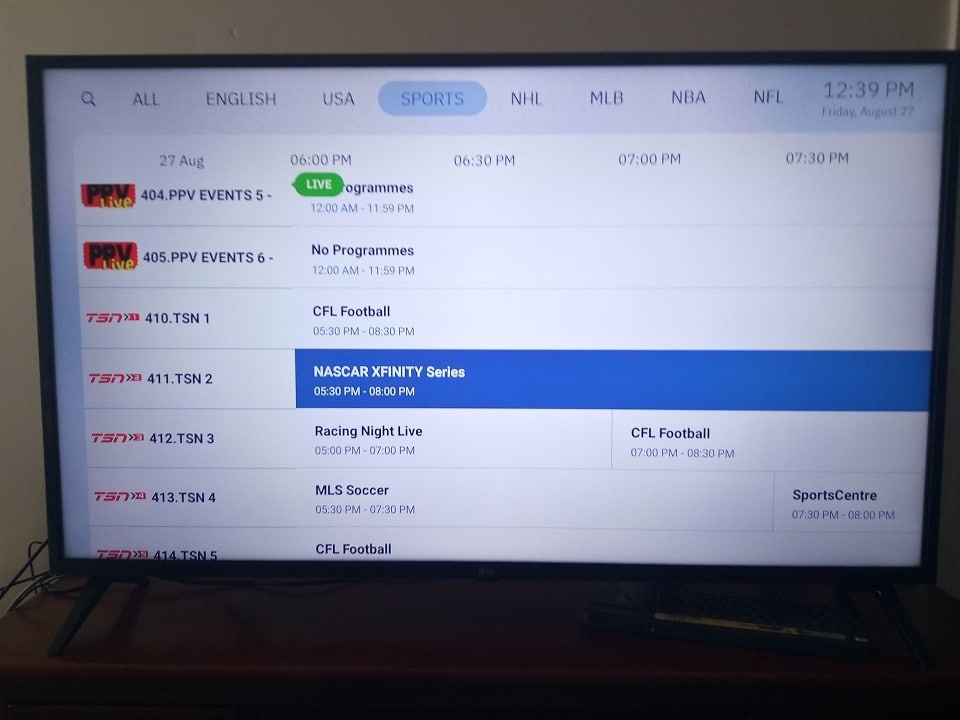 What you're getting is an all-in-one source for watching live TV, VOD, live sports with PPV events (no extra costs). This also includes sub-categories to watch Spanish, Filipino, UK, or French channels. Then there is a sub-category for each seasonal sport (NFL, NBA, NHL & MLB), including a sub-category for Adults 18+ which is locked by default.
But there's more streaming content available. If you are wondering are there any local channels included, the answer is 'No'. And even if Blargh included them as some IPTV services do, you won't get the vast majority of your local OTA TV channels streamed online. Other IPTVs may include 3 or 4 local channels available for a given city. And out of those some channels may not work.
Blargh TV Streaming Local Channels
Although Blargh TV does deliver US local TV channels from many cities, you won't get all of them. You are lucky to get 3 or 4 of your local channels if any at all. But out of those 3 or 4 channels, 1 or more may not work. However, there is a workaround to BlarghTV regarding your local OTA TV channels.
There is a better way to watch local television channels online. One way is to use a free streaming local TV website – CLICK HERE. They are constantly adding more city markets. Your city may be included. Just go there to check and see. And if your city is included, it's free to sign up and use the service. You can pay a very low monthly subscription to avoid watching their advertisements.
Or, you can purchase an indoor HDTV antenna to connect to the back of your TV and scan for channels to watch offline – CLICK HERE.
Blargh TV Channels & VODs
What I can tell you is this… think of any channel you see on cable. More than likely they are delivered in this IPTV service. However, regionals and local channels you won't get. I am not saying every channel is included but many of the top TV networks/channels are included.
Whether it's Blargh TV streaming live sports channels, movie channels, news channels, or whatever it is that interests you, you should be able to find them. There are PPV events at no extra charge. When a big fighting event airs, just go inside the app connected to Blargh and click the PPV event to watch it live.
As for VODs, you will find in the movies section all the popular genres and new movies releases. This also includes many of the popular TV series with seasons/episodes. Not only that, but you also get access to VOD NFL and PPV events.
Keep in mind that no IPTV service is perfect and no matter how fast your Internet connection speed is, a channel might not play. When the time comes to play a live TV channel to watch a sporting event, movie, or whatever it is, and the channel stops working or doesn't play at all, you might want to consider a backup IPTV service.
Having two IPTVs is not a bad idea but you don't want an IPTV owned/managed by the same IPTV service. Should something go wrong such as their servers going down, you are out of luck. Get a different IPTV service that uses a different app. You can go to the other IPTV and play the same channel to watch the event, movie, or something else which very well may be working. Click to find another IPTV from our Comparison Chart. Of course, this is optional.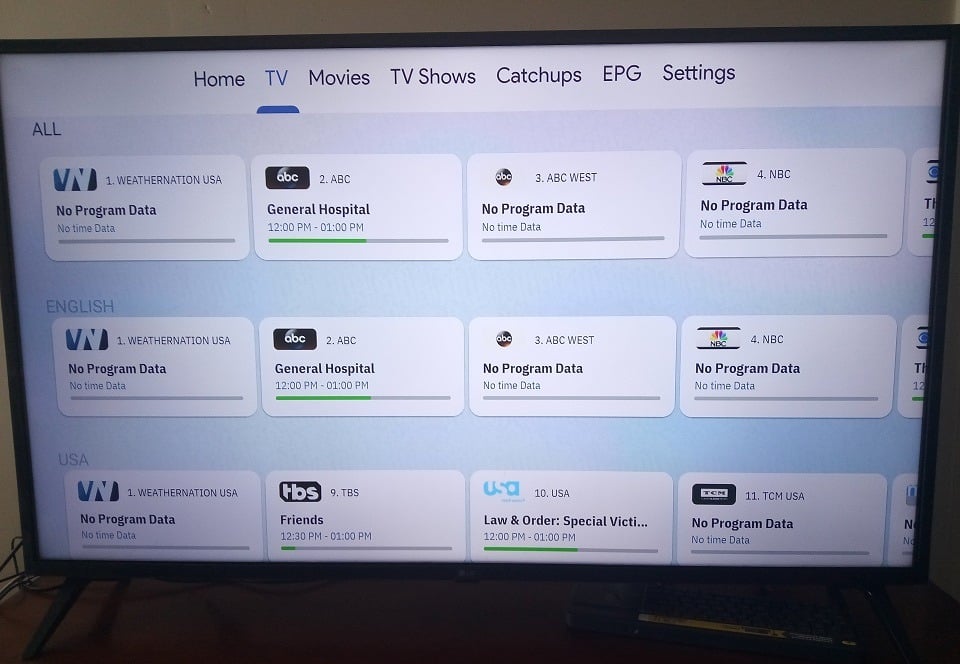 Blargh Entertainment TV Review – Interfacing & Channel Delivery
You can watch the video review that lets you watch over my shoulders as I navigate throughout the app, see all the categories/sub-categories, and watch streaming content play. Just click the button in the star-rated review of Blargh Entertainment TV. The interfacing is both fast and smooth. The channels play as soon as you click them to watch in HD picture quality HD (1080p) if not higher.
I used my Firestick 4K where the app is installed. The Firestick is connected to my LG 4K TV. When playing many different live channels and the picture quality was awesome. The audio was great as well. The same goes for the on-demand movies with all the genres and new releases including TV series with seasons/episodes.
Navigating around the app was childsplay. Just let your eyes take you where you want to go. You can easily find what you want to watch. There's also a search tool to search for a channel name or movie/TV series title.
Blargh IPTV Review – Performance
There are a couple of things here to understand. Performance includes channel delivery and Internet connection. Let's start with the Internet connection. You should have at least 30 Mbps download speed. But more or higher the better. A fast Internet connection will help prevent buffering issues. No IPTV is perfect but generally, most buffering issues come from the user's end. You can always go to YouTube to find a video tutorial on how to prevent buffering.
The other part of the performance is channel delivery. In the video, you will see that I played many live channels at random. Most channels worked/played within the English, USA, Spanish, French, and other categories/sub-categories. However, some if not all channels did not work in the UK, Filipino, and Music Channel categories.
There was no performance issue that I came across in the Movie category with movies and TV series. However, I did not test 100s of live channels and 1000s of VODs. This is why you should consider entering into the free trial to test what interests you.
Get Your FREE Trial or Subscription Here
Compatible Devices
The streaming devices you can use that are compatible with the SO Player app and IPTV service are listed as follows:
Computers (Mac or Windows)
iOS Devices (iPhone, iPad, iPod)
Andriod Devices (Phone, TV, Box)
Amazon Devices (Fire TV or Firestick)
Apple TV
NVIDIA Shield
Tablet
Smart TVs (LG or Samsung w/ internal app store
Blargh TV Free Trial & Subscription Plans
Watch the Blargh IPTV review video where I also cover the free trial and subscription plans. Or, simply click any link in this Bargh Entertainment TV review to visit the website and see for yourself.
The 24-hour free trial will cost you nothing so it's a no-brainer to sign up and test everything on your compatible devices.
Note: Some IPTV services temporarily remove the free trial whenever there's big PPV fight/boxing on Saturday. They will bring the free trial back sometime after the big fight or boxing match ends. I'm not sure the Blargh TV streaming website periodically removes the free trial.
Subscription Plans
1-Month: $24.99
2-Month: $49.98
4-Month: $99.96
Note: Pricing is subject to change by the IPTV merchant.
You get the same everything with each subscription plan. Only the subscription length is different. There is no automatic or recurring billing. When the subscription ends, you simply come back to the BlarghEntertainment website to renew the subscription.
Get Your FREE Trial or Choose Your Subscription Plan Here
Refund Policy
Not all IPTVs give a money-back guarantee when there's a free trial provided but BlarghTV Streaming gives you a 30-day money-back guarantee (refund). You can read their Refund Policy when visiting the website.
By the way, there is no contract, additional/hidden fees, termination fee, or credit check. You simply sign up for the trial or subscription, download/install the app, get your activation/login credentials via email, enter those credentials in the app, and start watching your favorites online.
Blargh Entertainment TV Review – Pros & Cons
After reviewing and testing the app and IPTV service, I found there are more pros than there are cons. But you can be the judge of this when entering into the free trial yourself.
PROS
You will like using the EGP (Electronic Programming Guide) or TV guide with names of TV networks/channels. TV program descriptions are displayed in the time slots (date/day/time). The same sub-categories appear such as English, USA, Sports, and so on. The EPG is already preloaded with live channels but you can change what's listed.
Just click a sub-category such as the USA and all the USA channels only will be loaded within the EPG. The same thing if you select the Sports sub-category. All sports channels will only be listed inside the EPG. Get the picture?
All live channels and VODs load and play quickly and have HD picture quality if not better. The app tracks what you watched previously and posts them so that you can easily click to watch again. Other features include Add to Favorites (VOD only), search tool, and full screen.
You can connect up to 4 compatible streaming devices at one time. So if you have let's say 4 household TVs (smart TV and/or HDTV) you can connect all 4 TVs with the app installed. HDTVs require a compatible streaming device such as the Firestick. Or, you can use one of those device connections for a smartphone when traveling.
There are more benefits and something to watch for the entire family whereas each family member can watch something different on another TV or streaming device.
CONS
When testing/playing live channels, I found many or all of them didn't work from the UK, Music Channels, and Filipino categories. Of course, I couldn't test all of them. There wasn't time. This is why you should enter into the trial to test also. Although you will find an Add to Favorites feature for VOD movies and TV Series, this feature doesn't exist for live channels.
Unfortunately, you won't find any CatchUp TV if that interests you. But all or most SO Player IPTVs don't offer that streaming content anymore. There are no local channels included but I have given you a solution in this Blargh Entertainment TV review on how to get your local channels. No regional channels either.
IPTV services that do deliver local channels most will only have a few of them whereas only some will work. Because Blargh uses SO player, it uses an IP Lock platform. Meaning only one IP address can be used and can't be changed unless you contact IPTV support.
You cannot share your account with someone else in a different household with a different IP address. You can use one mobile device, a smartphone, to connect with the IPTV service when traveling. There is no feature to record anything which is common to all SOPlayer IPTVs. Using a VPN service is prohibited.
Conclusion
For what it's worth, the benefits, and weighing the pros and cons, should be enough to give Blargh Entertainment TV a try. I tested them and the app and liked what I found. I'm from the US and only interested in watching English/USA channels, sports, movies, etc. If you happen to speak Spanish or French also, then you get the best of both worlds.
Anyone worldwide can use this IPTV service and can watch the same streaming content as everyone else. No extra equipment is required to use this service. There is something for the whole family, even children, but should monitor the children to keep them navigating to movies with profanity and sexual content. The Adult 18+ category is locked by default.
You saw the prices for each of the 3 subscription plans above and should be able to see the savings compared to cable. So if you want to take the next step, just click the link below or click any place in this Blargh IPTV review to visit and sign up.
Lastly, if you are new to Internet television and/or IPTV services, you may want to sign up to get our Free IPTV Setup Guide to help fill in the blanks.
This Concludes Our Blargh Entertainment TV Review.
Click Here to Get Your FREE Trial or Subscription