My Thoughts...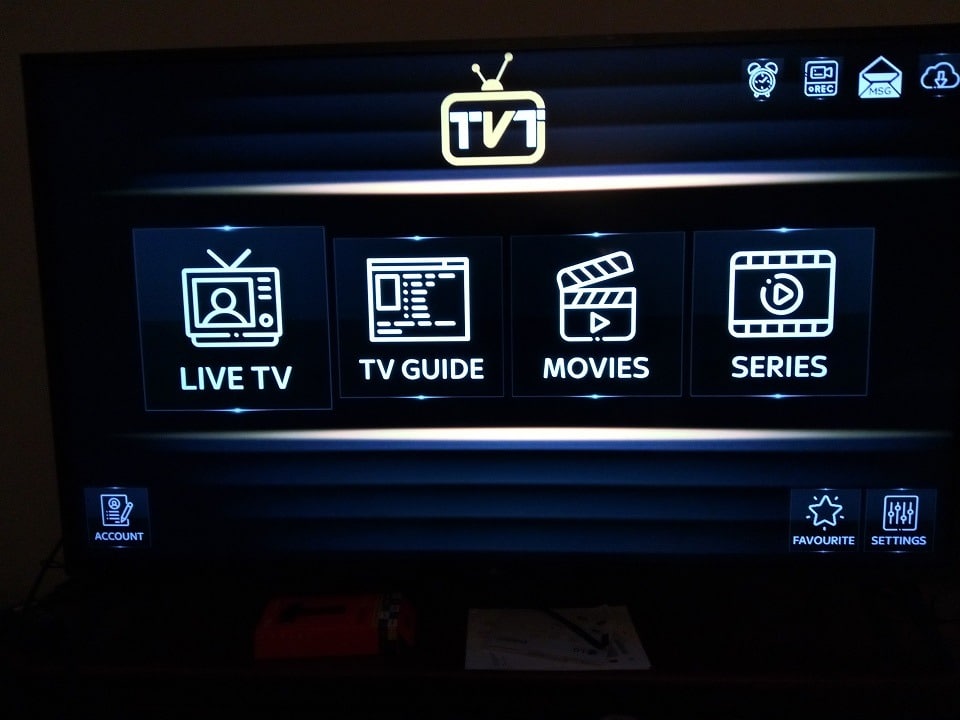 Product Name: TruView TV
Product Description: UPDATE: TruView TV's website had a makeover and looks completely different. Just ignore the hosting info, it means nothing to you. Watch the new website update video further download so that you don't get confused. Top IPTV service provider brings very good technology, app, and streaming content without the high cost of buffering. Users get access to 1000s of live channels from over 50 countries including the US, UK & CA. Get access to major TV networks to watch movies, shows, kids' channels, food/shopping channels, etc. There's a wealth of entertainment channels including premium channels, local and regional channels, PPV, 24/7, VOD movies w/ genres/latest movies and TV series w/ seasons and episodes. Watch in SD, HD, 1080p, and 4K. Features include, Preview and Full screen, Add to Favorites, Parental Control, Speed Test, Search Tool, EPG (TV Guide), EPG Timeshift and more. Must download/install the TVT app which works great with the Amazon Fire TV Stick. There are many compatible devices that can be used such as Android Devices (Android Box 4.4 or higher, Tablet, Phone, etc.), iOS, Mac, Windows, Smart TV, Amazon Fire TV & Firestick, iPad, & Nvidia Shield. You get a No IP Lock IPTV service with TVT app which means you can use a VPN service if you want to hide your IP address. Only one device connection at one time per IP address. Can purchase additional subscriptions to add more devices -- contact support.
Offer price: 15.00
Currency: USD
Availability: OnlineOnly
Usability

Performance

Picture Quality

Compatibility

Live Channels

VOD/CatchUp

Sports/PPV

Global Channels

24/7 TV Shows

EPG (TV Guide)

Support
TruView TV Review
Top robust IPTV service provider delivers a wealth of popular television networks with live sports, news, movies, news, kids channels, and much more. Get access to premium, local, and regional channels plus 24/7, PPV, VOD movies & TV Series, and more. Has some nice features to help enhance the greater Internet TV experience without buffering or high cost. Watch at home or on the go with great technology, app, and streaming content. Must have a high-speed Internet connection (25 Mbps), compatible streaming device, and TVT app installed.
No other hardware is needed or antenna. No credit check, hidden or additional fees, and no contract. Has several subscription plans including a trial. Comes with a 7-day money-back guarantee. No recurring billing or automatic payments. You pay as you go and renew the subscription when it ends after 7 days, 1 month, 3 months, or 6 months.
It is highly recommended that you watch all the TruView TV video reviews and setup videos – Click button below…
Pros
1000s of Live channels (premium, local, regional)
Top TV networks (movies, sports, news, kids, shows, etc.)
Over 50 countries including plus US, UK & CA
Watch PPV, 24/7 & music videos
Tons of VOD movies & TV series w/ new additions added periodically
Loaded with live sports from all popular sports networks
Many nice features (preview/full screen, Add to Favorites & more)
Very affordable subscription plans
24-hour $1.00 trial
Great app, technology, streaming content & support
Many compatible devices
No buffering and playback issues very minimum
SD, HD, 1080p, and 4K picture quality
Cons
Requires number of steps to get setup, especially when using Firestick
Only 1 device connection at one time – must purchase additional subscriptions to add more devices; Can request 2 device connections
No Catch UP TV, record, or multi-screen
Don't have all local channels per city in US
TruView TV Review by Real Tester and User. The pandemic has left many people cutting back one way or the other. And with the worst expected to come, your TV entertainment may be taking a hit as well or should I say your wallet. Some have downsized their cable TV subscription while others either canceled and live without or have given up TV altogether.
Whatever brought you here, no doubt you are looking for a way to watch your favorite cable TV channels and networks but need the savings to come with it. Well, here's one way you might get what you want with great savings.
IMPORTANT: Always start with the IPTV service provider that supports the IBO app/apk. Do Not go anywhere online to pay the activation fee. The IBO IPTV service pays the activation fee when you subscribe. It's easier for you. There's no need for you to go to the IBO Activation website to pay. You can start by clicking either link below…
Video: What is TruView TV
Note: You need to click the video above and watch the series of video reviews/setup tutorials
Best VPN Service
Watch Local TV Channels via Indoor HDTV Antenna
Review Best Local TV Streaming Service
Review Best Streaming Media Device – Amazon Fire TV Stick
********************************
Recommended VPN Service (Optional) to Hide Your IP Address – Learn More Here
********************************
UPDATE 2/1/22: IBO app is now the primary TV app used. We have not tested that app yet
UPDATE 9/12/21: This IPTV service discontinued the DuplexPlay app and is using the Viking TV app. This should not stop you from signing up to get the trial or subscription.
UPDATE: I recommend using the DuplexPlay app with this IPTV service. I tested it and like it a lot. You can install it now before paying for the IPTV service subscription — Click Here to Learn How to Install it on any compatible device. Afterward, click the "Get Trial or Subscription" link above and head over to the IPTV service website to sign up. But sure to read everything on the website first. The following was added: US Sports, Canada, and US News for Catchup in the Duplex app.
In this TruView IPTV review, you are going to learn more about an IPTV service here than those who go elsewhere.
IMPORTANT NOTES: If you want to try this service, I highly suggest the following:
1. Use Amazon Fire TV or Firestick if you don't have one of the compatible devices listed further down. And even if you do have another compatible, I still recommend using the Firestick or Fire TV.
2. You need to review the Viking app installation and setup instructions, step-by-step. There are many steps you must complete before watching TV online. Pay strict attention to details. You must go into the Firestick Settings to make a change. Download/install the Downloader app. Download/install the FileLinked APK (App). Type in the code inside the FileLinked APK.
After you have successfully activated the TVT-Backup, you must request (send an email) to receive additional login info and installation instructions to finalize access to the primary TVT-Guide (Television) and TVT-Prime (Movies).
Begin Watching the Video Series HERE to get prepared and for setup. Watch the videos before shelling out any money. If you decide to sign up for the trial or subscription, they will email you the step-by-step app instructions/setup for Android and Fire TV/Firestick. You can use another compatible device and will need instructions for it.
—————–
However, there's one important thing to note and that is newcomers to the Internet will have a harder time getting set up when using TruView TV to watch their favorites online. It's a must that you know the basics of the Internet, email, downloading/installing apps, using a compatible device, and can follow step-by-step instructions.
If you know someone that's savvy in those areas that can help you, then by all means get help. If not, give it try and see how things work out. There are step-by-step instructions. Buy/use the Amazon Fire TV or Firestick. This streaming media device works great with all IPTV services and it's cheap.
What Is TruView TV, What's Needed, Who Is It For
TruView TV is an IPTV service provider that delivers 1000s of live channels, premium channels, some local TV and regional channels, PPV, 24/7 channels, including VOD movies and TV series. You get access to major television networks to watch sports, news, kids, movies, shopping, and the list goes on.
You need a high-speed Internet connection – at least 25 Mbps download speed but more or faster the speed the better. A compatible streaming device is also needed which will be revealed later in this TruView TV review. The other requirements include downloading/installing the TVT app (Viking App) and of course, a paid TruView TV subscription.
No antenna, cable box, receiver, or any hardware is needed outside your compatible device connected to the Internet. TruTview IPTV is not related or affiliated with any cable TV company. There is no credit check, hidden or extra fees, no cancellation fee, or contract.
Simply put, once you complete the setup process by installing the app on your streaming media device and entering activation/login credentials to activate the app, you can start watching all the streaming content delivered from the app that's connected to the TruView IPTV service.
Anyone from across the globe can use this IPTV service to watch their favorites online. No one will be blocked and it doesn't matter if you use VPN service not. If you live in a country outside the US where you are blocked from certain streaming content, simply use a VPN service.
TruView TV Review: Compatible Devices
The following is a list of compatible devices for the IBO app this IPTV service is using.
Android Devices (TV, Box & Phone)
Android Tablet
iOD Devices (iPhone & iPad)
Smart TVs (LG & Samsung)
Amazon Devices (Fire TV & Firestick)
Apple TV
Computers (Mac & Windows)
NOTE: I could not find this app inside my Samsung smart TV. The IBO Player can be found inside the Google Play Store and Apple Play Store. Compatible devices with a web browser can download the app.
If you want to watch everything on your HDTV or a smart TV that doesn't have an internal store, then you will need to connect a compatible streaming device such as the Amazon Fire TV or Firestick.
Keep in mind that TruView only allows you to connect one device at one time. If you want to connect additional devices, then you must buy more subscription plans. However, they allow you to add up to 10 devices on 5 IP addresses per your requested subscription level if you're NOT activating your service via a MAC address.
Otherwise, if activating with a MAC address, only one device connection per subscription level is allowed, with a maximum of 5 devices on 5 IP addresses. You can always contact support if more understanding is needed.
Update: You can now request 2 device connections for $25.00.
TrueView Apps and IPTV Service
Here is a list of apps you can choose to install on any compatible device:
No IP Lock IPTV/Apps…
Kass Player – Username and Password (Android Devices Only)
Topeba Player – Username and Password (Android Devices Only)
ABE Player – Device ID and Device Key (LG, Samsung, Apple TV, iOS)
Roomba WebPlayer – Recommended Web browsers – Google Chrome, Microsoft Edge, Mozilla Firefox
Note: Virginia Player available upon request; switched to IBE that has full EPG.
TruView TV is robust in the amount of streaming content they deliver which is divided up to avoid buffering and playback issues as much as possible. What I liked when reviewing the app and service is that I did not experience major buffering issues.
So far it was just one live channel that I experienced some buffering off and on but after a little while the buffering stopped. You might experience some of this as well. Keep in mind that no IPTV is perfect.
I was very happy to see the TVT app and IPTV service working very well together. The interfacing is quite satisfactory, and seamless navigation through the app to find or get to different types of streaming content is easy. As I said before, the Amazon Firestick that I used to test everything worked great.
There is no instruction manual. You just have to learn as you go but I created important video reviews/tutorials for you to watch and learn. Using the Firestick, Android, and probably some of the other devices requires more steps to get everything set up.
Picture/Audio Quality
I was extremely happy with the picture quality. I used my LG 4K smart TV and Firestick 4K which gave me awesome picture quality. But keep in mind the picture quality can only be as good as the source where live channel stream comes from. You will get SD, HD, 1080p, and 4K picture quality and if you have a 4K TV like me, you'll be very happy when watching live channels or VOD.
The audio is very good. I did come across 1 or 2 live channels without audio. When something like this occurs, simply contact support with the section and channel name so they can fix the issue. I had a good experience with support when contacting them with questions and help.
Performance, Interfacing, Streaming Content & Features
After going through my TruView IPTV review, I determined they are one of the better IPTV service providers. They pass the test in all categories and I had a very good experience as well as enjoyed the entertaining streaming content.
Performance
When playing a live channel or VOD movie/TV series, it played quickly. The live channel initially plays in a preview screen. Clicking the highlight channel name again plays it in full screen. TruView TV has 3 main sections for you to get access to the streaming content whereas you can log in to each section at one time.
By this I mean, you can log in to any one of the following to get access to certain content and layouts for that content as such…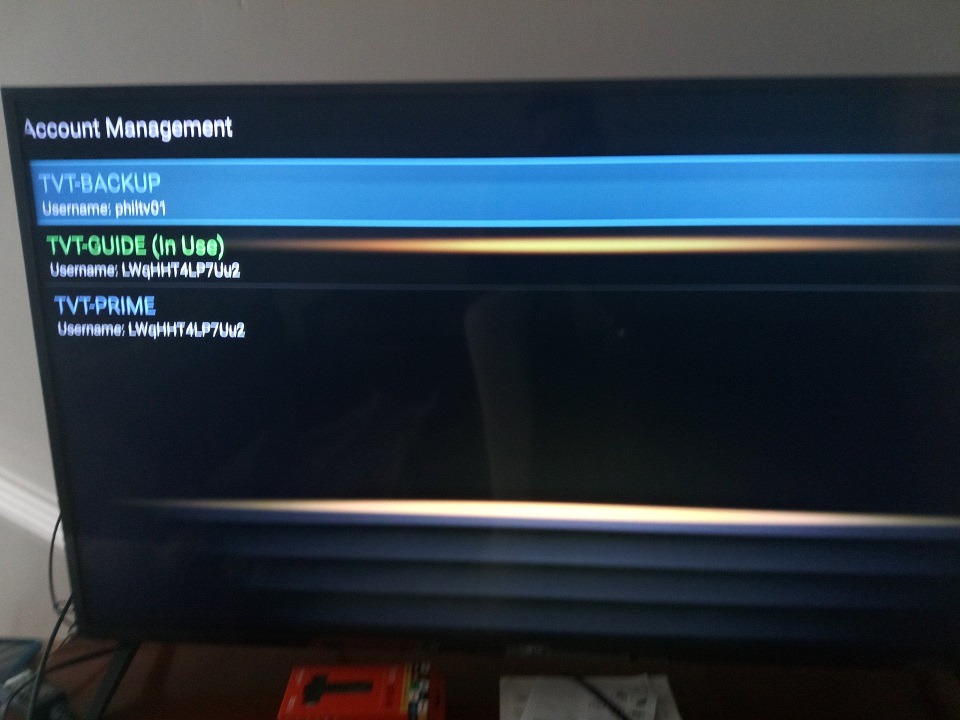 Click the Account icon and the following login sections appear…
TVT-Backup
TVT-Guide
TVT-Prime
So that you understand better TruView decided to split up their streaming content to avoid buffering and playback issues as much as possible. After activating the app, the instructions told me to reply to the TruView TV email instructions so that I could receive the other login details.
They gave me separate logins for TVT-Backup, TVT-TV Guide, and TVT-Prime via email. I won't get into all the details of what follows after logging into any one of the sections. You can only log in to one section at a time to view/play the streaming content. You need to watch my video review/tutorials to understand better and see the display of content.
Keep in mind the TVT Backup does exactly that. It backups to the TVT-Guide and TVT-Prime should either one or both go down or some maintenance work is needed.
Interfacing
How the user relates to the TVT app and IPTV service-connected is very important. TruView TV makes this seamless. There was no difficulty using the app and navigating through the app to find what you want. However, taking some time to get familiar with everything is required. The interface is both fast and smooth. You'll like the experience as well as the streaming content they deliver.
Features
When a live channel name is highlighted, you can do a hard press on the Firestick remote Enter button to add the channel to Favorites. A gold star will appear next to the channel name. You can do the same thing for a VOD movie or TV series also. Do another hard press on the remote to clear the golden star to remove the channel or VOD from Favorites.
All the features and streaming content performed well. However, Record is available but was not working at the time of my TruView TV review. I contacted support and they said the Record feature is something that may come in the near future. There is a Multi-feature as well but it doesn't work so I'm guessing in the near future this may become available. Some of the working features include…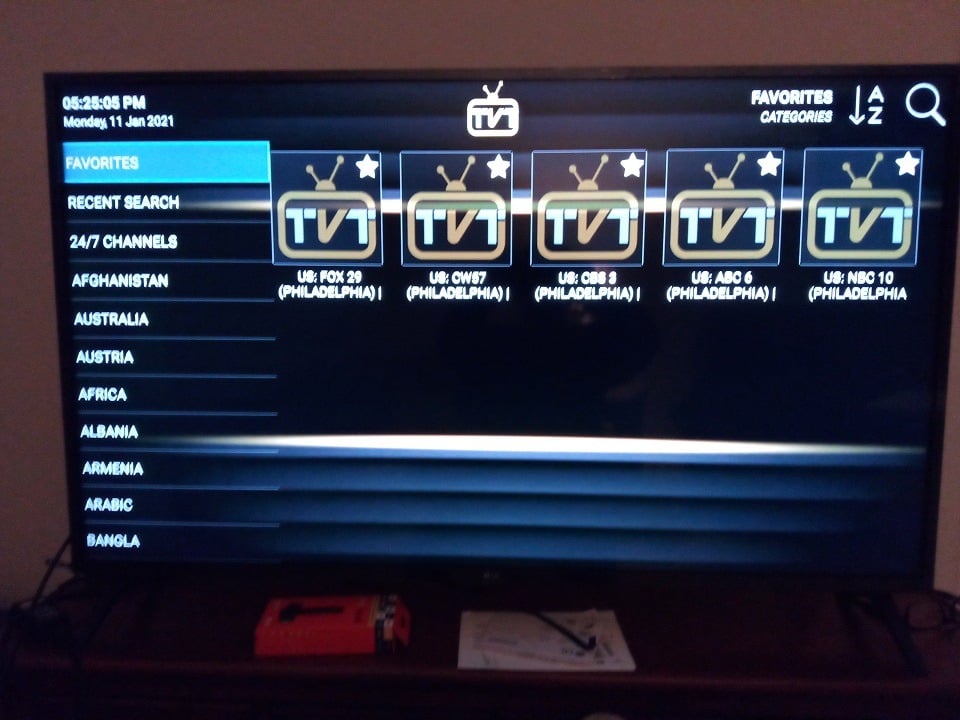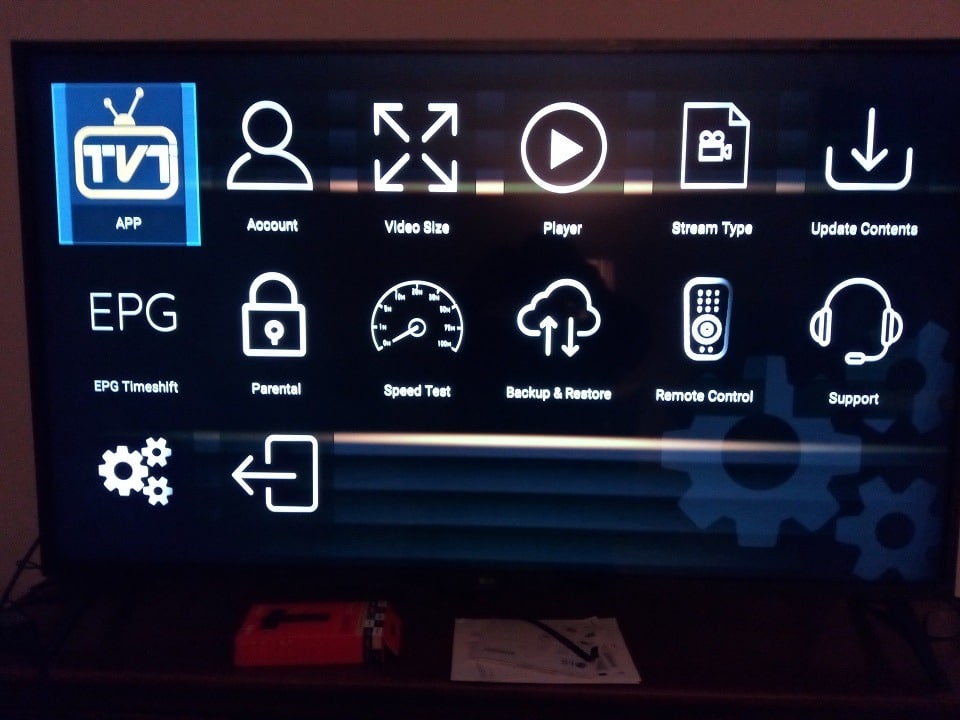 EPG Timeshift
Parental Control
Speed Test
Add to Favorites
EPG (TV Guide)
Search Tool
Recent Search
Streaming Content (US, UK, CA & Global Channels)
See All Countries Included Here
Whether you're looking to replace the high cost of cable TV, video subscription, or living without, I'm convinced TruView IPTV offers what you want. They are robust in the amount of streaming content they deliver.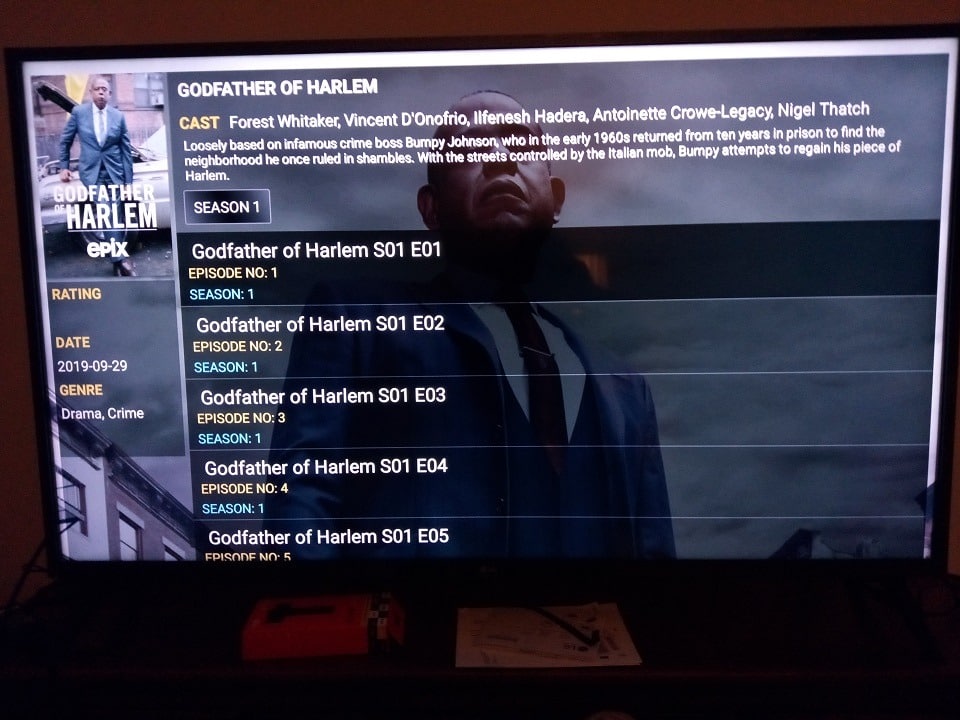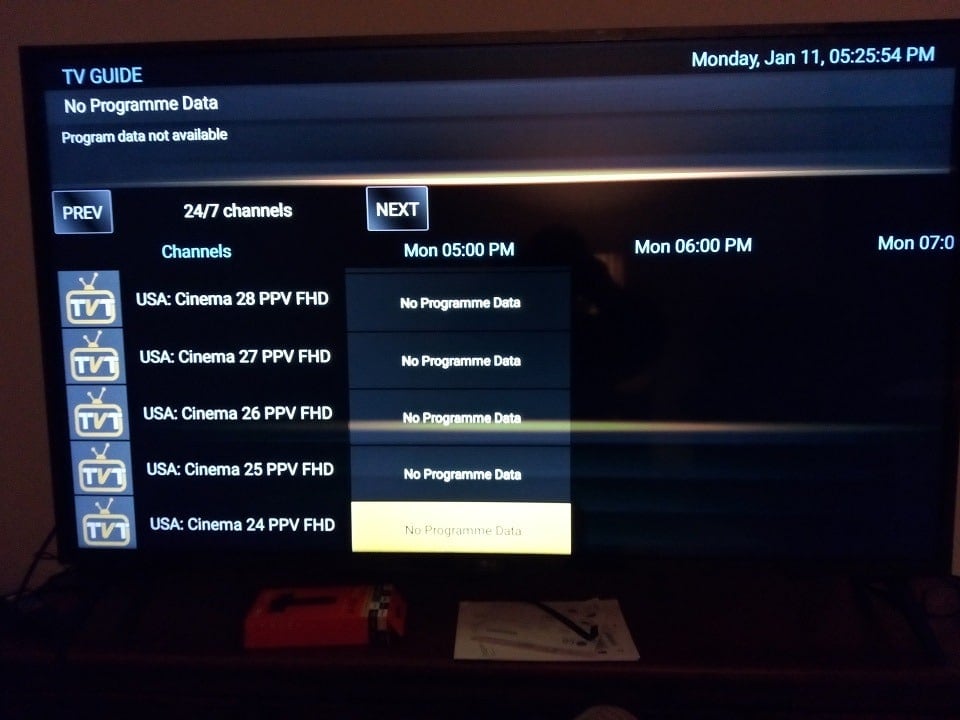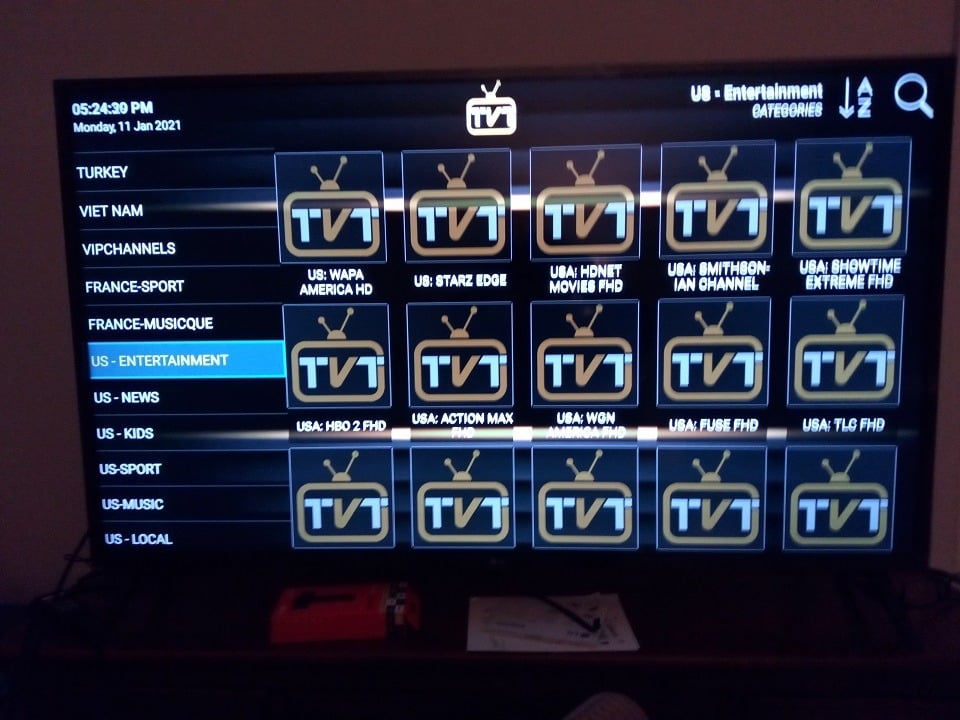 They deliver 1000s of live channels and 1000s of VOD movies w/ recent/new releases as well as TV series w/ seasons and episodes. Here's a breakdown of what you get:
Live channels (national, global, premium, entertainment, local & regional)
Channels w/ movies, news, sports, kids, shopping/food networks, and much more
Music videos
PPV
24/7 channels
All major sports channels/networks
VOD movies & TV series
Over 50 countries
US, UK, CA TV viewers will enjoy using TruView TV to watch their favorites online. But this IPTV service is so robust that many TV viewers living outside those countries should enjoy this service as well. I tested/played many global channels and the vast majority of them worked/played.
It doesn't matter where you live in the world, you can get access to all countries to watch the corresponding channels. Same thing for VOD movies and TV series, local TV channels, and everything else. The sports section is also robust. There's no missing a favorite sporting event, live boxing match, seasonal sport (NBA, NFL, NHL, MLB), or international sporting event.
There are so many movies from live channels/networks and VOD sections available. There's a section for VOD movies where they list them by year also.
How to Sign Up for TruView TV Trial or TruView TV Subscription
Once you figure out which compatible device you are going to use that's connected to high-speed Internet, you sign up for the TruView TV trial or the TruView TV subscription. I created videos that walk you through the signup, trial process, and more.
When signing up for the 24-hour trial or subscription, you indicate if you are going to use a MAC address or not for a particular compatible device you are going to use. You don't need this when using an android or Fire TV/Firestick which I choose to use my Firestick.
There is no cost, and no credit card is required when entering into the TruView IPTV trial. As for the subscription plans, see below…
IBO App…
24-Hr. Trial / 1 Device Connection: $4.50
1-Month Subscription – 1 Device Connection: $15.00
1-Month Subscription – 3 Device Connections: $22.99
3-Month Subscription – 3 Device Connections: 45.00
6-Month Subscription – 3 Device Connections: $76.00
12-Month Subscription – 2 Device Connections: $115.00
12-Month Subscription – 3 Device Connections: $119.99
12-month Subscription – 5 Device Connections: $145.99
UPDATE: No more free trial or $1.00 trial. There is now a 24-hr trial for $4.50. All prices are subject to change by the IPTV service provider. We are not them. They do allow automatic subscription renewals with your permission. You can check the box when you pay the subscription.
Note: When visiting the website, you must click the 'Subscription' link in the menu to see other subscription plans.
There is no recurring or automatic billing. You pay as you go. In other words, once the 1-month subscription ends, you are not automatically billed. You can renew the subscription when going back to the TruView TV website to make another purchase. Keep in mind you can opt into any one of the subscription plans.
When visiting the website, you can sign into the My Client Area to see order info or get your activation code to activate the TVT app.
Money Back Guarantee (Refund) & Cancellation
There is no refund. You are to enter into the low-cost trial to test everything for yourself. And you will be alert to the no-refund policy when paying for the low-cost trial or subscription. TruView is doing automatic subscription renewals now.
Although they have a Refund Policy link on their website, there is nothing written that tells you anything. I recommend contacting their support about refunds. I paid my subscription through my PayPal account where I can go and look up the payment transaction and cancel if I want.
I highly suggest that if you don't have a PayPal account get one and have your bank account connected. PayPal protects consumers with online purchases. When merchants such as TruView allow PayPal payments, use PayPal so that you have more protection. They also handle disputes.
You can use your credit card with or without having a PayPal account. PayPal is highly trustworthy and you can do a search on them to learn more. I use them whenever I can and they helped me resolve disputes in the past.
TruView TV Review: Pros & Cons
Pros
You get a robust TV entertainment package filled with everything you would want such as sports, movies, shows, kids, news, boxing, seasonal sports, international sports, some local and regional channels, and so on. These feature enhancements are nice and accommodating to help enjoy watching TV online even more.
Although no IPTV service is perfect but buffering is at a very, very minimum when using TruView TV. They have a large number of countries, each having its own channels to watch no matter where you live in the world.
Picture quality comes in FHD, HD, SD, 1080p & 4K. If you have a 4k TV and Firestick 4K, you get awesome picture quality from watching many of live channels, movies, and TV series. You watch can watch the latest movies, and new releases, and enjoy watching any TV series with seasons/episodes.
Lastly, you will enjoy great cost savings compared to the high cost of cable TV. You'll end up saving a bundle without paying for any bundle. Watch everything on a compatible streaming device at home or on the go.
Cons
Unfortunately, there is no Record or Multiscreen feature but both may be available in the near future. The setup process requires numerous steps with more than one app download/installation—depending on which device you use. You must read and follow step-by-step instructions to complete the setup.
You won't get all local US channels which are typical of all IPTV services. For the local channels, you do get if any some may not play. Also, others channels may not which again are typical to IPTVs. If there's a channel you like, just contact support to see if they can fix it.
Some subscribers complain about IPTV services causing consistent buffering. NO IPTV service is perfect but usually, the issue stems from the user side — not so much the IPTV service. Still, you can expect slight buffering even if your end is ok.
Consider using an Ethernet cable (wired) connection for the primary TV or streaming device that you will be using most to watch TV online. This type of connection will provide a faster Internet connection. All other compatible devices connected to the IPTV can use a wireless connection.
For streaming devices such as the Amazon Firestick, you can purchase an Ethernet Adapter where one end of the Ethernet cable connects. The adapter connects to the Firestick that connects to the HDTV or smart TV. Internet-ready smart TVs do not need an adapter, just connect the cable to the back of the TV.
Conclusion
Now that you weighed in on the pros and cons, you can see the value when choosing TruView TV to deliver your favorite live channels and VODs. You can see the tremendous savings when looking at the affordable subscription prices. The 24-hour $4.50 trial, which doesn't require a credit card, is a no-brainer to test the TVT app and IPTV service on your device.
When considering what you get from the robust entertainment you receive, something that all family members will love, I can't imagine going wrong with choosing TruView IPTV. I've tested and reviewed many IPTV services in the past.
If you live outside the US, US, CA, and what to know what countries are included, I suggest opting into the trial — no credit card required. Either that or contact support. This is no online support so you'll have to wait within 24 hours to get an answerback. I'm a fan of TruView TV and highly recommend using them.
This Concludes Our TruView TV Review