IPTV Service Delivers Many Popular TV Channels/Networks with Sports, News, Movies, and TV Shows Including VOD (SO Player)
Monster Streams Review with Pros & Cons. This IPTV service can be an alternative to cable/satellite TV that saves you money. You get 800+ live premium channels, Local channels, and 20,000+ VODs, and more. CatchUp TV with DVR is still in development. If you are searching for another low-cost IPTV service like the one you had before, read on.
IMPORTANT UPDATE:
We are no longer recommending any Nora Go or SO Player app and IPTV services for them. Too many of them are not accepting new customers/subscribers, went out of service, and we are getting many visitors telling us they can no longer renew their subscriptions including no support.
You must choose an alternative IPTV service that does not use SO Player or Nora Go.
We recommend visiting our IPTV Comparison Chart that's currently being updated to add more top IPTV services that use other apps. Click the link below to find the best IPTV service…
DO NOT READ BELOW THE LINE… We Removed all links to the IPTV service for SO Player…
————————
Don't worry about losing your favorite channels/networks if you are thinking about canceling cable/satellite TV. More than likely, many if not all your favorites are included. There are many top News networks, sports networks, movie networks, kids networks, and many others. You can watch your favorite TV shows (talks shows, cooking shows, sitcoms/soaps, etc.).
To Sign Up and Subscribe or Get Your Free Trial Now – Click Here
As for OTA TV channels from local television stations in your area (the USA only), you may get just a few of them. I recommend using an indoor HDTV antenna with amplifier to get all local channels from your area.
You may not get access to any regional channels but you will get access to many top channels/networks found on cable/satellite. As for live sports, there's no loss when getting access to local, national, and international sporting events. In some cases, you can get access to some sporting events in two different ways such as MLB, NFL, NBA, and NHL games. More on this later.
Monster Streams IPTV allows watching all your favorites online without a contract or credit check. There is no hidden or cancellation fee, no local sports blackouts, no set-top box or any hardware/antenna to install. Watching TV online has become easier than ever before thanks to improved technology, the Internet, and IPTV and OTT services.
Monster Streams IPTV Requirements and Setup
You need 3 things to get setup:
1. Internet Connection Speed. I recommend you have 25 Mbps or higher Internet connection (download) speed. You should try to get more speed through your ISP (Internet Service Provider). When more people are online during evening peak hours and holidays, your Internet speed could slow down. You want to avoid any buffering issue as a result. Also, consider increasing your Internet connection speed if you're going to use multiple devices at the same time
2. Streaming Device. To watch everything on your HDTV, you are going to need a streaming device such as the Amazon Fire device. Same thing for smart TV if you cannot find the free app in the smart TV app store. Can also use a computer or smartphone. See all compatible devices further down.
3. Recommended SO Player App. This not a standalone free TV app but has high technology that connects to the IPTV service with all the streaming content. The app will display all live channels and on-demand content from the IPTV service. You can navigate and watch everything seamlessly through the app when downloading/installing it to your device.
SO Player works basically the same way as Nora Go. As for smart TVs, if you can find the recommended app in your smart TV app store, then you're in luck. Otherwise, your smart TV is not compatible. You must use the Fire TV or Firestick device or any compatible device. See SO Player Video Tutorials Here.
Downloading/installing the Nora Go app directly to your Samsung or LG smart TV may work. If you can find this app in your smart TV app store, download/install it. Follow the same instructions provided by the IPTV service for SO Player. Both apps work relatively the same way. See Nora Go Video Tutorials Here.
It's best to choose the IPTV service before downloading/installing the app. All information with instructions, steps, and app download links are provided on the Monster Streams IPTV website.
Newcomers to Internet TV. This IPTV service tries to make things easy for newcomers. You'll find some video tutorials on their website. You can also watch some SO Player tutorials Here. And if you need more help, there are three ways to contact support. The easiest and quickest way is contacting them via chat box.
However, if you feel that following instructions to download/install an app to your device is a bit much, find someone that can help you. IPTV services including Monster Streams TV isn't for everyone.
Monster Streams Review – What Is It, How It Works, and Who Can Use It
What is it? Think of having all your favorite live channels/networks and VOD with shows, movies, sports, and news under one roof. And using your favorite device or TV to watch everything online. MonsterStreams delivers over 800 live channels and over 20,000 VOD to you. The app and IPTV service works hand and hand to provide the best of web TV entertainment.
You can sit back and use your TV remote or Firestick remote to control everything you watch on your HDTV or smart TV. This IPTV is independent, meaning it is not affiliated with any cable or satellite TV company. There are no restrictions using when this service. All streaming content comes from the Internet and none of it is hosted by Monster Streams IPTV.
How it Works? Click the image below to watch the video to see the SO Player app layout, features, and all the channel/network names including on-demand sections. You get to look over my shoulders as I play many live and on-demand streaming content. After signing up for the free trial or subscription, expect two emails immediately. One very important email will have the provider ID, 4 device pin codes, another four digit pin code, your username, and password.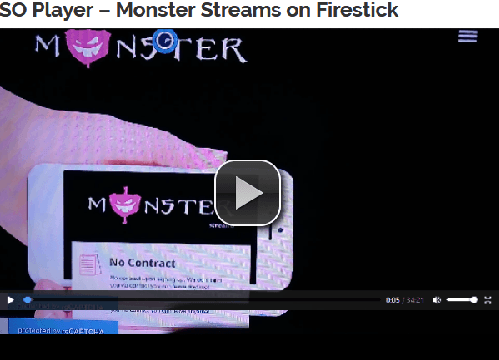 Get Your Free Trial, Download App, or Subscribe Here
Note: In the video, I talked about entering just the provider ID and one of the device pin codes provided. For some reason, I could not highlight the username icon. When I tested each one of my 4 device pin codes on SO Player via Firestick, I eventually got locked out and could not get back in with any of the 4 device pin codes. You should not do what I did. I was only testing each one of my device pin code on one device.
I tried doing something else instead. This time I  could highlight and click the username icon but not before. When entering the provider ID, username and password, I was able to activate and log into SO Player to watch everything online again. Support told me to activate and log into the SOPlayer app this way. The point here is you won't go through what I did. I was only experimenting. You only have to login one time.
After following the instructions to download/install the app to your favorite device, simply enter the required activation/login credentials from the email. When the SO Player opens, you now have access to all the live channels and VOD content. Just point and click to find what you're looking for and start watching it.
When testing the app and IPTV service, I found them to work seamlessly when navigating through everything. The interface is fast and smooth, most channels played, and all on-demand content played. No manual is required. Everything is self-explanatory when navigating through the categories and sub-categories of content provided.
When opening the SO Player app that connects to Monster Streams the main screen appears with the following:
TV (all live channels)
Movies (VOD movies & TV series/episodes)
CatchUp w/ DVR (I found no content at time of my review)
EPG (TV Guide)
Info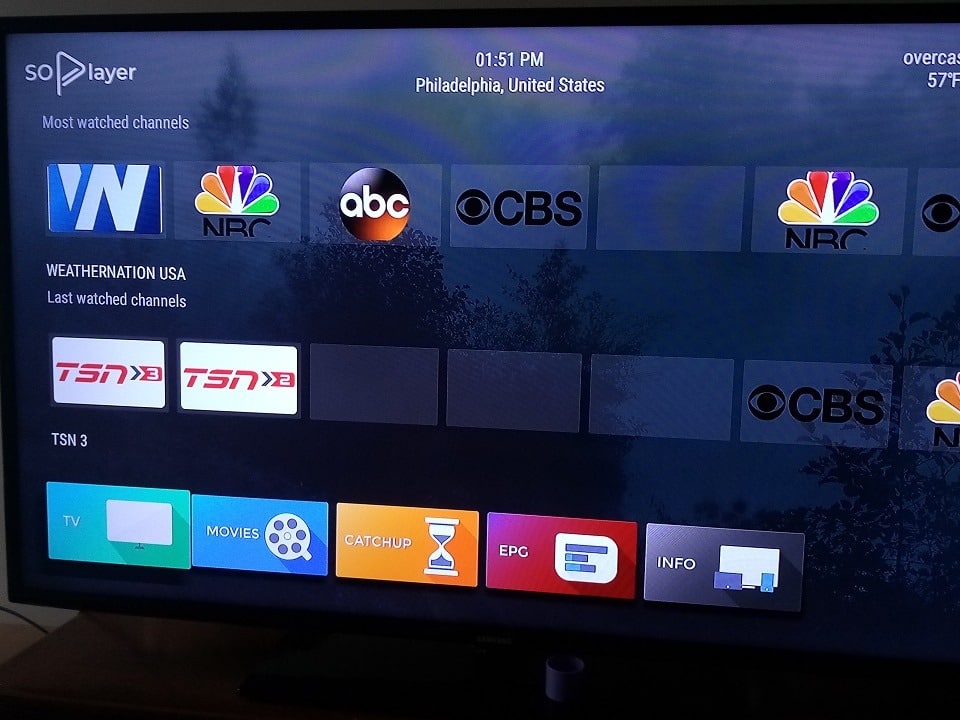 The four categories above will get you where you want to go quickly. Click the TV icon and you get access to the following sub-categories:
Search (not a category)
Spanish TV
French TV
UK TV
Filipino TV
Adult (locked by default)
All Day
Music Channels (not working at time of review)
Gospel (not working at time of review)
Locals
Unfortunately, the content in CatchUp, Gospel, and Music sections was not working during the time of my Monster Streams review.. I notified support of this issue. I don't condone Adult content and did not review it. This content is locked by default to safeguard against children. There is a pin code available to unlock the content.
This IPTV service is mostly for adults. There are many kids channels/networks included but I recommend supervising your children when using this service.
Who Can Use it? The good news is anyone can use Monster Streams TV. It doesn't matter where you live in the world. Each subscriber gets access to the same number of channels, VODs, and features. If you are bi-lingual or multi-lingual who speaks/understands English, Spanish, French, or Filipino, then there's more streaming content to watch online.
Children can use this IPTV service with adult supervision. Just don't give them the remote. You don't want them navigating to Rated-R and adult movies and TV shows. Sports fans/fanatics including movie and TV series lovers should enjoy using this service. It seems to have everything you want
Content, Performance & Interface
Content
Monster Streams TV claims to deliver over 800 live channels. Most channels I tested did play and some didn't which is to be expected. There are many top television networks to watch movies, news, kids shows, sports, and TV shows. Something for the entire family.
There are tons of movies with many genres and TV series with episodes available. Organization of all the content makes everything effortless. This is not just a large list of channel links or video links. Instead, the look and feel are attractive.  The sophistication in how channels and VOD content are displayed is excellent. Searching for a channel/network or movie/TV series by title is easy.
Live channels play quickly as does on-demand movies and TV series. The picture quality is HD or high quality. I did not come across any streaming content with poor picture quality.
Performance
The overall performance of the SO Player and IPTV service was pretty good. However, there are some minor glitches the service needs to get resolved. I've already contacted support about them. Overall the experience I had using this IPTV was good enough to tell you about it. Most live channels that I played worked seamlessly.
If a channel doesn't play for some reason, I either replay the channel again or back out of it and play a different channel. Then go back to the non-working channels to play it again. Other times, I tried signing out of SO Player entirely and signing back in. Either one of these steps either worked or didn't work.
Again, I experienced no delay when changing from one channel to the next one. The same thing when watching movies and TV episodes. Each stream played quickly.
Overall, you will enjoy the look and feel, content arrangement, performance, and entertainment. The best experience comes when using my Amazon Fire TV Stick connected to the smart TV. Or if you do a direct install of the free app to your smart. I also had a good experience using the computer and smartphone.
Interface
This is the part that makes the SO Player app quite good. I'm very familiar with this app. Many IPTV services switched from the Nora Go app to this app. You get better performance when using different compatible devices. The interface is both fast and smooth. You just need to make sure you have adequate Internet connection speed — 25 Mbps or higher is recommended.
You can connect multiple devices, up to 4, to watch Monster Streams channels and on-demand content. If you experience any buffering issue, you should have your Internet Service Provider increase your Internet connection speed. However, this will come at an extra. In essence, the higher the connection speed better the overall performance. I have over 150 Mbps Internet connection (download) speed but this doesn't mean I get this amount for each device that I use.
Live Sports (Local, National & International) & PPV Events
Whether you are a sports fanatic who loves watching worldwide sports or just someone that wants to watch local sports live, no problem here. As for watching the fights, PPV events are available at no extra cost. There are plenty of top sports networks from sports talks to watching sporting events.
You can watch NBA basketball, NFL football, NHL hockey, and MLB baseball in two ways: Watch sporting events from a sports network or sports link. These are links that appear for NBA, NHL, MLB, and NFL.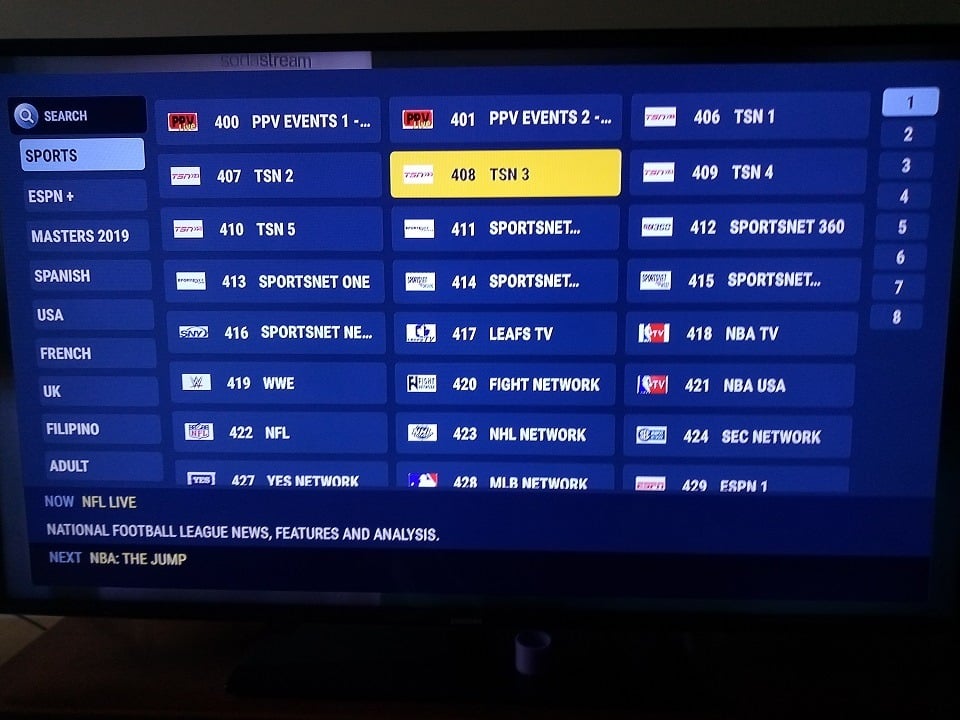 Sign Up Now and Start Watching Live Sports
Live Channels for USA, UK, French, Spanish & Filipino
Mostly all the live channels that were tested from the sub-categories played. However, there were only 4 Filipino channels during my review of Monster Streams. None of the channels under Gospel and Music/Radio worked/played.
Monster Streams Local Channels – USA Cities Only
There are many local USA channels from many cities listed. However, I have no idea if all cities are listed with channels but many I tested did work. When I used the Search tool to find all my local Philadelphia channels, only 3 appeared. But only 1 channel worked/played.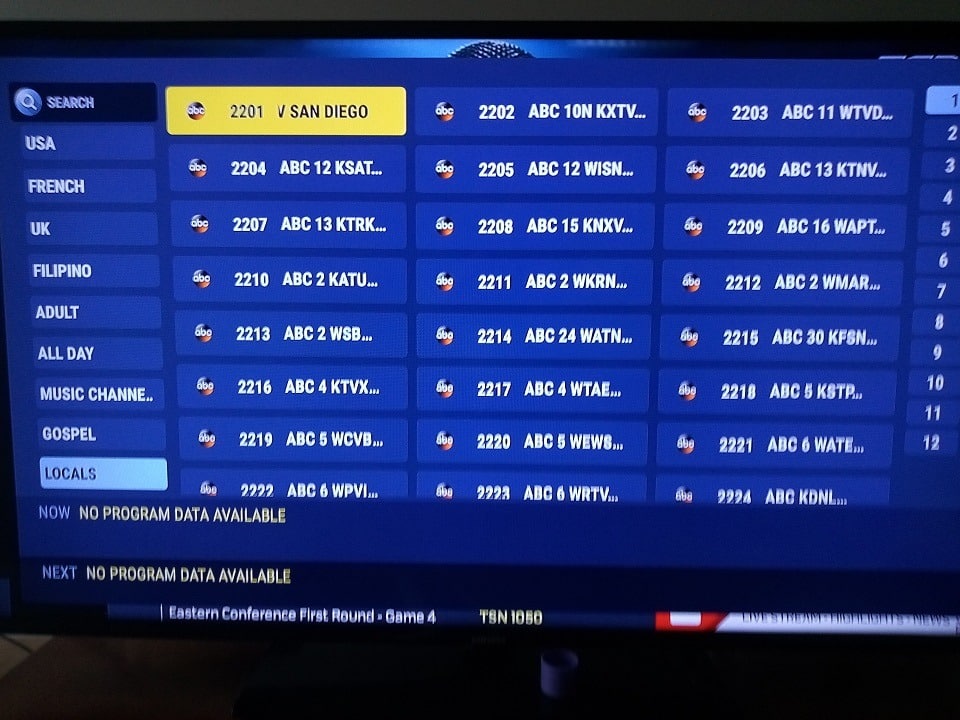 On-Demand Movies & TV Shows
Both of these sections worked seamlessly. Many of the on-demand movies and TV series with episodes that were tested played. And they played with crystal clear quality. When hovering over TV shows, a popup window appears with a long list of TV series names. You can scroll down the list to find a TV series to watch but that takes longer to find what you're looking for. The best way is using the Search tool to search by title so that you can quickly find what you want to watch.
Features
There aren't that many features available but you do get the essentials. The 'Search' feature will allow you to search for live channels, local channels, movies, and TV series by name. The channel menu with all the content sections included comes in quite handy when wanting to maneuver throughout all the content. This makes the Monster Streams TV layout superb.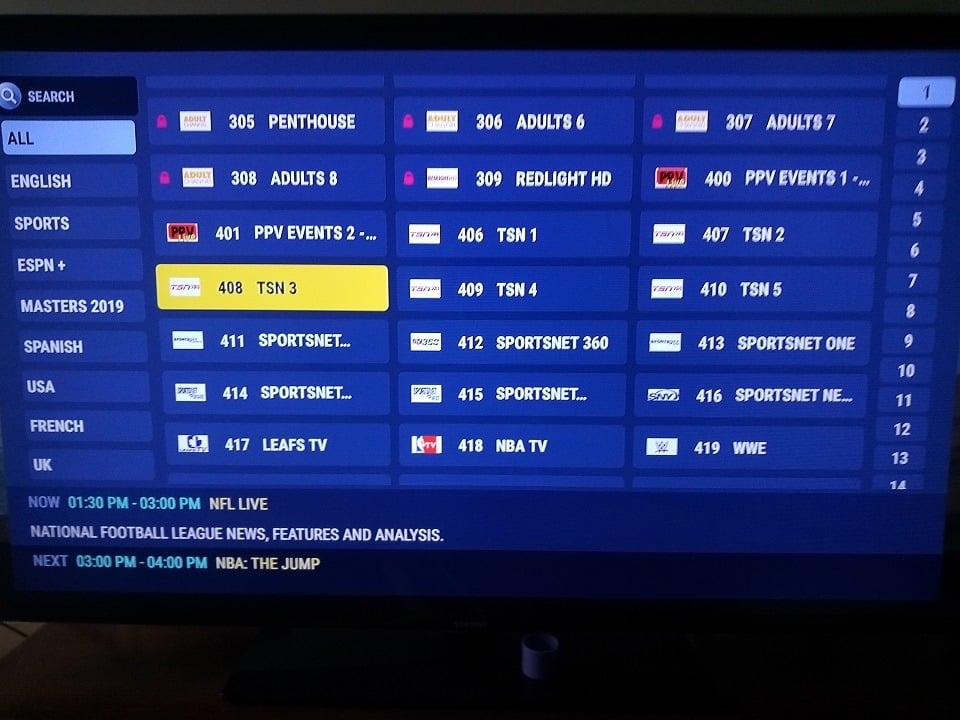 There is a CatchUp w/ DVR category but there's no content. I don't know if this is under development but I hope they get this up and running soon.
The EPG (Electronic Programming Guide) works as a TV Guide. List all the TV networks with respective TV shows in their time slots. What I also liked was being able to only show sports channels/networks in the TV guide. Or if I wanted, I could show only local channels or UK channels or another section of channels in the TV guide.
Some sports they were listed have a scrolling feature to see the name of the sporting event. Just hover over the channel link to see the scrolling effect. Some channel sub-categories have a lot of channels/networks listed. Over to the far right has a row of numbers starting from 1 on down. You can click a number to quickly find the next set of channels or any set of channels.
Compatible Devices w/ SO Player App
There are many compatible devices that you can use with the SO Player app as follow:
Computers (Windows & Mac)
Smart TV (Samsung, LG, maybe other brands)
Android Devices (tablet, Android TV/Box, smartphone)
iOS Devices & smartphones
Apple TV
Magbox
Amazon Fire TV / Firestick
If you have a smart TV and cannot find the SO Player app inside your smart TV app store, then your TV is not compatible. Try searching for the Nora Go app instead. If you find it, download/install it to your smart TV. Nora Go works basically the same way as the SO Player app.
I've done this before with other IPTV services that recommended using SO Player. It worked very well after entering my activation/login details. Only one account can use up to 4 devices with one household modem/router (WiFi network). You can use a Smartphone with 4G data when away from home but no other WiFi network.
Monster Streams Free Trial, Subscription Cost, Money Back Guarantee & Support
3-Day Free Trial (No Credit Card Required)
I entered into the free trial which was a simple process. Just enter your personal information, create a password, and follow instructions. Watch my review video above that takes you through all the steps. Once you complete the 3-day free trial sign up, expect two emails. Make double sure you type in the correct email address when signing up.
One of the emails will have information, instructions, download links, and activation/login details. If no emails can be found, look in the Spam/Junk folder for them. If those emails are there, simply move them into your email inbox. Watch my review video to see how to enter the activation/login details.
Subscription Cost
At the time of this review, there was only one subscription available as follows:
One Month Only: $25 (non-recurring)
When you sign up to subscribe, you get a one-month subscription only. Once the one month ends so does the Monster Streams service. You have to re-subscribe and pay the $25.00 subscription fee again to continue the IPTV service. In other words, you pay as you go. There are no automatic charges.
This avoids having to make a request to cancel the service and being charged again if the service didn't act quick enough. When the subscription ends, you choose whether or not to re-subscribe. If may agree or disagree with this setup. I know that many people would rather pay a monthly subscription and be done with it. Perhaps in the near future, they will add a monthly subscription.
Sign Up Here and Gest Free Trial
Money Back Guarantee
Many IPTV services that I reviewed with a free trial don't offer a money back guarantee. This service offers a 30-day money back guarantee and claims to stand behind it. Make sure to take full advantage of the free trial which I recommend doing first. Test everything on your devices. Again, you are allowed up to 4 devices.
Support
The best way to get support or your questions answered is the chat box when visiting the Monster Streams website (Click Here). Usually, you will find a representative online. I've tried the contact form but there was an issue. I told support about it. They also have a phone number you can call but it's not toll-free. You cannot place an order through this number.
Monster Streams Review – Pros and Cons
Pros
This IPTV service delivers mostly all popular television networks. Surely, you will find your favorites to watch online. This includes networks to watch live sports, movies, shows, and news. There is content for the entire family to watch including children.
You can watch any live sporting event (local, national and international) including PPV events to watch the big fights. No extra fee is required. Get access to all the movie networks as well as 1000s of movies including the most recent. You also get access to many popular TV series with many of their episodes.
When wanting to find something quickly, just use the Search tool to search by title. There are many channels listed under USA, English, UK, French, and Spanish. Filipino has only 4 channels. All subscribers get access to the same content no matter where they live in the world.
Subscribers can use up to 4 devices at one time. Each household member can watch something different on his/her device.
If you are thinking about canceling your satellite or cable subscription, Monster Streams could work for you. The free trial gives you a way to test the app on your device and IPTV service for three days. You might also want to enter into the one-month subscription afterward to test the reliability of the service. This way you'll know whether or not MonsterStreams meets your expectation before canceling satellite or cable TV.
Cons
If you are going to use this IPTV service and download the SO Player, there's something to think about. If later you decide to not use this service anymore or any IPTV service that you may have been using, you may want to reset/remove your devices. To use the SO Player app or Nora Go app with a different IPTV service, you can contact the IPTV service to remove all devices from your IPTV account and app.
You can also find some video tutorial with steps to reset or remove your devices. Now with that out the way, some of the channels out of 100s didn't work/played. But in the Gospel and Musi/Radio sections, none of the content played.
You can always contact support when there are issues. You may notice a buffering issue for some of the sports streams. I experienced little buffering issue here and there when watching an NBA game. I experienced little buffering issues with all other IPTV services so this seems to be universal. The buffering doesn't occur on most sports channels.
There is no 'Add to Favorites' or feature to block Rated-R or adult TV shows and movies. Probably, most people don't like seeing Adult sub-category. Nevertheless, it's there and locked by default which comes with a pin code. There's was no content available inside CatchUp, Music/Radio, and Gospel sections. If this is something of interest, you may want to contact support to see if there are any plans to get these sections up and running.
Conclusion
Putting aside some of the non-working channels out of 800+ (see Cons above) and sections with non-working content, there are plenty of live premium channels are available. Channels from the USA, Local TV, UK, French, Spanish, and Filipino are available to watch 0nline. On-demand movies and TV series with episodes are worth giving this service a try.
My overall experience with the service was good. I'm not much of a TV series/episodes type of person. I can live without that content. Right now, IPTV service is best suited for individuals only interested in getting 100s of live premium channels and VOD movies and TV series. Only a few minor issues here and there but wasn't enough to give this service a thumbs down. Simply put, no service or product as you know is perfect.
Overall, you should find enjoyment as I did when navigating through the channels and on-demand content seamlessly. There's more than enough entertaining channels, great movies, TV episodes, and live sports to keep you occupied. What also makes this a good choice is that anyone, from all walks of life, can get access to this IPTV service. Monster Streams IPTV makes it easy for you to sign up, test, and watch many if not all your favorites online without any restrictions.
This completes Our Monster Streams Review
Get All Your Favorite Live Premium Channels with Movies, Sports, Shows, News, and VOD Here