How to Watch Local TV Online at Home or On-the-Go Without Cable TV
Locast TV Review by Real User/Tester. Whatever your reason is for wanting to watch local TV online, Locast Free TV may or may not be the solution. I said, "may not," because currently they only entered into 16 city markets where they re-broadcast or re-transmit local broadcast channels.
UPDATE: Locast is no more. They lost the court battle and were ordered to shut down. To watch your over-the-air local TV channels without cable TV, just purchase an indoor HDTV antenna. Find one with the largest range such as a 250 or 360-mile radius. You can order one from Amazon HERE.
————–
Locast has integrated Spanish-language support into the app, user interface, and log-in screens to better serve the more than 41 million U.S. viewers who speak Spanish at home. This makes it more convenient for Spanish-speaking audiences to join Locast and easily read and navigate on-screen instructions and the TV guide.
You can now stream local broadcast TV channels in Puerto Rico, for free.
The Puerto Rico channel lineup includes popular TV stations such as Telemundo, Univision, WAPA, MegaTV, WIPR public TV, RTVE news from Spain, and more. Locast also offers multi-language support by giving English and Spanish-language access to the Locast app's user interface, log-in screens, and program guide.
————————
Sixteen markets mean 16 US cities that residents can watch local channels from. Since there aren't that many Locast.org reviews online, I'll try to provide all the pertinent information. This will also include the upsides as well as downsides to using this Locast TV service.
The main purpose this service addresses is the age-old problem with many households not being able to get a proper signal to receive broadcast TV. The problem can stem from geographic irregularities or rural areas that are isolated. Instead of dealing with the traditional indoor/outdoor rebroadcast antenna, TV viewers should be permitted to use modern methods.
Click Here to Visit Website to Watch FREE Local OTA TV Online
Watch It In Action Here – See Local Channels Play
How to Watch OTA Local TV Channels Offline (SMARTenna+ Indoor TV Antenna)
Note: After clicking the link directly above, click the SMARTenna image to Learn More. Also, this smart antenna would be a good backup if you lose your Internet connection for some reason.
Alternative to Cable TV
If you happened to be looking for an alternative cable TV or thinking about cutting cable, you should take a look at the following. An IPTV service that delivers pretty much the same premium channels, popular TV networks to watch movies, sports, shows, kids, and much more. They also deliver VOD TV series and movies (incl. new releases).
If you check Locast city markets and see your city is included and subscribe to an IPTV service, you will end up with a wealth of TV entertainment for a very low price.
You can also check our Top 10 IPTV Comparison Chart to see more – CLICK HERE.
What is Locast TV
Sports Fans Coalition NY, Inc. is the company corporation of Locast Free TV which provides a service that streams local TV channels over the Internet. They are a non-profit company serving the public by re-transmitting or re-broadcasting local broadcast signals online.
They use a digital app to stream over-the-air television stations which means an antenna isn't needed. At the time of this Locast TV review, they have 16 city markets available. Depending on which of those cities you live in, you can watch local channels online from your city.
Click the image below to enlarge…
Because they are non-profit, they are asking users for help financially by paying as little as $5/mo. to expand to other markets (cities) and to help keep the service afloat.
It's not mandatory that you give your dollars but helping them provide local channel streams to other cities will help. There are considerable costs involved in bandwidth, equipment, and operational maintenance. Your donation will also help the Locast TV service in other ways.
Locast TV is really a "digital translator," meaning that it operates similar to any traditional broadcast translator service. But in this case, instead of utilizing an Over-the-Air or OTA signal to increase the broadcaster's reach, they stream the OTA TV signal online to Internet TV viewers within the US.
Simply put, they manage to modernize the delivery of television broadcasts via streaming media that's free of charge. Learn More Here or read about them on Wikipedia.
Click Below to Watch Local Channels Play and See TV Guide…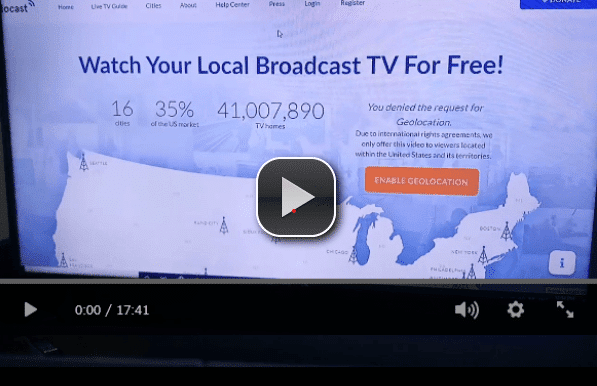 Note: More cities/channels are added periodically that are not seen in the video above. It's best to visit the website to see if your city is included.
Is Locast Legal
Locast was founded by Attorney David Goodfriend who was also a former Dish executive and once worked at the FCC (Federal Communications Commission). Some time ago, he discovered an FCC loophole that legally allows non-profit organizations to re-transmit Over-the-Air broadcasts.
This re-transmission of OTA broadcasts is said to be permitted under the Copyright Act. However, some of the major TV networks such as ABC, CBS, Fox, and CBS beg to differ and have filed a copyright lawsuit against Locast. As of now, the courts are allowing Locast to continue operating while the lawsuit is still pending.
You can read about it below…
"The broadcasters aim to shut down a service that has attracted tens of thousands of users and is threatening billions of dollars in retransmission contracts. " Read More Here
"At the time of this Locast TV review, they have 16 city markets available." Read More
This gets even better…
"Non-profit streaming service Locast sues ABC, CBS, Fox, and NBC." Click Here
David Goodfriend Locast lawsuit against them also states… "The pay-TV providers get rich. The plaintiffs get rich. The public gets fleeced."
They also have a GoFundMe page that you can donate to help with legal expenses. They have counter-sued the same TV networks that sued Locast TV. Cord Cutters: Protect your right to free local TV
How to Watch Locast
TV viewers need the following to watch local TV online from this free local TV service:
Broadband Internet Connection
Streaming Device (Roku, Computer, Smartphone, Android Device, iOS Device, Amazon Device)
Free LocastTV Account
When signing up, simply provide your name, email address, and create a password. You must also certify that you reside in, and logging in from, any one of the select USA cities. Then you can select any one of the local broadcasters for your city and start watching your favorite local TV channel on your streaming device.
Depending on the device you are going to use, download/install the Locast app. If using a computer, you can visit the website to create an account or sign in to watch local TV online. Just choose the city you live in which is one of the markets available to you. Remember, there are only 16 markets at the time of this Locast TV review.
Select 'Live TV Guide'. From there, you can see all the channels and TV program names in their time slots for up to 7 days. Just select the name of the channel/network you want to watch online.
You cannot watch TV online from other markets outside of where you live. However, you can use a VPN service when selecting the city and selecting the same city on Locast. This comes in handy when traveling across different states or TV markets and want to watch channels from your city.
They have apps for:
Computers (Mac, Linux & Windows)
iOS Devices
Android Devices
Amazon Fire Devices
Chrome OS
Routers
Locast TV App
If you are wondering is there a Locast app for your device and where to download/install it, you can visit the LocastTV website. Or, go to the Google Play Store or Apple Store for the Locast TV app download. There's also an Apple TV app, a Fire TV app, an Android TV app, an app for Android devices, iOS devices, Apple TV, Roku, and TIVO.
If you have Dish Hopper, DirecTV, or U-verse, there's a free app for them as well.
Before you can log into Locast using a Fire TV, Android TV, Apple TV, or Roku, you will need the Locast activation code to activate the app. Once activated, you can start watching streaming local TV channels from one of the 16 Locast TV cities you reside in.
Compatible Devices:
Amazon Fire TV, Cube & Firestick
iOS Devices (iPad, iPod, iPhone, Chromecast, etc.)
Android Devices (TV, Box, Tablet, Smartphone, etc.)
Roku
Apple TV
Computer
Tivo
How to Activate
When the activate screens appear on the TV if used, simply go to the www.locast.org website using a mobile device or computer. That device must be connected to the same IP address (network) as your primary streaming TV device and during login. Once logged in, visit the www.locast.org/activate page. You are required to enter a 6 character Locast activation code displayed on your television screen.
When the code is submitted, your television will refresh and display the 'Live TV Guide'. Rather than having to log in each and every time, Locast TV uses the activation code instead which is a faster way to start watching local TV online.
Locast TV Guide
The TV guide is extremely easy to use. You scroll up/down the channel names as well as scroll right/left to see TV program names. The layout is just like any online TV guide. Nothing is complicated or confusing. It's easy enough that a child can select and play local TV channels.
Click the image below to enlarge…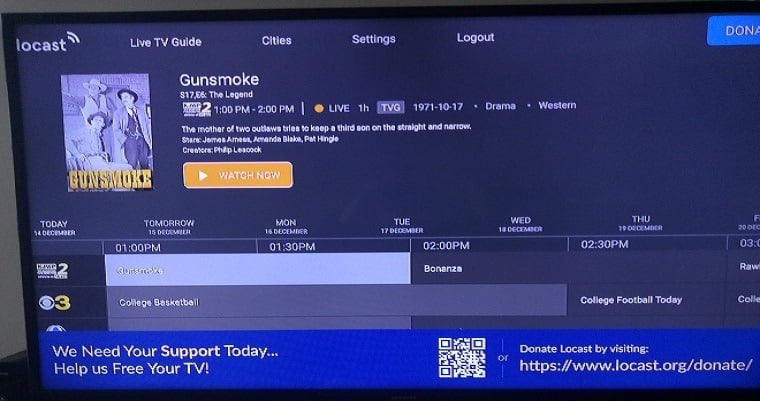 How to Get Live Premium Channels to Watch Online with BIG Savings
As for cable TV, this would be the time to cancel if your city channels are included in this local TV online service. If you want to watch premium live TV channels online with video-on-demand streaming content, then I suggest you subscribe to an IPTV service provider.
You can visit our IPTV Comparison Chart to find a Top IPTV Service. Quickly compare them side-by-side and click the 'Review' link to read the full review with pros and cons. There are also video reviews you can watch. Or, click the 'Visit Site' to visit the IPTV service website to learn more or subscribe.
Locast TV Review – Pro & Cons
Pros
The biggest upside is that it's FREE. You will find many of your local channels to watch online. Channels come with HD picture quality and the interface is fast and smooth. Not much delay when selecting a channel to play it. However, the donation Ad will appear first. The easy navigation makes it child play. There's nothing to confuse you and no need to read a manual.
There are many compatible devices that can be used with no cap on the number of devices you want to connect with this local TV service. For instance, you can have or buy a Firestick for each household TV that connects to the Locast service. This way other family members can watch what they want.
Cons
Unfortunately, there is no Locast DVR at this time and nothing is mentioned about it in future plans. There are only 16 Locast cities (markets) at the time of this Locast review so if your city isn't included, you're out of luck. Perhaps in the near future, your city will be added, if they win the lawsuit against them.
Another thing I found out was that not all my Philadelphia channels were included. For instance, channel 17 was missing from the Locast TV guide so you might not see all your channels either. The best thing is to do a test and check the Locast TV guide – remember everything is free.
If your city market is not included on Locast, they are always adding more city markets from time to time. You might want to check them from time to time.
Do they have a Locast VPN feature? The answer is no, but you can certainly purchase a VPN service on your own. I recommend this VPN Service. You can select the city you from the VPN service you want that's also included in Locast. The VPN lets you watch your local channels while in a different city.
The donation Ad will appear for each channel you play. The Ad will appear again when watching a television program but doesn't keep popping up where it annoys you. The way around this is paying the $5/mo. donation fee to help them stay afloat and expand into other markets.
Locast TV Review – Conclusion
The Locast TV service certainly brings promise if they can win the pending lawsuit against them by major television networks. It wasn't always this way. When they had a much lower number of TV viewers, no lawsuit claim was made. It was only until they started getting millions of TV viewers when major television networks came after them.
There is nothing at the moment that prohibits you from using the Locast TV service. We just have to wait and see. Nevertheless, there are over 41 million households using this free local TV service and that's huge. This tells you the enormous need for streaming local channels online and having them free of charge.
Without this service or rebroadcast antenna, many TV viewers are left with their current methods of watching local TV channels. As for those who live in cities that Locast has available, they certainly will benefit.
For what it's worth, which is zero dollars, you can go ahead and use the Locast service to watch local TV channels from your area if available. The interfacing, ease-of-use, channel delivery, picture quality, app, and service all received high ratings when this service was tested.
This Concludes Our Locast TV Review
Visit Locast TV Here