Direct PCTV Review 2016
(Robust, All-in-One Web TV Viewing Portal)
Over 9,000 Streaming Live TV, Radio, and VOD Content Worldwide
Compatible to Windows OS, Mac OS & Linux OS Computers Including Tablet & Smartphone
License Covers Up to 6 Computers Plus 3 Free Bonuses
Lifetime Membership w/ Service Package @ $39.95 (One-time)
Payment Processor: PayPal / 30-Day Money Back Guarantee
(spyware/adware/virus-free)
Delivers Popular and Hard to Find Free Live/On-Demand TV Shows, Sports, Movies, News, Videos, Radio and Music
Direct PCTV for Windows/Mac/Linux Computer, Tablet, and Smartphone. First things first, this service no longer offers a software download — due to many downsides. Now you get instant access to one web-based TV platform that direct-connects you to popular TV channels, video-on-demand and live sports online, in a very easy way. If you're looking for TV software, many 3rd party pay-to-use services (like this one) have converted to web-based platforms which make watching your favorites online a lot better.

Note: After reading/watching the full review, tell me what may be holding you back from trying Direct PCTV. Use the Chat Now box in lower right corner to contact me. If I'm offline, be sure to leave a valid email address so that I may contact you to answer your message/question.
Free TV software services aren't as entertaining and the software they have you download tend to cause problems for your computer — not all but many of them do. If you are searching for a fast, safe, reliable and affordable Internet TV service that makes watching your favorite TV programs easier, then consider tapping into web-based TV/VOD platforms.
Many TV viewers have cut the cable cord and ditched the dish for various reasons, mostly to save costs. Perhaps you are thinking of doing the same. Some downsized their subscription service to cut (Satellite or Cable costs) after seeing what's available on the Internet for free.
Even though some downsides exist when viewing television online, there are more upsides than downsides that make this television source worthwhile to explore further
The other part that makes web TV/VOD service so popular is unlimited entertaining streaming content, with a growing number of popular television programs available to TV viewers, including live sports.
You may be one of the many living without a paid television subscription service – perhaps you can't afford it or simply refuse to pay increasingly high rates. The good news is there's another option that works with ones budget, and doesn't allow losing the entertainment with favorite television programs you love to watch.
The reward comes with getting instant access to huge amounts of free media content online, while eliminating time to search on the web for your favorites. Direct-Connect channel feeds service brings together all kinds of popular content for members to access with a stroke of a key.
Low-cost, third-party, web-based TV/VOD services have blossomed over the Internet in recent years. Direct PCTV is one of those services that eliminated spending time surfing online to find channels to watch. There's no need to visit one website after another when thousands of free live and on-demand content is delivered within your fingertips.
See Video Review of Direct-PCTV in Action Below…
You can look over my shoulders, as I show you the Members area and play TV channels.
Video One: Introduction
Video Two: Play Sports
Video Three: Play TV Shows
Click Here to Watch 3-Part Video Review of Direct-PCTV
Watch TV Online Free No Download
What Is Direct PCTV and Is It Legit? Watch TV shows online for free no download is just another way of saying you can get instant access to all the free Internet television content you want, anytime and anywhere, with no hard work for a small one-time fee. Of course, you can do this all for nothing (at no cost) but question is… How do you find all the content to enjoy the best of Internet TV entertainment has to offer?
Ecorp Media created Direct PC TV, a robust web-based TV/VOD entertainment portal that brings the best of Internet Television entertainment to computers, tablets and mobile devices. In fact, they even show you how to connect a computer to your small/large screen television.
For the past several years, they have been warding off the competition and avoided failure – unlike some of the other services that are now out of business. What also separates them from all the others is they don't require members to download PCTV software that comes preloaded with 1000s of global channels.
In a nutshell, users can tap into tons of global live streaming and on-demand TV channels, videos, radio and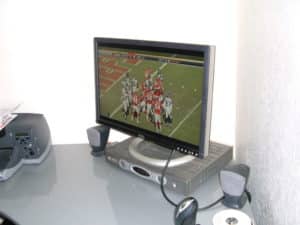 music from the World Wide Web. The service doesn't own or host any of the content. Instead, they provide many clickable links that allow access to the wealth of free web media content out there. Some of the content also comes from P2P (Peer-to-Peer) Networks.
One thing is for certain… No one can possibly find all the free media content on his/her own without putting in a huge amount of time and effort and using technology.
The service has dedicated employees and man-power to surf the web to find all kinds of content. Everything is made convenient for the user so that s/he doesn't have to put in the time and effort to search for any content, which is the hard way. In fact, visiting one site after another and creating/naming/saving the content on his/her computer to watch later on can be avoided as well.
Users have the ability to access all the media content within the Direct PCTV members area, which starts out from one centralize area and branches out to other sections and websites with content coming from over 97 countries.
To Visit Official Website Now Click Here
Claims Made by Direct PCTV, Ecorp
If you already visited the website, no doubt you read all the claims made by this service that may seem too good to be true. And rightly so! For one, this service compares itself to satellite and cable services while claiming delivery of PCTV Direct TV 9000 channels for you to watch popular sports, movies, television programs, videos and listen to radio and music from all over the world.
They also claim you can cancel satellite or cable and that you can watch popular shows via PC, laptop, tablet, or mobile device. To make sense of it all, this review will explore these claims more in depth. You'll get an inside look by a real user and in the end you will know whether or not this service makes good on their promises.
Who Is It For? There is no limitation regarding age, gender, language or country and who can use this service. Both young and old have been using these services over the years to watch favorite shows online. More and more adults, age 50 and older, seniors, those living of fixed incomes, have become interested in watching television online to save cost.
As stated previously, DirectPcTv takes a different approach and offers more content than most services like it. As a result, this review will be a bit long due to the robust platform this service offers.
How You Benefit
Access to 9,000+ live/on-demand TV Channels, videos, music & radio
Access to 97 or more countries
Small one-time payment
No hidden, monthly, yearly or additional fees whatsoever
Full lifetime Access
Service package with tech support
Direct online access; No PC TV software nor complicated Direct PCTV download
No cards, hardware/equipment to install or wires to connect
One source for all web TV viewing
Daily content updates
Safe and reliable to use 24/7
Instant access, once fee is accepted and approved
Great for creating extra TV at home with desktop
Great for creating mobile TV with laptop, tablet or mobile device
No illegal satellite/cable decoders or descramblers
Access to all kinds of free/paid content online
Connects to rentals and subscription TV/Video websites
Does Direct PCTV Work? The answer to this question is a definite Yes! However, this doesn't mean DirectPCTV will work for all computers or as well, due to other software and hardware installed. Old computers prior to 2006 may experience some issues. Windows discontinued support for XP OS, so no more automatic updates. I recommend using a newer computer such as Vista, Windows 7 or 8 operating system.
Is It Legal? In all my years researching, testing, writing product reviews and using these products/services for my own enjoyment, even I must question whether or not all the content is legal. Although some vendors state on their websites… 100% Legal… there is some gray areas to consider concerning some of the content you receive. Here are some of the things DirectPCTV is doing to make their service/product legal and not get shut down:
No hosting content owned by providers directly on their website
They claim no decoding/descrambling TV (Satellite and cable) signals
They claim no use of any illegal hardware/equipment
Legal documents are available and accessible on their website
DMCA Takedown procedure to avoid copyright infringement
Abides by the federal Digital Millennium Copyright Act (DMCA)
When visiting the directpctv.com website scroll down to the bottom of the page and you will see 5 links… Privacy | Terms of Use | Affiliates | links | DMCA Takedown. My suggestion is read those pages to learn more and see how they try to do the right things from a legal standpoint. The DMCA Takedown is especially important; Be sure to read it.
After conducting many reviews of different services that are related to this one, a few things became quite noticeable during my review of Direct PC TV.
The wealth of content available that you can't possibly comb through everything in a day or two or three days – perhaps not even weeks – which means there are many clickable links and a lot of ground to cover. But having said that, what also stood out is a great deal of thought went into designing the Members Area and doorways that lead you to many sources, whereas you have full control where you want to go and want to watch.
There's more than one way to view the media. You can easily find what you want when searching your local area as well as national and international regions. You can use the A-Z and 0-9 index to search for content or use the search bar to find the name of a specific channel or network.
Get Streaming Live and On-Demand Channels From All Countries Around the World. Watch Channels From Your Homeland…
(USA, Canada, UK, India, Russian Federation, Pakistan, China, Romania, Australia, Indonesia, Germany, Egypt, Kenya, Mexico, Malaysia, Switzerland, Ireland, Serbia, Algeria, Turkey, Italy, Sri Lanka, Iran Spain, Greece, Portugal, Philippines, Netherlands, Singa Pore, and Many More) – No Bangladesh TV at this time.
Some will tell you don't pay for these service because all the content can be found online totally free. Others say these products and services are ripe-offs, scams and don't live up to their billing. Frankly, individuals are not paying for free content that others claim. It's very clear that DirectPcTv helps access the content in a very practical, convenient and fast way, whereas members can click links to find exactly what they want to see over the Net quickly.
Another thing to note is Ecorp provides more information about their service and product than any other service I've seen out there, which sort of gives you the feeling they have nothing to hide. Be sure to review their 'Knowledge' (FAQ) section when visiting the official website and you'll get a glimpse of what I mean.
No doubt you are looking at this service with a serious eye but you do have a choice. Either go online and find the channels, videos, radio stations and music yourself or pay a service that have all the work already completed for you – Something to think about when weighing the benefits. For individuals who are only interested in watching one or a few channels or programs, the investment isn't worth it; they may be able to find the content they want on their own.
For those who don't have the time or unwilling to make the effort to try to find 100s if not 1000s of television programs online, perhaps the upside looks better now. With that in mind, this review will go through the core of the Members Areas so that you will be able to determine whether or not Direct PC TV is the right solution.
Members Area and Ease of Use
The Direct PCTV service have streamlined and organized the entire process of setting up a web TV viewing system with almost unlimited web content in a very convenient way. This means instant access that lets members search and find content to their liking. Everything starts in the Members Area and takes you where you want to go in straightforward fashion.
Remember, this is a robust web viewing content portal that branches out into the World Wide Web – where you'll find mostly all the television networks (local, national and international) including all the popular networks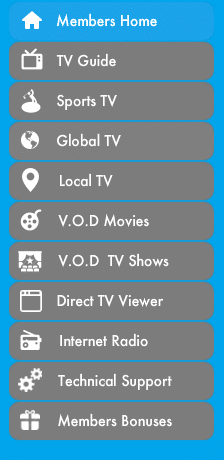 already discovered.
Once inside the Members Area, there's a navigation menu on the left side of the page (See images below). I highly suggest that you read each menu section/page and instructions before watching anything. This way you will do yourself a big favor and avoid mistakes, download stuff you shouldn't and know what to do when something presents itself.
Members Home
This section is the Direct-PcTv Members Home page which is the starting point where members visit after they are logged in with their username and password. Some basic instructions including 'Navigating the Members Area' are provided. This is a must read section that introduces the member to everything.
There's also a section titled, 'Viewing Instructions for Most TV Channels Provided' and another section that reveals the 'Top 44 TV Channels' as well as the top 133.
Tools & Info
This page also has important instructions to read which covers a very important aspect of watching TV online through this portal – Never, Ever download anything from 3rd party sites (pop-up ads & banners)! You'll also learn what browser should be used to view the content with more instructions covering each section of the menu you see in the image at right.
By the way, some links are provided if needing to download one or more web browsers not currently on your computer. Chrome and Firefox works best. Internet Explorer has issues with everything it seems.
Media Players
Newer computers (6 years and less) should already have the required media players. As for older computers (over 6 years) some preparation and upgrading may have to be done. Either way, this page is very helpful. It will familiarize you and tell how important to have the required media players installed. It's also a good idea to make certain each media player (special plugin) which plays different types of video/audio files are up-to-date.
I didn't download any of the 'Optional Media Players' with clickable links provided. But I did make sure the main media players were up-to-date on my computer and I did download the latest codec pack where a link was available.
TV Guide
I was very surprised to see this page. None of the other services/products I reviewed in the past offered a TV guide. Although one is offered here, you are instructed this is for viewing purposes only. There are no links to click that will take you directly to the source to watch a TV program inside the guide. However, you can use it to see scheduled times, name of shows and so on that are playing now or broadcast later. You'll have to go back to the Members Area where you can get to the source to view the program.
Popular Channels
Once you familiarize yourself with other important pages and instructions, this is where the entertainment begins. This page is called the 'Direct-Connect Popular TV Channels'. There are important instructions on what to expect such as channels that may not always be broadcasting and knowing what to do when there are pop-up ads as well as what not to do. Click the image to the left to see what popular networks are included.
Direct-Connect TV Viewer
The 'Direct-Connect TV Viewer' page provides different genres or categories with clickable links. Clicking any of them brings up sub-categories for you to choose which listing you want to watch. Below the video tells something about the program you are watching online. There's a chat box as well as if you want to converse with others – See image at left.
Global TV Links
This is the 'Direct-Connect Global' Links page that provides another way to view the content that interest you. Some instructions are provided and below it is a list of all countries, arranged in alphabetical order with TV network names included as clickable links. Just click any link under the country name to start viewing the program.
Local TV Links
This page is called the 'Direct-Connect Local TV Links' that list TV channels by country, region and state. It's very easy to use… I clicked the 'United States' link under the 'Americas' category and 'North America' sub-category which took me to another site with a set of listings. I clicked 'United States' again under the 'North America' category.
Under the sub-category 'Regional/Local', I clicked 'Pennsylvania' which is my state and found a list of local television networks to watch different programs. The content consist of on-demand videos for local news and so on where I could also watch the most recent broadcasts that aired earlier in the day.
Sports TV
If you are a sports fan, fanatic or just enjoy watching your local teams, you will not be disappointed with this section. It connects to many free live and on-demand sports and matches across the globe. This means you can watch mostly any ballgame including the playoffs, Superbowl and championship games online.
On the 'Sports TV Zone' page are some basic instructions that also includes many 'Direct Sports TV Channels' that are setup as clickable icon links with names of sports networks. Take a look to the image at left. Further down the page is the 'Sports TV Channel Viewer' and below that is the 'Live Sports Link #1-3' with even more sports to watch online. Game times and dates are listed as well for some of the content.
All types of live and on-demand sports are available on the Internet even links to subscription services. You can watch pro and college sports including football, basketball, baseball, hockey or tennis, boxing, tennis, golf, rugby, soccer and global sports as well. See screenshots below…
VOD Movies
On this page, instructions are provided for two different movie sites – Site #1 and Site #2. It's important to read the instructions to get the hang of getting access to films you want to see and how to handle certain things such as removing pop-up ads. I must confess that this Direct PCTV review should have been completed two days prior if it were not for three of the free full-length movies I watched!
VOD TV Shows
On this page, short instructions are provided with clickable icons of video on-demand major networks. Simply click the icon with the name of the network you want to start watching it. This includes watching sitcoms, episodes, game shows, soaps and other TV shows.
Internet Radio
This page is called the 'Direct Connect Live Radio' and gives you the ability to listen to all kinds of local, national and international radio stations via Internet. This page has one clickable link that takes you to another website strictly for Internet radio. You can 'Browse by Region' and narrow your search down to the state and city. There's also a list for 'Featured Countries', 'Featured Cities' and 'Main Genres'. Listen to all kinds of music, news, talk radio, sports talk, and so on.
The Direct PCTV service made it a point to discontinue their downloadable PCTV software due to many issues. I found this out when conversing with support via email.
You will see the red bold print when visiting this page that says, 'Direct-PCTV Channel Viewer – CURRENTLY BEING UPDATED – CHECK BACK LATER', but don't count on that happening anytime soon if at all. My hutch is there were probably too many complaints and refunds with this particular PC TV software.
Tech Support
This page is a huge plus. Rarely have I seen so much information on troubleshooting steps about web TV issues. In fact, I learned and applied a few things myself. I suggest you review this page to get a basic idea of the 4 sections covered:
Video Playing But Poor Quality
NO Video is Playing
Downloading Channel Viewer Issues
Getting Better Video Quality
You also get some quick tips to help you further as well as information on 'Five Ways to Connect Your PC/Laptop to Your TV-Set'.
Members Bonuses
Lastly, but not lease, there's the bonus page with over $200 worth of free bonuses related to watching TV online. Thank goodness Direct PC TV isn't offering unrelated ebooks as bonuses like some of the other services out there. This adds more value to the overall service/product. The 5 bonuses include the following:
NetSpyProtector
Pop-Up Blocker
Registry Cleaner
Security Software
WebLook TV
Although none of the bonuses were tested doing my Direct PCTV review, the 'Pop-Up Cleaner' may prove to be worthy if it does exactly what the name implies. If you don't have this protection, you might want to try it for your browser to help avoid unnecessary pop-ups.
My browsers already have pop-up protection but it doesn't save me from pop-ups ads embedded on the TV player to watch a particular program. Of course, your computer should have 1-4 above already installed on your computer. If not, you might to download them.
Compatibility/Connectivity
Internet Connection
It is suggested to use a broadband connection (DSL or Cable). DSL may be best the choice. The bandwidth can't be shared by other household computer users. Cable will work also but the bandwidth is shared with other household computer users, if any. A wireless (wifi) connection can work but some channels with larger bandwidths may not play as well or at all. Also make note that higher the connection speed greater the overall picture quality and overall performance. However if the source where the content comes from is bad, then there's nothing you can do about it.
Windows PC Desktop & Laptop
The service is indeed compatible to Windows desktop and laptop computers. Newer computers are recommended more so than old computers over 6 years.
Apple Mac and Linux Computers (Desktop & Laptop)
Although Mac and Linux computers are not listed on the DirectPCTV website, it is compatible to Mac OS and Linux OS computers now. Ignore what it says on the website where they only list Windows computer, tablet, and smartphone. Mac and Linux users can now enjoy watching the same content Windows users do. Keep in mind, a Mac and Linux computer were not tested during the Direct PCTV review.
Smartphone (Mobile Device)
Although no mobile device was tested during my Direct PCTV review, the service gives you the ability to watch television programs online via mobile. I was able to use a mobile simulator to watch a couple of channels (See images). But the question is… Can all the content online be viewed on a mobile device? I was told by support somee of the content can't be viewed. Movies may have to be downloaded to a computer first, converted and uploaded to the mobile device. Clearly, this is an area that will require some trial and error to figure out.
Update: I was told by support there is an issue with iPhone smartphones. It seems to be an iOS issue not allowing
those devices view many videos that are in an iFrame format. This does not include watching live TV channels online. All other devices, OS, etc., work just fine.
Small/Large Screen TV
In the 'Tech Support' section of the Members Area, list 5 different ways to connect your desktop or laptop to your TV-set. You can also visit YouTube to watch some tutorials on how to make the connection and find out what video/audio connector is required — Visit Connect TV to Computer
System Requirements
To find out whether or not your computer is compatible, just visit directpctv.tv and click the FAQ link at the top of their website.
Picture/Video Quality
So many benefits can only mean there are downsides to using this portal to watch TV shows online. And rightly so! If taking this approach to online entertainment, patience is a must. Not only that but those who are extremely high on HD picture quality may want to reconsider. In most cases, you get good to very good picture quality. On occasions, the picture is crispy clear (HD-like). Click the images below to have a closer look.
Pros and Cons
Pros
Members can certainly benefit from the streamlining and organization of clickable links that allow them to watch TV online. All the work is already done and will save time and effort if the goal is to have access to thousands of live/on-demand channels, videos, TV shows, sports, movies, news, sitcoms episodes, etc. Surfing the Internet totally on your own to find channels and programs to watch is eliminated.
The wealth of free content available is certainly a lot more than satellite and cable combine. And when considering the cost of a monthly subscription, it sort of makes Direct PC TV a no-brainer. Members are able to watch what they want, when and where they want through a computer, mobile or TV-set. Nothing beats having an extra television around the house that cost practically nothing or setting up a TV traveling companion via laptop to watch whatever is of interest — at work, college, or some place else.
Wherever an Internet connection can be made the user will have access to all sorts of global content (in any language). Literally, this can keep a person preoccupied for a lifetime. Another plus is tech support and wealth of troubleshooting information to assist with any issue that might occur. Direct PCTV provides more information that helps members and have put together more streaming media content which translates to the best of web TV entertainment. The web-based TV approach is better than TV software approach in some ways.
Cons
There are several downsides where one must consider if thinking about buying into this service. Here's a rough breakdown:
Picture/Video Quality – Streaming live TV programs and on-demand videos can have good to very good quality with some occasional blurry picture from some of the content. The picture quality tends to be better with VOD which can be HD-like at times. However, you will come across some videos where the quality is a little poorer than others. The good news is there's a lot of helpful information on this subject that you may want to try to improve the picture/video quality if possible.
Content – Some channels and other content won't be available for a number of reasons or don't work when clicking the link to watch a program. There will be times when a broadcast airs in a different time zone than yours and won't play at that particular time. However, playing it at a later time can be viewed and sometimes there will be more than one channel link to click on to watch the same program – if one link doesn't work, the other might.
Advertisements – Unfortunately, members must put up with pop-up ads embedded on the TV player which can be closed when clicking [x] on or near each ad. Other times there will be timer countdown ads that last 30 seconds or more before a TV program plays and you are able to watch it. There will be some pop-up banners and displays asking you to download something to your computer – DO NOT download anything!
The good news is there's plenty of instructions in the Members Area regarding this and will definitely help you over the long run to make things go a little smoother.
Commercial Breaks – Some of the content like free movies have 10-15 second commercials where only one commercial at a time plays at different segments of the movie; then resumes playing the movie where it left off before the commercial began. Sitcoms/episodes/other TV shows on the other hand will have the usual number of commercials just like your television at home.
Playing Channels – Some television shows/channels may take under or over 30 seconds to play; Some
links will open in a different browser tab and leave the page you are on. To resolve this issue and keep the current page from disappearing, simply right click on the channel link and click 'open in new tab' instead. If the channel's picture is somewhat blurry or has poor quality, try another channel link if one is available – the picture quality might be better
Lastly, I found the following somewhat a disappointment. At the time of writing my Direct-PCTV review, Fox Broadcasting was not available. I contacted DirectPCTV tech support about this and was informed Fox and Internet broadcasting was not available at this time. However, this issue is only related to the Ecorp service.
TV/Video Browsers: Some content websites take more time to open up and load than others – Some patience is required.
Aside from these downsides, they are not as bad as one might think. The help I received from the Members Area (namely the tech support page) and familiarizing myself with these issues have allowed me to move a little faster through them. But patience is a virtue, without it this service may not be for you.
The reward comes when you get to watch a favorite or popular sporting event, TV show, episode or good movie with hardly no interference once the program starts – it's well worth the effort. So far I've enjoyed watching different types of content over the web with this portal.
Membership & Service Package
Once the individual becomes a member, s/he will have lifetime access with no additional fee requirements whatsoever, according to eCorp. The service package includes channel updates and tech support 24/7. I tested their support over the weekend by sending an email with questions. On Saturday, I got a response and Sunday they sent a follow-up. However, this may not always be the case and it's best to expect a 2-3 day response. You might want to email them with questions and test their response time before signing up to the service. If you don't get a response, try emailing them again.
Price & Money Back Guarantee (Refund)
There's a 30-day money back guarantee available if for some reason the service/product falls short of your expectation. When signing up to the service, they send out an email to the new member with a support email included. Refund requests must be sent through the support email to the service. Generally, it takes 3-5 business days to receive a full refund once the service replies back. Also be sure to check the Junk/Spam folder if no email appears in your inbox.
VERY IMPORTANT! If you decide to make a purchase through the PayPal order form, you will be automatically redirected to the thank you page. This page will have the information for setting up your login details (username and password). Sometimes PayPal will put a "Continue" link to vendor after payment (not sure what triggers that at PayPal).
You must click the Continue or "Return to Merchant" link if it's displayed. Doing so will send you the Thank You page. If you don't follow through with this, then you will not be directed to the members area to login and start watching TV online. You will need to contact support to get the url to the Thank Page. Or you can contact me (see Chat Now box in lower right corner) and I will show you how to get access to the members area and get your login details.
PayPal does send the buyer a receipt of payment for Direct-PCTV that will list their support email, etc. Once you set up a login you will be sent a confirmation email as well — provided you contact support first, not me, to get the url to the Thank You page.
Is Direct PCTV worth the money? For the one-time fee of $39.95 USD, this is a middle of the road price compared to other 3rd-party web-based TV/VOD services. In my case study of this service/product, I had to become an affiliate to get access to all sale/refund transactions. When the case study was completed, results revealed a 96% success rate among new users who made purchases during 2016. See below…
Period: From 1/1/2016 to 9/11/2016
Total Transactions: 84
Total Declines: 9 (8 Duplicate Transactions & 1 Credit Card Declined)
Sales Transactions: 75
Total Refunds: 3
Success Rate%: 96% [3 Refunds/75 Sales x 100] – 100
Failure Rate%: 4% [3 Refunds/75 Sales] x 100
Now see for yourself. Below are screenshots of all transactions made by real customers that made purchases (referred by this website). No other product reviewer reveals this information…

Similar Product Owned by Same Service
There is another web-based TV product owned by this service that you might want to weigh in on. Only difference is the price ($29.95 one-time fee) and number of channels (6,000). Everything else is exactly the same such as members area, instructions, bonuses, money back guarantee, and so on. If you rather pay a cheaper price for less channels, then this product is the one to choose.
I tested both Direct PCTV and i-PCTV on my Windows computer and they are basically the same – I like both products. The screenshots I posted throughout this review applies to both products. If interested in this particular product, be sure to click the 'Knowledge' link when visiting the official website and read — the Q&A will provide more information.
Click Here To Visit the Official Website Now
Recommendation
By now, you have gone through the entire review or skimmed through different sections of interest. Remember, you are discovering a robust TV/Video portal that includes just about everything you can possibly imagine regarding television online. The pros and cons of course should be taken into consideration when trying to make a decision.
Consider for a moment that you have access to everything online, free content, whereas you can watch all kinds of live/on-demand sports (NFL football, NBA basketball, MLB Baseball, NHL Hockey, Soccer, Tennis, NASCAR, Golf including Worldwide Sports and Matches), all kinds movie genres and TV shows, sitcoms/episodes from across the globe including videos including listen to radio stations and music.
If you are searching for a service that direct connects you to both live and VOD (Video On-Demand) content instantly, at a very low cost, then you've found it. But you also get access to practically all the popular TV channels/networks (your favorites) from one location.
Having this wealth of instant content online might be the thought process and where the true benefit lies. You can have all the popular content right at your fingertips and if that's the goal, then it should make Direct PC TV worth a try.
After conducting my Direct PCTV Review and weighing all the pros and cons, I decided to keep it. Overall, I'm happy with it and can live with the downsides. Some patience will be required when getting the hang of things like time delays, closing pop-up ads, putting up with timer countdown ads and commercial breaks. Even though these negatives exist, I still recommend giving this service a try. The 30-day money back guarantee (full refund) is your safety-net if you somehow become dissatisfied with the service/product.
This concludes Our Direct PCTV Review
Click Here To Get Instant Access to Over 9,000 Web-Based TV Channels, Videos, Radio and Music
Like To Tell Us What You Think? Please Comment Below…
Direct PCTV Review
Usability

Reliability

Compatibility

Interface

Picture Quality

Entertainment

Support
Summary
Third-party web-based TV and VOD service direct-connects to live TV and on-demand streaming content online from many countries. Can watch entertaining live premium TV channels from many popular TV networks - around 150+ channels available. Can watch all kinds of entertaining on-demand videos. Users get access to Live TV, Local TV, Global TV, Sports TV, VOD Movies, and VOD TV Shows. Offers dedicated live sports sections that provides two ways to watch sports online. Can use any Internet-connected device with web browser such as computer, flash-enabled tablet, smartphone, chromecast, Smart TV w/ web browser, etc. Can also connect computer to TV either wirelessly or HDMI cable (or use compatible audio/video cable). Low one-time fee for lifetime membership with 30-day money back guarantee. Also includes bonuses.