You probably won't find many SO Player reviews out there if any at all. At least that's what I found out when searching Google and not seeing any reviews. But you're in luck because this is a review I'll provide all the details you need to know. Although not perfect, SOPlayer or SO Player (one and the same) is said to be a better app than NoraGo. This means no lockup or frozen pictures across multiple devices.
Note: The SO Player IPTV service changed its brand name and website design. However, it's the same ownership and everything else is the same also. See how to get free activation codes.
SOPlayer TV (middleware) is very similar to Nora Go by Setplex. Without getting too technical, the app can connect to IPTV and OTT platforms. Simply put, it helps manage live channels, radios, video-on-demand content, catchup TV, EPG (Electronic Programming Guide) which is a TV guide.

Compatible Devices
For example, the IPTV service delivers the content where the SO Player IPTV connects when installing one of many compatible devices.
Like Nora Go, SO Player requires the same compatible devices to watch TV online such as:
Amazon Fire TV/Cube/Firestick
Mag Box
NVIDIA Shield
Apple TV
iOS Devices (iPod, iPhone, iPad, Smartphone)
Android Devices (TV, Box, Tablet, smartphone)
Computers (Windows, Mac)
To Get Started and Watch Your Favorites Online Now, Click the Link Below to Sign Up…
SO Player IPTV 1 | Read Full Review ***Must contact chat agent to get the subscription
SO Player IPTV 2 | Read Full Review Here
NOTE: No longer compatible with iOS/Apple devices.
---
Alternative SO Player IPTV Service…
LUX Player IPTV 1| Read Full Review
LUX Player IPTV 3
NOTE: Also compatible with iOS/Apple devices

SO Player Reviews: What You Should Know
If the individual can find SO Player inside his/her smart TV app store, then it can be installed. However, according to recent users, they experienced some issues with the app. You check out 'User Reviews' when Clicking Here. But continue reading as there are probably no SO Player reviews that share my experience with this app that was successful.
There are some that have experienced an issue here or there. But from the many people I referred to IPTV services that use SOPlayer, hardly have I ever heard any complaints. It all depends on what device you're using and how new or old it is. To be fair, some issues may be caused by the IPTV service and not the app itself. If you want, you can read about the latest version of SO Player for Firestick.
Users must determine if the app or IPTV service is causing the issue if s/he has subscribed to an IPTV service. One can always contact IPTV support to help resolve an issue. If no IPTV service, then it's either the app or the device not compatible with the app.
Additional Info…
The developer(s) of SO Player IPTV performed upgrades to fix issues from time to time. I never experienced any issue using this app on my Firestick, computer, or Android smartphone. The best way to use the app is with a streaming media device.
Most smart TVs can not find the SOPlay app inside the smart TV app store to install it directly. In this case, a streaming media device is needed if wanting to watch everything on the television with a remote.
The cheapest most popular streaming media device to use that has great performance is the Amazon Fire TV Stick. It cost around $50-60. If SOPlay can't be found in the smart television app store, then you must sideload the SOPlay apk file with the Downloader app. Find out about the SO Player Downloader link.
Are you interested in reading about the SO Player Subscription Cost?
SoPlayer (So Player TV) Additional Info
My SOPlayer App review will shed more light on understanding this app as we continue. A number of IPTV services recommend using 3rd-party apps, one being Nora Go. But later on, many of them switched from NoraGo to the SO Player TV. There were some performance issues with NoraGo across some of the compatible devices. SO Player IPTV resolves those issues so I was told. Nevertheless, no app is perfect.
This is what the app looks like when connected to an IPTV service provider…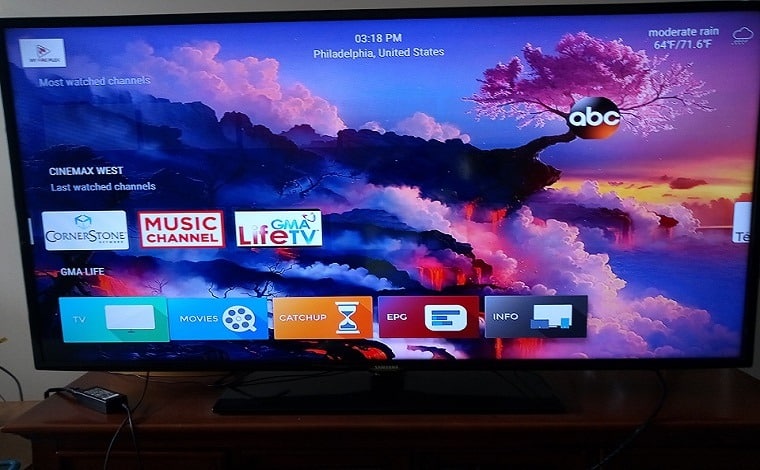 Understand that both apps are not standalone TV apps. They don't deliver any streaming content. This only comes from an IPTV or OTT streaming TV service that uses the app. Both apps require activation/login credentials from the IPTV/OTT service to activate the app.
The subscriber is provided with a Provider ID, Device Pin Codes, Username (all numbers), and Password (all numbers) by the IPTV service.
Individuals can download/install the So Player IPTV to his/her device first or subscribe to the IPTV/OTT TV service first. However, if downloading/installing the app first, the individual must subscribe to the service to get access to the login and activation details to activate the app.
I recommend downloading/installing the app first for this reason alone. You want to make sure: 1) The app can be downloaded on the device you want to use, and 2) No issues occur after installation.
Like Nora Go, SO Player is a free download. It is not a subscription so there's no reason to not try it out. But I would suggest finding the ideal IPTV service provider to use with the app. You can find an IPTV SO Player service below when visiting the Top 10 Comparison Chart…

IPTV SOPlayer Service Providers
You can find the best IPTV using SO Player that suits your needs. When you click, just scroll down that page to find the 10 Comparison chart. You can read the IPTV reviews also. You can quickly scan through many IPTV services side-by-side to see trials, fees, compatible devices, content, features, etc.
There's a 'Review' link to read a full review with a video review and 'Visit Site' link to go directly to the IPTV service website to sign up.
SO Player Channels
For clarity, there are no SO Player channels. Remember all live streaming channels and VODs come directly from the IPTV service provider. There are over 500/600 channels that include the US, UK, Spanish, French, and Filipino channels. You may also find local US and Canada channels. And there are Radio/Music channels with a lot more content coming from the on-demand sections.
If you are not familiar with IP lock/no IP lock, understand it's the IPTV service that determines whether or not you can stream from one IP location
or multiple IP locations.
Usually, an IPTV service allows you to stream x number of devices from one location or IP address such as from your home. This is what you call IP lock. However, there is no IP lock on mobile devices such as a smartphone. Laptops and Tablets or any other portable computer for that matter are not considered mobile devices.
With a smartphone, you can make different WiFi connections while watching TV online from the IPTV service (hence: No IP lock). Only one smartphone can be used this way to watch IPTV SoPlayer Channels.
SO Player Reviews: Pros and Cons
The SOPlayer TV, just like all other apps is without flaws. Some devices whether old or new may experience an issue as revealed when reading user reviews. But you should go ahead and install the app anyway.
There's really nothing to lose — it's a free download with no subscription. What didn't work for something else doesn't mean the same will happen to you. If I had taken that approach, then I wouldn't be writing this review telling you how well the app has worked for me.
If the app works and you find a great IPTV service to watch all your favorites online, then I would say you benefited tremendously with plenty of savings included compared to cable/satellite TV.
I have been using SO Player with a great IPTV service for some time now. Neither one is perfect but I enjoy watching many of my favorites online. The reliability of the app and IPTV service to be fair is probably around 90%. Expect a rare downtime but more so the IPTV service. But again, this is very rare. Some folks have a cheap backup IPTV service just in case.
In Closing
Though you might not find any SO Player reviews online, you can trust this SOPlayer review. I've tested and reviewed many IPTV services that use this app and can attest to having great success using it. Download SOPlayer (SO Player) when visiting the IPTV service you want to use and sign up for the subscription. You can get all the information and instructions including a link to download the free app by visiting the IPTV website.