My Thoughts...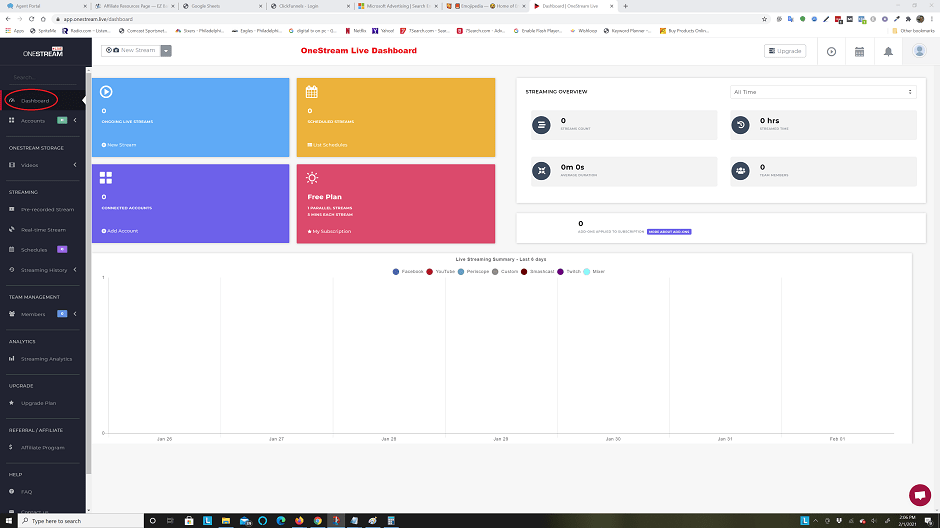 Product Name: OneStream Live
Product Description: A good Restreams alternative. The web-based app opens in web browser and allows you to live stream your pre-recorded videos. Upload your pre-recorded videos or record videos for live streaming to one more of the 40+ video social networks seamlessly and simultaneously. Can preschedule videos and comes with other features such as multicasting, looping, playlists streaming, and so on. Has cloud storage for videos and allows mov, mp4, mkv, webm, m4v video files. Comes with two basic streaming features: Pre-Recorded Streaming and Real-time Streaming. The latter allows configuring 3rd-party streaming software such as Zoom, OBS, Wirecast, XSplit, and so on. Can use any computer, tablet, or smartphone with Google Chrome web browser. Comes with support team and Help Desk/Knowledge Base with helpful information to learn more. OneStream Live is great for personal and business use to help streamline uploading pre-recorded videos and then uploading those videos to Facebook Live, Youtube Live, or other video social networks of choosing.
Offer price: 10.00
Currency: USD
Availability: OnlineOnly
Offer URL: https://onestream.live?deal=pbsump
Valid until:
Usability

Performance

Compatibility

Features

Flexible Pricing

Cloud Storage

Video Social Networks

Video Formats

Support/Knowledge Base
OneStream Live Review
OneStream Live is a cloud-based, web-based service and app used to schedule and live stream pre-recorded videos. You can also do real-time streaming to 40+ video social media networks such as Facebook, YouTube, and the list goes on. The app opens in a web browser via any computer,
tablet, or smartphone (iPhone & Android). It's recommended that you use the Google Chrome web browser for better performance.
The Pre-Recording Streaming feature allows uploading pre-recording videos to OneStream Live whereas the user can set streaming schedules. The user can set the date and time the video(s) will be streaming live to any number of social media platforms of choice automatically.
The Real-Time streaming feature allows the user to configure 3rd-party streaming software such as, Zoom, OBS, and others, whereas the user can re-stream to any number of video social media platforms simultaneously via OneStream Live. Video files accepted are mp4, mov, webm, mkv, and m4v.
There are many other features to help streamline the task at hand which essentially requires 3 steps: 1. Select a Pre-Recorded Video; 2. Schedule a Live Stream; Choose Social Networks out of 40+. The service/app will process and live stream the video to the chosen platforms seamlessly. They eliminated all the extra steps in having to upload videos for live streaming to various social media platform. Gone are the days where you must go to each social media platform and perform the same process tasks over and over again to schedule live streaming pre-recorded videos.
One Stream Live has gone on record saying they guarantee high quality streaming without downtime or buffering. There is a free trial with limited features and recording time but enough to test the service and app before opting into one of the three subscription plans: 
Basic Plan: $10.00
Standard Plan: $39.00/mo.
Professional Plan: $69.00/mo.
The user can also choose any number of Add-ons and Extras (additional subscription fees) that can be tailor-made to suit the user's specific needs such as Extra Stream Slots, Extra Stream Length, Extra Social Accounts, Extra Video Storage, Extra Team Members, and so. There's plenty of support From FAQs, Help Desk/Knowledge Base, and Team Members.  Support can be contacted via Email, Contact Form, Chat box, or through the Knowledge Base.  Individuals can use OneStream Live worldwide for personal or business use without being skilled. 
Pros
Saves time and effort while concentrating on creating great videos to stream live
Can multicast up to 40+ streaming video networks
Can schedule pre-recorded videos for live streaming to social media websites from up to 60 days in advance
Can use streaming tools such as Zoom, OBS, etc., and begin multi-streaming across social media platforms
Can Queue recorded videos in the order
Can import videos from Zoom, Google Drive, and others to save internet bandwidth
Can upload stored videos on computer or use any camera to record or capture your screen to live stream
Get up to 50 GB video file storage
Get Up to 8 Hrs Screen capturing
Get up to 8 Hrs Camera recording
Get up to 8 Hrs max / recorded stream
No installing software/app or setup needed
No experience needed – great for personal & business use
Manage team members
Access to detailed insights to live streams performance including user engagement
Save videos / use them to reschedule streams
Has add-ons w/ additional costs suitable to your needs and pockets
Go live with recorded 180° or 360° videos
Free trial w/ limited features
Support team
Cons
Free trial w/ limited features, such as 5 minutes of streaming
No refunds – May be better to opt into monthly rather than annual subscription to check reliability
Real time multi-stream needs improvement, but it is already on track
Issues may arise when posting live streaming pre-recorded videos to some social networks but support is working on it
OneStream Live Review: Live Stream Pre-Recorded Video on Social Media Networks [Restream Alternative]. If you are looking for a way to streamline your uploading and posting prerecorded videos to one or more of your favorite live streaming social media networks simultaneously such as YouTube and Facebook, then One Stream Live may be the thing you're looking for.
And if you want a number of important features that can enhance the process while saving you time and effort, then read this review to see if OneStream Live has what it takes to be that solution.
Call it a SaaS tool, app, or web-base/cloud-base app. Whatever you want but the latter sums it up better. There is no software to download or skill set needed. Anyone can use the service and web-based app for personal or business use to handle what's needed to stream live pre-recorded videos.
Before we dive deeper into our review of OneStream Live, don't confuse this service with another service that has a similar name HERE. If it doesn't have 'Live' in the brand name, then you know you're at the wrong website.
In a hurry, click below…
Check Out Trustpilot – Consumer Reviews Here
New Version Update 6.3.4
Live Spaces – Create and customize your personalized stand-alone live streaming webpage using OneStream's new embed player feature – Live Spaces. Live stream on your webpage without buying any expensive hosting, whether or not you have a personal website.
Ecamm Live – Ecamm Live, the all-in-one live streaming production application for Mac, is now integrated with OneStream Live. Tap into OneStream's intuitive capabilities and couple them with Ecamm's powers to deliver a magnificent live streaming experience to your viewers
Adaptive Bitrate Streaming (ABR) – Deliver your live streams more efficiently and with the highest possible quality for every individual user. Enjoy OneStream's ABR Streaming capabilities for a premium-quality live streaming experience.
Mobile Live Streaming – You can now live stream your real-time videos directly from your mobile phone, so broadcasting from a remote location is no more a challenge.
Unified Chat – Forget the hassle of switching between tabs. Access all your chats on one screen and respond more efficiently to your audiences
UPDATE:
Here's a snapshot of all the recent feature enhancements now integrated with OneStream Live:
✅ Real-time Live Streaming – OneStream now allows the users to live stream real-time videos in addition to the pre-recorded ones.
✅ Playlist – The users can create a playlist of pre-recorded videos up to 60 days in advance and schedule them to go live at their desired date and time.
✅ Open Captions – Open captions/subtitles can now be added to pre-recorded videos, both from the desktop as well as the mobile phone.
✅ Mobile apps – OneStream Live is now available on both Android and iOS for streaming pre-recorded videos directly from the mobile phone.
✅ Enhanced storage – Frame.io and Box Storage are now integrated with OneStream Live in addition to OneDrive, Dropbox, pCloud, and Zoom recordings.
✅ OneStream Social account & Embed Player – The new OneStream Social Account allows the users to live stream pre-recorded or real-time videos on their private channel or any external website by using embed code.
✅ Periscope – is no longer integrated with OneStream.
OneStream Live Benefits and Features
OSL has a wide range of features that benefit you greatly to get the most out of your live stream pre-recorded video production as follows:
A good Restreams Alternative…
Streamlines live stream prerecorded videos to multiple social media platforms simultaneously
40+ popular video social media platforms to choose from and connect
Schedule pre-recorded videos for live streaming up to 60 days in advance
Process and live stream to chosen platforms seamlessly
Real-time Streaming via Zoom and others
High quality streaming without buffering or downtime
Video file storage via computer or cloud storage (Dropbox, Google Drive, etc.)
Queue recorded videos in any order of your choice
Different upload options
OneStream storage
Audience Analytics
Audience Engagement
Customizable Branding
Multistreaming
Performance Monitoring
Session Recording
Split/Multi-Screen
Video Monetization Tools
No installations or setup needed
Can be used to manage your own team members
Can use camera to record yourself or capture your screen to live stream later
360° videos supported
Video Looping
Acceptable video files: mp4, mov, webm, mkv & m4v
And more
There are plenty of features that many of the alternatives such as Livestorm, Hubilo, GoTo Webinar, and others don't give you.
Users can record his/her video using a mobile camera, computer, or can capture everything on his/her device's screen, and then schedule it to go live to one or more social media platforms.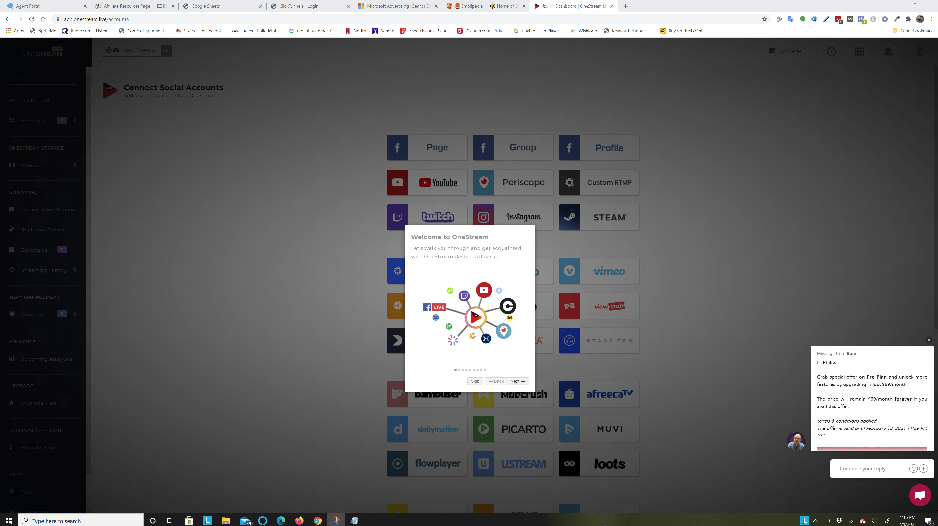 Two Basic Streaming Methods to Use At Your Convenience
Pre-Recorded Streaming
You can upload your video to OneStream Live and set the streaming schedules you want to use. Then set the date and time you want for your videos to be streamed live to your chosen social media platforms automatically.
Real-time Streaming
Here you can configure any 3rd-party streaming software such as Zoom, OBS, Wirecast, XSplit, and then restream to multiple video social media networks simultaneously via OneStream.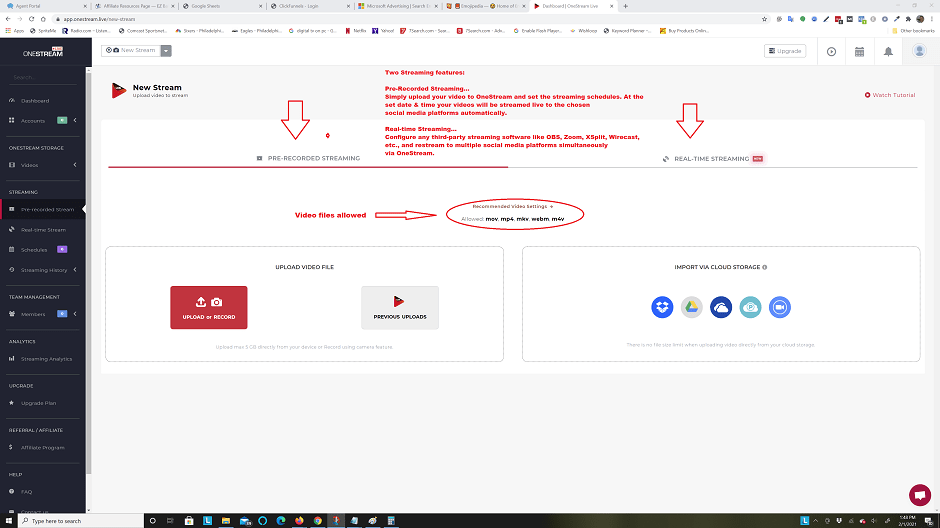 You already know that setting up any video streaming on social media can be a very tedious and time-consuming task, even for professionals. I found that OSL streamlines the live streaming process for you and does it well.
What I found during my OneStream Live Review is that you save time and effort, leaving you more time to concentrate on creating personal, business, or marketing videos to stream Live.
OneStream Live Team Management Feature
If you have a business or do marketing work on a large scale, you may be interested in the OSL Team Management feature.
This can be very helpful if wanting someone to take some of the work load off your hands. For stance, a team worker or workers can schedule video streams and have them uploaded across many of your social media platforms for you.
So if you have a number of social media accounts such as YouTube, Facebook, Instagram, Twitter, where you want your videos streamed too, this work can taken off your hands. The same also applies if you have Facebook Fan Pages, Private Group, another YouTube channel or account, etc.
You can have team members without granting them admin rights to your social accounts. For instance, let's say you want to add a team member, you
would become the team owner and the worker would be added as the team member. It's the same process if you wanted to find your own team member(s) or VA (Virtual Assistance).
A team member or worker can schedule streams that you lay out for him/her when given that person access rights.
Audience Analytics
If you are a marketer, then you understand the important of your ROI even more so. You can check your audience analytics to see whether or not your live streams are engaging with your audience or how much engagement.
Just view your native analytics for live streams on YouTube, Instagram, Facebook, YouTube, or any one of your chosen channels for live streaming.
One Stream Live makes marketing easier when providing streaming analytics for many of your channels in a single view.
All I had to do was click the "Streaming Analytics" tab from my OneStream Live dashboard to see the performance of my live streams. You can view your analytics over the Past Week, Past 4 Weeks, or longer.
Breaking Down OSL Features Further…
360° Videos Support
You can engage all viewers when going live with recorded 180° or 360° videos.
OneStream Storage
Saving videos and using them to reschedule streams are easy that not only saves time but saves bandwidth too.
Analytics and Insights
Access to detailed insights to live streams performance including user engagement.
Team Management
If you have team members, you can manage and collaborate with them to enhance live streaming more efficiently.
No Software/app Installations
You get a web-base/cloud-base app/service which means no installing software/app or setting up needed.
Various Upload Options
You can upload a compatible video file stored on you computer or if you want use any camera to record or capture your screen to live stream at a later date.
Cloud Storage Integration
For more video storage, OSL lets you import videos from Zoom, Google Drive, OneDrive, Dropbox, or pCloud recordings and reduce internet bandwidth.
Custom RTMP Streaming
Here you can configure and stream to Custom RTMP streaming destinations from a Server URL and Stream Key.
Playlist Streaming
Something else you may like as well. You can queue any or all recorded videos and preset them in any order you want plus schedule your videos to stream live across multiple video social media sites.
Social Media Streaming
Here's the fun part, you can multicast one or more of the 40+ streaming networks such as YouTube, Facebook Live, Twitter, Instagram, Periscope, Twitch, and so on.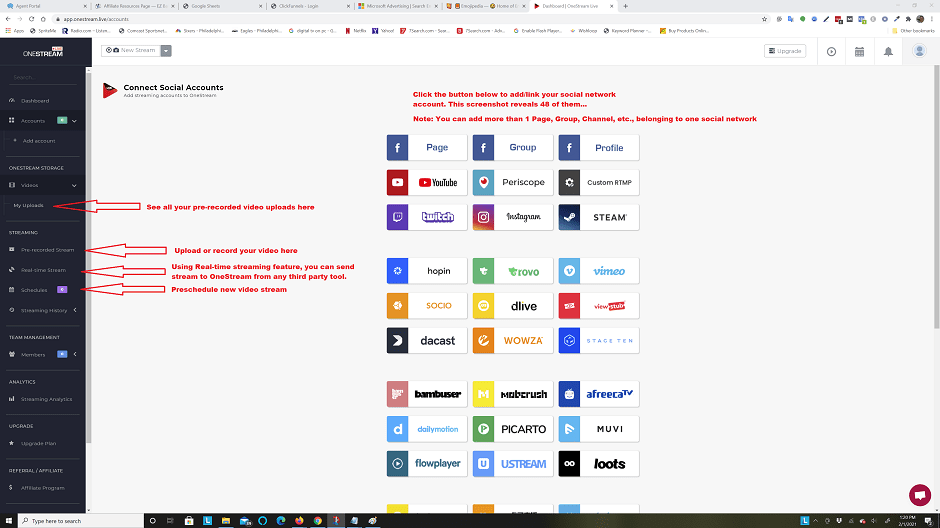 Live Stream Real-time/Recorded Videos
Either go Live or schedule your recorded video streams to any one of the 40+ social media platforms simultaneously.
OneStream Live 3-Step Process
In my OneStream Live Review, I found that it's really a 3-step process to complete my live video steam setup and distribution:
Select Pre-Recorded Video
After recording my video, I uploaded the file stored on my computer when clicking the 'Pre-Recored Stream' link inside the OneStream Live app on my Chrome web browser. By the way, Chrome is the best browser to use. Keep in mind that I could have uploaded the video via cloud storage (Dropbox or Google Drive) to stream live.
Schedule Live Stream
Next, I chose the date and time that I wanted to stream my video live and have it start automatically.
Choose Social Networks
Then I selected all my streaming destinations, meaning video social media platforms that I wanted my recorded video to stream live. OneStream Live then streams it at my set time. All the transcoding, processing and live streaming are handled automatically.
There's one thing here to note. Issues can arise so I suggest that you test everything before going live. You don't want to have an audience ready, willing, able, and there's no presentation. So always try to test before your live stream pre-recorded video first.
One Live Stream Pre-Recorded Video Example
I wanted to LiveStream one of my pre-recorded videos on my YouTube channel. For that, I had to give authorization on the OneStream.Live page in order to give access for the Google login.
Next, I uploaded my video to OneStream.Live and then set my broadcast settings which included entering the title, description, tags, broadcast time, date, and so on. My video was delivered as an real live video presentation.
Performing this the first time was a bit slower than the other times that followed. As I began to get more familiar with everything, the setup started to become much quicker.
It's important to note that YouTube, Facebook, and some of the other streaming media platforms don't allow users to live stream pre-recorded videos directly. You need a 3rd-party app or tool like OneStream Live to do the job when uploading to stream your pre-recorded video.
As far as functionality goes, OLS has many bells and whistles to enhance and quicken your presentation process.
OneStream Live App and Compatible Devices
To make sure you understand the OSL app is web-base. There's nothing to install. You can use any computer, tablet, or smartphone (Android or iPhone) with a web browser. The recommended browser to use is Google Chrome. This will give you the best performance.
You can complete the task at hand at home or while traveling as long as you have and can maintain an Internet connection. I suggest having a fast Internet connection during the uploading process, especially when you have a rather large video file. As far as large video files, I'm going to cover that as well when breaking down the subscription costs.
OneStream Live Free Trial, Subscription Costs, Refund
What follows now is a breakdown of what you get in the free trial and 3 subscription plans including costs and Add-ons/Extras costs. There is no single OneStream Live cost as they try to meet your needs with a number of features per subscription plan.
What I like about OSL is that they give you a number of options or should I say Addon features that you can have tailor-made for you and your pockets.
Free Trial
The free trial does not require a credit card. You simply sign up when entering your email address and creating a password. Then wait for the email that should arrive immediately after completing the sign up process. Open the email and follow instructions to confirm/activate the free trial.
What you get in the OneStream Live free trial:
Note: The free trial comes with limitations as follows…
1 Scheduled stream possible at any given time
5 min max each live stream
1 connected social account
5 GB max video file size (when uploaded directly)
Camera recording and screen capture
There are a number of additional limitations such as:
No Multicasting, Real-time Streaming, or Playlist Streaming
5 min Camera recording and Screen capturing
1 Queued stream at one time
Note: Keep in mind, the free trial will include the OneStream brand name. To remove it, you must pay the subscription. Also note your video can be up to 5 minutes long.
You can get a complete breakdown of everything that comes with the trial as well as each of the following subscription plans when visiting the OneStream.Live website.
3 OneStream Live Subscription Plans – Monthly & Annual
Basic Plan: $10.00/mo.
Everything included in the free trial plus the following:
Multicasting – prerecorded video only
3 Queued streams at one time
15 min max / recorded stream
3 Social accounts
15 min Camera recording
15 min Screen capturing
360° videos supported
Looping allowed
5 GB file storage
Email support
Note: Your video can be up to 15 minutes long.
Standard Plan: $39.00/mo. (limited time offer, was $45/mo.
Includes the following:
Real-time Streaming
15 Queued streams simultaneously
1 Hr. max / recorded stream
25 Social Accounts
Unlimited file size via cloud
60 min Screen capturing
20 GB file storage
Priority Email Support
No video file size limit when uploaded via cloud storage
Custom Logo / Overlay – Add your own logo & branding live streams
Team management – Invite people to your team, so they can contribute & help managing recorded live streams for the social accounts you connect.
Team Storage – Share your storage with your team members
2 Team Members
Analytics & Insights
Note: You can opt into a lower monthly subscription and then build what you need when opting into any one of the add-on subscriptions. You get 60 minutes of recorded video time.
Professional Plan: $69.00/mo. (limited time offer, was $99/mo)
The following is included:
30 Queued streams at a time
Playlists Streaming Allowed
8 Hrs max / recorded stream
50 Social Accounts
8 Hrs Camera recording
8 Hrs Screen capturing
50 GB file storage
Live Customer Support
4 Team Members
Facebook Live Crossposting
One-on-one training – In-depth training for every member of your team to help you get the most out of OneStream
Dedicated customer success manager – Get an appointed specialist to assist with all of your streaming needs
OneStream Live Addons/Extras are available for your choosing that can be tailor-Made for you to fit your Pockets. There are too many additional cost for extras to be listed here so I'll give you the basics. When visiting the OneStream.Live website, you will see each cost one by one.
Note: 8 hours of recording time.
Add-ons/Extras
Extra Stream Slots: Many slots from +5 to +200 are available at different price sets ranging from $10-$99 per month.
Extra Stream Length: From +15 to +180 minutes at different prices ranging from $10-$25 per month.
Extra Social Accounts: Get +5 to + +200 accounts ranging from $10-$99 per month.
Extra Video Storage: Get +10 GB to +500 GB from $10-$150 per month.
Extra Team Members: You can get +2 to 10 team members to assist you at $10-$25 per month.
And there's more but you need to visit the website to check them and the cost for each.
Note: When choosing a subscription plan, you can have it set it up to pay either monthly or annually. But understand if you choose annual and want to cancel, there is no refund. The subscription will continue to it ends.
So I recommend choosing monthly until you are completely satisfied with the OneStream Live app, service, and reliability.
Refund
It's important to note there is no money back guarantee or refund. If you decide to cancel your subscription, it will continue to play out until the subscription ends whether or not you continue to use the app OneStream Live service. Once the subscriptions, you won't be billed again.
Support
Support has a good response time getting back to you. I also checked other users comments that stated the same. However, some of them mentioned it takes support a little longer to correct an issue when contacted. That was then and I'm not sure if that's the case now. I suppose it depends on how serious the issue.
There are a few ways to contact support and getting help as follows:
Email
Contact Form
Chat box
Knowledge Base
Note: You may not see the chat box in the lower right corner because of the display that says "This website uses cookies" which covers up the chat box. Just click the 'OK' button to remove the display so you can get to the chat box.
The Help Desk/Knowledge Base section is filled with articles/posts with additional information, training, and help.
OneStream Live Review: Pros & Cons
PROS
OneStream Live gives you many if not all the live stream pre-recorded video features you need. If you ever tried to do this manually and upload your video to more than one video social media platform such as YouTube and Facebook, then you understand how much work is needed.
OneStreams helps streamline the process in one place so that you put more time into perfecting your OneStream video presentation. There are over 40 video social media networks to send your pre-recorded video for live streaming across. Simply set and forget when pre-scheduling the date, time, and where.
They are not perfect but neither are their competitors like Livestorm, Hubilo, BlueJeans, EventMobi, ClickMeeting, Restream, LiveReacting, and so on. The free trial with no credit required is a no-brainer that lets you test the basics.
With features like pre-scheduling up to 60 days, Facebook Live Crossposting, real time live re-streaming, Upload videos directly from cloud storage, Camera and screen recording, team management feature that helps delegate your streaming work, adding your own own logo/overlay, Video Looping, video storage, and supports 360° videos, you're in the driver's seat.
And you get more features such as Access Control, Audience Analytics, Audience Engagement, Moderation, Multiple Camera Feeds, Multistreaming, Performance Monitoring, Session Recording, and Split/Multi-Screen.
You can interact as well as manage your audience comments without having to worry about being 'Live'. Whether you know this or not, live video is given more attention in Google which translates to higher ranking.
You being the broadcaster will be able to interact with your audience in
a more coherent, cohesive way rather than stopping the content when answering questions. There's so much more you can do with this tool.
You can also click the "Streaming Analytics" tab from the OneStream Live dashboard to view your live stream performance.
CONS
The Free trial has limited features, such as only 5 minutes of video recording time. So if your OneStream video is going to be longer than that, you'll have to subscribe to get more minutes. Also, keep in mind the OSL brand name will be visible if you opt for the free trial.
You may come across a glitch at some point. The best thing to do is test your video presentation before it goes real time. There is no refund so it would be wise to test the free trial first. The subscription will continue until it runs out and you won't get billed again.
Although some users have said real time multi-stream needs improvement, I am not sure when it was said. This came some time before my OneStream Live review. I haven't tested the OSL app service for one month when writing this review so I can't say how reliable the app service really is. You'll have to be the judge.
Getting a solution to an issue that may arise could take longer. Some users have said this was the case for them. Again that was then and I'm not sure if this holds true now. You can head over to Trustpilot – Consumer Reviews and read many user comments yourself.
Conclusion
There are many live stream pre-recorded video solutions out there that can help automate the process. Onestream Live is just one of them that gives you more flexibility.
For instance, you can opt into the Basic Plan for $10 per month. With that plan, you can choose any number of add-ons or extras to meet your specific needs. Moreover, OSL can be tailor-made to focus more on enhancing certain features most important to you.
You will find similar services that are a little more pricier with some or many of the same features, and require more time to set up. For example, I came across a service that required some extra setting up when having to enter auth codes, stream codes, API keys, etc.
You already know that 40+ video social networks are already integrated inside the OneStream Live app. That alone is a great feat within itself and shows a great deal of streamlining one can appreciate.
With all the features included and not having a problem getting setup, along with an user-friendly interface, I can honestly say it would be worth your time to give it a try. You don't need a credit card to test the free trial.
This Concludes Our OneStream Live Review