I don't know why people called it the IBO Player Activation Code but if I understand correctly, they may be referring to the Device (Mac) ID and Device Key. But part of this IBO Player Activation also includes the playlist.
When IBO Player is downloaded and installed to any compatible device, it must be activated like any other TV app. The free app cannot activate itself nor can it deliver any streaming TV/VOD content by itself. The same goes for any TV app you download and install.
You can read the full review here.
Video Tutorials…
IBO Player Review
Installing IBO on Samsung Smart TV & See It In Action
How to Install IBO on LG Smart TV TV & See In Action
Install IBO on Firestick/Fire TV & See Everything Inside

IPTV Reseller Activation Code
If you are referring to the activation with coupon code for resellers, then this article is not for you. As for other individuals that want to download/install IBO Player and activate the app to watch TV online, this article is for you. As for the ladder, you need to get the activation from the IBO IPTV service which is a different website. But understand that there is no discount activation code for you. Read on…

Where to Get the IBO Player Activation Code
You must find a top IBO IPTV service provider to pay for the subscription. They will activate IBO Player and deliver all the streaming TV/VOD content for you to watch everything online. The app connects to the IPTV service servers so that you can watch your favorites from the app that's installed on your compatible device.
I have made this very easy for you whereas you will have two IBO Player IPTV services to choose from. Once you identified the IPTV service and know what app(s) they support, it doesn't matter if you install the app or pay the IPTV subscription first.
You want to make sure there is an IPTV service that supports the app, in this case, IBO, before installing it.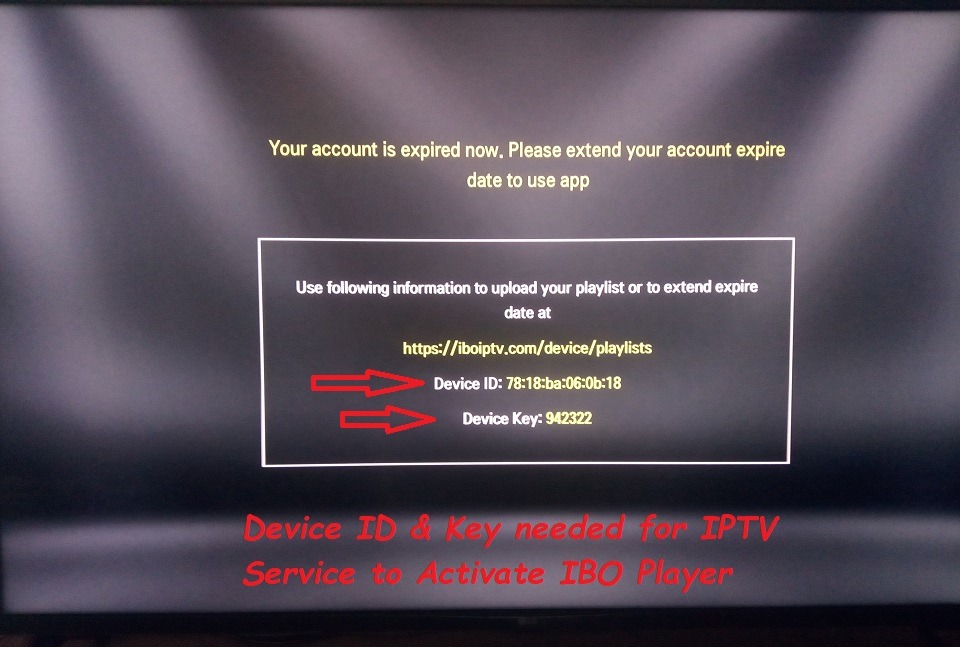 When the IBO app is installed and opened, on the IBO screen, you will see some instructions. If you are a first-time user of the app, there will be some info about the 7-day trial. When that ends, they ask for an annual donation (around $3.00).
However, you don't need to be concerned with this because the IBO IPTV service recommended will take care of that fee for you. Also, on the IBO screen, you what many call the IBO Player Activation Code which is the Device ID and Key. And they mention the playlist and where to go to install it.
However, you will bypass all the extra stuff when providing the IBO IPTV service the Device ID (Mac address), and Device Key. You will email them this info to commence the IBO Player Activation. But before you can do that, you must pay the IPTV service subscription fee to activate IBO Player.
You can read the full review here.

How to Activate
With your IBO IPTV subscription paid for and after sending the IPTV service the IBO Player Activation Code (Device ID & Key), you must wait. They will contact you by email. Until then, what appears on the IBO Player screen will remain. Once the app has been activated by the IPTV service and you open the player, the screen display changes. See the image below…
You now see inside the IBO Player with all the streaming TV/VOD content provided. The IBO Player activation now allows you to access and watch all your favorites online. That's it in a nutshell. The IPTV service will take care of the playlist, you do nothing.
When I completed the entire download, installation, subscription, and activation process, I had to wait for activation. Like me, you should get an email that lets you know the app is activated. You should get the email the same day or the next-day depending on when you subscribed. Another thing is the IPTV service will email you the IBO installation setup (step-by-step) instructions with links.
Something Else You Know…
There is no EPG (TV guide). At least not for the Samsung and LG smart TV with IBO installed. I don't know if this is true for all compatible devices but it may be. However, both IPTVs that I'm recommending support other apps that do have the EPG. If this is a feature you must have, then you might want to install the other app. You can contact the IPTV service beforehand to find out more.

Recommended IPTV Services for IBO Player Activation
There are two IBO IPTV services that I recommend. Both are top IPTV services and belong to the same ownership. Both IPTVs also support other TV apps but the IBO app is the most popular. But remember, there was no EPG (TV show) for smart TVs which may be the same thing for all other devices.
Both IPTV comes with low-cost trials and they have several subscription plans with a different number of months and number of device connections. You'll get access to 100s if not 1000s of live channels (premium, some local & regional, etc.). There are 40 or more countries including channels from the US, CA, UK, and Australia.
You get access to major TV networks to watch movies, sports, news, documentaries, kids' shows, and other TV shows. There is a high-live sports package included along with PPV. In addition, you will find VOD movies and TV series, music/radio channels, and so on.
Additional Info…
Both IPTVs are great for anyone worldwide that wants access to streaming content from their homeland. And those who want access to other countries.
Your IBO Player Activate will not prohibit you from watching channels from any of the 40+ countries. Both IPTVs use a No IP Lock system, meaning you can change your IP address. This allows you to use a VPN service if you like (optional).
When traveling near or far, you can use any compatible device to connect to the IPTV service and watch your favorites online. You are not limited to using just a smartphone when traveling like many other IPTV services/TV apps.

In Closing…
Whether you want to call it IBO Player Activation Code or just plain IBO Player Activation, it requires knowing the Device ID and Device Key. This also comes with a playlist. You don't need to do any extra work because either IPTV service you choose will make the setup process easy for you.
Or…