There is an issue with WYA TV. If you were hoping to get WYATV Customer Service (support) or the WYA TV Username and Password, you're out of luck. If search for the WyATV website, it's no longer online. i don't know if this is temporary or permanent but it's certainly not a good sign. Especially if they haven't contacted you about the issue they are experiencing.
I test-reviewed many TV apps and IPTV services over the years. I've seen some come and go. Not just SO Player IPTVs but other IPTVs supporting other apps as well. What I don't know is whether or not WYA TV is still providing streaming TV/VOD services to its subscribers.
I never test-reviewed them. I can see their website is no longer online and there's no way for me to contact them. This in itself presents another problem. You can visit their WYA TV Facebook Page Here and read through the posts. Even though the posts are old, you will see there have been some issues with their support.
Additional Info…
Generally, when an IPTV service goes down, many subscribers search online and end up coming to my website right here. This is how I know to look further and see if an IPTV service is out of service or the website is gone from the web.
So if you are inquiring about the WYA username and password or WYATV customer service, you'll get nowhere. It's time to move on. Soon I'll show you how to do just that and find a better SO Player IPTV service with the website fully intact. And more importantly, get support when needed.
I will also point you to similar IPTV services with different apps whereby all of them require the Provider ID, Username & Password, including the Device Pin Codes. Only one of those IPTVs doesn't require the Provider ID.

You Have The Decision to Make
If you can still watch your favorites online with WYA TV, then the question is do you feel they are reliable? If not, it's time to explore other options. You should have several SO Player IPTVs and similar IPTVs on hand should you ever want to make the switch. After all, getting support is just as important.
Don't worry, soon I will provide you with a list of IPTVs that use SO Player and similar apps with better customer service/support. Subscribing to an IPTV service with a chat box on their website is the best way to go. You get questions answered and support quicker.
The WYA TV username and password are similar to other IPTV services where you can get a new username and password. So I'm going to point you to them where the same app is supported. I will also throw in other similar IPTV services with similar apps.
Additional Information…
I assure you that you'll get customer support, unlike WYATV customer support which is no more. Also, there is no WYATV customer service number. Again, it's time to move on.
If you still have money that you paid on your subscription that hasn't expired or paid for additional months ahead, expect to take a loss. Usually when these IPTV services go out of service, not only don't you get notified but your money is gone too.
You can try to contact your bank to request a chargeback and see where that goes. But in the meantime, understand that this is the nature of the beast. IPTVs can come and go, not all but some. Some of them close the doors to new subscribers when they meet their quota for the number of subscribers allowed.

Top SO Player IPTV Services & Similar IPTVs
Here is where I point you to some SO Player IPTV services and similar IPTVs with similar apps. They have been tried, tested, and proven to be worthy. There is support available and visible website for you signup to pay the subscription or get the trial, and renew your subscription when time. See the list below…
You should bookmark/save each IPTV service listed above to have on hand when you want to make the switch. Again each app listed require the same activation/login credentials as SO Player. Only the LUX Player app doesn't require the Provider ID.

WYA TV Username and Password
For whatever reason you can't get the WYA TV username and password, there's not much you can do if there's no support to help you. I received the following message in my chat box…
"What is a good one I can use that will use norago or soplayer? I use Apple TV products. I have been with WYA TV for years but they are non-responsive. Looking for a good service."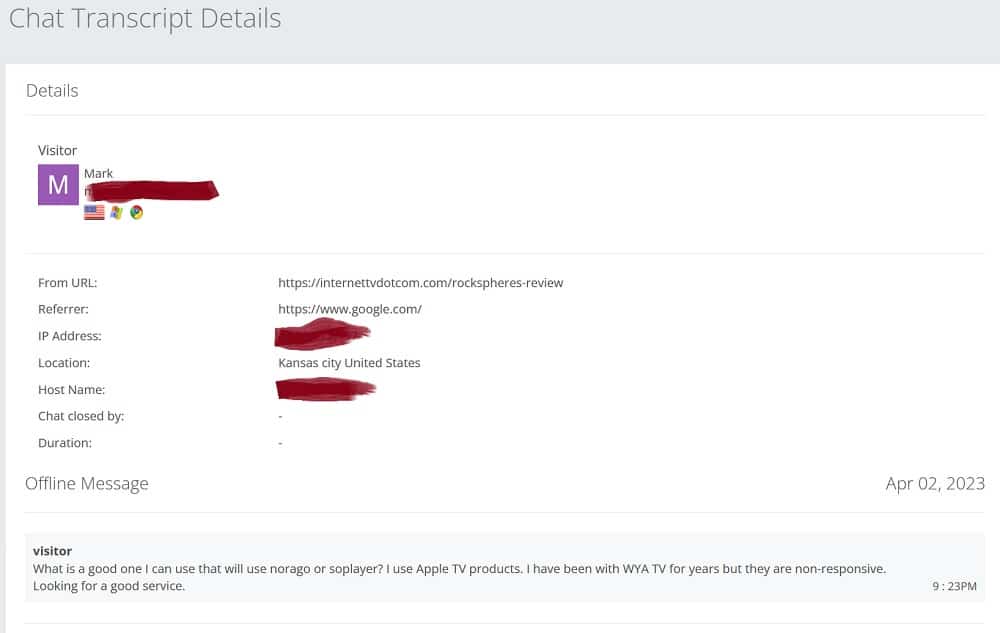 As you can see there is no WYA customer support or number. In fact, there's no website to contact to get any support. You can't get the WYA TV username and password if needed. I am not 100% sure you can make the WYA TV payment anymore. But even if that were the case, is WYA TV reliable? What does your gut feeling tell you? If it were me and having seen it all, I would move on to another.

Don't Get Discouraged
Let this be a lesson learned. When subscribing to another IPTV service, you may want to pay for one month only. Paying months in advance has some risks as you can clearly see.
I know some people will stay with an IPTV service while issues exist and go down with that ship to the bitter end. If all the signs are there whereby the website is gone, you no longer can make a payment or renew the subscription, or get support, why wait around?
Some people hope for the best and will wait it out or do so because they don't want to start over. I also know that some individuals had someone help them get everything set up. They don't have the foggiest idea of what's required to start over.
They don't know what an IPTV service is or its name, let alone how to install a TV app. As for those individuals, they must continue relying on someone close to them to get set up to watch their favorites online.

No Point In Bothering Other Websites
If you search the web trying to get help concerning the WYA TV username and password or WHYATV customer support, it's a waste of time. Think about it. Who else is going to know anything about your account other than you and your IPTV subscription service? No one can help with the issue.
Never go online searching for other sources to get help or support regarding your IPTV service account. Many individuals come to our website and we cannot help them, especially when there's an IPTV closing.
There's only one thing to do: Start over and find a top IPTV service that supports the same TV app or a different app.

In Closing…
You can always go to our How-To Video site and search for an app or IPTV service that we reviewed HERE. I also suggest signing up to get our Free IPTV Setup Guide to learn the basics, stuff that no one has told you about plus additional information that will help you more.
Choose an IPTV service that I listed above to subscribe to. Once the subscription ends, you can renew it with no problem. Should that IPTV service go down, you have other IPTVs in the list above to make the switch.
When doing so, you get a replacement for the WYA TV Username and Password. The IPTV service will email you a new set of login details. And you get a replacement WYATV customer service, one that's on hand right now if you have presale questions or need help.