How to Watch TV in Laptop, Laptop on TV With Internet, or Watch TV on Computer, PC, Desktop, Mac or Linux

First, we are going to talk about and provide how to watch TV on laptop with Internet setup instructions. You can use the Internet without other hardware, set-top box, or antenna. IPTV services make watching TV on laptop easy and very affordable without losing what you love to watch. Then I'll provide how to watch tv on laptop without internet setup instructions.
By the time you are finish reading below, you will know exactly what to do to get setup and start watching your favorites online or offline.
Something New!…
How to Get Access to and Watch Live Premium Channels, VOD, CatchUp TV, PPV, 24/7 TV, US TV, UK TV, CA TV, Latin TV & More (Can Use Your Laptop)
Let's cover the easiest way to watch your favorites online using a laptop first. If you have a Windows or Mac, an IPTV service can give you the best Internet TV entertainment. IPTV services provide both live premium television channels and on-demand content online. All you need is a high-speed Internet connection (30 Mbps or higher), a laptop computer, and a free app download.
Subscribers can watch live channels with movies, news, shows, and sports from many popular television networks. Something for the entire family including children. Sports fans can watch any sporting event (local, national, international) and seasonal sports, including live PPV events to watch the fights.
You also get access to 1000s of on-demand TV series with episodes and movies with the most recent included. Other streaming content includes channels from other countries including the UK, ESPN +, local TV, CatchUp TV, music/radio channels, and more. Click below to start watching your favorites online using a top IPTV service…
Read Full Review Here
NOTE: Be sure to click the button in the star-rated review to see everything in action.
If You Are New to Internet TV, Signup to Get Your Free IPTV Setup Guide.
Note: To connect a laptop to TV, read information further down this post.
How to Watch Free to Air TV on Computer
As for IPTV services, many of them deliver local TV channels but most of them only give you access to 3 or 4 channels. Out of the 3 or 4, most of the time only 1 or 2 will work and local channels from all city markets are not available. So if you really want to know how to watch free to air TV computer online, read below…
There's is a free local TV streaming service website that allows you to watch most if not all of your local OTV TV channels. They continue to add more and more city markets periodically. It would be worth your while to visit the website and see if your city is included. If it is included, then you need to sign up to get access.
Free members will undergo periodic advertising. You can pay the small monthly fee if you really like what you get. This will remove any and all advertising so that you don't get interrupted by watching a local channel online.
More TV on Laptop Information
What do I need to watch TV on my laptop. If you are in a hurry to watch TV on your laptop, here's what you can do for a quick, easy web TV setup. The further down the page will also answer how to get local channels without antenna:
Step 1. Watch TV on Laptop with access to Live/Local/Global/Sports TV including VOD Movies/TV Shows. This third-party web-based TV/VOD service (no software download) direct connects to 9,000+ live streaming TV channels and on-demand content from one source. Has over 150 premium live TV channels and over 40 premium live sports TV channels. No hardware, software, contract, or monthly subscription is needed, and no bundled package. Compatible to all Internet-connecting devices with a web browser (computers, tablets, smartphones, Google Chrome, etc.) Click Here to Learn More
Step 2. Create TV on Laptop with one source for all live TV and on-demand streaming content. Get access to both free TV content and subscription-based content providers. TV software for PC (Windows OS) streams, cast, and records (DVR) whatever you watch within the software platform. Can also record from other websites with an add-on recording plugin for the web browser. Offers free download to get started. Click Here to Learn More
Note: This is just one of the low-cost ways that show how to see TV in laptop. Keep in mind, there is no web TV service that delivers OTA (Over-the-Air) TV channels from local TV stations in your area to date. I believe this will be made available in the near future. For now, explore the information here to help accomplish what you want to do.
Best Ways to Watch TV on Computer Without Cable, Satellite, or High Cost
The quickest, easiest way to get access to an unlimited amount of television content online (watch at home or when traveling) starts with learning how to watch TV on laptop with an Internet connection. Why? Firstly, a computer laptop has all the multimedia and video software needed to watch television. It has all the streaming technology to watch movies and TV shows on laptop, including videos and sports online as well as listen to music and radio.
Secondly, anyone who has a laptop and broadband connection can access more streaming television content online than cable and satellite combined. Not only that, but you can watch what you want, when and where you want. A computer has no restrictions when getting access to both free-to-use and pay-to-watch web TV/VOD services (more on this later).
Unlike media streaming devices (Roku, Apple TV, etc.) or game consoles, using the Internet with a TV on laptop computer doesn't rely on a small number of apps to connect to various streaming TV/VOD providers. You are not restricted from streaming TV apps in that you are free to choose any streaming content (both live & video-on-demand) you want, anywhere online, both free and pay-to-watch.
There are countless individuals new to Internet television that often ask "how can I watch TV on my laptop." A laptop has an advantage over desktop computers which is portability. This also answers those who want to know how to watch laptop on TV. In other words, whatever appears on the laptop screen will appear on the TV screen.
For many, paying the high cost of cable/satellite is no longer practical and have already cut the cord TV to save money. As a result, these same individuals learned how to get local channels without cable.
How to Watch TV on Laptop without Internet or Watch Laptop on TV without Internet)
How to display laptop on TV or how to play laptop on TV only requires a laptop computer and right video/audio cable. New and fairly new televisions and computers nowadays have HDMI ports that require an HDMI Cable. This is by far the best connection because the audio and video go through the same cable. No other cable is required. You simply connect the computer and TV with the HDMI cable. If there's a different cable required for an older TV and/or computer, then that cable must be used.
To see what connector cable is needed and how to make the connection to watch TV on laptop, to go YouTube and watch a video tutorial.
Once the computer and TV are connected, the user should use his/her TV remote control to select the "Input" or "Source" command to show Input sources on the TV screen. Next, select the HDMI port where the computer is connected. Whatever appears on the computer screen will appear on the TV screen. This is how simple the setup can be when using an HDMI cable. You can watch TV on Laptop, Free or pay-to-watch when using the web.
If you have recorded videos, movies, or TV shows already stored on your computer, playing those videos can also be seen on your television. In addition, CD/DVD with movies, TV shows, and other videos can be played and viewed on your television. This takes care of how to watch live TV on PC or Mac laptop without an Internet connection. (Also see How Can I Watch TV on My Computer)
See the "Without the Internet" section below to learn how to get set up…
Watch TV on computer. Nowadays, anyone can watch TV on the Internet, simply by connecting a computer with an Internet connection to television. Watch TV online on the television screen when connecting wirelessly or video/audio cable. These are quick, easy ways for how TV viewers can watch favorite shows through the Internet. It's less expensive than buying a streaming media device or game console, or smart TV with a web browser.
Without the Internet – Getting Setup
How to Watch TV on Laptop With TV Tuner Card or USB Device. Depending on the location you are in, there will be a range of broadcast TV signals (more or less) from local TV stations in the area. You can tap into those signals when using a digital TV tuner accessory which should do the job well enough. The easiest way to go would be connecting a USB small TV tuner card or USB stick. Accessories can include a USB tuner card stick, remote control, and portable TV antenna. This setup also comes with a DVR feature to record TV programs.
Play the video below if you want to learn how to watch live TV in laptop. There's a link included to explore some of these USB tuner cards on Amazon. You might want to start with some of the top sellers – see Hauppauge TV tuners. This setup will take care of how to watch TV on laptop with TV tuner.
Find Same TV Tuner on Amazon – Click Here
Or Find it on eBay – Click Here
How to Watch TV on Laptop Without Tuner Card
Requirements:
Laptop or Desktop Computer
TV/Smart TV/HDTV
Router w/ WiFi & Ethernet
High-Speed Internet Connection (25 Mbps or more)
HDMI Cable
Free/Subscription-Based/Pay-to-Use Web TV/VOD Providers/Services/Websites
Here are the Steps:
Step 1:
Connect TV and laptop via HDMI cable. Both devices have HDMI ports to make the connection. Otherwise, use a compatible cable if there's no HDMI port. Grab the TV remote and hit the 'Source' or 'Input' command. With the on-screen menu open, select the HDMI port number where the laptop is connected. A desktop computer can also be used. Whatever you watch or appear on the computer screen can now be seen on the TV screen with audio. You can also connect wirelessly when using a laptop and smart TV (Visit youtube.com to search for video tutorials).
Step 2: Use a modem/router with wifi and ethernet capabilities and high-speed Internet so that your laptop will have Internet access. You can buy the modem/router yourself on Amazon or get one from your ISP (Internet Service Provider) such as Comcast, AT&T, or Verizon. Choose the amount of Internet connection speed from your ISP (25 Mbps or more). Don't sign into any bundled package. You only want Internet access. (Also see Can I Watch TV Programs on My PC)
Step 3:
Use any free or subscription-based or pay-to-use web TV/VOD provider/website/service to watch favorite television programs online. You can subscribe to Netflix, Hulu or Amazon Prime to watch on-demand TV shows/episodes and movies. Use free-to-watch websites such as YouTube.com and crackle.com to watch videos and on-demand free movies/TV shows online. Sign up and join any low-cost web TV/VOD service to watch entertaining live premium TV channels including live sports from popular TV networks. Watch entertaining on-demand content with old/recent movies and TV shows – Read below…
Here are a couple of suggestions you might want to utilize: 1. Sign up to download the free ultimate cord-cutting guide. The guide has everything needed to set up a robust web TV and local OTA system; 2. Use a low-cost, 3rd-party, web-based TV/VOD service that brings together 100s if not 1000s of TV channels/networks from the Internet to one place — see Top 10 Comparison Chart and review recommendations 1-4.
How to Watch TV on Laptop Using Internet
Besides watching television offline via laptop or desktop computer, it's just as easy to watch favorite television programs with the Internet. Next up, we will show how to watch TV on laptop using an Internet connection.
Watch live TV on PC or Mac laptop: What you should know
The main thing to note here is you'll need to invest in a speedy Internet connection. Keep in mind that the faster the Internet connection speed, the better the picture quality and overall performance.
You'll want to avoid buffering and playback issues, especially during peak hours (7 Pm – 11 PM) when living in the USA. Also connecting more devices to your wireless (wifi) networks can bring down the speed. Some more bandwidth the better. Having 25 Mbps or higher Internet connection download speed would be a good start. Read below to learn how to watch TV on laptop windows 7 or higher operating system or if using a Mac or Linux computer.
There are plenty of free and pay-to-watch web TV websites out there that make how to watch live TV on PC/Mac laptop with internet access much easier. Also, some 3rd party web-based TV/VOD services to watch many of your favorites online. If you click the link at the very bottom (Top 10 Comparison Chart) you will discover 3rd party services. There's one service that allows downloading TV/VOD software, which brings all the popular streaming content providers to one place (both free and pay-to-watch).
But focus your attention more on web-based TV/VOD services that bring together Live TV, Local TV, Global TV, Sports TV, VOD Movies, and VOD TV shows. One of these services delivers nothing but premium live TV channels. Another delivers both live premium TV channels and on-demand content. Click Here – Watch Sports Online
Watch Movies and TV Shows on Laptop Using What You Already Have
What was mentioned previously about how to watch TV on desktop is an easy, low-cost way you can watch TV on laptop without any hardware, antenna, TV tuner, etc. This is how you can build an extra television for the household easily, which becomes a web TV system and TV traveling companion. You can even scale this up a bit if you want to Connect Internet Laptop TV to large-screen television and add an indoor HDTV antenna to watch all local channels offline in your area.
Watch TV Linux, Mac or Windows…
What else is needed for a watch TV on laptop setup to work? Any Windows, Mac, Linux or Tablet computer will work. An Internet broadband connection is best so that all web TV channels and VOD can play smoothly. To play SD (Standard Definition) content, 3 Mbps connection speed is needed. To play HD (High Definition) content, 5 Mbps connection speed is needed. I recommend having at least 7 Mbps but much higher download speed is better, which you can check with an Internet connection speed test website.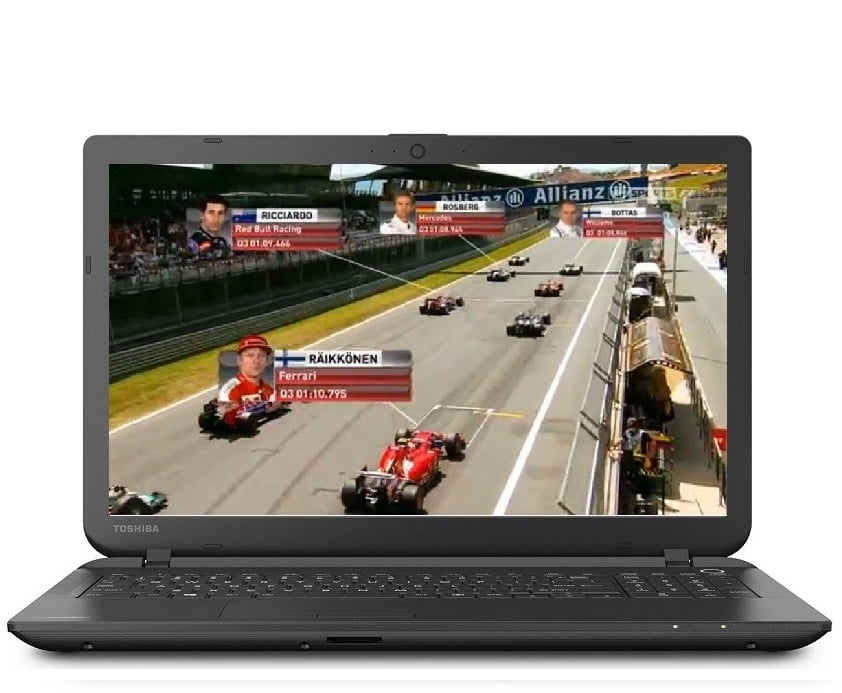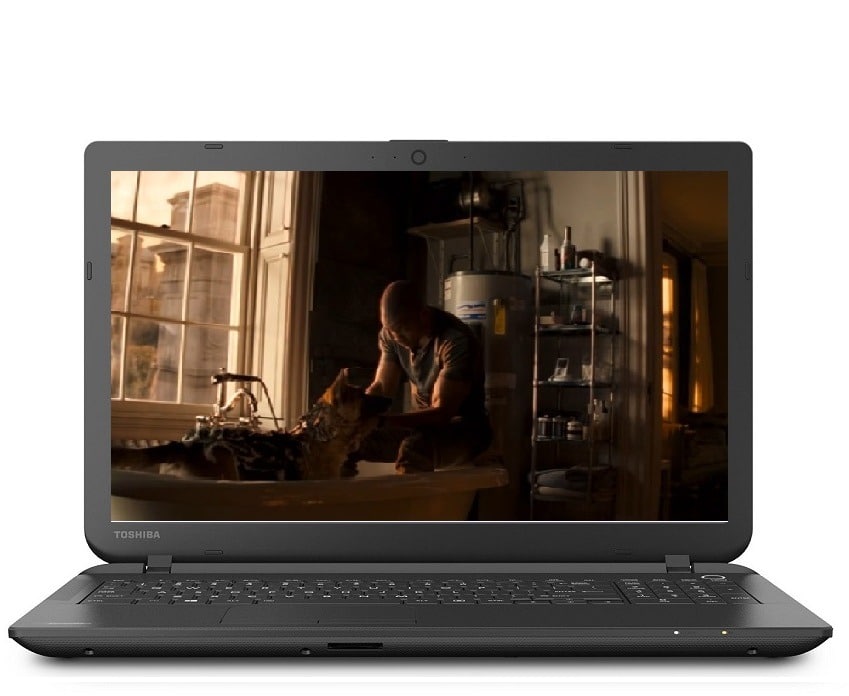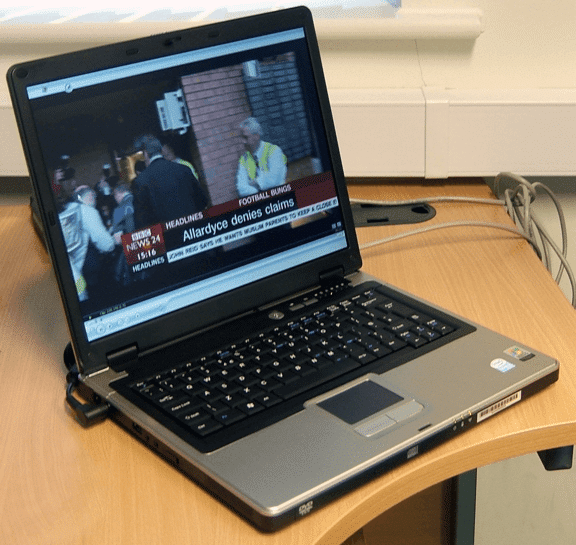 Wireless, wired or wireless/wired modem to make an Internet connection can be used. To watch everything online from any location within the home, I recommend a wireless/wired modem. This way you can take your mobile laptop TV computer anywhere in the household to watch online television. A wire modem will give you speed, whereas using a wireless connection decrease the Internet speed.
If somewhat confused, a wired router/modem requires an Ethernet cable that plugs into the laptop and router/modem – computer mobility is restricted; the computer must stay near the modem – unless you buy a longer cable to extend the Ethernet cable so that the laptop can move near you while sitting on the couch for instance.
A wire/wireless modem provides the best of both worlds. With a wireless, you can take your TV on laptop with you around the household, without an Ethernet cable connected. The only thing you will need is the power cord unless the computer's battery is fully charged for hours without the power cord.
Watch TV on Laptop: Where to Find Live TV and VOD Content
Watch Live TV on Laptop and VOD: Third-Party Services
Here lies the live TV on laptop source of streaming content where you get to choose what works best for you and your pockets. You have two choices to build your watch TV on laptop system and you can watch free Internet TV no downloads if you want:
How to watch live TV on laptop
Surf the web to find TV/VOD websites on your own. Visit YouTube.com to watch full-length movies, television shows, and videos (free-to-use). Use Netflix.com to watch old/recent entertaining movies and television shows (pay-to-watch). Use Amazon.com (Amazon Prime Instance Video) to watch
television shows and entertaining movies. Use Hulu Plus to watch old/new television episodes and movies (pay-to-use), and much more free/pay-to-use content providers
You can use other streaming television/video websites to watch live TV on laptop by searching online for names of TV networks. However, there's an easier and better way that will save time and effort. There are 3rd party, TV/Video software and web-based services out there that can be used. I use many of them myself, simply because I get the best of web TV/Video entertainment has to offer
To See Top 10 Comparison Chart With Popular Web TV/VOD Entertainment – Click Here
Building Robust Web TV Entertainment System
If you want to build a robust web TV on laptop system instantly, then I highly suggest investing in a couple of low-cost 3rd party services for live television channels and video-on-demand. For instance, you might be interested in watching live sports online. There are 3rd party web-based websites that connect you to any and all live streaming sports online, worldwide.
See link for 'Top 10 Comparison Chart' above, you will find 3rd party services that deliver all kinds of sports such as NFL football, NBA basketball, NHL hockey, MLB basketball, Soccer, Eurosports, Tennis, Boxing, NASCAR, Rugby, Wrestling, and so on. Live sporting events broadcast daily will be listed with designated times to watch them online. This is so easy and less time to do. Otherwise, good luck trying to find the content online yourself.
There's one 3rd party service that delivers live sports exclusively and also delivers popular TV channels/networks to watch television shows, news, movies, music videos, etc. On the other hand, another 3rd party service delivers both live television channels and video-on-demand, with more entertainment to make you forget cable and satellite.
I use both services above to watch live TV on my PC laptop, which also serves as a backup, in case something goes wrong with one 3rd party service. I never miss a live sporting event, even when there's a local blackout in my area. Both services above also provide other live television channels and the first one also has VOD (old/recent movies and other content) that allows me to watch TV on my laptop without wishing for cable or satellite.
How to Connect TV on Laptop to Smart Television
Connecting your TV on laptop to any large screen is the same for all TVs. However if a smart TV with Internet connection comes with a web browser (Google Chrome), there's no need for a laptop hookup. Just like a computer, a browser allows you to surf online and visit/use any website, even watch Internet TV. If you have, then you are already set and can visit any free or pay-to-watch TV/VOD website to watch whatever you like online.
Using the services I mentioned previously will eliminate visiting one TV/VOD website after another to watch a live sporting event or movie or TV show. No one TV/VOD website includes everything to watch online. This is one reason why 3rd party services are so useful; they help you connect to and watch a lot of different types of content (both live and video-on-demand) from one place.
What this means is you now have the ability to watch TV on your laptop, without signing up to any bundled package, without cable and satellite, and without paying a high cost to watch whatever is of interest. Think of it as a la carte TV programming, whereas you get to choose what you want to pay and watch – not some bundle or paying for channels you don't watch.
You don't have to buy into any live TV for laptop 3rd party service; there are free ones out there too but not as entertaining.
Read Further…
This is how to watch TV on laptop in the easiest, cost-effective way. There are no restrictions when using a computer that comes with streaming media devices and game consoles. The World Wide Web has unlimited live television channels and video-on-demand, which now becomes your oyster. Everything is within your fingertips when streamlined (harnesses the power of Internet television).
When traveling or going elsewhere outside the home and as long as you can make a WiFi Internet connection, there's no stopping you from watching all your favorite TV programs online. This comes in handy when going to a relative's house where you can't watch the live ballgame on their television or need a television at work.
This is how you get the best of web TV entertainment has to offer and next best thing to cable and satellite. Not only is watching TV on laptop entertaining but you get plenty of flexibility, mobility, compatibility when using this system with online TV/VOD streaming services, including third party services. I certainly enjoy watching TV on laptop at home, on the big screen and from any location when using my laptop (in/out the home).
TV Software for Laptop – Another Web TV Option
There is a lot out there in TV software (TV on Mac, TV on Linux, TV on PC) that's free to download. But many of them aren't worth it and you'll be very disappointed in the content delivered. You can consider some of the freebies that deliver hundreds of tons of television channels to computers. A couple comes to mind, Readon, and PlayOn, where both bring something different to the table. If you want to learn more about them, you can visit the Free TV Software Download page. However, both can only be downloaded to Windows PC, but there's more out there (not as many) for other operating systems.
Get All Your Video-on-Demand Content In One Place
One of the best ways to get access to popular streaming media providers such as YouTube, Hulu Plus, Amazon Prime Instant Video, Crackle, and many others, is a service that brings all of them together. I'm talking about PlayOn once again. This software can be downloaded free of charge, whereas you can watch all kinds of streaming videos, movies, and TV shows/episodes online. This means all your favorites from popular TV networks. If you want to visit the website now and learn more, just click the link below…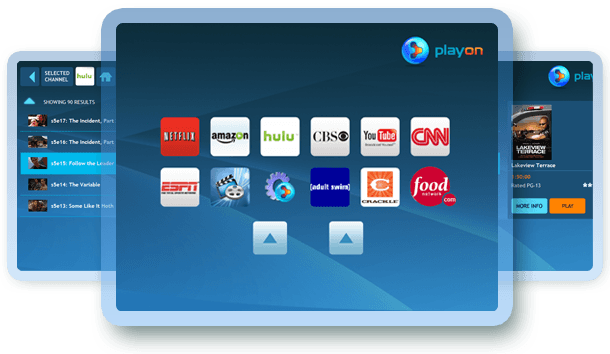 You can use PlayOn with a wide range of devices (streaming media devices, game consoles, mobile devices, smart TVs) but keep in mind the software must be downloaded to Windows PC first. It has many features that also allow you to cast, stream, and record online when opting into 'Plus' version. Everything you record can be view offline.
Image watching favorite television episodes, soaps, sitcoms and movies-on-demand, using your Internet-connected laptop. This service and software deliver everything at your fingers, which is a TV/VOD service I highly recommend using.
Watch Live TV on PC or Mac Laptop…
I recommend you visit my Top 10 Internet TV/VOD Software and Web-Based 3rd Party Services page, where you get loads of information, access to a comparison chart and reviews to read. Focus on the top four services when you get there and read everything. Watch TV on your Laptop
As for my #1, #2 and #3 recommendations, you can choose one or more 3rd party services that suit your needs. Remember, you may even want two of these services. If one service doesn't have what you want to watch online or channel is temporarily down, then the other service can serve as a backup. In the #4 recommendation, this is how you can have all the popular video-on-demand streaming providers/content in one place that was mentioned earlier.
As of now, you learned how to watch TV on laptop with Internet and without a number of ways. How to watch laptop on TV when connecting your TV to laptop — all in the simplest way. You can do the same via watch live TV on computer (PC or Mac) using the Internet. Just review all the top IPTV services below…
To Watch TV on Laptop and Build Your Own Robust System Now – Click Here
In Closing…
The how to watch TV on laptop with Internet and how to watch TV on laptop without Internet information above will help you get setup. You may want to think about doing both. It will give you the best of both worlds with so many live premium, local, global, sports, news, movie channels, and much more.
Some Suggested Readings: