Amazon Fire TV Stick Review (Fire TV Stick 4K with Alexa Voice Remote)
Amazon Fire TV Stick with Alexa Voice Remote is one of the best, if not the best, streaming media devices on the market today. If searching for an easy way to install a streaming device on your HDTV or smart TV, this is it. Amazon Fire TV comes preset with TV apps and easy-to-use navigation to boot. The Fire TV remote is simple to use and responsive with no delays when clicking a command. You'll like the simplicity of the using remote when getting familiar with it.
Amazon in the US currently has a Limited Time Deal on the Fire TV Stick Lite w/ Alexa Voice Remote at $17.99, All-New Fire TV Stick Alexa Voice Remote at $27.99. and Fire TV Stick 4K w/ Alexa Voice Remote, Dolby Version at $29.99.
Highly suggest NOT using a wireless connection for your Fire TV or Firestick connected to your MAIN smart TV or HDTV. Instead, use a wired connection (Ethernet Cable). As for your other TVs with Fire TV or Firestick connected, you can use a wireless connection. You get either below at Amazon…
Click Here to Buy Amazon Ethernet Adapter for Amazon Fire TV Devices
(To Get Faster Internet Connection Speed and Helps eliminate buffering)
Click Here to Buy Ethernet Internet Cable (if you need one or longer cable)
Or visit your local electronic store for computers, TVs, streaming devices.
Note: Using a wired connection gives you faster Internet connection speed than a wireless connection and helps prevent buffering issues.
You can use Fire TV Stick with many of your favorite TV apps such as Netflix, Sling TV, Kodi TV, and so on. And you can add/install apps at your leisure, including a mouse.  When connecting and setting up the Amazon Fire TV Stick the first time, you will be prompted to register your device.
Here are the steps:
1. Select Settings from the Fire TV menu.
2. Go to My Account.
If your device isn't registered, a Register option displays on this screen. Select Register and enter your Amazon account information when prompted.
To find or create your Amazon account to register your Fire TV Stick, Go Here.
Register, Deregister Firestick
If your device is currently registered, the name associated with your account displays in this section. If you select it, you'll then see a Deregister option you can use to connect your Amazon Fire TV to a different Amazon account. After you deregister, you'll be prompted to register again by entering your preferred Amazon account information. When you deregister, all of your Amazon content is removed from your device, and many Fire TV features will no longer work.
Note: You can also use your computer or smartphone to create or get access to your Amazon account login details.
See Fire Stick Remote Control Diagram Below…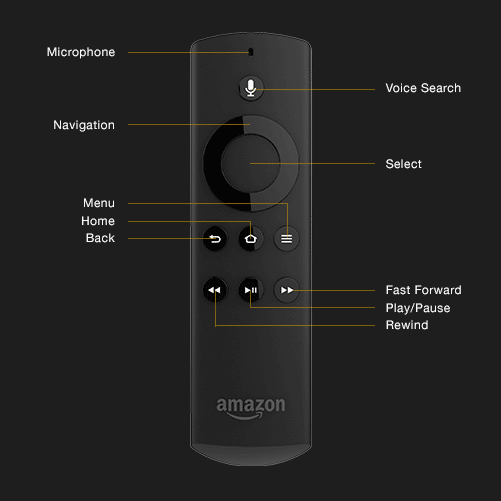 Click Here to Watch the Amazon Fire TV Stick Setup
Also watch this video and notice when the reviewer says he must sign into his Amazon account to use the Fire TV Stick.
The Alexa Voice is something new. You can use voice commands to ask your TV questions to get answers. Be sure to watch the main video tutorial that explains this feature.
Amazon Fire TV Stick for the Young and Old
I helped my mother save over $60 per month when canceling cable TV and switching to Sling TV on Amazon Fire TV Stick. Sling TV provides over 40 premium live TV channels (cable TV channels) at a monthly cost of $25.oo/mo. My sister already had a Netflix account, so I simply got the login details from her. Now my mother has access to Netflix without paying anything. The Amazon Fire TV Stick or Amazon Fire TV Streaming device, whichever one you decide to use, will help make the transition from cable/satellite TV to Internet TV much easier.
By the way, if you are interested in reviewing a popular streaming website to watch Christian, Faith-Based, Wholesome movies and TV shows only, watch this Pure Flix video.
How to Get OTA TV from Local TV Stations in Your Area
Simply purchase an Indoor HDTV antenna with a 50-100 mile radius. Connect the antenna to the back of your HDTV or smart TV, and then scan for local channels. This is how to cancel cable/satellite TV without losing favorite channels you are accustomed to watching. With local OTA TV channels, a Web TV content provider like Sling TV, and streaming media device like Amazon Fire TV Stick, offers the best low-cost TV entertainment.
You can find more Amazon Firestick instructions and setup Here.
Fire TV Stick 4K with Alexa Voice Remote
The new Fire TV Sitck 4K with Alexa Voice Remote has additional features that improves your web TV experience. Here are some of the highlights:
You get more power including a much faster processor with support for 802.11ac Wi-Fi, Fire TV Stick 4K. This lets you experience a more complete 4K Ultra HD streaming experience.
Watch Review Video Below
When finding 4K Ultra HD content, you'll notice how easy it is to do. Simply press and ask for example… Alexa, find 4K movies. You get more storage for apps including games than other streaming media sticks.
As for the Alexa Voice Remote itself, you now control a compatible TV, soundbar, and receiver with greater power including volume and mute buttons. Simply press and ask Alexa to find, launch and control TV shows and movies.
8 Best Amazon Fire TV Stick Accessories You Should Try
Latest posts by Web TV Guy
(see all)