Great Way to Get Hundreds of Live and local Channels with movies, sports, news, gospel, radio/music, global channels, tons of Videos on-demand (movies and TV series), PPV events, seasonal sports, and ESPN +. Plus EPG (TV guide), Catch Up TV w/ DVR, and more.
IMPORTANT UPDATE!!!
New customers are no longer being accepted at Hurricane but there is an alternative SO Player IPTV service you can subscribe to. Just click the link below to visit the website or read our full review…
DO NOT READ BELOW… All IPTV service provider links have been removed…
———————————–
Setup to Watch TV Online For New and Experienced Users
1. If new to online TV online and very lost to all this, no need to go any further: Sign Up & Download the Free Guide: How to Watch TV Online. There's plenty of info. that will make things a lot clearer and help you get set up. The guide also gives a good breakdown of each web TV service to help you choose.
2. Compatible streaming devices to use: NVIDIA Shield, Amazon Fire TV, Cube or Firestick, Apple TV, Mag Box, Computer (Windows or Mac), iOS Device, Android Device (TV, Box, Phone, Tablet). Non-compatible: Chromecast, Roku, Xbox, PlayStation, other game devices.
Note: Best Device to use – Amazon Fire TV, Cube, Firestick, NVIDIA Shield, or Apple TV. If none of these devices are in your home, purchase the Firestick. This streaming device is much cheapest but powerful – Click Here to Learn More.
3. Free App Download: Click Here to Learn How to Install Nora Go App on LG or Samsung Smart TV; Click Here to Install SOPlayer App on All Other Compatible Devices listed above. Never install both apps on the same device.
Note: NoraGo and SOPlayer are free app downloads and not standalone TV apps. In other words, neither one delivers live channels and VODs. All the streaming content comes from the IPTV Service Provider (see Step #4). Both apps aren't subscriptions. If you already installed one of these apps on your device, just choose an IPTV service below. If you were using that app with another IPTV service prior, then you must remove your device from the previous IPTV service – Click Here to Learn How to Remove. See step #4 below…
4. Subscribe to IPTV Service Provider: If you are going to install NoraGo on Samsung or LG smart TV, Click Here to Subscribe to the IPTV Service or Click Here to Read Full Review. If you are going to use SO Player for the Amazon Firestick or any one of the other compatible devices listed above, Click Here to Visit the Website or Read Full Review.
Note: I recommend that you start with the free trial first (no credit card) to test the app and service on your device. Both IPTV services above deliver live channels from popular television networks, on-demand content, and more. Remember your IPTV service name and where to find them on the web. They aren't part of any cable/satellite company. There are no Geo-restrictions so no one gets blocked and no local sports blackouts.
What to expect: If subscribing to a non-recurring billing IPTV package, you can renew the subscription when it ends anytime you want. Your credit card will never be billed without your permission. You will be signing up through an order form where you must enter your email address and create a password. These will be the login details needed to sign in to your IPTV account.
Your IPTV account will have your order and account info. including activation and login credentials — Provider ID, 4 Device Pins Codes, Username (all numbers), and password (all numbers). To renew your subscription, sign in to your IPTV account. You can do this when visiting the IPTV website and clicking the 'My Account' link or 'Account' link.
After completing the signup process, you may be taken directly to a page with your account/order info. with activation/login credentials needed to activate the app installed earlier. Simply scroll down the Order/Account page to find the remaining info. Also, expect to receive some emails from the IPTV service provider. If you do not see any emails, be sure to check your Junk/Spam folder for them. If see those emails, just move them to your regular email inbox.
YouTube.com has unlimited video tutorials where you can learn almost anything. Go there to find a video to learn if stuck on something. For example, you can search to find a video to learn how to do something on your streaming device. Outside of that always contact your IPTV service for support regarding their or the app. They don't own the free app but can help resolve an issue concerning the IPTV service that uses the app.
DO NOT CLICK BELOW THE DOTTED LINE – Genze TV is No Longer Available to New Subscribers – All Genzee Links Have Been Removed Permanently Below.
———————————————
Delivers 500+ Live Premium Channels with Live Sports, Local TV, and 1000s of VODs (SO Player)
Click Here to Subscribe, SO Player App Download & Watch Your Favorites Online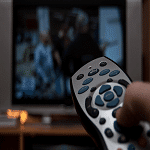 Genzee TV Review (SO Player App) by Real User. If you're tired of long-term contracts and commitments from cable or satellite TV, you are not alone. More TV viewers are opting in to IPTV and streaming TV services that offer many of the same live premium TV channels. And the best news is there's no contract, commitment, or high cost.
Cutting the cable cord or ditching the dish doesn't mean you can't watch your favorites anymore. There are more alternatives out there than watching OTA TV channels from local television stations. As a matter of fact, no cable or satellite service is needed to watch local TV channels, so why pay the cost to watch local channels when you should be getting them free?
When using an indoor HDTV antenna the picture quality from local OTA TV channels is more clearer than cable/satellite. But you can add many additional live TV channels not found on OTA TV (Free-to-Air) when adding Internet TV into the mix. Genzee is one streaming TV service to consider if you want to watch live premium TV channels. Not only that but you can also watch live sports and on-demand content all from one source.
Watch the video below to see how local channels are accessed…
Important Notice!
Genzee now recommends downloading/installing the SO Player app instead of the Nora Go app. NoraGo is causing issues with some devices. This doesn't mean you can't use Nora Go but if you experience an issue, use SO Player instead to watch TV online. You should subscribe to Genzee first. All instructions, downloads, other information are available including support.
You will receive an email with activation and login credentials. See link below to subscribe.
Sign Up & Subscribe to Get Genzee Activation/Login Credentials for SO Player Here
When reviewing this IPTV (streaming TV service), I had some initial concerns such as the quality of live TV channels streaming, working number of Spanish, UK, Filipino, and USA TV Streaming Channels. My concerns also included quality of VOD movies and TV shows, the number of compatible apps and devices, including countries allowed and User-friendliness.
With a $1 per day average cost, savings alone make this service a deal-maker. But what about everything else? When undergoing the Genzee TV Review, things were turning out better than I had originally thought.  Genzee was worthy enough to tell others about their streaming TV service. As they say, the proof is in the putting, so I added some videos that take you inside to see everything.
Genzee TV Review: VOD and Live TV Channels Streaming Service
GenzeeTV subscribers get a host of live streaming premium TV channels from popular networks including VOD content. Whether you want to watch an NBA live stream online or MSNBC live stream online, you get quality streams at an instant.
Subscribers can watch a TNT live stream online, CNN live stream online, or any favorite channel stream live. Watch them at home, on-the-go while traveling, or in any country. No country or IP address is blocked. This means anyone living outside the United States can watch a host of USA TV channels live online. This also includes Spanish, French, UK, and Filipino channels. There's plenty more to cover so continue reading.
Watch all the popular live sporting events, including your favorite team, special event, playoff, championship, Superbowl, etc. All your favorite ballgames, local, national, international sports under one roof. Not only that but subscribers get access to many on-demand movies and TV shows, both old and recent.
What Is Genzee TV? Genzee is a 3rd party, US-based IPTV service or streaming TV service. Members/subscribers can watch live channels and recorded videos over the Internet without the high cost of cable or satellite dish. There's no contract, extra/hidden fee, or cancellation fee. Watch Introduction Video 1 Here.
Genzee partnered with Setplex which is an innovative application that allows users to stream content of their own across major APP platforms within hours. This is how subscribers can download the GenzeeTV app to various devices and watch live channels and VOD from the Genzee TV service.
Although no local OTA (Over-the-Air) TV or regional channels are delivered, you get many of the same cable/satellite TV channels. It includes many national TV channels such as NBC, CBS, ABC and Fox also. In most cases, you can watch your local team, ballgame, or sporting event online when using this service.
There are a lot of popular channels/networks and live sports links included. All the content can be streamed over multiple compatible devices such as a computer, smartphone, and TV. There is a Genzee TV free trial that gives you full access with exception to PPV events. Note Free Trial may or may not be available.
See Video Review 1 and 2 of Genzee Below…
Watch Video 1 Review Here – Covers Website, Features, Compatiblity, Etc.
Video 2 Review – See Inside Nora Go App & Play Live Channels/On-Demand
Get Your Subscription Here (Free Trial May Not Be Available)
How Does Genze TV Work? When you become a subscriber, you download the Genzee TV software or GenzeeTV app (sometimes called Nora Go TV). Once installed on your device, you can start streaming live channels and there are many to choose from.
Computer and TV users get access to live and VOD streaming content easily. At the time of this Genzee TV review, the smartphone TV app only allowed access to live streams. As for some of the other Genzee apps that weren't tested, I don't know if VOD is included.
Update: VOD content now available in Nora Go app for smartphones and other devices.
If you never downloaded/installed TV software or TV player on your computer desktop before, this can be a little challenging at first. The same thing goes for those who never installed a TV app on a different devices. If that's the case, don't let this little inexperience stop you. Go to Youtube.com and search for video tutorials on whatever you don't know. Or find a family member or friend that can help you.
On the other hand, there's not much to worry about because there's plenty of help from GenzeeTV. Once you get through the instructions found on the Genze website and installation process, you're home free. Simply point and click to the channel/name, movie, or TV show to play the stream. There are categories and sub-categories with channels, title search feature, and so on. Be sure to watch the video above.
Once Genze is downloaded/installed on the computer desktop, for example, the NoraGo app (GenzeeTV app) appears. Simply double-click the app to open and all the live channels and VOD content appears inside the TV software. You can watch CW live stream online, CBS live stream online, or any favorite TV network.
Is It Any Good? The GenzeeTV service gets a high mark for a high number of working live channels. The picture/audio quality and user-friendliness when navigating through TV software/TV app get high marks. The service itself is reliable and support is readily available. Moreover, there's a toll-free number if you rather call someone for help or ask a question.
Who Can Watch GenzeeTV? All people from all walks of life can use the Genzee TV streaming service. It doesn't matter what country you are from or travel to. Anyone can get full access with no restriction.
Perhaps the streaming TV service you're currently using is geo-restricted, whereas no country outside the U.S. is permitted to watch. Not the case with this service. Anyone can access the Gen Zee TV Download through the free trial (may or may not be available) or subscription.
Is Genzee TV Legal? When visiting the website and scrolling down the bottom of the page, there are legal documents. See Terms of Services and Privacy Policy. I suggest you read both documents, especially Terms of Services. Any further questions should be directed to the service when contacting them. This IPTV servcie does not host any of the streaming content to watch online.
Here's what Genzee says regarding legal USe…

Genzee – How to Register, Login, and Purchase
You must go to the Genzee website to register or subscribe. The website has several links and banners to sign up and subscribe (no credit card required). Play the video below. It' take you throught the steps. Update: Genzee has a new website that promotes PPV fights plus 100s live premium TV channels and 1000s of VODs to live sports, movies, TV shows/series/episodes, news, and so on.
Although the website is different when you go to visit, it's still Genzee. You still get everything you want to watch online…
When you become a subscriber, you receive several emails with instructions and links. This includes pin codes, provider ID, username, password, etc. Just make double sure to enter your correct email address when signing up.
If you don't get any emails, be sure to check your Spam/Junk Mail folder. Move the Genzee emails from that folder to your main inbox where you normally receive emails.
The Genzee website has all the instructions needed for apps and downloads. One important note. I recommend that you read everything in their FAQ section. You'll find the FAQ when clicking the banner below and cicking the 'More' button at top of their website.
GenzeeTV App (Nora Go App) Review
Update: Genzee now recommends using the SO Player app instead of Nora Go app. Why? Some issues have been occuring when using the NoraGo app with some devices.
The GenzeeTV app or Nora Go app connects with the Genzee service so you can watch the streaming content. I've covered some key points in my Nora Go App Review. Just read further and you'll learn more in our NoraGo review.
The service sends an important email to new subscribers. It has important information such as login details and other credentials that enable you to use the NoraGo app. This is a one-time process. Usually you won't be asked to enter this information when opening the NoraGoApp again.
Sometimes the service performs a system update, whereas subscribers can't use the app. It's a temporary procedure and I only experienced this happening one time in the morning.
Genzee TV Download (now Nora Go TV App)
As for the Gen Zee TV download, there are plenty of instructions when visiting their website. There's a dedicated section called 'Download' when clicking the 'More' tab. On the 'Download Center' page, there are 'Download' buttons for Android, Windows, Mac, and iOS Devices.
If you have any problems downloading the Nora Go app on your Android, iOS, or Smart TV, there's a 'Download Instructions' button for that as well.
If you click either the Windows Download button or Mac Download button, a small popup window appears. This is the file you will download to your computer's operating system. You can use any web browser such as Google Chrome, Mozilla Firefox, Safari, IE, etc.
Once the Genzee TV download completes on your web browser, just drag or open the file to install on your computer desktop. Next, double-click that file to start the installation process. You will find these instructions written. Click the 'More' button again and click 'Install Genzee TV'. Choose the instructions for your device.
As far as other devices, you can use your device to visit the Google Play Store or Apple Store and download the Genzee TV app (NoraGo IPTV app). The website will have all this available for you. You can download/install the app from the device you are using. There's a TV software for PC and Nora Go app for Mac computers but you can only get the software from the website, not Play Store.
Genzee TV App (Nora Go) and Device Compatibility
You can watch Genzee up to 4 simultaneously when download/installing the SO Player app. Genze says you can use the service/app on multiple IP addresses on one mobile device (cell phone) only. This means you can't use multiple IP addresses on other devices such as Amazon Fire stick or Android Box.They are very strict about their policy so don't do anything that can restrict access to the service.
See list of compatible devices below:
Android Smartphones/Devices
Android TV
Amazon Fire TV/Stick
Android Boxes
Android Tablets
Windows, Mac (iMac or MacBook)
iOS Smartphones/Devices
iPad and iPhone
Smart TVs (incl. Samsung & Large TVs)
Mag Devices (Nora Go App)
There is a free Genzee TV app (Nora Go App Download) for each device above. But no Genzee TV Roku app right now. I was informed the Roku app is now in development. The xBox and Playstation are not compatible.
Keep in mind, not all Genzee TV apps are created equally. For instance, the TV software for PC and Mac computers deliver both live and on-demand streams and comes with more features. Same thing for Amazon Fire TV/Stick app. The TV app for smartphones doesn't include VOD and has fewer features but has other features included.
Update: Genzee Catch Up TV with DVR technology is here.
Catch Up Quick Notes:
If a recording doesn't play right away or says No Video Input, please click the back arrow and get out of your selection and then click on it again.
If you want to fast forward or rewind, the easiest way is to press down until you reach the time bar. Once you are on the time bar press left or right on your remote to slide the dot to your desired spot. Each click is 10 seconds. 
My Genzee TV review covered some of the compatible devices that I used at home. Read below as I explain what I discovered when using those compatible devices:
Genzee TV on Smart TV. My review of Genzee on smart TV will provide some light on what to expect. As for HDTVs, you will need a streaming media device such as Amazon Fire Stick which is the best streaming media device to use.
Update: There is now a Genzee smart TV app called SO Player that's now being recommended instead of NoraGo. However, SO Player can't found in the Samsung or LG smart TV app store. But this app can be downloaded/installed (sideloaded) on Amazon Fire TV/Stick.
Smart TV users may still be able to use the Genzee Nora Go app. I certainly and it worked just fine. However, you can only installed one app and not both on the same device.
Check out my Genzee on Smart TV Review – 5 Part Series to see how things work. Be sure to start with 'Part One'.
Update: It is now recommended to use the SO Player app for you device. However, this is not compatible to Samsung and LG smart TVs. You should download/install the Nora Go app if you find it in your smart app download section. If you cannot find the Nora app, then you smart TV is not compatible. You must use a different streaming device. Many people use the Amazon Firestick.
Genzee TV on PC and Genzee TV on Mac (iMac or MacBook). I don't own a Mac but I'm sure the process is similar. After installing the software to my Windows 10 laptop, it automatically opened and I was able to see everything inside. By default, Genzee brings you in the TV category under 'All' where all live channel names/links are listed. A live channels play automatically when oping the app.
Going furhter into the Genzee TV review: What I found out later. When you close or shut down the Genzee TV app and open it again the last live channel that you watched will automatically play. The main menu has TV | VOD | Radio | CatchUp | EPG | Settings.
You can also watch 2-Part review of Genzee on Windows PC Computer. Same steps for Mac computers pretty much.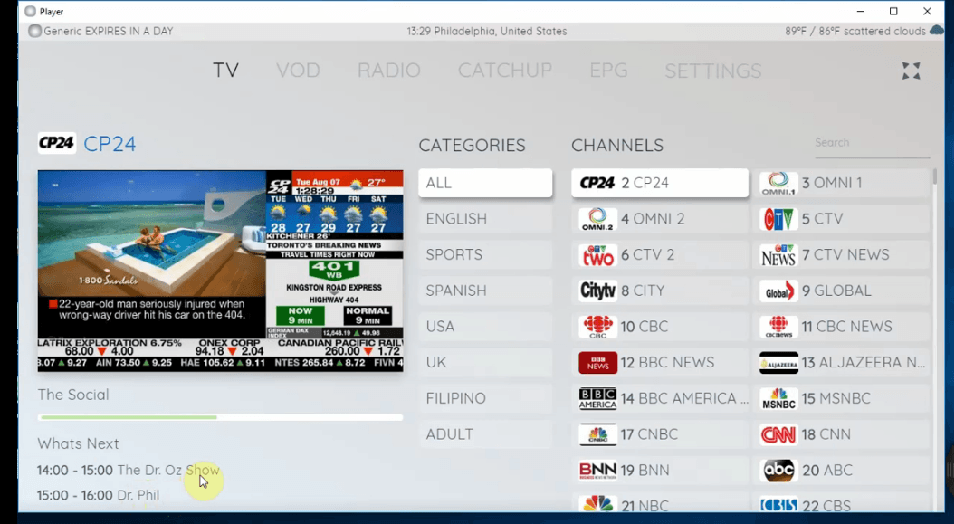 To my delight, most live channels played and all of them played with crystal clear quality (HD). In the VOD section, I played many movies and they played in HD quality also. I got caught up in one movie that I always wanted to see and ended up putting my Genzee TV review on hold.
After going through the features, navigation, and streaming constant, Genzee was quickly becoming one of my favorites. Although there was no content under the CatchUp section (in development), the EPG had a traditional TV guide. All live channel links with their names are there.
Just click the channel you want to watch. All channels play quickly, some quicker than others. There's also a Radio section. I was able to play some of them the first time I tried. But when I came back to this section none of the radio stations played.
Still, I was happy overall with what I had experienced. The Genzee TV app interface is fast and smooth running. Navigating the software is very user-friendly. Playing live and on-demand streams (TV shows, news, sports, & movies) are quite entertaining. The live premium TV channels alone make you forget about cable and satellite TV.
Genzee TV on Android & iOS. My review of Genzee on smartphone came next. There's a Genzee Android App and iOS (iPhone) App available for downloading in the PlayStore. I followed the Android app instructions from their website. Keep in mind, they also send you instructions via email. One particular link in the email takes you to the instructions also.
When using my Android smartphone, I went to the Play store to download the Nora Go app. Once the installation was completed, I had to enter my username, password, provider ID, and Pin Code. You will find all this information in one of the emails they send you. When signing in, the Nora Go app menu appears with TV, VOD,  CatchUp (in development), and EPG (TV schedule/guide).
There are many live premium TV channels to watch movies, TV shows, news, and sports. And plenty of on-demand movies and TV episodes.  Under TV are categories (All, English, Sports, Spanish, USA, French, UK, Filipino, Adult). As for the latter, I did not want to review this section simply because I don't believe in that sort of thing.
There's also a feature to add a channel to favorites and you can remove the channel. Channels are broken down into sections such as sports, documentary. news, etc. There are plenty of entertainment channels available to watch shows and movies also. I became more and more satisfied with Nora Go for Android smartphone as I continued my Genzee TV review.
For each live channel that you play, there's a "See all program guide". Tapping it will take you to the EPG section (TV guide). There's also the "See previous programs" that you can tap to go there. When tapping the live picture stream as it plays, there are two arrows left and right. Tap right and you are taken to the next live stream/channel ahead. Tap left and you are taken back to a live stream or channel.
Genzee TV on Firestick. Now for my Genzee on Amazon Fire Stick review. I don't own an Amazon Fire TV box but I imagine the setup is somewhat the same. There are instructions on how to download/install the app to the Fire Stick (see links below).
UPDATE: It's now recommended that you download/install a better app for your Firestick. Click Here to Watch Video Tutorial. Keep in mind, Genzee will hve all instructions and videos on how to download/install apps on your devices.
When using my Amazon Fire Stick, I had to go to download apps. If you are not familiar with this part, watch my video tutorial Here. This will show how to install apps to the Fire Stick or Amazon Fire TV box. After downloading/installing the app and entering my login credentials, the Genzee app appeared.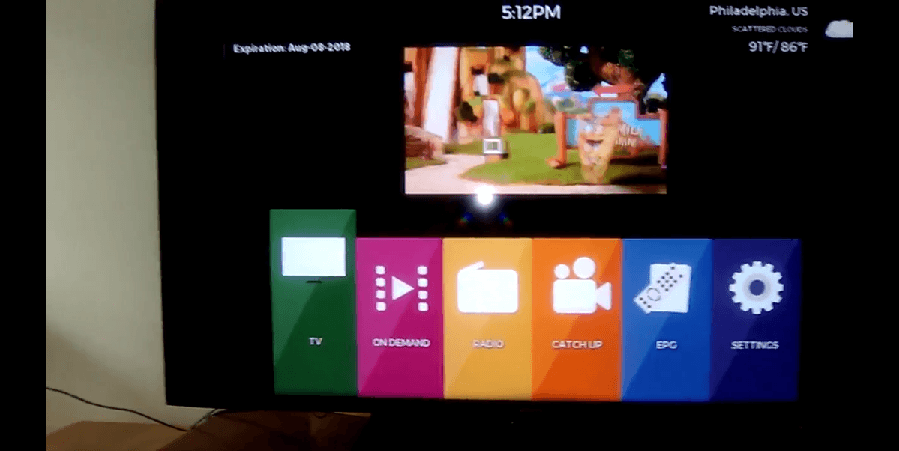 Remember, you will receive some emails with instructions and links after you've become a member. One email will have your login username, password, pin codes, etc., and a link to get into your account.
Once inside the Genzee app, you will see TV, On-Demand, CatchUp (now in development), and Settings. A channel automatically plays when app is launched. The service will remember the last live channel you watched and plays it when you open the app.
I suggest you watch a video of the Genzee app for Amazon Fire Stick – Click Here. You get a quick tour and will see how everything works.
Genzee TV Channel List / TV Guide
This service has a large Genzee program guide and created a video that shows the entire Genzee TV Guide. See the link below. Something to note: More channels were added after the video was created. There are now over 900 channels and counting. Click Here to Watch Video of Full Channel List or click below to see the channel guide…
Get Your Subscription Here and Watch All Your Favorites Online
Genzee Sports Review
If your interest is live sports only, the Genzee sports section doesn't disappoint. I really can't see how anyone wouldn't want all the other streaming content included. For an average cost of $1 per day, not only do you get most if not all sports channels but a lot of the other content.
They also deliver PPV (Pay-Per-View) and there's no extra cost. Whether you are a sports fan or fanatic, you can watch worldwide sports (local, national, international). Watch everything across multiple devices at once.
Watch NFL football, MLB Baseball, NHL Hockey, and NBA Basketball, as well as college, other pro sports, and European sports. Many popular sports networks are included and you can watch them all in HD. With Genzee live sports, you can watch preseason and regular season games, championships, tournaments, Super Bowl and special events such as boxing.
Sports talk channels and highlights are included such as ESPN. More live sports channels/networks were added after my full review. To find all live sports channels/networks, simply open the app and click TV. You can search a sports channel by name when using the search bar.
To see names of Genzee Sports Channels, click the image below to visit the website. Then click 'Channels' at the top to see the channel guide. Scroll further down that page to see all sports networks.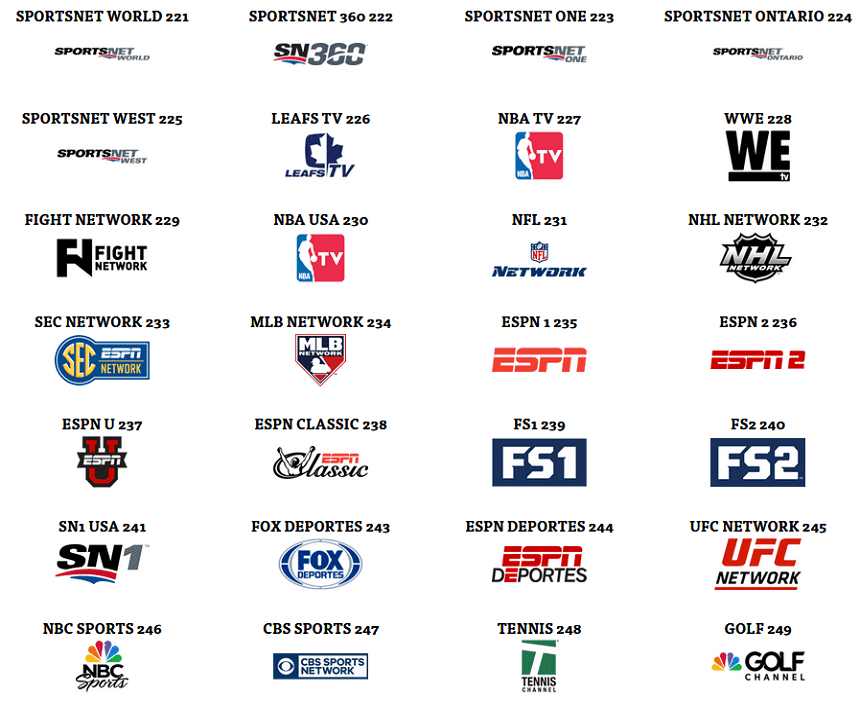 Watch my video of the Genzee live sports section to see everything – Click Here.
Get Access to All Your Favorite Sports and PPV Events Here
When looking at all the live premium TV channels delivered, you should find many if not all your favorite channels. There shouldn't be any concerns about cutting cable or satellite TV and losing sports channels. You get many of the same networks and can watch them on any number of the compatible device without a television around.
Now if you are wondering how to get over-the-air TV channels (free-to-air) from local TV stations in the area, see HDTV indoor Antenna. Not only does this give you the ability to watch some sporting events offline but you get a great deal more sports online with Genzee.
Live Genzee TV Channels (Shows, Movies, News Broadcasts & Kids)
This IPTV service now claims to have over 900 live premium TV channels available. Additional Genzee TV channels were added after my video GenzeeTV reviews. There are categories and channels that make finding what you're looking for easy.
You can also search for an NBC live stream online by entering just NBC. All related channels will come up. Or search the name of any TV live stream online, such as TNT. With so many live Genzee TV channels available, cable and satellite TV becomes an afterthought. Subscribers get access to all popular TV networks and channels to watch what they want, when and where they want.
There are US TV channels, English channels, French TV and Spanish TV channels, Filipino TV channels, and UK channels. More than 900 live premium channels available, which should be enough to satisfy anyone. See channel list Here or Watch Video Review 2 Here.
There are over 30 movies and 20 kids channels – all live streaming content available. And I haven't even gotten to the on-demand TV shows/episodes and movies yet (coming up soon).
As for kids, there are many kids channels with cartoons, animation, movies, and TV shows. Plenty of popular channels/networks with entertaining streaming content.
There are many news channels included. You'll get Fox news live TV streaming as well as CNN, MSNBC, and many other news networks. In fact, you'll get a few Fox TV streaming networks also.
Again, Genze does not deliver OTA TV channels from local TV stations in your area. Some years ago, I cut the cable cord and purchased an HDTV indoor antenna with a 50-mile radius amplifier. I connected the antenna to the back of my television and placed the flathead antenna to an open area with the best reception.
You can do the same and buy an indoor antenna that covers a larger radius – Click Here to check Amazon.
When using an HDTV indoor antenna the picture quality is a lot better than what you get from cable/satellite TV. I simply use my TV remote to go to Source/Input and switch to TV to watch television stations in my area.
Adult Content. Of course, there's adult content that comes in some of the live premium channels delivered. This includes on-demand movies Rated R, PG-13, etc. And there's other adult content that's locked by default. I don't condone this sort of thing but you may feel differently. There is a code (sent by email) that unlocks this adult content. I did not review it, so this is all I have to say about it.
Genzee VOD Movies and TV Shows
Most people have favorite TV shows, sitcoms, and the episodes they love to watch. You can watch most if not all of them online with this service. I'm not a TV shows kind of guy, so very rarely do I watch them. There is plenty of on-demand streaming content that can entertain the entire family. There are movies from many genres such as Action, Drama, Horror, Comedy, Sci-Fi, Actions, and so on.
All movies play in HD. The service doesn't add any SD (Stand Definition), cam recorded, or  sub-par quality videos. All the on-demand content is crystal-clear including TV episodes online. You can find old, recent, and very recent movies. I watched some movies that recently played in theaters.
If you love to watch TV episodes, you can watch them live on
Genzee TV channels
. If you miss any, don't worry. The service records most of them and adds them to the VOD section. The VOD section is loaded with on-demand TV shows/episodes and movies. There's enough there to entertain the entire family for months. New content is added regularly.
Genzee Radio Stations
Somewhat of a disappointment here. The first time I tested links to play radio stations some of them did play. But when I went back to this section a day later no radio stations played. Perhaps the service is working on this and will get those links working again.
Genzee TV DVR/CatchUp & EPG Features
The Genzee TV DVR is in the CatchUp category. You do not need to record anything which saves time. Instead, this service records everything for you. If you missed a live show, you probably can find it within 24 hours after it aired live. Just open Catchup and do a quick search when using the Search tool (hourglass icon).
You can find what you're searching for when scrolling up/down the left column to find a  TV network name.  The word DVR appears to the right of each network name. Just click the name and in the right colum shows a column with days of the week. There are 8 days worth of recordings. Click the day of week the shows was aired. Over to the right of that column is another column. This is where you'll find two columns with listings of TV shows by name that were recorded.
Benefits, Features, Costs, Refund, and Support
How Genzee benefits TV viewers are three-fold:
1) The service helps people transition over to Internet TV quickly. You can use any number of devices (TV, smartphone, computer, tablet, Amazon Fire Stick, etc.) If you are not familiar with Internet TV or never downloaded anything before, there are plenty of instructions available. One can also contact support via email, chat box, or toll-free number;
2) Next best thing to cable/satellite TV with many of the same channels/networks. A good number of movies, news, TV shows, and sports channels. Crystal-clear picture quality, good audio, and most channels play; Large VOD movies and TV shows database;
3) Beats high cost of cable/satellite TV without losing your favorite TV channels/networks/shows/sports. The average cost is $1 per day when choosing the $30 monthly subscription for access to over 500 TV channels. Has huge sports and movie/TV shows database.
What Does Genzee TV Cost? One of the highlights of this IPTV service is the GenzeeTV price. There are 3 all access subscription plans available  including free trial (may or may not be available). When the trial or subscription ends, you can sign up for any of the following subscriptions below:
Weekly All Access for 7 days only, Up to 4 devices simultaneously: $11.99
Monthly All Access Subscription, Up to 4 devices simultaneously: $29.99
Monthly All Access Subscription, Up to 8 devices simultaneously: $49.99
Click Here to Subscribe Now
When you buy an All-Access Monthly Pass, you are automatically enrolled in auto-pay. There is no auto-pay for our All Access Weekly Passes. If you choose not to be on auto-pay, this would be the right package for you. Otherwise, you'll get recurring month-to-month and can cancel at any time when contacting support.
Note: Anyone from any country can use this service. Just make sure you enter your correct email address to receive emails from them. If you don't see any emails, look in your Spam/Junk mail folder for them. Then move all those emails to where you normally receive emails.
I remember having cable TV some years ago and being charged over $100 per month. Whatever your monthly cost is, you should begin to see the savings. I used my savings to increase my Internet connection speed to over 200 Mbps. You don't necessarily need this much but should have at least 25 Mbps Internet connection (download) speed. But faster your connection the better off you will be.
7-Day Money Back Guarantee (1st month only)
You must first meet certain criterias to be eligible for the 7-day money back guarantee. No refund if: 1) Opting into the 48-Hour Free Trial — may or may not be available; 2) Paying the 7-day subscription; 3) You opt into the Free Trial, and then paid the 7-day subscription or one month subscription.
In other words, you can only apply for a refund if paying the one month subscription without opting into the Free Trial or 7-Day subscription.
I never requested a refund but I can tell you that support is quick to respond to your question or issue. I used the chat box a few times. If support is online, you can get help or question answered right then and there. Otherwise, they will contact you soon when leaving your email address.
Genzee TV Free Trial without PPV Events (may or may not be available)
Here's the part that should make any newcomer to this service give it try. Just signup for the 48-hour free trial (may not be available). They do not ask for credit card information. This shows they have a lot of confidence in their service. You'll get full access to everything when signing up.
The service gives you enough time to test Genzee on four devices. Just make sure you have enough free time on hand to test the service. You should go through everything before the 48 hours end. If you have cable or satellite TV, don't cancel or downsize your subscription just yet.
I recommend that you test this service first by entering into the genzee tv free trial. If you like what you see, you may want to opt for the 7-day subscription or one month next subscription.
Get Your Free Trial or Subscription Here
Pros and Cons
Pros
Before concluding this Genzee TV review, the service informed me that iOS, Apple TV, and most Smart TVs are now compatible. You can now stream 4 devices at once for both 7-day and one-month subscriptions. The 3 low prices are now made into 2 low prices with the number of channels increased to 900+. This means more on-demand content and live channels including more sports channels.
The most important thing that won me over was the steady, uninterrupted live streaming content. No buffering or playback issue that you find when using some of the other IPTV services.
As far as the GenzeeTV price, $10 for 7 days or $30 per month (average cost of $1 per day), one can watch his/her favorites without the high cost of cable/satellite TV. Wherever your interest lies, live sports, movies, TV shows/episodes, or news broadcasts, you get it all.
With access to live premium TV channels, huge live sports package, and plenty of VOD movies/TV episodes, you get the best of both worlds. And you can watch everything across any number of devices including smart TV.
Update: Genzee recommneds using the SO Player app for all devices. However, this app is not compatible with smart TVs (LG & Samsung). Use the Nora Go app. It's compatible with smarts TVs. Try searching for the Nora app inside your smart TV (app download section). If you see it, then download/install it. If you don't see it, then it means your smart TV is not compatible.
The 48-hour free trial (may or may not be available) is a no-brainer when it comes to making the decision to try out Genzee on your device. No credit card information is required at this point and you get full access. No country or IP access is blocked, which means anyone from any country can get access.
All streaming content comes in HD, no sub-par picture quality. If you miss a scheduled TV episode from a live channel/network, more than likely you'll find it in the VOD section one day later.
The Genzee service is constantly upgrading, adding, and improving behind the scenes. I was told upcoming updates are underway.
Cons
There are no OTA TV channels delivered from local TV stations in your area. But you do get access to national channels such as NBC, ABC, CBS, Fox, etc. Subscribers do get access to many of their local sports. There are 100s of live premium TV channels, many of which are found on cable/satellite TV.
There is no DVR feature but live channels with TV episodes are recorded and added to the VOD section one day later. As for the CatchUp feature that's now in development. When available, this feature will record live sporting events and store them for 3 days. Sports fans will be able to watch a live sporting event s/he missed.
Few live channels didn't play out of the many I tried. When this happens, you can contact support via chat box or toll-free phone number. Also, some channels played without audio. When this happens, just play or reload the channel again and the audio should play. You may have to keep trying a few times until the audio plays. Sometimes I played another live channel with audio, came back to the channel without audio, and it played.
Unfortunately, parents will need to monitor what kids watch on Genzee. There's way to block non-kids channels and videos. There are many live premium TV channels with rated R and PG-13 movies. There is no parental control for other channels.
In addition, other adult content is included. By default, they are locked (parental controlled). There is a code available (comes with email) that can unlock the other adult content.
Genzee TV Review – Conclusion
By now, you should have a pretty good idea what this IPTV service provides as explained in my Genzee TV review. The benefits of using the Genzee TV app and service are apparent. There's nothing to lose when opting into the free trial (may or may not be available) with full access. If you're living without cable/satellite TV, this is a way to get access to many live premium TV channels and VOD content at very low-cost. You can entertain the entire family for just $1 per day.
If you are thinking about downsizing or canceling your cable/satellite TV subscription, Genzee makes it easy to do so. The fear of losing your favorite channels, shows, movie channels and sports is eliminated. Many of them will be available on Genzee.
All in all, the pros do outweigh the cons. There aren't that many downsides to this service. They are reliable and not many 3rd-party streaming TV services, like Genzee TV, offer a toll-free number.
Having the ability to watch your favorites at home or on-the-go via mobile devices is an added benefit. Remember, there is no high cost, no contract, no hidden fees, and no hardware/antenna to install. You simply sign up and download/install the Genzee TV software or app for your devices. Then sit back and watch your favorites online.
If you are searching for a huge live sports TV package, Genzee sports doesn't fall short of the mark. All live sports channels/networks are delivered in HD as well as other streaming content. Watch any sporting event or ballgame worldwide or PPV on the big screen without hurting your pockets.
As for movie lovers, you get over 30 live movie channels/networks and host of VOD movies. You will find many old and recent, some of which probably played in theaters very recently. This includes Hollywood and blockbuster movies. And you can search for a live channel name or on-demand video title when using the search bar.
Even if you end up not liking the Genzee service for some reason, after you've paid, there's 7-day money back guarantee on the first month. You will be refunded quickly.
I hope all your questions were answered in my extensive review of Genzee TV. I recommend you visit the website to learn more and try it out.
This concludes my Genzee TV Review
To Learn More and Sign Up for Your Subscription Today — Click Here
Related Resources
Genzee Video Tutorials
Nora Go App Video Tutorials
SO PLayer App Video Tutorials