Playon / PlayOn TV App (
Formally PlayLater

)… Makes Watching & Recording Live and VOD on TV and Streaming Devices Easy

PlayOn Review (PlayOn TV). Many individuals ask if all the steaming content inside the Playon desktop PC app is free to watch online. The answer is no. Not all the content is free. There are many subscription-based content providers with live and on-demand TV such as Fox, CBS, HBO Go, Netflix, and Hulu.

If you don't have a paid subscription, you must become a paid subscriber of the content provider to watch what they have. Playon simply provides an easy way to record and download your favorite TV shows, movies, and so on to watch them offline.

The streaming video recorder (SVR) can record and download any streaming content — TV show, or movie — connected with the Playon app. What's also great about this is you can record the streaming content even if the content provider doesn't have a record feature.
How You Benefit…
So if you like having all your favorite free and pay-to-watch streaming content providers under one roof with the option to record and download to watch offline, then PlayOn may be for you.
Another important benefit is the app can skip ads automatically when you play back any recordings of ad-supported TV networks with shows.
———————————–
Play On for MAC: See Pros and Cons Further Down.
Is it Legal? Yes, read the section further down for more details.
UPDATE: There is now the PlayOn Cloud that provides a better way to stream. You can now choose either one of the three Cloud Credit Packs or one of the three Cloud Plans. See Free Trial, Cost, and Subscriptions further down or click the link above to learn more and get the Free Download with up 5 recordings.
PlayOn Alternative at Low-Cost
Here's a PlayOn alternative or two to review with live and on-demand streaming content, more savings and free trials. To avoid subscribing to each and every TV Network or Internet content provider (HBO, Discovery Channel, Cinemax, ESPN, FX, History Channels, Sky Channels, etc.), you get them all under one roof at a very low cost – CLICK HERE to Visit Top 10 IPTV Services
———————————–
PlayOn Review by Real User and Tester. It has become abundantly clear that in order to save time getting access to unlimited streaming content online, streamlining is most important. Visiting one TV/VOD website after another to watch something of interest isn't practical anymore, and need I say isn't 21st century. This review of Play On TV falls in line with learning how to cut the cable cord. Also saving cost without losing the entertainment you love.
See FAQ, System Requirements, User Guide, and Other Guides for More Information

Smart TVs, game consoles, and streaming media devices each come with a limited number of TV/VOD apps at your fingertips. But there is a larger number of free and pay-to-watch streaming content providers out there besides Netflix, Amazon Prime Instant Video, Hulu, and YouTube to watch live and on-demand streaming content online. There are many live TV channels online, today than ever before. Many TV networks are now streaming their content online for you to watch TV channels online (TV shows, movies, news, sports, and so on).
However, computer users don't have TV/VOD apps that directly connect to various live TV and on-demand sources. There are plenty of free and pay-to-watch TV/VOD websites that viewers can find on their own. But rather than spend time and effort surfing online and visiting one website after another to watch something, there's an easier approach. PlayOn TV is an aggregator service that brings everything to one place, both live TV and on-demand content providers.
Some of the Perks…
After hearing about this all-in-one aggregator TV/VOD portal, I was anxious to try it out on my computer. And experience what smart TV, smartphone, and streaming media devices were getting with the use of TV/Video Apps at their fingertips.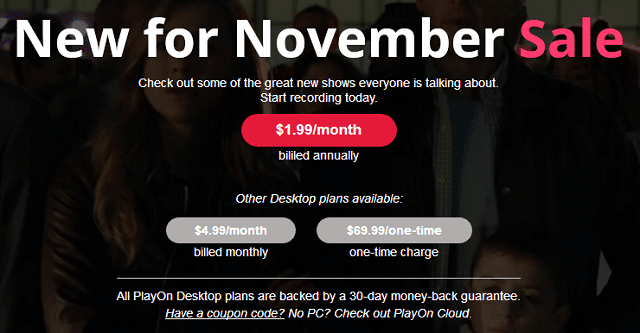 If searching for a source with all your video-on-demand and live TV channels/networks in one place, this Play on TV software has it all. They bring together a wealth of subscription-based providers such as HBOGO and ESPN including free and pay-to-watch streaming content.
Users of this product/service can download software to watch, cast, stream, and record streaming live/VOD content from many content providers. Once they install the TV portal on their Windows computer, they immediately have available to them free and pay-to-use content providers. A Mac version is said to be in development.
Users can personalize Play On when adding/saving their own content (more on this later). And there are plenty more perks and interesting features available that make this playon desktop pc app hard to pass by.
See it in action (Free Download)…
FREE Download/DISCOUNT May Not Be Available Forever – Get It Now Before It's Gone
Note: To get access to the free version, visit the website (see link above) and click the 'Download' link at top of the website. Complete the form and download the free app for Windows computers.
Playon Review: TV on PC Desktop App
What is PlayOn for Windows? This award-winning software received high accolades from Popular Science Magazine and Money Magazine including CNET. It's a free streaming hub (or portal) that streamlines (well organize) many streaming VOD and live content providers/websites, which has all your personal media conveniently laid out in one place on your personal computer. In addition, this hub provides content, management, and functions as a media service, with an online DVR all wrapped up in a single easy-to-use interface.
The user can watch as well as record literally any online video with PlayOn Plus, which is the pay-to-use version that offers additional features. If the streaming content is available over the web, then chances are Play On TV can stream it to basically any device or record the content to watch it offline.
Simply put, users can use this portal to access favorite streaming content from anywhere in the household. They can watch, cast, stream or record any movie or show on the web from streaming sites and content providers like Netflix, Hulu, HBO Go, and other TV/VOD websites.
Playon Review: Questions & Answers
Users can even record full-length TV series with just one click. Or subscribe to automatically record a favorite series when available online.
What's on PlayOn? Many popular live and video-on-demand streaming content providers/websites are available, which allow you to watch whatever is of interest online. Here's a screenshot of many free-to-use and pay-to-watch channels that are available: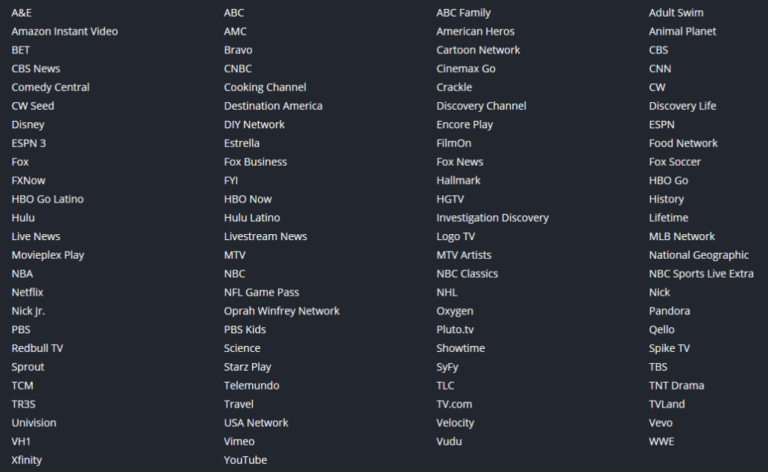 What Is Needed? Just a Windows PC that meets the minimum requirements and Internet connection. This TV app provides a ton of value without the use of any additional hardware or equipment. The PlayOnTV software also allows users to stream to any number of network-connected devices, which means you can watch everything on your TV as well as watch it all on a smartphone or tablet when on the go.
Is it legal? You have nothing to worry about here. This app is completely legal to use. The reason is this service brings together both free TV content from the web such as YouTube and subscription-based content providers/licensed providers. Play On for Windows doesn't own any of the content that's accessible to you nor license to carry/distribute. This is not a requirement for this type of platform. Many 3rd-party services like this one are doing the same thing.
You are not paying Play on a subscription fee to watch cable/satellite TV channels and licensed content. You must sign up and pay the subscription fee directly to the licensed provider or owner of the content such as ESPN, HBO, etc. You can sign up for each subscription-based provider directly through the Playon desktop PC app and watch everything through the app. To make clear, users Do Not get free access to watch licensed streaming content.
Record Netflix on PC and Record Amazon Prime Video & Hulu

Users can also use the Play On app for recording movies from Netflix and other on-demand TV websites, so as long as they don't use the recorded content to make a profit. You cannot redistribute the recorded content to others in any way that violates copyrights. You can use the app like millions of people do today. Here is Play On Amazon Prime instructions on how to record, download and watch Amazon Video Offline.
See More How-To below…
On Netflix – How to Record, Download and Watch Netflix Movies For Streaming Offline
On Hulu – How to Download and Watch Hulu Movies Offline
If you already have a Roku, here's how you can benefit (PlayOn TV Roku Review):
To Visit Play On Roku Page to Learn More and Get Free download – ClicK Here
To See All Compatible Devices – Click Here
Next Segment of the Review
NOTE: You must download the PlayOn Desktop software to your Windows computer first. It has the DVR for Roku. Users can record from 100+ popular streaming content websites such as Hulu, Netflix, Amazon, and HBO GO. You can cast or stream your recordings to your Roku and automatically skip ads while doing it. The Play On Desktop Channel is now in the Playon Roku Channel Store.
The TV app offers many advantages. If you already have a Hulu paid subscription, Play On gives you the ability to stream recordings (ad-free) to your Play On TV Roku when using the AdSkip feature.
Some good examples are CBS and PBS. Though Roku's native PBS channel basically provides a relatively small number of rotating video selections, Play On allows access to the entire PBS video archive, which is available at PBS.org and has 100s of additional full-length episodes.
As for PlayOn's CBS channels, it provides free use of full-length CBS episodes, whereas no CBS All Access subscription is required! There are many more of these examples. The PlayOnTV hub has many free-to-use TV/VOD websites such as ABC, NBC, SpikeTV, Fox, MTV, Comedy Central, VHI, and so on.
Further in the PlayOn review, it was discovered that you can record videos. Users can easily transfer recordings to almost any device to watch offline (no Internet connection)… or they can stream recordings to their mobile device or TV via PlayOn's AdSkip feature. Something else to note — there are many third-party plugins available in their Channels Store.
Browser Extension
I also discovered a browser extension that allows you to bookmark, cast, and even record literally any online video. In essence, you can record videos directly from your web browser.
I installed the extension to both my Google Chrome and Mozilla Firefox browsers and the icon appeared on my browser – it works like a charm. I was able to record streaming content outside of the Play on for Windows software from my browser and click the PlayOn PlayMark link within the dashboard to play what I recorded – it works great!
How to find the browser extension…
Open PlayOn app on your computer
Click 'Settings' icon (round gear shape) at bottom left corner
Popup windows appears – click 'Yes'; Next, 'Settings' window appears
Click 'Browser' tab at top
See "Browsers you wish to integrate…" and check each box for the web browser(s) you want to install extension
Click OK button when done
Update: Extension no longer installs on my Mozilla Firefox and Internet Explorer browsers for some reason. But it does install on the Google Chrome browser. If you don't see a website channel (Play On private channels) that you want to watch, here's what you can do. The browser extension tool that comes with your purchase will allow you to mark, cast (to your TV) or record most any online video.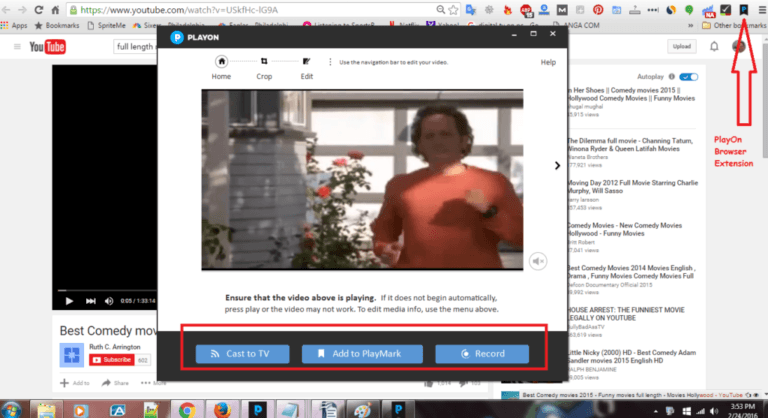 How Does it Work?
When you install the PlayOn download software on your PC, it automatically opens (first time only) and takes you to the Welcome screen where the Quick Start Guide appears. An icon also appears on your computer desktop. In the Welcome area, you'll see four links on the left side of the panel as follows: Welcome; Channels Startup; Plus Preview; Device Setup. See the screenshot below…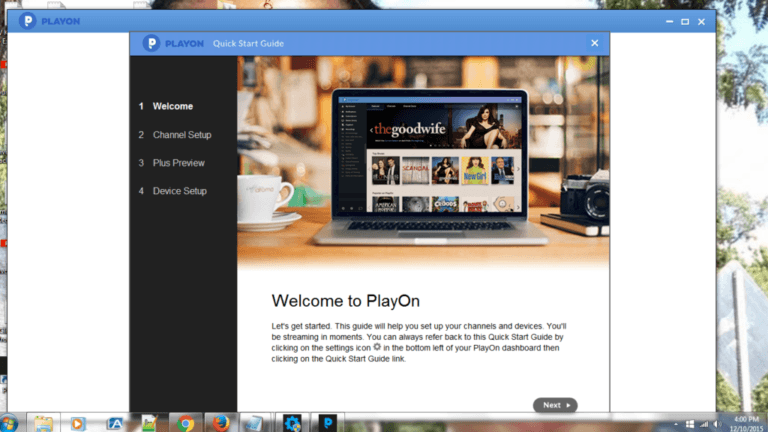 There's also a User guide available that helps with setting up the channels and devices, along with the 'Quick Guide' that is available when clicking the 'Help' (?) icon. You'll also see the 'Settings' icon (gear shape image) and the Cast Control icon on the bottom left of the dashboard. This review didn't go to great lengths to explain the guide because you can read it on their website right now, without downloading the software.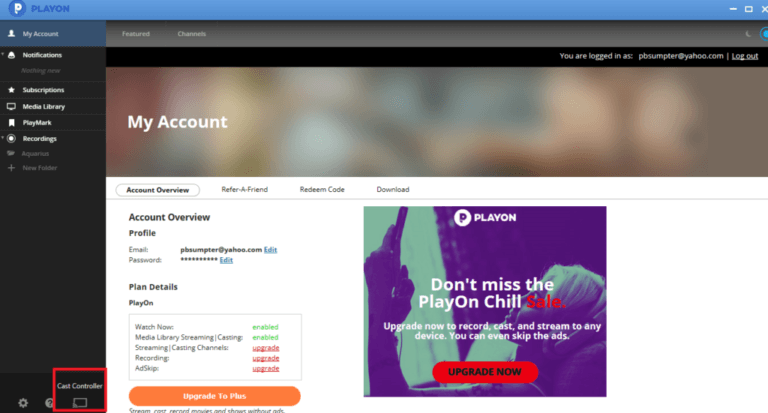 Two Features to Start watching Television Shows (Live & VOD):
Select free streaming content to watch from 'Featured' and 'Channels' categories
Start the Channel Setup by signing up for the subscription services and/or entering login details
Channels are names of streaming content providers that offer TV shows, movies, and videos you want to watch online. You simply click the Channel icon image that interest you to be taken to directories such as Current Shows, New Shows, Digital Shows, and Events. Inside those directories will show a list of individual TV shows – See screenshot below…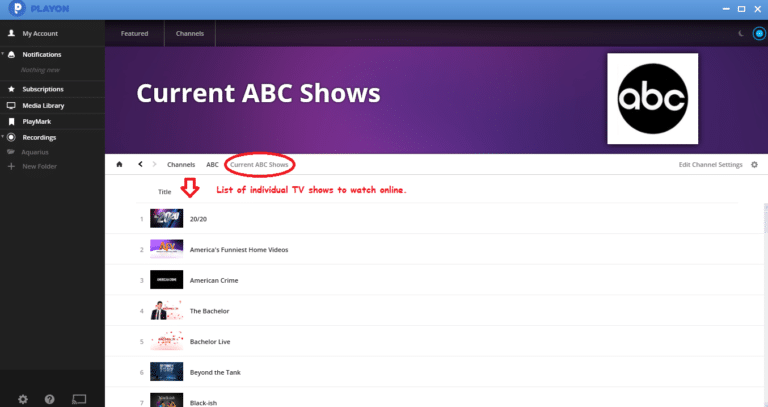 Channel Credentials
Entering Channel Credentials. Some channels like HBO Go, Amazon Prime Instant Video, and Netflix require a paid subscription in order to watch the content. As for free accounts, like Crackle, there's no need to log in to watch the content. As for other channels, such as YouTube, they make TV viewing a lot more convenient and at times expand on the available content.
You simply enter your credentials and click the 'Edit Channels Settings' icon (gear image) at the top right of the Channels tab. There are other ways to do this as well: From the Welcome screen, click Channel Setup >> Channels or click the Settings (gear-shaped icon) as described earlier. You'll also find an Edit Channels Setting link in the Channels section.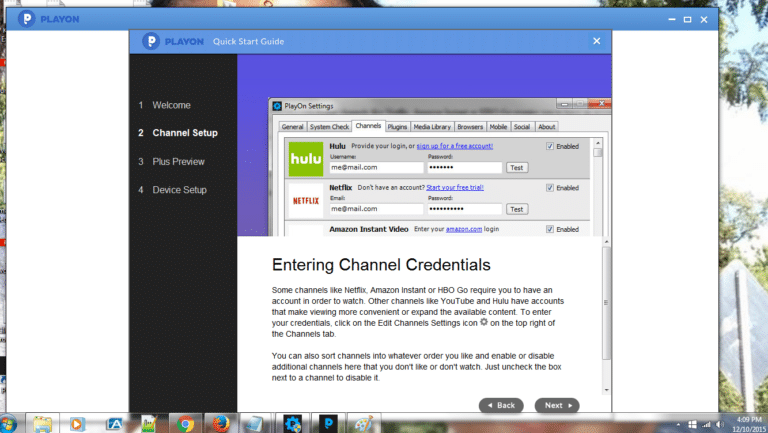 There's also a feature for sorting channels into whatever order you like or disabling additional channels you don't want to watch as well as enabling them. Just un-check the box next to a channel to disable it.
Tip: Users can add more channels to their lineup with PlayOn Channel Plugins.
On the left side of the Channel link (at top of the dashboard) is the Featured link where you'll find popular and top streaming content. The user can also watch, cast, stream, and record TV shows, movies, and other content as well, according to which version is in use (Free or Plus).
Popular on Hulu
Popular on Netflix
Top Shows
Top Channel
Does it Require a Cable Provider?
Yes and No! Some channels included will require a cable provider but most recent full-length episodes do not require a subscription.
If you find that specific shows aren't available for free over the web and want to watch them immediately, then you may want to purchase individual TV passes from streaming services such as Amazon VOD. They allow consumers to purchase full-season episodes of 3-4 for about the same price as a month's worth of cable.
You can use PlayOn to stream to any device as well as record and watch offline. Not only that but the software adds the convenience of cable to cord-cutter and streamers. If looking for a DVR for the Internet, this software will record TV shows/episodes and other streaming content automatically — once they become available over the web.
If you cannot find a particular website of interest listed as a channel and want to watch those videos via television or record them, you can purchase the 'Plus' version that includes the web browser extension. This way you can bookmark/record anything outside the software as well as make and cast to your television or record mostly any video online.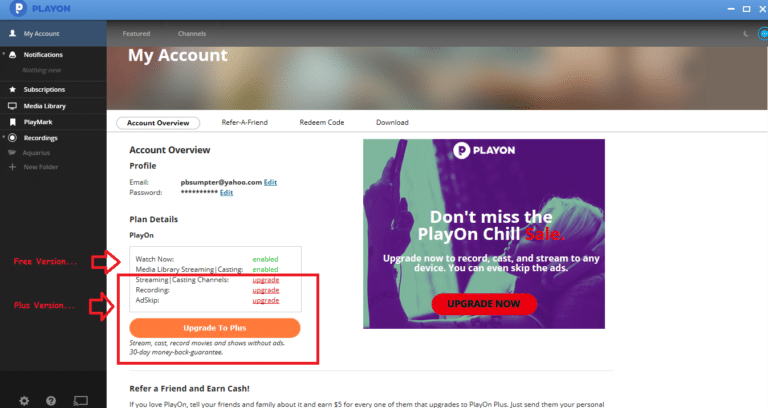 DNS/VPN Service
Does it Work Outside the U.S.? The service makes it clear that the availability of the content depends on the content provider and your region – certain countries may be blocked. Obviously, any video that can be played when visiting the provider's site, can be streamed and recorded with the Play On technology. UK TV viewers/residences, see Sky Now TV Box.
If concerned about blocked content when using this software outside the USA region, there is a workaround. You should consider a DNS service like AdFreetime Region Unlock, which is inexpensive and said to work pretty well with the download PlayOn and PlayLater features. Or read an article about how to resolve geo-restrictions… How To Bypass Geo Restrictions and Location Errors"
Just turn on the DNS service for your PC, and then load the app on your PC so that it connects online via DNS service. That's all there is to it. You can get access to many streaming content providers and watch whatever you like.
—————————–
Here's something else users can benefit from. PlayOnTV also supports the addition of new video services via plugins and scripts, whereas many of these services provide the availability of international videos. This can be found in the Channel Store from the PlayOn desktop app.
What Devices Are Compatible?
The app is designed to function with many different streaming devices. You can add Play On to Roku including Chromecast, Xbox, PlayStation, Wii, and other devices. A complete list can be viewed further down in this PlayOn review. Once your device is connected to the same network as your PC, it should work with the app. You can always contact support to see whether or not your device is compatible.
To See All Compatible Devices, Click Here
PlayOn can also be used with your Wii or play station. See video tutorials below…
How to use with Wii
How to use with Playstation
What's Not Needed?
You don't need any playback device to watch videos with this app. As mentioned before, you can stream to almost any device. The app is designed for personal computers, whereas you can watch videos online and record them on a PC. If you upgrade to the Plus version, you have the ability to use your tablet or mobile device.
To connect a computer to a TV usually requires a video/audio cable such as an HDMI cable (see image at right). However, you don't need to do this when using the PlayOn app. You can easily use your home Internet network to send videos to any device (Chromecast, game console, network-connected TV, Blu-ray player, Roku, etc.) that's connected to your home network. In fact, I discovered that one installation of this app can be utilized to stream any number of different devices/TVs you want.
Is There Live PlayOn Sports?
According to the service, watching live sports online is still a challenge. However, there are available channels that users can subscribe to like NBA, MLB, Fox Soccer, NHL, and ESPN. If sports are high on your list, I suggest clicking the link below to visit our Comparison Chart…
Click Here to See Comparison Chart
If you already have Chromecast, here's how you can benefit:
In a single word – flexibility. The app streamlines web content into one place that's convenient. Browse whatever is of interest from the app on your PC or the PlayOn Mobile app, select any video, and cast it to your Chromecast. Easily record videos with the DVR and stream ad-free when using the AdSkip feature.
If you already subscribed to Netflix and/or Hulu for your television, here's how you can enhance your web experience:
You'll love how this app makes Netflix and Hulu a better place. It totally supports Hulu pay-to-watch subscriptions. What this means is you can watch Hulu on any television. If you keep your subscription for access to exclusive content, then use the PlayOn app to record whatever is of interest, automatically. Later, you can stream recordings (ad-free) to any television at home.
Same thing with Netflix. Record videos and watch them anytime, anywhere offline, and take them with you when away from home.
As previously mentioned, the software also adds a ton of additional content. Channels like Starz Play, Comedy Central, Xfinity, CBS, HBO Now, Fx Now, Showtime, NBA…at any device… whether or not there is native support!
More Info
Speaking of CBS, if you already have a CBS app on your television that requires you to pay for CBS All Access to watch full episodes, Play On can help. The app runs on your personal computer (desktop or laptop), which in turn provides access to any videos you have access to… in your web browser.
Keep in mind, that new full-length episodes are available the next day they are broadcast on CBS.com. However, you can use the application to stream all those episodes to any number of devices. And do so without paying for a subscription to CBS All Access.
You can set up subscriptions to include all CBS shows that interest you, as well as automatically set up to record them. There's no need to worry about when they expire.
By the way, if you want to know whether or not this app works with Netflix accounts from other regions, the answer is 'Yes'. The service currently supports Netflix accounts in 18 regions and will add support for others as Netflix continues to broaden its reach.
If you have cable and have no plans on canceling, here's how you can benefit:
Actually, it doesn't matter whether you are living with cable or not. But if you do, you'll be please to know this app includes a variety of channels with support for cable provider authentication. This means you can stream all your favorite shows to any device without hardware such as a Roku player or cable box. In fact, you may want to cancel your DVR service and save. Play On can automatically record all your favorites. Not only that but record offline via any device ad-free.

All Your Channels In One Place
One can consider this one-source app a launchpad to all his/her favorites… from movies to TV shows, Netflix to Hulu and many other providers, sports networks to many major networks, and so on. There are over 100 of these channels available, which you can add yourself along the way.
Just like having TV/VOD apps on your smartphone, smart TV, or streaming media device but you get them on your computer with many additional TV/VOD plugins (similar to apps) you can add…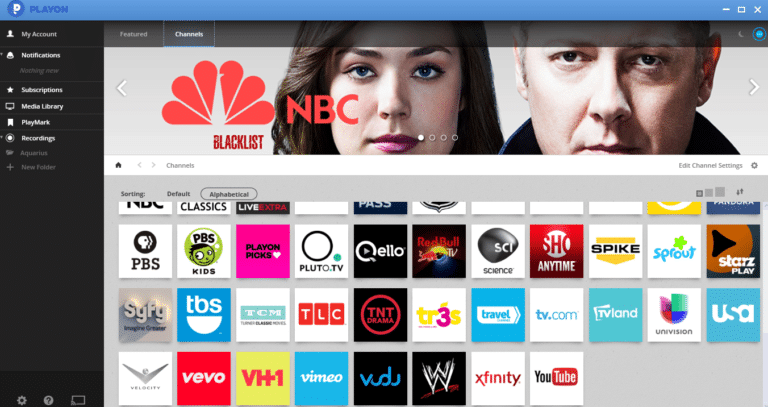 Watch TV on Your TV
If you want to watch everything on your small/large screen television, the app makes this a cinch to set up – stream or cast to any television at home. The way to do this is to connect your television to any compatible streaming media device (PlayStation, Roku, Chromecast, Xbox, or Wii), then get out the popcorn, sit back, and enjoy!

You can set up the app to record all your favorites automatically, including new episodes as soon as they are released. No more worrying about those movies and shows disappearing from the Internet before you get to view them.
Casting to Your TV. Streaming videos can be cast from a personal computer to your Xbox, Chromecast, or Roku.
Streaming to Your TV
Your device's interface will enable you to have access to your favorite streaming videos while sitting on your couch. This with work with any supported device mentioned earlier, including Google TV and so on.
Recap – This app permits users to stream/cast videos on their television from any assortment of devices. Simply turn on the streaming device or game console after installing the FREE App. Just make sure your device is connected to the same wifi network that your personal computer is on.
Next, find the PlayOn Media Server and that's all there is to it. Click your device name on the left or click 'next' to learn about all the devices.
Note: If for some reason you don't see your device listed, simply click 'check our website'. A list of the most up-to-date supported devices will appear.
If you already have Chromecast, here's a nifty little feature that should come in handy. Cast a video through your Web Browser or PlayOn PC Desktop to Chromecast and locate any TV show from the 'Channels' tab when the app console is open. From there, click the 'Cast' icon that sends it to your Chromecast or any device you want to use.
Cast recordings with AdSkip
In order to cast from a web browser, the extension must be installed on one of the following browsers:
Mozilla Firefox
Google Chrome
Opera
Internet Explorer
Mobile users can download the free PlayOn Mobile App to their devices. Install the browser extension by clicking on the Settings icon (gear-shaped icon). The next step is selecting the 'Browsers' tab. By the way, the availability of the free mobile app is from the Blackberry app, Android, and iOS
Note: You must be a Play On Plus (pay-to-use), subscriber, to stream and/or cast videos.
Record Anything
Users can record any TV show or movie from the web via stream sites such as HBO Go, Hulu, Netflix, and many more. And watch with no Internet access, while on a long flight somewhere, camping trip, or when at a relative's house.
The app gives you the ability to record any full-length TV series, with a click of a button. Or subscribe and record all your favorite series automatically… immediately when they become available online. This is also beneficial because the Playon DVR recording capacity is not capped.
Now that you know recordings can be stored on your computer's hard drive, either external or internal, the amount of recordings you can make depends on your free storage space.
Note: I recommend that you purchase an external hard drive for storage. This way you can dedicate the hard drive to nothing but recorded TV shows, movies, and related streaming content in one place. You can have as many external drives as you want. Otherwise, you could tap out any free space on your computer's internal hard drive quickly.
To make it clear…
This app permits you to set up/record favorite shows automatically with its subscription feature and can automatically record new full-length episodes, in mp4 format, when they become available over the Internet. This gives you the ability to watch whatever you want, when, and where you want. It also means you can transfer recordings to your mobile device to take wherever you go.
While conducting my Playon review, I liked how I could record and watch on my television when using the PlayOn DVR. Understand that recordings will stay on your hard drive until you delete them. It was a cinch to transfer recordings to my device for playback offline or when I wanted to stream over my home WiFi network.
AdSkip for Desktop and Cloud Version
Here's a feature you will no doubt appreciate. When watching a recording on your PlayOn PC Desktop, Android, iPhone/iPad, Xbox, Chromecast, or Roku, you can skip commercials automatically, whereas there are no interruptions.
This AdSkip feature allows users to view their favorite TV shows, sports, and other content totally ad-free. You don't need to look for this option, it will present itself once you stream a particular recording to an AdSkip compatible device that was mentioned above. By the way, ads aren't stripped away; they have simply skipped over automatically when the recorded video plays.
Streaming to your Mobile Device
Users have the ability to stream from their Windows PC, with the app installed, to their mobile device, no matter where they are. This will work over 3G, 4G, LTE, or Wi-Fi. Users can also have their phone remotely tell Play On to record a television show, movie, etc.
Picture Quality
I have to say that one of my concerns about this product was how good is the picture quality. This PC desktop app streams and records in a max HD resolution of 720p, which depends on the quality of the video where it comes from (source). Also, like everything else when watching streaming content over the Internet, the speed of your computer's CPU has to be taken into consideration. I was very impressed with the picture quality of the content I watched online.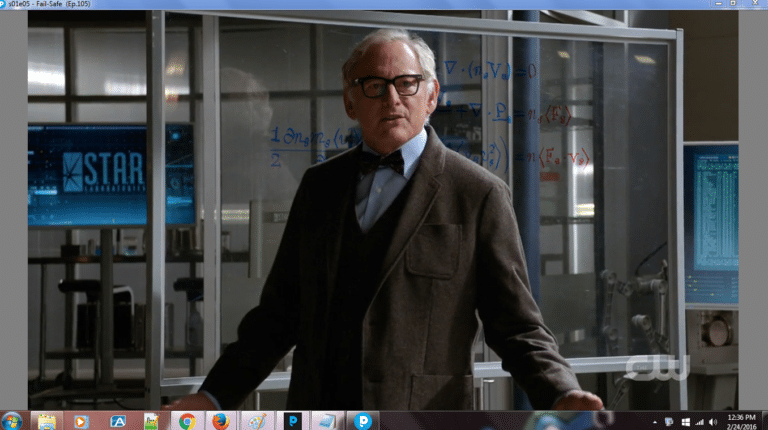 PlayOn PC Desktop App – Free Download
You are encouraged to download the PlayOn free download when visiting the official website. This way you can
test the software on your Windows computer, watch free and pay-to-watch TV shows from content providers, check out features, etc. There are many features but to stream/cast channels and record with ADSkip will be disabled. You have to pay to enable those features (see pricing further down). There are other related free apps for your device on Google Play and App Store such as Playon Desktop PC App Amazon.
How-To's That Are Noteworthy
Further PlayOn Review…
How to Stream Videos to Smartphone or Tablet…
This can be done with a little configuration. Users can stream videos to their tablet or phone via PlayOn Mobile app, which is available at no additional cost.
In addition to streaming Play On videos for on-the-go purposes, users can put in use the Mobile app as a Play On 'remote'. The Mobile app is usually easier to maneuver around than the native interface that's found on a host of devices. The user simply chooses a video on his/her tablet or phone and cast the video directly to his/her television.
How to Add Recordings to Recording Queue Without Sitting at PC…
You might be interested in knowing you can add any video to the recording queue from some devices connected to your television, computer/tablet, or phone via Mobile App. I recorded videos that were waiting in my recording queue, while away from home.
Once the server is remotely connected from your tablet or phone, you can find the video and click the record button. That's as easy as it gets! Your recordings will be sitting there when you get home.
Personalize Your TV
Aside from all the features that come with this PC desktop app, you can add and localize all your media (movies, videos, TV shows) and watch from any device, as well as localize music and photos. The Media Library technology helps make this happen – See Image Below…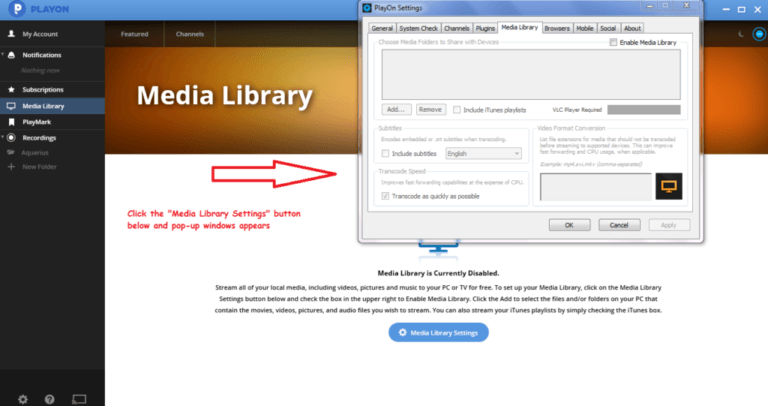 Free PlayOn Download vs PlayOn Plus – What's Different?
You already know there are two versions available: a Free-to-use Playon TV download and a pay-to-use version that can be downloaded to your Windows PC. Right away, you can watch all your favorite channels that are available with the free version. This also includes Watch Now and streaming your personal media library to almost any connected device on your network.
However, some features like recording with AdSkip, casting, and streaming content online to your television or other devices, along with the extension for your browser will require the Plus upgrade (pay-to-use version).
You might want to become a paid user so you can choose the free Plus Preview channel and scan through all the popular content available. Furthermore, you can cast/stream to your television and record, as well as AdSkip whatever you find in the channel and TV show to record. However, there's plenty of content to watch in the free version to keep you entertained. Be sure to read the PlayOn Review: Pros and Cons further down.
What I particularly like about the PlayOn free version is it allows you to make a quick decision after a test drive. In other words, decide quickly whether or not to upgrade to enable additional features (streaming, casting, and recording with AdSkip) for all channels.
Quick Breakdown of Plus Version Features:
Cast to Your TV – Cast videos to watch via television
Record Anything & schedule recording — Record shows/movies for traveling and watch later from any device
Stream to Any Device. Stream to Smart TV, PlayStation, Xbox, Chromecast, Roku, plus more
Skip the Ads. Record shows and playback ad-free
Show Subscriptions. Automatically record new episodes and favorites when available online
Record a Series. Record full-length series with a single click
Benefits:
Have all your streaming media in one place
Watch on any number of devices
Free app for mobile users
Watch thousands of movies, shows, and channels on/offline
Watch, cast, stream and record all your favorites
Add any video from the web for viewing with PlayMark
Record videos from the web and watch them anytime, anywhere
Cast to TV and watch by streaming video to TV with Roku, Xbox, or Chromecast device
Personalize by adding your own streaming content from the web
Now that you've been informed of all the robust features including benefits, you are probably still wondering how to use the app. No problem! There is a User Guide available which you can get access to right now when visiting the website or after downloading the free app.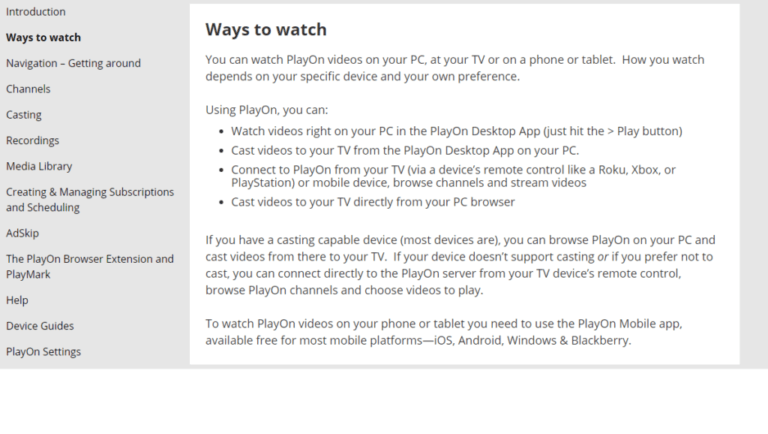 The guide will walk you through all the features and steps. If you have any additional questions regarding how to use the app, simply contact the support team.
The guide covers the following, which is very easy to follow and helpful:
Introduction
Ways to watch
Navigation – Getting around
Channels
Casting
Recordings
Media Library
Creating & Managing Subscriptions and Scheduling
AdSkip
The Browser Extension and PlayMark
Help
Device Guides
PlayOn Settings
Compatibility
You can stream/cast any streaming video to any compatible device:
Streaming Devices:
Roku
Fire TV / Fire Stick
Chromecast
Mobile Devices and Tablets:
iPod Touch, iPhone, iPad
Android
Gaming Consoles:
PS3
PS4
Xbox 360
Xbox One
Wii
Wii U
Tech Support
Although the PlayOnTV service says it's not likely you'll have any trouble using the Play On download, a dedicated team of tech support professionals is readily available to help — 7 days a week, including most holidays, by email.
Submitting a support ticket is really easy. Just click in the bottom left of the PlayOn PC dashboard and click on the Contact Support button. A form will open — fill out the required information, provide a brief description, and then click Submit. That's all there is to it. Their support team will be in touch with you shortly to provide assistance.
Something else worth noting. The support team isn't just there to solve problems. They are also happy to answer questions, so feel free to contact them with questions that are not answered in this PlayOn Review or check their FAQs page. You can contact them right now by visiting their website. Also, There's a FAQs section you can check out when visiting the website. It may answer some additional questions you might have (see the bottom of the website when you get there).
System Requirements
Here are the minimum requirements needed to run Play On on your PC. If you wish to stream to your TV, you'll also need a compatible device like a Roku, Chromecast, game console, or other network-connected players.
Microsoft Windows 10, Windows 8/8.1, Windows 7, Windows Vista (not XP OS)
Windows Internet Explorer 9 or above. The latest version of Internet Explorer available for your OS is desired
512 MB RAM (1 GB recommended)
WiFi Internet connection network
See Additional Requirements…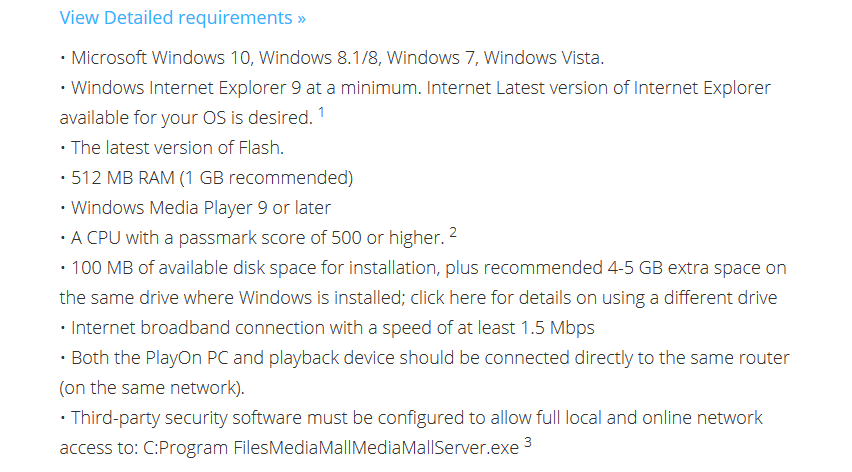 Free Trial, Cloud Subscription, Money-Back Guarantee
You have a choice of two subscription plans:
1. PlayOnCloud @ $70.00 for 650 Credits (less than 11 cents each)
* Use on your Mac, iPhone, iPad, or Android device (incl. Firestick & Fire TV)
* Download/Install to any device or computer
* Comes with a free trial – $2.99/mo for 30 recording credits. 10¢/additional credits
2. PlayOnHome @ $70.00 for 2 Years, Unlimited Recordings – $39.99 per Year Thereafter
* Use on your Computer (record favorite streaming shows)
* No per recording cost
* Recordings automatically saved on your computer
* $4.99/ mo for unlimited recordings – Includes a free app download
NOTE: When visiting the PlayOn TV website, see the chart with a breakdown of features and fees. There's more information to learn as well.
With PlayOnCloud, you get the cloud DVR that lets you record streaming videos. You can record from streaming content providers such as (Hulu, YouTube, Netflix, HBO, Peacock, CW, Disney, and more).
Keep in mind that choosing the Cloud plan allows you to use credits for recording videos at any length. But you must use those credits during the subscription month. You can also get additional credits that never expire which can be purchased when needed. Another thing is you change/cancel your plan anytime you want.
There's an unconditional 30-day money-back guarantee with either purchase. If you find yourself dissatisfied with the PC desktop software, you can email the support team within the 30-day period for a full refund – after making a purchase.
Note: All fees are subject to change.
PlayOn Cloud Review: Something New for Mobile Users
PlayOn Cloud is a mobile app that allows you to record and download streaming content such as TV shows and movies. The user can watch it all offline on his/her iPad or iPhone device. The Play On Cloud SVR has a streaming video recorder that brings all your favorite movies and shows together. Can also download recordings to any PC to watch TV with a streaming device.
With this app, the user can record a video from Amazon Prime, Hulu, Netflix, ABC, CBS, NBC, HBO, Fox, Youtube, and so on. And if commercials get on your nerves, the watch commercial-free feature will surely please. Watch whatever is of interest anytime, anywhere, including offline.
Here's a quick video review that gives a basic idea of what the cloud is like. Keep in mind, that there have been some upgrades after the video was made. The app is compatible with both the iPad and iPhone now…
To get started, simply visit the official website to install the app on either iPhone or iPad. Be sure to click the Play On Cloud link in the upper right corner of their website to learn more. Also see the Support page for FAQs, System Requirements, User Guide, and How-To Guides, or use the 'Contact Us' link for more support — Click Here.
No PC is required to store recordings in the cloud for 30 days. In addition, you can download recordings to any PC or Mac computer with no expiration date. PlayOn cloud cost:
PlayOn Review: Pros and Cons
If you are only interested in watching streaming content from free services, such as YouTube and Crackle, there's nothing else to do other than click to watch what interests you. Update: No more free content from Hulu (go to Yahoo View). The Playon download portal is free to download but certain features like the record with AdSkip and Casting are disabled. If you want those features enabled, you'll have to pay.
As for streaming content from subscription services such as Netflix, Hulu, Amazon Video, NBA and MLB networks, and so on, the Settings feature makes it easy to sign up for those services from one place. In fact, you can also enter login details if you already have an account with those services.
As for watching local channels without cable, you'll be off setting up a local OTA TV with an indoor antenna. This is very easy to do yourself. Otherwise, you can't watch channels from local TV stations in your area.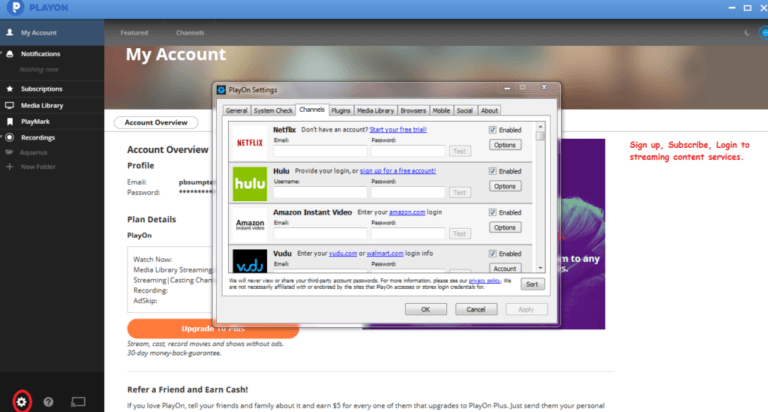 This means there's no need to surf online to find those websites. Most of the work is already done for you. Play On is loaded with many different features, so it will take some time to learn everything. However, it doesn't take much effort to browse the dashboard and click links to start watching some of the free content.
There are guides available that will explain and help you learn all available features, as well as provide all the steps to execute each feature such as record, cast, stream, etc.
More Pros & Cons
Downloading/installing the software to your Windows computer is easy to do. Unfortunately, there is no Linux or Mac version available but it was said a Mac version will be coming out in the near future.
If you like the idea of having many of your favorite video-on-demand content including live content in one place to watch online, then the PlayOn download software doesn't disappoint – whereas you can record and watch offline as well.
The record feature is like having a DVR but only better. You can record unlimited content and watch ad-free, without the cost. In some cases, you will need to join a streaming service provider to watch certain content online. However, this is an option and you can budget yourself when it comes to paying for what really interests you.
If you like the quick accessibility and organization of different apps that appear on smart TVs and streaming media devices, then you'll like having the same thing when using Play On on your PC. The ease-of-use, fast/smooth interface, features, and streamlining are second to none.
As for Mac users, there is no Playon for MAC version. However, there is some information about an application that allows running this software for Mac computers. Check out Parallels Desktop Virtual Machine. Here's a YouTube video. Download Free Trial or Purchase.
Conclusion
Is it Worth It?
By now, you should have a good understanding after reading this PlayOn Review that gave a complete breakdown of what Play On TV really offers. The benefits and features, including pros and cons. In all likelihood, you should be very satisfied when using this PC desktop app to watch, stream, cast, and record content on your computer, among other things.
Remember, you don't have to buy – just use the free version if you like. You can install the PlayOn software on your Windows computer and connect to any large screen TV via a streaming media device. This way you can watch all the free content in a larger view.
Even if you don't have a streaming device on your television, you could connect your computer to TV via HDMI cable or cable that's compatible and watch everything from the PC desktop software that way.
Not enough can be said about a service that offers a free software version to test on your machine and to see how well it works. If you have any concerns or are reluctant to give it a try, I encourage you to take a closer look and download the free app.
Seeing the Value…
In my PlayOn Review, I revealed many things including the downsides and upsides. The only way this product doesn't work for you:
If having access to streaming content in one place isn't needed
If you don't like having a fully loaded platform to watch all your favorite TV shows, news, movies, videos, and live shows online
You live outside the US and channels from streaming content providers are blocked in your country. If the latter occurs, you may want to consider a DNS service, like AdFreetime Region Unlock
There is no malware or virus to be concerned about when downloading/installing this TV app. However, this doesn't mean security software isn't needed on your PC when messing around online. I downloaded the software some time ago and was pleased with the technology and ability to do many things.
Lastly, the free trial is a no-brainer that lets you try it before your buy. You get up to 5 free recordings but with a time limit per recording. Give it a try and see for yourself!
This concludes our exclusive PlayOn Review
You can review the PlayOn free trial and Plus versions further by clicking the link to visit the official website below…
To Get Started and Download the Free App Now. Click Here to Sign Up (See 'Download' Link)