If you are searching for the ideal LUX Player IPTV service, then you are at the right place. I'm a test reviewer of IPTVs and TV apps so rest assured you'll get what you came looking for. I'm going to give you a number of LUXPlayer IPTVs to have on hand should you ever want to switch to another for any reason.
You must subscribe to the IPTV to get the activation/login credentials to use LUX Player to watch your favorites online. There is nothing stopping you from switching the another IPTV service as well. But I'm jumping ahead of myself a little. Just wanted to give you a heads-up. There is more information here including video tutorials to get a complete visual.
LUX Player is very similar or I should say has basically the same platform as SO Player, Nora Go, XPlay, and ISG GO apps. The only real difference is the LUX Player IPTV does not require the Provider ID as part of the activation. The IPTV service will email the Device Pin Codes, Username, and Password.
In a hurry?…
If you are in a rush and know what you are doing, you will find a list of IPTV services to get an IPTV subscription further down.
For individuals that are new to the app and service, feel free to signup to get our Free IPTV Setup Guide to learn the basics and more.
Additional Info…
There are a few differences once inside LUX Player compared to the other apps mentioned. The compatible devices are basically the same with the exception of LUXPlayer also compatible with Roku. You can learn more about the app HERE. But don't try to download the app just yet. Learn a little first so that you don't make mistakes. You can also Learn More Here by watching a video review about the app.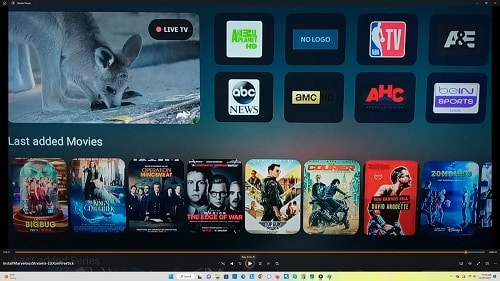 What Comes First… The Chicken or the Egg?
Consider the IPTV service being the chicken and the app being the egg. In this case, when you have not identified the IPTV service to know what app is supported, don't download the app first. Many individuals do exactly that and install the app. Then they get completely lost when not knowing what comes next or where to go to get the activation/login credentials.
Since you have me pointing you to LUX Player IPTV services, you go ahead and install the app if you have not already. All I'm saying is if you didn't know what IPTV service supported an app, there may not be one. This is just a rule of thumb regarding any TV app whereby you need to identify the IPTV service first.

Difference Between App and IPTV Service
The app is a free download but no TV app delivers streaming content all by itself. The IPTV service is needed and provides activation. They deliver all the streaming content and this is where you will create your IPTV account. They also provide support for the app and streaming content they deliver to the app.
I hope this is crystal clear because many individuals get the wrong understanding and totally lost comes time to renew their subscription or get support. You must always go back to the chicken, meaning the LUX Player IPTV service website where your account is located.
A word of advice is to be organized. Save any and all emails from the IPTV service after signing up. Bookmark/save the IPTV website so that you have another way of finding them online. Never go elsewhere online looking for support from other websites that know nothing about your IPTV account.

About LUX Player IPTV & Roku You Must Know
I tested and reviewed some of the top LUX Player IPTV services on my Firestick and Roku. To be honest the Firestick is hands-down the best streaming device to use for IPTV services. Part of the reason is most if not all IPTVs have the Amazon Fire TV devices listed as compatible. The Roku device is seldom compatible.
If you are going to use Roku, currently there is a glitch or issue but there is a workaround regarding live TV channels. When going to any live TV channels sub-category inside the app, scrolling to the right to the 'See All', this is where the glitch occurs.
When trying to play a channel or scroll down the 'See All' of channel names, you suddenly get kicked out of the app. This will happen each and every time when going into that section. During 2022, one IPTV service asked me to test LUXPlayer. I also tested it on my Roku and that's when I found the glitch
Additional Info…
LUX Player on my Firetick worked like a charm but with the Roku, it's just that one issue. However, there is a workaround where you can select and watch live TV channels. You just have to put in a little extra effort to do it. Watch the Video Here where I also show you the glitch and workaround.
It does not matter which IPTV service you use with the app, the issue will occur. I can tolerate the issue until the app developer gets it fixed. Maybe you can too. Now let's get to the LUX Player IPTV services that I was telling you about.

LUXPlayer IPTV Services
The following LUX Player IPTV services have all been test reviewed with the app with the exception of one. I've only tested the app connected to the IPTV on my Firestick and Roku devices. Each IPTV service has the same everything so there isn't one better than the other. Expect to receive the activation login credentials immediately after signing up for the trial or subscription.
If you don't see any emails from them, check your Spam or Junk mailbox whichever one you have. If you find any of the IPTV emails there, move them to your regular email inbox.
You can put all the LUXPlayer IPTV websites below in your basket. Choose one of them. You can switch to another in the future if you want by subscribing to get new activation/login credentials.
IPTV 1 – Click Here or Watch Video Review
IPTV 2 – Click Here or Watch Video Review
IPTV 3 – Click Here or Watch Video Review
IPTV 4 – Click Here (No Video but Same Everything)
NOTE: When clicking any one of the video review links above, you will be taken to the video/article post. Scroll down to the article post and you will find the link to signup, get the trial or subscription, and activate. You will also find other links to watch video tutorials on the IPTV service to learn even more.

In Closing…
I have provided 4 LUX Player IPTV services that you can choose from. If you want to install LUXPlayer from the Play Store now, you can go ahead now that you have identified the IPTV service to get activation. Perhaps you already installed the app, that's ok because you have the IPTV now. LUX Player is a good app and is gaining more popularity by the day. Once the LUX on Roku issue is fixed it becomes even better.