My Thoughts...
Product Name: Hurricane Streaming
Product Description: Delivers many of the same premium TV channels as Cable TV to watch live sports, movies, TV shows, and news. Also, delivers VOD TV Series w/ Episodes, Movies, and some Sports. Comes with EPG (TV Guide), Search took, and User tracking that tells what you watched last and so on. Setup requires a compatible streaming device, High-Speed Internet, and a free App that must be installed on the device first. No VPN or any hardware is required. Can connect up to 4 devices at one time. TSM Streams subscribers/former users, this is a great alternative IPTV service.
Offer price: $25.00
Currency: USD
Availability: OnlineOnly
Usability

Performance

Picture Quality

Compatibility

Live Channels

VOD/CatchUp

Sports/PPV

Global Channels

EPG (TV Guide)

Features

Support
Hurricane Streaming Review
Subscribers can watch many of their favorite TV networks/channels with movies, news, shows, sports, documentaries, kids' channels, as there is something for the entire family. This includes adult content that is locked by default and comes with a code to unlock it. There are live channel categories for seasonal sports, 24/7, US or English, UK, Spanish, French, some Filipino channels, and so on. There are tons of on-demand movies with genres/new releases and TV series with seasons/episodes, some sports replays, etc. But no CatchUp TV. Includes an EPG (Electronic Programming Guide) which is a TV guide that can be programmed to include a specific category of channels depending on the device you use, such as the Firestick.
There are many compatible devices that can be used, up to 4 devices at one time but you cannot use a VPN service because of the IP Locked system being used. The SOPlay app can also be found inside the Samsung and LG smart TV app store. It is suggested to sign up for the free trial when available to test every on your compatible devices. The trial will not be available whenever there's a live major PPV fight/boxing event on the weekend (Saturday). The trial will resume after the event is over.
Pros
TV Guide to see and group TV channels
User tracking that tells you what you watched before
Watch any sporting event
Season sports
Premium movies, news, TV shows, and sports networks
Records TV-programs for you (Catchup TV)
PPV events to watch all fights (special events)
VOD movies, TV series & some sports
Some international channels included
Search Tool
4 device connections at one time
No VPN service needed
Cons
No free trial, but low-cost trial instead (3 days)
No Add to Favorite
Cannot do any recording yourself, it's done for you
Some channels not working or not working properly
Gospel channels available but not working
Some local channels not working and some cities may not be available
Hurricane Streaming… All-in-One Source for Live, Local, Global, Sports & Premium Channels Including PPV Events, CatchUp TV, On-Demand Movies and TV Series
Hurricane Streaming Review for the experienced as well as newcomers to Internet TV. Perhaps you're searching for another option to Cable TV that's low-cost or looking for more reliability and entertainment. Whatever the case may be, you can certainly get everything with this HurricanStreaming IPTV service and more.
NOTE: Also for TSM Streams Subscribers/Former Users Looking for an Alternative SOPlay IPTV Service…
Watch Review of Website Here
See Everything In Action Here
Get Local Channels
Here
or
Here
SO Player App Info Here
Not all IPTV services are created equally. Some require more steps to get set up when downloading/installing apps to your streaming device. So if you are new and inexperienced, you need not worry about HurricaneStreaming. You don't need as many steps to start watching your favorite TV entertainment online.
However, another app is required which means more steps if you want to install the SO Player app on your Amazon Fire TV device. I tested many different IPTV services with apps and can honestly say Hurricane Streaming with SOPlayer doesn't get any easier to get set up. Also, see SOPlayer in Apple Store.
You can use up to 4 compatible devices at one time but only one smartphone can be used when traveling (no other device). Hurricane Streaming has an IP Lock system which means you cannot use a VPN service or use any streaming device when traveling other than a smartphone. You cannot share your IPTV account outside your household (IP address).
But you are allowed to set up 4 devices whereas different members of your household can watch whatever they want.
Here is a list of compatible devices:
Smart TV w/ internal app store (if SO Player app can be found)
Amazon Fire TV/Cube/Firestick
NVIDIA Shield
Apple TV
iOS Devices
Android Devices
Computer (Windows or MAC)
Mag Box
What Hurricane Streaming IPTV Delivers
This IPTV service provider delivers hundreds of live streaming channels and thousands of video-on-demand streams. You can navigate very easily to different subcategories of channels. You start from the main screen once SO Player is opened. This is where you will find 4 icons to watch TV online as follows:
TV (All live channels – USA, English, Sports (incl. PPV), Spanish, French, UK, etc. )
Movies (All VOD movies, TV Series, NFL, PPV, etc.)
CatchUp (DVR [recordings] done for you)
EPG (Electronic Programming Guide – TV Guide)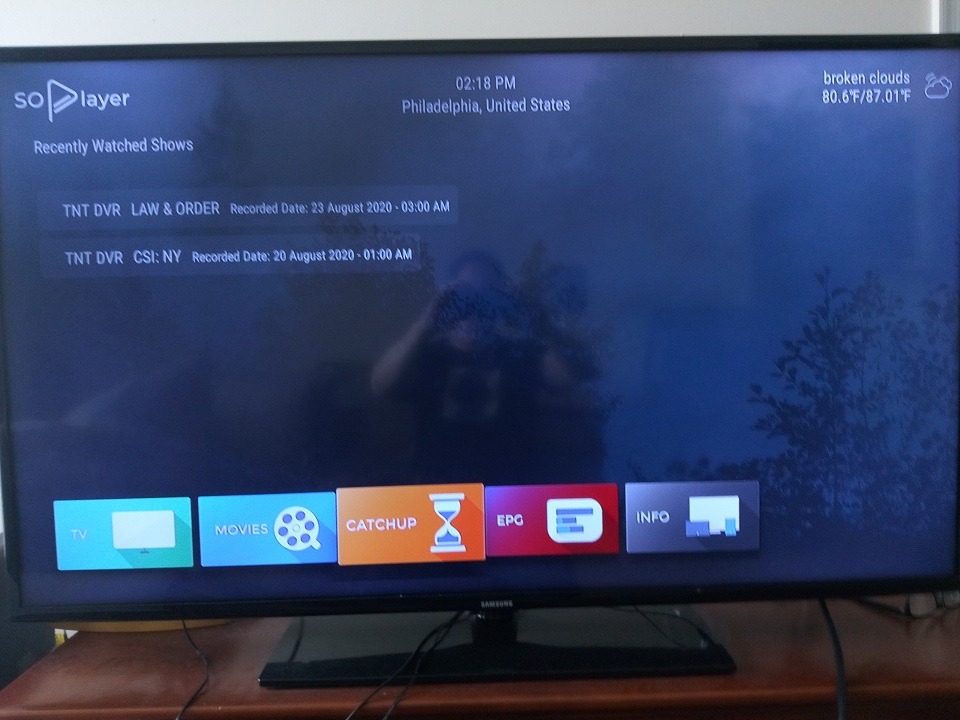 Navigating through different live and VOD sections is very easy to do. I suggest watching the Hurrican Streaming review video HERE so that you see everything in action including live/on-demand streams play.
3 Things Need to Get Started:
Streaming Media Device (see compatible devices above)
High-Speed Internet (30 Mbps or higher – faster the speed the better)
SOPlayer App (see video tutorials on IPTV service website) or HERE
The best device to use if you want to watch everything on your HDTV or Smart TV is the Amazon Fire Stick. It's the cheapest one out of the other device but powerful also. I use this device all the time when using an IPTV service that requires that app. Get the Firestick 4K or the latest version. It comes with an Alexa voice and remote control.
You can buy and connect a Firestick to each one of your TVs so that other household members can watch everything coming from HurricaneStreaming also. This gives everyone the opportunity to watch something different.
Hurrican Streaming Subscription Package, Trial, Cost, Refund, and Support
There is no free trial. Instead, this IPTV offers a 3-day demo at $3.00 which means you are required to use a credit card when signing up. You get full access to all the streaming content including PPV events with no extra cost.
There is only one subscription package, see below…
One Month Subscription: $25.00 (no recurring charge/automatic payments)
Note: When your subscription ends, you must revisit the Hurricane website and click the 'My Account' link to sign in. This is how you renew when paying for another subscription that runs for one month.
As for requesting a refund if things don't work out, you have a 7-day risk-free guarantee from the purchase order date. Just contact Hurricane support using the 24/7 chatbox. Speaking of support, just use the same chatbox for any questions or support needed. If you have been using the SO Player app for another IPTV and can't get it activated with this IPTV service activation/login credentials, just contact the support.
What's Not Available
You don't get access to regional channels from Hurrican Streaming IPTV but when it comes to watching sports, you do get access to the sporting event you want. This means college, pro, seasonal, and European sporting events. As for local channels, each city in the US may not be included. And if local channels are available for your city, you may get 2-4 of them. Out of that number you're lucky to get one or two local channels that work.
I don't recommend IPTV services to watch local OTA channels online. But I do recommend a free local TV streaming service called Locast TV that includes many local channels from a city. But they are still relatively new and don't have the vast majority of city markets included at the moment. Still, I would visit their website and see if your city is included. If not, then the best thing to do is purchase an HDTV indoor antenna.
UPDATE: No More CatchUP TV…
There is no Recording (DVR) feature. Instead, Hurrican Streaming IPTV does all the recording for you. This feature can be found inside the CatchUp TV section. Watch the video tutorial HERE to learn more.
Hurricanstreaming Review: Pros and Cons
As I continued further into my HurricaneStreaming Review, I found that you can watch recorded television programs but you cannot do any recording yourself. This DVR feature is constantly updating and gives you 7-8 days of recordings. There is no Add to Favorites but the app can track what you watched before.
You can share your IPTV account with your household members using the same IP address. However, you cannot share your IPTV account outside your household–a different IP address. You can connect up to 4 streaming devices at one time but only one smartphone can be used when traveling–not other devices.
Some channels are not going to play or play correctly but there are plenty of other entertaining channels. You can also report non-working channels to support. This IPTV service caters more to those interested in watching North American live channels, although Spanish, French, UK, and Filipino channels are included.
This is not a service to use if your primary interest is watching local (OTA) TV channels. Some local channels from your city may or may be included and if included, not all of them will work. See links at the very top for other local TV alternatives.
There is no free trial with no credit card required like some of the other IPTV services. Hurricane offers a 3-day trial for a low fee (see price above). They give you more days to test everything on your device(s).
Conclusion
The Hurricane Streaming IPTV review video will give you a complete visual so you can determine everything for yourself. However, to get a more personal feel it's best to sign up for the low-cost trial that lasts 3 days. That's enough time for you to test everything and if you like what you see, go ahead and pay the subscription which lasts only one month.
Once the one-month subscription ends, you simply visit the HurricanStreaming website again and click the 'My Account' link. You will get your login details right after signing up for the service. Expect around 3 emails immediately. If you don't see any emails, be sure to check in your Junk/Spam folder for them.
One of the emails will have your activation/login credentials to activate the SO Player app which you must install on your device(s). Overall, you will have a good experience with plenty of TV entertainment for the entire family. And for the very price, you can beat the high cost of Cabe TV and save some money without losing what you love watching.
All-in-all, I found this IPTV service to be a good one for newcomers to Internet TV as well. There are more steps involved when using the Amazon Fire TV or Firestick. But once you are done with the setup, it's clear sailing. Activating the spp is simple enough and you don't need to keep signing in every time you open the app.
For the price of admission, HurricanStreaming IPTV saves you money while not losing what you enjoy watching. Enjoy!
This Concludes My Hurrican Streaming Review