Whatever search term you use royalty2tv or royalty 2 tv you may not find their website in some search engines. You will not find them listed on Google but will find them listed on Bing. Why is that? I don't know for sure. Even if you searched for royalty2 tv or royalty2 iptv, it's the same thing when Googling them.
When going to royalty2.com TV website where the listing can be found on Bing, there's more bad news. They have now closed the doors to new customers. Whether or not this is temporary or permanent remains to be seen. But you cannot pay the subscription if you are not already a subscriber. In other words, only current subscribers can return to the website to renew.
3/1/23 UPDATE:
Royalty2 TV is now accepting new customers. It appears they reached their maximum number of subscribers at that time. More than likely they had to increase that number through their provider. Still, you only get a partial website. The issue could arise again should they reach the max number of subscribers again.
It's always best to have a number of IPTV services that supports the same app should you want to switch from one to the other. Now that I know they are supporting the SO Player app, I will provide the IPTVs that support that app. I'm going to give you a few SO Player IPTVs and several LUX IPTVs to have on hand.
Both IPTVs and apps are very much alike. The only real differences are in the brand name, app name, and no Provider ID needed for LUX Player when last tested/reviewed.
When having a number of these IPTVs on hand, there is no need to search the web to try to find another when time. You have them right here so be sure to bookmark each and save them somewhere to find later. You can also find these IPTVs and other types of IPTVs on our Top 10 IPTV Comparison Chart.
Here are some IPTVs you should bookmark/save to have when needed:
SO Player IPTV 2 | Watch Review
SO Player IPTV 3 | Watch Review
NOTE: You can switch to any one of the above IPTVs and pay the subscription to continue using SO Player. The new IPTV service will email your activation/login credentials (Provider ID, Device Pin Codes, Username & Password)
Very similar TV app and IPTV service…
NOTE: You get basically the same activation/login credentials with the exception of the Provider ID. When tested, there was no Provider ID to enter.
——————–
You don't have to read below…
This is not the end of the world if trying to become a royalty2tv customer as there are many top IPTV services out there. Since I have test-reviewed many IPTV services with various TV apps over the years, you can trust this source of information.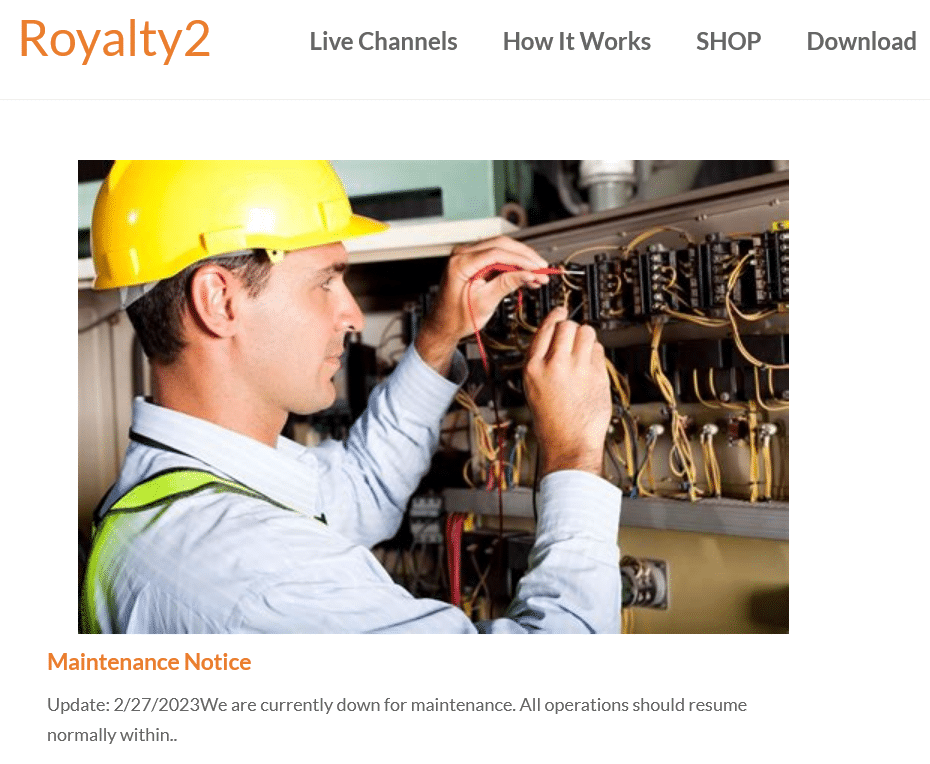 Another thing is some IPTV services will close their doors to new customers when they meet the max quota for new customers. Again, current customers/subscribers usually can renew their subscriptions. I'm almost certain this is what happened to Royalty 2 TV.
In A Hurry and Ready to Find the Ideal IPTV Service – Click Here
NOTE: You will be taken to our Top 10 IPTV Comparison Chart to find the ideal IPTV service. However, I encourage you to continue reading below as there is some important information you don't want to miss. It's best to use a computer or tablet when reading the Comparison Chart. If a popup window message appears, close it.
If you are entirely new to IPTVs, then I also suggest signing up to get our Free IPTV Setup Guide to learn the basics and more.
Again, this applies to the Royalty 2 TV subscription that's no longer available to new customers.

Royalty 2 TV Video
I created a Royalty2 TV video covering their website which is typical of what you will see when there are closings to new customers. You can go ahead and contact them but when reading the Maintenance Notice, as they put it, more than likely they maxed out.
Another sign when an IPTV service like Royalty2 TV closes its doors is the partial website. You simply cannot sign up as a new customer. So the best thing to do is move on from Royalty2TV and find another IPTV service and an even better one. This is where I come in help you can find exactly what you want to watch your favorites online.
It's up to you whether or not you want to watch the video at the top. You can find the ideal IPTV service today and start watching your favorites. If you have already installed a TV app, you may even find an IPTV service that supports that app. If not, simply install the recommended app the IPTV service supports.

Royalty 2 TV and Other IPTV Services
There are many top IPTV services out there and you can most definitely find one better than Royalty2 TV. There are two types of IPTV services that you need to be aware of and choose one as follows:
IP Lock IPTV Service
With this type of IPTV, you are locked into using just one IP address. This would be the IP address that comes from your (ISP) Internet Service Provider at your location. When you activate the TV app, your device and IP address are locked in with the app.
You cannot change the IP address and should never try to do it. You may get locked out. Going to a friend's or family member's household or any place else with a different IP address won't work. The exception to the rule is that you can use a mobile device to connect to any WiFi area. Subsequently, you can only use one mobile device when doing so. But not a portable device such as a laptop.
I am not sure if Royalty2 IPTV is using an IP Lock system or not. I never got around to test reviewing this IPTV service and app. So if you don't travel a lot and are not interested in using an IPTV service to watch your favorites wherever you travel, then an IP Lock IPTV service is a good way to go.
Here is a prime example of an IP Lock IPTV Service.
No IP Lock IPTV Service
Here we have the opposite. The IP address is not locked and therefore provides fewer restrictions. You can even use a VPN service to hide/change your current IP address. If traveling a lot (near or far) and you want to watch your favorites, then a No IP Lock would be ideal.
You can connect any compatible device including a portable device such as a laptop and watch everything. It doesn't matter if you travel from country to country, you just need a steady Internet connection. Of course, you need a compatible streaming device with the app installed and IPTV service subscription.
So as you can see, there's more to IPTVs such as Royalty2TV. Our Comparison Chart should be the starting point of your search for an IPTV service.
Example of a No IP Lock IPTV Service Using the IPTV Smarters Pro App.

IPTV Services Similar or Different From Royalty2 TV
Here's where I'll get into the nitty-gritty of where you need to go to find the ideal IPTV service. Even if Royalty2 IPTV service tells you they are going to reopen the doors again to new customers, you should compare other IPTVs to them. After all, you do want to make sure you are getting the best. Right?
I created a Top 10 IPTV Comparison Chart with a lot of information per IPTV service listed. Take your time to go through the Comparison Chart to find the ideal IPTV service. Remember what I said earlier in choosing the IPTV service you want. Each IPTV listed will tell you it's a No IP Lock or IP Lock IPTV service.
If you know what TV app Royalty2TV is using or have already installed it, then you may want to search for an IPTV that supports that app. If not, simply install the app the IPTV service supports. You should always start with finding the ideal IPTV service before installing any app. That's just a rule of thumb.
Additional Info…
You can find IPTV services using the IPTV Smarter Pro app for instance which also allows using a Web TV Player. The web player opens inside your favorite web browser and no downloading is required. This is also great for computer users to use.
There are IPTV services that provide Bouquets where you can pick and choose one or more countries/languages with live channels and VODs. You get to choose the channels/VODs you want inside the TV app. All the other content will be removed from the app.
3 Important Links:
In the Comparison Chart, there are 3 important links included with each IPTV service (not named Royalty 2 TV) as follows:
Visit Site link. This will take you directly to the IPTV service website to learn more. You can signup for the subscription or trial if there is one included.
Review link. Let you read the full review with pros/cons and get inside info from a real tester/user of the IPTV service and app.
Video link. Watch the video review of the IPTV website that breaks everything down. Below that video is an article to read with various video tutorial links. There is a tutorial on how to signup for the subscription/trial. There's also a video that takes you inside the app connected to the IPTV service to see everything.

In Closing (Royalty 2 Streaming Service)…
So now you know that using any search term such as Royalty2TV, Royalty 2 TV, Royalty2 TV, or Royalty2 IPTV, will get you nowhere. Googling any one of those search terms will not find the website. However, when going to Bing and doing a search, the royalty2.com TV website does appear. But the doors are closed to new customers. So what should you do? Visit our Top 10 IPTV Comparison Chart to find the ideal IPTV service that suits you.
Latest posts by Web TV Guy
(see all)