IPTV Service Brings 300+ Live Premium TV Channels and 20,000+ VODs to Many Devices (SO Player)
Get Block TV Review by Real User. If you want to lower or cancel your cable or satellite TV bill, then you might want to turn your attention to an IPTV service. With an Amazon Fire TV or Firestick device connected to your TV, you can be up and running in a matter of minutes.
IMPORTANT UPDATE:
We are no longer recommending any Nora Go or SO Player app and IPTV services for them. Too many of them are not accepting new customers/subscribers, went out of service, and we are getting many visitors telling us they can no longer renew their subscriptions including no support.
You must choose an alternative IPTV service that does not use SO Player or Nora Go.
We recommend visiting our IPTV Comparison Chart that's currently being updated to add more top IPTV services that use other apps. Click the link below to find the best IPTV service…
DO NOT READ BELOW THE LINE… We Removed all links to the IPTV service for SO Player…
————————
There are other compatible devices that can be used. I'll go over this in more detail later on. Watch the intro video below to find out what this service provides…
Visit IPTV Service Now and Get and Subscribe
Compared to cable/satellite TV, you don't need a set-top box, antenna, or bundled package. Just your Internet connection and streaming device to watch streaming content online. There is no contract, cancellation or hidden fees, local sports blackouts, or credit check. These are just some of the differences that you don't have to put with up when using this service.
What Is Block TV, Who Is It For, and How Does It Work
What is It. It's an IPTV service that lets you watch 100s of live premium channels and 1,000s of VODs across multiple compatible devices. This service is not affiliated with any cable/satellite TV company. They are independent with no Geo-restriction whatsoever.
There is no bundled package or set-top box or antenna required. You simply sign up, download/install the app, and watch your favorites online. Live channels are broken down in sub-categories to find what you're looking for quickly.
Whether its live sports or PPV, news or kids channels, movies or TV shows, you get it all. In addition, there are several countries with channels included. You can watch US, UK, French, and Spanish TV channels. But there's also other types of content available which I'll cover later in this review.
This IPTV service also has CatchUp TV with DVR and EPG (Electronic Programming Guide) which is a TV guide. I'll go into more detail about this as well.
Who is it for. Unlike other Internet TV services, there are no restrictions. This means no country or IP address restriction. Anyone from all walks of life can get access and watch the same block TV show(s) including all the other content.
It doesn't matter if you are into live sports, movies, news, or TV shows/series/episodes, you get it all. If you are bi-lingual or multi-lingual, there are US TV, UK TV, English TV, French TV, Spanish TV, and Filipino TV channels available. Both adults and kids can watch BlockTV Live or on-demand content.
As for the Adult section, I did not review it because I don't condone that sort of thing. This content is locked by default so that children cannot get access to it. A pin code is provided in the email they give you to unlock the content. However, R-Rated and adult language in movies and TV shows are not locked.
There are no parental controls available. This means you have to supervise your children when using this service. You don't want them to have full control of Get Block TV.
How Does it Work. This Block IPTV service and app both work seamlessly together. I found no major issue and had a good experience when watching TV online.
I suggest you click to watch the video review below that takes you inside the app and IPTV service. You will see the complete layout, navigation, features, and watch as I play live channels and on-demand content.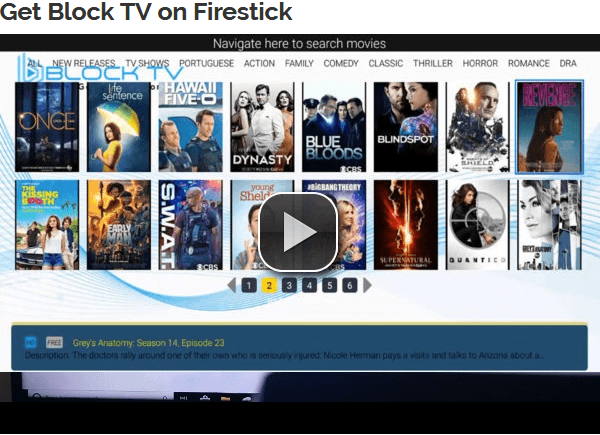 Get Subscribe Now – Click Here
By default the app (Nora Go or SO Player with BlockTV brand name) opens the home screen with 5 categories (icons) appearing at the bottom as follows:
TV
Movies
CatchUp w/ DVR
EPG (TV Guide)
Info.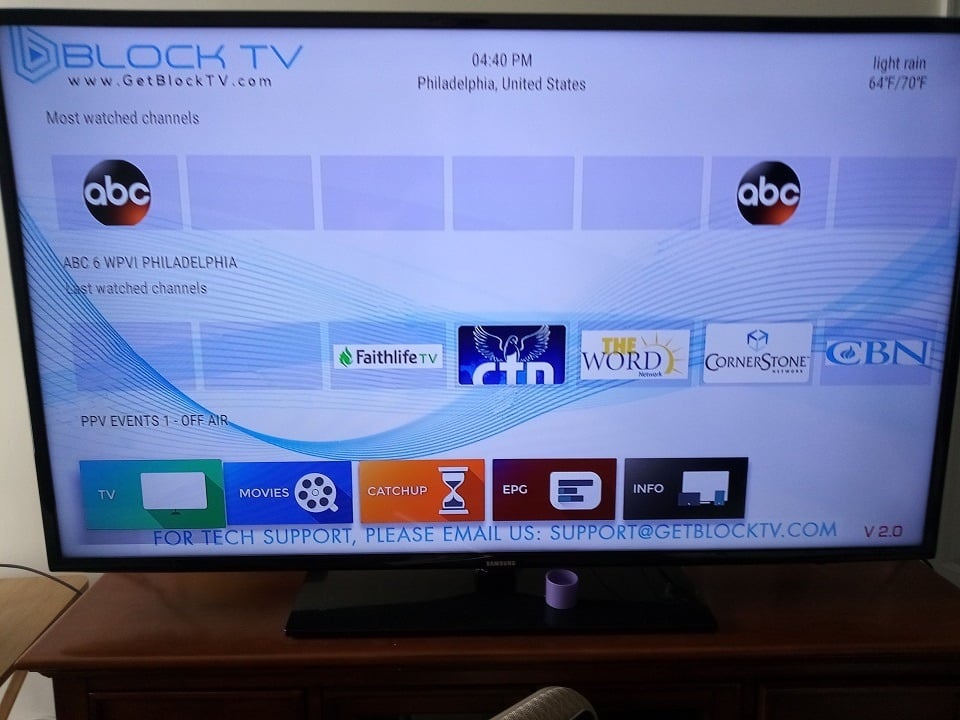 At the very top of the app, the name of my city and state with time and weather info. are displayed.
TV Category
The TV icon was highlighted by default. Towards the top, there's a row called 'Most watched channels.' You can scroll right or left to see and play your most-watched channel. Below that is the 'Last watched channels' which lets you do basically the same thing, only this time you can see and play the 'Most watched channels'.
When clicking the TV icon the first time, the Weather channel plays by default. The next time you open the app to play live channels, it remembers the last channel you played. This becomes the default channel that plays automatically.
I installed the app on my Amazon Firestick that's connected to my Samsung smart TV. As the live channel played, I used my Firestick remote and clicked the enter button inside the ring. This made the TV menu appear.
The menu list a row of channel categories on the far left. In the middle, list actual channel/network names where you can click and play to watch. When hovering over a channel/network name it begins to scroll left so you can see the entire name.
Over to the far right are a row of numbers starting with number 1 going downward.
Sub-Categories of Channels (far left side)
First, there's a 'Search' tool that allows you to search by a channel/network name or city name. It's very easy to find what you're looking for and playing the channels to watch it online.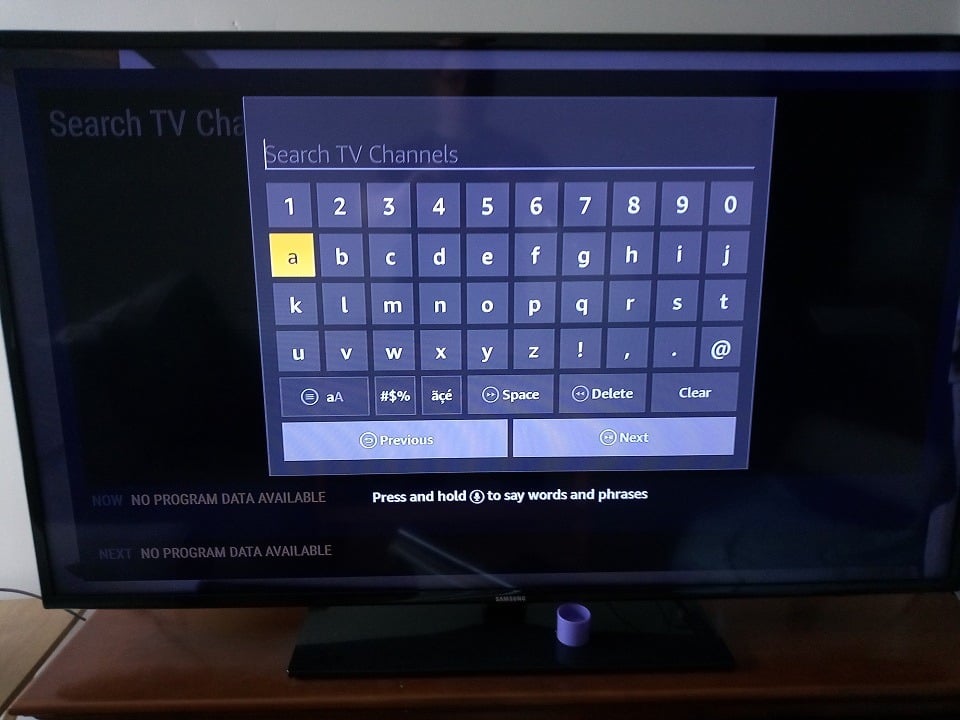 Here's what follows below the 'Search' tool:
All
English
USA Locals (same as OTV channels in your area)
Canada Locals (same as OTV channels in your area)
Sports (Incl. PPV events)
MLB
NBA
NHL
NFL
ESPN+
Masters 2019
March Madness
Spanish
French
UK
Filipino
Adult (locked by default)
Music Channels
Gospel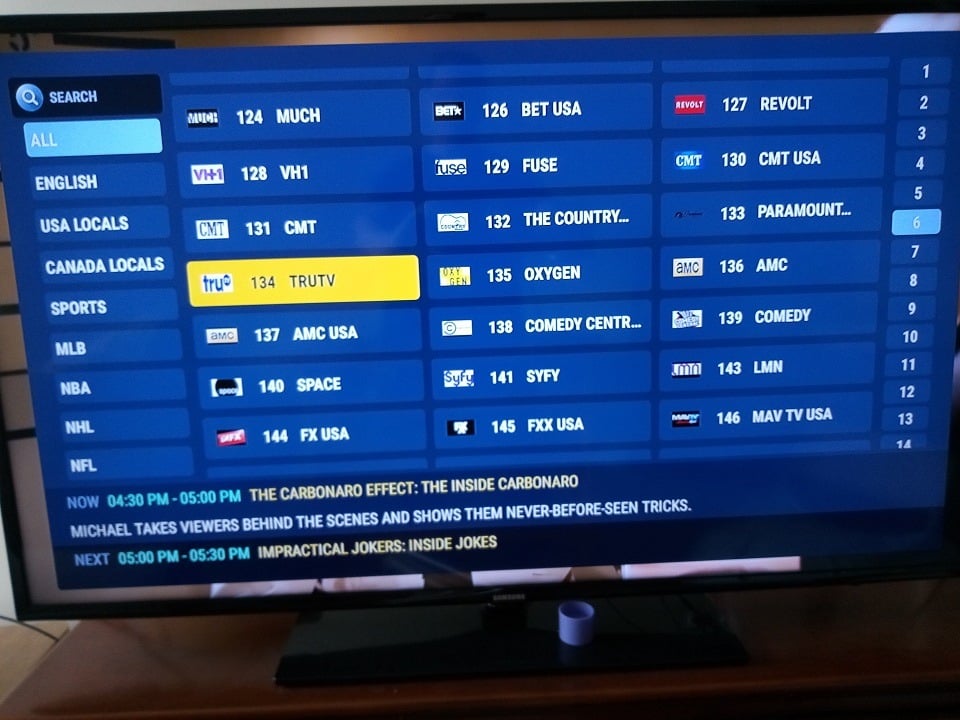 To find all English channels, for example, just click 'English' and all channels/networks appear in columns. You can scroll up/down or left/right to find what you want to watch online.
When highlighting a channel/network name, you can see a short description of the channel/network further down the TV menu.
To play a channel from the English section, simply scroll to the name of the channel/name. Then click to play it. The live stream plays immediately.
Using my Firestick remote, I clicked the bottom portion of the ring to go to the previous channel. Clicking the top portion of the right plays the next channel. Everything functions the same way for each channel section listed at the top.
Move Category (w/ TV Series)
When you highlight the Movies category, a row of movie images appears, just like the TV category when highlighted. At the top, there's a row of 'Most popular movies'. You can either scroll right or left to find something to watch.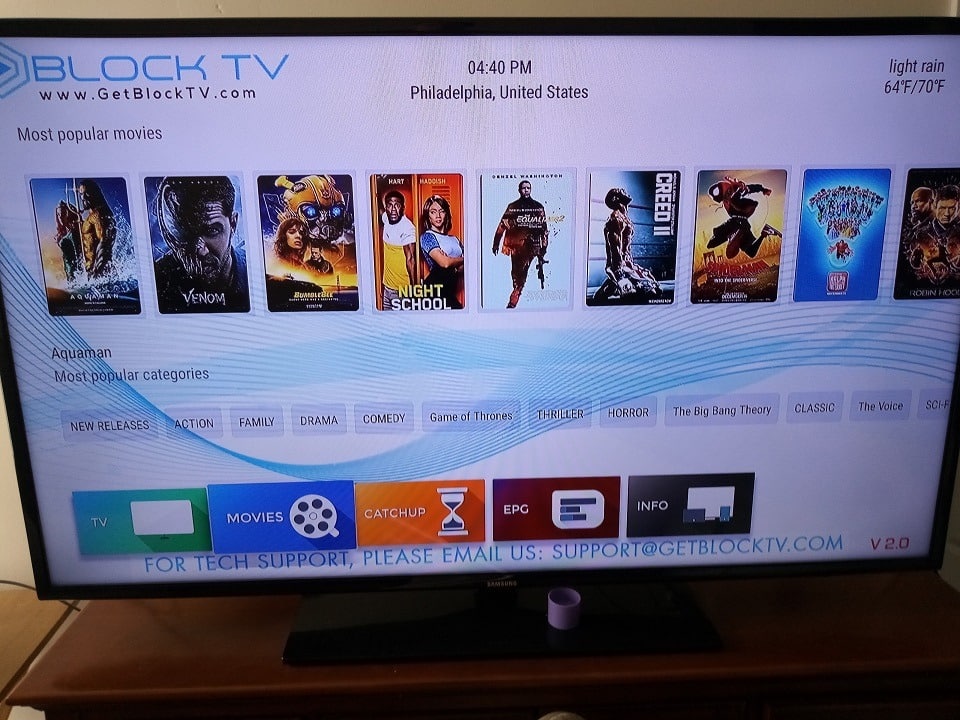 Directly below, there's a sub-category called 'New Releases'. Scroll right to find any genre and click it to open all movies for that genre.  There are names of some TV series listed that I could play and watch also.
When clicking the Movie category icon at the top, there's a 'Search' tool available. Below the tool is a row that includes 'All Movies', 'New Releases', and each genre name when scrolling right.
Below this section is 'All Movies' with a row of movies and TV series images.
Scrolling downward list the 'Most popular movies' section. Directly below are images with the name of each movie. Just like everything else, I could scroll left and right to find what I'm looking for.
Directly below is the section for 'Last Watched Movies'.
When highlighting any movie, a popup window appears with 3 features:
Play the movie / Resume playing
Play trailer / Restart the movie
Read details
To play a movie, simply highlight the movie name and click 'play the movie'. You can also click 'Read details' to read the description of the movie with names of stars, directors, and other information. There's also a Play the Movie' button to start watching it online.
When I clicked the 'New Releases' section, I was able to scroll right and left to see different movie images. It was easy to choose what I wanted and the movie played immediately. You can do the same thing with any movie sub-category such as All Movies and genres such as Action, Family, Comedy, and so on.
To search a movie by title, there's an hourglass image in the top left area right above 'All Movies'. I selected this icon with my Firestick remote and clicked inside the ring to began the search. The keypad appeared for me to type in the name of the movie. After typing in the movie title, I clicked the 'Next' button and the movie image appeared. I clicked the movie and it played immediately. There's also a PPV sub-category with recorded fighting events.
TV Shows
When highlighting the TV Shows subcategory, a dropdown window appears with a list of TV series. You can scroll down to see the name of each TV series. However, this takes longer to find what you are searching for.
A quicker way would be to click the Search tool (hourglass icon) and type in the title of the TV series. You use the same 'Search' tool for movies. If there are any episodes listed, they will be listed in a row. You can scroll right or left to find what you want to watch.
The same 3 features appear when highlighting a TV episode…
Play the movie / Resume playing
Play trailer / Restart the movie
Read details
CatchUp Category
When the CatchUp icon is highlighted, you immediately see a section called 'Recently Watched Shows'. Everything listed below you can play and watch.
When clicking the CatchUp icon, another screen layout appeared. All the DVR TV networks are listed in a column at the far left. To the right are the dates in another column. To the right of that, there are 2 columns of Block TV shows with time slots.
You don't record anything yourself. BlockTV does all the recording for you. There are many TV networks with shows recorded. You can scroll up/down and left/right. There's also a 'Search' tool if you want to search by title.
I found 8 days' worth of recordings for each TV network. To the right of the TV network name is DVR printed. If your schedule doesn't permit you to watch a live show, wait 24 hours or less to search for that recorded show in the CatchUp section. Same thing for fighting events that aired on PPV.
EPG (TV Guide) Category
When highlighted, above you see the 'Upcoming shows for the next hour from your most-watched channels'. Below are several rows with names of TV network names and names of different shows. It also has the time slot listed for each show. Just click any show to watch it online.
When clicking the EPG (Electronic Programming Guide), you get access to the TV Guide. A television show was already playing in the background when I got into the TV guide. Each TV network is listed with shows in their respective time slots. Just click a show to watch it.
Get Your with Full Access Here
Content, Performance & Interface
Content
There are 100s of live premium TV channels from the US, UK, Spanish, French, Filipino, and other subcategories. Some countries have more channels than others. At the time of my Block TV review, there were only 4 Filipino channels.
Though some of the channels from each subcategory didn't work/play when testing many of them, most did play. However, there were more UK channels out of many that didn't work/play compared to other categories. Still, there were many channels that were tested and worked.
These are the same live channels/networks that can be found on cable/satellite TV. You'll find many popular news networks, sports networks, movies, networks, and many other popular networks. This includes PPV events with no extra cost to watch all the major fights.
There's also a music/radio section to listen to music. However, none of the radio stations worked/played.
In the movie/TV Series on-demand category, you find a huge selection of content. The feature that appears when highlighting a movie name or TV episode name, comes in handy. You can play/resume, watch a trailer if available, or read a description of the movie or TV series.
Overall, I found the streaming content to be quite entertaining. There's something for the entire family including children. There are several popular kids networks available in the TV category to watch. I don't like having the Adult section included. I have no interest in that sort of thing. This section of locked by default. Thankfully, they locked this content so that children can't get access to it.
Performance
Overall, I found the performance to be very good with the exception to some channels not working/playing. There are some categories like ESPN+ that had no content to play. Outside of that working the navigation made everything pretty easy when getting in and out of different sections. There is no delay to play a live channel, movie, or TV episode. All feature enhancements worked like a charm.
I have around 170-190 Mbps Internet connection (download) speed. You don't need that much but you should have 25 Mbps or more. You want to avoid any buffering issues, especially during peak hours. This is when more people are home and online during evenings and using the same ISP that you are using. Same thing during the holidays.
Even with a fast Internet connection, I experienced little buffering at the time when playing some of the live sporting events. There is nothing you can really do about it. Expect to see this happening with all IPTV services every now and then wit some of the streams. There's no cause to be alarmed. Most streams play without any interruptions.
If you are going to use the Amazon Fire TV / Firestick connected to your HDTV or smart TV, it's better to connect your TV to a modem/router with an Ethernet cable. This is what I did to get more speed. All my other devices such as a computer, smartphone, and Firestick connect wirelessly.
Interface
How Block IPTV and the app work together posed no major issue. The interface is fast and smooth when navigating around and playing the content. I've already explained some of the downsides but everything else worked seamlessly. Same thing when using some of the other compatible devices.
Block IPTV uses either the Nora Go app or SO Player app — I'm not sure. Both apps look and work relatively the same so it's hard to tell the difference. The service its brand name (Block TV) on the app. This is why I couldn't tell which app is being used.
Block TV Sports, Local Channels (US & CA) & Other Channels
Sports Fans. If you are into sports, there are plenty of popular live sports networks on hand. You watch local, national, and international sports live as well as seasonal sports. There's also PPV events to watch all the fights (no extra charge). The CatchUp category also has a subcategory for PPV events so you can watch what you missed.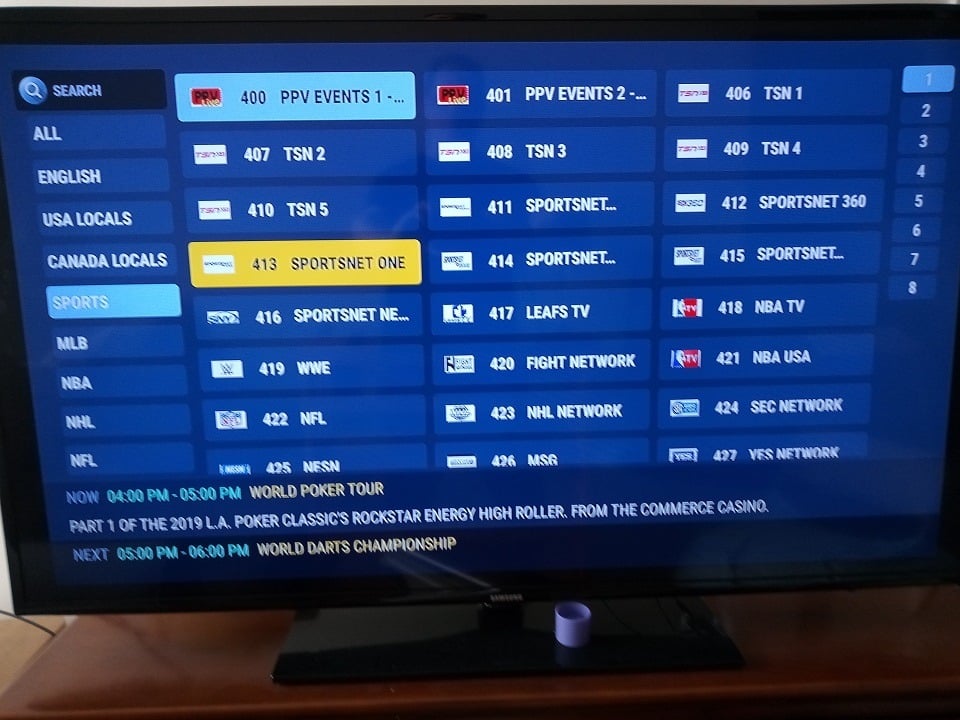 In most cases, you can watch NFL football, NHL hockey, MLB baseball, and NBA basketball in two different ways. Subscribers can watch the sporting event on a popular sports TV network or sports link with the name of teams playing against one another. You will see this in each seasonal sports section (NFL, NBA, MLB & NHL). You can click any one of those seasonal sports sub-categories to watch a specific sporting event.
ESPN+. There was no content to watch in this section. I'm not sure if this section is in development or not.
Masters 2019. There was no content in this section to watch either. I don't know if this was due to no golf tournaments scheduled to watch when I checked.
USA Locals. There are local channels from many cities in the United States. I'm not sure if every city is included. When clicking USA Locals, 3 columns of channels/networks appeared. To the far right is a column of numbers, from 1 on down.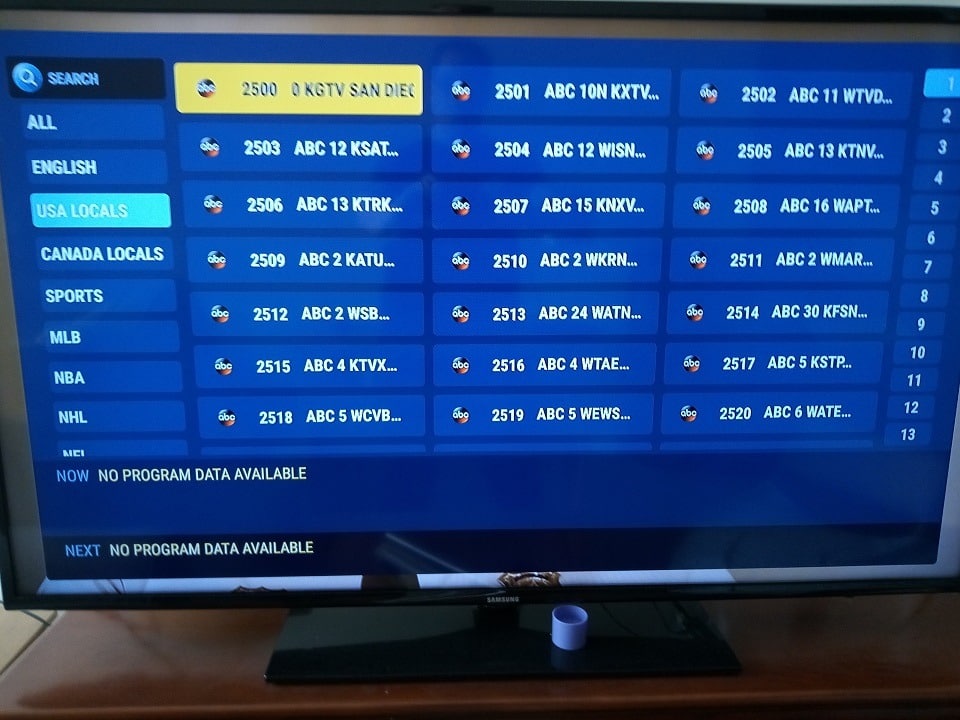 You can click any number to find a group of channels or scroll up/down or left/right to find a local channel/network. An easier way would be to use the Search tool. When using this tool, I was able to search for my city, Philadelphia, to my local area channels.
Four of my local channels appeared but only two worked/played. I don't know how many channels/networks are included for each city. And don't know how many are working for each city.  What I also liked was getting access to all local channels from any city in the US.
Canada Locals. Everything I explained above is the same for Canada Locals. However, there are not as many channels/networks available.
Spanish, French, UK, & Filipino Channels. Most channels played in these sections but UK channels had more channels that didn't work/play. Filipino channels only had 4 channels. These are all live premium channels that anyone can watch no matter where they live in the world.
Music/Radio Channels. There are many music channels that worked/played but none of the radio stations worked/played.
Visit Best IPTV Service to Watch All Your Favorites Online
Features
Besides the 'Search' tool, EGP, CatchUp w/ DVR, and on-demand movie/TV show control features, there's another feature I like. You can go into the TV category (live channels) and click any one of the categories to play/watch whatever interests you. Then go to the EPG categories to see all those channels/networks listed.
For instance, I clicked the English categories to see all English channels/networks. Next, I played one channel to watch it. Using my Firestick remote, I clicked the 3-line button. This opened the EPG category automatically with all English channels appearing in the EPG TV guide. You can do the same thing for sports, UK TV, US Locals, etc.
When the movie or TV episodes play, you can click the navigation ring on the Firestick remote to see the control features as follows:
Play/Pause
Rewind
Previous (plays previous movie/episode)
Fast Forward
Next (plays next movie/episode)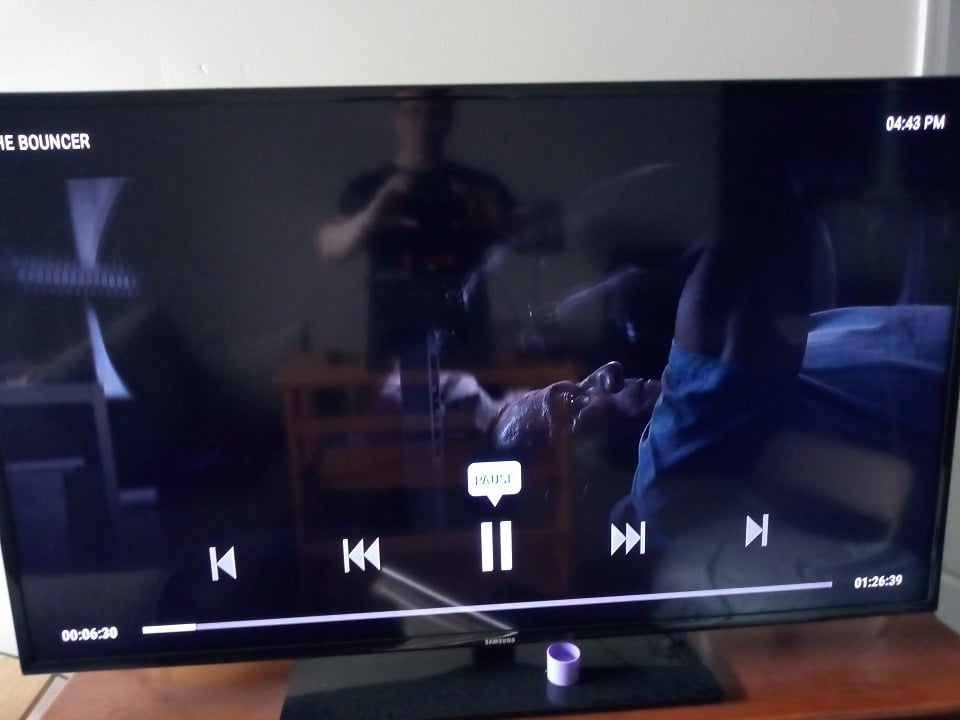 Compatible Devices & App
The Amazon Fire TV or Firestick is the best streaming device to use with this IPTV service. That's if you want to watch everything on your HDTV or smart TV. I was recently informed by the support they are using the Nora Go app but the SO Player may replace the Nora Go app in the near future. Both apps work the same way.
You can't tell the difference, except for SO Player working better with all compatible devices. The BlockTV brand is printed on the app when you install it on your device.
If you have a Samsung or LG smart TV, you may be able to find the Nora Go app inside your smart TV app store. I"m not saying this will work but you may download/install the app. Enter the same activation/login credentials (comes with email) to activate the Nora Go app. There's a great chance you won't find the SO Player app on your smart TV. If that's the case, then your smart TV is not compatible.
BlockTV recommends using the app they have so if the Nora Go app doesn't work, then use the Firestick device instead. When this Get Block TV review was conducted using the Firestick, both the app and IPTV worked together extremely well.
Block IPTV is compatible with the following devices (approx pricing):
New gen Firestick ($39.99 or more)
Nvidia Shield ($179.99)
Mag 254 ($159.99)
Mag 256 ($159.99)
Android smart TVs
Android devices (phone, tablet, Chromebook)
Windows Phone
Windows PC
Mac computers
Get Block TV Review – Subscription, Cost, Refund, and Support
You are only allowed to connect one device but you get full access to everything. It doesn't matter where you live in the world, everyone gets full access with no restrictions.
You'll get all the instructions with a video tutorial to learn how to download/install the app to your device.
You can subscribe for $34.99 per month. When you visit the BlockTV live and on-demand website, a popup 30% off coupon window may appear. You only pay $25 for the first month. I suggest opting into the discount by entering your name and email address. Once the popup window closes you may not see it again. [Update: The 30% may or may not be available]
Get Access Now via Subscription with Discount
When scrolling down the bottom of the BlockTV website, you'll see the FAQ section. Directly below you'll find a phone number to contact support. In the FAQ section, it tells how to cancel and if there's an error issue to contact them via email address. So this means you can only contact them by phone (not toll-free) or support email. By the way, you can't make a purchase when contacting them by phone. You must pay/subscribe through their website.
I highly suggest you take some time to read their 'Terms of Use' document. At the bottom of their website, there's a Refund Policy link. I suggest you read this for yourself. It says…
"Block TV is a pay as you go service so there are no refunds. Upon cancellation, you will have service through the remainder of your term. Service will be terminated at the end of this time."
Get Block TV Review – Pros and Cons
Pros
As you can see, BlockTV is loaded with live premium channels to watch sports, movies, news, and TV shows online. All the popular television networks are there in one convenient place and ready to watch. They also have a huge selection of on-demand movies and TV series.
If you missed something that was broadcast live, more than likely you can find it in the CatchUp category. The service does all the DVR recordings so that you don't have to do anything. In fact, I found some PPV boxing events that were recorded as well.
Whether it's sports or movies or news or TV series that you are into, this IPTV has it all. Then you have the Local USA channels and Local Canada Channels sections. If your city/area is listed, you'll find two or more channels from your area to watch online. Perhaps in the near future, they will add more local channels. I only found 4 local channels for my city.
If you are going to cut cable or ditch the dish and want all your OTA TV channels, then consider purchasing an indoor HDTV antenna. Only do the latter if you don't have an outdoor antenna to connect with your TV. Click Here to Learn About the Recommended HDTV Antenna.
The EPG (Electronic Programming Guide) is a TV guide. When you go into the TV category to watch live channels, you can choose a sub-category and play a channel. Then hit the 3-line button on the Firestick to open the EPG TV guide. You'll find all the live channels from the sub-category that you selected in the EPG TV guide.
You can repeat this process when choosing a different sub-category of channels. All the channels from the other sub-category will appear in the EPG TV guide. You can do the same thing when selecting the sub-category for sports.
There are English, Canada, French, Spanish, UK, and Filipino live channels available. If you speak and understand more than one of those languages, you'll reap more enjoyment. Many, many great movies to watch for the entire family with many genres included.
You'll appreciate the picture quality, features, and streaming content provided as I did. My overall experience with this IPTV service was very good.
Cons
You will come across some channels that don't work, which is to be expected when there are 100s available. Just contact support to get non-working channels fixed. At the time of my Block TV review, no content was available in the ESPN + and Masters section. I don't know if the content is still in development or not but you can contact support to find out.
When entering the Music category, the music channels worked/played but none of the radio stations worked. Again, contact support if this is something that interests you.
At times, you may experience little buffering issues when watching certain live sports streams as I did. Still, I was able the watch the sporting event as the buffering was minor for the most part. When I tested and reviewed other IPTV services, the same minor buffering issue occurred.
There's something to be concerned about if you are going to allow your children to use this service. Inside the TV category, there is an Adult sub-category. This is locked by default so that your children can't get access.
Something else to note is the R-Rated and adult content found in some movies and TV shows. There is no parental control for either content so you need to supervise what your children watch online. Outside of the few downsides mentioned, there's nothing more to add.
Conclusion
When considering the pros and cons, you can see the pros outweigh the cons.  You get full access to everything no matter where you live in the world but can only use one device in the free trial. You can use more devices with a paid subscription to the Block IPTV service.
If you are looking to save money or just want to watch your favorites online, no doubt choosing this service will give you both. In fact, they'll knock off 30% from the 1st month's subscription fee when you sign up for the coupon on their website.
You don't need to install any hardware, set-top box, or antenna. There is no contract, hidden or extra fees, no credit check, and no local sports blackouts. If you are looking to save money without losing all your favorite shows, news, sports, and movies, then why not give it a try.
If you become a paid subscriber and things don't work out for some reason, you can cancel at any time. Just contact support. You will find information about the cancellation in the FAQ section when visiting the Get Block TV website. However, there is no refund after subscribing to the service and the subscription is for one month only. You can pay the same fee again to subscribe for another month. Simply pay as you go.
This Concludes Our Get Block TV Review
Visit Top IPTV Service and Get Subscription with Discount