Nora Go TV App for Samsung Smart TV, LG Smart TV, HDTV & Other Devices
Video 1 of 2. If you are searching for the Nora Go TV app, you've come to the right place. If you are searching for NoraGo IPTV by Setplex to Stream Your On Content, you're at the wrong place. W reviewed a top IPTV Subscription service that partnered with NoraGo TV at Setplex. Setplex offers a revolutionary application that allows users and content owners to stream their content across many APP platforms.
——————————————————-
IMPORTANT UPDATE!!!
NoraGo app out, SOPlayer app now being recommended. The app works pretty much the same way. Learn more by clicking the link below…
Read Full Review Here
SOPlay App Download/Install Instructions Here
How to Install SOPlay App on Firestick (Write down URL to enter in Downloader App: https://bit.ly/soplayr)
More App Video Tutorials
Amazon Firestick – Best Streaming Device to Use
How to Get Most of Your Local OTA TV Channels FREE
Use Antenna to Watch Local TV Channels Offline
How to Remove Device from IPTV/SOPlay/NoraGo
New to Internet TV? Get FREE Quick IPTV Setup Guide
DO NOT READ BELOW… All IPTV service provider links have been removed…
———————————–
You must sign up for an IPTV service to activate Nora Go. Sign up for the Free Trial or pay the subscription. Nora Go doe not deliver live channels and on-demand content alone. The IPTV service delivers all the channels and VOD. Click the link below for IPTV free trial…
You can also read our written review on recommended IPTV service – click the link below. If you haven't install Nora Go on smart TV yet, see the link for the video tutorial below. Install SOPlayer for any other compatible device for the best performance. You can use the same IPTV service for NoraGo and SOPlayer.
Sign Up to Activate Nora App – Get Device Pin Code, Provider ID, Username & Password…
Visit IPTV Site Here
NOTE: When visiting the IPTV website, you will find video tutorials on how to install the app. The app doesn't perform too well on smart TV with internal app stores. You might want to use/buy the Amazon Firestick. It's the best low-cost performing streaming device with remote control.
How to Install App on Smart TV (Samsung or LG)
See Videos on How to Remove Devices from IPTV Service and Prevent Device Lock (SO Player or Nora Go)
If you are very new to watching TV online and confused, I recommend signing up to download our FREE Guide: How to Watch TV Online & Quick Setup Guide.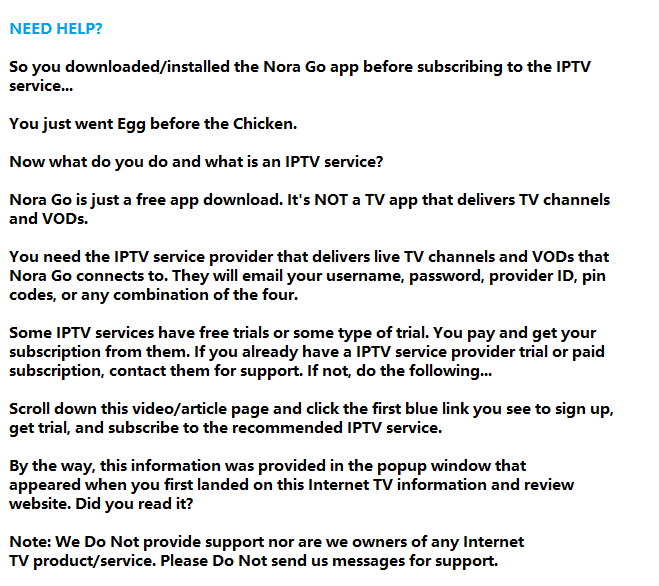 IPTV Subscription w/ Nora Go is the service to use if you want to watch live TV channels and on-demand content online. And to be able to watch what you want across a number of devices, the Nora TV app is what you will use.
Now with that out the way, we'll cover Nora Go TV further. You'll learn where to get the app and how to download and use it to watch on your HDTV, Samsung or LG smart TV.
Get your username, password, provider ID, and 4 pin codes by email from recommended IPTV service – Click Below…
Subscribe to IPTV Service…
Get IPTV Services with NoraGo Here
Note: The video doesn't show new channels added. There are now over 500 channels. Opt into the free trial (no credit card required) to see and play all channels.
Here's Another Video on How to Install to Smart TV
How to Download Nora Go to HDTV or Download to Apple TV
Note: If you are using an IPTV service that uses both SO Player and Nora Go, it's recommended that you use Nora Go for smart TVs only. Use SO Player for other devices for better performance. The latter includes HDTVs with the Amazon Fire TV, Cube or Firestick connected —  use SOPlayer.
There are a few ways to use this streaming TV service to watch on your HDTV. One great way is to use the Amazon Fire TV or Stick and download the TV app. If you don't have the Fire TV or Stick and don't want to purchase one, you can use a Windows or Mac computer.
Just download the app to the computer and connect the computer to the HDTV via HDMI cable. Of course, either way, you choose requires an Internet connection. If you have an Apple TV, Click Here to Learn More. If you have a smart TV, read below for More Nora Go TV information…
NoraGo TV on Smart TV (Download and Installation)
Instructions on How to Download NoraGo TV App on Smart TV. The video above provides instructions on Nora Go App download. As for Large and other smart TV brand users, you need to figure out some things on your own. The NoraGo TV app on the Smart TV download/installation process is simple to do.
NoraGo Samsung TV
The video above does not cover how to install Nora Go on LG smart TV. However, you can learn more under Nora Go on LG Smart TV further down. No other brands were tested outside of Samsung. Watch Video and see inside the TV app. See features and watch me play many live channels and on-demand content.
You can contact IPTV Subscription support (see link below) about your smart TV to see if it's compatible with the NoraGo TV application. YouTube.com has plenty of video tutorials on how to find and download apps to smart TVs.
GETTING STARTED (NoraGo Samsung TV):
You must subscribe to the top IPTV to activate the Nora Go smart TV app. When subscribing to Genzee TV, you will receive a series of emails. One very important email will provide your username, password, the provider ID, and 4 Pin Codes. Use one code per device (up to 4) when connecting to Genzee.
In other words, each one of your devices must have a unique Pin Code. Enter the code when prompted during activation process. Codes are found in the email they send you. The Nora Go TV app will work when entering the Pin Code, Provider ID, and login credentials.
Note: If for some reason you can't find the email from the IPTV service with your sign in details and other information, be sure to look in your Spam/Junk folder. This is a very important email. This is why it's very important to enter your correct email address when signing up to use Genzee TV. If you still can't find that email, then contact support.
The Nora Go Smart TV app can be downloaded and installed directly from your smart TV. Samsung smart TV users can follow instructions in the video above and should be able to complete the process fairly quickly.
You should already have a modem/router with an Ethernet cable that should be connected to your smart TV. Your WiFi network in the modem will allow you to connect any device you want to use in your household. The Ethernet cable will give you the fastest Internet connection speed, so make sure it connects to your smart TV.
NoraGo Samsung Smart TV Steps/Instructions
You should already know where to find apps already installed on your TV. That's if any apps are installed. The NoraGo Samsung smart TV video demonstrates this part. There are other apps already installed on the TV. But you will focus on just one green square. This is demonstrated in the video.
When selecting the green square icon to open, the next screen appears. This will displays all apps already installed on your TV, if any. Using the TV remote, you need to scroll down to the bottom of the page. Then scroll to the far right to highlight 'Categories'. Now use the remote to select 'Categories' to open.
On the next screen, you will see many large rectangular icons. You may not find the Nora Go on the smart TV app here. If this is the case, then you need to look for the rectangular icon named 'Videos', which should be on the far left side on top. Open 'Videos' and on the next screen, you'll see many NoraGo TV apps that have not been download/installed on your smart TV. This is where to find the Nora Go for smart TV on Samsung.
Next, use your TV remote to scroll down the screen. You are searching for the NoraGo download app. There are money apps to go through but you should find it quickly. Use your TV remote arrows to maneuver around. Again, you are searching for 'NoraGo'. When you find the app, select to open it.
If you can't find the app, then it could mean your smart TV isn't compatible. Contact support to make sure.
On the next screen, you will find some information about the Nora Go app smart TV. Look for a blue button that says 'Download'. It should already be highlighted. Using your remote, tab the middle button between the 4 arrows to start the Nora Go TV download. A download progress bar will appear.
When the download process completes the blue button will now say 'Open'. Using your remote again, press the button to open the Nora Go app for smart TV.
On the next screen, you should see the Loading displayed. The loading process may take 15 seconds or more to complete. Select the button that says Username/Password. A keypad will automatically appear for you to type in your username and password. Once the login details are entered, click the 'Next' button to proceed.
Just follow along and do what the process asks you to do. Enter your Provider ID and one of the Pin Code that you haven't used when asked to do so. Without this information and steps, the Nora Go app on smart TV can't be used to watch online TV.
Note: The username, password, provider ID, pin codes are in the email that Genzee sent you.
Nora Go on LG Smart TV
Unfortunately, we did not create a video with step-by-step instructions on how to install Nora Go on LG smart TV. We didn't have a LG smart TV to use. But what we do have is a video tutorial that shows how to search, find, and download/install apps to an LG smart TV. Follow instructions and search for the Nora TV app to install it.
Support told us the app is compatible to many smart TVs. This may include Nora Go large TV (same app for Samsung). If you have a different manufacturer than Samsung, it's best to contact support to see if your brand is compatible.
One important thing to note. Support told us some LG smart TV users may have some trouble finding and installing the app. This is why it's so important to opt into the Free 48-Hour Trial first. This way you can test things out on your device.
If you cannot find the Nora Go on LG smart TV app, then your smart TV probably isn't compatible. If this is the case, there are other devices that you can use as well as other methods.
Nora Go TV App on Smart TV
In video 2, you get a look inside the Nora Go TV app. This comes after entering all the login and activation credentials to use the app.
Note: Signing in and activation is a one-time thing.
You get access to over 500 live TV channels to watch movies, news, sports, and TV shows. The same live premium TV channels found on cable/satellite TV. There are many on-demand movies and TV episodes. The streaming content has many sub-sections (English, US TV, UK TV, French TV, Spanish TV, Filipino TV) under the TV category.
As for Nora Go for Large TV, you can go ahead and search for new apps on your smart TV. Try to find Nora Go. If you find it, then your LG TV is compatible.  Go ahead and download the Nora TV app.
Or you can always purchase the Amazon Fire Stick and connect it to any HDTV or Smart TV. The Alexa Voice Remote is really nice. Use the Amazon Fire Stick to download the NoraGo app. This way is just as good as any.
I will continue the NoraGo Samsung TV instructions in video 2. There's really nothing more to do other than explore Nora Go TV streams and features inside the Nora Go TV app. The NoraGo TV download and installation process is not hard to do.
Full Review Coming Soon
Related Videos: