Best Cast TV Review by Real Reviewer/Tester/User. If you ever wanted to save money on your cable bill or thinking about canceling it, here's one way that may help you make the decision. Then again, maybe you're living without cable and want to add some excitement to your TV. Either one, BestCast TV delivers but mainly caters to streaming content coming from North America such as the US and CA with Spanish channels included.
9/1/2022 UPDATE:
They are back. Whether are familiar with this streaming TV/VOD service or not, you can start watching your favorites online. Better Cast is the sister company that has revamped the infrastructure of its services. They now have a more secure process for registering.
I highly suggest that you visit the video/article post, watch the videos, and read the article post to learn more. The setup is a bit different when signing up to enter into the free trial or paying for the subscription. The Thorium Player app is supported. It's recommended that you use that app rather than Unlimited Player or a similar app that requires the Service ID, Username, and Password.
But I suggest you click below because there is nothing to learn when clicking the link above.
NOTE: I will be covering the Intro to Better Cast, the Registration page, the Free Trial, the Subscription, how to install the app, and the compatible devices, as well as seeing everything in action.
********************************
Recommended VPN Service (Optional) to Hide Your IP Address – Learn More Here
********************************
NO NEED TO READ BELOW…
—————
IMPORTANT UPDATE:
During the latter part of 2021, this IPTV service notified us that they were going through a huge infrastructure upgrade. We were informed no more new customers are going to be accepted and that has been the case to this very day. It was said they would come back to new customers but this never happened.
Now for the good news. I am happy to tell you about a new IPTV service that we tested, reviewed, and posted the review and videos to our website. This IPTV provider is very similar to Best Cast TV but now supports the Thorium app that requires the Service ID including the Username and Password.
If you already have the Unlimited Player (UnliPlayer) or any TV app that requires the Service ID, installed, you can subscribe to this IPTV. Those Media Players can be used but are not supported. The Thorium Player is supported.
You can opt into the Free Trial and test the app if already installed on your device. Understand that I'm not referring to the Provider ID. This is about the Service ID. You can confirm what I posted here by contacting the new IPTV service when clicking the link below. Use the free trial to test the app.
CLICK HERE to Visit the IPTV Service Now (Get Service ID, Username & Password)
Read Full Review Here
DO NOT READ BELOW… IPTV Service URLs Have Been Removed…
————————–
Click Here to Visit Alternative IPTV Service for Trial or Subscription or Click Here to Read Full Review
But this doesn't mean if you live outside of the US or Canada, you can't get access to the same streaming content. Any person worldwide can signup to watch the same everything.
The savings are tremendous but having said that you might be thinking, what am I losing when making the switch? I can't speak for you but after testing and reviewing this IPTV service, I didn't lose anything. Whether it's sports, movies, TV shows, news, PPV, CatchUp, or whatever it is you want you're bound to find it with this IPTV service.
If you have the Lenox app installed on a compatible device that's listed further down, you can continue using it. Read the Lenox MP section to get more details.
In this BestCast TV review, I'm going to break down everything so that you get a good understanding. You will read the pros and cons and can watch the video reviews that show everything including inside the TV app. By the time you're done here, you will be able to make a well-informed decision to either opt into the free trial/subscription or simply move on.
Best Cast TV – What Does It Do?
Best Cast TV is a No IP Lock IPTV service provider delivering 1000s of live channels and on-demand streaming content. You get it all under one roof such as live premium channels coming from the US and Canada. Local channels come from the US only. Spanish channels are also included. TV viewers get access to many popular television networks found on cable TV. This includes networks for movies, sports, news, kids, and so on.
There are religious and music channels, PPV events, CatchUp TV, VOD movies and TV series included. Honestly, there's something for the entire family at any age. You simply signup to get the free trial or subscription and download/install the TV app to any compatible streaming device. And once you activate/log into the app, all the streaming content inside the app is available to watch online.
No other equipment is needed, no contract, no credit check, no hidden fees, or termination fee. You pay nothing more. If you want to cancel, simply don't renew the subscription. There is no automated billing, you pay as you go.
IPTVs are not cable companies. They are not affiliated with any of them which means you can watch all the streaming content from any country you live in or travel to. If you like what you've read so far, continue reading my Best Cast TV review to learn more.
BestCastTV uses a No IP-locked system which means subscribers can use a VPN service. However, depending on the setup this might slow down the speeds which can ultimately cause issues. BestCastTV is providing high-quality video playback and this requires Internet speeds of 20 Mbps at a minimum according to them. I say at least 30 Mbps.
Click Here to Learn and Get Free Trial or Subscription
What Are the Requirements
The setup and requirements are simple. You get instructions when visiting the bestcast-tv.com website and from the email they send you. Here are the requirements which you already have one or more of them no doubt:
High Speed Internet. Having tested/reviewed many IPTVs, I recommend having at least 30 Mbps (download speed). But the more or higher the better such as 50, 100, 200, or more Mbps. You want to eliminate buffering and playback issues as much as possible. But you can start with around 30 Mbps.
Compatible Streaming Device: You can use NVIDIA Shield, Firestick/Fire TV, Tablet, Android TV/box/phone. See the list of other devices that can be used further down. At the moment, BestCast is developing more apps for smart TVs and iOS devices including a TV player web browser. But for now, if you want to use your HDTV or smart TV, you need a streaming media device to connect to your TV. I highly recommend using the Amazon Firestick.
Free TV App: This IPTV uses the Unlimited Player app which can only be found inside the Google Play Store right now. You don't need to signup or pay money to download/install the app. You can do this right now or after signing up for the IPTV service trial/subscription. The TV app doesn't deliver streaming content to watch online by itself. You need an IPTV service. Lenox users, this applies to you also. You can continue using Lenox but think about using unliplayer.
IPTV Service Provider: Always remember the name of your IPTV service and know how to get to their website. This is where you go to renew your subscription again. The IPTV service emails the Service ID, Username, and Password (activation/login credentials) right after signing up. The IPTV delivers all the streaming content to the free TV app when connected. You can also learn more by signing up to get our Free IPTV Setup Guide HERE.
Who Is It For?
Those who benefit more are people wanting to watch streaming content from North America, namely the US and Canada. Those who speak Spanish will also benefit as there are many Spanish channels available to watch. If you are passionate about sports, you get access to local, national, international, seasonal, pros, and college sports.
Movies lovers will enjoy getting access to both live movie channels and on-demand movies of all genres including new releases. When conducting my Best Cast TV review, I found countless VOD movies and many movie channels from popular networks. There are plenty of TV series if that's your thing whereas you also get the seasons and episodes.
But what's also very beneficial is that anyone throughout the world can get access to watch the same streaming content. As long as there's an adequate Internet connection, anyone can get access, no one will be blocked.
What Are the Benefits
Connect any compatible streaming device to watch at home or on-the-go
Watch from any country in the world
Great for North American TV viewers and Spanish speaking individuals as well
Save a bundle without paying a bundle of fees
Watch all of your favorites online anytime, anywhere
Great for movie lovers, sports fans, TV series lovers, kids, and everyone else
Watch on the big screen via a streaming media device, such as the Firestick
Cancel anytime, just don't pay again to renew – no automatic billing
Watch the big fights/special boxing matches on PPV (no extra cost)
Connect up to 5 streaming devices at one time
Free trial for testing
Best Cast TV Channels
Local TV Channels. Unfortunately, IPTV services are not the best choice for watching live OTA TV channels online. Many IPTVs certainly do deliver them including Best Cast IPTV but not that many for each US city. Actually, I'm not sure all US cities are included but the ones they do include are just a few. The best thing to do is purchase an indoor HDTV antenna to connect to the back of your TV. Run a local TV scan to get all your channels and watch without cable TV.
Live Premium Channels. You don't lose much if anything at all. You get basically the same channels from popular television networks you see on cable. But don't take my word for it. The best thing to do is enter into the free trial (no credit card require) and see for yourself. Or, click the button in the star-rated review to watch the video that takes you inside.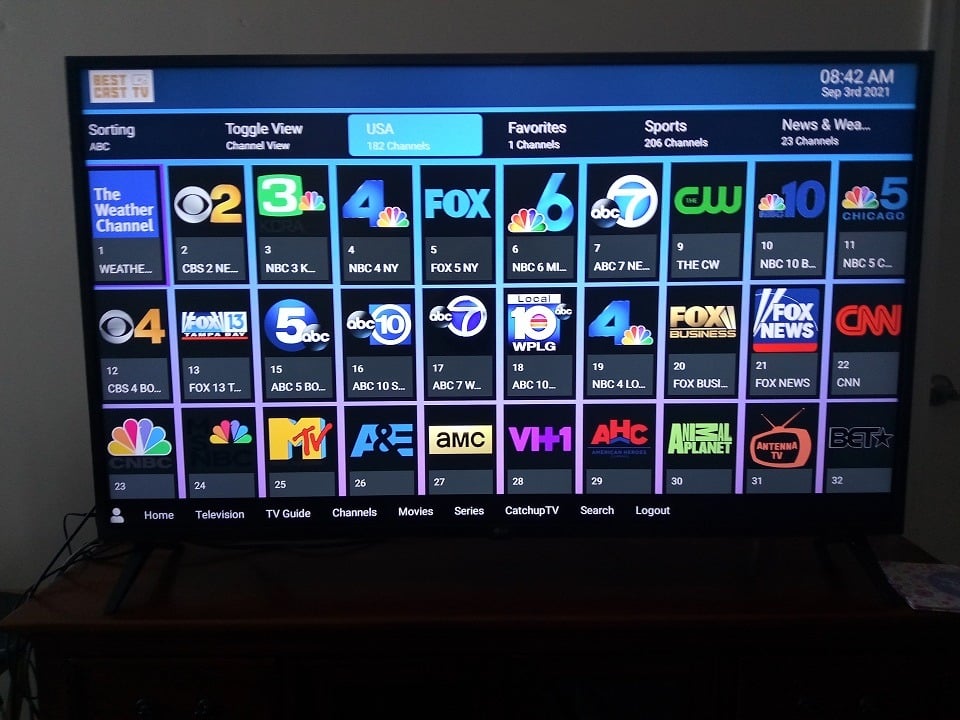 Other Channels. You will have access to many US and CA channels including Spanish channels, music, and gospel channels. There are many categories with live channels. See the list below…
USA
Sports
News & Weather
Catch Up
Canada
Kids
Locals
Religious
Music
24/7 (2 channels)
International (2 channels)
Espanol
PPV (no extra cost)
Adult (locked by default)
I did not come across any live channels that didn't work but that doesn't mean there aren't some non-working channels. What I also liked about this IPTV service is the support feature they included. You can report a channel with no audio, video, or both instantly with a click of a button. Also, there's a search feature to find a channel by name.
Click Here to Learn and Get Free Trial or Subscription
The screenshot below shows the channel list that you can make appear as the channel is playing. You get a list of television programs in their timeslots. There are 3 colored icon circles: Blue, Green & Pink. The Blue tells you the TV show was recorded, the Green tells you the TV show is playing right now, and the Pink is for recording which doesn't work by design. Instead, you have CatchUp TV whereas BestCast does all the recording for you.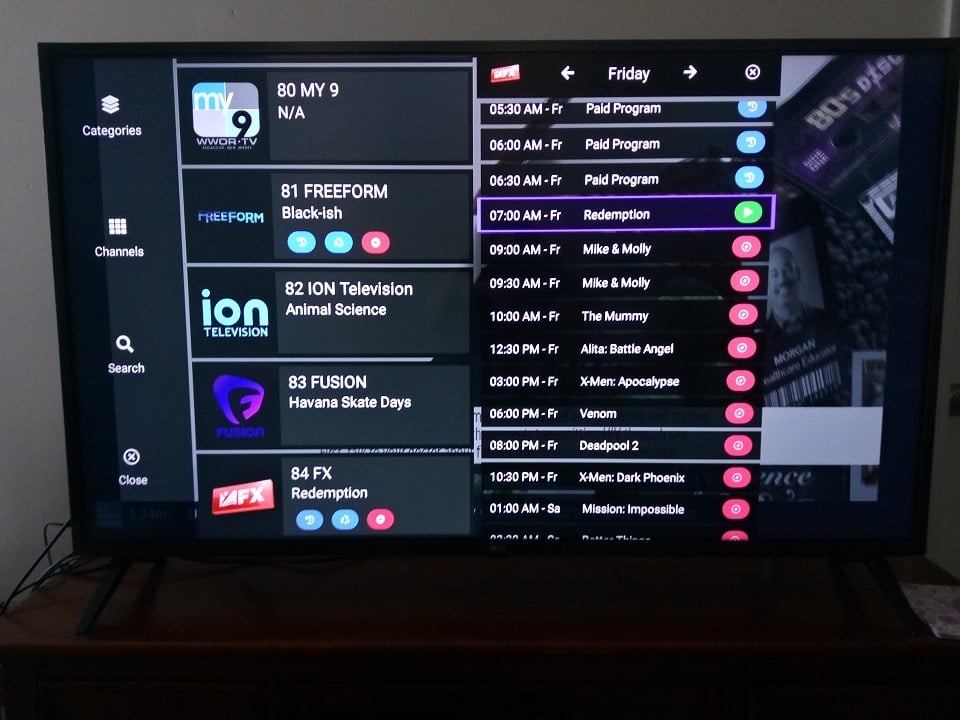 BestCast TV On-Demand Movies & TV Series Plus CatchUP TV
When going through my Best Cast TV review, I also tested/played/watched many VOD movies and TV series including CatchUp TV shows. I couldn't play all of them but the ones I did test all worked. There is a section for New Releases with many movies. I saw one that I wanted to watch so I added it to my favorites to watch later on.
I also liked that both CatchUp TV and TV Series include a Time Shift feature. This allows you to move the recorded TV show forward or backward in small increments. It's great for getting past those commercials or when you've missed something.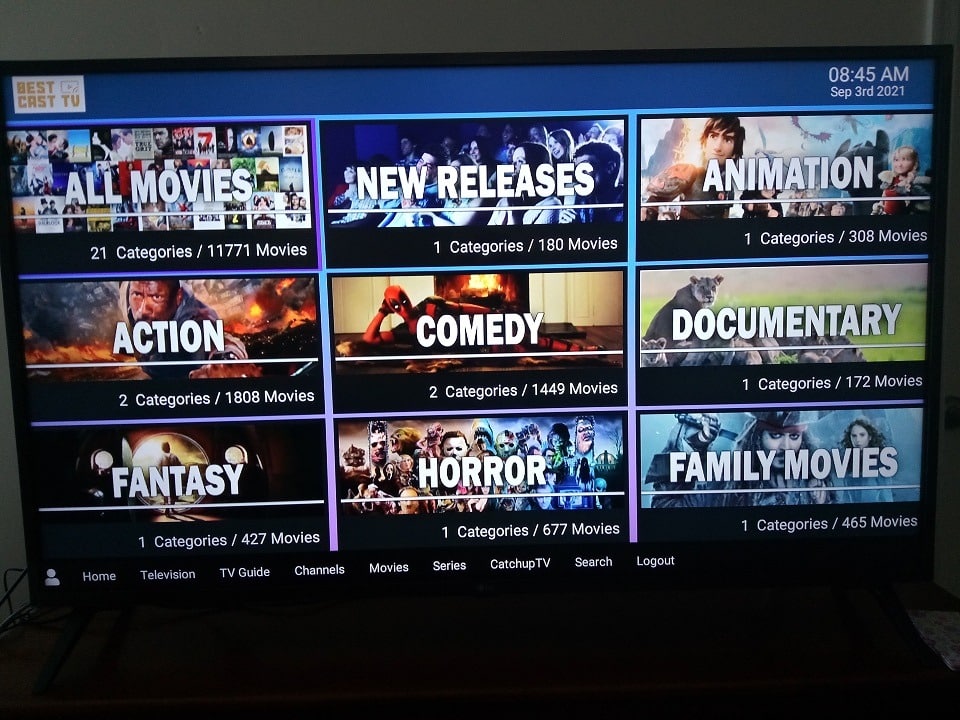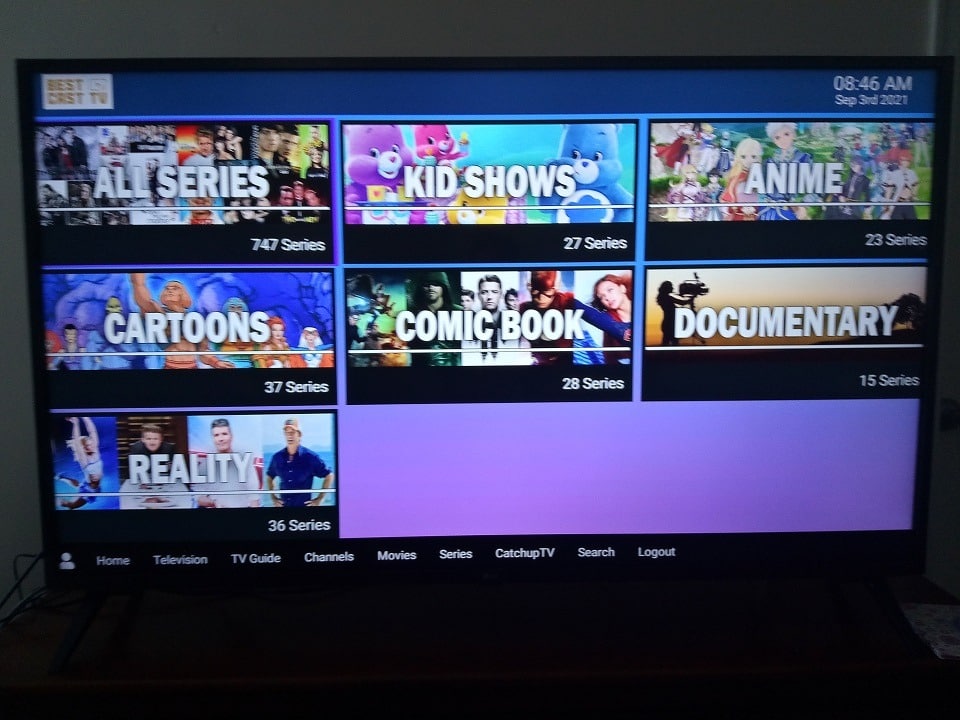 The CatchUp TV content makes up for the no-record feature. You can't do any recording yourself, the IPTV service (BestCast) does all the recording for you. You will see a host of TV networks with all kinds of television programs recorded to watch online. No doubt this includes recorded sporting events as well.
Sporting Events
I'm not sure you'll get any live regional sports channels from your region. I did, however, get a CSN Philly channel where I live. This came from conducting a search for Philadelphia channels. You will see this as I demonstrated the search in the video review. Best Cast IPTV delivers all kinds of sporting events. This includes local, national, international, seasonal, pros, collegiate, and PPV fights/boxing events.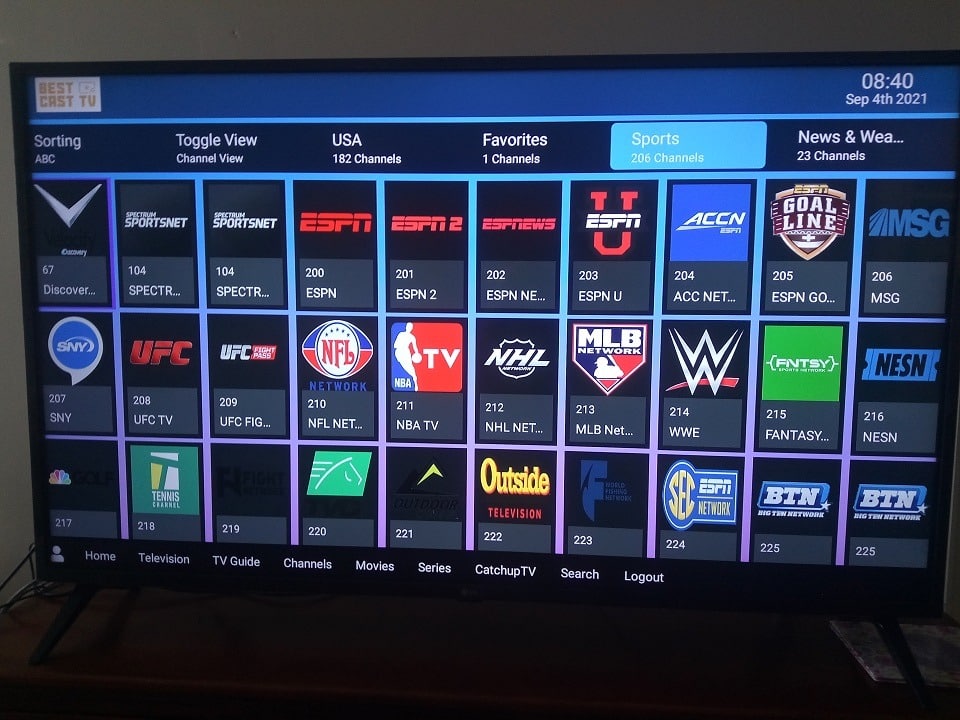 So with the many major sports networks along with recorded sports, you get the best of both worlds. This isn't to say that all sports or every sporting event is recorded. You just need to check for yourself to see what's available.
If wondering can you watch NBA basketball, NFL football, NHL hockey, or MLB baseball, the answer is a resounding 'YES'.
Click Here to Learn and Start Watching Your Favorites Online
Navigation & Interfacing
Once you've activated and logged into the TV app the Home screen appears with the following categories. It doesn't look the way you see it below. It's more attractive…
Settings (icon) | Home Screen | Television | TV Guide | Channels | Movies | Series | CatchUp TV | Search | Logout
When opening settings, you get the following…
Settings: Profile name, Messages, Settings, My Content, Favorites, Watchlist
There are other categories to get where you want to go.
Everything is well organized and easy to find the streaming content to watch online. There is no manual but you don't need one. You get a very user-friendly interface whereas the streaming content plays quickly and smoothly.
Performance & Picture Quality
The performance relates to one's Internet connection speed as well as the IPTV service with the app. Many subscribers blame the IPTV service when buffering issues occur. No IPTV service is perfect or can be free of no blame. But most buffering issues come from the user/subscriber's end. This is why I stay with the IPTVs that have very limited buffering/playback issues which can occur with one or few channels. It may occur during a live sporting event.
The buffering may come and go after a while. You can try playing a working channel and then go back to the channel with the issue. This may or may not resolve the issue. But I suggest you watch the video tutorial on how to prevent buffering on Firestick on your end before blaming an IPTV service.
Even if you're not going to use the Firestick/Fire TV, you should watch the video. You can find more videos when searching YouTube for your device regarding buffering issues. Another thing you need to do is use your Ethernet cable instead of a wireless connection. In other words, for your primary streaming device, you are going to use to watch TV online using an Ethernet cable. This gives you the fastest Internet connection speed.
I purchased an adaptor for my Firestick that allowed me to connect the Ethernet cable. The Ethernet cable comes out of my Comcast modem/router to my Firestick. My Firestick is connected to my LG smart TV. All my other devices are connected wirelessly.
Your Internet connection speed is very important which should be at least 30 Mbps but the more the better. During my Best Cast TV review testing, the picture quality was extremely good, HD 1080p if not better. I'm using a Firestick 4K and LG smart TV 4K. I am very happy with the picture and audio quality. I have over 200 Mbps but this doesn't mean you should have that amount too. When testing the IPTV service/app, everything that was supposed to work did so very well with the exception of PIP.
Unlimited Play App & Lenox MP App
BestCast TV makes use of the Unlimited Player (a.k.a. unliplayer) to stream content through compatible devices. Lenox app users should be able to use this IPTV service as well. Since the unliplayer requires the Service ID, Username, and Password, I contacted support to ask a question. That question pertained to using the Lenox app.
I was told Lenox users can indeed use Best Cast IPTV. However, should there become a performance issue the user should uninstall the app and install the unliplayer app. Both apps are similar but Lenox is no longer supported and cannot be downloaded from the Internet anymore. If you want to install to other compatible devices, you will need to install the Unlimited Player.
You can find the Unlimited Player app inside the Google Play Store only, not the Apple Play Store. To install this app to the Fire TV or Firestick, a 3rd party app (Downloader) is required. The IPTV service (BestCast) will provide all the instructions including the URL to download the apk file version of the unliplayer app.
There are no IPTV services out there supporting the Lenox app anymore. They are using the new replacement app, Unlimited Player. So for the most part, you won't see any IPTV services saying you can continue using Lenox. Learn More Here.
Compatible Devices
There are limited streaming devices that you can use right now. However, support informed me they are planning to launch apps for smart TVs and iOS devices (iPhone & iPad) in the near future. Here is a list of compatible devices…
Android Devices (Phone, TV, Box)
Tablet
Computers (Windows/Mac) with Android emulator or incognito mode on Chrome
Amazon Devices (Fire TV/Firestick)
NVIDIA Shield

Note: If you don't have a compatible streaming device from the list above, I recommend getting the Amazon Firestick. Learn More Here. When you click that link to learn more, I also posted a link where to find/purchase the Firestick adaptor to connect the Ethernet cable to go a faster Internet connection speed.
Best Case TV Free Trial, Subscription, Refund, Support
I advise opting into the free trial first because there is no Refund Policy in place. Make sure to put as must time into testing during the trial because it is limited…
24-Hour Free Trial (no credit card needed)
Note: No PPV events are included in the free trial.
There is only one subscription plan. There could be more coming in the future, according to BestCast. See below…
One-Month Subscription Plan: $23.99 USD
Note: Payment methods include credit cards, CashApp, Cryptocurrency & Google Pay
There is no recurring payments/automated billing. You pay as you go. When your subscription ends, the service is turned off and you can no longer watch TV online. Some IPTVs will contact the customer before the subscription ends. I don't know whether or not Best Cast IPTV does this. This was something I didn't ask during my Best Cast TV review when submitting questions to support.
The following is very important: When you opt into the trial or subscription, you receive emails immediately. Make sure you typed your email correctly when signing up. If you don't see any emails from BestCast, check your Spam/Junk mail folder for them. If any are there, just move them to your regular email inbox.
For support, customer care is through the chatbox from Sunday-Friday from 2 pm to 8 pm and Saturday from 2 pm to 12 midnight. This is in their timezone which I don't know what that is. Afterhours will be monitored and a reply will be sent within 24 hours.
Get Your FREE Trial or Subscription Here
Best Cast TV Review: Pros & Cons
PROS
Subscribers get access to thousands of live channels which include premium, local, US, CA, and Spanish. There are categories for sports, movies, TV series, CatchUp, music, religion, PPV, and the list goes on. There are tons of on-demand TV series with seasons/episodes as well as VOD movies with genres and new releases.
There's something for the entire family to watch. Sports fans should be delighted as well as movie lovers and those who love to watch TV series.
There are some interesting feature enhancements such as PIP which wasn't working too well at the time. But support is aware. Other features include Add to Favorites, Parental Controls, Add/Create Profile, Time Shift (CatchUp & TV series), etc.
You can connect up to 5 streaming devices simultaneously. If you have 4 or 5 household TVs, you could connect a Firestick streaming device to each one of those TVs easily. Or you could connect NVIDIA Shield. However, the Amazon Firestick works very well with IPTV services and the app they use.
Speaking of streaming devices, you can connect any compatible streaming device from the list above when traveling. Many IPTVs limit you to just a smartphone with traveling.
CONS
You should get the same results as I did with limited downsides. Again, no IPTV service is perfect, and some of the downsides may not be downsides for you. Some downsides may be corrected by the time you give Best Cast TV IPTV a try. The free trial will get you in at no cost but PPV events are not included.
Here is the list of downsides I found during my physical review…
BestCast TV only caters to North America TV where all streaming content comes from
Only two International channels and two 24/7 TV shows
PIP (Picture In Picture) was experiencing an issue. Only one channel played out of 4 – support is aware
Regional channels – only found one for my city but not necessarily a downside. Many IPTVs don't include regionals
Local channels does not include all local channels from a US city
Some movie trailers didn't work, some did play
Smart TVs and iOS devices not included as compatible devices but coming soon
Conclusion
After conducting my Best Cast TV review, I was happy to see there were more pros than cons. I gave this IPTV service a big thumbs up. The streaming content was great, I experienced only minor issues, and the overall experience was very good. Once they add more compatible devices, and get the PIP working which it may very well be soon, BestCast will get a higher rating.
If you are looking for streaming content outside of the US and CA, you can contact me via the chatbox in the lower right corner. And if you are very new to watching Internet TV or IPTVs or perhaps you are still somewhat lost, I encourage you to do the following. Sign up to get our Free IPTV Setup Guide where more of your questions can be answered.
You should not rush yourself and I encourage to you watch all the video reviews. One of the videos allows you to look over my shoulders as I play many of the streaming content delivered. But if you feel comfortable after gaining the information here, by all means, signup, up and test for yourself. Don't cancel cable if you have it until you at least test the Best Cast IPTV for a month.
Our Best Cast TV Review Ends Here.
Click Here to Learn More and Get Your Trial or Subscription