How and Where to Watch TV Shows Online (Internet TV Options)
Where to watch TV shows online without downloading anything is easier to find now than it was years ago. That's because more and more web TV services are springing up all over the Internet, which offers more ways to a watch TV online stream. Many 3rd party services have changed from a TV software download solution to web-based TV that doesn't require downloading software. With the later, comes more compatibility (Windows/Mac/Tablet computers, Smartphones).
IMPORTANT UPDATE:
Some links below have been remove due to website no longer available.
———————-
The best ways to watch TV online should include watching many of your favorite TV programs from one place, at low-cost. You can watch online TV shows and movies – literally any live and on-demand content (video, movie, sporting event, news broadcast, and so on). But you should also get the benefit of watching everything from one place.

You can watch everything for free without installing hardware or software. However, you should explore what a low-cost web TV/Video service offers and compare this to any free service. You can sign up below to get your Free Online Movie, TV and Sports Report, that provides information on free-to-use and pay-to-use web TV services, with and without downloading anything.
How to watch TV shows online. Just an Internet connected Windows or Mac computer, tablet or smartphone can get access to many of your favorites over the Internet. But a computer with broadband connection can do a lot more.
To gain full access (without any restrictions) to all types of streaming content online, besides TV shows, you need a computer with a broadband connection. Higher the connection speed, better the picture quality and overall performance.
To play SD (Standard Definition) TV shows, movies and sports, you will need 3 Mbps or more Internet connection (download) speed.
To play HD (High Definition) TV shows, movies and sports, you will need 5 Mbps or more.
The best way to check and see how much download speed you have is visit a speed test website. Go to either website below and test your speed…
The best time to perform the test is during peak hours (7 AM to 11 PM) when there's a greater number of Internet users sharing your ISP (Internet Service Provider) network. Just because you have broadband doesn't mean you have enough download speed and bandwidth to play live SD and HD TV shows online and videos. Slower connection speeds will cause buffer/playback issues.
Your high speed Internet can be the deal maker or deal breaker when it comes to watching full seasons of TV shows including movies, news, live sports, and other types of streaming content. Getting your Internet connection speed in order should be the number one priority.
I suggest at least 7-15 Mbps download speed. However, anything above 15 Mbps is better. But 5 Mbps will be enough to watch HD TV shows online if your computer screen can display HD quality.
Your computer has all the multimedia and video technology needed including computer screen to watch TV shows over the web. In fact, using a computer is better than using a tablet or smartphone, because you won't undergo any restrictions or limitations — unlike streaming media player or devices such as Apple TV, Chomecast, Amazon Fire and Roku that rely on apps to watch streaming content.
A computer can download TV player software or toolbar, visit any free or pay-to-use TV/Video website to watch TV shows, movies, news, sports, and so on.
Besides using a computer and broadband, you could buy an indoor HDTV antenna to connect to your
television at home. This allows you to watch TV shows locally without cable or satellite. In fact, the picture reception/quality is better than what is delivered from cable/satellite.
Where to Watch TV Shows Online Including Other Streaming Content In One Place
Many people enter Google how or where can I watch TV series online and television shows. I tell them to start with free/pay-to-use web TV/Video services — particularly the pay-to-use services. Once they learn this, asking "where can I watch TV shows online" becomes an afterthought.
There are plenty of these services out there to watch whatever interest you. In fact, you could build a robust web TV entertainment system when using all or most of the services revealed in this article.
You can find where to watch TV shows or any series online when using two or more web TV/VOD services, some of which includes Hulu, Netflix, and Amazon Prime Instant Video. You can join Hulu and Netflix for $8 each and there are free trials for both. Netflix is best used for watching movies and Hulu is best for watching TV shows/episodes.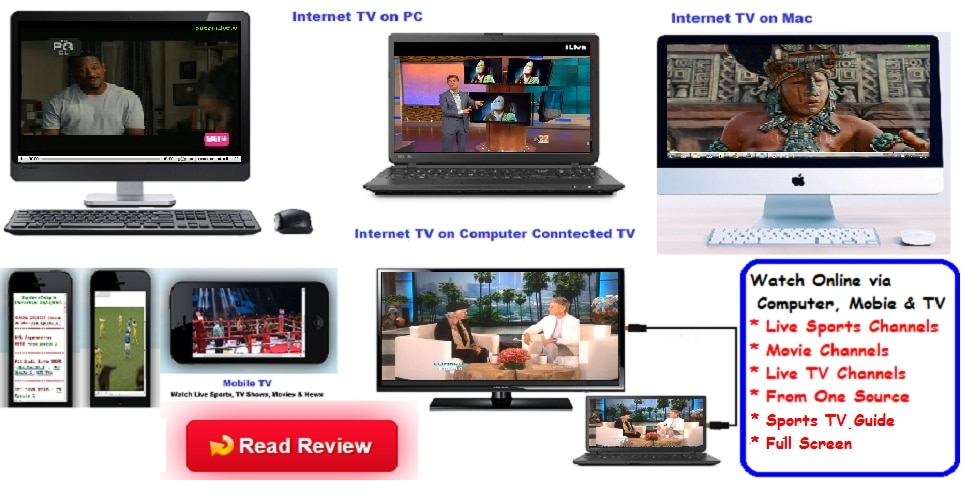 Watch Free TV Shows Full Episodes
You could also consider opting into some of the popular 3rd party web-based TV services such as Direct PCTV and LiveTvWeb, where you can watch both live TV shows and VOD (video-on-demand) content – best of both worlds. These are low-cost pay-to-use services that offer a lot of streaming content to start building a robust web TV entertainment system. You can direct-connect to many of your favorite TV sitcoms/soaps/episodes without paying anything.
I would recommend opting into both services, which are great resources for where to watch TV shows online. Direct PCTV allows you to direct connect to over 9,000 live TV channels and VOD content online. You can get access to entertaining TV channels from popular TV networks to watch all kinds of TV shows/sitcoms/soaps/episodes.
Besides getting access to TV shows to watch online, you can also watch entertaining movies, news broadcasts, and there's a live sports section to watch any sporting event in the world online. Direct PCTV also direct connects to radio stations and music.
This service is great for English speaking individuals and countries where English is either the first or second language. So if you want to know, where to watch TV shows online, this affordable service won't sell you short.
Visit Our IPTV Comparison Chart Here to Find IPTV to Watch Your Favorites Online
Another source where to watch TV shows online is LiveTvWeb. They direct-connect you to live TV channels (no VOD) where you can watch live sports, watch movies and TV shows online including news and music videos. More specifically, this service is designed exclusively for watching live sports online and offers many live sports packages/memberships at different price sets. A few packages include other streaming content such as live news channels, movies channels, TV show channels, music video channels, and the list goes on.
If you want the best of live sports online, this service is the one to opt into. But even if you are not into watching sports, you will be entertained when watching entertaining movies, TV shows, music videos, etc.
A great number of people want to watch spike TV online. LiveTvWeb direct connects to this channel as well but you can visit the Spike TV website directly to view television shows.
Live TV Web caters to English speaking individuals and countries. You can watch UK TV online but this service is also great for TV viewers from the United States, Canada, Australia and other countries where English is either the first or second language.
To Read My Full LiveTvWeb Review, Click Here
Both web-based services previously mentioned are two of the best 3rd party services to watch TV series online and other television programs. They provide access to tons of TV channels and VOD, whereas of the content can be found on cable and satellite.
Another key note is that you don't pay high cost of cable or satellite TV when choosing where to watch TV shows online with these sources. There's nothing to download or install — you do nothing but sign up to these services and watch whatever is of interest.
Members will be given access to password protected members area where you simply point and click to channel links with titles to begin watching your favorites immediately. This service also offers a quick, easy way to watch live TV shows online including VOD (video-on-demand) when direct connecting you to all the web content from one location.
Add Netflix and/or Hulu Plus, you now have a robust web TV/Video entertainment system that does away with paid television. Your computer and broadband connection can connect to your small/large screen television via HDMI cable. Once this easy setup is completed, you can watch everything on your television.
Now that you know where to watch TV shows online, you can also connect an indoor HDTV antenna to your television at home. This connection doesn't require the Internet. It allows access to OTA (over-the-air) broadcasts in your local area and picture quality is far greater than cable and satellite.
You've just learned how and where to watch TV shows online using what you already have (device and Internet connection). Not only that, you also learned how to get access to local over-the-air TV channels. All the content you need at your fingertips without any hardware, with exception to indoor HDTV antenna if you choose to go that way also. To set this up, simply go to youtube.com and watch some video tutorials.
Three Things You Should Do…
1) Read My Direct PCTV Review (If you like what you read, then try the service out; there's a 30 day money back guarantee you can exercise if you don't like it).
2) Read My LiveTvWeb Review. (If you like what you read, try the service out. Right now there's a 3-day trial @ $5.95 that automatically bills you $37 per year). You can cancel the trial before it's over if you like).
Opting into either service or both offers many benefits. How to watch to TV shows online is made simple with these services and you get something different with each. These services will put you on the road to building a robust web TV entertainment system.
3) The best online TV service to watch TV shows online is now revealed for your review. In fact, there are several of them whereas one service may closely meet your needs. If you sign up at the very bottom to get your FREE Report, you'll get "The Ultimate Guide To Watching TV Online" ebook. Here is where I help you build a robust web TV/VOD entertainment system using free and pay-to-use web TV services. There's a wealth of information provided for newbies and experienced web TV viewers.