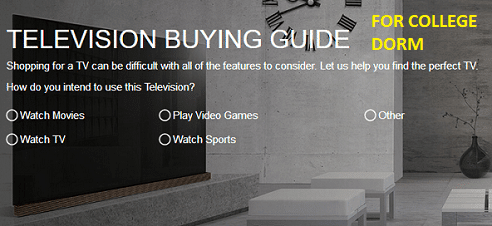 Internet TV Offers Best TV for College Dorm with Less Space, Time, and Money
More than likely, you are weighing your options to get TV for your college dorm that makes sense and doesn't cause losing favorite TV programs to watch. Perhaps there is a need for cable or satellite TV but that may be impractical due to cost and what your college will permit.
Nevertheless, you are exploring your options, making sure you cover everything before deciding on the best TV for college dorm you can find. Well, here's one option you may want to add to your list.
If in a hurry, you can skip below and go directly to our Top 10 chart. See IPTV services side-by-side with pricings, features, types of streaming content, and more. These low-cost services are packed full of entertaining live channels and VOD. Great for college students.
Best Way to Watch TV in Your College Dorm Room
3 Things Needed
Note: You can also connect your computer to HDTV (w/ HDMI cable) or Smart TV wirelessly
NO NEED TO READ ANY FURTHER…
Living the life of a college student usually isn't as ideal as some people tend to think. Particularly, students who made the decision to live in dorms are very limited in the amount of space they are given, and even more so when sharing with a roommate. That's why watching Internet TV in your dorm offers a great solution.
It's not uncommon for students to use, or travel with, a laptop computer or tablet instead of a desktop, or even a smartphone nowadays. Not only does this save space but makes working and studying a lot more comfortable.
When it comes down to setting up a TV for the college dorm system to watch whatever is of interest the typical digital TV for dorm room approach really isn't needed. You can use your Internet-connected laptop to surf the web for free TV shows, movies, and videos to watch from YouTube and Crackle to name a few.
Of course, you have pay-to-watch websites like Netflix and Hulu to choose as well. But did you know there are some low-cost, 3rd party, web-based TV/VOD services online that offer the next best thing to cable and satellite?
They make a good dorm room TV option if you want to watch live TV channels and video-on-demand streaming content such as live sports, news broadcasts, entertaining old/recent movies and TV shows, as well as music videos and radio stations to listen online.
Either way, you also want to make sure your computer is equipped to handle more memory usage and meets system requirements. A new computer will be better. But if you have an older one, it's wise to clean (internally) and optimize your machine beforehand.
By the way, a computer would be the best device to use. If you are going to share a room and one of you have TV, connecting a computer to TV is very easy to do nowadays. Just use an HDMI cable or cable that's compatible with both TV and computer.
Best TV for College Dorm with OTA Local Channels and Web TV
If you buy, let's say, a portable television with a 13-inche screen or larger with HDMI port, there's a couple of things you could do: 1) Buy an indoor HDTV antenna (See Best Seller) to get all the local TV stations in the area; 2) To get access to tons of streaming live and on-demand content online, simply connect the computer to television via HDMI cable.
In regards to #2, this will enable you to get access to an unlimited amount of streaming content, both free and pay-to-watch. This would build the best TV for college dorm system by far. As for 3rd party, web-based TV/VOD services mentioned earlier, you could opt into one that's low-cost (one-time fee or subscription).
Now you can watch OTA TV stations with all kinds of TV shows/episodes/sitcoms, talk shows, sports, and so on. When connecting your Internet-connected computer to TV, with one of those 3rd party web-based TV/VOD services, you get access to live premium channels. This allows access to more entertaining content… the next best thing to cable and satellite
Click Here to Discover Best 3rd Party, Web-Based TV/VOD Services (See Comparison Chart)
College Dorm TV Requirements
If taking the internet TV approach, it's not too difficult to figure out exactly how things work. As a matter of fact, even the newest of newbies that have no background experience with computers will have no trouble with viewing Internet TV for college dorm room when taking this approach.
That's because web-based TV/VOD sites make everything simple when it comes to setting up the best TV for college dorm system. Here's what needed:
High speed Internet Connection (wireless or wired modem)
Device (computer, tablet or smartphone but computer preferred)
Web browser (Google Chrome, Mozilla Firefox, Internet Explorer, etc.)
Having a portable TV that connects to an Internet-connected computer is optional. You can enjoy watching Internet TV on any computer or tablet just as much. Of course, having a good size computer screen only makes the view a little better.
Internet TV for College Dorm – Privacy
Although many students love to mingle, there are times when privacy is a much-needed downtime. Using this method of watching television online, they can obtain a perfect, private source of amusement. No doubt having access to tons of worldwide channels in many different languages is enough to past the time away. Again, this may be the best TV for college dorm room to set up.
There's really no need to fret over what size TV for college dorm is needed. Just a laptop computer or tablet with a web browser and high-speed Internet connection are the only requirements.
Not only is the latter true but watching live and on-demand sporting events, TV episodes, movies, and so on, can make downtime more relaxing. So lounging around in bed with a laptop or better still when at the library, one can plug in a set of headphones and watch their favorite TV programs online.
Just have a wireless or wired connection that can load and play all streaming live TV channels and VOD content from the web.
As you can see, taking this dorm TV approach is fairly simple and can be the best TV for college dorm setup. It takes up less space, it's extremely cost-effective and you can have everything set up within a few minutes. There's no hardware or wires to install unless of course, you want to connect an indoor HDTV antenna to TV.
The cost to set up a TV for dorm room system won't hurt your pockets if you already have a computer and high-speed Internet connection. This alone will allow watching free-to-watch streaming TV shows, movies, and sports online. But when opting into one of those 3rd party web-based services, you get the next best thing to cable and satellite.
A good 3rd party, web-based TV/VOD service can range from $40 and below (one-time fee) or you could opt into a subscription that costs $45 or less (monthly, quarterly, or annual packages). These 3rd party services come with a service plan with 24/7 tech support, channel updates, and depending on which service you choose, 3 to 7-day trials are available also.
Many offer lifetime memberships and all of them have money-back guarantees. Even more the reason to see this as the best TV for college dorm setup. Third-party web-based TV/VOD services can make the world of difference when it comes down to experiencing the best of web TV entertainment has to offer.
So there you have it… you've just solved the space and/or cost issue that may have existed and doesn't require bringing a large screen TV in the college dorm. If you think this could be one of the best TV for college dorm setups, then it's time to explore this further.
Click Here for the Top 10 3rd Party, Web-Based TV/VOD Services
Resources:
College TV