I've already tested SO Player on Firestick and it works great. Better performance that you will love. If you are having NoraGo Firestick performance issues, now you know why. Simply remove the app from your Firestick device and download/install SOPlayer. Click the link below for the recommended IPTV service that uses both apps. Again, only use the Nora app for your LG or Samsung smart TV if you cannot find SO player inside the smart TV app store.
——————————————————-
IMPORTANT UPDATE!!!
Many Nora Go and SO Player IPTV Service Providers have closed their doors to new customers/subscribers for reasons unknown. We are no longer recommending any Nora Go or SO Player IPTV Service at this time. We have been receiving a lot of messages from visitors that they can no longer renew their subscriptions–no support, no website, no nothing.
Here is what we recommend doing…
Start over and choose a new IPTV service provider that uses a different app. We removed 7 SO Player and Nora Go IPTV services. There are currently 3 top IPTVs left that don't use either app. They use a different app.
We are updating our sites, testing/reviewing new IPTV services with different apps. We will post our reviews and videos as time goes on. Right now, you can click the link below to…
DO NOT READ BELOW… All IPTV service provider links have been removed…
———————————–
Other smart TV brands may not be able to find either app inside their app store, and therefore should use/buy the Amazon Firestick. Click the link below for information on the Firestick.
Subscribe to IPTV Service Here
Click Here for Amazon Firestick Information
Indoor Antenna to Get All Local TV Channels without Cable/Satellite TV
How to Download/Install SO Player on Firestick
See All SO Player Video Tutorials
Download/Install Nora App to Smart TV
DO NOT READ BELOW… THE POST WAS NOT UPDATED AND MAY CONFUSE YOU…
————————————–
How to Download NoraGo on Firestick, Fire TV, Cube, Install, Plus Alternative APK Download If Needed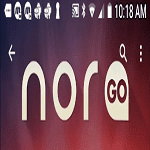 The video above shows talks about how to download NoraGo on Firestick and how to install Nora Go on Firestick. This is a TV app that you can also find in the Play Store. If for some reason, you cannot find the app in the Play Store, it could be gone for some reason. I included alternative steps with the 2nd video below on how to sideload the Nora Go APK instead.
There are four things needed to watch TV online: 1) Nora Go App; 2) IPTV service; 3) Amazon Firestick or compatible device; 4) Internet connection. You must choose an IPTV service to signup, subscribe, and activate the NoraGo app. It doesn't matter where you start first. You can download the NoraGo app for Firestick first if you want or simply go to the IPTV website to sign up and subscribe first.
You can Watch SOPlay Video Tutorials Here. That said, you must subscribe to an IPTV Service Provider to activate and use the app to watch TV online.
Local U.S. TV Channels now included – click the link directly below…
Get Your FREE Trial or Subscribe Here
See Videos on How to Remove Devices from IPTV Service and Prevent Device Lock (SO Player or Nora Go)
Note: See Instructions Below in Red. More Steps/Downloads Needed to Sideload Nora Go APK. Keep in mind that it's always best to start by choosing an IPTV service. They provide activation/login credentials as well as live channels and VOD content the app connects to.   
The IPTV service delivers 100s of live premium TV channels and on-demand content to watch on your device. This is not a cable TV or satellite TV service. The cost is much cheaper and there is no contract, antenna, or hardware required to watch your favorite sports, movies, shows, episodes, or news broadcasts online.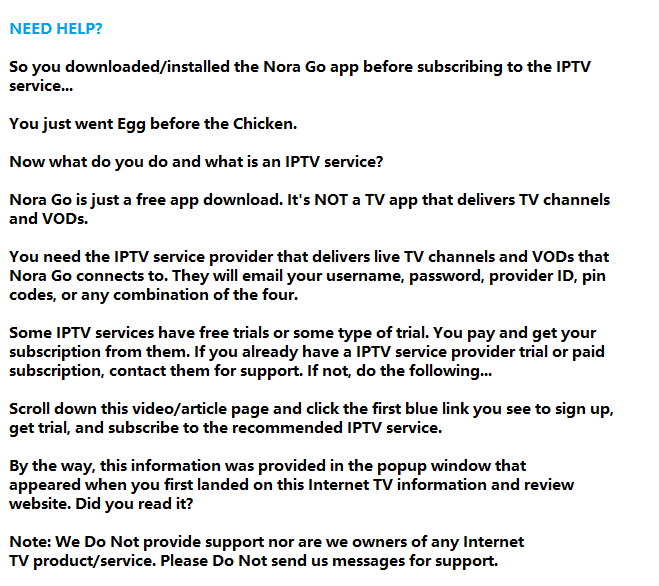 Get your username, password, provider ID, and 4 pin codes by email from recommended IPTV service – Click Below…
IPTV for Nora App, SO Player App and Free Trial – Read Full Review Here
The NoraGo app connects your device to the IPTV service, so you need both in order to watch TV online. I suggest that you opt into the FREE 48-hour Trial first so that you can test the service on your device. There are plenty of instructions available to help you and download the app to your device. Also, check out compatible devices to determine which ones you can use.
One important note. When subscribing to the IPTV service, they will send you a series of emails. One email will have your username, password, provider ID, and 4 pin code. May may also see an additional code to unlock adult content. This content is locked by default to protect children.
Make sure to enter your correct email address when signing up. If you don't see any emails in your inbox, be sure to check your Spam/Junk mail. If those emails are there, just move them to your inbox where you normally receive emails.
Subscription Cost
You don't need a credit card for the free trial to get full access. When the trial ends, choose either the 7-day All Access Subscription for $10 (non-recurring billing). Or you can choose the Monthly All Access Subscription for $30 (recurring billing).  Now that's out the way, we can now proceed to
Keep in mind, the 7-day money-back guarantee only applies if you opt into the monthly subscription first. You can only request a refund for the first month but I don't believe it will come down to that. I wall very pleasantly surprised when I first started using the app and IPTV service. I still use both today.
This is all you need to know about the Norago app for Firestick for now. Just visit the IPTV service to sign up, subscribe, and activate. They have plenty of information and help there. And for more help, just contact support by email, toll-free number, or chatbox.
See Fire TV Stick Remote Control with Alexa Below…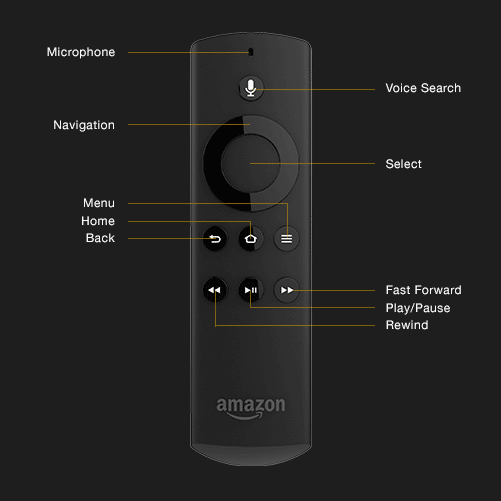 Further Instructions/Steps on How to Sideload NoraGo on Firestick and How to Install Nora Go Firestick APK
The video above does not show the following:
You need to download and install the Mouse Toggle apk. You must install the Mouse Toggle to follow along and complete all the steps in the video above.
But before you install the Mouse Toggle, you need to download the ES File Explorer apk or Downloader app first. The video will use the ES File Explorer apk but you can use the Downloader app if you want. This is very important when needing to download/install 3rd-party apps NOT found in the Play Store. As a result, you are going to follow the order of downloads as follows:
Mouse Toggle (might not be needed for Downloader)
————————————————
Two Important Things to Know: 1) May not be able to download the Norago app on Firestick or Fire TV; 2) There's a workaround but more steps are required to install Nora Go apk. Before downloading the app, you need to download two other files – 1 app and 1 apk. The video above says little about this if anything at all.
Another workaround is using a smart TV or connecting an Internet-connected computer to TV via HDMI cable. Also watch this Video. If you still want to use your Fire TV or Stick, then continue reading below for more instructions on how to sideload apk files.
Watch the video above but also follow additional instructions and steps below.
————————————————
You are going to need a mouse for your Amazon Firestick or Fire TV. This way you can move around a page, click links/buttons, and so on. Don't have a Firestick and want to learn more? Watch this video.
If you already have Mouse Toggle and Downloader installed on your Amazon Firestick or Fire TV, then you're all set. You can proceed with the video instructions above on how to download NoraGo on Firestick.
IPTV Service for Nora App, SO Player & Free Trial
If you don't have #1 and #2 apk/app downloads above or just one, Click Here to Watch Video. The video will show How to Download Mouse Toggle for Fire TV APK. In the post, you will find information and links to watch video download instructions for ES File Explorer and Downloader. You can download one or the other or both to your Amazon Fire.
When clicking the link directly above, the Mouse Toggle video instructions demonstrate the ES File Explorer apk. You might want to download that file to follow step-by-step.
IMPORTANT: Before you download Mouse Toggle for Firestick, you must first download either the Downloader app or ES File Explorer APK. This task must be performed first. Do Not download/install Mouse Toggle until you have completed downloading/installing the Downloader or ES File Explorer.
Now with that out the way, just follow the video above to download Nora Go on Firestick. The steps are pretty much straightforward.
Download Nora Go APK: Step-by-Step Video Instructions
What's below is the transcript of the Firestick Norago video above. It has all the steps on how to download Nora Go on Firestick…
For some reason, the NoraGo app Firestick is not available whenever you search for it on Amazon Firestick and the solution for this is to sideload to the application. Please be informed that this tutorial can also be used if you have streaming boxes and you can't see the Nora Go app on the search result.
1. Now be sure that you go to your Settings device and turn on Apps from Unknown Sources and have the Downloader app installed already.
2. To start, you have to open the Downloader app. Go to Settings and make sure to check with the Enable JavaScript to enable it [click yes].
3. Then jump to [Downloader app] browser and type this in… bit.ly/noragoapp. Hit next [yellow Go button] and it will open this page.
4. You will see this green download button with file size on it. You click on it to Download.
[Note: Notice red mouse circle moving around the page to click the green Download button. This is why you need to download the Mouse Toggle apk. and know how to enable it to use it and disable it when not using it.]
5. After it's done, it will ask you to install so hit install [click 'New' to install].
6. After installing, just open the app (Nora Go). Now to activate the service, go to Pin Code and key in the device link code that they sent to you [by email] when you placed the order.
7. Hit Next (on the keypad)
8. Same with Provider ID look for your email for this information and hit Next. Once you type in the code and there you go. Watch Video on How to Enter Pin Code and Provider ID Here. See all video tutorials Here.
This is how to install Nora Go on Firestick. Once you get past installing the Mouse Toggle and Downloader or ES File Explorer, you ready to get NoraGo on Firestick. But you need the IPTV service to subscribe and activate the app. Review Top IPTV Service Here.
Nora Go on Firestick: How to Subscribe and Activate NorGo App
Before you can use the NoraGo on Firestick download app, you must subscribe to the IPTV service. This is the only way to activate and use the NoraGo Firestick app. The IPTV Subscription provider partnered with Setplex so you can use Nora Go across many APP platforms.
Visit the website to learn more. See channel list, compatible devices, and available apps, downloads, and instructions, subscription costs, etc. They also give you a 48-Hour FREE Trial to try out the Nora Go app. No credit card needed at this point. Get full access to over 900 live premium channels with huge on-demand and sports sections.
See TV app for Android and iOS Smartphones
What Nora Go Firestick Delivers. This app connects to both a large number of live premium channels from popular TV networks and on-demand content. After you learn how to download NoraGo on Firestick and install it, you can do the following:
Get access to 900 live premium channels
Access to a huge number of on-demand content
Get access to a huge number of live sports channels
Watch live channels with sports, movies, TV shows, episodes, and news
Get on-demand movies, TV shows, and movies
US TV, UK TV, French TV, Spanish TV, and Filipino TV
Watch local, national, and international sports
Download NoraGo on Firestick Alternatives
If you feel the instructions and steps to download NoraGo on Firestick is a bit of a task, you have another option. Meaning, you want to watch everything on your TV another way. Consider the following:
One workaround to the Nora Go app Fire Stick is using a smart TV. You can download NoraGo app for smart TV. And you can do this directly from your smart TV. Learn More About Download to Smart TV Here .
Another workaround to the Nora Go on Firestick is using a Windows, Mac or Linux computer, perhaps a Tablet. You will need an HDMI cable to connect your Internet-connected computer to HDTV. Just download and install Nora Go for PC, Mac, Linux, or Tablet. To learn how to make the connection, watch videos.
Just visit the IPTV website to download the NoraGo app to your computer or get instructions for any compatible device you want to use. You access NoraGo through the computer. Meaning, you select and channels and videos from the app, which also plays on your HDTV screen. What appears on your computer screen appears on your TV screen with audio.
Now, you can also make the same connection with your smart TV, if you don't want the Nora Go on Firestick app. On the other hand, you can also connect a computer to smart TV wirelessly (screen mirroring).
If you decide to go with connecting your computer to the TV, then you may want to purchase a wireless keyword. You can avoid having to get up every time to change, play/pause a channel or video. A wireless keyword enables you to sit from a distance and control your computer. Watch this video to learn more about the wireless keyword.
Other options (compatible devices) if you don't want the Nora Go for Firestick app include: Android Boxes, Android Phones, iOS Devices, and iPad. You will find all the instructions and downloads on the website. Some of the apps must be downloaded/installed from the Play Store.
As you can see, how to download NoraGo on Firestick can be avoided. You have other options to watch everything on your TV. As for others who want to know how to install NoraGo on Fire Stick, just follow the video above. Some people may think the instructions are a bit much. In that case, consider using a computer or smart TV.
My Nora Go app on Firestick installed before it was no longer available in the Amazon Firestick apps download section. Perhaps the Nora Go Fire Stick app will be available to download directly from Amazon Fire in the future. For now, this is what we are left with to do.
My advice is to watch the video more than once to follow the Nora Go app Fire Stick instructions and steps. Take your time and feel free to contact support if you get stuck. The easiest way to install Nora Go on Firestick app comes when downloading it the o smart TV.
The next easy way to get the NoraGo on Firestick downloaded is from a computer. The good news is you have options. Either way, you do it, the picture and audio quality will be the same. Nothing is lacking however you want to approach this.
By now, you should have a pretty good idea of how to Download NoraGo on Firestick. Or choose any one of the other options to watch TV channels online. Watch the video above a few times over. You won't get everything in that one video. The other video tutorials are needed to download and install other important files needed.